Arna Wendell Bontemps Poems, novelist and historian Arna Wendell Bontemps was born October 13th 1902 in Alexandria, Louisiana. His mother Maria Pembroke was a schoolteacher and his father Paul Bontemps was a bricklayer. His father was keen for Arna to follow him in the bricklaying trade but young Arna was determined to better himself and do well in school. Like many other black families migrating from the South, the family moved to Los Angeles when Arna was three years old.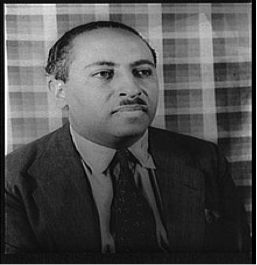 Arna Wendell Bontemps Bio
In 1923 Bontemps graduated from Pacific Union College in California and then moved into teaching with a post at the Harlem Academy, New York, from 1924. During his time there he started to publish poetry in various influential magazines which were popular with black people and begun to receive recognition in the form of the Alexander Pushkin Prize of Opportunity and in the Crisis Poetry Prize in 1926.
Arna Wendell Bontemps Poems
A Black Man Talks of Reaping
I have sown beside all waters in my day.
I planted deep, within my heart the fear
that wind or fowl would take the grain away.
I planted safe against this stark, lean year.I scattered seed enough to plant the land
in rows from Canada to Mexico
but for my reaping only what the hand
can hold at once is all that I can show.
Yet what I sowed and what the orchard yields
my brother's sons are gathering stalk and root;
small wonder then my children glean in fields
they have not sown, and feed on bitter fruit.
Poplars are standing there still as death
And ghosts of dead men
Meet their ladies walking
Two by two beneath the shade
And standing on the marble steps.There is a sound of music echoing
Through the open door
And in the field there is
Another sound tinkling in the cotton:
Chains of bondmen dragging on the ground.
The years go back with an iron clank,
A hand is on the gate,
A dry leaf trembles on the wall.
Ghosts are walking.
They have broken roses down
And poplars stand there still as death.
We are not come to wage a strife
With swords upon this hill,
It is not wise to waste the life
Against a stubborn will.
Yet would we die as some have done.
Beating a way for the rising sun.