Annie Louisa Walker Poems,Best known by the name Annie Louisa Walker this writer later published work under her married name Annie Louisa Coghill. She was born in England but moved to Canada while a young girl, remaining there for about ten years before returning to her homeland. She was primarily an author of fiction but also published at least two collections of poetry.
Much of her poetry contained religious themes and one of her most famous verses was called The Night Cometh which was adapted into a popular hymn and renamed Work, For the Night is Coming. It seems that she missed out on the royalties for this because the hymn was published as anonymous at first, and then wrongly credited to someone else.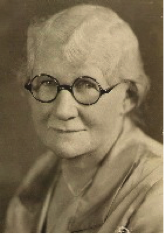 Annie Louisa Walker Bio
She was born Annie Louisa Walker on the 23rd June 1836 in the English midlands county of Staffordshire. She was the youngest of nine children although some of them were from her father's two earlier marriages. Robert Walker, a civil engineer, took the family to Lower Canada in 1853 to work on the Grand Trunk Railroad. They moved on five years later to a place called Sarnia in Canada West. At the age of 22 Annie set up a private school for young girls, assisted by her two sisters but this was a short-lived venture. The school closed when Annie's sisters both died.
There was time for one more novel and, in 1894, The trial of Mary Broom; a Staffordshire Story, was published.
Annie Louisa Coghill (née Walker) died on the 7th July 1907, aged 71.
Annie Louisa Walker Poems
Work! for the night is coming;
Work! through the morning hours;
Work! while the dew is sparkling;
Work! 'mid the springing flowers;
Work! while the day grows brighter,
Under the glowing sun;
Work! for the night is coming,–
Night, when man's work is done.
Work! for the night is coming;
Work! through the sunny noon;
Fill the bright hours with labour,
Rest cometh sure and soon.
Give to each flying minute
Something to keep in store;
Work! for the night is coming,–
Night, when man works no more.
Work! for the night is coming;
Under the sunset skies,
While their bright tints are glowing,
Work! for the daylight flies;
Work! till the last beam fadeth,
Fadeth to shine no more;
Work! while the night is darkening,–
Night, when man's work is o'er.
You cannot rob us of the rights we cherish,
Nor turn our thoughts away
From the bright picture of a "Woman's Mission"
Our hearts portray.
We claim to dwell, in quiet and seclusion,
Beneath the household roof,–
From the great world's harsh strife, and jarring voices,
To stand aloof;–
Not in a dreamy and inane abstraction
To sleep our life away,
But, gathering up the brightness of home sunshine,
To deck our way.
As humble plants by country hedgerows growing,
That treasure up the rain,
And yield in odours, ere the day's declining,
The gift again;
So let us, unobtrusive and unnoticed,
But happy none the less,
Be privileged to fill the air around us
With happiness;
To live, unknown beyond the cherished circle,
Which we can bless and aid;
To die, and not a heart that does not love us
Know where we're laid.