Anne Killigrew Poems, Anne Killigrew was a 17th-century English poet who lived a tragically short life, cut short by smallpox. Her poetry was much admired by contemporaries such as John Dryden although none were published until a year after her death in 1685. Dryden compared her work to that of the ancient Greek poet Sappho. He obviously thought a great deal about her, composing a moving elegy in 1686 which he titled To The Pious Memory of the Accomplish'd Young Lady Mrs. Anne Killigrew.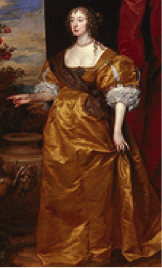 Anne Killigrew Bio
Anne Killigrew was born in pre-Restoration times, sometime during the early part of 1660. Her place of birth is recorded as St Martin's Lane in London and her father, Dr Henry Killigrew, was a writer himself, having penned a number of religious sermons and at least one play. Anne had other family members who were prolific playwrights so it is, perhaps, not surprising that she should also take up the pen.
Perhaps she would have become a better poet and commanded greater respect throughout the whole of literary society had she lived to a better age, but she was struck down by the deadly disease smallpox, and never recovered from it.
Anne Killigrew died on the 16th June 1685, aged only 25.
Since we through war
A Farewel To Worldly Joys
Farewell ye Unsubstantial Joyes,
Ye Gilded Nothings, Gaudy Toyes,
Too long ye have my Soul misled,
Too long with Aiery Diet fed:
But now my Heart ye shall no more
Deceive, as you have heretofore:
For when I hear such Sirens sing,
Like Ithaca's fore-warned King,
With prudent Resolution I
Will so my Will and Fancy tye,
That stronger to the Mast not he,
Than I to Reason bound will be:
And though your Witchcrafts strike my Ear,
Unhurt, like him, your Charms I'll hear.
I Sing the Man that never Equal knew,
Whose Mighty Arms all Asia did subdue,
Whose Conquests through the spacious World do ring,
That City-Raser, King-destroying King,
Who o're the Warlike Macedons did Reign,
And worthily the Name of Great did gain.
This is the Prince (if Fame you will believe,
To ancient Story any credit give.)
Who when the Globe of Earth he had subdu'd,
With Tears the easie Victory pursu'd;
Because that no more Worlds there were to win,
No further Scene to act his Glorys in.
Ah that some pitying Muse would now inspire
My frozen style with a Poetique fire,
And Raptures worthy of his Matchless Fame,
Whose Deeds I sing, whose never fading NameLong as the world shall fresh and deathless last,
No less to future Ages, then the past.
Great my presumption is, I must confess,
But if I thrive, my Glory's ne're the less;
Nor will it from his Conquests derogate
A Female Pen his Acts did celebrate.
If thou O Muse wilt thy assistance give,
Such as made Naso and great Maro live,
With him whom Melas fertile Banks did bear,
Live, though their Bodies dust and ashes are;
Whose Laurels were not fresher, than their Fame
Is now, and will for ever be the same.
If the like favour thou wilt grant to me,
O Queen of Verse, I'll not ungrateful be,
My choicest hours to thee I'll Dedicate,
'Tis thou shalt rule, 'tis thou shalt be my Fate.
But if Coy Goddess thou shalt this deny,
And from my humble suit disdaining fly,
I'll stoop and beg no more, since I know this,
Writing of him, I cannot write amiss:
His lofty Deeds will raise each feeble line,
And God-like Acts will make my Verse Divine.'Twas at the time the golden Sun doth rise,
And with his Beams enlights the azure skies,
When lo a Troop in Silver Arms drew near,
The glorious Sun did nere so bright appear;
Dire Scarlet Plumes adorn'd their haughty Crests,
And crescent Shields did shade their shining Brests;
Down from their shoulders hung a Panthers Hide,
A Bow and Quiver ratled by their side;
Their hands a knotty well try'd Speare did bear,
Jocund they seem'd, and quite devoyd of fear.
These warlike Virgins were, that do reside
Near Thermodons smooth Banks and verdant side,
The Plains of Themiscyre their Birth do boast,
Thalestris now did head the beauteous Host;
She emulating that Illustrious Dame,
Who to the aid of Troy and Priam came,
And her who the Retulian Prince did aid,
Though dearly both for their Assistance paid.
But fear she scorn'd, nor the like fate did dread,
Her Host she often to the field had lead,
As oft in Triumph had return'd again,
Glory she only sought for all her pain.
This Martial Queen had heard how lowdly fame,
Eccho'd our Conquerors redoubted Name,
Her Soul his Conduct and his Courage fir'd,
To see the Hero she so much admir'd;
And to Hyrcania for this cause she went,
Where Alexander (wholly then intent
On Triumphs and such Military sport)
At Truce with War held both his Camp and Court.
And while before the Town she did attend
Her Messengers return, she saw ascend
A cloud of Dust, that cover'd all the skie,
And still at every pause there stroke her eye.
The interrupted Beams of Burnisht Gold,
As dust the Splendour hid, or did unfold;
Loud Neighings of the Steeds, and Trumpets sound
Fill'd all the Air, and eccho'd from the ground:
The gallant Greeks with a brisk March drew near,
And their great Chief did at their Head appear.
And now come up to th'Amazonian Band,
They made a Hault and a respectful Stand:
And both the Troops (with like amazement strook)
Did each on other with deep silence look.
Th'Heroick Queen (whose high pretence to War
Cancell'd the bashful Laws and nicer Bar
Of Modesty, which did her Sex restrain)
First boldly did advance before her Train,
And thus she spake. All but a God in Name,
And that a debt Time owes unto thy Fame.
An Invective Against Gold
OF all the Poisons that the fruitful Earth
E'er yet brought forth, or Monsters she gave Birth,
Nought to Mankind has e'er so fatal been,
As thou, accursed Gold, their Care and Sin.Methinks I the Advent'rous Merchant see,
Ploughing the faithless Seas, in search of thee,
His dearest Wife and Children left behind,
(His real Wealth) while he, a Slave to th' Wind,
Sometimes becalm'd, the Shore with longing Eyes
Wishes to see, and what he wishes, Spies:
For a rude Tempest wakes him from his Dream,
And Strands his Bark by a more sad Extream.
Thus, hopless Wretch, is his whole Life-time spent,
And though thrice Wreck't, 's no Wiser than he went.Again, I see, the Heavenly Fair despis'd,
A Hagg like Hell, with Gold, more highly priz'd;
Mens Faith betray'd, their Prince and Country Sold,
Their God deny'd, all for the Idol Gold.
Unhappy Wretch, who first found out the Oar,
What kind of Vengeance rests for thee in store?
If Nebats Son, that Israel led astray,
Meet a severe Reward at the last Day?
Some strange unheard-of Judgement thou wilt find,
Who thus hast caus'd to Sin all Humane Kind.
First Epigram: Upon Being Contented with a Little
We deem them moderate, but Enough implore,
What barely will suffice, and ask no more:
Who say, (O Jove) a competency give,
Neither in Luxury, or Want we'd live.
But what is that, which these Enough do call?
If both the Indies unto some should fall,
Such Wealth would yet Enough but only be,
And what they'd term not Want, or Luxury.
Among the Suits, O Jove, my humbler take;
A little give, I that Enough will make.
When first Alexis did in Verse delight,
His Muse in Low, but Graceful Numbers walk't,
And now and then a little Proudly stalk't;
But never aim'd at any noble Flight:
The Herds, the Groves, the gentle purling Streams,
Adorn'd his Song, and were his highest Theams.But Love these Thoughts, like Mists, did soon disperse,
Enlarg'd his Fancy, and set free his Muse,
Biding him more Illustrious Subjects choose;
The Acts of Gods, and God-like Men rehearse.
From thence new Raptures did his Breast inspire,
His scarce Warm-Heart converted was to Fire.Th' exalted Poet rais'd by this new Flame,
With Vigor flys, where late he crept along,
And Acts Divine, in a Diviner Song,
Commits to the eternal Trompe of Fame.
And thus Alexis does prove Love to be,
As the Worlds Soul, the Soul of Poetry.
Tell me thou safest End of all our Woe,
Why wretched Mortals do avoid thee so:
Thou gentle drier o' th' afflicted Tears,
Thou noble ender of the Cowards Fears;
Thou sweet Repose to Lovers sad dispaire,
Thou Calm t' Ambitions rough Tempstuous Care.
If in regard of Bliss thou wert a Curse,
And then the Joys of Paradise art worse;
Yet after Man from his first Station fell,
And God from Eden Adam did expel,
Thou wert no more an Evil, but Relief;
The Balm and Cure to ev'ry Humane Grief:
Through thee (what Man had forfeited before)
He now enjoys, and ne'r can loose it more.
No subtile Serpents in the Grave betray,
Worms on the Body there, not Soul do prey;
No Vice there Tempts, no Terrors there afright,
No Coz'ning Sin affords a false delight:
No vain Contentions do that Peace annoy,
No fierce Alarms break the lasting Joy.
Such real Good as Life can never know;
Come when thou wilt, in thy afrighting'st Dress,
Thy Shape shall never make thy Welcome less.
Thou mayst to Joy, but ne'er to Fear give Birth,
Thou Best, as well as Certain'st thing on Earth.
Fly thee? May Travellers then fly their Rest,
And hungry Infants fly the profer'd Brest.
No, those that faint and tremble at thy Name,
Fly from their Good on a mistaken Fame.
Thus Childish fear did Israel of old
From Plenty and the Promis'd Land with-hold;
They fancy'd Giants, and refus'd to go,
When Canaan did with Milk and Honey flow.
The Complaint Of A Lover
Seest thou younder craggy Rock,
Whose Head o'er-looks the swelling Main,
Where never Shepherd fed his Flock,
Or careful Peasant sow'd his Grain.
No wholesome Herb grows on the same,
Or Bird of Day will on it rest;
'Tis Barren as the Hopeless Flame,
That scortches my tormented Breast.
Deep underneath a Cave does lie,
Th' entrance hid with dismal Yew,
Where Phebus never shew'd his Eye,
Or cheerful Day yet pierced through.
In that dark Melancholy Cell,
(Retreate and Sollace to my Woe)
Love, sad Dispair, and I, do dwell,
The Springs from whence my Griefs do flow.
Treacherous Love that did appear,
(When he at first approach't my Heart)
Drest in a Garb far from severe,
Or threatning ought of future smart.
So Innocent those Charms then seem'd,
When Rosalinda first I spy'd,
Ah! Who would them have deadly deem'd?
But Flowers do often Serpents hide.
Beneath those sweets conceal'd lay,
To Love the cruel Foe, Disdain,
With which (alas) she does repay
My Constant and Deserving Pain.
When I in Tears have spent the Night,
With Sighs I usher in the Sun,
Who never saw a sadder sight,
In all the Courses he has run.
Sleep, which to others Ease does prove,
Comes unto me, alas, in vain:
For in my Dreams I am in Love,
And in them too she does Disdain.
Some times t'Amuse my Sorrow, I
Unto the hollow Rocks repair,
And loudly to the Eccho cry,
Ah! gentle Nimph come ease my Care.
Thou who, times past, a Lover wer't,
Ah! pity me, who now am so,
And by a sense of thine own smart,
Alleviate my Mighty Woe.
Come Flatter then, or Chide my Grief;
Catch my last Words, and call me Fool;
Or say, she Loves, for my Relief;
My Passion either sooth, or School.
The Discontent
I.
Here take no Care, take here no Care, my Muse,
Nor ought of Art or Labour use:
But let thy Lines rude and unpolisht go,
Nor Equal be their Feet, nor Num'rous let them flow.
The ruggeder my Measures run when read,
They'l livelier paint th'unequal Paths fond Mortals tread.
Who when th'are tempted by the smooth Ascents,
Which flatt'ring Hope presents,
Briskly they clime, and Great Things undertake;
But Fatal Voyages, alas, they make:
For 'tis not long before their Feet,
Inextricable Mazes meet,
Perplexing Doubts obstruct their Way,
Mountains with-stand them of Dismay;
Or to the Brink of black Dispaire them lead,
Where's nought their Ruine to impede,
In vain for Aide they then to Reason call,
Their Senses dazle, and their Heads turn round,
The sight does all their Pow'rs confound,
And headlong down the horrid Precipice they fall:
Where storms of Sighs for ever blow,
Whre raped streams of Tears do flow,
Which drown them in a Briny Floud.
My Muse pronounce aloud, there's nothing Good,
Nought that the World can show,
Nought that it can bestow.
II.
Not boundless Heaps of its admired Clay,
Ah, too successful to betray,
When spread in our fraile Vertues way:
For few do run with so Resolv'd a Pace,
That for the Golden Apple will not loose the Race.
And yet not all the Gold the Vain would spend,
Or greedy Avarice would wish to save;
Which on the Earth refulgent Beams doth send,
Or in the Sea has found a Grave,
Joyn'd in one Mass, can Bribe sufficient be,
The Body from a stern Disease to free,
Or purchase for the Minds relief
One Moments sweet Repose, when restless made by grief,
But what may Laughter, more than Pity, move:
When some the Price of what they Dear'st Love
Are Masters of, and hold it in their Hand,
To part with it their Hearts they can't command:
But chose to miss, what miss't does them torment,
And that to hug, affords them no Content.
Wise Fools, to do them Right, we these must hold,
Who Love depose, and Homage pay to Gold.
III.
Nor yet, if rightly understood,
Does Grandeur carry more of Good;
To be o'th' Number of the Great enroll'd,
A Scepter o're a Mighty Realm to hold.
For what is this?
If I not judge amiss.
But all th'Afflicted of a Land to take,
And f one single Family to make?
The Wrong'd, the Poor, th'Opprest, the Sad,
The Ruin'd, Malecontent, and Mad?
Which a great Part of ev'ry Empire frame,
And Interest in the common Father claime.
Again what is't, but always to abide
A Gazing Crowd? upon a Stage to spend
A Life that's vain, or Evil without End?
And which is yet not safely held, nor laid aside?
And then, if lesser Titles carry less of Care,
Yet none but Fools ambitious are to share
Such a Mock-Good, of which 'tis said, 'tis Best,
When of the least of it Men are possest.
IV.
But, O, the Laurel'd Fool! that doats on Fame,
Whose Hope's Applause, whose Fear's to want a Name;
Who can accept for Pay
Of what he does, what others say;
Exposes now to hostile Arms his Breast,
To toylsome Study then betrays his Rest;
Now to his Soul denies a just Content,
Then forces on it what it does resent;
And all for Praise of Fools: for such are those,
Which most of the Admiring Crowd compose.
O famisht Soul, which such Thin Food can feed!
O Wretched Labour crown'd with such a Meed!
Too loud, O Fame! thy Trumpet is, too shrill,
To lull a Mind to Rest,
Or calme a stormy Breast,
Which asks a Musick soft and still.
'Twas not Almaleck's vanquisht Cry,
Nor Israels shout of Victory,
That could in Saul the rising Passion lay,
'Twas the soft strains of David's Lyre the Evil Spirit chace't away.
V.
But Friendship fain would yet it self defend,
And Mighty Things it does pretend,
To be of this Sad Journey, Life, the Baite,
The Sweet Refection of our toylsome State.
But though True Friendship a Rich Cordial be,
Alas, by most 'tis so alay'd,
Its Good so mixt with Ill we see,
That Dross for Gold is often paid.
And for one Grain of Friendship that is found,
Falshood and Interest do the Mass compound,
Or coldness, worse than Steel, the Loyal heart doth wound.
Love in no Two was ever yet the same,
No Happy Two ere felt an Equal Flame.
VI.
Is there that Earth by Humane Foot ne're prest?
That Aire which never yet by Humane Breast
Respir'd, did Life supply?
Oh, thither let me fly!
Where from the World at such a distance set,
All that's past, present, and to come I may forget:
The Lovers Sighs, and the Afflicted Tears,
What e're may wound my Eyes or Ears.
The grating Noise of Private Jars,
The horrid sound of Publick Wars,
Of babling Fame the Idle Stories,
The short-liv'd Triumphs Noysy-Glories,
The Curious Nets the subtile weave,
The Word, the Look that may deceive.
No Mundan Care shall more affect my Breast,
My profound Peace shake or molest:
But Stupor, like to Death, my Senses bind,
That so I may anticipate that Rest,
Which only in my Grave I hope to find.
In that so temperate Soil Arcadia nam'd,
For fertile Pasturage by Poets fam'd;
Stands a steep Hill, whose lofty jetting Crown,
Casts o'er the neighbouring Plains, a seeming Frown;
Close at its mossie Foot an aged Wood,
Compos'd of various Trees, there long has stood,
Whose thick united Tops scorn the Sun's Ray,
And hardly will admit the Eye of Day.
By oblique windings through this gloomy Shade,
Has a clear purling Stream its Passage made,
The Nimph, as discontented seem'd t'ave chose
This sad Recess to murmur forth her Woes.
To this Retreat, urg'd by tormenting Care,
The melancholly Cloris did repair,
As a fit Place to take the sad Relief
Of Sighs and Tears, to ease oppressing Grief.
Near to the Mourning Nimph she chose a Seat,
And these Complaints did to the Shades repeat.
Ah wretched, trully wretched Humane Race!
Your Woes from what Beginning shall I trace,
Where End, from your first feeble New-born Cryes,
To the last Tears that wet your dying Eyes?
Man, Common Foe, assail'd on ev'ry hand,
Finds that no Ill does Neuter by him stand,
Inexorable Death, Lean Poverty,
Pale Sickness, ever sad Captivity.
Can I, alas, the sev'ral Parties name,
Which, muster'd up, the Dreadful Army frame?
And sometimes in One Body all Unite,
Sometimes again do separately fight:
While sure Success on either Way does waite,
Either a Swift, or else a Ling'ring Fate.
But why 'gainst thee, O Death! should I inveigh,
That to our Quiet art the only way?
And yet I would (could I thy Dart command)
Crie, Here O strike! and there O hold thy Hand!
The Lov'd, the Happy, and the Youthful spare,
And end the Sad, the Sick, the Poor Mans Care.
But whether thou or Blind, or Cruel art,
Whether 'tis Chance, or Malice, guides thy Dart,
Thou from the Parents Arms dost pull away
The hopeful Child, their Ages only stay:
The Two, whom Friendship in dear Bands hs ty'd,
Thou dost with a remorseless hand devide;
Friendship, the Cement, that does faster twine
Two Souls, than that which Soul and Body joyn:
Thousands have been, who their own Blood did spill,
But never any yet his Friend did kill.
Then 'gainst thy Dart what Armour can be found,
Who, where thou do'st not strike, do'st deepest wound?
Thy Pitty, than thy Wrath's more bitter far,
Most cruel, where 'twould seem the most to spare:
Yet thou of many Evils art but One,
Though thou by much too many art alone.
What shall I say of Poverty, whence flows?
To miserable Man so many Woes?
Rediculous Evil which too oft we prove,
Does Laughter cause, where it should Pitty move;
Solitary Ill, into which no Eye,
Though ne're so Curious, ever cares to pry,
And were there, 'mong such plenty, onely One
Poor Man, he certainly would live alone.
Yet Poverty does leave the Man entire,
But Sickness nearer Mischiefs does conspire;
Invades the Body with a loath'd Embrace,
Prides both its Strength, and Beauty to deface;
Nor does it Malice in these bounds restrain,
But shakes the Throne of Sacred Wit, the Brain,
And with a ne're enough detested Force
Reason disturbs, and turns out of its Course.
Again, when Nature some Rare Piece has made,
On which her Utmost Skill she seems t'ave laid,
Polish't, adorn'd the Work with moving Grace,
And in the Beauteous Frame a Soul doth place,
So perfectly compos'd, it makes Divine
Each Motion, Word, and Look from thence does shine;
This Goodly Composition, the Delight
Of ev'ry Heart, and Joy of ev'ry sight,
Its peevish Malice has the Power to spoyle,
And with a Sully'd Hand its Lusture soyle.
The Grief were Endless, that should all bewaile,
Against whose sweet Repose thou dost prevail:
Some freeze with Agues, some with Feavers burn,
Whose Lives thou half out of their Holds dost turn;
And of whose Sufferings it may be said,
They living feel the very State o' th' Dead.
Thou in a thousand sev'ral Forms are drest,
And in them all dost Wretched Man infest.
And yet as if these Evils were too few,
Men their own Kind with hostile Arms pursue;
Not Heavens fierce Wrath, nor yet the Hate of Hell,
Not any Plague that e're the World befel,
Not Inundations, Famines, Fires blind rage,
Did ever Mortals equally engage,
As Man does Man, more skilful to annoy,
Both Mischievous and Witty to destroy.
The bloody Wolf, the Wolf doe not pursue;
The Boar, though fierce, his Tusk will not embrue
In his own Kind, Bares, not on Bares do prey:
Then art thou, Man, more savage far than they.
And now, methinks, I present do behold
The Bloudy Fields that are in Fame enroll'd,
I see, I see thousands in Battle slain,
The Dead and Dying cover all the Plain,
Confused Noises hear, each way sent out,
The Vanquishts Cries joyn'd with the Victors shout;
Their Sighs and Groans whho draw a painful Breath,
And feel the Pangs of slow approaching Death:
Yet happier these, far happier are the Dead,
Than who into Captivity are led:
What by their Chains, and by the Victors Pride,
We pity these, and envy those that dy'd.
And who can say, when Thousands are betray'd,
To Widdowhood, Orphants or Childless made.
Whither the Day does draw more Tears or Blood
A greater Chrystal, or a Crimson Floud.
The faithful Wife, who late her Lord did Arm,
And hop'd to shield, by holy Vows, from Harm,
Follow'd his parting-steps with Love and Care,
Sent after weeping Eyes, while he afar
Rod heated on, born by a brave Disdain,
May now go seek him, lying 'mong the Slain:
Low on the Earth she'l find his lofty Crest,
And those refulgent Arms which late his Breast
Did guard, by rough Encounters broke and tore,
His Face and Hair, with Brains all clotted ore.
And Warlike Weeds besmeer'd with Dust and Gore.
And will the Suffering World never bestow
Upon th'Accursed Causers of such Woe,
A vengeance that may parallel their Loss,
Fix Publick Thieves and Robbers on the Cross?
Such as call Ruine, Conquest, in their Pride,
And having plagu'd Mankind, in Triumph ride.
Like that renounced Murder who staines
In these our days Alsatias fertile Plains,
Only to fill the future Tomp of Fame,
Though greater Crimes, than Glory it proclame.
Alcides, Scourge of Thieves, return to Earth,
Which uncontrolled gives such Monsters birth;
On Scepter'd-Cacus let thy Power be shown,
Pull him not from his Den, but from his Throne.
Clouds of black Thoughts her further Speech here broke,
Her swelling Grief too great was to be spoke,
Which strugl'd long in her tormented Mind,
Till it some Vent by Sighs and Tears did find.
And when her Sorrow something was subdu'd,
She thus again her sad Complaint renewed.
Most Wretched Man, were th'Ills I nam'd before
All which I could in thy sad State deplore,
Did Things without alone 'gainst thee prevail,
My Tongue I'de chide, that them I did bewaile:
But, Shame to Reason, thou are seen to be
Unto thy self the fatall'st Enemy,
Within thy Breast the Greatest Plagues to bear,
First them to breed, and then to cherish there;
Unmanag'd Passions which the Reins have broke
Of Reason, and refuse to bear its Yoke.
But hurry thee, uncurb'd, from place to place,
A wild, unruly, and an Uncouth Chace.
Now cursed Gold does lead the Man astray,
False flatt'ring Honours do anon betray,
Then Beauty does as dang'rously delude,
Beauty, that vanishes, while 'tis pursu'd,
That, while we do behold it, fades away,
And even a Long Encomium will not stay.
Each one of these can the Whole Man employ,
Nor knows he anger, sorrow, fear, or joy,
But what to these relate; no Thought does start
Aside, but tends to its appointed Part,
No Respite to himself from Cares he gives,
But on the Rack of Expectation lives.
If crost, the Torment cannot be exprest,
Which boyles within his agitated Breast.
Musick is harsh, all Mirth is an offence,
The Choicest Meats cannot delight his Sense,
Hard as the Earth he feels his Downy Bed,
His Pillow stufft with Thornes, that bears his Head,
He rolls from side to side, in vain seeks Rest;
For if sleep come at last to the Distrest,
His Troubles then cease not to vex him too,
But Dreams present, what does waking do.
On th'other side, if he obtains the Prey,
And Fate to his impetuous Sute gives way,
Be he or Rich, or Amorous, or Great,
He'll find this Riddle still of a Defeat,
That only Care, for Bliss, he home has brought,
Or else Contempt of what he so much sought.
So that on each Event if we reflect,
The Joys and Sufferings of both sides collect,
We cannot say where lies the greatest Pain,
In the fond Pursuit, Loss, or Empty Gain.
And can it be, Lord of the Sea and Earth,
Off-spring of Heaven, that to thy State and Birth
Things so incompatible should be joyn'd,
Passions should thee confound, to Heaven assign'd?
Passions that do the Soul unguarded lay,
And to the strokes of Fortune ope' a way.
Were't not that these thy Force did from thee take,
How bold, how brave Resistance would'st thou make?
Defie the Strength and Malice of thy Foes,
Unmoved stand the Worlds United Blows?
For what is't, Man, unto thy Better Part,
That thou or Sick, or Poor, or Captive art?
Since no Material Stroke the Soul can feel,
The smart of Fire, or yet the Edge of Steel.
As little can it Worldly Joys partake,
Though it the Body does its Agent make,
And joyntly with it Servile Labour bear,
For Things, alas, in which it cannot share.
Surveigh the Land and Sea by Heavens embrac't,
Thou'lt find no sweet th'Immortal Soul can tast:
Why dost thou then, O Man! thy self torment
Good here to gain, or Evils to prevent?
Who only Miserable or Happy art,
As thou neglects, or wisely act'st thy Part.
For shame then rouse thy self as from a Sleep,
The long neglected Reins let Reason keep,
The Charret mount, and use both Lash and Bit,
Nobly resolve, and thou wilt firmly sit:
Fierce Anger, boggling Fear, Pride prauncing still,
Bound-hating Hope, Desire which nought can fill,
Are stubborn all, but thou may'st give them Law;
Th'are hard-Mouth'd Horses, but they well can draw.
Lash on, and the well govern'd Charret drive,
Till thou a Victor at the Goal arrrive,
Where the free Soul does all her burden leave,
And Joys commensurate to her self receive.
SEE MORE: