Anne Bradstreet Poems Part 10,Although known as one of the first female writers to be published in the North America colonies, Anne Bradstreet was actually born in Northampton, England, in March 1612. Her father Thomas Dudley and mother, Dorothy Yorke, were able to afford a very good education for Anne and she was well tutored in languages, literature and history. At the age of sixteen she was married to Simon Bradstreet.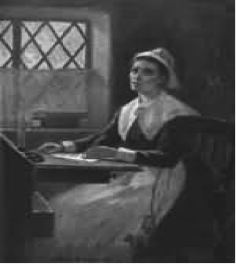 Anne Bradstreet Bio
In 1630 she, her husband and parents emigrated to Massachusetts, USA, with the Winthrop Fleet carrying British Puritans who had rejected the Church of England and the rule of King Charles 1st. Landing initially at the Pioneer Village (Salem) the Puritan group moved south to Charleston before travelling on down the Charles River to establish the city of Boston. Anne's father and husband went on to serve as Governors of the Massachusetts Bay Colony and were later among those who founded Harvard College in 1636.  There is a gate next to Canaday Hall at Harvard which is dedicated to Anne's memory.
Anne Bradstreet Poems Part 10
Verses upon the Burning of our House, July 18th, 1666
In silent night when rest I took,
For sorrow near I did not look,
I waken'd was with thund'ring noise
And piteous shrieks of dreadful voice.
That fearful sound of "fire" and "fire,"
Let no man know is my Desire.
I starting up, the light did spy,
And to my God my heart did cry
To straighten me in my Distress
And not to leave me succourless.
Then coming out, behold a space
The flame consume my dwelling place.
And when I could no longer look,
I blest his grace that gave and took,
That laid my goods now in the dust.
Yea, so it was, and so 'twas just.
It was his own; it was not mine.
Far be it that I should repine,
He might of all justly bereft
But yet sufficient for us left.
When by the Ruins oft I past
My sorrowing eyes aside did cast
And here and there the places spy
Where oft I sate and long did lie.
Here stood that Trunk, and there that chest,
There lay that store I counted best,
My pleasant things in ashes lie
And them behold no more shall I.
Under the roof no guest shall sit,
Nor at thy Table eat a bit.
No pleasant talk shall 'ere be told
Nor things recounted done of old.
No Candle 'ere shall shine in Thee,
Nor bridegroom's voice ere heard shall bee.
In silence ever shalt thou lie.
Adieu, Adieu, All's Vanity.
Then straight I 'gin my heart to chide:
And did thy wealth on earth abide,
Didst fix thy hope on mouldring dust,
The arm of flesh didst make thy trust?
Raise up thy thoughts above the sky
That dunghill mists away may fly.
Thou hast a house on high erect
Fram'd by that mighty Architect,
With glory richly furnished
Stands permanent, though this be fled.
It's purchased and paid for too
By him who hath enough to do.
A price so vast as is unknown,
Yet by his gift is made thine own.
There's wealth enough; I need no more.
Farewell, my pelf; farewell, my store.
The world no longer let me love;
My hope and Treasure lies above.
Vpon my Daughter Hannah Wiggin her recouery from a dangerous feaver.
Bles't bee thy Name, who did'st restore
To health my Daughter dear
When death did seem ev'n to approach,
And life was ended near.
Gravnt shee remember what thov'st done,
And celebrate thy Praise;
And let her Conversation say,
Shee loues thee all thy Dayes.
Vpon my dear and loving husband his goeing into England, Jan. 16, 1661.
O thov most high who rulest All,
And hear'st the Prayers of Thine;
O hearken, Lord, vnto my suit,
And my Petition signe.
Into thy everlasting Armes
Of mercy I commend
Thy servant, Lord. Keep and preserve
My husband, my dear freind.
At thy command, O Lord, he went,
Nor novght could keep him back;
Then let thy promis joy his heart:
O help, and bee not slack.
Vphold my heart in Thee, O God,
Thou art my strenght and stay;
Thou see'st how weak and frail I am,
Hide not thy face Away.
I, in obedience to thy Will,
Thov knowest, did submitt;
It was my Duty so to doe,
O Lord, accept of it.
Vnthankfullnes for mercyes Past,
Impute thov not to me;
O Lord, thov know'st my weak desire
Was to sing Praise to Thee.
Lord, bee thov Pilott to the ship,
And send them prosperous gailes;
In stormes and sicknes, Lord, preserve.
Thy Goodnes never failes.
Vnto thy work he hath in hand,
Lord, gravnt Thov good Successe
And favour in their eyes, to whom
He shall make his Addresse.
Remember, Lord, thy folk whom thou
To wildernesse hast brovght;
Let not thine own Inheritance
Bee sold away for Novght.
But Tokens of thy favour Give–
With Joy send back my Dear,
That I, and all thy servants, may
Rejoice with heavenly chear.
Lord, let my eyes see once Again
Him whom thov gavest me,
That wee together may sing Praise
ffor ever vnto Thee.
And the Remainder of oure Dayes
Shall consecrated bee,
With an engaged heart to sing
All Praises vnto Thee.
Vpon my Son Samuel his goeing for England, Novem. 6, 1657.
Thou mighty God of Sea and Land,
I here resigne into thy hand
The Son of Prayers, of vowes, of teares,
The child I stay'd for many yeares.
Thou heard'st me then, and gav'st him me;
Hear me again, I giue him Thee.
He's mine, but more, O Lord, thine own,
For sure thy Grace on him is shown.
No freind I haue like Thee to trust,
For mortall helpes are brittle Dvst.
Preserve, O Lord, from stormes and wrack,
Protect him there, and bring him back;
And if thou shalt spare me a space,
That I again may see his face,
Then shall I celebrate thy Praise,
And Blesse the for't even all my Dayes.
If otherwise I goe to Rest,
Thy Will bee done, for that is best;
Perswade my heart I shall him see
For ever happefy'd with Thee.
What God is like to him I serve
What God is like to him I serve,
What Saviour like to mine?
O, never let me from thee swerue,
For truly I am thine.
My thankfull mouth shall speak thy praise,
My Tongue shall talk of Thee:
On High my heart, O, doe thou raise,
For what thou'st done for me.
Goe, Worldlings, to your Vanities,
And heathen to your Gods;
Let them help in Adversities,
And sanctefye their rods.
My God he is not like to yours,
Your selves shall Judges bee;
I find his Love, I know his Pow'r,
A Succourer of mee.
He is not man that he should lye,
Nor son of man to vnsay;
His word he plighted hath on high,
And I shall liue for aye.
And for his sake that faithfull is,
That dy'd but now doth liue,
The first and last, that liues for aye,
Me lasting life shall giue.
SEE MORE: