Anna Laetitia Waring Poems,Anna Laetitia Waring was a Welsh-born poet known primarily for her hymn writing who came from a literary family background, with both her father Elijah and her Uncle Samuel having had works of literature published.
She was a studious young woman who learned Hebrew for the sole purpose of being able to read the Old Testament in its original form. She always considered all kinds of verse writing as a "pleasant diversion". Her books of hymns were popular, with the first collection Hymns and Meditations, by A. L. W., running to some ten separate editions.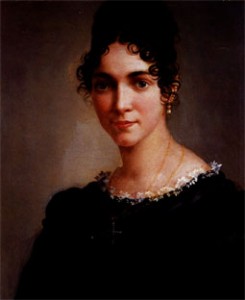 Anna Laetitia Waring Bio
Anna was born on the 19th April 1823 in a small town called Plas-y-Felin, Neath which lies in the county of Glamorgan in South Wales. It is very likely that she lived most of her life here although she did travel occasionally. She came from a family of Quakers but Anna chose to follow the Church of England faith, being baptised into it at the age of 19.
Although she started writing when in her teenage years it took until 1850 for her collection of Hymns and Meditations to be published and it consisted of only 19 hymns. By the time it reached its 10th edition 13 years later the collection had expanded to 38 hymns.
She was also a regular contributor to a publication called Sunday Magazine and was best known for the titles such as Father, I know that all my life and My heart is resting, O my God.
Anna Laetitia Waring died on the 10th May 1910 in the Clifton district of Bristol. She was 87 years old.
Anna Laetitia Waring Poems
Father, I Know That All My Life
"My times are in Thy hand." — Psalm XXXI.15
Father, I know that all my life
Is portioned out for me,
And the changes that are sure to come,
I do not fear to see;
But I ask Thee for a present mind
Intent on pleasing Thee.
I ask Thee for a thoughtful love,
Through constant watching wise,
To meet the glad with joyful smiles,
And to wipe the weeping eyes;
And a heart at leisure from itself,
To soothe and sympathise.
I would not have the restless will
That hurries to and fro,
Seeking for some great thing to do
Or secret thing to know;
I would be treated as a child,
And guided where I go.
Wherever in the world I am,
In whatsoe'er estate,
I have a fellowship with hearts
To keep and cultivate;
And a work of lowly love to do
For the Lord on whom I wait.
So I ask Thee for the daily strength,
To none that ask denied,
And a mind to blend with outward life
While keeping at Thy side;
Content to fill a little space,
If Thou be glorified.
And if some things I do not ask,
In my cup of blessing be,
I would have my spirit filled the more
With grateful love to Thee —
More careful — not to serve Thee much,
But to please Thee perfectly.
There are briers besetting every path,
That call for patient care;
There is a cross in every lot,
And an earnest need for prayer;
But a lowly heart that leans on Thee
Is happy anywhere.
In a service which Thy will appoints,
There are no bonds for me,
For my inmost heart is taught "the truth"
That makes Thy children "free;"
And a life of self-renouncing love
Is a life of liberty.
In heavenly love abiding, no change my heart shall fear.
And safe in such confiding, for nothing changes here.
The storm may roar without me, my heart may low be laid,
But God is round about me, and can I be dismayed?Wherever He may guide me, no want shall turn me back.
My Shepherd is beside me, and nothing can I lack.
His wisdom ever waking, His sight is never dim.
He knows the way He's taking, and I will walk with HimGreen pastures are before me, which yet I have not seen.
Bright skies will soon be over me, where darkest clouds have been.
My hope I cannot measure, my path to life is free.
My Savior has my treasure, and He will walk with me.
My Heart Is Resting, O My Lord
My heart is resting, O my God—
I will give thanks and sing;
My heart is at the secret source
Of every precious thing.
Now the frail vessel Thou hast made
No hand but Thine shall fill—
For the waters of the Earth have failed,
And I am thirsty still.I thirst for springs of heavenly life,
And here all day they rise—
I seek the treasure of Thy love,
And close at hand it lies.
And a new song is in my mouth
To long loved music set—
Glory to Thee for all the grace
I have not tasted yet.Glory to Thee for strength withheld,
For want and weakness known—
And the fear that sends me to Thy breast
For what is most my own.
I have a heritage of joy
That yet I must not see;
But the hand that bled to make it mine
Is keeping it for me.
There is a certainty of love
That sets my heart at rest—
A calm assurance for today
That to be poor is best—
A prayer reposing on His truth
Who hath made all things mine,
That draws my captive will to Him,
And makes it one with Thine.
I will give thanks for suffering now,
For want and toil and loss—
For the death that sin makes hard and slow,
Upon my Savior's cross—
Thanks for the little spring of love
That gives me strength to say,
If they will leave me part in Him,
Let all things pass away.
Sometimes I long for promised bliss,
But it will not come too late—
And the songs of patient spirits rise
From the place wherein I wait;
While in the faith that makes no haste
My soul has time to see
A kneeling host of Thy redeemed,
In fellowship with me.
There is a multitude around
Responsive to my prayer;
I hear the voice of my desire
Resounding everywhere.
But the earnest of eternal joy,
In every prayer I trace;
I see the glory of the Lord:
On every chastened face.
How oft, in still communion known,
Those spirits have been sent
To share the travail of my soul,
Or show me what it meant!
And I long to do some work of love
No spoiling hand could touch,
For the poor and suffering of Thy flock
Who comfort me so much.
But the yearning thought is mingled now
With the thankful song I sing;
For Thy people know the secret source
Of every precious thing.
The heart that ministers for Thee
In Thy own work will rest;
And the subject spirit of a child
Can serve Thy children best.
Mine be the reverent, listening love,
That waits all day on Thee,
With the service of a watchful heart
Which no one else can see—
The faith that, in a hidden way
No other eye may know,
Finds all its daily work prepared,
And loves to have it so.
My heart is resting, O my God,
My heart is in Thy care—
I hear the voice of joy and health
Resounding everywhere.
"Thou art my portion," saith my soul,
Ten thousand voices say,
And the music of their glad Amen,
Will never die away.
My Savior, on the Word of Truth
My Savior, on the word of truth
In earnest hope I live;
I ask for all the precious things
Thy boundless love can give.
I look for many a lesser light
About my path to shine;
But chiefly long to walk with Thee,
And only trust in Thine.In holy expectation held,
Thy strength my heart shall stay,
For Thy right hand will never let
My trust be cast away.
Yea, Thou hast kept me near Thy feet,
In many a deadly strife,
By the stronghold of hope in Thee,
The hope of endless life.Thou knowest that I am not blest
As Thou wouldst have me be,
Till all the peace and joy of faith
Possess my soul in Thee
And still I seek 'mid many fears,
With yearnings unexpressed,
The comforts of Thy strengthening love,
Thy soothing, settling rest.
It is not as Thou wilt with me,
Till, humbled in the dust;
I know no place in all my heart
Wherein to put my trust.
Until I find, O Lord, in Thee,
The Lowly and the Meek,
That fullness which Thy own redeemed
Go nowhere else to seek.
Then, O my Savior, on my soul,
Cast down, but not dismayed,
Still be Thy chastening, healing hand
In tender, mercy laid.
And while I wait for all Thy joys,
My yearning heart to fill,
Teach me to walk and work with Thee,
And at Thy feet sit still.
Tender mercies, on my way
Falling softly like the dew,
Sent me freshly every day,
I will bless the Lord for you.Though I have not all I would,
Though to greater bliss I go,
Every present gift of good
To Eternal Love I owe.Source of all that comforts me,
Well of joy for which I long,
Let the song I sing to Thee
Be an everlasting song.
To sum up all, I'm old — and that's
A fact the years decide;
It is a common thing with cats
And not a thing to hide.
But to feel what it is — how kind
How true to love and law
For this you must be quite resigned
And not avoid its paw.
It does not come as reckless foe
A shrinking prey to take,
But with soft footstep that we know
By comfort in its wake.
Though it spoils something — that is true,
Which we must learn to lack
And takes alike from me and you
What never does come back.
It caters for our failing strength
In many a dainty scrap,
And gently lays us at our length
In some secluded lap.
It may bless you — (I think it should)
Beyond what I make out,
With things perhaps too great and good
For cats to talk about.
Since I find in it blessing free
From all it can destroy,
And so its progress is to me
A miracle of joy.
But my look out to occupy
And make the most of that.
You must be quite as old as I,
If not yourself a Cat!