Ann Taylor Poems
Born in 1782 in London, Ann Taylor was a much loved poet and critic who came from one of the most literary gifted families of the time. Ann's poetic career started early when she began to write verses for children which gained her a long term popularity but she is most widely known for her collaborations with older sister Jane.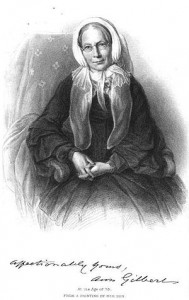 Ann Taylor Bio
Her father was an engraver who had followed in the family footsteps and later went into education and reform and her mother was a writer with her own reputation for moral and religious works. Taylor's brothers too were to have their impact on the world during their time, but it was the two sisters who were, together, the most popular with the general public.
Over the years there has been some confusion as to who out of the two sisters wrote what, often compounded by the fact that Jane died early and attracted more literary attention because of it. They published early works together, often without assigning an author's name, and Jane passed away in 1824 when her literary power was at its most potent, though there are significant differences in the style and manner of each of their works. According to some Ann tended to write more about people and Jane about nature (she wrote the famous nursery rhyme Twinkle, Twinkle, Little Star).

The fact that work was often ascribed to her older sister, would cause Ann some concern as she tried to forge her career as a writer but there was nothing that she could do about it. She produced perhaps the best work from either sister in The Maniac's Song that was published in 1810 and she was also a strong prose writer, writing an autobiography and several thousand letters over her lifetime.
Original Poems for Infant Minds was published by both sisters in 1804 and was followed two years later by Rhymes for the Nursery which were two of the most popular children's books of the time. In 1813, Ann married Joseph Gilbert who had decided to ask for her hand before he even met her, simply from reading her collected works. Gilbert was a preacher and spent much of his life serving in ministries in Rotherham, Sheffield and Hull.
Little Ann and her mother were walking one day
Through London's wide city so fair,
And business obliged them to go by the way
That led them through Cavendish Square.
And as they pass'd by the great house of a Lord,
A beautiful chariot there came,
To take some most elegant ladies abroad,
Who straightway got into the same.The ladies in feathers and jewels were seen,
The chariot was painted all o'er,
The footmen behind were in silver and green,
The horses were prancing before.Little Ann by her mother walk'd silent and sad,
A tear trickled down from her eye,
Till her mother said, "Ann, I should be very glad
To know what it is makes you cry. "
"Mamma," said the child, "see that carriage so fair,
All cover'd with varnish and gold,
Those ladies are riding so charmingly there
While we have to walk in the cold.
"You say GOD is kind to the folks that are good,
But surely it cannot be true;
Or else I am certain, almost, that He would
Give such a fine carriage to you. "
"Look there, little girl," said her mother, "and see
What stands at that very coach door;
A poor ragged beggar, and listen how she
A halfpenny tries to implore.
"All pale is her face, and deep sunk is her eye,
And her hands look like skeleton's bones;
She has got a few rags, just about her to tie,
And her naked feet bleed on the stones. "
'Dear ladies,' she cries, and the tears trickle down,
'Relieve a poor beggar, I pray;
I've wander'd all hungry about this wide town,
And not ate a morsel to-day.
'My father and mother are long ago dead,
My brother sails over the sea,
And I've scarcely a rag, or a morsel of bread,
As plainly, I'm sure, you may see.
'A fever I caught, which was terrible bad,
But no nurse or physic had I;
An old dirty shed was the house that I had,
And only on straw could I lie.
'And now that I'm better, yet feeble and faint,
And famish'd, and naked, and cold,
I wander about with my grievous complaint,
And seldom get aught but a scold.
'Some will not attend to my pitiful call,
Some think me a vagabond cheat;
And scarcely a creature relieves me, of all
The thousands that traverse the street.
'Then ladies, dear ladies, your pity bestow:'­
Just then a tall footman came round,
And asking the ladies which way they would go,
The chariot turn'd off with a bound.
"Ah! see, little girl," then her mother replied,
"How foolish those murmurs have been;
You have but to look on the contrary side,
To learn both your folly and sin.
"This poor little beggar is hungry and cold,
No mother awaits her return;
And while such an object as this you behold,
Your heart should with gratitude burn.
"Your house and its comforts, your food and your friends,
'Tis favour in GOD to confer,
Have you any claim to the bounty He sends,
Who makes you to differ from her?
"A coach, and a footman, and gaudy attire,
Give little true joy to the breast;
To be good is the thing you should chiefly desire,
And then leave to GOD all the rest. "
For a Naughty Little Girl
My sweet little girl should be cheerful and mild
She must not be fretful and cry!
Oh! why is this passion? remember, my child,
GOD sees you, who lives in the sky.That dear little face, that I like so to kiss,
How alter'd and sad it appears!
Do you think I can love you so naughty as this,
Or kiss you, all wetted with tears?Remember, though GOD is in Heaven, my love,
He sees you within and without,
And always looks down, from His glory above,
To notice what you are about.
If I am not with you, or if it be dark,
And nobody is in the way,
His eye is as able your doings to mark,
In the night as it is in the day.
Then dry up your tears and look smiling again,
And never do things that are wrong;
For I'm sure you must feel it a terrible pain,
To be naughty and crying so long.
We'll pray, then, that GOD may your passion forgive,
And teach you from evil to fly;
And then you'll be happy as long as you live,
And happy whenever you die.
One ugly trick has often spoil'd
The sweetest and the best;
Matilda, though a pleasant child,
One ugly trick possess'd,
Which, like a cloud before the skies,
Hid all her better qualities.Sometimes she'd lift the tea-pot lid,
To peep at what was in it,
Or tilt the kettle, if you did
But turn your back a minute.
In vain you told her not to touch,
Her trick of meddling grew so much.Her grandmamma went out one day,
And by mistake she laid
Her spectacles and snuff-box gay
Too near the little maid;
"Ah! well," thought she, "I'll try them on,
As soon as grandmamma is gone. "
Forthwith she placed upon her nose
The glasses large and wide;
And looking round, as I suppose,
The snuff-box too she spied:
"Oh! what a pretty box is that;
I'll open it," said little Matt.
"I know that grandmamma would say,
'Don't meddle with it, dear;'
But then, she's far enough away,
And no one else is near:
Besides, what can there be amiss
In opening such a box as this? "
So thumb and finger went to work
To move the stubborn lid,
And presently a mighty jerk
The mighty mischief did;
For all at once, ah! woeful case,
The snuff came puffing in her face.
Poor eyes, and nose, and mouth, beside
A dismal sight presented;
In vain, as bitterly she cried,
Her folly she repented.
In vain she ran about for ease;
She could do nothing now but sneeze.
She dash'd the spectacles away,
To wipe her tingling eyes,
And as in twenty bits they lay,
Her grandmamma she spies.
"Heyday! and what's the matter now?"
Says grandmamma, with lifted brow.
Matilda, smarting with the pain,
And tingling still, and sore,
Made many a promise to refrain
From meddling evermore.
And 'tis a fact, as I have heard,
She ever since has kept her word.
Thank you, pretty cow, that made
Pleasant milk to soak my bread,
Every day and every night,
Warm, and fresh, and sweet, and white.Do not chew the hemlock rank,
Growing on the weedy bank;
But the yellow cowslips eat;
They perhaps will make it sweet.Where the purple violet grows,
Where the bubbling water flows,
Where the grass is fresh and fine,
Pretty cow, go there to dine.
The Little Cripple's Complaint
I'm a helpless cripple child,
Gentle Christians, pity me;
Once, in rosy health I smiled,
Blithe and gay as you can be,
And upon the village green
First in every sport was seen.Now, alas! I'm weak and low,
Cannot either work or play;
Tottering on my crutches, slow,
Thus I drag my weary way:
Now no longer dance and sing,
Gaily, in the merry ring.Many sleepless nights I live,
Turning on my weary bed;
Softest pillows cannot give
Slumber to my aching head;
Constant anguish makes it fly
From my heavy, wakeful eye.
And, when morning beams return,
Still no comfort beams for me:
Still my limbs with fever burn,
Painful still my crippled knee.
And another tedious day
Passes slow and sad away.
From my chamber-window high,
Lifted to my easy-chair,
I the village-green can spy,
Once I used to frolic there,
March, or beat my new-bought drum;
Happy times! no more to come.
There I see my fellows gay,
Sporting on the daisied turf,
And, amidst their cheerful play,
Stopp'd by many a merry laugh;
But the sight I scarce can bear,
Leaning in my easy-chair.
Let not then the scoffing eye
Laugh, my twisted leg to see:
Gentle Christians, passing by,
Stop awhile, and pity me,
And for you I'll breathe a prayer,
Leaning in my easy-chair.
"But, mamma, now, " said Charlotte, "pray, don't you believe
That I'm better than Jenny, my nurse?
Only see my red shoes, and the lace on my sleeve;
Her clothes are a thousand times worse."I ride in my coach, and have nothing to do,
And the country folks stare at me so;
And nobody dares to control me but you
Because I'm a lady, you know."Then, servants are vulgar, and I am genteel;
So really, 'tis out of the way,
To think that I should not be better a deal
Than maids, and such people as they. "
"Gentility, Charlotte," her mother replied,
"Belongs to no station or place;
And there's nothing so vulgar as folly and pride,
Though dress'd in red slippers and lace.
Not all the fine things that fine ladies possess
Should teach them the poor to despise;
For 'tis in good manners, and not in good dress,
That the truest gentility lies."
About the Little Girl that Beat Her Sister
Go, go, my naughty girl, and kiss
Your little sister dear;
I must not have such things as this,
And noisy quarrels here.
What! little children scratch and fight,
That ought to be so mild;
Oh! Mary, it's a shocking sight
To see an angry child.
I can't imagine, for my part,
The reason for your folly;
She did not do you any hurt
By playing with your dolly.
See, see, the little tears that run
Fast from her watery eye:
Come, my sweet innocent, have done,
'Twill do no good to cry.
Go, Mary, wipe her tears away,
And make it up with kisses:
And never turn a pretty play
To such a pet as this is.
There were two little girls, neither handsome nor plain;
One's name was Eliza, the other's was Jane:
They were both of one height, as I've heard people say,
They were both of one age, I believe, to a day.'Twas fancied by some, who but slightly had seen them,
That scarcely a difference was there between them;
But no one for long in this notion persisted,
So great a distinction there really existed.Eliza knew well that she could not be pleasing,
While fretting and fuming, while sulky or teasing;
And therefore in company artfully tried­
Not to break her bad habits, but only to hide.
So when she was out, with much labour and pain,
She contrived to look almost a pleasant as Jane;
But then you might see, that in forcing a smile,
Her mouth was uneasy, and ached all the while.
And in spite of her care, it would sometimes befall,
That some cross event happen'd to ruin it all;
And because it might chance that her share was the worst,
Her temper broke loose, and her dimples dispersed.
But Jane, who had nothing she wanted to hide,
And therefore these troublesome arts never tried,
Had none of the care and fatigue of concealing,
But her face always show'd what her bosom was feeling.
At home or abroad there was peace in her smile,
A cheerful good nature that needed no guile.
And Eliza work'd hard, but could never obtain
The affection that freely was given to Jane.
Dance little baby, dance up high,
Never mind baby, mother is by;
Crow and caper, caper and crow,
There little baby, there you go;
Up to the ceiling, down to the ground,
Backwards and forwards, round and round;
Dance little baby, and mother shall sing,
With the merry coral, ding, ding, ding.
Well, what's the matter? there's a face
What ! has it cut a vein?
And is it quite a shocking place?
Come, let us look again.I see it bleeds, but never mind
That tiny little drop;
I don't believe you'll ever find
That crying makes it stop.'Tis sad indeed to cry at pain,
For any but a baby;
If that should chance to cut a vein,
We should not wonder, may be.
But such a man as you should try
To bear a little sorrow:
So run along, and wipe your eye,
'Twill all be well to-morrow.
"Dear me! what signifies a pin!
I'll leave it on the floor;
My pincushion has others in,
Mamma has plenty more:
A miser will I never be,"
Said little heedless Emily.So tripping on to giddy play,
She left the pin behind,
For Betty's broom to whisk away,
Or some one else to find;
She never gave a thought, indeed,
To what she might to-morrow need.Next day a party was to ride,
To see an air-balloon!
And all the company beside
Were dress'd and ready soon:
But she, poor girl, she could not stir,
For just a pin to finish her.
'Twas vainly now, with eye and hand,
She did to search begin;
There was not one­not one, the band
Of her pelisse to pin!
She cut her pincushion in two,
But not a pin had slidden through!
At last, as hunting on the floor,
Over a crack she lay,
The carriage rattled to the door,
Then rattled fast away.
Poor Emily! she was not in,
For want of just­a single pin!
There's hardly anything so small,
So trifling or so mean,
That we may never want at all,
For service unforseen:
And those who venture wilful waste,
May woeful want expect to taste.
Ah! why will my dear little girl be so cross,
And cry, and look sulky, and pout?
To lose her sweet smile is a terrible loss,
I can't even kiss her without.You say you don't like to be wash'd and be dress'd,
But would you not wish to be clean?
Come, drive that long sob from your dear little breast,
This face is not fit to be seen.If the water is cold, and the brush hurts your head,
And the soap has got into your eye,
Will the water grow warmer for all that you've said?
And what good will it do you to cry?
It is not to tease you and hurt you, my sweet,
But only for kindness and care,
That I wash you, and dress you, and make you look neat,
And comb out your tanglesome hair.
I don't mind the trouble, if you would not cry,
But pay me for all with a kiss;
That's right — ­take the towel and wipe your wet eye,
I thought you'd be good after this.
Poor Martha is old, and her hair is turn'd grey,
And her hearing has left her for many a year;
Ten to one if she knows what it is that you say,
Though she puts her poor wither'd hand close to her ear.I've seen naughty children run after her fast,
And cry, "Martha, run, there's a bullock so bold;"
And when she was frighten'd, ­laugh at her at last,
Because she believed the sad stories they told.I've seen others put their mouths close to her ear,
And make signs as if they had something to say;
And when she said, "Master, I'm deaf and can't hear,"
Point at her and mock her, and scamper away.
Ah! wicked the children poor Martha to tease,
As if she had not enough else to endure;
They rather should try her affliction to ease,
And soothe a disorder that nothing can cure.
One day, when those children themselves are grown old,
And one may be deaf, and another be lame,
Perhaps they may find that some children, as bold,
May tease them, and mock them, and serve them the same.
Then, when they reflect on the days of their youth,
A faithful account will their consciences keep,
And teach them, with shame and with sorrow, the truth,
That "what a man soweth, the same shall he reap."
Come, my darling, come away,
Take a pretty walk to-day;
Run along, and never fear,
I'll take care of baby dear:
Up and down with little feet,
That's the way to walk, my sweet.Now it is so very near,
Soon she'll get to mother dear.
There she comes along at last:
Here's my finger, hold it fast:
Now one pretty little kiss,
After such a walk as this.
From morning till night it was Lucy's delight
To chatter and talk without stopping:
There was not a day but she rattled away,
Like water for ever a-dropping.No matter at all if the subjects were small,
Or not worth the trouble of saying,
'Twas equal to her, she would talking prefer
To working, or reading, or playing.You'll think now, perhaps, that there would have been gaps,
If she had not been wonderfully clever:
That her sense was so great, and so witty her pate,
It would be forthcoming for ever;
But that's quite absurd, for have you not heard
That much tongue and few brains are connected?
That they are supposed to think least who talk most,
And their wisdom is always suspected?
While Lucy was young, had she bridled her tongue,
With a little good sense and exertion,
Who knows, but she might now have been our delight,
Instead of our jest and aversion?
I'm a pretty little thing,
Always coming with the spring;
In the meadows green I'm found,
Peeping just above the ground,
And my stalk is cover'd flat
With a white and yellow hat.Little Mary, when you pass
Lightly o'er the tender grass,
Skip about, but do not tread
On my bright but lowly head,
For I always seem to say,
"Surely winter's gone away."
Twinkle, twinkle, little star,
How I wonder what you are!
Up above the world so high,
Like a diamond in the sky.When the blazing sun is gone,
When he nothing shines upon,
Then you show your little light,
Twinkle, twinkle, all the night.Then the trav'ller in the dark,
Thanks you for your tiny spark,
He could not see which way to go,
If you did not twinkle so.
In the dark blue sky you keep,
And often thro' my curtains peep,
For you never shut your eye,
Till the sun is in the sky.
'Tis your bright and tiny spark,
Lights the trav'ller in the dark:
Tho' I know not what you are,
Twinkle, twinkle, little star.
To a Little Girl That Has Told a Lie
And has my darling told a lie?
Did she forget that GOD was by?
That GOD, who saw the things she did,
From whom no action can be hid;
Did she forget that GOD could see
And hear, wherever she might be?
He made your eyes, and can discern
Whichever way you think to turn;
He made your ears, and he can hear
When you think nobody is near;
In every place, by night or day,
He watches all you do and say.
Oh, how I wish you would but try
To act, as shall not need a lie;
And when you wish a thing to do,
That has been once forbidden you,
Remember that, nor ever dare
To disobey­, for GOD is there.
Why should you fear the truth to tell?
Does falsehood ever do so well?
Can you be satisfied to know,
There's something wrong to hide below?
No! let your fault be what it may,
To own it is the happy way.
So long as you your crime conceal,
You cannot light and gladsome feel:
Your little heart will seem oppress'd,
As if a weight were on your breast;
And e'en your mother's eye to meet,
Will tinge your face with shame and heat.
Yes, GOD has made your duty clear,
By every blush, by every fear;
And conscience, like an angel kind,
Keeps watch to bring it to your mind:
Its friendly warnings ever heed,
And neither tell a lie­ nor need.
SEE MORE: