Andrew Marvell Poems
English lyric poet and politician, Andrew Marvell was born in 1621 in East Riding, Yorkshire. His father was a vicar and the family moved to Hull when he became a lecturer at Holy Trinity Church there. Initially tutored at a Hull grammar school, Andrew Marvell, at the age of 13, went to Cambridge to study.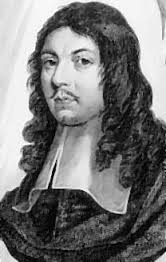 Andrew Marvell Bio
At the height of the English Civil War, Marvell was on the European continent and remained there until 1647, managing to learn four languages during his time away. He had begun writing poems whilst still at Cambridge and was not averse to including political commentary and satire in his verses. He wrote with sadness about the death of Charles I but also spoke in praise of Cromwell.
A Dialogue Between the Resolved Soul, And Created Pleasure
Courage my Soul, now learn to wield
The weight of thine immortal Shield.
Close on thy Head thy Helmet bright.
Ballance thy Sword against the Fight.
See where an Army, strong as fair,
With silken Banners spreads the air.
Now, if thou bee'st that thing Divine,
In this day's Combat let it shine:
And shew that Nature wants an Art
To conquer one resolved Heart.Pleasure
Welcome the Creations Guest,
Lord of Earth, and Heavens Heir.
Lay aside that Warlike Crest,
And of Nature's banquet share:
Where the Souls of fruits and flow'rs
Stand prepar'd to heighten yours.Soul
I sup above, and cannot stay
To bait so long upon the way.
Pleasure
On these downy Pillows lye,
Whose soft Plumes will thither fly:
On these Roses strow'd so plain
Lest one Leaf thy Side should strain.
Soul
My gentler Rest is on a Thought,
Conscious of doing what I ought.
Pleasure
If thou bee'st with Perfumes pleas'd,
Such as oft the Gods appeas'd,
Thou in fragrant Clouds shalt show
Like another God below.
Soul
A Soul that knowes not to presume
Is Heaven's and its own perfume.
Pleasure
Every thing does seem to vie
Which should first attract thine Eye:
But since none deserves that grace,
In this Crystal view thy face.
Soul
When the Creator's skill is priz'd,
The rest is all but Earth disguis'd.
Pleasure
Heark how Musick then prepares
For thy Stay these charming Aires ;
Which the posting Winds recall,
And suspend the Rivers Fall.
Soul
Had I but any time to lose,
On this I would it all dispose.
Cease Tempter. None can chain a mind
Whom this sweet Chordage cannot bind.
Chorus
Earth cannot shew so brave a Sight
As when a single Soul does fence
The Batteries of alluring Sense,
And Heaven views it with delight.
Then persevere: for still new Charges sound:
And if thou overcom'st thou shalt be crown'd.
Pleasure
All this fair, and cost, and sweet,
Which scatteringly doth shine,
Shall within one Beauty meet,
And she be only thine.
Soul
If things of Sight such Heavens be,
What Heavens are those we cannot see?
Pleasure
Where so e're thy Foot shall go
The minted Gold shall lie;
Till thou purchase all below,
And want new Worlds to buy.
Soul
Wer't not a price who 'ld value Gold?
And that's worth nought that can be sold.
Pleasure
Wilt thou all the Glory have
That War or Peace commend?
Half the World shall be thy Slave
The other half thy Friend.
Soul
What Friends, if to my self untrue?
What Slaves, unless I captive you?
Pleasure
Thou shalt know each hidden Cause;
And see the future Time:
Try what depth the Centre draws;
And then to Heaven climb.
Soul
None thither mounts by the degree
Of Knowledge, but Humility.
Chorus
Triumph, triumph, victorious Soul;
The World has not one Pleasure more:
The rest does lie beyond the pole,
And is thine everlasting Store.
A Letter To Doctor Ingelo, then With My Lord Whitlock, Amba
Quid facis Arctoi charissime transfuga coeli,
Ingele, proh sero cognite, rapte cito?
Num satis Hybernum defendis pellibus Astrum,
Qui modo tam mollis nec bene firmus eras?
Quae Gentes Hominum, quae sit Natura Locorum,
Sint Homines, potius dic ibi sintre Loca?
Num gravis horrisono Polus obruit omnia lapsu,
Jungitur & praeceps Mundas utraque nive?
An melius canis horrescit Campus Aristis,
Amuius Agricolis & redit Orbe labor?
Incolit, ut fertur, saevam Gens mitior Oram,
Pace vigil, Bello strenua, justa Foro.
Quin ibi sunt Urbes, atque alta Palatia Regum,
Musarumque domus, & sua Templa Deo.
Nam regit Imperio populum Christina ferocem,
Et dare jura potest regia Virgo viris.
Utque trahit rigidum Magnes Aquilone Metallum,
Gandet eam Soboles ferrea sponte sequii.
Dic quantum liceat fallaci credere Famae,
Invida num taceat plura, sonet ve loquax.
At, si vera fides, Mundi melioris ab ortu,
Saecula Christinae nulla tulere parem.
Ipsa licet redeat (nostri decus orbis) Eliza,
Qualis nostra tamen quantaque Eliza fuit.
Vidimus Effigiem, mistasque Coloribus Umbras:
Sic quoque Sceptripotens, sic quoque visa Dea.
Augustam decorant (raro concordia) frontem
Majestas & Amor, Forma Pudorque simul.
Ingens Virgineo spirat Gustavus in ore:
Agnoscas animos, fulmineumque Patrem.
Nulla suo nituit tam lucida Stella sub Axe;
Non Ea quae meruit Crimine Nympha Polum.
Ah quoties pavidum demisit conscia Lumen,
Utque suae timuit Parrhasis Ora Deae!
Et, simulet falsa ni Pictor imagine Vultus,
Delia tam similis nec fuit ipsa sibi.
Ni quod inornati Triviae sint forte Capilli,
Sollicita sed buic distribuantur Acu.
Scilicet ut nemo est illa reverentior aequi;
Haud ipsas igitur fert sine Lege Comas.
Gloria sylvarum pariter communis utrique
Est, & perpetuae Virginitatis Honos.
Sic quoque Nympharum supereminet Agmina collo,
Fertque Choros Cynthi per Juga, per Nives.
Haud aliter pariles Ciliorum contrahit Arcus
Acribus ast Oculis tela subesse putes.
Luminibus dubites an straverit illa Sagittis
Quae foret exuviis ardua colla Feram.
Alcides humeros coopertus pelle Nemaea
Haud ita labentis sustulit Orbis Onus.
Heu quae Cervices subnectunt Pectora tales.
Frigidiora Gelu, candidiora Nive.
Caetera non licuit, sed vix ea tota, videre;
Nam chau fi rigido stant Adamante Sinus.
Seu chlamys Artifici nimium succurrerit auso,
Sicque imperfectum fugerit impar Opus:
Sive tribus spernat Victrix certare Deabus,
Et pretium formae nec spoliata ferat.
Junonis properans & clara Trophaea Minervae;
Mollia nam Veneris praemia nosse piget.
Hinc neque consuluit fugitivae prodiga Formae,
Nectimuit seris invigilasse Libris.
Insommem quoties Nymphae monuere sequaces
Decedet roseis heu color ille Genis.
Jamque vigil leni cessit Philomela sopori,
Omnibus & Sylvis conticuere Ferae.
Acrior illa tamen pergit, Curasque fatigat:
Tanti est doctorum volvere scripta Virum.
Et liciti quae sint moderamina discere Regni,
Quid fuerit, quid sit, noscere quicquid erit.
Sic quod in ingenuas Gothus peccaverit Artes
Vindicat, & studiis expiat Una suis.
Exemplum dociles imitantur nobile Gentes,
Et geminis Infans imbuit Ora sonis.
Transpositos Suecis credas migrasse Latinos,
Carmine Romuleo sic strepit omne Nemus.
Upsala nec priscis impar memoratur Athenis,
Aegidaque & Currus hic sua Pallas habet.
Illinc O quales liceat sperasse Liquores,
Quum Dea praesideat fontibus ipsa sacris!
Illic Lacte ruant illic & flumina Melle,
Fulvaque inauratam tingat Arena Salam.
Upsalides Musae nunc & majora conemus,
Quaeque mihi Famae non levis Aura tulit.
Creditur haud ulli Christus signasse suorum
Occultam gemina de meliore Notam.
Quemque tenet charo descriptum Nomine semper,
Non minus exculptum Pectore fida refert.
Sola haec virgineas depascit Flamma Medullas,
Et licito pergit solvere corda foco.
Tu quoque Sanctorum fastos Christina sacrabis,
Unica nec Virgo Volsiniensis erit.
Discite nunc Reges (Majestas proxima coelo)
Discite proh magnos hinc coluisse Deos.
Ah pudeat Tanitos puerilia fingere coepta,
Nugas nescio quas, & male quaerere Opes.
Acer Equo cunctos dum praeterit illa Britanno,
Et pecoris spolium nescit inerme sequi.
Ast Aquilam poscit Germano pellere Nido,
Deque Palatino Monte fugare Lupam.
Vos etiam latos in praedam jungite Campos,
Impiaque arctatis cingite Lustra Plagis.
Victor Oliverus nudum Caput exerit Armis,
Ducere sive sequi nobile laetus Iter.
Qualis jam Senior Solymae Godfredus ad Arces,
Spina cui canis floruit alba comis.
Et lappos Christina potest & solvere Finnos,
Ultima quos Boreae carcere Claustra premunt.
Aeoliis quales Venti fremuere sub antris,
Et tentant Montis corripuisse moras.
Hanc Dea si summa demiserit Arce procellam
Quam gravis Austriacis Hesperiisque cadat!
Omnia sed rediens olim narraveris Ipse;
Nec reditus spero tempora longa petit.
Non ibi lenta pigro stringuntur frigore Verba,
Solibus, & tandem Vere liquanda novo.
Sed radiis hyemem Regina potentior urit;
Haecque magis solvit, quam ligat illa Polum.
Dicitur & nostros moerens andisse Labores,
Fortis & ingenuam Gentis amasse Fidem.
Oblatae Batavam nec paci commodat Aurem;
Nec versat Danos insidiosa dolos.
Sed pia festinat mutatis Foedera rebus,
Et Libertatem quae dominatur amat.
Digna cui Salomon meritos retulisset honores,
Et Saba concretum Thure cremasset Iter.
Hanc tua, sed melius, celebraverit, Ingele, Musa;
Et labor est vestrae debitus ille Lyrae.
Nos sine te frustra Thamisis saliceta subimus,
Sparsaque per steriles Turba vagamur Agros.
Et male tentanti querulum respondet Avena:
Quin & Rogerio dissiluere fides.
Haec tamen absenti memores dictamus Amico,
Grataque speramus qualiacumque fore.
An Horation Ode Upon Cromwell's Return From Ireland
The forward Youth that would appear
Must now forsake his Muses dear,
Nor in the Shadows sing
His Numbers languishing.
'Tis time to leave the Books in dust,
And oyl th'unused Armours rust:
Removing from the Wall
The Corslet of the Hall.
So restless Cromwell could not cease
In the inglorious Arts of Peace,
But through adventrous War
Urged his active Star.
And, like the three-fork'd Lightning, first
Breaking the Clouds where it was nurst,
Did through his own Side
His fiery way divide.
For 'tis all one to Courage high
The Emulous or Enemy;
And with such to inclose
Is more then to oppose.
Then burning through the Air he went,
And Pallaces and Temples rent:
And Caesars head at last
Did through his Laurels blast.
'Tis Madness to resist or blame
The force of angry Heavens flame:
And, if we would speak true,
Much to the Man is due.
Who, from his private Gardens, where
He liv'd reserved and austere,
As if his hightest plot
To plant the Bergamot,
Could by industrious Valour climbe
To ruine the great Work of Time,
And cast the Kingdome old
Into another Mold.
Though Justice against Fate complain,
And plead the antient Rights in vain:
But those do hold or break
As Men are strong or weak.
Nature that hateth emptiness,
Allows of penetration less:
And therefore must make room.
Where greater Spirits come.
What Field of all the Civil Wars,
Where his were not the deepest Scars?
And Hampton shows what part
He had of wiser Art.
Where, twining subtile fears with hope,
He wove a Net of such a scope,
That Charles himself might chase
To Caresbrooks narrow case.
That thence the Royal Actor born
The Tragick Scaffold might adorn
While round the armed Bands
Did clap their bloody hands.
He nothing common did or mean
Upon that memorable Scene:
But with his keener Eye
The Axes edge did try:
Nor call'd the Gods with vulgar spight
To vindicate his helpless Right,
But bow'd his comely Head,
Down as upon a Bed.
This was that memorable Hour
Which first assur'd the forced Pow'r.
So when they did design
The Capitols first Line,
A bleeding Head where they begun,
Did fright the Architects to run;
And yet in that the State
Foresaw it's happy Fate.
And now the Irish are asham'd
To see themselves in one Year tam'd:
So much one Man can do,
That does both act and know.
They can affirm his Praises best,
And Have, though overcome, confest
How good he is, how just,
And fit for highest Trust:
Nor yet grown stiffer with Command,
But still in the Republick's hand:
How fit he is to sway
That can so well obey.
He to the Common Feet presents
A Kingdome, for his first years rents:
And, what he may, forbears
His Fame to make it theirs:
And has his Sword and Spoyls ungirt,
To lay them at the Publick's skirt.
So when the Falcon high
Falls heavy from the Sky,
She, having kill'd no more does search,
But on the next green Bow to pearch;
Where, when he first does lure,
The Falckner has her sure.
What may not then our Isle presume
While Victory his Crest does plume!
What may not others fear
If thus he crown each Year!
A Caesar he ere long to Gaul,
To Italy an Hannibal,
And to all States not free
Shall Clymacterick be.
The Pict no shelter now shall find
Within his party-colour'd Mind;
But from this Valour sad
Shrink underneath the Plad:
Happy if in the tufted brake
The English Hunter him mistake;
Nor lay his Hounds in near
The Caledonian Deer.
But thou the Wars and Fortunes Son
March indefatigably on;
And for the last effect
Still keep thy Sword erect:
Besides the Force it has to fright
The Spirits of the shady Night,
The same Arts that did gain
A Pow'r must it maintain.
An Horatian Ode upon Cromwell's Return From Ireland
The forward youth that would appear
Must now forsake his muses dear,
Nor in the shadows sing,
His numbers languishing.
'Tis time to leave the books in dust,
And oil the unusèd armour's rust:
Removing from the wall
The corslet of the hall.
So restless Cromwell could not cease
In the inglorious arts of peace,
But through adventurous war
Urgèd his active star.
And, like the three-forked lightning, first
Breaking the clouds where it was nursed,
Did thorough his own side
His fiery way divide.
(For 'tis all one to courage high
The emulous or enemy:
And with such to inclose
Is more than to oppose.)
Then burning through the air he went,
And palaces and temples rent:
And Cæsar's head at last
Did through his laurels blast.
'Tis madness to resist or blame
The force of angry heaven's flame:
And, if we would speak true,
Much to the man is due,
Who from his private gardens, where
He lived reservèd and austere,
As if his highest plot
To plant the bergamot,
Could by industrious valour climb
To ruin the great work of time,
And cast the kingdoms old
Into another mould.
Though justice against fate complain,
And plead the ancient rights in vain:
But those do hold or break
As men are strong or weak.
Nature, that hateth emptiness,
Allows of penetration less:
And therefore must make room
Where greater spirits come.
What field of all the Civil Wars,
Where his were not the deepest scars?
And Hampton shows what part
He had of wiser art,
Where, twining subtle fears with hope,
He wove a net of such a scope,
That Charles himself might chase
To Carisbrooke's narrow case:
That then the royal actor born
The tragic scaffold might adorn:
While round the armèd bands
Did clap their bloody hands.
He nothing common did or mean
Upon that memorable scene:
But with his keener eye
The axe's edge did try:
Nor called the gods with vulgar spite
To vindicate his helpless right,
But bowed his comely head,
Down, as upon a bed.
This was that memorable hour
Which first assured the forcèd power.
So when they did design
The Capitol's first line,
A bleeding head where they begun,
Did fright the architects to run;
And yet in that the State
Foresaw its happy fate.
And now the Irish are ashamed
To see themselves in one year tamed:
So much one man can do,
That does both act and know.
They can affirm his praises best,
And have, though overcome, confessed
How good he is, how just,
And fit for highest trust:
Nor yet grown stiffer with command,
But still in the Republic's hand:
How fit he is to sway
That can so well obey.
He to the Commons feet presents
A kingdom, for his first year's rents:
And, what he may, forbears
His fame, to make it theirs:
And has his sword and spoils ungirt,
To lay them at the public's skirt.
So when the falcon high
Falls heavy from the sky,
She, having killed, no more does search
But on the next green bough to perch,
Where, when he first does lure,
The falc'ner has her sure.
What may not then our isle presume
While Victory his crest does plume?
What may not others fear
If thus he crowns each year?
A Cæ.sar, he, ere long to Gaul,
To Italy an Hannibal,
And to all states not free
Shall climactéric be.
The Pict no shelter now whall find
Within his parti-coloured mind,
But from this valour sad
Shrink underneath the plaid:
Happy, if in the tufted brake
The English hunter him mistake,
Nor lay his hounds in near
The Caledonian deer.
But thou, the Wars' and Fortune's son,
March indefatigably on,
And for the last effect
Still keep thy sword erect:
Besides the force it has to fright
The spirits of the shady night,
The same arts that did gain
A power, must it maintain.
Dignissimo Suo Amico Doctori Wittie. De Translatione Vulgi
Nempe sic innumero succrescunt agmine libri,
Saepia vix toto ut jam natet una mari.
Fortius assidui surgunt a vulnere praeli:
Quoque magis pressa est, auctior Hydra redit.
Heu quibus Anticyris, quibus est sanabilis herbis
Improba scribendi pestis, avarus amor!
India sola tenet tanti medicamina morbi,
Dicitur & nostris ingemuisse malis.
Utile Tabacci dedit illa miserta venenum,
Acci veratro quod meliora potest.
Jamque vides olidas libris fumare popinas:
Naribus O doctis quam pretiosus odor!
Hac ego praecipua credo herbam dote placere,
Hinc tuus has nebulas Doctor in astra vehit.
Ah mea quid tandem facies timidissima charta?
Exequias Siticen jam parat usque tuas.
Hunc subeas librum Sansti ceu limen asyli,
Quem neque delebit flamma, nec ira fovis.
Eyes And Tears
How wisely Nature did decree,
With the same Eyes to weep and see!
That, having view'd the object vain,
They might be ready to complain.
And since the Self-deluding Sight,
In a false Angle takes each hight;
These Tears which better measure all,
Like wat'ry Lines and Plummets fall.
Two Tears, which Sorrow long did weigh
Within the Scales of either Eye,
And then paid out in equal Poise,
Are the true price of all my Joyes.
What in the World most fair appears,
Yea even Laughter, turns to Tears:
And all the Jewels which we prize,
Melt in these Pendants of the Eyes.
I have through every Garden been,
Amongst the Red,the White, the Green;
And yet, from all the flow'rs I saw,
No Hony, but these Tears could draw.
So the all-seeing Sun each day
Distills the World with Chymick Ray;
But finds the Essence only Showers,
Which straight in pity back he powers.
Yet happy they whom Grief doth bless,
That weep the more, and see the less:
And, to preserve their Sight more true,
Bath still their Eyes in their own Dew.
So Magdalen, in Tears more wise
Dissolv'd those captivating Eyes,
Whose liquid Chains could flowing meet
To fetter her Redeemers feet.
Not full sailes hasting loaden home,
Nor the chast Ladies pregnant Womb,
Nor Cynthia Teeming show's so fair,
As two Eyes swoln with weeping are.
The sparkling Glance that shoots Desire,
Drench'd in these Waves, does lose it fire.
Yea oft the Thund'rer pitty takes
And here the hissing Lightning slakes.
The Incense was to Heaven dear,
Not as a Perfume, but a Tear.
And Stars shew lovely in the Night,
But as they seem the Tears of Light.
Ope then mine Eyes your double Sluice,
And practise so your noblest Use.
For others too can see, or sleep;
But only humane Eyes can weep.
Now like two Clouds dissolving, drop,
And at each Tear in distance stop:
Now like two Fountains trickle down:
Now like two floods o'return and drown.
Thus let your Streams o'reflow your Springs,
Till Eyes and Tears be the same things:
And each the other's difference bears;
These weeping Eyes, those seeing Tears.
Quisnam adeo, mortale genus, praecordia versat:
Heu Palmae, Laurique furor, vel simplicis Herbae!
Arbor ut indomitos ornet vix una labores;
Tempora nec foliis praecingat tota maglignis.
Dum simud implexi, tranquillae ad ferta Quiaetis,
Omnigeni coeunt Flores, integraque Sylva.
Alma Quies, teneo te! & te Germana Quietis
Simplicitas! Vos ergo diu per Templa, per urbes,
Quaesivi, Regum perque alta Palatia frustra.
Sed vos Hotrorum per opaca siluentia longe
Celarant Plantae virides, & concolor Umbra.
O! mibi si vestros liceat violasse recessus.
Erranti, lasso, & vitae melioris anhelo,
Municipem servate novum, votoque potitum,
Frondosae Cives optate in florea Regna.
Me quoque, vos Musae, &, te conscie testor Apollo,
Non Armenta juvant hominum, Circique boatus,
Mugitusve Fori; sed me Penetralia veris,
Horroresque trahunt muti, & Consortia sola.
Virgineae quem non suspendit Gratia formae?
Quam candore Nives vincentum, Ostrumque rubore,
Vestra tamen viridis superet (me judice) Virtus.
Nec foliis certare Comae, nec Brachia ramis,
Nec possint tremulos voces aequare susurros.
Ah quoties saevos vidi (quis credat?) Amantes
Sculpentes Dominae potiori in cortice nomen?
Nec puduit truncis inscribere vulnera sacris.
Ast Ego, si vestras unquam temeravero stirpes,
Nulla Neaera, Chloe, Faustina, Corynna, legetur:
In proprio sed quaeque libro signabitur Arbos.
O charae Platanus, Cyparissus, Populus, Ulnus!
Hic Amor, exutis crepidatus inambulat alis,
Enerves arcus & stridula tela reponens,
Invertitque faces, nec se cupit usque timeri;
Aut experrectus jacet, indormitque pharetrae;
Non auditurus quanquam Cytherea vocarit;
Nequitias referuut nec somnia vana priores.
Laetantur Superi, defervescente Tyranno,
Et licet experti toties Nymphasque Deasque,
Arbore nunc melius potiuntur quisque cupita.
Jupiter annosam, neglecta conjuge, Quercum
Deperit; baud alia doluit sic pellice. Juno.
Lemniacum temerant vestigia nulla Cubile,
Nic Veneris Mavors meminit si Fraxinus adsit.
Formosae pressit Daphnes vestigia Phaebus
Ut fieret Laurus; sed nil quaesiverat ultra.
Capripes & peteret quod Pan Syringa fugacem,
Hoc erat ut Calamum posset reperire Sonorum.Note: Desunt multa. Nec tu, Opisex horti, grato sine carmine abibis:
Qui brevibus plantis, & laeto flore, notasti
Crescentes horas, atque intervalla diei.
Sol ibi candidior fragrantia Signa pererrat;
Proque truci Tauro, stricto pro forcipe Cancri,
Securis violaeque rosaeque allabitur umbris.
Sedula quin & Apis, mellito intenta labori,
Horologo sua pensa thymo Signare videtur.
Temporis O suaves lapsus! O Otia sana!
O Herbis dignae numerari & Floribus Horae!
In The French Translation Of Lucan, By Monsieur De Brebeuf
C'est de luy que nous vient cet Art ingenieux
De peindre la Parole, et deparler aua Yeux;
Et, parles traits divers de figures tracees,
Donner de la couleur et du corps aux pensees.
First was the world as one great cymbal made,
Where jarring winds to infant Nature played.
All music was a solitary sound,
To hollow rocks and murm'ring fountains bound.Jubal first made the wilder notes agree;
And Jubal tuned music's Jubilee;
He call'd the echoes from their sullen cell,
And built the organ's city where they dwell.Each sought a consort in that lovely place,
And virgin trebles wed the manly bass.
From whence the progeny of numbers new
Into harmonious colonies withdrew.
Some to the lute, some to the viol went,
And others chose the cornet eloquent,
These practicing the wind, and those the wire,
To sing men's triumphs, or in Heaven's choir.
Then music, the mosaic of the air,
Did of all these a solemn noise prepare;
With which she gain'd the empire of the ear,
Including all between the earth and sphere.
Victorious sounds! yet here your homage do
Unto a gentler conqueror than you;
Who though he flies the music of his praise,
Would with you Heaven's Hallelujahs raise.
On The Victory Obtained By Blake Over the Spaniards, In The
Now does Spains Fleet her spatious wings unfold,
Leaves the new World and hastens for the old:
But though the wind was fair, the slowly swoome
Frayted with acted Guilt, and Guilt to come:
For this rich load, of which so proud they are,
Was rais'd by Tyranny, and rais'd for war;
Every capatious Gallions womb was fill'd,
With what the Womb of wealthy Kingdomes yield,
The new Worlds wounded Intails they had tore,
For wealth wherewith to wound the old once more.
Wealth which all others Avarice might cloy,
But yet in them caus'd as much fear, as Joy.
For now upon the Main, themselves they saw,
That boundless Empire, where you give the law,
Of winds and waters rage, they fearful be,
But much more fearful are your Flags to see
Day, that to these who sail upon the deep,
More wish't for, and more welcome is then sleep,
They dreaded to behold, Least the Sun's light,
With English Streamers, should salute their sight:
In thickest darkness they would choose to steer,
So that such darkness might suppress their fear;
At length theirs vanishes, and fortune smiles;
For they behold the sweet Canary Isles.
One of which doubtless is by Nature blest
Above both Worlds, since 'tis above the rest.
For least some Gloominess might stain her sky,
Trees there the duty of the Clouds supply;
O noble Trust which Heaven on this Isle poures,
Fertile to be, yet never need her showres.
A happy People, which at once do gain
The benefits without the ills of rain.
Both health and profit, Fate cannot deny;
Where still the Earth is moist, the Air still dry;
The jarring Elements no discord know,
Fewel and Rain together kindly grow;
And coolness there, with heat doth never fight,
This only rules by day, and that by Night.
Your worth to all these Isles, a just right brings,
The best of Lands should have the best of Kings.
And these want nothing Heaven can afford,
Unless it be, the having you their Lord;
But this great want, will not along one prove,
Your Conquering Sword will soon that want remove.
For Spain had better, Shee'l ere long confess,
Have broken all her Swords, then this one Peace,
Casting that League off, which she held so long,
She cast off that which only made her strong.
Forces and art, she soon will feel, are vain,
Peace, against you, was the sole strength of Spain.
By that alone those Islands she secures,
Peace made them hers, but War will make them yours;
There the indulgent Soil that rich Grape breeds,
Which of the Gods the fancied drink exceeds;
They still do yield, such is their pretious mould,
All that is good, and are not curst with Gold.
With fatal Gold, for still where that does grow,
Neither the Soyl, nor People quiet know.
Which troubles men to raise it when 'tis Oar,
And when 'tis raised, does trouble them much more.
Ah, why was thither brought that cause of War,
Kind Nature had from thence remov'd so far.
In vain doth she those Islands free from Ill,
If fortune can make guilty what she will.
But whilst I draw that Scene, where you ere long,
Shall conquests act, your present are unsung,
For Sanctacruze the glad Fleet takes her way,
And safely there casts Anchor in the Bay.
Never so many with one joyful cry,
That place saluted, where they all must dye.
Deluded men! Fate with you did but sport,
You scap't the Sea, to perish in your Port.
'Twas more for Englands fame you should dye there,
Where you had most of strength, and least of fear.
The Peek's proud height, the Spaniards all admire,
Yet in their brests, carry a pride much higher.
Onely to this vast hill a power is given,
At once both to Inhabit Earth and Heaven.
But this stupendious Prospect did not neer,
Make them admire, so much as as they did fear.
For here they met with news, which did produce,
A grief, above the cure of Grapes best juice.
They learn'd with Terrour, that nor Summers heat,
Nor Winters storms, had made your Fleet retreat.
To fight against such Foes, was vain they knew,
Which did the rage of Elements subdue.
Who on the Ocean that does horror give,
To all besides, triumphantly do live.
With hast they therefore all their Gallions moar,
And flank with Cannon from the Neighbouring shore.
Forts, Lines, and Sconces all the Bay along,
They build and act all that can make them strong.
Fond men who know not whilst such works they raise,
They only Labour to exalt your praise.
Yet they by restless toyl, because at Length,
So proud and confident of their made strength.
That they with joy their boasting General heard,
Wish then for that assault he lately fear'd.
His wish he has, for now undaunted Blake,
With winged speed, for Sanctacruze does make.
For your renown, his conquering Fleet does ride,
Ore Seas as vast as is the Spaniards pride.
Whose Fleet and Trenches view'd, he soon did say,
We to their Strength are more obilg'd then they.
Wer't not for that, they from their Fate would run,
And a third World seek out our Armes to shun.
Those Forts, which there, so high and strong appear,
Do not so much suppress, as shew their fear.
Of Speedy Victory let no man doubt,
Our worst works past, now we have found them out.
Behold their Navy does at Anchor lye,
And they are ours, for now they cannot fly.
This said, the whole Fleet gave it their applause,
And all assumes your courage, in your cause.
That Bay they enter, which unto them owes,
The noblest wreaths, that Victory bestows.
Bold Stainer Leads, this Fleets design'd by fate,
To give him Lawrel, as the Last did Plate.
The Thund'ring Cannon now begins the Fight,
And though it be at Noon, creates a Night.
The Air was soon after the fight begun,
Far more enflam'd by it, then by the Sun.
Never so burning was that Climate known,
War turn'd the temperate, to the Torrid Zone.
Fate these two Fleets, between both Worlds had brought.
Who fight, as if for both those Worlds they fought.
Thousands of wayes, Thousands of men there dye,
Some Ships are sunk, some blown up in the skie.
Nature never made Cedars so high a Spire,
As Oakes did then. Urg'd by the active fire.
Which by quick powders force, so high was sent,
That it return'd to its own Element.
Torn Limbs some leagues into the Island fly,
Whilst others lower, in the Sea do lye.
Scarce souls from bodies sever'd are so far,
By death, as bodies there were by the War.
Th'all-seeing Sun, neer gaz'd on such a sight,
Two dreadful Navies there at Anchor Fight.
And neither have, or power, or will to fly,
There one must Conquer, or there both must dye.
Far different Motives yet, engag'd them thus,
Necessity did them, but Choice did us.
A choice which did the highest forth express,
And was attended by as high success.
For your resistless genious there did Raign,
By which we Laurels reapt ev'n on the Mayn.
So prosperous Stars, though absent to the sence,
Bless those they shine for, by their Influence.
Our Cannon now tears every Ship and Sconce,
And o're two Elements Triumphs at once.
Their Gallions sunk, their wealth the Sea does fill,
The only place where it can cause no ill,
Ah would those Treasures which both Indies have,
Were buryed in as large, and deep a grave,
Wars chief support with them would buried be,
And the Land owe her peace unto the Sea.
Ages to come, your conquering Arms will bless,
There they destroy, what had destroy'd their Peace.
And in one War the present age may boast,
The certain seeds of many Wars are lost,
All the Foes Ships destroy'd, by Sea or fire,
Victorious Blake, does from the Bay retire,
His Seige of Spain he then again pursues,
And there first brings of his success the news;
The saddest news that ere to Spain was brought,
Their rich Fleet sunk, and ours with Lawrel fraught.
Whilst fame in every place, her Trumpet blowes,
And tells the World, how much to you it owes.
When for the Thorns with which I long, too long,
With many a piercing wound,
My Saviours head have crown'd,
I seek with Garlands to redress that Wrong:
Through every Garden, every Mead,
I gather flow'rs (my fruits are only flow'rs)
Dismantling all the fragrant Towers
That once adorn'd my Shepherdesses head.
And now when I have summ'd up all my store,
Thinking (so I my self deceive)
So rich a Chaplet thence to weave
As never yet the king of Glory wore:
Alas I find the Serpent old
That, twining in his speckled breast,
About the flow'rs disguis'd does fold,
With wreaths of Fame and Interest.
Ah, foolish Man, that would'st debase with them,
And mortal Glory, Heavens Diadem!
But thou who only could'st the Serpent tame,
Either his slipp'ry knots at once untie,
And disintangle all his winding Snare:
Or shatter too with him my curious frame:
And let these wither, so that he may die,
Though set with Skill and chosen out with Care.
That they, while Thou on both their Spoils dost tread,
May crown thy Feet, that could not crown thy Head.
To make a final conquest of all me,
Love did compose so sweet an Enemy,
In whom both Beauties to my death agree,
Joyning themselves in fatal Harmony;
That while she with her Eyes my Heart does bind,
She with her Voice might captivate my Mind.I could have fled from One but singly fair:
My dis-intangled Soul it self might save,
Breaking the curled trammels of her hair.
But how should I avoid to be her Slave,
Whose subtile Art invisibly can wreath
My Fetters of the very Air I breath?It had been easie fighting in some plain,
Where Victory might hang in equal choice.
But all resistance against her is vain,
Who has th' advantage both of Eyes and Voice.
And all my Forces needs must be undone,
She having gained both the Wind and Sun.
Nature had long a Treasure made
Of all her choisest store;
Fearing, when She should be decay'd,
To beg in vain for more.Her Orientest Colours there,
And Essences most pure,
With sweetest Perfumes hoarded were,
All as she thought secure.She seldom them unlock'd, or us'd,
But with the nicest care;
For, with one grain of them diffus'd,
She could the World repair.
But likeness soon together drew
What she did separate lay;
Of which one perfect Beauty grew,
And that was Celia.
Love wisely had of long fore-seen
That he must once grow old;
And therefore stor'd a Magazine,
To save him from the cold.
He kept the several Cells repleat
With Nitre thrice refin'd;
The Naphta's and the Sulphurs heat,
And all that burns the Mind.
He fortifi'd the double Gate,
And rarely thither came,
For, with one Spark of these, he streight
All Nature could inflame.
Till, by vicinity so long,
A nearer Way they sought;
And, grown magnetically strong,
Into each other wrought.
Thus all his fewel did unite
To make one fire high:
None ever burn'd so hot, so bright:
And Celia that am I.
So we alone the happy rest,
Whilst all the World is poor,
And have within our Selves possest
All Love's and Nature's store.
The Mower's Song
My Mind was once the true survey
Of all these Medows fresh and gay;
And in the greenness of the Grass
Did see its Hopes as in a Glass;
When Juliana came, and she
What I do to the Grass, does to my Thoughts and Me.
But these, while I with Sorrow pine,
Grew more luxuriant still and fine;
That not one Blade of Grass you spy'd,
But had a Flower on either side;
When Juliana came, and She
What I do to the Grass, does to my Thoughts and Me.
Unthankful Meadows, could you so
A fellowship so true forego,
And in your gawdy May-games meet,
While I lay trodden under feet?
When Juliana came , and She
What I do to the Grass, does to my Thoughts and Me.
But what you in Compassion ought,
Shall now by my Revenge be wrought:
And Flow'rs, and Grass, and I and all,
Will in one common Ruine fall.
For Juliana comes, and She
What I do to the Grass, does to my Thoughts and Me.
And thus, ye Meadows, which have been
Companions of my thoughts more green,
Shall now the Heraldry become
With which I shall adorn my Tomb;
For Juliana comes, and She
What I do to the Grass, does to my Thoughts and Me.
Alas, how pleasant are their dayes
With whom the Infant Love yet playes!
Sorted by pairs, they still are seen
By Fountains cool, and Shadows green.
But soon these Flames do lose their light,
Like Meteors of a Summers night:
Nor can they to that Region climb,
To make impression upon Time.'Twas in a Shipwrack, when the Seas
Rul'd, and the Winds did what they please,
That my poor Lover floting lay,
And, e're brought forth, was cast away:
Till at the last the master-Wave.
Upon the Rock his Mother drave;
And there she split against the Stone,
In a Cesarian Section.The Sea him lent these bitter Tears
Which at his Eyes he alwaies bears.
And from the Winds the Sighs he bore,
Which through his surging Breast do roar.
No Day he saw but that which breaks,
Through frighted Clouds in forked streaks.
While round the ratling Thunder hurl'd,
As at the Fun'ral of the World.
While Nature to his Birth presents
This masque of quarrelling Elements;
A num'rous fleet of Corm'rants black,
That sail'd insulting o're the Wrack,
Receiv'd into their cruel Care,
Th' unfortunate and abject Heir:
Guardians most fit to entertain
The Orphan of the Hurricane.
They fed him up with Hopes and Air,
Which soon digested to Despair.
And as one Corm'rant fed him, still
Another on his Heart did bill.
Thus while they famish him, and feast,
He both consumed, and increast:
And languished with doubtful Breath,
Th' Amphibium of Life and Death.
And now, when angry Heaven wou'd
Behold a spectacle of Blood,
Fortune and He are call'd to play
At sharp before it all the day:
And Tyrant Love his brest does ply
With all his wing'd Artillery.
Whilst he, betwixt the Flames and Waves,
Like Ajax, the mad Tempest braves.
See how he nak'd and fierce does stand,
Cuffing the Thunder with one hand;
While with the other he does lock,
And grapple, with the stubborn Rock:
From which he with each Wave rebounds,
Torn into Flames, and ragg'd with Wounds.
And all he saies, a Lover drest
In his own Blood does relish best.
This is the only Banneret
That ever Love created yet:
Who though, by the Malignant Starrs,
Forced to live in Storms and Warrs;
Yet dying leaves a Perfume here,
And Musick within every Ear:
And he in Story only rules,
In a Field Sable a Lover Gules.
Had we but World enough, and Time,
This coyness Lady were no crime.
We would sit down, and think which way
To walk, and pass our long Loves Day.
Thou by the Indian Ganges side.
Should'st Rubies find: I by the Tide
Of Humber would complain. I would
Love you ten years before the Flood:
And you should if you please refuse
Till the Conversion of the Jews.
My vegetable Love should grow
Vaster then Empires, and more slow.
An hundred years should go to praise
Thine Eyes, and on thy Forehead Gaze.
Two hundred to adore each Breast.
But thirty thousand to the rest.
An Age at least to every part,
And the last Age should show your Heart.
For Lady you deserve this State;
Nor would I love at lower rate.
But at my back I alwaies hear
Times winged Charriot hurrying near:
And yonder all before us lye
Desarts of vast Eternity.
Thy Beauty shall no more be found;
Nor, in thy marble Vault, shall sound
My ecchoing Song: then Worms shall try
That long preserv'd Virginity:
And your quaint Honour turn to durst;
And into ashes all my Lust.
The Grave's a fine and private place,
But none I think do there embrace.
Now therefore, while the youthful hew
Sits on thy skin like morning glew,
And while thy willing Soul transpires
At every pore with instant Fires,
Now let us sport us while we may;
And now, like am'rous birds of prey,
Rather at once our Time devour,
Than languish in his slow-chapt pow'r.
Let us roll all our Strength, and all
Our sweetness, up into one Ball:
And tear our Pleasures with rough strife,
Thorough the Iron gates of Life.
Thus, though we cannot make our Sun
Stand still, yet we will make him run.
To His Worthy Friend Doctor Witty Upon His Translation Of T
Sit further, and make room for thine own fame,
Where just desert enrolles thy honour'd Name
The good Interpreter. Some in this task
Take of the Cypress vail, but leave a mask,
Changing the Latine, but do more obscure
That sence in English which was bright and pure.
So of Translators they are Authors grown,
For ill Translators make the Book their own.
Others do strive with words and forced phrase
To add such lustre, and so many rayes,
That but to make the Vessel shining, they
Much of the precious Metal rub away.
He is Translations thief that addeth more,
As much as he that taketh from the Store
Of the first Author. Here he maketh blots
That mends; and added beauties are but spots.
Caelia whose English doth more richly flow
Then Tagus, purer then dissolved snow,
And sweet as are her lips that speak it, she
Now learns the tongues of France and Italy;
But she is Caelia still: no other grace
But her own smiles commend that lovely face;
Her native beauty's not Italianated,
Nor her chast mind into the French translated:
Her thoughts are English, though her sparkling wit
With other Language doth them fitly fit.
Translators learn of her: but stay I slide
Down into Error with the Vulgar tide;
Women must not teach here: the Doctor doth
Stint them to Cawdles Almond-milk, and Broth.
Now I reform, and surely so will all
Whose happy Eyes on thy Translation fall,
I see the people hastning to thy Book,
Liking themselves the worse the more they look,
And so disliking, that they nothing see
Now worth the liking, but thy Book and thee.
And (if I Judgement have) I censure right;
For something guides my hand that I must write.
You have Translations statutes best fulfil'd.
That handling neither sully nor would guild
Facundis dedit ille notis, interprete plumas
Insinuare sonos oculis, & pingere voces,
Et mentem chartis, oculis impertiit aurem.
Upon The Hill And Grove At Bill-borow
To the Lord Fairfax.
See how the arched Earth does here
Rise in a perfect Hemisphere!
The stiffest Compass could not strike
A line more circular and like;
Nor softest Pensel draw a Brow.
So equal as this Hill does bow.
It seems as for a Model laid,
And that the World by it was made.
Here learn ye Mountains more unjust,
Which to abrupter greatness thrust,
That do with your hook-shoulder'd height
The Earth deform and Heaven frght.
For whose excrescence ill design'd,
Nature must a new Center find,
Learn here those humble steps to tread,
Which to securer Glory lead.
See what a soft access and wide
Lyes open to its grassy side;
Nor with the rugged path deterrs
The feet of breathless Travellers.
See then how courteous it ascends,
And all the way ir rises bends;
Nor for it self the height does gain,
But only strives to raise the Plain.
Yet thus it all the field commands,
And in unenvy'd Greatness stands,
Discerning furthe then the Cliff
Of Heaven-daring Teneriff.
How glad the weary Seamen hast
When they salute it from the Mast!
By Night the Northern Star their way
Directs, and this no less by Day.
Upon its crest this Mountain grave
A Plum of aged Trees does wave.
No hostile hand durst ere invade
With impious Steel the sacred Shade.
For something alwaies did appear
Of the Great Masters terrour there:
And Men could hear his Armour still
Ratling through all the Grove and Hill.
Fear of the Master, and respect
Of the great Nymph did it protect;
Vera the Nymph that him inspir'd,
To whom he often here retir'd,
And on these Okes ingrav'd her Name;
Such Wounds alone these Woods became:
But ere he well the Barks could part
'Twas writ already in their Heart.
For they ('tis credible) have sense,
As we, of Love and Reverence,
And underneath the Courser Rind
The Genius of the house do bind.
Hence they successes seem to know,
And in their Lord's advancement grow;
But in no Memory were seen
As under this so streight and green.
Yet now no further strive to shoot,
Contented if they fix their Root.
Nor to the winds uncertain gust,
Their prudent Heads too far intrust.
Onely sometimes a flutt'ring Breez
Discourses with the breathing Trees;
Which in their modest Whispers name
Those Acts that swell'd the Cheek of Fame.
Much other Groves, say they, then these
And other Hills him once did please.
Through Groves of Pikes he thunder'd then,
And Mountains rais'd of dying Men.
For all the Civick Garlands due
To him our Branches are but few.
Nor are our Trunks enow to bear
The Trophees of one fertile Year.
'Tis true, the Trees nor ever spoke
More certain Oracles in Oak.
But Peace (if you his favour prize)
That Courage its own Praises flies.
Therefore to your obscurer Seats
From his own Brightness he retreats:
Nor he the Hills without the Groves,
Nor Height but with Retirement loves.
A Dialogue Between The Soul And Body
Soul
O Who shall, from this Dungeon, raise
A Soul inslav'd so many wayes?
With bolts of Bones, that fetter'd stands
In Feet ; and manacled in Hands.
Here blinded with an Eye ; and there
Deaf with the drumming of an Ear.
A Soul hung up, as 'twere, in Chains
Of Nerves, and Arteries, and Veins.
Tortur'd, besides each other part,In a vain Head, and double Heart.Body
O who shall me deliver whole,
From bonds of this Tyrannic Soul?
Which, stretcht upright, impales me so,
That mine own Precipice I go;
And warms and moves this needless Frame:
(A Fever could but do the same.)
And, wanting where its spight to try,
Has made me live to let me dye.
A Body that could never rest,
Since this ill Spirit it possest.
Soul
What Magic could me thus confine
Within anothers Grief to pine?
Where whatsoever it complain,
I feel, that cannot feel, the pain.
And all my Care its self employes,
That to preserve, which me destroys:
Constrain'd not only to indure
Diseases, but, whats worse, the Cure:
And ready oft the Port to gain,
Am Shipwrackt into Health again.
Body
But Physick yet could never reach
The Maladies Thou me dost teach;
Whom first the Cramp of Hope does Tear:
And then the Palsie Shakes of Fear.
The Pestilence of Love does heat :
Or Hatred's hidden Ulcer eat.
Joy's chearful Madness does perplex:
Or Sorrow's other Madness vex.
Which Knowledge forces me to know;
And Memory will not foregoe.
What but a Soul could have the wit
To build me up for Sin so fit?
So Architects do square and hew,
Green Trees that in the Forest grew.
A Garden, Written after the Civil Wars
SEE how the flowers, as at parade,
Under their colours stand display'd:
Each regiment in order grows,
That of the tulip, pink, and rose.
But when the vigilant patrol
Of stars walks round about the pole,
Their leaves, that to the stalks are curl'd,
Seem to their staves the ensigns furl'd.
Then in some flower's beloved hut
Each bee, as sentinel, is shut,
And sleeps so too; but if once stirr'd,
She runs you through, nor asks the word.
O thou, that dear and happy Isle,
The garden of the world erewhile,
Thou Paradise of the four seas
Which Heaven planted us to please,
But, to exclude the world, did guard
With wat'ry if not flaming sword;
What luckless apple did we taste
To make us mortal and thee waste!
Unhappy! shall we never more
That sweet militia restore,
When gardens only had their towers,
And all the garrisons were flowers;
When roses only arms might bear,
And men did rosy garlands wear?
Aliter
Regibus haec posuit Ludovicus Templa futuris;
Gratior ast ipsi Castra fuere Domus.
Ametas And Thestylis Making Hay-Ropes
Ametas
Think'st Thou that this Love can stand,
Whilst Thou still dost say me nay?
Love unpaid does soon disband:
Love binds Love as Hay binds Hay.Thestylis
Think'st Thou that this Rope would twine
If we both should turn one way?
Where both parties so combine,
Neither Love will twist nor Hay.Ametas
Thus you vain Excuses find,
Which your selve and us delay:
And Love tyes a Womans Mind
Looser then with Ropes of Hay.
Thestylis
What you cannot constant hope
Must be taken as you may.
Ametas
Then let's both lay by our Rope,
And go kiss within the Hay.
Where the remote Bermudas ride
In th' Oceans bosome unespy'd,
From a small Boat, that row'd along,
The listning Winds receiv'd this Song.
What should we do but sing his Praise
That led us through the watry Maze,
Unto an Isle so long unknown,
And yet far kinder than our own?
Where he the huge Sea-Monsters wracks,
That lift the Deep upon their Backs.
He lands us on a grassy stage;
Safe from the Storms, and Prelat's rage.
He gave us this eternal Spring,
Which here enamells every thing;
And sends the Fowl's to us in care,
On daily Visits through the Air,
He hangs in shades the Orange bright,
Like golden Lamps in a green Night.
And does in the Pomgranates close,
Jewels more rich than Ormus show's.
He makes the Figs our mouths to meet;
And throws the Melons at our feet.
But Apples plants of such a price,
No Tree could ever bear them twice.
With Cedars, chosen by his hand,
From Lebanon, he stores the Land.
And makes the hollow Seas, that roar,
Proclaime the Ambergris on shoar.
He cast (of which we rather boast)
The Gospels Pearl upon our coast.
And in these Rocks for us did frame
A Temple, where to sound his Name.
Oh let our Voice his Praise exalt,
Till it arrive at Heavens Vault:
Which thence (perhaps) rebounding, may
Eccho beyond the Mexique Bay.
Thus sung they, in the English boat,
An holy and a chearful Note,
And all the way, to guide their Chime,
With falling Oars they kept the time.
C.
Damon come drive thy flocks this way.D.
No : 'tis too late they went astray.C.
I have a grassy Scutcheon spy'd,
Where Flora blazons all her pride.
The grass I aim to feast thy Sheep :
The Flow'rs I for thy Temples keep.
D.
Grass withers; and the Flow'rs too fade.
C.
Seize the short Joyes then, ere they vade.
Seest thou that unfrequented Cave ?
D.
That den?
C.
Loves Shrine.
D.
But Virtue's Grave.
C.
In whose cool bosome we may lye
Safe from the Sun.
D.
Not Heaven's Eye.
C.
Near this, a Fountaines liquid Bell
Tinkles within the concave Shell.
D.
Might a Soul bath there and be clean,
Or slake its Drought?
C.
What is 't you mean?
D.
These once had been enticing things,
Clorinda, Pastures, Caves, and Springs.
C.
And what late change?
D.
The other day
Pan met me.
C.
What did great Pan say?
D.
Words that transcend poor Shepherds skill,
But he ere since my Songs does fill:
And his Name swells my slender Oate.
C.
Sweet must Pan sound in Damons Note.
D.
Clorinda's voice might make it sweet.
C.
Who would not in Pan's Praises meet ?
Chorus
Of Pan the flowry pastures sing,
Caves eccho and the Fountains ring.
Sing then while he doth us inspire;
For all the world is our Pan's Quire.
Daphnis must from Chloe part:
Now is come the dismal Hour
That must all his Hopes devour,
All his Labour, all his Art.Nature, her own Sexes foe,
Long had taught her to be coy:
But she neither knew t' enjoy,
Nor yet let her Lover go.But, with this sad News surpriz'd,
Soon she let that Niceness fall;
And would gladly yield to all,
So it had his stay compriz'd.
Nature so her self does use
To lay by her wonted State,
Left the World should separate;
Sudden Parting closer glews.
He, well read in all the wayes
By which men their Siege maintain,
Knew not that the Fort to gain
Better 'twas the siege to raise.
But he came so full possest
With the Grief of Parting thence,
That he had not so much Sence
As to see he might be blest.
Till Love in her Language breath'd
Words she never spake before;
But then Legacies no more
To a dying Man bequeath'd.
For, Alas, the time was spent,
Now the latest minut's run
When poor Daphnis is undone,
Between Joy and Sorrow rent.
At that Why, that Stay my Dear,
His disorder'd Locks he tare;
And with rouling Eyes did glare,
And his cruel Fate forswear.
As the Soul of one scarce dead,
With the shrieks of Friends aghast,
Looks distracted back in hast,
And then streight again is fled.
So did wretched Daphnis look,
Frighting her he loved most.
At the last, this Lovers Ghost
Thus his Leave resolved took.
Are my Hell and Heaven Joyn'd
More to torture him that dies?
Could departure not suffice,
But that you must then grow kind?
Ah my Chloe how have I
Such a wretched minute found,
When thy Favours should me wound
More than all thy Cruelty?
So to the condemned Wight
The delicious Cup we fill;
And allow him all he will,
For his last and short Delight.
But I will not now begin
Such a Debt unto my Foe;
Nor to my Departure owe
What my Presence could not win.
Absence is too much alone:
Better 'tis to go in peace,
Than my Losses to increase
By a late Fruition.
Why should I enrich my Fate?
'Tis a Vanity to wear,
For my Executioner,
Jewels of so high a rate.
Rather I away will pine
In a manly stubborness
Than be fatted up express
For the Canibal to dine.
Whilst this grief does thee disarm,
All th' Enjoyment of our Love
But the ravishment would prove
Of a Body dead while warm.
And I parting should appear
Like the Gourmand Hebrew dead,
While he Quailes and Manna fed,
And does through the Desert err.
Or the Witch that midnight wakes
For the Fern, whose magick Weed
In one minute casts the Seed.
And invisible him makes.
Gentler times for Love are ment:
Who for parting pleasure strain
Gather Roses in the rain,
Wet themselves and spoil their Sent.
Farewel therefore all the fruit
Which I could from Love receive:
Joy will not with Sorrow weave,
Nor will I this Grief pollute.
Fate I come, as dark, as sad,
As thy Malice could desire;
Yet bring with me all the Fire
That Love in his Torches had.
At these words away he broke;
As who long has praying ly'n,
To his Heads-man makes the Sign,
And receives the parting stroke.
But hence Virgins all beware.
Last night he with Phlogis slept;
This night for Dorinda kept;
And but rid to take the Air.
Yet he does himself excuse;
Nor indeed without a Cause.
For, according to the Lawes,
Why did Chloe once refuse?
Epigramma in Duos montes Amosclivum Et Bilboreum
Farfacio.
Cernis ut ingenti distinguant limite campum
Montis Amos clivi Bilboreique juga!
Ille stat indomitus turritis undisque saxis:
Cingit huic laetum Fraximus alta Caput.
Illi petra minax rigidis cervicibus horret:
Huic quatiunt viridis lenia colla jubas.
Fulcit Atlanteo Rupes ea vertice coelos:
Collis at hic humeros subjicit Herculeos.
Hic ceu carceribus visum sylvaque coercet:
Ille Oculos alter dum quasi meta trahit.
Ille Giganteum surgit ceu Pelion Ossa:
Hic agit ut Pindi culmine Nympha choros.
Erectus, praeceps, salebrosus, & arduus ille:
Aeclivis, placidus, mollis, amoenus hic est.
Dissimilis Domino coiit Natura sub uno;
Farfaciaque tremunt sub ditione pares.
Dumque triumphanti terras perlabitur Axe,
Praeteriens aequa stringit utrumque Rota.
Asper in adversos, facilis cedentibus idem;
Ut credas Montes extimulasse suos.
Hi sunt Alcidae Borealis nempe Columnae,
Quos medio scindit vallis opaca freto.
An potius longe sic prona cacumina nutant,
Parnassus cupiant esse Maria tuus.