Andrew Marvell Poems
English lyric poet and politician, Andrew Marvell was born in 1621 in East Riding, Yorkshire. His father was a vicar and the family moved to Hull when he became a lecturer at Holy Trinity Church there. Initially tutored at a Hull grammar school, Andrew Marvell, at the age of 13, went to Cambridge to study.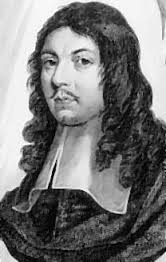 Andrew Marvell Bio
At the height of the English Civil War, Marvell was on the European continent and remained there until 1647, managing to learn four languages during his time away. He had begun writing poems whilst still at Cambridge and was not averse to including political commentary and satire in his verses. He wrote with sadness about the death of Charles I but also spoke in praise of Cromwell.
Like the vain curlings of the watery maze,
Which in smooth streams a sinking weight does raise,
So Man, declining always, disappears
In the weak circles of increasing years;
And his short tumults of themselves compose,
While flowing Time above his head does close.Cromwell alone with greater vigour runs,
(Sun-like) the stages of succeeding suns:
And still the day which he doth next restore,
Is the just wonder of the day before.
Cromwell alone doth with new lustre spring,
And shines the jewel of the yearly ring.'Tis he the force of scattered time contracts,
And in one year the work of ages acts:
While heavy monarchs make a wide return,
Longer, and more malignant than Saturn:
And though they all Platonic years should reign,
In the same posture would be found again.
Their earthy projects under ground they lay,
More slow and brittle than the China clay:
Well may they strive to leave them to their son,
For one thing never was by one king done.
Yet some more active for a frontier town,
Taken by proxy, beg a false renown;
Another triumphs at the public cost,
And will have won, if he no more have lost;
They fight by others, but in person wrong,
And only are against their subjects strong;
Their other wars seem but a feigned contèst,
This common enemy is still oppressed;
If conquerors, on them they turn their might;
If conquered, on them they wreak their spite:
They neither build the temple in their days,
Nor matter for succeeding founders raise;
Nor sacred prophecies consult within,
Much less themself to pèfect them begin;
No other care they bear of things above,
But with astrologers divine of Jove
To know how long their planet yet reprieves
From the deservéd fate their guilty lives:
Thus (image-like) an useless time they tell,
And with vain sceptre strike the hourly bell,
Nor more contribute to the state of things,
Than wooden heads unto the viol's strings.
While indefatigable Cromwell hies,
And cuts his way still nearer to the skies,
Learning a music in the region clear,
To tune this lower to that higher sphere.
So when Amphion did the lute command,
Which the god gave him, with his gentle hand,
The rougher stones, unto his measures hewed,
Danced up in order from the quarries rude;
This took a lower, that an higher place,
As he the treble altered, or the bass:
No note he struck, but a new stone was laid,
And the great work ascended while he played.
The listening structures he with wonder eyed,
And still new stops to various time applied:
Now through the strings a martial rage he throws,
And joining straight the Theban tower arose;
Then as he strokes them with a touch more sweet,
The flocking marbles in a palace meet;
But for the most the graver notes did try,
Therefore the temples reared their columns high:
Thus, ere he ceased, his sacred lute creates
Th' harmonious city of the seven gates.
Such was that wondrous order and consent,
When Cromwell tuned the ruling Instrument,
While tedious statesmen many years did hack,
Framing a liberty that still went back,
Whose numerous gorge could swallow in an hour
That island, which the sea cannot devour:
Then our Amphion issued out and sings,
And once he struck, and twice, the powerful strings.
The Commonwealth then first together came,
And each one entered in the willing frame;
All other matter yields, and may be ruled;
But who the minds of stubborn men can build?
No quarry bears a stone so hardly wrought,
Nor with such labour from its centre brought;
None to be sunk in the foundation bends,
Each in the house the highest place contends,
And each the hand that lays him will direct,
And some fall back upon the architect;
Yet all composed by his attractive song,
Into the animated city throng.
The Commonwealth does through their centres all
Draw the circumference of the public wall;
The crossest spirits here do take their part,
Fastening the contignation which they thwart;
And they, whose nature leads them to divide,
Uphold this one, and that the other side;
But the most equal still sustain the height,
And they as pillars keep the work upright,
While the resistance of opposèd minds,
The fabric (as with arches) stronger binds,
Which on the basis of a senate free,
Knit by the roof's protecting weight, agree.
When for his foot he thus a place had found,
He hurls e'er since the world about him round,
And in his several aspects, like a star,
Here shines in peace, and thither shoots in war,
While by his beams observing princes steer,
And wisely court the influence they fear.
O would they rather by his pattern won
Kiss the approaching, not yet angry Son;
And in their numbered footsteps humbly tread
The path where holy oracles do lead;
How might they under such a captain raise
The great designs kept for the latter days!
But mad with reason (so miscalled) of state
They know them not, and what they know not, hate.
Hence still they sing hosanna to the whore,
And her, whom they should massacre, adore:
But Indians, whom they would convert, subdue;
Nor teach, but traffic with, or burn the Jew.
Unhappy princes, ignorantly bred,
By malice some, by error more misled,
If gracious heaven to my life give length,
Leisure to time, and to my weaknes strength,
Then shall I once with graver accents shake
Your regal sloth, and your long slumbers wake:
Like the shrill huntsman that prevents the east,
Winding his horn to kings that chase the beast.
Till then my muse shall hollo far behind
Angelic Cromwell who outwings the wind,
And in dark nights, and in cold days alone
Pursues the monster through every throne:
Which shrinking to her Roman den impure,
Gnashes her gory teeth; nor there secure.
Hence oft I think if in some happy hour
High grace should meet in one with highest power,
And then a seasonable people still
Should bend to his, as he to heaven's will,
What we might hope, what wonderful effect
From such a wished conjuncture might reflect.
Sure, the mysterious work, where none withstand,
Would forthwith finish under such a hand:
Foreshortened time its useless course would stay,
And soon precipitate the latest day.
But a thick cloud about that morning lies,
And intercepts the beams of mortal eyes,
That 'tis the most which we determine can,
If these the times, then this must be the man.
And well he therefore does, and well has guessed,
Who in his age has always forward pressed:
And knowing not where heaven's choice may light,
Girds yet his sword, and ready stand to fight;
But men, alas, as if they nothing cared,
Look on, all unconcerned, or unprepared;
And stars still fall, and still the dragon's tail
Swinges the volumes of its horrid flail.
For the great justice that did first suspend
The world by sin, does by the same extend.
Hence that blest day still counterposèd wastes,
The ill delaying what the elected hastes;
Hence landing nature to new seas is tossed,
And good designs still with their authors lost.
And thou, great Cromwell, for whose happy birth
A mould was chosen out of better earth;
Whose saint-like mother we did lately see
Live out an age, long as a pedigree;
That she might seem (could we the Fall dispute),
T' have smelled the blossom, and not eat the fruit;
Though none does of more lasting parents grow,
Yet never any did them honour so,
Though thou thine heart from evil still unstained,
And always hast thy tongue from fraud refrained;
Thou, who so oft through storms of thundering lead
Hast born securely thine undaunted head,
Thy breast through poniarding conspiracies,
Drawn from the sheath of lying prophecies;
Thee proof behond all other force or skill,
Our sins endanger, and shall one day kill.
How near they failed, and in thy sudden fall
At once assayed to overturn us all.
Our brutish fury struggling to be free,
Hurried thy horses while they hurried thee,
When thou hadst almost quit thy mortal cares,
And soiled in dust thy crown of silver hairs.
Let this one sorrow interweave among
The other glories of our yearly song.
Like skilful looms, which through the costly thread
Of purling ore, a shining wave do shed:
So shall the tears we on past grief employ,
Still as they trickle, glitter in our joy.
So with more modesty we may be true,
And speak, as of the dead, the praises due:
While impious men deceived with pleasure short,
On their own hopes shall find the fall retort.
But the poor beasts, wanting their noble guide,
(What could they more?) shrunk guiltily aside.
First wingèd fear transports them far away,
And leaden sorrow then their flight did stay.
See how they each his towering crest abate,
And the green grass, and their known mangers hate,
Nor through wide nostrils snuff the wanton air,
Nor their round hoofs, or curlèd manes compare;
With wandering eyes, and restless ears they stood,
And with shrill neighings asked him of the wood.
Thou, Cromwell, falling, not a stupid tree,
Or rock so savage, but it mourned for thee:
And all about was heard a panic groan,
As if that Nature's self were overthrown.
It seemed the earth did from the centre tear;
It seemed the sun was fall'n out of the sphere:
Justice obstructed lay, and reason fooled;
Courage disheartened, and religion cooled.
A dismal silence through the palace went,
And then loud shrieks the vaulted marbles rent,
Such as the dying chorus sings by turns,
And to deaf seas, and ruthless tempests mourns,
When now they sink, and now the plundering streams
Break up each deck, and rip the oaken seams.
But thee triumphant hence the fiery car,
And fiery steeds had borne out of the war,
From the low world, and thankless men above,
Unto the kingdom blest of peace and love:
We only mourned ourselves, in thine ascent,
Whom thou hadst left beneath with mantle rent.
For all delight of life thou then didst lose,
When to command, thou didst thyself dispose;
Resigning up thy privacy so dear,
To turn the headstrong people's charioteer;
For to be Cromwell was a greater thing,
Then ought below, or yet above a king:
Therefore thou rather didst thyself depress,
Yielding to rule, because it made thee less.
For neither didst thou from the first apply
Thy sober spirit unto things too high,
But in thine own fields exercised'st long,
An healthful mind within a body strong;
Till at the seventh time thou in the skies,
As a small cloud, like a man's hand, didst rise;
Then did thick mists and winds the air deform,
And down at last thou poured'st the fertile storm,
Which to the thirsty land did plenty bring,
But, though forewarned, o'ertook and wet the King.
What since he did, an higher force him pushed
Still from behind, and yet before him rushed,
Though undiscerned among the tumult blind,
Who think those high decrees by man designed.
'Twas heaven would not that his power should cease,
But walk still middle betwixt war and peace:
Choosing each stone, and poising every weight,
Trying the measures of the breadth and height;
Here pulling down, and there erecting new,
Founding a firm state by proportions true.
When Gideon so did from the war retreat,
Yet by the conquest of two kings grown great,
He on the peace extends a warlike power,
And Israel silent saw him raze the tower;
And how he Succorth's Elders durst suppress,
With thorns and briars of the wilderness.
No king might ever such a force have done;
Yet would not he be Lord, nor yet his son.
Thou with the same strength, and an heart as plain,
Didst (like thine olive) still refuse to reign,
Though why should others all thy labour spoil,
And brambles be anointed with thine oil,
Whose climbing flame, without a timely stop,
Had quickly levelled every cedar's top?
Therefore first growing to thyself a law,
Th' ambitious shrubs thou in just time didst awe.
So have I seen at sea, when whirling winds,
Hurry the bark, but more the seamen's minds,
Who with mistaken course salute the sand,
And threatening rocks misapprehend for land,
While baleful Tritons to the shipwreck guide,
And corposants along the tackling slide,
The passengers all wearied out before,
Giddy, and wishing for the fatal shore,
Some lusty mate, who with more careful eye
Counted the hours, and every star did spy,
The help does from the artless steersman strain,
And doubles back unto the safer main.
What though a while they grumble discontent,
Saving himself, he does their loss prevent.
'Tis not a freedom, that where all command;
Nor tyranny, where one does them withstand:
But who of both the bounder knows to lay
Him as their father must the state obey.
Thou, and thine house (like Noah's eight) did rest,
Left by the wars' flood on the mountains' crest:
And the large vale lay subject to thy will
Which thou but as an husbandman wouldst till:
And only didst for others plant the vine
Of liberty, not drunken with its wine.
That sober liberty which men may have,
That they enjoy, but more they vainly crave:
And such as to their parents' tents do press,
May show their own, not see his nakedness.
Yet such a Chammish issue still does rage,
The shame and plague both of the land and age,
Who watched thy halting, and thy fall deride,
Rejoicing when thy foot had slipped aside,
That their new king might the fifth sceptre shake,
And make the world, by his example, quake:
Whose frantic army should they want for men
Might muster heresies, so one were ten.
What thy misfortune, they the spirit call,
And their religion only is to fall.
Oh Mahomet! now couldst thou rise again,
Thy falling-sickness should have made thee reign,
While Feake and Simpson would in many a tome,
Have writ the comments of thy sacred foam:
For soon thou mightst have passed among their rant
Were't but for thine unmovèd tulipant;
As thou must needs have owned them of thy band
For prophecies fit to be Alcoraned.
Accursèd locusts, whom your king does spit
Out of the centre of the unbottomed pit;
Wanderers, adulterers, liars, Munster's rest,
Sorcerers, athiests, jesuits possessed;
You who the scriptures and the laws deface
With the same liberty as points and lace;
Oh race most hypocritically strict!
Bent to reduce us to the ancient Pict;
Well may you act the Adam and the Eve;
Ay, and the serpent too that did deceive.
But the great captain, now the danger's o'er,
Makes you for his sake tremble one fit more;
And, to your spite, returning yet alive
Does with himself all that is good revive.
So when first man did through the morning new
See the bright sun his shining race pursue,
All day he followed with unwearied sight,
Pleased with that other world of moving light;
But thought him when he missed his setting beams,
Sunk in the hills, or plunged below the streams.
While dismal blacks hung round the universe,
And stars (like tapers) burned upon his hearse:
And owls and ravens with their screeching noise
Did make the funerals sadder by their joys.
His weeping eyes the doleful vigils keep,
Not knowing yet the night was made for sleep;
Still to the west, where he him lost, he turned,
And with such accents as despairing mourned:
`Why did mine eyes once see so bright a ray;
Or why day last no longer than a day?'
When straight the sun behind him he descried,
Smiling serenely from the further side.
So while our star that gives us light and heat,
Seemed now a long and gloomy night to threat,
Up from the other world his flame he darts,
And princes (shining through their windows) starts,
Who their suspected counsellors refuse,
And credulous ambassadors accuse.
`Is this', saith one, `the nation that we read
Spent with both wars, under a captain dead,
Yet rig a navy while we dress us late,
And ere we dine, raze and rebuild their state?
What oaken forests, and what golden mines!
What mints of men, what union of designs!
(Unless their ships, do, as their fowl proceed
Of shedding leaves, that with their ocean breed).
Theirs are not ships, but rather arks of war
And beakèd promontories sailed from far;
Of floating islands a new hatchèd nest;
A fleet of worlds, of other worlds in quest;
An hideous shoal of wood-leviathans,
Armed with three tier of brazen hurricanes,
That through the centre shoot their thundering side
And sink the earth that does at anchor ride.
What refuge to escape them can be found,
Whose watery leaguers all the world surround?
Needs must we all their tributaries be,
Whose navies hold the sluices of the sea.
The ocean is the fountain of command,
But that once took, we captives are on land.
And those that have the waters for their share,
Can quickly leave us neither earth nor air.
Yet if through these our fears could find a pass,
Through double oak, and lined with treble brass,
That one man still, although but named, alarms
More than all men, all navies, and all arms.
Him, in the day, him, in late night I dread,
And still his sword seems hanging o'er my head.
The nation had been ours, but his one soul
Moves the great bulk, and animates the whole.
He secrecy with number hath enchased,
Courage with age, maturity with haste:
The valiant's terror, riddle of the wise,
And still his falchion all our knots unties.
Where did he learn those arts that cost us dear?
Where below earth, or where above the sphere?
He seems a king by long succession born,
And yet the same to be a king does scorn.
Abroad a king he seems, and something more,
At home a subject on the equal floor.
O could I once him with our title see,
So should I hope that he might die as we.
But let them write is praise that love him best,
It grieves me sore to have thus much confessed.'
Pardon, great Prince, if thus their fear of spite
More than our love and duty do thee right.
I yield, nor further will the prize contend,
So that we both alike may miss our end:
While thou thy venerable head dost raise
As far above their malice as my praise,
And as the Angel of our commonweal,
Troubling the waters, yearly mak'st them heal.
Senec. Traged. Ex Thyeste Chor.2
Senec. Traged. ex Thyeste Chor.2.
Stet quicunque volet potens
Aulae culmine lubrico &c.Climb at Court for me that will
Tottering favors Pinacle;
All I seek is to lye still.
Settled in some secret Nest
In calm Leisure let me rest;
And far of the publick Stage
Pass away my silent Age.
Thus when without noise, unknown,
I have liv'd out all my span,
I shall dye, without a groan,
An old honest Country man.
Who expos'd to others Ey's,
Into his own Heart ne'r pry's,
Death to him's a Strange surprise.
A Poem upon the Death of His Late Highness the Lord Protector
That Providence which had so long the care
Of Cromwell's head, and numbered every hair,
Now in itself (the glass where all appears)
Had seen the period of his golden years:
And thenceforh only did attend to trace
What death might least so fair a life deface.
The people, which what most they fear esteem,
Death when more horrid, so more noble deem,
And blame the last act, like spectators vain,
Unless the prince whom they applaud be slain.
Nor fate indeed can well refuse that right
To those that lived in war, to die in fight.
But long his valour none had left that could
Endanger him, or clemency that would.
And he whom Nature all for peace had made,
But angry heaven unto war had swayed,
And so less useful where he most desired,
For what he least affected was admired,
Deservèd yet an end whose every part,
Should speak the wondrous softness of his heart.
To Love and Grief the fatal writ was 'signed;
(Those nobler weaknesses of human kind,
From which those powers that issued the decree,
Although immortal, found they were not free),
That they, to whom his breast still open lies,
In gentle passions should his death disguise:
And leave succeeding ages cause to mourn,
As long as Grief shall weep, or Love shall burn.
Straight does a slow and languishing disease
Eliza, Nature's and his darling, seize.
Her when an infant, taken with her charms,
He oft would flourish in his mighty arms,
And, lest their force the tender burden wrong,
Slacken the vigour of his muscles strong;
Then to the Mother's breast her softly move,
Which while she drained of milk, she filled with love.
But as with riper years her virtue grew,
And every minute adds a lustre new,
When with meridian height her beauty shined,
And thorough that sparkled her fairer mind,
When she with smiles serene in words discreet
His hidden soul at ever turn could meet;
Then might y'ha' daily his affection spied,
Doubling that knot which destiny had tied,
While they by sense, not knowing, comprehend
How on each other both their fates depend.
With her each day the pleasing hours he shares,
And at her aspect calms his growing cares;
Or with a grandsire's joy her children sees
Hanging about her neck or at his knees.
Hold fast, dear infants, hold them both or none;
This will not stay when once the other's gone.
A silent fire now wastes those limbs of wax,
And him within his tortured image racks.
So the flower withering which the garden crowned,
The sad root pines in secret under ground.
Each groan he doubled and each sigh he sighed,
Repeated over to the restless night.
No trembling string composed to numbers new,
Answers the touch in notes more sad, more true.
She, lest he grieve, hides what she can her pains,
And he to lessen hers his sorrow feigns:
Yet both perceived, yet both concealed their skills,
And so diminishing increased their ills:
That whether by each other's grief they fell,
Or on their own redoubled, none can tell.
And now Eliza's purple locks were shorn,
Where she so long her Father's fate had worn:
And frequent lightning to her soul that flies,
Divides the air, and opens all the skies:
And now his life, suspended by her breath,
Ran out impetuously to hasting death.
Like polished mirrors, so his steely breast
Had every figure of her woes expressed,
And with the damp of her last gasp obscured,
Had drawn such stains as were not to be cured.
Fate could not either reach with single stroke,
But the dear image fled, the mirror broke.
Who now shall tell us more of mournful swans,
Of halcyons kind, or bleeding pelicans?
No downy breast did e'er so gently beat,
Or fan with airy plumes so soft an heat.
For he no duty by his height excused,
Nor, though a prince, to be a man refused:
But rather than in his Eliza's pain
Not love, not grieve, would neither live nor reign:
And in himself so oft immortal tried,
Yet in compassion of another died.
So have I seen a vine, whose lasting age
Of many a winter hath survived the rage,
Under whose shady tent men every year
At its rich blood's expense their sorrow cheer,
If some dear branch where it extends its life
Chance to be pruned by an untimely knife,
The parent-tree unto the grief succeeds,
And through the wound its vital humour bleeds,
Trickling in watery drops, whose flowing shape
Weeps that it falls ere fixed into a grape.
So the dry stock, no more that spreading vine,
Frustrates the autumn and the hopes of wine.
A secret cause does sure those signs ordain
Foreboding princes' falls, and seldom vain.
Whether some kinder powers that wish us well,
What they above cannot prevent foretell;
Or the great world do by consent presage,
As hollow seas with future tempests rage;
Or rather heaven, which us so long foresees,
Their funerals celebrates while it decrees.
But never yet was any human fate
By Nature solemnized with so much state.
He unconcerned the dreadful passage crossed;
But, oh, what pangs that death did Nature cost!
First the great thunder was shot off, and sent
The signal from the starry battlement.
The winds receive it, and its force outdo,
As practising how they could thunder too;
Out of the binder's hand the sheaves they tore,
And thrashed the harvest in the airy floor;
Or of huge trees, whose growth with his did rise,
The deep foundations opened to the skies.
Then heavy show'rs the wingèd tempests lead,
And pour the deluge o'er the chaos' head.
The race of warlike horses at his tomb
Offer themselves in many a hecatomb;
With pensive head towards the ground they fall,
And helpless languish at the tainted stall.
Numbers of men decrease with pains unknown,
And hasten, not to see his death, their own.
Such tortures all the elements unfixed,
Troubled to part where so exactly mixed.
And as through air his wasting spirits flowed,
The universe laboured beneath their load.
Nature, it seemed with him would Nature vie;
He with Eliza. It with him would die,
He without noise still travelled to his end,
As silent suns to meet the night descend.
The stars that for him fought had only power
Left to determine now his final hour,
Which, since they might not hinder, yet they cast
To choose it worthy of his glories past.
No part of time but bare his mark away
Of honour; all the year was Cromwell's day:
But this, of all the most ausicious found,
Twice had in open field him victor crowned:
When up the armèd mountains of Dunbar
He marched, and through deep Severn ending war.
What day should him eternize but the same
That had before immortalized his name?
That so who ere would at his death have joyed,
In their own griefs might find themselves employed;
But those that sadly his departure grieved,
Yet joyed, remebering what he once achieved.
And the last minute his victorious ghost
Gave chase to Ligny on the Belgic coast.
Here ended all his mortal toils: he laid
And slept in place under the laurel shade.
O Cromwell, Heaven's Favourite! To none
Have such high honours from above been shown:
For whom the elements we mourners see,
And heaven itself would the great herald be,
Which with more care set forth his obsequies
Than those of Moses hid from human eyes,
As jealous only here lest all be less,
That we could to his memory express.
Then let us to our course of mourning keep:
Where heaven leads, 'tis piety to weep.
Stand back, ye seas, and shrunk beneath the veil
Of your abyss, with covered head bewail
Your Monarch: we demand not your supplies
To compass in our isle; our tears suffice:
Since him away the dismal tempest rent,
Who once more joined us to the continent;
Who planted England on the Flandric shore,
And stretched our frontier to the Indian ore;
Whose greater truths obscure the fables old,
Whether of British saints or Worthies told;
And in a valour lessening Arthur's deeds,
For holiness the Confessor exceeds.
He first put arms into Religion's hand,
And timorous Conscience unto Courage manned:
The soldier taught that inward mail to wear,
And fearing God how they should nothing fear.
`Those strokes,' he said, `will pierce through all below
Where those that strike from heaven fetch their blow.'
Astonished armies did their flight prepare,
And cities strong were stormèd by his prayer;
Of that, forever Preston's field shall tell
The story, and impregnable Clonmel.
And where the sandy mountain Fenwick scaled,
The sea between, yet hence his prayer prevailed.
What man was ever so in heaven obeyed
Since the commanded sun o'er Gideon stayed?
In all his wars needs must he triumph when
He conquered God still ere he fought with men:
Hence, though in battle none so brave or fierce,
Yet him the adverse steel could never pierce.
Pity it seemed to hurt him more that felt
Each wound himself which he to others dealt;
Danger itself refusing to offend
So loose an enemy, so fast a friend.
Friendship, that sacred virtue, long does claim
The first foundation of his house and name:
But within one its narrow limits fall,
His tenderness extended unto all.
And that deep soul through every channel flows,
Where kindly nature loves itself to lose.
More strong affections never reason served,
Yet still affected most what best deserved.
If he Eliza loved to that degree,
(Though who more worthy to be loved than she?)
If so indulgent to his own, how dear
To him the children of the highest were?
For her he once did nature's tribute pay:
For these his life adventured every day:
And 'twould be found, could we his thoughts have cast,
Their griefs struck deepest, if Eliza's last.
What prudence more than human did he need
To keep so dear, so differing minds agreed?
The worser sort, as conscious of their ill,
Lie weak and easy to the ruler's will;
But to the good (too many or too few)
All law is useless, all reward is due.
Oh ill-advised, if not for love, for shame,
Spare yet your own, if you neglect his fame;
Lest others dare to think your zeal a mask,
And you to govern, only heaven's task.
Valour, religion, friendship, prudence died
At once with him, and all that's good beside;
And we death's refuse, nature's dregs, confined
To loathsome life, alas! are left behind.
Where we (so once we used) shall now no more
To fetch the day, press about his chamber door–
From which he issued with that awful state,
It seemd Mars broke through Janus' double gate,
Yet always tempered with an air so mild,
No April suns that e'er so gently smiled–
No more shall hear that powerful language charm,
Whose force oft spared the labour of his arm:
No more shall follow where he spent the days
In war, in counsel, or in prayer and praise,
Whose meanest acts he would himself advance,
As ungirt David to the ark did dance.
All, all is gone of our or his delight
In horses fierce, wild deer, or armour bright;
Francisca fair can nothing now but weep,
Nor with soft notes shall sing his cares asleep.
I saw him dead. A leaden slumber lies
And mortal sleep over those wakeful eyes:
Those gentle rays under the lids were fled,
Which through his looks that piercing sweetness shed;
That port which so majestic was and strong,
Loose and deprived of vigour, stretched along:
All withered, all discoloured, pale and wan–
How much another thing, nor more that man?
Oh human glory vain, oh death, oh wings,
Oh worthless world, oh transitory things!
Yet dwelt that greatnesss in his shape decayed,
That still through dead, greater than death he laid:
And in his altered face you something feign
That threatens death he yet will live again.
Not much unlike the sacred oak which shoots
To heaven its branches and through earth its roots,
Whose spacious bought are hung with trophies round,
And honoured wreaths have oft the victor crowned.
When angry Jove darts lightning through the air,
At mortals' sins, nor his own plant will spare,
(It groans, and bruises all below, that stood
So many years the shelter of the wood.)
The tree erewhile foreshortened to our view,
When fall'n shows taller yet than as it grew:
So shall his praise to after times increase,
When truth shall be allowed, and faction cease,
And his own shadows with him fall. The eye
Detracts from object than itself more high:
But when death takes them from that envied seat,
Seeing how little, we confess how great.
Thee, many ages hence in martial verse
Shall the English soldier, ere he charge, rehearse,
Singing of thee, inflame themselves to fight,
And with the name of Cromwell, armies fright.
As long as rivers to the seas shall run,
As long as Cynthia shall relieve the sun,
While stags shall fly unto the firests thick,
While sheep delight the grassy downs to pick,
As long as future times succeeds the past,
Always they honour, praise, and name shall last.
Thou in a pitch how far beyond the sphere
Of human glory tower'st, and reigning there
Despoiled of mortal robes, in seas of bliss,
Plunging dost bathe, and tread the bright abyss:
There thy great soul yet once a world does see,
Spacious enough, and pure enough for thee.
How soon thou Moses hast, and Joshua found,
And David for the sword and harp renowned?
How straight canst to each happy mansion go?
(Far better known above than here below)
And in those joys dost spend the endless day,
Which in expressing we ourselves betray.
For we, since thou art gone, with heavy doom,
Wander like ghosts about thy lovèd tomb;
And lost in tears, have neither sight nor mind
To guide us upward through this region blind.
Since thou art gone, who best that way couldst teach,
Only our sighs, perhaps, may thither reach.
And Richard yet, where his great parent led,
Beats on the rugged track: he, virtue dead,
Revives, and by his milder beams assures;
And yet how much of them his grief obscures?
He, as his father, long was kept from sight
In private, to be viewed by better light;
But opened once, what splendour does he throw?
A Cromwell in an hour a prince will grow.
How he becomes that seat, how strongly strains,
How gently winds at once the ruling reins?
Heaven to this choice prepared a diadem,
Richer than any Easter silk or gem;
A pearly rainbow, where the sun enchased
His brows, like an imperial jewel graced.
We find already what those omens mean,
Earth ne'er more glad, nor heaven more serene.
Cease now our griefs, calm peace succeeds a war,
Rainbows to storms, Richard to Oliver.
Tempt not his clemency to try his power,
He threats no deluge, yet foretells a shower.
Clora come view my Soul, and tell
Whether I have contriv'd it well.
Now all its several lodgings lye
Compos'd into one Gallery;
And the great Arras-hangings, made
Of various Faces, by are laid;
That, for all furniture, you'l find
Only your Picture in my Mind.Here Thou art painted in the Dress
Of an Inhumane Murtheress;
Examining upon our Hearts
Thy fertile Shop of cruel Arts:
Engines more keen than ever yet
Adorned Tyrants Cabinet;
Of which the most tormenting are
Black Eyes, red Lips, and curled Hair.But, on the other side, th' art drawn
Like to Aurora in the Dawn;
When in the East she slumb'ring lyes,
And stretches out her milky Thighs;
While all the morning Quire does sing,
And Mamma falls, and Roses spring;
And, at thy Feet, the wooing Doves
Sit perfecting their harmless Loves.
Like an Enchantress here thou show'st,
Vexing thy restless Lover's Ghost;
And, by a Light obscure, dost rave
Over his Entrails, in the Cave;
Divining thence, with horrid Care,
How long thou shalt continue fair;
And (when inform'd) them throw'st away,
To be the greedy Vultur's prey.
But, against that, thou sit'st a float
Like Venus in her pearly Boat.
The Halcyons, calming all that's nigh,
Betwixt the Air and Water fly.
Or, if some rowling Wave appears,
A Mass of Ambergris it bears.
Nor blows more Wind than what may well
Convoy the Perfume to the Smell.
These Pictures and a thousand more,
Of Thee, my Gallery dost store;
In all the Forms thou can'st invent
Either to please me, or torment:
For thou alone to people me,
Art grown a num'rous Colony;
And a Collection choicer far
Then or White-hall's, or Mantua's were.
But, of these Pictures and the rest,
That at the Entrance likes me best:
Where the same Posture, and the Look
Remains, with which I first was took.
A tender Shepherdess, whose Hair
Hangs loosely playing in the Air,
Transplanting Flow'rs from the green Hill,
To crown her Head, and Bosome fill.
The Mower Against Gardens
Luxurious Man, to bring his Vice in use,
Did after him the World seduce:
And from the Fields the Flow'rs and Plants allure,
Where Nature was most plain and pure.
He first enclos'd within the Gardens square
A dead and standing pool of Air:
And a more luscious Earth for them did knead,
Which stupifi'd them while it fed.
The Pink grew then as double as his Mind;
The nutriment did change the kind.
With strange perfumes he did the Roses taint.
And Flow'rs themselves were taught to paint.
The Tulip, white, did for complexion seek;
And learn'd to interline its cheek:
Its Onion root they then so high did hold,
That one was for a Meadow sold.
Another World was search'd, though Oceans new,
To find the Marvel Of Peru.
And yet these Rarities might be allow'd,
To Man, that Sov'raign thing and proud;
Had he not dealt between the Bark and Tree,
Forbidden mixtures there to see.
No Plant now knew the Stock from which it came;
He grafts upon the Wild the Tame:
That the uncertain and adult'rate fruit
Might put the Palate in dispute.
His green Seraglio has its Eunuchs too;
Lest any Tyrant him out-doe.
And in the Cherry he does Nature vex,
To procreate without a Sex.
'Tis all enforc'd; the Fountain and the Grot;
While the sweet Fields do lye forgot:
Where willing Nature does to all dispence
A wild and fragrant Innocence:
And Fauns and Faryes do the Meadows till,
More by their presence then their skill.
Their Statues polish'd by some ancient hand,
May to adorn the Gardens stand:
But howso'ere the Figures do excel,
The Gods themselves with us do dwell.
The Nymph Complaining For The Death Of Her Faun
The wanton Troopers riding by
Have shot my Faun and it will dye.
Ungentle men! They cannot thrive
To kill thee. Thou neer didst alive
Them any harm: alas nor cou'd
Thy death yet do them any good.
I'me sure I never wisht them ill;
Nor do I for all this; nor will:
But, if my simple Pray'rs may yet
Prevail with Heaven to forget
Thy murder, I will Joyn my Tears
Rather then fail. But, O my fears!
It cannot dye so. Heavens King
Keeps register of every thing:
And nothing may we use in vain.
Ev'n Beasts must be with justice slain;
Else Men are made their Deodands.
Though they should wash their guilty hands
In this warm life blood, which doth part
From thine, and wound me to the Heart,
Yet could they not be clean: their Stain
Is dy'd in such a Purple Grain.
There is not such another in
The World, to offer for their Sin,
Unconstant Sylvio, when yet
I had not found him counterfeit,
One morning (I remember well)
Ty'd in this silver Chain and Bell,
Gave it to me: nay and I know
What he said then; I'm sure I do.
Said He, look how your Huntsman here
Hath taught a Faun to hunt his Dear.
But Sylvio soon had me beguil'd.
This waxed tame; while he grew wild,
And quite regardless of my Smart,
Left me his Faun, but took his Heart.
Thenceforth I set my self to play
My solitary time away,
With this: and very well content,
Could so mine idle Life have spent.
For it was full of sport; and light
Of foot, and heart; and did invite,
Me to its game: it seem'd to bless
Its self in me. How could I less
Than love it? O I cannot be
Unkind, t' a Beast that loveth me.
Had it liv'd long, I do not know
Whether it too might have done so
As Sylvio did: his Gifts might be
Perhaps as false or more than he.
But I am sure, for ought that I
Could in so short a time espie,
Thy Love was far more better then
The love of false and cruel men.
With sweetest milk, and sugar, first
I it at mine own fingers nurst.
And as it grew, so every day
It wax'd more white and sweet than they.
It had so sweet a Breath! And oft
I blusht to see its foot more soft,
And white, (shall I say then my hand?)
Nay any Ladies of the Land.
It is a wond'rous thing, how fleet
Twas on those little silver feet.
With what a pretty skipping grace,
It oft would callenge me the Race:
And when 'thad left me far away,
'T would stay, and run again, and stay.
For it was nimbler much than Hindes;
And trod, as on the four Winds.
I have a Garden of my own,
But so with Roses over grown,
And Lillies, that you would it guess
To be a little Wilderness.
And all the Spring time of the year
It onely loved to be there.
Among the beds of Lillyes, I
Have sought it oft, where it should lye;
Yet could not, till it self would rise,
Find it, although before mine Eyes.
For, in the flaxen Lillies shade,
It like a bank of Lillies laid.
Upon the Roses it would feed,
Until its lips ev'n seem'd to bleed:
And then to me 'twould boldly trip,
And print those Roses on my Lip.
But all its chief delight was still
On Roses thus its self to fill:
And its pure virgin Limbs to fold
In whitest sheets of Lillies cold.
Had it liv'd long, it would have been
Lillies without, Roses within.
O help! O help! I see it faint:
And dye as calmely as a Saint.
See how it weeps. The Tears do come
Sad, slowly dropping like a Gumme.
So weeps the wounded Balsome: so
The holy Frankincense doth flow.
The brotherless Heliades
Melt in such Amber Tears as these.
I in a golden Vial will
Keep these two crystal Tears; and fill
It till it do o'reflow with mine;
Then place it in Diana's Shrine.
Now my sweet Faun is vanish'd to
Whether the Swans and Turtles go
In fair Elizium to endure,
With milk-white Lambs, and Ermins pure.
O do not run too fast: for I
Will but bespeak thy Grave, and dye.
First my unhappy Statue shall
Be cut in Marble; and withal,
Let it be weeping too: but there
Th' Engraver sure his Art may spare;
For I so truly thee bemoane,
That I shall weep though I be Stone:
Until my Tears, still dropping, wear
My breast, themselves engraving there.
There at my feet shalt thou be laid,
Of purest Alabaster made:
For I would have thine Image be
White as I can, though not as Thee.
To A Gentleman That Only Upon The Sight Of The Author's Wri
Quis posthac chartae committat sensa loquaci,
Si sua crediderit Fata subesse stylo?
Conscia si prodat Seribentis Litera sortem,
Quicquid & in vita plus latuisse velit?
Flexibus in calami tamen omnia sponte leguntur:
Quod non significant Verba, Figura notat.
Bellerophonteas signat sibi quisque Tabellas;
Ignaramque Manum Spiritus intus agit.
Nil praeter solitum sapiebat Epistola nostra,
Exemplumque meae Simplicitatis erat.
Fabula jucundos qualis delectat Amicos;
Urbe, lepore, novis, carmine tota scatens.
Hic tamen interpres quo non securior alter,
(Non res, non voces, non ego notus ei)
Rimatur fibras notularum cautus Aruspex,
Scriptur aeque inhians consulit exta meae.
Inde statim vitae casus, animique recessus
Explicat; (haud Genio plura liquere putem.)
Distribuit totum nostris eventibus orbem,
Et quo me rapiat cardine Sphaera docet.
Quae Sol oppositus, quae Mars adversa minetur,
Jupiter aut ubi me, Luna, Venusque juvent.
Ut trucis intentet mihi vulnera Cauda Draconis;
Vipereo levet ut vulnera more Caput.
Hinc mihi praeteriti rationes atque futuri
Elicit; Astrologus certior Astronomo.
Ut conjecturas nequeam discernere vero,
Historiae superet sed Genitura fidem.
Usque adeo caeli respondet pagina nostrae,
Astrorum & nexus syllaba scripta refert.
Scilicet & toti subsunt Oracula mundo,
Dummodo tot foliis una Sibylla foret.
Partum, Fortunae mater Natura, propinquum
Milie modis monstrat mille per indicia:
Ingentemque Uterum qui mole Puerpera solvat
Vivit at in praesens maxima pars hominum.
Ast Tu sorte tua gaude Celeberrime Vatum;
Scribe, sed haud superest qui tua fata legat.
Nostra tamen si fas praesagia jungere vestris,
Quo magis inspexti sydera spernis humum.
Et, nisi stellarum fueris divina propago,
Naupliada credam te Palamede satum.
Qui dedit ex aviun scriptoria signa volatu,
Sydereaque idem nobilis arte fuit.
Hinc utriusque tibi cognata scientia crevit,
Nec minus augurium Litera quam dat Avis.
As one put drunk into the Packet-boat,
Tom May was hurry'd hence and did not know't.
But was amaz'd on the Elysian side,
And with an Eye uncertain, gazing wide,
Could not determine in what place he was,
For whence in Stevens ally Trees or Grass.
Nor where the Popes head, nor the Mitre lay,
Signs by which still he found and lost his way.
At last while doubtfully he all compares,
He saw near hand, as he imagin'd Ares.
Such did he seem for corpulence and port,
But 'twas a man much of another sort;
'Twas Ben that in the dusky Laurel shade
Amongst the Chorus of old Poets laid,
Sounding of ancient Heroes, such as were
The Subjects Safety, and the Rebel's Fear.
But how a double headed Vulture Eats,
Brutus and Cassius the Peoples cheats.
But seeing May he varied streight his song,
Gently to signifie that he was wrong.
Cups more then civil of Emilthian wine,
I sing (said he) and the Pharsalian Sign,
Where the Historian of the Common-wealth
In his own Bowels sheath'd the conquering health.
By this May to himself and them was come,
He found he was tranflated, and by whom.
Yet then with foot as stumbling as his tongue
Prest for his place among the Learned throng.
But Ben, who knew not neither foe nor friend,
Sworn Enemy to all that do pretend,
Rose more then ever he was seen severe,
Shook his gray locks, and his own Bayes did tear
At this intrusion. Then with Laurel wand,
The awful Sign of his supream command.
At whose dread Whisk Virgil himself does quake,
And Horace patiently its stroke does take,
As he crowds in he whipt him ore the pate
Like Pembroke at the Masque, and then did rate.
Far from these blessed shades tread back agen
Most servil' wit, and Mercenary Pen.
Polydore, Lucan, Allan, Vandale, Goth,
Malignant Poet and Historian both.
Go seek the novice Statesmen, and obtrude
On them some Romane cast similitude,
Tell them of Liberty, the Stories fine,
Until you all grow Consuls in your wine.
Or thou Dictator of the glass bestow
On him the Cato, this the Cicero.
Transferring old Rome hither in your talk,
As Bethlem's House did to Loretto walk.
Foul Architect that hadst not Eye to see
How ill the measures of these States agree.
And who by Romes example England lay,
Those but to Lucan do continue May.
But the nor Ignorance nor seeming good
Misled, but malice fixt and understood.
Because some one than thee more worthy weares
The sacred Laurel, hence are all these teares?
Must therefore all the World be set on flame,
Because a Gazet writer mist his aim?
And for a Tankard-bearing Muse must we
As for the Basket Guelphs and Gibellines be?
When the Sword glitters ore the Judges head,
And fear has Coward Churchmen silenced,
Then is the Poets time, 'tis then he drawes,
And single fights forsaken Vertues cause.
He, when the wheel of Empire, whirleth back,
And though the World disjointed Axel crack,
Sings still of ancient Rights and better Times,
Seeks wretched good, arraigns successful Crimes.
But thou base man first prostituted hast
Our spotless knowledge and the studies chast.
Apostatizing from our Arts and us,
To turn the Chronicler to Spartacus.
Yet wast thou taken hence with equal fate,
Before thou couldst great Charles his death relate.
But what will deeper wound thy little mind,
Hast left surviving Davenant still behind
Who laughs to see in this thy death renew'd,
Right Romane poverty and gratitude.
Poor Poet thou, and grateful Senate they,
Who thy last Reckoning did so largely pay.
And with the publick gravity would come,
When thou hadst drunk thy last to lead thee home.
If that can be thy home where Spencer lyes
And reverend Chaucer, but their dust does rise
Against thee, and expels thee from their side,
As th' Eagles Plumes from other birds divide.
Nor here thy shade must dwell, Return, Return,
Where Sulphrey Phlegeton does ever burn.
The Cerberus with all his Jawes shall gnash,
Megera thee with all her Serpents lash.
Thou rivited unto Ixion's wheel
Shalt break, and the perpetual Vulture feel.
'Tis just what Torments Poets ere did feign,
Thou first Historically shouldst sustain.
Thus by irrevocable Sentence cast,
May only Master of these Revels past.
And streight he vanisht in a Cloud of Pitch,
Such as unto the Sabboth bears the Witch.