Andre Breton Poems,Andre Breton was the French founder of surrealism, a revolutionary movement which began in the 1920s aiming to blur the lines between reality and dreams, allowing free-form expression of ideas.
He moved away from Dadaism, which itself began during World War One as an irrational, nonsensical expression of anti-war rhetoric. Along with Louis Aragon and Phillippe Soupault, Breton co-founded a journal called Littérature to showcase the first surrealist automatic writing.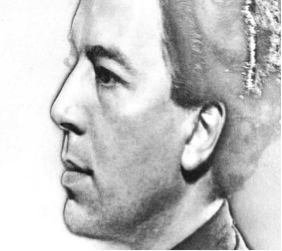 Andre Breton Bio
He was born in 1896 in Tinchebray, Northern France. He studied medicine and psychiatry and showed a particular interest in mental illnesses. During WW1 he worked in neurological wards in Nantes and no doubt this experience laid the foundations for his theories on the concept of the unconsciousness.
He married Simone Kahn in 1921 and while they lived in Paris he amassed a massive collection of artwork, photographs and books. He went on to marry a further two times.  His Surrealist Manifesto, the first of three, was produced in 1924. This explained his definition of surrealism and sought to highlight the importance of dreams and the merging of realities in an absurdist way.
Breton credited several contemporaries in the work including Louis Aragon, Paul Eluard and others. His second Manifesto came in 1930 but the third was never published. After writing his Manifestos he published poems and novels throughout the 1920s and 30s.
His most acclaimed novel, from 1928, is Nadja, believed to be a semi-autobiographical story of his relationship with a mad woman who was a patient of Pierre Janet. It begins with the question "Who Am I" and ends with "beauty will be CONVULSIVE or will not be at all."
At the start of the 1940s Breton had returned briefly to work in the medical wards in French hospitals but when the Nazis invaded and occupied France he fled to America along with his friends Marcel Duchamp and Max Ernst. He lived in New York City at this time, writing his third Surrealist Manifesto and managed a Surrealist exhibition at Yale in 1942.
He returned to Paris after the war and published three books of poetry, Arcane 17, in 1945, and a further Surrealist work in 1953 called The Key to the Fields. He also mentored young surrealist writers and artists.
Andre Breton died in Paris September 28th 1966.
Andre Breton Poems
Always For The First Time
Always for the first time
Hardly do I know you by sight
You return at some hour of the night to a house at an angle to my window
A wholly imaginary house
It is there that from one second to the next
In the inviolate darkness
I anticipate once more the fascinating rift occurring
The one and only rift
In the facade and in my heart
The closer I come to you
In reality
The more the key sings at the door of the unknown room
Where you appear alone before me
At first you coalesce entirely with the brightness
The elusive angle of a curtain
It's a field of jasmine I gazed upon at dawn on a road in the vicinity of Grasse
With the diagonal slant of its girls picking
Behind them the dark falling wing of the plants stripped bare
Before them a T-square of dazzling light
The curtain invisibly raised
In a frenzy all the flowers swarm back in
It is you at grips with that too long hour never dim enough until sleep
You as though you could be
The same except that I shall perhaps never meet you
You pretend not to know I am watching you
Marvelously I am no longer sure you know
You idleness brings tears to my eyes
A swarm of interpretations surrounds each of your gestures
It's a honeydew hunt
There are rocking chairs on a deck there are branches that may well scratch you in the forest
There are in a shop window in the rue Notre-Dame-de-Lorette
Two lovely crossed legs caught in long stockings
Flaring out in the center of a great white clover
There is a silken ladder rolled out over the ivy
There is
By my leaning over the precipice
Of your presence and your absence in hopeless fusion
My finding the secret
Of loving you
Always for the first time.
Less time than it takes to say it, less tears than it takes to die; I've taken account of everything,
there you have it. I've made a census of the stones, they are as numerous as my fingers and some
others; I've distributed some pamphlets to the plants, but not all were willing to accept them. I've
kept company with music for a second only and now I no longer know what to think of suicide, for
if I ever want to part from myself, the exit is on this side and, I add mischievously, the entrance, the
re-entrance is on the other. You see what you still have to do. Hours, grief, I don't keep a
reasonable account of them; I'm alone, I look out of the window; there is no passerby, or rather no
one -passes- You don't know this man? It's Mr. Same. May I introduce Madam
Madam? And their children. Then I turn back on my steps, my steps turn back too, but I don't
know exactly what they turn back on. I consult a schedule; the names of the towns have been
replaced by the names of people who have been quite close to me. Shall I go to A, return to B,
change at X? Yes, of course I'll change at X. Provided I don't miss the connection with boredom!
There we are: boredom, beautiful parallels, ah! how beautiful the parallels are under God's perpendicular.
Andre Breton Poems
(Translated from the French by Edouard Rodti)
My wife with the hair of a wood fire
With the thoughts of heat lightning
With the waist of an hourglass
With the waist of an otter in the teeth of a tiger
My wife with the lips of a cockade and of a bunch of stars of the last magnitude
With the teeth of tracks of white mice on the white earth
With the tongue of rubbed amber and glass
My wife with the tongue of a stabbed host
With the tongue of a doll that opens and closes its eyes
With the tongue of an unbelievable stone
My wife with the eyelashes of strokes of a child's writing
With brows of the edge of a swallow's nest
My wife with the brow of slates of a hothouse roof
And of steam on the panes
My wife with shoulders of champagne
And of a fountain with dolphin-heads beneath the ice
My wife with wrists of matches
My wife with fingers of luck and ace of hearts
With fingers of mown hay
My wife with armpits of marten and of beechnut
And of Midsummer Night
Of privet and of an angelfish nest
With arms of seafoam and of riverlocks
And of a mingling of the wheat and the mill
My wife with legs of flares
With the movements of clockwork and despair
My wife with calves of eldertree pith
My wife with feet of initials
With feet of rings of keys and Java sparrows drinking
My wife with a neck of unpearled barley
My wife with a throat of the valley of gold
Of a tryst in the very bed of the torrent
With breasts of night
My wife with breasts of a marine molehill
My wife with breasts of the ruby's crucible
With breasts of the rose's spectre beneath the dew
My wife with the belly of an unfolding of the fan of days
With the belly of a gigantic claw
My wife with the back of a bird fleeing vertically
With a back of quicksilver
With a back of light
With a nape of rolled stone and wet chalk
And of the drop of a glass where one has just been drinking
My wife with hips of a skiff
With hips of a chandelier and of arrow-feathers
And of shafts of white peacock plumes
Of an insensible pendulum
My wife with buttocks of sandstone and asbestos
My wife with buttocks of swans' backs
My wife with buttocks of spring
With the sex of an iris
My wife with the sex of a mining-placer and of a platypus
My wife with a sex of seaweed and ancient sweetmeat
My wife with a sex of mirror
My wife with eyes full of tears
With eyes of purple panoply and of a magnetic needle
My wife with savanna eyes
My wife with eyes of water to he drunk in prison
My wife with eyes of wood always under the axe
My wife with eyes of water-level of level of air earth and fire
La voyageuse qui traverse les Halles à la tombée de l'été
Marchait sur la pointe des pieds
Le désespoir roulait au ciel ses grands arums si beaux
Et dans le sac à main il y avait mon rêve ce flacon de sels
Que seule a respiré la marraine de Dieu
Les torpeurs se déployaient comme la buée
Au Chien qui fume
Ou venaient d'entrer le pour et le contre
La jeune femme ne pouvait être vue d'eux que mal et de biais
Avais-je affaire à l'ambassadrice du salpêtre
Ou de la courbe blanche sur fond noir que nous appelons pensée
Les lampions prenaient feu lentement dans les marronniers
La dame sans ombre s'agenouilla sur le Pont-au-Change
Rue Git-le-Coeur les timbres n'étaient plus les mêmes
Les promesses de nuits étaient enfin tenues
Les pigeons voyageurs les baisers de secours
Se joignaient aux seins de la belle inconnue
Dardés sous le crêpe des significations parfaites
Une ferme prospérait en plein Paris
Et ses fenêtres donnaient sur la voie lactée
Mais personne ne l'habitait encore à cause des survenants
Des survenants qu'on sait plus devoués que les revenants
Les uns comme cette femme ont l'air de nager
Et dans l'amour il entre un peu de leur substance
Elle les interiorise
Je ne suis le jouet d'aucune puissance sensorielle
Et pourtant le grillon qui chantait dans les cheveux de cendres
Un soir près de la statue d'Etienne Marcel
M'a jeté un coup d'oeil d'intelligence
André Breton a-t-il dit passe.
Je connais le désespoir dans ses grandes lignes. Le désespoir n'a pas d'ailes, il ne se tient pas nécessairement à une table desservie sur une terrasse, le soir, au bord de la mer. C'est le désespoir et ce n'est pas le retour d'une quantité de petits faits comme des graines qui quittent à la nuit tombante un sillon pour un autre. Ce n'est pas la mousse sur une pierre ou le verre à boire. C'est un bateau criblé de neige, si vous voulez, comme les oiseaux qui tombent et leur sang n'a pas la moindre épaisseur. Je connais le désespoir dans ses grandes lignes. Une forme très petite, délimitée par un bijou de cheveux. C'est le désespoir. Un collier de perles pour lequel on ne saurait trouver de fermoir et dont l'existence ne tient pas même à un fil, voilà le désespoir. Le reste, nous n'en parlons pas. Nous n'avons pas fini de deséspérer, si nous commençons. Moi je désespère de l'abat-jour vers quatre heures, je désespère de l'éventail vers minuit, je désespère de la cigarette des condamnés. Je connais le désespoir dans ses grandes lignes. Le désespoir n'a pas de coeur, la main reste toujours au désespoir hors d'haleine, au désespoir dont les glaces ne nous disent jamais s'il est mort. Je vis de ce désespoir qui m'enchante. J'aime cette mouche bleue qui vole dans le ciel à l'heure où les étoiles chantonnent. Je connais dans ses grandes lignes le désespoir aux longs étonnements grêles, le désespoir de la fierté, le désespoir de la colère. Je me lève chaque jour comme tout le monde et je détends les bras sur un papier à fleurs, je ne me souviens de rien, et c'est toujours avec désespoir que je découvre les beaux arbres déracinés de la nuit. L'air de la chambre est beau comme des baguettes de tambour. Il fait un temps de temps. Je connais le désespoir dans ses grandes lignes. C'est comme le vent du rideau qui me tend la perche. A-t-on idée d'un désespoir pareil! Au feu! Ah! ils vont encore venir… Et les annonces de journal, et les réclames lumineuses le long du canal. Tas de sable, espèce de tas de sable! Dans ses grandes lignes le désespoir n'a pas d'importance. C'est une corvée d'arbres qui va encore faire une forêt, c'est une corvée d'étoiles qui va encore faire un jour de moins, c'est une corvée de jours de moins qui va encore faire ma vie.
SEE MORE: