Ambrose Bierce Poems
Ambrose Bierce was an American journalist, writer, editorialist and poet. Best known today for his short story 'An Occurrence at Owl Creek Bridge' and his sardonic view of human nature, which strongly contributed to his nickname 'Bitter Bierce'. The style of writing owned by Bierce was distinctive; full of dark imagination, impossible events, vague references to time and a recurring theme of war.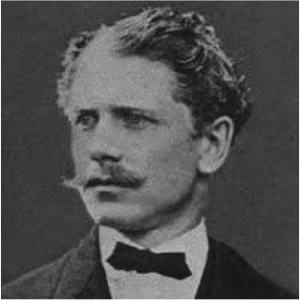 Ambrose Bierce Bio
The history of this poet is one that's wide and varied, by any extent of the imagination. In the year 1913, Bierce decided to visit Mexico in order to gain first hand experience of the current revolution in the country at the time. It was then, whilst traveling with rebel troops, that he went missing without a trace.
Bierce was born, the tenth of thirteen children, in Meigs County, Ohio to his parents, Aurelius and Laura Bierce. His family were poor but literate which is what got them by. It was this that showed the importance of reading and writing to a young Bierce who soon grew a deep love for literature. At the age of 15 he left home to begin a writing career, becoming a 'printer's devil' for a local newspaper.
Judge Sawyer, whom in vain the people tried
To push from power, here is laid aside.
Death only from the bench could ever start
The sluggish load of his immortal part.________For those this mausoleum is erected
Who Stanford to the Upper House elected.
Their luck is less or their promotion slower,
For, dead, they were elected to the Lower.________
Rash mortal! stay thy feet and look around–
This vacant tomb as yet is holy ground;
But soon, alas! Jim Fair will occupy
These premises–then, holiness, good-bye!
________
George Perry here lies stiff and stark,
With stone at foot and stone at head.
His heart was dark, his mind was dark–
"Ignorant ass!" the people said.
Not ignorant but skilled, alas,
In all the secrets of his trade:
He knew more ways to be an ass
Than any ass that ever brayed.
For a Statue of Napoleon
A conqueror as provident as brave,
He robbed the cradle to supply the grave.
His reign laid quantities of human dust:
He fell upon the just and the unjust.
Megaceph, chosen to serve the State
In the halls of legislative debate,
One day with his credentials came
To the capitol's door and announced his name.
The doorkeeper looked, with a comical twist
Of the face, at the eminent egotist,
And said: "Go away, for we settle here
All manner of questions, knotty and queer,
And we cannot have, when the speaker demands
To know how every member stands,
A man who to all things under the sky
Assents by eternally voting 'I.'"
Be pleased, O Lord, to take a people's thanks
That Thine avenging sword has spared our ranks–
That Thou hast parted from our lips the cup
And forced our neighbors' lips to drink it up.
Father of Mercies, with a heart contrite
We thank Thee that Thou goest south to smite,
And sparest San Francisco's loins, to crack
Thy lash on Hermosillo's bleeding back–
That o'er our homes Thine awful angel spread
His wings in vain, and Guaymas weeps instead.We praise Thee, God, that Yellow Fever here
His horrid banner has not dared to rear,
Consumption's jurisdiction to contest,
Her dagger deep in every second breast!
Catarrh and Asthma and Congestive Chill
Attest Thy bounty and perform Thy will.
These native messengers obey Thy call–
They summon singly, but they summon all.
Not, as in Mexico's impested clime,
Can Yellow Jack commit recurring crime.
We thank Thee that Thou killest all the time.Thy tender mercies, Father, never end:
Upon all heads Thy blessings still descend,
Though their forms vary. Here the sown seeds yield
Abundant grain that whitens all the field–
There the smit corn stands barren on the plain,
Thrift reaps the straw and Famine gleans in vain.
Here the fat priest to the contented king
Points out the contrast and the people sing–
There mothers eat their offspring. Well, at least
Thou hast provided offspring for the feast.
An earthquake here rolls harmless through the land,
And Thou art good because the chimneys stand–
There templed cities sink into the sea,
And damp survivors, howling as they flee,
Skip to the hills and hold a celebration
In honor of Thy wise discrimination.O God, forgive them all, from Stoneman down,
Thy smile who construe and expound Thy frown,
And fall with saintly grace upon their knees
To render thanks when Thou dost only sneeze.
The rimer quenches his unheeded fires,
The sound surceases and the sense expires.
Then the domestic dog, to east and west,
Expounds the passions burning in his breast.
The rising moon o'er that enchanted land
Pauses to hear and yearns to understand.
The Key Note
I dreamed I was dreaming one morn as I lay
In a garden with flowers teeming.
On an island I lay in a mystical bay,
In the dream I dreamed I was dreaming.
The ghost of a scent–had it followed me there
From the place where I truly was resting?
It filled like an anthem the aisles of the air,
The presence of roses attesting.
Yet I thought in the dream that I dreamed I dreamed
That the place was all barren of roses–
That it only seemed; and the place, I deemed,
Was the Isle of Bewildered Noses.
Full many a seaman had testified
How all who sailed near were enchanted,
And landed to search (and in searching died)
For the roses the Sirens had planted.
For the Sirens were dead, and the billows boomed
In the stead of their singing forever;
But the roses bloomed on the graves of the doomed,
Though man had discovered them never.
I though in my dream 'twas an idle tale,
A delusion that mariners cherished–
That the fragrance loading the conscious gale
Was a ghost of a rose long perished.
I said, "I will fly from this island of woes."
And acting on that decision,
By that odor of rose I was led by the nose,
For 'twas truly, ah! truly, Elysian.
I ran, in my madness, to seek out the source
Of the redolent river–directed
By some supernatural, sinister force
To a forest, dark, haunted, infected.
And still as I threaded ('twas all in the dream
That I dreamed I was dreaming) each turning
There were many a scream and a sudden gleam
Of eyes all uncannily burning!
The leaves were all wet with a horrible dew
That mirrored the red moon's crescent,
And all shapes were fringed with a ghostly blue,
Dim, wavering, phosphorescent.
But the fragrance divine, coming strong and free,
Led me on, though my blood was clotting,
Till–ah, joy!–I could see, on the limbs of a tree,
Mine enemies hanging and rotting!
The Statesmen
How blest the land that counts among
Her sons so many good and wise,
To execute great feats of tongue
When troubles rise.
Behold them mounting every stump,
By speech our liberty to guard.
Observe their courage–see them jump,
And come down hard!
"Walk up, walk up!" each cries aloud,
"And learn from me what you must do
To turn aside the thunder cloud,
The earthquake too.
"Beware the wiles of yonder quack
Who stuffs the ears of all that pass.
I–I alone can show that black
Is white as grass."
They shout through all the day and break
The silence of the night as well.
They'd make–I wish they'd go and make–
Of Heaven a Hell.
A advocates free silver, B
Free trade and C free banking laws.
Free board, clothes, lodging would from me
Win wamr applause.
Lo, D lifts up his voice: "You see
The single tax on land would fall
On all alike." More evenly
No tax at all.
"With paper money," bellows E,
"We'll all be rich as lords." No doubt–
And richest of the lot will be
The chap without.
As many "cures" as addle-wits
Who know not what the ailment is!
Meanwhile the patient foams and spits
Like a gin fizz.
Alas, poor Body Politic,
Your fate is all too clearly read:
To be not altogether quick,
Nor very dead.
You take your exercise in squirms,
Your rest in fainting fits between.
'Tis plain that your disorder's worms–
Worms fat and lean.
Worm Capital, Worm Labor dwell
Within your maw and muscle's scope.
Their quarrels make your life a Hell,
Your death a hope.
God send you find not such an end
To ills however sharp and huge!
God send you convalesce! God send
You vermifuge.
With a Book
Words shouting, singing, smiling, frowning–
Sense lacking.
Ah, nothing, more obscure than Browning,
Save blacking.
The Swan of Avon died–the Swan
Of Sacramento'll soon be gone;
And when his death-song he shall coo,
Stand back, or it will kill you too.
Another Way
I lay in silence, dead. A woman came
And laid a rose upon my breast, and said,
"May God be merciful." She spoke my name,
And added, "It is strange to think him dead.
"He loved me well enough, but 't was his way
To speak it lightly." Then, beneath her breath:
"Besides" –I knew what further she would say,
But then a footfall broke my dream of death.
To-day the words are mine. I lay the rose
Upon her breast, and speak her name, and deem
It strange indeed that she is dead. God knows
I had more pleasure in the other dream.
Elegy
The cur foretells the knell of parting day;
The loafing herd winds slowly o'er the lea;
The wise man homewards plods; I only stay
To fiddle-faddle in a minor key.
On the Wedding of the Aeronaut
Aeronaut, you're fairly caught,
Despite your bubble's leaven: Out of the skies a lady's eyes
Have brought you down to Heaven!
No more, no more you'll freely soar
Above the grass and gravel: Henceforth you'll walk–and she will chalk
The line that you're to travel!
Once I seen a human ruin
In a elevator-well.
And his members was bestrewin'
All the place where he had fell.
And I says, apostrophisin'
That uncommon woful wreck:
"Your position's so surprisin'
That I tremble for your neck!"
Then that ruin, smilin' sadly
And impressive, up and spoke:
"Well, I wouldn't tremble badly,
For it's been a fortnight broke."Then, for further comprehension
Of his attitude, he begs
I will focus my attention
On his various arms and legs–How they all are contumacious;
Where they each, respective, lie;
How one trotter proves ungracious,
T' other one an alibi.These particulars is mentioned
For to show his dismal state,
Which I wasn't first intentioned
To specifical relate.
None is worser to be dreaded
That I ever have heard tell
Than the gent's who there was spreaded
In that elevator-well.
Now this tale is allegoric–
It is figurative all,
For the well is metaphoric
And the feller didn't fall.
I opine it isn't moral
For a writer-man to cheat,
And despise to wear a laurel
As was gotten by deceit.
For 'tis Politics intended
By the elevator, mind,
It will boost a person splendid
If his talent is the kind.
Col. Bryan had the talent
(For the busted man is him)
And it shot him up right gallant
Till his head began to swim.
Then the rope it broke above him
And he painful came to earth
Where there's nobody to love him
For his detrimented worth.
Though he's living' none would know him,
Or at leastwise not as such.
Moral of this woful poem:
Frequent oil your safety-clutch.Porfer Poog.
The Legatee
In fair San Francisco a good man did dwell,
And he wrote out a will, for he didn't feel well.
Said he: "It is proper, when making a gift,
To stimulate virtue by comforting thrift."
So he left all his property, legal and straight,
To "the cursedest rascal in all of the State."
But the name he refused to insert, for, said he:
"Let each man consider himself legatee."
In due course of time that philanthropist died,
And all San Francisco, and Oakland beside–
Save only the lawyers–came each with his claim,
The lawyers preferring to manage the same.
The cases were tried in Department Thirteen,
Judge Murphy presided, sedate and serene,
But couldn't quite specify, legal and straight,
The cursedest rascal in all of the State.
And so he remarked to them, little and big–
To claimants: "You skip!" and to lawyers: "You dig!"
They tumbled, tumultuous, out of his court
And left him victorious, holding the fort.
'Twas then that he said: "It is plain to my mind
This property's ownerless–how can I find
The cursedest rascal in all of the State?"
So he took it himself, which was legal and straight.
O Liberty, God-gifted–
Young and immortal maid–
In your high hand uplifted,
The torch declares your trade.
Its crimson menace, flaming
Upon the sea and shore,
Is, trumpet-like, proclaiming
That Law shall be no more.
Austere incendiary,
We're blinking in the light;
Where is your customary
Grenade of dynamite?
Where are your staves and switches
For men of gentle birth?
Your mask and dirk for riches?
Your chains for wit and worth?
Perhaps, you've brought the halters
You used in the old days,
When round religion's altars
You stabled Cromwell's bays?
Behind you, unsuspected,
Have you the axe, fair wench,
Wherewith you once collected
A poll-tax for the French?
America salutes you–
Preparing to "disgorge."
Take everything that suits you,
And marry Henry George.
Alone (In bad company)
In contact, lo! the flint and steel,
By sharp and flame, the thought reveal
That he the metal, she the stone,
Had cherished secretly alone.
Thou shalt no God but me adore:
'Twere too expensive to have more.No images nor idols make
For Roger Ingersoll to break.Take not God's name in vain: select
A time when it will have effect.Work not on Sabbath days at all,
But go to see the teams play ball.
Honor thy parents. That creates
For life insurance lower rates.
Kill not, abet not those who kill;
Thou shalt not pay thy butcher's bill.
Kiss not thy neighbor's wife, unless
Thine own thy neighbor doth caress.
Don't steal; thou'lt never thus compete
Successfully in business. Cheat.
Bear not false witness–that is low–
But "hear 'tis rumored so and so."
Covet thou naught that thou hast got
By hook or crook, or somehow, got.
Freedom
Freedom, as every schoolboy knows,
Once shrieked as Kosciusko fell;
On every wind, indeed, that blows
I hear her yell.
She screams whenever monarchs meet,
And parliaments as well,
To bind the chains about her feet
And toll her knell.
And when the sovereign people cast
The votes they cannot spell,
Upon the pestilential blast
Her clamors swell.
For all to whom the power's given
To sway or to compel,
Among themselves apportion Heaven
And give her Hell.Blary O'Gary.
Piety
The pig is taught by sermons and epistles
To think the God of Swine has snout and bristles.Judibras.
The Day of Wrath / Dies Iræ
Day of Satan's painful duty! Dies iræ! dies illa!
Earth shall vanish, hot and sooty; Solvet sæclum in favilla
So says Virtue, so says Beauty. Teste David cum Sibylla.
Ah! what terror shall be shaping Quantus tremor est futurus,
When the Judge the truth's undraping– Quando Judex est venturus.
Cats from every bag escaping! Cuncta stricte discussurus.
Now the trumpet's invocation Tuba mirum spargens sonum
Calls the dead to condemnation; Per sepulchra regionem,
All receive an invitation. Coget omnes ante thronum.Death and Nature now are quaking, Mors stupebit, et Natura,And the late lamented, waking, Quum resurget creaturaIn their breezy shrouds are shaking. Judicanti responsura.
Lo! the Ledger's leaves are stirring, Liber scriptus proferetur,
And the Clerk, to them referring, In quo totum continetur,
Makes it awkward for the erring. Unde mundus judicetur.
When the Judge appears in session, Judex ergo quum sedebit,
We shall all attend confession, Quicquid latet apparebit,
Loudly preaching non-suppression. Nil inultum remanebit.
How shall I then make romances Quid sum miser tunc dicturus,
Mitigating circumstances? Quem patronem rogaturus,
Even the just must take their chances. Quum vix justus sit securus?
King whose majesty amazes, Rex tremendæ majestatis,
Save thou him who sings thy praises; Qui salvandos salvas gratis;
Fountain, quench my private blazes. Salva me, Fons pietatis.
Pray remember, sacred Saviour, Recordare, Jesu pie,
Mine the playful hand that gave your Quod sum causa tuæ viæ;
Death-blow. Pardon such behavior. Ne me perdas illa die.
Seeking me, fatigue assailed thee, Quærens me sedisti lassus
Calvary's outlook naught availed thee; Redemisti crucem passus,
Now 'twere cruel if I failed thee. Tantus labor non sit cassus.
Righteous judge and learnèd brother, Juste Judex ultionis,
Pray thy prejudices smother Donum fac remissionis
Ere we meet to try each other. Ante diem rationis.
Sighs of guilt my conscience gushes, Ingemisco tanquam reus,
And my face vermilion flushes; Culpa rubet vultus meus;
Spare me for my pretty blushes. Supplicanti parce, Deus.
Thief and harlot, when repenting, Qui Mariam absolvisti,
Thou forgavest–complimenting Et latronem exaudisti,
Me with sign of like relenting. Mihi quoque spem dedisti.
If too bold is my petition Preces meæ non sunt dignæ,
I'll receive with due submission Sed to bonus fac benigne
My dismissal–from perdition. Ne perenni cremer igne.
When thy sheep thou hast selected Inter oves locum præsta.
From the goats, may I, respected, Et ab hædis me sequestra,
Stand amongst them undetected. Statuens in parte dextra.
When offenders are indited, Confutatis maledictis,
And with trial-flames ignited, Flammis acribus addictis,
Elsewhere I'll attend if cited. Voca me cum benedictis.
Ashen-hearted, prone and prayerful, Oro supplex et acclinis,
When of death I see the air full, Cor contritum quasi cinis;
Lest I perish too be careful. Gere curam mei finis.
On that day of lamentation, Lacrymosa dies illa
When, to enjoy the conflagration, Qua resurget et favilla,
Men come forth, O be not cruel: Judicandus homo reus,
Spare me, Lord–make them thy fuel. Huic ergo parce, Deus!
The New Decalogue
Have but one God: thy knees were sore
If bent in prayer to three or four.
Adore no images save those
The coinage of thy country shows.
Take not the Name in vain. Direct
Thy swearing unto some effect.
Thy hand from Sunday work be held–
Work not at all unless compelled.
Honor thy parents, and perchance
Their wills thy fortunes may advance.
Kill not–death liberates thy foe
From persecution's constant woe.
Kiss not thy neighbor's wife. Of course
There's no objection to divorce.
To steal were folly, for 'tis plain
In cheating there is greater pain.
Bear not false witness. Shake your head
And say that you have "heard it said."
Who stays to covet ne'er will catch
An opportunity to snatch.
Weather
Once I dipt into the future far as human eye could see,
And I saw the Chief Forecaster, dead as any one can be–
Dead and damned and shut in Hades as a liar from his birth,
With a record of unreason seldome paralleled on earth.
While I looked he reared him solemnly, that incandescent youth,
From the coals that he'd preferred to the advantages of truth.
He cast his eyes about him and above him; then he wrote
On a slab of thin asbestos what I venture here to quote–
For I read it in the rose-light of the everlasting glow:
"Cloudy; variable winds, with local showers; cooler; snow."
SEE MORE: