Allan Ramsay Poems
Allan Ramsay was a great Scottish pastoral poet whose six children included his eldest son (of the same name) who became an accomplished artist, with many examples of his portrait painting hanging in the National Galleries of England and Scotland. Allan Ramsay Snr though was a wig maker by profession, and very successful at it, who also had a number of collections of poetry published. He was an original member of the "Easy Club" which was a group of literary men who met at regular intervals to exchange ideas and inspire each other to greater writing.
Allan Ramsay Bio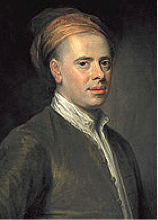 Ramsay was born in the small town of Leadhills, Lanarkshire on the 15th October 1686. His father was employed by one Lord Hopetoun as superintendent of a number of lead mines in the area. Allan had a fairly rudimentary education and, at the age of 15, was granted an apprenticeship with an Edinburgh wig maker. Once the Easy Club was established in 1712 he began to write poetry on a regular basis and he was elected the Club Laureate three years later. Writing under two assumed names – Isaac Bickerstaff and Gawin Douglas – his reputation soon grew and many of his poems were to be found in published broadsheets. By the year 1718 he had given up on wig making and turned himself into a book seller, plying his new trade from the same premises that he had been using for the wig making.
His first collection of poetry was published in 1722 and, although only available by subscription, the venture earned Ramsay some 400 guineas which was a considerable sum at that time. A few years later he was able to move to better and bigger premises, in the nearby district of Luckenbooths. Here his business really took off and he also became the first man in Scotland to provide a circulating library service. He maintained his interest in writing though and he published a collection of traditional Scottish verse that dated to a time before 1600, called The Ever Green. Also at this time, between the years 1724-27, he published some shorter poems under the title The Tea-Table Miscellany. In between these two titles he wrote a dramatic, pastoral piece called The Gentle Shepherd which was so popular that it was performed on stage at an Edinburgh theatre and this title established his reputation as a great pastoral poet.
Give Me a Lass with a Lump of Land
Gi'e me a lass with a lump of land,
And we for life shall gang thegither;
Tho' daft or wise I'll never demand,
Or black or fair it maks na whether.
I'm aff with wit, and beauty will fade,
And blood alane is no worth a shilling;
But she that's rich her market's made,
For ilka charm about her is killing.
Gi'e me a lass with a lump of land,
And in my bosom I'll hug my treasure;
Gin I had anes her gear in my hand,
Should love turn dowf, it will find pleasure.
Laugh on wha likes, but there's my hand,
I hate with poortith, tho' bonny, to meddle;
Unless they bring cash or a lump of land,
They'se never get me to dance to their fiddle.
There's meikle good love in bands and bags,
And siller and gowd's a sweet complexion;
But beauty, and wit, and virtue in rags,
Have tint the art of gaining affection.
Love tips his arrows with woods and parks,
And castles, and riggs, and moors, and meadows;
And naithing can catch our modern sparks,
But well-tocher'd lasses or jointur'd widows.
The Young Laird and Edinburgh Katy
Now wat ye wha I met yestreen
Coming down the street, my Jo,
My mistress in her tartan screen,
Fow bonny, braw and sweet, my Jo.
"My dear," quoth I, "thanks to the night,
That never wish'd a lover ill,
Since ye're out of your mither's sight,
Let's take a wauk up to the hill.
"O Katy wiltu gang wi' me,
And leave the dinsome town a while,
The blossom's sprouting frae the tree,
And a' the summer's gawn to smile;
The mavis, nightingale and lark,
The bleeting lambs and whistling hynd,
In ilka dale, green, shaw and park,
Will nourish health, and glad ye'r mind.
"Soon as the clear goodman of day
Bends his morning draught of dew,
We'll gae to some burnside and play,
And gather flowers to busk ye'r brow.
We'll pou the dazies on the green,
The lucken gowans frae the bog;
Between hands now and then we'll lean,
And sport upo' the velvet fog.
"There's up into a pleasant glen,
A wee piece frae my father's tower,
A canny, saft and flow'ry den,
Which circling birks has form'd a bower:
When e'er the sun grows high and warm,
We'll to the cauller shade remove,
There will I lock thee in mine arm,
And love and kiss, and kiss and love."
My mither's ay glowran o'er me,
Tho she did the same before me,
I canna get leave
To look to my loove,
Or else she'll be like to devour me.
Right fain wad I take ye'r offer,
Sweet Sir, but I'll tine my tocher,
Then, Sandy, ye'll fret,
And wyt ye'r poor Kate,
When e'er ye keek in your toom coffer.
For tho my father has plenty
Of siller and plenishing dainty,
Yet he's unco sweer
To twin wi' his gear,
And sae we had need to be tenty.
Tutor my parents wi' caution,
Be wylie in ilka motion,
Brag well o' ye'r land,
And there's my leal hand,
Win them, I'll be at your devotion.
My Peggy Is a Young Thing
My Peggy is a young thing,
Just enter'd in her teens,
Fair as the day, and sweet as May
Fair as the day, and always gay.
My Peggy is a young thing,
And I'm not very auld,
Yet well I like to meet her at
The Wawking of the Fauld.My Peggy speaks sæ sweetly,
When'er we meet alane,
I wish næ mair to lay my care,
I wish næ mair of a' that's rare.
My Peggy speaks sæ sweetly,
To a' the lave I'm cauld;
But she gars a' my spirits glow
At Wawking of the Fauld.My Peggy smiles sæ kindly,
Whene'er I whisper Love,
That I look down on a' the Town,
That I look down upon a Crown.
My Peggy smiles sæ kindly,
It makes my blythe and bauld,
And naithing gi'es me sic delight,
As Wawking of the Fauld.My Peggy sings sæ saftly,
When on my pipe I play;
By a' the rest it is confest,
By a' the rest, that she sings best.
My Peggy sings sæ saftly,
And in her songs are tald,
With innocence the wale of Sense,
At Wawking of the Fauld.