Ali Sardar Jafri Poems,Ali Sardar Jafri's life spanned most of the 20th century and he was a multi-award winning Indian poet, writing in Urdu, while also working as a literary critic and occasional lyricist for the Indian film industry. Because of his strong political activities he got on the wrong side of the university authorities while studying at the Aligarh Muslim University (AMU) during the 1930s, and was expelled.
He courted further controversy during the Second World War when he was arrested for writing anti-war poems. Despite his early difficulties he went on to become one of his country's greatest poets, being one of the founder member of the Progressive Writers' Association in 1936.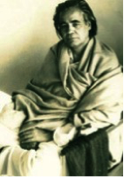 Ali Sardar Jafri Bio
Ali Sardar Jafri was born on the 29th November, 1913 into an aristocratic family. He spent his early years in Balrampur, Uttar Pradesh. He was well educated at school, going on to the AMU in 1933. There was a strong undercurrent of Communist ideology at this university and Jafri bought into that movement straight away. Such political leanings were frowned upon though and he was expelled after three years for his activities. He managed to secure a place at the Zakir Husain College, part of the University of Delhi, and completed his studies there.
Controversy continued to follow him though when he had to cut short his post-grad studies at Lucknow University due to his being arrested. He was the Secretary of the Student Union there and led fellow students in anti-war political activity whilst writing a number of inflammatory poems himself during the period 1940-41. The ruling imperial forces saw him as a trouble maker and he was imprisoned a number of times, but none of this stopped him. His reputation as a talented and patriotic poet was growing and his popularity amongst the masses was undeniable.
His first collection of poetry was published in 1943 and called Parwaz. He was experimenting with form and imagery and when he published again, five years later, the book was an allegorical single, long poem called Nai duniya ko salaam. Following the granting of independence to India he published a number of other collections of poetry, spanning the period 1949 to 1978.
Ali Sardar Jafri died on the 1st August 2000, aged 86.
Ali Sardar Jafri Poems
A Poem (With English Translation)
TU MUJHEY ITNEY PYAR SE MAT DEKH
TERI PALKOn KE NARM SAAYE MEIn
DOBTI CHAAnDINI SI LAGTI HAI
AUR MUJHEY ITNI DOOR JAANAA HAI
RET HAI GARM, PAAOn KE CHHALEY
YOn DAHAKTEY HAIn JAISEY AnGAAREY
PYAR KI YE NAZAR RAHEY NA RAHEY
KAUN DASHT-E-WAFAA MEIn JALTAA HAI
TEREY DIL KO KHABAR RAHEY NA RAHEY
TU MUJHEY ITNEY PYAR SE MAT DEKH
-English Translation-
Don't look at me so lovingly.
In the soft shadow of your eyelashes
Moonlight looks like drowning
And I've to go a long way
The desert's sand is burning, the blisters on my soles
flare up like cinders
This look of love may last or vanish
Who keeps burning in the desert of fidelity?
Your heart may bear in mind or may forget
Don't look at me so lovingly.
Dialogue Souldn't Cease (With English Translation)
GUFTGOO BAnD NA HO
BAAT SE BAAT CHALEY
SUBH TAK SHAAM-E-MULAAQAAT CHALEY
HUM PE HAnSTI HUEE
YE TAAROn BHARI RAAT CHALEYWO JO ALFAAZ KE HAATOn MEIn HAI SAnG-E-DUSHNAAM
TanZ CHALKAAYE TO CHALKAAYAA KAREIn ZAHR KE JAAM
TEEKHI NAZREIn HOOn
TURSH ABROO-E-KHAMDAAR RAHEY
BAN PADEY JAISEY BHI DIL SEENOn MEIn BE-DAAR RAHEY
BE-BASI HARF KO ZANJEER BA-PAA KAR NA SAKEY
KOI QAATIL HO MAGAR QATL-E-NAWAA KAR NA SAKEYSUBH TAK DHAL KE KOI HARF-E-WAFAA AAYEGAA
ISHQ AAYEGAA BA-SAD LAGHZISH-E-PAA AAYEGAA
NAZREIn JHUK JAAYEInGI
DIL DHADKEInGEY
LUB KAAnPEInGEY
KHAMUSHI BOSA-E-LUB BAN KE BAHAK JAAYEGI
SIRF GHUNCHOn KE CHATAKNEY KI SADAA AAYEGI
AUR PHIR HARF-O-NAWAA KI NA ZAROORAT HOOGI
CHASHM-O-ABROO KE ISHAAROn MEIn MOHABBAT HOGI
NAFRAT UTH JAAYEGI, MEHMAAN MURAWWAT HOGIHAATH MEIn HAARH LIYE, SAARAA JAHAAn SAATH LIYE
TUM………………………………PYAAR KI SAUGHAAT LIYE
REGZAAROn SE ADAAWAT KE GUZAR JAAYEInGEY
KHOOn KE DARYAA SE HUM PAAR UTAR JAAYEIn
GEGUFTGOO BAnD NA HO
English Translation
Dialogue shouldn't cease;
let the talk go on,
let the evening of [our] meet persist till the arrival of morn,
let this starry night pass on joyfully.
Let the stone of abuse be in the hands of words;
let the cups of poison spill ridicule;
let the sights be irate;
let the eyebrows be raised;
[yet, we must see] that our hearts, somehow, keep beating.
The helplessness shouldn't be allowed to chain the words;
no killer but he should be permitted to murder the voice.
Some vow of loyalty, fully moulded, will arrive by the morn;
the love will arrive, albeit limping, yet it certainly will;
the sights will elude meeting sights [out of modesty],
the heart beats will increase,
the lips will tremble;
the silence will turn into a kiss and go astray;
only the sound of the blooming of buds will linger;
and the need of words and voice won't remain
[for] the liaison of love will be carried on with [the help of] the signs of eyes and eyebrows;
the hatred will vanish, the kindness will ccc.
Holding hands in hands;
in the company of the entire world,
we'll go across the deserts of repugnance;
we'll cross over the river of blood.
Dialogue shouldn't cease.
My Journey (With English Translation)
PHIR IK DIN AISAA AAYEGAA
AAnKHOn KE DIYE BUJH JAAYEInGEY
HAATHOn KE KAnWAL KUMHLAAYEInGEY
AUR BARG-E-ZABAAn SE
NUTQ-O-SADAA KI HAR TITLI UD JAAYEGI
IK KAALEY SAMAnDAR KI TAH MAIn
KALIYOn KI TARAH SE KHILTI HUEE
PHOOLOn KI TARAH SE HAnSTI HUEE
SAARI SHAKLEIn KHO JAAYEInGI
KHOOn KI GARDISH, DIL KI DHADKAN
SAB RAAGNIYAAn SO JAAYEInGI
AUR NEELI FAZAA KE MAKHMAL PAR
HAnSTI HUEE HEREY KI YE KANI
YE MERI JANNAT, MERI ZAMEEn
IS KI SUBHEIn, ISKI SHAAMEIn
BE-JAANEY HUYE BE-SAMJHEY HUYE
IK MUSHT-E-GHUBAAR-E-INSAAn PAR
SHABNAM KI TARAH RO JAAYEInGI
HAR CHEEZ BHULAA DI JAAYEGI
YAADOn KE HASEEn BUTKHAANEY SE
HAR CHEEZ UTHAA DI JAAYEGI
PHIR KOI NAHIEn YE POOCHHEYGAA
SARDAR KAHAAn HAI MAHFIL MEIn
LEKIN MAIn YAHAAn PHIR AAOnGAA
BACHOn KE DAHAN SE BOLOnGAA
CHIDYOn KI ZABAAn SE GAAOnGAA
JAB BEEJ HAnSEIEnGEY DHARTI MEIn
AUR KOnPAL APNI UNGLI SE
MITI KI TAHOn KO CHHEDEGI
MAIn PATTI PATTI, KALI KALI
APNI AAnKHEIn PHIR KHOLOnGAA
SAR-SABZ HATHELI PAR LEKAR
SHABNAM KE QATREY TOLOnGAA
MAIn RanG-E-HINAA, AAHnG-E-GHAZAL
ANDAAZ-E-SUKHAN BAN JAAOnGAA
RUKHSAAR-E-UROOS-E-NAU KI TARAH
HAR AAnCHAL SE CHHAN JAAOnGAA
JAADOn KI HAWAAEIn DAAMAN MEIn
JAB FASL-E-KHIZAAn KO LAAYEGI
RAHRO KE JAWAAn QADMOn KE TALEY
SOOKHEY HUYE PATTOn SE MEREY
HANSNEY KI SADAAEIn AAYEInGI
DHARTI KI SUNHERI SAB NADIYAAn
AAKAASH KI NEELI SAB JHEELEIn
HASTI SE MIRI BHAR JAAYEInGI
AUR SAARAA ZAMAANAA DEKHEYGAA
HAR QISSAA MIRAA AFSAANAA HAI
HAR AASHIQ HAI SARDAR YAHAAn
HAR MAASHOOQAA SULTAANAA HAI
MAIN EK GUREZAAn LAMHAA HOOn
AYYAAM KE AFSOOn KHAANEY MEIn
MAIn EK TADAPTAA QATRAA HOOn
MASROOF-E-SAFAR JO RAHTAA HAI
MAAZI KI SURAAHI KE DIL SE
MUSTAQBIL KE PAIMAANEY MEIn
MAIn SOTAA HOOn AUR JAAGTAA HOOn
AUR JAAG KE PHIR SO JAATAA HOOn
SADYOn KA PURAANAA KHEL HOOn MAIn
MAIn MAR KE AMAR HO JAATAA HOOn
PHIR IK DIN AISAA AAYEGAA
English Translation
Such a day will arrive again
[when] the lamps of the eyes will get extinguished;
the lotus of the hands will get withered
and each butterfly of speech and voice
will flee from the leaf of the tongue.
All faces that blossom like buds,
chuckle like flowers,
the circling of blood, the beats of heart,
all [such] symphonies will go to sleep
on the bed of a dark ocean.
And, this grinning diamond particle,
this paradise of mine, this earth
that is laid out on the velvet of the blue environ,
its morns, its evenings
will, unwittingly, unconsciously,
pass on shedding the tears of dew
[on the demise of] a handful of dust of a man.
Everything will be forgotten;
everything will be removed
from the exquisite idol-house of memories.
Then no one will ask:
Where is Sardar in the congregation?
Yet, I'll come here again;
[I] will talk with the mouths of the tots;
will sing in the tongue of the birds.
When seeds will grin beneath earth
and the sapling, with its fingers,
will vex the crusts of earth,
I'll open my eyes
in leaves and buds;
will take, in [my] verdant palm,
the dew drops.
I'll turn into the colour of henna, the tune of ghazal
[and] the style of poetry.
[I], like the hue of the cheek of a bride,
will filter from every stole.
When the winds of winter
will bring along with them
the season of autumn'
my laughter will be heard
from the dry leaves that will
be trampled under the robust feet of the passerby.
All the golden rivers of the earth;
all the azure lakes of the sky
will get filled with my being.
And the world will see
[that] every tale is [in fact] my tale;
here every lover is Sardar
[and] every beloved is Sultaanaa
I'm a fleeting moment
in the enchanting-house of time;
I'm a restless drop
that travels
from the pitcher of the past
to the wine-cup of the future.
I sleep and get up
and again go to sleep.
I'm a play that's many centuries old.
I expire and become immortal.
Such a day will arrive again
The Charming Earth of Awadh (With English Translation)
GUZARTI BARSAAT AATEY JAADOn KE NARM LAMHEY
HAWAAOn MEIn TITLIYOn KE MAANIND UD RAHEY HAIn
MAIn APNEY SEENEY MEIn DIL KI AAWAAZ SUN RAHAA HOOn
RAGOn KE ANDAR LUHOO KI BOOnDEIn MACHAL RAHI HAIn
MIREY TASAWWUR KE ZAKHM KHURDAA
UFUQ SE YAADOn KE KAARWAAn Yon GUZAR RAHEY HAIn
KE JAISEY TAAREEK SHAB KE TAAREEK AASMAAn SE
CHAMAKTEY TAAROn KE MUSKURAATEY HUJOOM GUZREIn
MAIn QAID KHAANEY MEIn ISHQ PECHAAn KI SABZ BELOn KO DHOOnDTAA HOOn
JO PHAIL JAATI HAIn APNEY PHOOLOn KE NAnHEY NAnHEY CHARAAGH LE KAR
KAHAAn HAIn WO DIL NAWAAZ BAAnHEIn
WO SHAAKH-E-SAnDAL
KE JIS PE AnGDAAIYOn NE APNEY HASEEn NASHEMAN BANAA LIYE HAIn
MAIn APNI MAAn KE SUFAID AAnCHAL KI CHHAOn KO YAAD KAR RAHAA HOOn
MIRI BAHAN NE MUJHEY LIKHAA HAI
NADI KE PAANI MEIn BED KI JHAADYAAn ABHI TAK NAHAA RAHI HAIn
PAPEEHEY RUKHSAT NAHIEn HUYE HAIn
ABHI WO APNI SURELI AAWAAZ SE DILOn KO LUBHAA RAHEY HAInMAIn RAAT KE WAQT APNEY KHWAABOn MEIn CHAUnK PADTAA HOOn JAISEY MUJH KO
AVADH KI MITTI BULA RAHI HAISUFAID AATAA SIYAAH CHAKKI SE RAAG BAN KAR NIKAL RAHAA HAI
SUNHEREY CHOOLHOn MEIn AAG KE PHOOL KHIL RAHEY HAIn
PATELIYAAn GUNGUNAA RAHI HAIn
DHUEIn SE KAALEY TAWEY BHI CHInGAARIYOn KE HOOnTOn SE HAnS RAHEY HAIn
DOPATTEY AAnGAN MEIn DORIYOn PAR TAnGEY HUYE HAIn
AUR UNKEY AAnCHAL SE DHAANI BOOnDEIn TAPAK RAHI HAIn SUNHERI PAGDAnDIYOn KE DIL PAR
SIYAAH LAHnGOn KI SURKH GOTEIn MACHAL RAHI HAInYE SAADGI KIS QADAR HAEEn HAI
MAIn JAIL MEIn BAITHEY BAITHEY AKSAR YE SOCHTAA HOOn
JO HO SAKEY TO AVADH KI PYAARI ZAMEEN KO GOD MEIn UTHAA LOOn
AUR USKI SHAADAAB LAHLAHAATI JABEEn KO
HAZAAROn BOSOn SE JAGMAGAA DOOn
-English Translation-
The vanishing rains, the fine moments of the ensuing winter
are in flight like butterflies.
I hear the beats of the heart in my chest.
The beads of blood are unruly in the veins.
The caravans of memories
are passing through the wounded horizon of my imagination
in such manner
as if the grinning masses of the bright stars
pass through dark sky of a dark night.
I, in the prison, search for the verdant vines of ishq pechaan
which grow luxuriantly with their tiny lamps of flowers.
Where're those alluring arms,
those branches of sandalwood
on which the oscitations have built their lovely nests?
I recall the shadow of the white stole of my mother.
My sister has written to me
[that] the bushes of cane are still bathing in the water of the river;
the cuckoos haven't left yet;
they're still fascinating the hearts with their melodious voice.
I, at night, get astounded in my dreams as if
the earth of Avadh is summoning me.
White flour, like melody, is streaming out of the black mill.
The flowers of fire are blooming in the golden hearths.
Pots are humming.
The pans, which have turned black because of soot, are also chuckling with the lips of sparks.
Mantles are hang on lines in the courtyard
and light greenish drops are falling from their hems.
On the chests of the golden pathways
the red piping of the black skirt are glistening.
How exquisite is this simplicity!
I recurrently contemplate sitting in the jail
[that] if I can I should take the charming land of Avadh in my lap
and should burnish the forehead of its exhilarating and verdant land
with thousands of kisses.
You were slaves till yesterday, so were we.
And then came the season of freedom bathed in showers of blood…
Between you and us rage rivers of fire
Tall frowning barriers of hate
With a mere glance, however, we can tear them down;
We can forget, forgive the cruel part;
And again embrace you, yes we can.
But first you will have to break your swords,
And cleanse these bloodied garments;
After that we shall become no more strangers.
You bring us flowers from the gardens of Lahore,
We bring you light from the dawns of Benares,
Freshness of the Himalayan breeze;
And thereafter we ask each other:
Who is the enemy?