Algernon Charles Swinburne Poems
Born in London in 1837, Algernon Swinburne became one of the most well-known poets of the Victorian age, producing verse that often shocked and shook the morals of the conservative elite of the city. The oldest of 6 children in a wealthy family, he was sent to Eton to begin his studies where he discovered his love of poetry and began to write.
Algernon Charles Swinburne Bio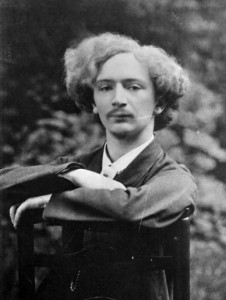 At Oxford he was temporarily expelled and, although he returned to complete his studies, he never actually received his university degree. In his heart, Algernon Swinburne believed he belonged to his family home of Northumberland and would write long lyric poems in praise of the countryside. He was prone to over indulging in drink, and spent some time in France recovering from his alcoholic excesses in 1861.
When he was well enough, he traveled to Italy where he made the acquaintance of writers such as Dante Gabriel Rossetti. His first work was published in 1860 but received little or no reaction from the general public or critics. His success came in 1865 when he wrote Atalanta in Claydon, created to mirror the form of a Greek epic tragedy.
More notable was the publication of Poems and Ballads in the year following, a collection that earned him a fair deal of infamy with its themes that were perceived to be indecent at the time. His poem Anactoria contained mentions of sadomasochism and cannibalism and was typical of some of the areas he explored.
CHORUS
If with voice of words or prayers thy sons may reach thee,
We thy latter sons, the men thine after-birth,
We the children of thy grey-grown age, O Earth,
O our mother everlasting, we beseech thee,
By the sealed and secret ages of thy life;
By the darkness wherein grew thy sacred forces;
By the songs of stars thy sisters in their courses;
By thine own song hoarse and hollow and shrill with strife;
By thy voice distuned and marred of modulation;
By the discord of thy measure's march with theirs;
By the beauties of thy bosom, and the cares;
By thy glory of growth, and splendour of thy station;
By the shame of men thy children, and the pride;
By the pale-cheeked hope that sleeps and weeps and passes,
As the grey dew from the morning mountain-grasses;
By the white-lipped sightless memories that abide;
By the silence and the sound of many sorrows;
By the joys that leapt up living and fell dead;
By the veil that hides thy hands and breasts and head,
Wrought of divers-coloured days and nights and morrows;
Isis, thou that knowest of God what worlds are worth,
Thou the ghost of God, the mother uncreated,
Soul for whom the floating forceless ages waited
As our forceless fancies wait on thee, O Earth;
Thou the body and soul, the father-God and mother,
If at all it move thee, knowing of all things done
Here where evil things and good things are not one,
But their faces are as fire against each other;
By thy morning and thine evening, night and day;
By the first white light that stirs and strives and hovers
As a bird above the brood her bosom covers,
By the sweet last star that takes the westward way;
By the night whose feet are shod with snow or thunder,
Fledged with plumes of storm, or soundless as the dew;
By the vesture bound of many-folded blue
Round her breathless breasts, and all the woven wonder;
By the golden-growing eastern stream of sea;
By the sounds of sunrise moving in the mountains;
By the forces of the floods and unsealed fountains;
Thou that badest man be born, bid man be free.
GREECE
I am she that made thee lovely with my beauty
From north to south:
Mine, the fairest lips, took first the fire of duty
From thine own mouth.
Mine, the fairest eyes, sought first thy laws and knew them
Truths undefiled;
Mine, the fairest hands, took freedom first into them,
A weanling child.
By my light, now he lies sleeping, seen above him
Where none sees other;
By my dead that loved and living men that love him;
(Cho.) Hear us, O mother.
ITALY
I am she that was the light of thee enkindled
When Greece grew dim;
She whose life grew up with man's free life, and dwindled
With wane of him.
She that once by sword and once by word imperial
Struck bright thy gloom;
And a third time, casting off these years funereal,
Shall burst thy tomb.
By that bond 'twixt thee and me whereat affrighted
Thy tyrants fear us;
By that hope and this remembrance reunited;
(Cho.) O mother, hear us.
SPAIN
I am she that set my seal upon the nameless
West worlds of seas;
And my sons as brides took unto them the tameless
Hesperides.
Till my sins and sons through sinless lands dispersed,
With red flame shod,
Made accurst the name of man, and thrice accursed
The name of God.
Lest for those past fires the fires of my repentance
Hell's fume yet smother,
Now my blood would buy remission of my sentence;
(Cho.) Hear us, O mother.
FRANCE
I am she that was thy sign and standard-bearer,
Thy voice and cry;
She that washed thee with her blood and left thee fairer,
The same was I.
Were not these the hands that raised thee fallen and fed thee,
These hands defiled?
Was not I thy tongue that spake, thine eye that led thee,
Not I thy child?
By the darkness on our dreams, and the dead errors
Of dead times near us;
By the hopes that hang around thee, and the terrors;
(Cho.) O mother, hear us.
RUSSIA
I am she whose hands are strong and her eyes blinded
And lips athirst
Till upon the night of nations many-minded
One bright day burst:
Till the myriad stars be molten into one light,
And that light thine;
Till the soul of man be parcel of the sunlight,
And thine of mine.
By the snows that blanch not him nor cleanse from slaughter
Who slays his brother;
By the stains and by the chains on me thy daughter;
(Cho.) Hear us, O mother.
SWITZERLAND
I am she that shews on mighty limbs and maiden
Nor chain nor stain;
For what blood can touch these hands with gold unladen,
These feet what chain?
By the surf of spears one shieldless bosom breasted
And was my shield,
Till the plume-plucked Austrian vulture-heads twin-crested
Twice drenched the field;
By the snows and souls untrampled and untroubled
That shine to cheer us,
Light of those to these responsive and redoubled;
(Cho.) O mother, hear us.
GERMANY
I am she beside whose forest-hidden fountains
Slept freedom armed,
By the magic born to music in my mountains
Heart-chained and charmed.
By those days the very dream whereof delivers
My soul from wrong;
By the sounds that make of all my ringing rivers
None knows what song;
By the many tribes and names of my division
One from another;
By the single eye of sun-compelling vision;
(Cho.) Hear us, O mother.
ENGLAND
I am she that was and was not of thy chosen,
Free, and not free;
She that fed thy springs, till now her springs are frozen;
Yet I am she.
By the sea that clothed and sun that saw me splendid
And fame that crowned,
By the song-fires and the sword-fires mixed and blended
That robed me round;
By the star that Milton's soul for Shelley's lighted,
Whose rays insphere us;
By the beacon-bright Republic far-off sighted;
(Cho.) O mother, hear us.
CHORUS
Turn away from us the cross-blown blasts of error,
That drown each other;
Turn away the fearful cry, the loud-tongued terror,
O Earth, O mother.
Turn away their eyes who track, their hearts who follow,
The pathless past;
Shew the soul of man, as summer shews the swallow,
The way at last.
By the sloth of men that all too long endure men
On man to tread;
By the cry of men, the bitter cry of poor men
That faint for bread;
By the blood-sweat of the people in the garden
Inwalled of kings;
By his passion interceding for their pardon
Who do these things;
By the sightless souls and fleshless limbs that labour
For not their fruit;
By the foodless mouth with foodless heart for neighbour,
That, mad, is mute;
By the child that famine eats as worms the blossom
–Ah God, the child!
By the milkless lips that strain the bloodless bosom
Till woe runs wild;
By the pastures that give grass to feed the lamb in,
Where men lack meat;
By the cities clad with gold and shame and famine;
By field and street;
By the people, by the poor man, by the master
That men call slave;
By the cross-winds of defeat and of disaster,
By wreck, by wave;
By the helm that keeps us still to sunwards driving,
Still eastward bound,
Till, as night-watch ends, day burn on eyes reviving,
And land be found:
We thy children, that arraign not nor impeach thee
Though no star steer us,
By the waves that wash the morning we beseech thee,
O mother, hear us.
The wind's way in the deep sky's hollow
None may measure, as none can say
How the heart in her shows the swallow
The wind's way.Hope nor fear can avail to stay
Waves that whiten on wrecks that wallow,
Times and seasons that wane and slay.Life and love, till the strong night swallow
Thought and hope and the red last ray,
Swim the waters of years that follow
The wind's way.
I.
Time, thy name is sorrow, says the stricken
Heart of life, laid waste with wasting flame
Ere the change of things and thoughts requicken,
Time, thy name.
Girt about with shadow, blind and lame,
Ghosts of things that smite and thoughts that sicken
Hunt and hound thee down to death and shame.
Eyes of hours whose paces halt or quicken
Read in bloodred lines of loss and blame,
Writ where cloud and darkness round it thicken,
Time, thy name.
II.
Nay, but rest is born of me for healing,
– So might haply time, with voice represt,
Speak: is grief the last gift of my dealing?
Nay, but rest.
All the world is wearied, east and west,
Tired with toil to watch the slow sun wheeling,
Twelve loud hours of life's laborious quest.
Eyes forspent with vigil, faint and reeling,
Find at last my comfort, and are blest,
Not with rapturous light of life's revealing –
Nay, but rest.
My brother, my Valerius, dearest head
Of all whose crowning bay-leaves crown their mother
Rome, in the notes first heard of thine I read
My brother.
No dust that death or time can strew may smother
Love and the sense of kinship inly bred
From loves and hates at one with one another.
To thee was Caesar's self nor dear nor dread,
Song and the sea were sweeter each than other:
How should I living fear to call thee dead
My brother?
What shall be done for sorrow
With love whose race is run?
Where help is none to borrow,
What shall be done?In vain his hands have spun
The web, or drawn the furrow:
No rest their toil hath won.His task is all gone thorough,
And fruit thereof is none:
And who dare say to-morrow
What shall be done?
Kneel down, fair Love, and fill thyself with tears,
Girdle thyself with sighing for a girth
Upon the sides of mirth,
Cover thy lips and eyelids, let thine ears
Be filled with rumour of people sorrowing;
Make thee soft raiment out of woven sighs
Upon the flesh to cleave,
Set pains therein and many a grievous thing,
And many sorrows after each his wise
For armlet and for gorget and for sleeve.O Love's lute heard about the lands of death,
Left hanged upon the trees that were therein;
O Love and Time and Sin,
Three singing mouths that mourn now underbreath,
Three lovers, each one evil spoken of;
O smitten lips wherethrough this voice of mine
Came softer with her praise;
Abide a little for our lady's love.
The kisses of her mouth were more than wine,
And more than peace the passage of her days.O Love, thou knowest if she were good to see.
O Time, thou shalt not find in any land
Till, cast out of thine hand,
The sunlight and the moonlight fail from thee,
Another woman fashioned like as this.
O Sin, thou knowest that all thy shame in her
Was made a goodly thing;
Yea, she caught Shame and shamed him with her kiss,
With her fair kiss, and lips much lovelier
Than lips of amorous roses in late spring.
By night there stood over against my bed
Queen Venus with a hood striped gold and black,
Both sides drawn fully back
From brows wherein the sad blood failed of red,
And temples drained of purple and full of death.
Her curled hair had the wave of sea-water
And the sea's gold in it.
Her eyes were as a dove's that sickeneth.
Strewn dust of gold she had shed over her,
And pearl and purple and amber on her feet.
Upon her raiment of dyed sendaline
Were painted all the secret ways of love
And covered things thereof,
That hold delight as grape-flowers hold their wine;
Red mouths of maidens and red feet of doves,
And brides that kept within the bride-chamber
Their garment of soft shame,
And weeping faces of the wearied loves
That swoon in sleep and awake wearier,
With heat of lips and hair shed out like flame.
The tears that through her eyelids fell on me
Made mine own bitter where they ran between
As blood had fallen therein,
She saying: Arise, lift up thine eyes and see
If any glad thing be or any good
Now the best thing is taken forth of us;
Even she to whom all praise
Was as one flower in a great multitude,
One glorious flower of many and glorious,
One day found gracious among many days:
Even she whose handmaiden was Love–to whom
At kissing times across her stateliest bed
Kings bowed themselves and shed
Pale wine, and honey with the honeycomb,
And spikenard bruised for a burnt-offering;
Even she between whose lips the kiss became
As fire and frankincense;
Whose hair was as gold raiment on a king,
Whose eyes were as the morning purged with flame,
Whose eyelids as sweet savour issuing thence.
Then I beheld, and lo on the other side
My lady's likeness crowned and robed and dead.
Sweet still, but now not red,
Was the shut mouth whereby men lived and died.
And sweet, but emptied of the blood's blue shade,
The great curled eyelids that withheld her eyes.
And sweet, but like spoilt gold,
The weight of colour in her tresses weighed.
And sweet, but as a vesture with new dyes,
The body that was clothed with love of old.
Ah! that my tears filled all her woven hair
And all the hollow bosom of her gown–
Ah! that my tears ran down
Even to the place where many kisses were,
Even where her parted breast-flowers have place,
Even where they are cloven apart–who knows not this?
Ah! the flowers cleave apart
And their sweet fills the tender interspace;
Ah! the leaves grown thereof were things to kiss
Ere their fine gold was tarnished at the heart.
Ah! in the days when God did good to me,
Each part about her was a righteous thing;
Her mouth an almsgiving,
The glory of her garments charity,
The beauty of her bosom a good deed,
In the good days when God kept sight of us;
Love lay upon her eyes,
And on that hair whereof the world takes heed;
And all her body was more virtuous
Than souls of women fashioned otherwise.
Now, ballad, gather poppies in thine hands
And sheaves of brier and many rusted sheaves
Rain-rotten in rank lands,
Waste marigold and late unhappy leaves
And grass that fades ere any of it be mown;
And when thy bosom is filled full thereof
Seek out Death's face ere the light altereth,
And say "My master that was thrall to Love
Is become thrall to Death."
Bow down before him, ballad, sigh and groan.
But make no sojourn in thy outgoing;
For haply it may be
That when thy feet return at evening
Death shall come in with thee.
ALL the bells of heaven may ring,
All the birds of heaven may sing,
All the wells on earth may spring,
All the winds on earth may bring
All sweet sounds together—
Sweeter far than all things heard,
Hand of harper, tone of bird,
Sound of woods at sundawn stirred,
Welling water's winsome word,
Wind in warm wan weather,
One thing yet there is, that none
Hearing ere its chime be done
Knows not well the sweetest one
Heard of man beneath the sun,
Hoped in heaven hereafter;
Soft and strong and loud and light,
Very sound of very light
Heard from morning's rosiest height,
When the soul of all delight
Fills a child's clear laughter.
Golden bells of welcome rolled
Never forth such notes, nor told
Hours so blithe in tones so bold,
As the radiant mouth of gold
Here that rings forth heaven.
If the golden-crested wren
Were a nightingale—why, then,
Something seen and heard of men
Might be half as sweet as when
Laughs a child of seven.
A Dialogue
I
DEATH, if thou wilt, fain would I plead with thee:
Canst thou not spare, of all our hopes have built,
One shelter where our spirits fain would be,
Death, if thou wit?
No dome with suns and dews impearled and gilt,
Imperial: but some roof of wildwood tree,
Too mean for sceptre's heft or swordblade's hilt.
Some low sweet roof where love might live, set free
From change and fear and dreams of grief or guilt;
Canst thou not leave life even thus much to see,
Death, if thou wilt?
II
Man, what art thou to speak and plead with me?
What knowest thou of my workings, where and how
What things I fashion? Nay, behold and see,
Man, what art thou?
Thy fruits of life, and blossoms of thy bough,
What are they but my seedlings? Earth and sea
Bear nought but when I breathe on it must bow.
Bow thou too down before me: though thou be
Great, all the pride shall fade from off thy brow,
When Time and strong Oblivion ask of thee,
Man, what art thou ?
III
Death, if thou be or be not, as was said,
Immortal; if thou make us nought, or we
Survive: thy power is made but of our dread,
Death, if thou be.
Thy might is made out of our fear of thee:
Who fears thee not, hath plucked from off thine head
The crown of cloud that darkens earth and sea.
Earth, sea, and sky, as rain or vapour shed,
Shall vanish; all the shows of them shall flee:
Then shall we know full surely, quick or dead,
Death, if thou be.
Low lies the mere beneath the moorside, still
And glad of silence: down the wood sweeps clear
To the utmost verge where fed with many a rill
Low lies the mere.The wind speaks only summer: eye nor ear
Sees aught at all of dark, hears aught of shrill,
From sound or shadow felt or fancied here.Strange, as we praise the dead man's might and skill,
Strange that harsh thoughts should make such heavy cheer,
While, clothed with peace by heaven's most gentle will,
Low lies the mere.
If love were what the rose is,
And I were like the leaf,
Our lives would grow together
In sad or singing weather,
Blown fields or flowerful closes,
Green pasture or gray grief;
If love were what the rose is,
And I were like the leaf.If I were what the words are,
And love were like the tune,
With double sound and single
Delight our lips would mingle,
With kisses glad as birds are
That get sweet rain at noon;
If I were what the words are,
And love were like the tune.If you were life, my darling,
And I your love were death,
We'd shine and snow together
Ere March made sweet the weather
With daffodil and starling
And hours of fruitful breath;
If you were life, my darling,
And I your love were death.
If you were thrall to sorrow,
And I were page to joy,
We'd play for lives and seasons
With loving looks and treasons
And tears of night and morrow
And laughs of maid and boy;
If you were thrall to sorrow,
And I were page to joy.
If you were April's lady,
And I were lord in May,
We'd throw with leaves for hours
And draw for days with flowers,
Till day like night were shady
And night were bright like day;
If you were April's lady,
And I were lord in May.
If you were queen of pleasure,
And I were king of pain,
We'd hunt down love together,
Pluck out his flying-feather,
And teach his feet a measure,
And find his mouth a rein;
If you were queen of pleasure,
And I were king of pain.
Three times thrice hath winter's rough white wing
Crossed and curdled wells and streams with ice
Since his birth whose praises love would sing
Three times thrice.
Earth nor sea bears flower nor pearl of price
Fit to crown the forehead of my king,
Honey meet to please him, balm, nor spice.
Love can think of nought but love to bring
Fit to serve or do him sacrifice
Ere his eyes have looked upon the spring
Three times thrice.
II.
Three times thrice the world has fallen on slumber,
Shone and waned and withered in a trice,
Frost has fettered Thames and Tyne and Humber
Three times thrice,
Fogs have swoln too thick for steel to slice,
Cloud and mud have soiled with grime and umber
Earth and heaven, defaced as souls with vice,
Winds have risen to wreck, snows fallen to cumber,
Ships and chariots, trapped like rats or mice,
Since my king first smiled, whose years now number
Three times thrice.
III.
Three times thrice, in wine of song full-flowing,
Pledge, my heart, the child whose eyes suffice,
Once beheld, to set thy joy-bells going
Three times thrice.
Not the lands of palm and date and rice
Glow more bright when summer leaves them glowing,
Laugh more light when suns and winds entice.
Noon and eve and midnight and cock-crowing,
Child whose love makes life as paradise,
Love should sound your praise with clarions blowing
Three times thrice.
Somno mollior unda
I
Dawn is dim on the dark soft water,
Soft and passionate, dark and sweet.
Love's own self was the deep sea's daughter,
Fair and flawless from face to feet,
Hailed of all when the world was golden,
Loved of lovers whose names beholden
Thrill men's eyes as with light of olden
Days more glad than their flight was fleet.
So they sang: but for men that love her,
Souls that hear not her word in vain,
Earth beside her and heaven above her
Seem but shadows that wax and wane.
Softer than sleep's are the sea's caresses,
Kinder than love's that betrays and blesses,
Blither than spring's when her flowerful tresses
Shake forth sunlight and shine with rain.
All the strength of the waves that perish
Swells beneath me and laughs and sighs,
Sighs for love of the life they cherish,
Laughs to know that it lives and dies,
Dies for joy of its life, and lives
Thrilled with joy that its brief death gives —
Death whose laugh or whose breath forgives
Change that bids it subside and rise.
II
Hard and heavy, remote but nearing,
Sunless hangs the severe sky's weight,
Cloud on cloud, though the wind be veering
Heaped on high to the sundawn's gate.
Dawn and even and noon are one,
Veiled with vapour and void of sun;
Nought in sight or in fancied hearing
Now less mighty than time or fate.
The grey sky gleams and the grey seas glimmer,
Pale and sweet as a dream's delight,
As a dream's where darkness and light seem dimmer,
Touched by dawn or subdued by night.
The dark wind, stern and sublime and sad,
Swings the rollers to westward, clad
With lustrous shadow that lures the swimmer,
Lures and lulls him with dreams of light.
Light, and sleep, and delight, and wonder,
Change, and rest, and a charm of cloud,
Fill the world of the skies whereunder
Heaves and quivers and pants aloud
All the world of the waters, hoary
Now, but clothed with its own live glory,
That mates the lightning and mocks the thunder
With light more living and word more proud.
III
Far off westward, whither sets the sounding strife,
Strife more sweet than peace, of shoreless waves whose glee
Scorns the shore and loves the wind that leaves them free,
Strange as sleep and pale as death and fair as life,
Shifts the moonlight-coloured sunshine on the sea.
Toward the sunset's goal the sunless waters crowd,
Fast as autumn days toward winter: yet it seems
Here that autumn wanes not, here that woods and streams
Lose not heart and change not likeness, chilled and bowed,
Warped and wrinkled: here the days are fair as dreams.
IV
O russet-robed November,
What ails thee so to smile?
Chill August, pale September,
Endured a woful while,
And fell as falls an ember
From forth a flameless pile:
But golden-girt November
Bids all she looks on smile.
The lustrous foliage, waning
As wanes the morning moon,
Here falling, here refraining,
Outbraves the pride of June
With statelier semblance, feigning
No fear lest death be soon:
As though the woods thus waning
Should wax to meet the moon.
As though, when fields lie stricken
By grey December's breath,
These lordlier growths that sicken
And die for fear of death
Should feel the sense requicken
That hears what springtide saith
And thrills for love, spring-stricken
And pierced with April's breath.
The keen white-winged north-easter
That stings and spurs thy sea
Doth yet but feed and feast her
With glowing sense of glee:
Calm chained her, storm released her,
And storm's glad voice was he:
South-wester or north-easter,
Thy winds rejoice the sea.
V
A dream, a dream is it all — the season,
The sky, the water, the wind, the shore?
A day-born dream of divine unreason,
A marvel moulded of sleep — no more?
For the cloudlike wave that my limbs while cleaving
Feel as in slumber beneath them heaving
Soothes the sense as to slumber, leaving
Sense of nought that was known of yore.
A purer passion, a lordlier leisure,
A peace more happy than lives on land,
Fulfils with pulse of diviner pleasure
The dreaming head and the steering hand.
I lean my cheek to the cold grey pillow,
The deep soft swell of the full broad billow,
And close mine eyes for delight past measure,
And wish the wheel of the world would stand.
The wild-winged hour that we fain would capture
Falls as from heaven that its light feet clomb,
So brief, so soft, and so full the rapture
Was felt that soothed me with sense of home.
To sleep, to swim, and to dream, for ever —
Such joy the vision of man saw never;
For here too soon will a dark day sever
The sea-bird's wing from the sea-wave's foam.
A dream, and more than a dream, and dimmer
At once and brighter than dreams that flee,
The moment's joy of the seaward swimmer
Abides, remembered as truth may be.
Not all the joy and not all the glory
Must fade as leaves when the woods wax hoary;
For there the downs and the sea-banks glimmer,
And here to south of them swells the sea.
A Year's Carols
JANUARY
HAIL, January, that bearest here
On snowbright breasts the babe-faced year
That weeps and trembles to be born.
Hail, maid and mother, strong and bright,
Hooded and cloaked and shod with white,
Whose eyes are stars that match the morn.
Thy forehead braves the storm's bent bow,
Thy feet enkindle stars of snow.
FEBRUARY
Wan February with weeping cheer,
Whose cold hand guides the youngling year
Down misty roads of mire and rime,
Before thy pale and fitful face
The shrill wind shifts the clouds apace
Through skies the morning scarce may climb.
Thine eyes are thick with heavy tears,
But lit with hopes that light the year's.
MARCH
Hail, happy March, whose foot on earth
Rings as the blast of martial mirth
When trumpets fire men's hearts for fray.
No race of wild things winged or finned
May match the might that wings thy wind
Through air and sea, through scud and spray.
Strong joy and thou were powers twin-born
Of tempest and the towering morn.
APRIL
Crowned April, king whose kiss bade earth
Bring forth to time her lordliest birth
When Shakespeare from thy lips drew breath
And laughed to hold in one soft hand
A spell that bade the world's wheel stand,
And power on life, and power on death,
With quiring suns and sunbright showers
Praise him, the flower of all thy flowers.
MAY
Hail, May, whose bark puts forth full-sailed
For summer; May, whom Chaucer hailed
With all his happy might of heart,
And gave thy rosebright daisy-tips
Strange frarance from his amorous lips
That still thine own breath seems to part
And sweeten till each word they say
Is even a flower of flowering May.
JUNE
Strong June, superb, serene, elate
With conscience of thy sovereign state
Untouched of thunder, though the storm
Scathe here and there thy shuddering skies
And bid its lightning cross thine eyes
With fire, thy golden hours inform
Earth and the souls of men with life
That brings forth peace from shining strife.
JULY
Hail, proud July, whose fervent mouth
Bids even be morn and north be south
By grace and gospel of thy word,
Whence all the splendour of the sea
Lies breathless with delight in thee
And marvel at the music heard
From the ardent silent lips of noon
And midnight's rapturous plenilune.
AUGUST
Great August, lord of golden lands,
Whose lordly joy through seas and strands
And all the red-ripe heart of earth
Strikes passion deep as life, and stills
The folded vales and folding hills
With gladness too divine for mirth,
The gracious glories of thine eyes
Make night a noon where darkness dies.
SEPTEMBER
Hail, kind September, friend whose grace
Renews the bland year's bounteous face
With largess given of corn and wine
Through many a land that laughs with love
Of thee and all the heaven above,
More fruitful found than all save thine
Whose skies fulfil with strenuous cheer
The fervent fields that knew thee near.
OCTOBER
October of the tawny crown,
Whose heavy-laden hands drop down
Blessing, the bounties of thy breath
And mildness of thy mellowing might
Fill earth and heaven with love and light
Too sweet for fear to dream of death
Or memory, while thy joy lives yet,
To know what joy would fain forget.
NOVEMBER
Hail, soft November, though thy pale
Sad smile rebuke the words that hail
Thy sorrow with no sorrowing words
Or gratulate thy grief with song
Less bitter than the winds that wrong
Thy withering woodlands, where the birds
Keep hardly heart to sing or see
How fair thy faint wan face may be.
DECEMBER
December, thou whose hallowing hands
On shuddering seas and hardening lands
Set as a sacramental sign
The seal of Christmas felt on earth
As witness toward a new year's birth
Whose promise makes thy death divine,
The crowning joy that comes of thee
Makes glad all grief on land or sea.
Fire out of heaven, a flower of perfect fire,
That where the roots of life are had its root
And where the fruits of time are brought forth fruit;
A faith made flesh, a visible desire,
That heard the yet unbreathing years respire
And speech break forth of centuries that sit mute
Beyond all feebler footprint of pursuit;
That touched the highest of hope, and went up higher;
A heart love-wounded whereto love was law,
A soul reproachless without fear or flaw,
A shining spirit without shadow of shame,
A memory made of all men's love and awe;
Being disembodied, so thou be the same,
What need, O soul, to sign thee with thy name?All woes of all men sat upon thy soul
And all their wrongs were heavy on thy head;
With all their wounds thy heart was pierced and bled,
And in thy spirit as in a mourning scroll
The world's huge sorrows were inscribed by roll,
All theirs on earth who serve and faint for bread,
All banished men's, all theirs in prison dead,
Thy love had heart and sword-hand for the whole.
"This was my day of glory," didst thou say,
When, by the scaffold thou hadst hope to climb
For thy faith's sake, they brought thee respite; "Nay,
I shall not die then, I have missed my day."
O hero, O our help, O head sublime,
Thy day shall be commensurate with time.
Ave atque Vale (In memory of Charles Baudelaire)
SHALL I strew on thee rose or rue or laurel,
Brother, on this that was the veil of thee?
Or quiet sea-flower moulded by the sea,
Or simplest growth of meadow-sweet or sorrel,
Such as the summer-sleepy Dryads weave,
Waked up by snow-soft sudden rains at eve?
Or wilt thou rather, as on earth before,
Half-faded fiery blossoms, pale with heat
And full of bitter summer, but more sweet
To thee than gleanings of a northern shore
Trod by no tropic feet?For always thee the fervid languid glories
Allured of heavier suns in mightier skies;
Thine ears knew all the wandering watery sighs
Where the sea sobs round Lesbian promontories,
The barren kiss of piteous wave to wave
That knows not where is that Leucadian grave
Which hides too deep the supreme head of song.
Ah, salt and sterile as her kisses were,
The wild sea winds her and the green gulfs bear
Hither and thither, and vex and work her wrong,
Blind gods that cannot spare.Thou sawest, in thine old singing season, brother,
Secrets and sorrows unbeheld of us:
Fierce loves, and lovely leaf-buds poisonous,
Bare to thy subtler eye, but for none other
Blowing by night in some unbreathed-in clime;
The hidden harvest of luxurious time,
Sin without shape, and pleasure without speech;
And where strange dreams in a tumultuous sleep
Make the shut eyes of stricken spirits weep;
And with each face thou sawest the shadow on each,
Seeing as men sow men reap.
O sleepless heart and sombre soul unsleeping,
That were athirst for sleep and no more life
And no more love, for peace and no more strife!
Now the dim gods of death have in their keeping
Spirit and body and all the springs of song,
Is it well now where love can do no wrong,
Where stingless pleasure has no foam or fang
Behind the unopening closure of her lips?
Is it not well where soul from body slips
And flesh from bone divides without a pang
As dew from flower-bell drips?
It is enough; the end and the beginning
Are one thing to thee, who art past the end.
O hand unclasp'd of unbeholden friend,
For thee no fruits to pluck, no palms for winning,
No triumph and no labour and no lust,
Only dead yew-leaves and a little dust.
O quiet eyes wherein the light saith naught,
Whereto the day is dumb, nor any night
With obscure finger silences your sight,
Nor in your speech the sudden soul speaks thought,
Sleep, and have sleep for light.
Now all strange hours and all strange loves are over,
Dreams and desires and sombre songs and sweet,
Hast thou found place at the great knees and feet
Of some pale Titan-woman like a lover,
Such as thy vision here solicited,
Under the shadow of her fair vast head,
The deep division of prodigious breasts,
The solemn slope of mighty limbs asleep,
The weight of awful tresses that still keep
The savour and shade of old-world pine-forests
Where the wet hill-winds weep?
Hast thou found any likeness for thy vision?
O gardener of strange flowers, what bud, what bloom,
Hast thou found sown, what gather'd in the gloom?
What of despair, of rapture, of derision,
What of life is there, what of ill or good?
Are the fruits gray like dust or bright like blood?
Does the dim ground grow any seed of ours,
The faint fields quicken any terrene root,
In low lands where the sun and moon are mute
And all the stars keep silence? Are there flowers
At all, or any fruit?
Alas, but though my flying song flies after,
O sweet strange elder singer, thy more fleet
Singing, and footprints of thy fleeter feet,
Some dim derision of mysterious laughter
From the blind tongueless warders of the dead,
Some gainless glimpse of Proserpine's veil'd head,
Some little sound of unregarded tears
Wept by effaced unprofitable eyes,
And from pale mouths some cadence of dead sighs–
These only, these the hearkening spirit hears,
Sees only such things rise.
Thou art far too far for wings of words to follow,
Far too far off for thought or any prayer.
What ails us with thee, who art wind and air?
What ails us gazing where all seen is hollow?
Yet with some fancy, yet with some desire,
Dreams pursue death as winds a flying fire,
Our dreams pursue our dead and do not find.
Still, and more swift than they, the thin flame flies,
The low light fails us in elusive skies,
Still the foil'd earnest ear is deaf, and blind
Are still the eluded eyes.
Not thee, O never thee, in all time's changes,
Not thee, but this the sound of thy sad soul,
The shadow of thy swift spirit, this shut scroll
I lay my hand on, and not death estranges
My spirit from communion of thy song–
These memories and these melodies that throng
Veil'd porches of a Muse funereal–
These I salute, these touch, these clasp and fold
As though a hand were in my hand to hold,
Or through mine ears a mourning musical
Of many mourners roll'd.
I among these, I also, in such station
As when the pyre was charr'd, and piled the sods.
And offering to the dead made, and their gods,
The old mourners had, standing to make libation,
I stand, and to the Gods and to the dead
Do reverence without prayer or praise, and shed
Offering to these unknown, the gods of gloom,
And what of honey and spice my seed-lands bear,
And what I may of fruits in this chill'd air,
And lay, Orestes-like, across the tomb
A curl of sever'd hair.
But by no hand nor any treason stricken,
Not like the low-lying head of Him, the King,
The flame that made of Troy a ruinous thing,
Thou liest and on this dust no tears could quicken.
There fall no tears like theirs that all men hear
Fall tear by sweet imperishable tear
Down the opening leaves of holy poets' pages.
Thee not Orestes, not Electra mourns;
But bending us-ward with memorial urns
The most high Muses that fulfil all ages
Weep, and our God's heart yearns.
For, sparing of his sacred strength, not often
Among us darkling here the lord of light
Makes manifest his music and his might
In hearts that open and in lips that soften
With the soft flame and heat of songs that shine.
Thy lips indeed he touch'd with bitter wine,
And nourish'd them indeed with bitter bread;
Yet surely from his hand thy soul's food came,
The fire that scarr'd thy spirit at his flame
Was lighted, and thine hungering heart he fed
Who feeds our hearts with fame.
Therefore he too now at thy soul's sunsetting,
God of all suns and songs, he too bends down
To mix his laurel with thy cypress crown,
And save thy dust from blame and from forgetting.
Therefore he too, seeing all thou wert and art,
Compassionate, with sad and sacred heart,
Mourns thee of many his children the last dead,
And hollows with strange tears and alien sighs
Thine unmelodious mouth and sunless eyes,
And over thine irrevocable head
Sheds light from the under skies.
And one weeps with him in the ways Lethean,
And stains with tears her changing bosom chill;
That obscure Venus of the hollow hill,
That thing transform'd which was the Cytherean,
With lips that lost their Grecian laugh divine
Long since, and face no more call'd Erycine–
A ghost, a bitter and luxurious god.
Thee also with fair flesh and singing spell
Did she, a sad and second prey, compel
Into the footless places once more trod,
And shadows hot from hell.
And now no sacred staff shall break in blossom,
No choral salutation lure to light
A spirit sick with perfume and sweet night
And love's tired eyes and hands and barren bosom.
There is no help for these things; none to mend,
And none to mar; not all our songs, O friend,
Will make death clear or make life durable.
Howbeit with rose and ivy and wild vine
And with wild notes about this dust of thine
At least I fill the place where white dreams dwell
And wreathe an unseen shrine.
Sleep; and if life was bitter to thee, pardon,
If sweet, give thanks; thou hast no more to live;
And to give thanks is good, and to forgive.
Out of the mystic and the mournful garden
Where all day through thine hands in barren braid
Wove the sick flowers of secrecy and shade,
Green buds of sorrow and sin, and remnants gray,
Sweet-smelling, pale with poison, sanguine-hearted,
Passions that sprang from sleep and thoughts that started,
Shall death not bring us all as thee one day
Among the days departed?
For thee, O now a silent soul, my brother,
Take at my hands this garland, and farewell.
Thin is the leaf, and chill the wintry smell,
And chill the solemn earth, a fatal mother,
With sadder than the Niobean womb,
And in the hollow of her breasts a tomb.
Content thee, howsoe'er, whose days are done;
There lies not any troublous thing before,
Nor sight nor sound to war against thee more,
For whom all winds are quiet as the sun,
All waters as the shore.
Birth and death, twin-sister and twin-brother,
Night and day, on all things that draw breath,
Reign, while time keeps friends with one another
Birth and death.Each brow-bound with flowers diverse of wreath,
Heaven they hail as father, earth as mother,
Faithful found above them and beneath.Smiles may lighten tears, and tears may smother
Smiles, for all that joy or sorrow saith:
Joy nor sorrow knows not from each other
Birth and death.
Chorus
from Atalanta in Calydon
When the hounds of spring are on winter's traces,
The mother of months in meadow or plain
Fills the shadows and windy places
With lisp of leaves and ripple of rain;
And the brown bright nigthingale amorous
Is half assuaged for Itylus,
For the Thracian ships and the foreign faces,
The tongueless vigil, and all the pain.
Come with bows bent and emptying of quivers,
Maiden most perfect, lady of light,
With a noise of winds and many rivers,
With a clamour of waters, and with might;
Bind on thy sandals, O thou most fleet,
Over the splendour and speed of thy feet;
For the faint east quickens, the wan west shivers,
Round the feet of the day and the feet of the night.
Where shall we find her, how shall we sing to her,
Fold our hands round her knees, and cling?
O that man's heart were as fire and could spring to her,
Fire, or the strength of the streams that spring!
For the stars and the winds are unto her
As raiment, as songs of the harp-player;
For the risen stars and the fallen cling to her,
And the southwest-wind and the west-wind sing.
For winter's rains and ruins are over,
And all the season of snows and sins;
The days dividing lover and lover,
The light that loses, the night that wins;
And time remembered is grief forgotten,
And frosts are slain and flowers begotten,
And in green underwood and cover
Blossom by blossom the spring begins.
The full streams feed on flower of rushes,
Ripe grasses trammel a travelling foot,
The faint fresh flame of the young year flushes
From leaf to flower and flower to fruit;
And fruit and leaf are as gold and fire,
And the oat is heard above the lyre,
And the hoofed heel of a satyr crushes
The chestnut-husk at the chestnut-root.
And Pan by noon and Bacchus by night,
Fleeter of foot than the fleet-foot kid,
Follows with dancing and fills with delight
The Maenad and the Bassarid;
And soft as lips that laugh and hide
The laughing leaves of the trees divide,
And screen from seeing and leave in sight
The god pursuing, the maiden hid.
The ivy falls with the Bacchanal's hair
Over her eyebrows hiding her eyes;
The wild vine slipping down leaves bare
Her bright breast shortening with sighs;
The wild vine slips with the weight of its leaves,
But the berried ivy catches and cleaves
To the limbs that glitter, the feet that scare
The wolf that follows, the fawn that flies.
Crowned, girdled, garbed and shod with light and fire,
Son first-born of the morning, sovereign star!
Soul nearest ours of all, that wert most far.
Most far off in the abysm of time, thy lyre
Hung highest above the dawn-enkindled quire
Where all ye sang together, all that are,
And all the starry songs behind thy car
Rang sequence, all our souls acclaim thee sire.
"If all the pens that ever poets held
Had fed the feeling of their masters' thoughts,"
And as with rush of hurtling chariots
The flight of all their spirits were impelled
Toward one great end, thy glory — nay, not then,
Not yet might'st thou be praised enough of men.
Reconciled by death's mild hand, that giving
Peace gives wisdom, not more strong than mild,
Love beholds them, each without misgiving
Reconciled.Each on earth alike of earth reviled,
Hated, feared, derided, and forgiving,
Each alike had heaven at heart, and smiled.Both bright names, clothed round with man's thanksgiving,
Shine, twin stars above the storm-drifts piled,
Dead and deathless, whom we saw not living
Reconciled.
Death and birth should dwell not near together:
Wealth keeps house not, even for shame, with dearth:
Fate doth ill to link in one brief tether
Death and birth.
Harsh the yoke that binds them, strange the girth
Seems that girds them each with each: yet whether
Death be best, who knows, or life on earth?
Ill the rose-red and the sable feather
Blend in one crown's plume, as grief with mirth:
Ill met still are warm and wintry weather,
Death and birth.
Unreconciled by life's fleet years, that fled
With changeful clang of pinions wide and wild,
Though two great spirits had lived, and hence had sped
Unreconciled;Though time and change, harsh time's imperious child,
That wed strange hands together, might not wed
High hearts by hope's misprision once beguiled;Faith, by the light from either's memory shed,
Sees, radiant as their ends were undefiled,
One goal for each–not twain among the dead
Unreconciled.
Eros
Eros, from rest in isles far-famed,
With rising Anthesterion rose,
And all Hellenic heights acclaimed
Eros.
The sea one pearl, the shore one rose,
All round him all the flower-month flamed
And lightened, laughing off repose.
Earth's heart, sublime and unashamed,
Knew, even perchance as man's heart knows,
The thirst of all men's nature named
Eros.
II.
Eros, a fire of heart untamed,
A light of spirit in sense that glows,
Flamed heavenward still ere earth defamed
Eros.
Nor fear nor shame durst curb or close
His golden godhead, marred and maimed,
Fast round with bonds that burnt and froze.
Ere evil faith struck blind and lamed
Love, pure as fire or flowers or snows,
Earth hailed as blameless and unblamed
Eros.
III.
Eros, with shafts by thousands aimed
At laughing lovers round in rows,
Fades from their sight whose tongues proclaimed
Eros.
But higher than transient shapes or shows
The light of love in life inflamed
Springs, toward no goal that these disclose.
Above those heavens which passion claimed
Shines, veiled by change that ebbs and flows,
The soul in all things born or framed,
Eros.
A little way, more soft and sweet
Than fields aflower with May,
A babe's feet, venturing, scarce complete
A little way.Eyes full of dawning day
Look up for mother's eyes to meet,
Too blithe for song to say.Glad as the golden spring to greet
Its first live leaflet's play,
Love, laughing, leads the little feet
A little way.
Had I wist, when life was like a warm wind playing
Light and loud through sundawn and the dew's bright trust,
How the time should come for hearts to sigh in saying
'Had I wist' -Surely not the roses, laughing as they kissed,
Not the lovelier laugh of seas in sunshine swaying,
Should have lured my soul to look thereon and list.Now the wind is like a soul cast out and praying
Vainly, prayers that pierce not ears when hearts resist:
Now mine own soul sighs, adrift as wind and straying,
'Had I wist.'
Hymn to Proserpine (After the Proclamation of the Christian)
Vicisti, Galilæe
I have lived long enough, having seen one thing, that love hath an end;
Goddess and maiden and queen, be near me now and befriend.
Thou art more than the day or the morrow, the seasons that laugh or that weep;
For these give joy and sorrow; but thou, Proserpina, sleep.
Sweet is the treading of wine, and sweet the feet of the dove;
But a goodlier gift is thine than foam of the grapes or love.
Yea, is not even Apollo, with hair and harpstring of gold,
A bitter God to follow, a beautiful God to behold?
I am sick of singing; the bays burn deep and chafe: I am fain
To rest a little from praise and grievous pleasure and pain.
For the Gods we know not of, who give us our daily breath,
We know they are cruel as love or life, and lovely as death.
O Gods dethroned and deceased, cast forth, wiped out in a day!
From your wrath is the world released, redeemed from your chains, men say.
New Gods are crowned in the city; their flowers have broken your rods;
They are merciful, clothed with pity, the young compassionate Gods.
But for me their new device is barren, the days are bare;
Things long past over suffice, and men forgotten that were.
Time and the Gods are at strife; ye dwell in the midst thereof,
Draining a little life from the barren breasts of love.
I say to you, cease, take rest; yea, I say to you all, be at peace,
Till the bitter milk of her breast and the barren bosom shall cease.
Wilt thou take all, Galilean? but these thou shalt not take,
The laurel, the palms and the paean, the breasts of the nymphs in the brake;
Breasts more soft than a dove's, that tremble with tenderer breath;
And all the wings of the Loves, and all the joy before death;
All the feet of the hours that sound as a single lyre,
Dropped and deep in the flowers, with strings that flicker like fire.
More than these wilt thou give, things fairer than all these things?
Nay, for a little we live, and life hath mutable wings.
A little while and we die; shall life not thrive as it may?
For no man under the sky lives twice, outliving his day.
And grief is a grievous thing, and a man hath enough of his tears:
Why should he labour, and bring fresh grief to blacken his years?
Thou hast conquered, O pale Galilean; the world has grown grey from thy breath;
We have drunken of things Lethean, and fed on the fullness of death.
Laurel is green for a season, and love is sweet for a day;
But love grows bitter with treason, and laurel outlives not May.
Sleep, shall we sleep after all? for the world is not sweet in the end;
For the old faiths loosen and fall, the new years ruin and rend.
Fate is a sea without shore, and the soul is a rock that abides;
But her ears are vexed with the roar and her face with the foam of the tides.
O lips that the live blood faints in, the leavings of racks and rods!
O ghastly glories of saints, dead limbs of gibbeted Gods!
Though all men abase them before you in spirit, and all knees bend,
I kneel not neither adore you, but standing, look to the end.
All delicate days and pleasant, all spirits and sorrows are cast
Far out with the foam of the present that sweeps to the surf of the past:
Where beyond the extreme sea-wall, and between the remote sea-gates,
Waste water washes, and tall ships founder, and deep death waits:
Where, mighty with deepening sides, clad about with the seas as with wings,
And impelled of invisible tides, and fulfilled of unspeakable things,
White-eyed and poisonous-finned, shark-toothed and serpentine-curled,
Rolls, under the whitening wind of the future, the wave of the world.
The depths stand naked in sunder behind it, the storms flee away;
In the hollow before it the thunder is taken and snared as a prey;
In its sides is the north-wind bound; and its salt is of all men's tears;
With light of ruin, and sound of changes, and pulse of years:
With travail of day after day, and with trouble of hour upon hour;
And bitter as blood is the spray; and the crests are as fangs that devour:
And its vapour and storm of its steam as the sighing of spirits to be;
And its noise as the noise in a dream; and its depth as the roots of the sea:
And the height of its heads as the height of the utmost stars of the air:
And the ends of the earth at the might thereof tremble, and time is made bare.
Will ye bridle the deep sea with reins, will ye chasten the high sea with rods?
Will ye take her to chain her with chains, who is older than all ye Gods?
All ye as a wind shall go by, as a fire shall ye pass and be past;
Ye are Gods, and behold, ye shall die, and the waves be upon you at last.
In the darkness of time, in the deeps of the years, in the changes of things,
Ye shall sleep as a slain man sleeps, and the world shall forget you for kings.
Though the feet of thine high priests tread where thy lords and our forefathers trod,
Though these that were Gods are dead, and thou being dead art a God,
Though before thee the throned Cytherean be fallen, and hidden her head,
Yet thy kingdom shall pass, Galilean, thy dead shall go down to thee dead.
Of the maiden thy mother men sing as a goddess with grace clad around;
Thou art throned where another was king; where another was queen she is crowned.
Yea, once we had sight of another: but now she is queen, say these.
Not as thine, not as thine was our mother, a blossom of flowering seas,
Clothed round with the world's desire as with raiment, and fair as the foam,
And fleeter than kindled fire, and a goddess, and mother of Rome.
For thine came pale and a maiden, and sister to sorrow; but ours,
Her deep hair heavily laden with odour and colour of flowers,
White rose of the rose-white water, a silver splendour, a flame,
Bent down unto us that besought her, and earth grew sweet with her name.
For thine came weeping, a slave among slaves, and rejected; but she
Came flushed from the full-flushed wave, and imperial, her foot on the sea.
And the wonderful waters knew her, the winds and the viewless ways,
And the roses grew rosier, and bluer the sea-blue stream of the bays.
Ye are fallen, our lords, by what token? we wise that ye should not fall.
Ye were all so fair that are broken; and one more fair than ye all.
But I turn to her still, having seen she shall surely abide in the end;
Goddess and maiden and queen, be near me now and befriend.
O daughter of earth, of my mother, her crown and blossom of birth,
I am also, I also, thy brother; I go as I came unto earth.
In the night where thine eyes are as moons are in heaven, the night where thou art,
Where the silence is more than all tunes, where sleep overflows from the heart,
Where the poppies are sweet as the rose in our world, and the red rose is white,
And the wind falls faint as it blows with the fume of the flowers of the night,
And the murmur of spirits that sleep in the shadow of Gods from afar
Grows dim in thine ears and deep as the deep dim soul of a star,
In the sweet low light of thy face, under heavens untrod by the sun,
Let my soul with their souls find place, and forget what is done and undone.
Thou art more than the Gods who number the days of our temporal breath;
Let these give labour and slumber; but thou, Proserpina, death.
Therefore now at thy feet I abide for a season in silence. I know
I shall die as my fathers died, and sleep as they sleep, even so.
For the glass of the years is brittle wherein we gaze for a span;
A little soul for a little bears up this corpse which is man.
So long I endure, no longer; and laugh not again, neither weep.
For there is no God found stronger than death; and death is a sleep.
SEE MORE: