Algernon Charles Swinburne Poems
Born in London in 1837, Algernon Swinburne became one of the most well-known poets of the Victorian age, producing verse that often shocked and shook the morals of the conservative elite of the city. The oldest of 6 children in a wealthy family, he was sent to Eton to begin his studies where he discovered his love of poetry and began to write.
Algernon Charles Swinburne Bio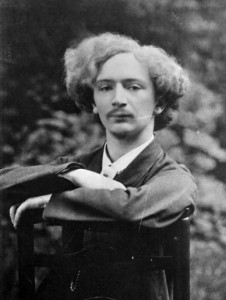 At Oxford he was temporarily expelled and, although he returned to complete his studies, he never actually received his university degree. In his heart, Algernon Swinburne believed he belonged to his family home of Northumberland and would write long lyric poems in praise of the countryside. He was prone to over indulging in drink, and spent some time in France recovering from his alcoholic excesses in 1861.
When he was well enough, he traveled to Italy where he made the acquaintance of writers such as Dante Gabriel Rossetti. His first work was published in 1860 but received little or no reaction from the general public or critics. His success came in 1865 when he wrote Atalanta in Claydon, created to mirror the form of a Greek epic tragedy.
More notable was the publication of Poems and Ballads in the year following, a collection that earned him a fair deal of infamy with its themes that were perceived to be indecent at the time. His poem Anactoria contained mentions of sadomasochism and cannibalism and was typical of some of the areas he explored.
Cleopatra
HER mouth is fragrant as a vine,
A vine with birds in all its boughs;
Serpent and scarab for a sign
Between the beauty of her brows
And the amorous deep lids divine.
Her great curled hair makes luminous
Her cheeks, her lifted throat and chin.
Shall she not have the hearts of us
To shatter, and the loves therein
To shred between her fingers thus?
Small ruined broken strays of light,
Pearl after pearl she shreds them through
Her long sweet sleepy fingers, white
As any pearl's heart veined with blue,
And soft as dew on a soft night.
As if the very eyes of love
Shone through her shutting lids, and stole
The slow looks of a snake or dove;
As if her lips absorbed the whole
Of love, her soul the soul thereof.
Lost, all the lordly pearls that were
Wrung from the sea's heart, from the green
Coasts of the Indian gulf-river;
Lost, all the loves of the world—so keen
Towards this queen for love of her.
You see against her throat the small
Sharp glittering shadows of them shake;
And through her hair the imperial
Curled likeness of the river snake,
Whose bite shall make an end of all.
Through the scales sheathing him like wings,
Through hieroglyphs of gold and gem,
The strong sense of her beauty stings,
Like a keen pulse of love in them,
A running flame through all his rings.
Under those low large lids of hers
She hath the histories of all time;
The fruit of foliage-stricken years;
The old seasons with their heavy chime
That leaves its rhyme in the world's ears.
She sees the hand of death made bare,
The ravelled riddle of the skies,
The faces faded that were fair,
The mouths made speechless that were wise,
The hollow eyes and dusty hair;
The shape and shadow of mystic things,
Things that fate fashions or forbids;
The staff of time-forgotten Kings
Whose name falls off the Pyramids,
Their coffin-lids and grave-clothings;
Dank dregs, the scum of pool or clod,
God-spawn of lizard-footed clans,
And those dog-headed hulks that trod
Swart necks of the old Egyptians,
Raw draughts of man's beginning God;
The poised hawk, quivering ere he smote,
With plume-like gems on breast and back;
The asps and water-worms afloat
Between the rush-flowers moist and slack;
The cat's warm black bright rising throat.
The purple days of drouth expand
Like a scroll opened out again;
The molten heaven drier than sand,
The hot red heaven without rain,
Sheds iron pain on the empty land.
All Egypt aches in the sun's sight;
The lips of men are harsh for drouth,
The fierce air leaves their cheeks burnt white,
Charred by the bitter blowing south,
Whose dusty mouth is sharp to bite.
All this she dreams of, and her eyes
Are wrought after the sense hereof.
There is no heart in her for sighs;
The face of her is more than love—
A name above the Ptolemies.
Her great grave beauty covers her
As that sleek spoil beneath her feet
Clothed once the anointed soothsayer;
The hallowing is gone forth from it
Now, made unmeet for priests to wear.
She treads on gods and god-like things,
On fate and fear and life and death,
On hate that cleaves and love that clings,
All that is brought forth of man's breath
And perisheth with what it brings.
She holds her future close, her lips
Hold fast the face of things to be;
Actium, and sound of war that dips
Down the blown valleys of the sea,
Far sails that flee, and storms of ships;
The laughing red sweet mouth of wine
At ending of life's festival;
That spice of cerecloths, and the fine
White bitter dust funereal
Sprinkled on all things for a sign;
His face, who was and was not he,
In whom, alive, her life abode;
The end, when she gained heart to see
Those ways of death wherein she trod,
Goddess by god, with Antony.
O heart of hearts, the chalice of love's fire,
Hid round with flowers and all the bounty of bloom;
O wonderful and perfect heart, for whom
The lyrist liberty made life a lyre;
O heavenly heart, at whose most dear desire
Dead love, living and singing, cleft his tomb,
And with him risen and regent in death's room
All day thy choral pulses rang full choir;
O heart whose beating blood was running song,
O sole thing sweeter than thine own songs were,
Help us for thy free love's sake to be free,
True for thy truth's sake, for thy strength's sake strong,
Till very liberty make clean and fair
The nursing earth as the sepulchral sea.
Dedication To Christina G. Rossetti
Songs light as these may sound, though deep and strong
The heart spake through them, scarce should hope to please
Ears tuned to strains of loftier thoughts than throng
Songs light as these.Yet grace may set their sometime doubt at ease,
Nor need their too rash reverence fear to wrong
The shrine it serves at and the hope it sees.For childlike loves and laughters thence prolong
Notes that bid enter, fearless as the breeze,
Even to the shrine of holiest-hearted song,
Songs light as these.
Fly, white butterflies, out to sea,
Frail pale wings for the winds to try,
Small white wings that we scarce can see
Fly.Here and there may a chance-caught eye
Note in a score of you twain or three
Brighter or darker of tinge or dye.Some fly light as a laugh of glee,
Some fly soft as a low long sigh:
All to the haven where each would be
Fly.
A Baby's feet, like sea-shells pink,
Might tempt, should heaven see meet,
An angel's lips to kiss, we think,
A baby's feet.Like rose-hued sea-flowers toward the heat
They stretch and spread and wink
Their ten soft buds that part and meet.No flower-bells that expand and shrink
Gleam half so heavenly sweet
As shine on life's untrodden brink
A baby's feet.II.
A baby's hands, like rosebuds furled
Whence yet no leaf expands,
Ope if you touch, though close upcurled,
A baby's hands.
Then, fast as warriors grip their brands
When battle's bolt is hurled,
They close, clenched hard like tightening bands.
No rosebuds yet by dawn impearled
Match, even in loveliest lands,
The sweetest flowers in all the world –
A baby's hands.
III.
A baby's eyes, ere speech begin,
Ere lips learn words or sighs,
Bless all things bright enough to win
A baby's eyes.
Love, while the sweet thing laughs and lies,
And sleep flows out and in,
Sees perfect in them Paradise.
Their glance might cast out pain and sin,
Their speech make dumb the wise,
By mute glad godhead felt within
A baby's eyes.
Four Songs Of Four Seasons
I. WINTER IN NORTHUMBERLAND
OUTSIDE the garden
The wet skies harden;
The gates are barred on
The summer side:
"Shut out the flower-time,
Sunbeam and shower-time;
Make way for our time,"
Wild winds have cried.
Green once and cheery,
The woods, worn weary,
Sigh as the dreary
Weak sun goes home:
A great wind grapples
The wave, and dapples
The dead green floor of the sea with foam.Through fell and moorland,
And salt-sea foreland,
Our noisy norland
Resounds and rings;
Waste waves thereunder
Are blown in sunder,
And winds make thunder
With cloudwide wings;
Sea-drift makes dimmer
The beacon's glimmer;
Nor sail nor swimmer
Can try the tides;
And snowdrifts thicken
Where, when leaves quicken,
Under the heather the sundew hides.Green land and red land,
Moorside and headland,
Are white as dead land,
Are all as one;
Nor honied heather,
Nor bells to gather,
Fair with fair weather
And faithful sun:
Fierce frost has eaten
All flowers that sweeten
The fells rain-beaten;
And winds their foes
Have made the snow's bed
Down in the rose-bed;
Deep in the snow's bed bury the rose.Bury her deeper
Than any sleeper;
Sweet dreams will keep her
All day, all night;
Though sleep benumb her
And time o'ercome her,
She dreams of summer,
And takes delight,
Dreaming and sleeping
In love's good keeping,
While rain is weeping
And no leaves cling;
Winds will come bringing her
Comfort, and singing her
Stories and songs and good news of the spring.
Draw the white curtain
Close, and be certain
She takes no hurt in
Her soft low bed;
She feels no colder,
And grows not older,
Though snows enfold her
From foot to head;
She turns not chilly
Like weed and lily
In marsh or hilly
High watershed,
Or green soft island
In lakes of highland;
She sleeps awhile, and she is not dead.
For all the hours,
Come sun, come showers,
Are friends of flowers,
And fairies all;
When frost entrapped her,
They came and lapped her
In leaves, and wrapped her
With shroud and pall;
In red leaves wound her,
With dead leaves bound her
Dead brows, and round her
A death-knell rang;
Rang the death-bell for her,
Sang, "is it well for her,
Well, is it well with you, rose?" they sang.
O what and where is
The rose now, fairies,
So shrill the air is,
So wild the sky?
Poor last of roses,
Her worst of woes is
The noise she knows is
The winter's cry;
His hunting hollo
Has scared the swallow;
Fain would she follow
And fain would fly:
But wind unsettles
Her poor last petals;
Had she but wings, and she would not die.
Come, as you love her,
Come close and cover
Her white face over,
And forth again
Ere sunset glances
On foam that dances,
Through lowering lances
Of bright white rain;
And make your playtime
Of winter's daytime,
As if the Maytime
Were here to sing;
As if the snowballs
Were soft like blowballs,
Blown in a mist from the stalk in the spring.
Each reed that grows in
Our stream is frozen,
The fields it flows in
Are hard and black;
The water-fairy
Waits wise and wary
Till time shall vary
And thaws come back.
"O sister, water,"
The wind besought her,
"O twin-born daughter
Of spring with me,
Stay with me, play with me,
Take the warm way with me,
Straight for the summer and oversea."
But winds will vary,
And wise and wary
The patient fairy
Of water waits;
All shrunk and wizen,
In iron prison,
Till spring re-risen
Unbar the gates;
Till, as with clamor
Of axe and hammer,
Chained streams that stammer
And struggle in straits
Burst bonds that shiver,
And thaws deliver
The roaring river in stormy spates.
In fierce March weather
White waves break tether,
And whirled together
At either hand,
Like weeds uplifted,
The tree-trunks rifted
In spars are drifted,
Like foam or sand,
Past swamp and sallow
And reed-beds callow,
Through pool and shallow,
To wind and lee,
Till, no more tongue-tied,
Full flood and young tide
Roar down the rapids and storm the sea.
As men's cheeks faded
On shores invaded,
When shorewards waded
The lords of fight;
When churl and craven
Saw hard on haven
The wide-winged raven
At mainmast height;
When monks affrighted
To windward sighted
The birds full-flighted
Of swift sea-kings;
So earth turns paler
When Storm the sailor
Steers in with a roar in the race of his wings.
O strong sea-sailor,
Whose cheek turns paler
For wind or hail or
For fear of thee?
O far sea-farer,
O thunder-bearer,
Thy songs are rarer
Than soft songs be.
O fleet-foot stranger,
O north-sea ranger
Through days of danger
And ways of fear,
Blow thy horn here for us,
Blow the sky clear for us,
Send us the song of the sea to hear.
Roll the strong stream of it
Up, till the scream of it
Wake from a dream of it
Children that sleep,
Seamen that fare for them
Forth, with a prayer for them:
Shall not God care for them
Angels not keep?
Spare not the surges
Thy stormy scourges;
Spare us the dirges
Of wives that weep.
Turn back the waves for us:
Dig no fresh graves for us,
Wind, in the manifold gulfs of the deep.
O stout north-easter,
Sea-king, land-waster,
For all thine haste, or
Thy stormy skill,
Yet hadst thou never,
For all endeavour,
Strength to dissever
Or strength to spill,
Save of his giving
Who gave our living,
Whose hands are weaving
What ours fulfil;
Whose feet tread under
The storms and thunder;
Who made our wonder to work his will.
His years and hours,
His world's blind powers,
His stars and flowers,
His nights and days,
Sea-tide and river,
And waves that shiver,
Praise God, the giver
Of tongues to praise.
Winds in their blowing,
And fruits in growing;
Time in its going,
While time shall be;
In death and living,
With one thanksgiving,
Praise him whose hand is the strength of the sea.
II. SPRING IN TUSCANY
ROSE-RED lilies that bloom on the banner;
Rose-cheeked gardens that revel in spring;
Rose-mouthed acacias that laugh as they climb,
Like plumes for a queen's hand fashioned to fan her
With wind more soft than a wild dove's wing,
What do they sing in the spring of their time
If this be the rose that the world hears singing,
Soft in the soft night, loud in the day,
Songs for the fireflies to dance as they hear;
If that be the song of the nightingale, springing
Forth in the form of a rose in May,
What do they say of the way of the year?
What of the way of the world gone Maying,
What of the work of the buds in the bowers,
What of the will of the wind on the wall,
Fluttering the wall-flowers, sighing and playing,
Shrinking again as a bird that cowers,
Thinking of hours when the flowers have to fall?
Out of the throats of the loud birds showering,
Out of the folds where the flag-lilies leap,
Out of the mouths of the roses stirred,
Out of the herbs on the walls reflowering,
Out of the heights where the sheer snows sleep,
Out of the deep and the steep, one word.
One from the lips of the lily-flames leaping,
The glad red lilies that burn in our sight,
The great live lilies for standard and crown;
One from the steeps where the pines stand sleeping,
One from the deep land, one from the height,
One from the light and the might of the town.
The lowlands laugh with delight of the highlands,
Whence May winds feed them with balm and breath
From hills that beheld in the years behind
A shape as of one from the blest souls' islands,
Made fair by a soul too fair for death,
With eyes on the light that should smite them blind.
Vallombrosa remotely remembers,
Perchance, what still to us seems so near
That time not darkens it, change not mars,
The foot that she knew when her leaves were September's,
The face lift up to the star-blind seer,
That saw from his prison arisen his stars.
And Pisa broods on her dead, not mourning,
For love of her loveliness given them in fee;
And Prato gleams with the glad monk's gift
Whose hand was there as the hand of morning;
And Siena, set in the sand's red sea,
Lifts loftier her head than the red sand's drift.
And far to the fair south-westward lightens,
Girdled and sandalled and plumed with flowers,
At sunset over the love-lit lands,
The hill-side's crown where the wild hill brightens,
Saint Fina's town of the Beautiful Towers,
Hailing the sun with a hundred hands.
Land of us all that have loved thee dearliest,
Mother of men that were lords of man,
Whose name in the world's heart work a spell
My last song's light, and the star of mine earliest,
As we turn from thee, sweet, who wast ours for a span,
Fare well we may not who say farewell.
III. SUMMER IN AUVERGNE
THE sundawn fills the land
Full as a feaster's hand
Fills full with bloom of bland
Bright wine his cup;
Flows full to flood that fills
From the arch of air it thrills
Those rust-red iron hills
With morning up.
Dawn, as a panther springs,
With fierce and fire-fledged wings
Leaps on the land that rings
From her bright feet
Through all its lava-black
Cones that cast answer back
And cliffs of footless track
Where thunders meet.
The light speaks wide and loud
From deeps blown clean of cloud
As though day's heart were proud
And heaven's were glad;
The towers brown-striped and grey
Take fire from heaven of day
As though the prayers they pray
Their answers had.
Higher in these high first hours
Wax all the keen church towers,
And higher all hearts of ours
Than the old hills' crown,
Higher than the pillared height
Of that strange cliff-side bright
With basalt towers whose might
Strong time bows down.
And the old fierce ruin there
Of the old wild princes' lair
Whose blood in mine hath share
Gapes gaunt and great
Toward heaven that long ago
Watched all the wan land's woe
Whereon the wind would blow
Of their bleak hate.
Dead are those deeds; but yet
Their memory seems to fret
Lands that might else forget
That old world's brand;
Dead all their sins and days;
Yet in this red clime's rays
Some fiery memory stays
That sears their land.
IV. AUTUMN IN CORNWALL
THE year lies fallen and faded
On cliffs by clouds invaded,
With tongues of storms upbraided,
With wrath of waves bedinned;
And inland, wild with warning,
As in deaf ears or scorning,
The clarion even and morning
Rings of the south-west wind.
The wild bents wane and wither
In blasts whose breath bows hither
Their grey-grown heads and thither,
Unblest of rain or sun;
The pale fierce heavens are crowded
With shapes like dreams beclouded,
As though the old year enshrouded
Lay, long ere life were done.
Full-charged with oldworld wonders,
From dusk Tintagel thunders
A note that smites and sunders
The hard frore fields of air;
A trumpet stormier-sounded
Than once from lists rebounded
When strong men sense-confounded
Fell thick in tourney there.
From scarce a duskier dwelling
Such notes of wail rose welling
Through the outer darkness, telling
In the awful singer's ears
What souls the darkness covers,
What love-lost souls of lovers,
Whose cry still hangs and hovers
In each man's born that hears.
For there by Hector's brother
And yet some thousand other
He that had grief to mother
Passed pale from Dante's sight;
With one fast linked as fearless,
Perchance, there only tearless;
Iseult and Tristram, peerless
And perfect queen and knight.
A shrill-winged sound comes flying
North, as of wild souls crying
The cry of things undying,
That know what life must be;
Or as the old year's heart, stricken
Too sore for hope to quicken
By thoughts like thorns that thicken,
Broke, breaking with the sea.
Hertha
I am that which began;
Out of me the years roll;
Out of me God and man;
I am equal and whole;
God changes, and man, and the form of them bodily; I am the soul.
Before ever land was,
Before ever the sea,
Or soft hair of the grass,
Or fair limbs of the tree,
Or the fresh-coloured fruit of my branches, I was, and thy soul was in me.
First life on my sources
First drifted and swam;
Out of me are the forces
That save it or damn;
Out of me man and woman, and wild-beast and bird; before God was, I am.
Beside or above me
Nought is there to go;
Love or unlove me,
Unknow me or know,
I am that which unloves me and loves; I am stricken, and I am the blow.
I the mark that is missed
And the arrows that miss,
I the mouth that is kissed
And the breath in the kiss,
The search, and the sought, and the seeker, the soul and the body that is.
I am that thing which blesses
My spirit elate;
That which caresses
With hands uncreate
My limbs unbegotten that measure the length of the measure of fate.
But what thing dost thou now,
Looking Godward, to cry
"I am I, thou art thou,
I am low, thou art high"?
I am thou, whom thou seekest to find him; find thou but thyself, thou art I.
I the grain and the furrow,
The plough-cloven clod
And the ploughshare drawn thorough,
The germ and the sod,
The deed and the doer, the seed and the sower, the dust which is God.
Hast thou known how I fashioned thee,
Child, underground?
Fire that impassioned thee,
Iron that bound,
Dim changes of water, what thing of all these hast thou known of or found?
Canst thou say in thine heart
Thou hast seen with thine eyes
With what cunning of art
Thou wast wrought in what wise,
By what force of what stuff thou wast shapen, and shown on my breast to the skies?
Who hath given, who hath sold it thee,
Knowledge of me?
Hath the wilderness told it thee?
Hast thou learnt of the sea?
Hast thou communed in spirit with night? have the winds taken counsel with thee?
Have I set such a star
To show light on thy brow
That thou sawest from afar
What I show to thee now?
Have ye spoken as brethren together, the sun and the mountains and thou?
What is here, dost thou know it?
What was, hast thou known?
Prophet nor poet
Nor tripod nor throne
Nor spirit nor flesh can make answer, but only thy mother alone.
Mother, not maker,
Born, and not made;
Though her children forsake her,
Allured or afraid,
Praying prayers to the God of their fashion, she stirs not for all that have prayed.
A creed is a rod,
And a crown is of night;
But this thing is God,
To be man with thy might,
To grow straight in the strength of thy spirit, and live out thy life as the light.
I am in thee to save thee,
As my soul in thee saith;
Give thou as I gave thee,
Thy life-blood and breath,
Green leaves of thy labour, white flowers of thy thought, and red fruit of thy death.
Be the ways of thy giving
As mine were to thee;
The free life of thy living,
Be the gift of it free;
Not as servant to lord, nor as master to slave, shalt thou give thee to me.
O children of banishment,
Souls overcast,
Were the lights ye see vanish meant
Alway to last,
Ye would know not the sun overshining the shadows and stars overpast.
I that saw where ye trod
The dim paths of the night
Set the shadow called God
In your skies to give light;
But the morning of manhood is risen, and the shadowless soul is in sight.
The tree many-rooted
That swells to the sky
With frondage red-fruited,
The life-tree am I;
In the buds of your lives is the sap of my leaves: ye shall live and not die.
But the Gods of your fashion
That take and that give,
In their pity and passion
That scourge and forgive,
They are worms that are bred in the bark that falls off; they shall die and not live.
My own blood is what stanches
The wounds in my bark;
Stars caught in my branches
Make day of the dark,
And are worshipped as suns till the sunrise shall tread out their fires as a spark.
Where dead ages hide under
The live roots of the tree,
In my darkness the thunder
Makes utterance of me;
In the clash of my boughs with each other ye hear the waves sound of the sea.
That noise is of Time,
As his feathers are spread
And his feet set to climb
Through the boughs overhead,
And my foliage rings round him and rustles, and branches are bent with his tread.
The storm-winds of ages
Blow through me and cease,
The war-wind that rages,
The spring-wind of peace,
Ere the breath of them roughen my tresses, ere one of my blossoms increase.
All sounds of all changes,
All shadows and lights
On the world's mountain-ranges
And stream-riven heights,
Whose tongue is the wind's tongue and language of storm-clouds on earth-shaking nights;
All forms of all faces,
All works of all hands
In unsearchable places
Of time-stricken lands,
All death and all life, and all reigns and all ruins, drop through me as sands.
Though sore be my burden
And more than ye know,
And my growth have no guerdon
But only to grow,
Yet I fail not of growing for lightnings above me or deathworms below.
These too have their part in me,
As I too in these;
Such fire is at heart in me,
Such sap is this tree's,
Which hath in it all sounds and all secrets of infinite lands and of seas.
In the spring-coloured hours
When my mind was as May's,
There brake forth of me flowers
By centuries of days,
Strong blossoms with perfume of manhood, shot out from my spirit as rays.
And the sound of them springing
And smell of their shoots
Were as warmth and sweet singing
And strength to my roots;
And the lives of my children made perfect with freedom of soul were my fruits.
I bid you but be;
I have need not of prayer;
I have need of you free
As your mouths of mine air;
That my heart may be greater within me, beholding the fruits of me fair.
More fair than strange fruit is
Of faiths ye espouse;
In me only the root is
That blooms in your boughs;
Behold now your God that ye made you, to feed him with faith of your vows.
In the darkening and whitening
Abysses adored,
With dayspring and lightning
For lamp and for sword,
God thunders in heaven, and his angels are red with the wrath of the Lord.
O my sons, O too dutiful
Toward Gods not of me,
Was not I enough beautiful?
Was it hard to be free?
For behold, I am with you, am in you and of you; look forth now and see.
Lo, winged with world's wonders,
With miracles shod,
With the fires of his thunders
For raiment and rod,
God trembles in heaven, and his angels are white with the terror of God.
For his twilight is come on him,
His anguish is here;
And his spirits gaze dumb on him,
Grown grey from his fear;
And his hour taketh hold on him stricken, the last of his infinite year.
Thought made him and breaks him,
Truth slays and forgives;
But to you, as time takes him,
This new thing it gives,
Even love, the beloved Republic, that feeds upon freedom and lives.
For truth only is living,
Truth only is whole,
And the love of his giving,
Man's polestar and pole;
Man, pulse of my centre, and fruit of my body, and seed of my soul.
One birth of my bosom;
One beam of mine eye;
One topmost blossom
That scales the sky;
Man, equal and one with me, man that is made of me, man that is I.
In Guernsey – To Theodore Watts
The heavenly bay, ringed round with cliffs and moors,
Storm-stained ravines, and crags that lawns inlay,
Soothes as with love the rocks whose guard secures
The heavenly bay.O friend, shall time take ever this away,
This blessing given of beauty that endures,
This glory shown us, not to pass but stay?Though sight be changed for memory, love ensures
What memory, changed by love to sight, would say –
The word that seals for ever mine and yours
The heavenly bay.II.
My mother sea, my fostress, what new strand,
What new delight of waters, may this be,
The fairest found since time's first breezes fanned
My mother sea?
Once more I give me body and soul to thee,
Who hast my soul for ever: cliff and sand
Recede, and heart to heart once more are we.
My heart springs first and plunges, ere my hand
Strike out from shore: more close it brings to me,
More near and dear than seems my fatherland,
My mother sea.
III.
Across and along, as the bay's breadth opens, and o'er us
Wild autumn exults in the wind, swift rapture and strong
Impels us, and broader the wide waves brighten before us
Across and along.
The whole world's heart is uplifted, and knows not wrong;
The whole world's life is a chant to the sea-tide's chorus;
Are we not as waves of the water, as notes of the song?
Like children unworn of the passions and toils that wore us,
We breast for a season the breadth of the seas that throng,
Rejoicing as they, to be borne as of old they bore us
Across and along.
IV.
On Dante's track by some funereal spell
Drawn down through desperate ways that lead not back
We seem to move, bound forth past flood and fell
On Dante's track.
The grey path ends: the gaunt rocks gape: the black
Deep hollow tortuous night, a soundless shell,
Glares darkness: are the fires of old grown slack?
Nay, then, what flames are these that leap and swell
As 'twere to show, where earth's foundations crack,
The secrets of the sepulchres of hell
On Dante's track?
V.
By mere men's hands the flame was lit, we know,
From heaps of dry waste whin and casual brands:
Yet, knowing, we scarce believe it kindled so
By mere men's hands.
Above, around, high-vaulted hell expands,
Steep, dense, a labyrinth walled and roofed with woe,
Whose mysteries even itself not understands.
The scorn in Farinata's eyes aglow
Seems visible in this flame: there Geryon stands:
No stage of earth's is here, set forth to show
By mere men's hands.
VI.
Night, in utmost noon forlorn and strong, with heart athirst and fasting,
Hungers here, barred up for ever, whence as one whom dreams affright
Day recoils before the low-browed lintel threatening doom and casting
Night.
All the reefs and islands, all the lawns and highlands, clothed with light,
Laugh for love's sake in their sleep outside: but here the night speaks, blasting
Day with silent speech and scorn of all things known from depth to height.
Lower than dive the thoughts of spirit-stricken fear in souls forecasting
Hell, the deep void seems to yawn beyond fear's reach, and higher than sight
Rise the walls and roofs that compass it about with everlasting
Night.
VII.
The house accurst, with cursing sealed and signed,
Heeds not what storms about it burn and burst:
No fear more fearful than its own may find
The house accurst.
Barren as crime, anhungered and athirst,
Blank miles of moor sweep inland, sere and blind,
Where summer's best rebukes not winter's worst.
The low bleak tower with nought save wastes behind
Stares down the abyss whereon chance reared and nursed
This type and likeness of the accurst man's mind,
The house accurst.
VIII.
Beloved and blest, lit warm with love and fame,
The house that had the light of the earth for guest
Hears for his name's sake all men hail its name
Beloved and blest.
This eyrie was the homeless eagle's nest
When storm laid waste his eyrie: hence he came
Again, when storm smote sore his mother's breast.
Bow down men bade us, or be clothed with blame
And mocked for madness: worst, they sware, was best:
But grief shone here, while joy was one with shame,
Beloved and blest.
In Memory of Walter Savage Landor
Back to the flower-town, side by side,
The bright months bring,
New-born, the bridegroom and the bride,
Freedom and spring.
The sweet land laughs from sea to sea,
Filled full of sun;
All things come back to her, being free;
All things but one.
In many a tender wheaten plot
Flowers that were dead
Live, and old suns revive; but not
That holier head.By this white wandering waste of sea,
Far north, I hear
One face shall never turn to me
As once this year:Shall never smile and turn and rest
On mine as there,
Nor one most sacred hand be prest
Upon my hair.I came as one whose thoughts half linger,
Half run before;
The youngest to the oldest singer
That England bore.
I found him whom I shall not find
Till all grief end,
In holiest age our mightiest mind,
Father and friend.
But thou, if anything endure,
If hope there be,
O spirit that man's life left pure,
Man's death set free,
Not with disdain of days that were
Look earthward now;
Let dreams revive the reverend hair,
The imperial brow;
Come back in sleep, for in the life
Where thou art not
We find none like thee. Time and strife
And the world's lot
Move thee no more; but love at least
And reverent heart
May move thee, royal and released,
Soul, as thou art.
And thou, his Florence, to thy trust
Receive and keep,
Keep safe his dedicated dust,
His sacred sleep.
So shall thy lovers, come from far,
Mix with thy name
As morning-star with evening-star
His faultless fame.
In Sark
Abreast and ahead of the sea is a crag's front cloven asunder
With strong sea-breach and with wasting of winds whence terror is
shed
As a shadow of death from the wings of the darkness on waters that
thunder
Abreast and ahead.
At its edge is a sepulchre hollowed and hewn for a lone man's bed,
Propped open with rock and agape on the sky and the sea thereunder,
But roofed and walled in well from the wrath of them slept its dead.
Here might not a man drink rapture of rest, or delight above wonder,
Beholding, a soul disembodied, the days and the nights that fled,
With splendour and sound of the tempest around and above him and
under,
Abreast and ahead?
Light love in a mist, by the midsummer moon misguided,
Scarce seen in the twilight garden if gloom insist,
Seems vainly to seek for a star whose gleam has derided
Light love in a mist.All day in the sun, when the breezes do all they list,
His soft blue raiment of cloudlike blossom abided
Unrent and unwithered of winds and of rays that kissed.Blithe-hearted or sad, as the cloud or the sun subsided,
Love smiled in the flower with a meaning whereof none wist
Save two that beheld, as a gleam that before them glided,
Light love in a mist.
Who is this that sits by the way, by the wild wayside,
In a rent stained raiment, the robe of a cast-off bride,
In the dust, in the rainfall sitting, with soiled feet bare,
With the night for a garment upon her, with torn wet hair?
She is fairer of face than the daughters of men, and her eyes,
Worn through with her tears, are deep as the depth of skies.This is she for whose sake being fallen, for whose abject sake,
Earth groans in the blackness of darkness, and men's hearts break.
This is she for whose love, having seen her, the men that were
Poured life out as water, and shed their souls upon air.
This is she for whose glory their years were counted as foam;
Whose face was a light upon Greece, was a fire upon Rome.Is it now not surely a vain thing, a foolish and vain,
To sit down by her, mourn to her, serve her, partake in the pain?
She is grey with the dust of time on his manifold ways,
Where her faint feet stumble and falter through year-long days.
Shall she help us at all, O fools, give fruit or give fame,
Who herself is a name despised, a rejected name?We have not served her for guerdon. If any do so,
That his mouth may be sweet with such honey, we care not to know.
We have drunk from a wine-unsweetened, a perilous cup,
A draught very bitter. The kings of the earth stood up,
And the rulers took counsel together, to smite her and slay;
And the blood of her wounds is given us to drink today.
Can these bones live? or the leaves that are dead leaves bud?
Or the dead blood drawn from her veins be in your veins blood?
Will ye gather up water again that was drawn and shed?
In the blood is the life of the veins, and her veins are dead.
For the lives that are over are over, and past things past;
She had her day, and it is not; was first, and is last.
Is it nothing unto you then, all ye that pass by,
If her breath be left in her lips, if she live now or die?
Behold now, O people, and say if she be not fair,
Whom your fathers followed to find her, with praise and prayer,
And rejoiced, having found her, though roof they had none nor bread;
But ye care not; what is it to you if her day be dead?
It was well with our fathers; their sound was in all men's lands;
There was fire in their hearts, and the hunger of fight in their
hands.
Naked and strong they went forth in her strength like flame,
For her love's and her name's sake of old, her republican name.
But their children, by kings made quiet, by priests made wise,
Love better the heat of their hearths than the light of her eyes.
Are they children of these thy children indeed, who have sold,
O golden goddess, the light of thy face for gold?
Are they sons indeed of the sons of thy dayspring of hope,
Whose lives are in fief of an emperor, whose souls of a Pope?
Hide then thine head, O beloved; thy time is done;
Thy kingdom is broken in heaven, and blind thy sun.
What sleep is upon you, to dream she indeed shall rise,
When the hopes are dead in her heart as the tears in her eyes?
If ye sing of her dead, will she stir? if ye weep for her, weep?
Come away now, leave her; what hath she to do but sleep?
But ye that mourn are alive, and have years to be;
And life is good, and the world is wiser than we.
Yea, wise is the world and mighty, with years to give,
And years to promise; but how long now shall it live?
And foolish and poor is faith, and her ways are bare,
Till she find the way of the sun, and the morning air.
In that hour shall this dead face shine as the face of the sun,
And the soul of man and her soul and the world's be one.
Put in the sickles and reap;
For the morning of harvest is red,
And the long large ranks of the corn
Coloured and clothed as the morn
Stand thick in the fields and deep
For them that faint to be fed.
Let all that hunger and weep
Come hither, and who would have bread
Put in the sickles and reap.Coloured and clothed as the morn,
The grain grows ruddier than gold,
And the good strong sun is alight
In the mists of the day-dawn white,
And the crescent, a faint sharp horn,
In the fear of his face turns cold
As the snakes of the night-time that creep
From the flag of our faith unrolled.
Put in the sickles and reap.In the mists of the day-dawn white
That roll round the morning star,
The large flame lightens and grows
Till the red-gold harvest-rows,
Full-grown, are full of the light
As the spirits of strong men are,
Crying, Who shall slumber or sleep?
Who put back morning or mar?
Put in the sickles and reap.Till the red-gold harvest-rows
For miles through shudder and shine
In the wind's breath, fed with the sun,
A thousand spear-heads as one
Bowed as for battle to close
Line in rank against line
With place and station to keep
Till all men's hands at a sign
Put in the sickles and reap.
A thousand spear-heads as one
Wave as with swing of the sea
When the mid tide sways at its height;
For the hour is for harvest or fight
In face of the just calm sun,
As the signal in season may be
And the lot in the helm may leap
When chance shall shake it; but ye,
Put in the sickles and reap.
For the hour is for harvest or fight
To clothe with raiment of red;
O men sore stricken of hours,
Lo, this one, is not it ours
To glean, to gather, to smite?
Let none make risk of his head
Within reach of the clean scythe-sweep,
When the people that lay as the dead
Put in the sickles and reap.
Lo, this one, is not it ours,
Now the ruins of dead things rattle
As dead men's bones in the pit,
Now the kings wax lean as they sit
Girt round with memories of powers,
With musters counted as cattle
And armies folded as sheep
Till the red blind husbandman battle
Put in the sickles and reap?
Now the kings wax lean as they sit,
The people grow strong to stand;
The men they trod on and spat,
The dumb dread people that sat
As corpses cast in a pit,
Rise up with God at their hand,
And thrones are hurled on a heap,
And strong men, sons of the land,
Put in the sickles and reap.
The dumb dread people that sat
All night without screen for the night,
All day without food for the day,
They shall give not their harvest away,
They shall eat of its fruit and wax fat:
They shall see the desire of their sight,
Though the ways of the seasons be steep,
They shall climb with face to the light,
Put in the sickles and reap.
WAS it light that spake from the darkness,
or music that shone from the word,
When the night was enkindled with sound
of the sun or the first-born bird?
Souls enthralled and entrammelled in bondage
of seasons that fall and rise,
Bound fast round with the fetters of flesh,
and blinded with light that dies,
Lived not surely till music spake,
and the spirit of life was heard.Music, sister of sunrise, and herald of life to be,
Smiled as dawn on the spirit of man,
and the thrall was free.
Slave of nature and serf of time,
the bondman of life and death,
Dumb with passionless patience that breathed
but forlorn and reluctant breath,
Heard, beheld, and his soul made answer,
and communed aloud with the sea.Morning spake, and he heard:
and the passionate silent noon
Kept for him not silence:
and soft from the mounting moon
Fell the sound of her splendour,
heard as dawn's in the breathless night,
Not of men but of birds whose note
bade man's soul quicken and leap to light:
And the song of it spake, and the light and the darkness
of earth were as chords in tune.
'Not a child: I call myself a boy,'
Says my king, with accent stern yet mild,
Now nine years have brought him change of joy;
'Not a child.'
How could reason be so far beguiled,
Err so far from sense's safe employ,
Stray so wide of truth, or run so wild?
Seeing his face bent over book or toy,
Child I called him, smiling: but he smiled
Back, as one too high for vain annoy –
Not a child.
II.
Not a child? alack the year!
What should ail an undefiled
Heart, that he would fain appear
Not a child?
Men, with years and memories piled
Each on other, far and near,
Fain again would so be styled:
Fain would cast off hope and fear,
Rest, forget, be reconciled:
Why would you so fain be, dear,
Not a child?
III.
Child or boy, my darling, which you will,
Still your praise finds heart and song employ,
Heart and song both yearning toward you still,
Child or boy.
All joys else might sooner pall or cloy
Love than this which inly takes its fill,
Dear, of sight of your more perfect joy.
Nay, be aught you please, let all fulfil
All your pleasure; be your world your toy:
Mild or wild we love you, loud or still,
Child or boy.
'Not a child: I call myself a boy,'
Says my king, with accent stern yet mild,
Now nine years have brought him change of joy;
'Not a child.'How could reason be so far beguiled,
Err so far from sense's safe employ,
Stray so wide of truth, or run so wild?Seeing his face bent over book or toy,
Child I called him, smiling: but he smiled
Back, as one too high for vain annoy –
Not a child.II.
Not a child? alack the year!
What should ail an undefiled
Heart, that he would fain appear
Not a child?
Men, with years and memories piled
Each on other, far and near,
Fain again would so be styled:
Fain would cast off hope and fear,
Rest, forget, be reconciled:
Why would you so fain be, dear,
Not a child?
III.
Child or boy, my darling, which you will,
Still your praise finds heart and song employ,
Heart and song both yearning toward you still,
Child or boy.
All joys else might sooner pall or cloy
Love than this which inly takes its fill,
Dear, of sight of your more perfect joy.
Nay, be aught you please, let all fulfil
All your pleasure; be your world your toy:
Mild or wild we love you, loud or still,
Child or boy.
A faint sea without wind or sun;
A sky like flameless vapour dun;
A valley like an unsealed grave
That no man cares to weep upon,
Bare, without boon to crave,
Or flower to save.And on the lip's edge of the down,
Here where the bent-grass burns to brown
In the dry sea-wind, and the heath
Crawls to the cliff-side and looks down,
I watch, and hear beneath
The low tide breathe.Along the long lines of the cliff,
Down the flat sea-line without skiff
Or sail or back-blown fume for mark,
Through wind-worn heads of heath and stiff
Stems blossomless and stark
With dry sprays dark,I send mine eyes out as for news
Of comfort that all these refuse,
Tidings of light or living air
From windward where the low clouds muse
And the sea blind and bare
Seems full of care.
So is it now as it was then,
And as men have been such are men.
There as I stood I seem to stand,
Here sitting chambered, and again
Feel spread on either hand
Sky, sea, and land.
As a queen taken and stripped and bound
Sat earth, discoloured and discrowned;
As a king's palace empty and dead
The sky was, without light or sound;
And on the summer's head
Were ashes shed.
Scarce wind enough was on the sea,
Scarce hope enough there moved in me,
To sow with live blown flowers of white
The green plain's sad serenity,
Or with stray thoughts of light
Touch my soul's sight.
By footless ways and sterile went
My thought unsatisfied, and bent
With blank unspeculative eyes
On the untracked sands of discontent
Where, watched of helpless skies,
Life hopeless lies.
East and west went my soul to find
Light, and the world was bare and blind
And the soil herbless where she trod
And saw men laughing scourge mankind,
Unsmitten by the rod
Of any God.
Out of time's blind old eyes were shed
Tears that were mortal, and left dead
The heart and spirit of the years,
And on mans fallen and helmless head
Time's disanointing tears
Fell cold as fears.
Hope flowering had but strength to bear
The fruitless fruitage of despair;
Grief trod the grapes of joy for wine,
Whereof love drinking unaware
Died as one undivine
And made no sign.
And soul and body dwelt apart;
And weary wisdom without heart
Stared on the dead round heaven and sighed,
"Is death too hollow as thou art,
Or as man's living pride?"
And saying so died.
And my soul heard the songs and groans
That are about and under thrones,
And felt through all time's murmur thrill
Fate's old imperious semitones
That made of good and ill
One same tune still.
Then "Where is God? and where is aid?
Or what good end of these?" she said;
"Is there no God or end at all,
Nor reason with unreason weighed,
Nor force to disenthral
Weak feet that fall?
"No light to lighten and no rod
To chasten men? Is there no God?"
So girt with anguish, iron-zoned,
Went my soul weeping as she trod
Between the men enthroned
And men that groaned.
O fool, that for brute cries of wrong
Heard not the grey glad mother's song
Ring response from the hills and waves,
But heard harsh noises all day long
Of spirits that were slaves
And dwelt in graves.
The wise word of the secret earth
Who knows what life and death are worth,
And how no help and no control
Can speed or stay things come to birth,
Nor all worlds' wheels that roll
Crush one born soul.
With all her tongues of life and death,
With all her bloom and blood and breath,
From all years dead and all things done,
In the ear of man the mother saith,
"There is no God, O son,
If thou be none."
So my soul sick with watching heard
That day the wonder of that word,
And as one springs out of a dream
Sprang, and the stagnant wells were stirred
Whence flows through gloom and gleam
Thought's soundless stream.
Out of pale cliff and sunburnt health,
Out of the low sea curled beneath
In the land's bending arm embayed,
Out of all lives that thought hears breathe
Life within life inlaid,
Was answer made.
A multitudinous monotone
Of dust and flower and seed and stone,
In the deep sea-rock's mid-sea sloth,
In the live water's trembling zone,
In all men love and loathe,
One God at growth.
One forceful nature uncreate
That feeds itself with death and fate,
Evil and good, and change and time,
That within all men lies at wait
Till the hour shall bid them climb
And live sublime.
For all things come by fate to flower
At their unconquerable hour,
And time brings truth, and truth makes free,
And freedom fills time's veins with power,
As, brooding on that sea,
My thought filled me.
And the sun smote the clouds and slew,
And from the sun the sea's breath blew,
And white waves laughed and turned and fled
The long green heaving sea-field through,
And on them overhead
The sky burnt red
Like a furled flag that wind sets free,
On the swift summer-coloured sea
Shook out the red lines of the light,
The live sun's standard, blown to lee
Across the live sea's white
And green delight.
And with divine triumphant awe
My spirit moved within me saw,
With burning passion of stretched eyes,
Clear as the light's own firstborn law,
In windless wastes of skies
Time's deep dawn rise.
In a vision Liberty stood
By the childless charm-stricken bed
Where, barren of glory and good,
Knowing nought if she would not or would,
England slept with her dead.Her face that the foam had whitened,
Her hands that were strong to strive,
Her eyes whence battle had lightened,
Over all was a drawn shroud tightened
To bind her asleep and alive.She turned and laughed in her dream
With grey lips arid and cold;
She saw not the face as a beam
Burn on her, but only a gleam
Through her sleep as of new-stamped gold.But the goddess, with terrible tears
In the light of her down-drawn eyes,
Spake fire in the dull sealed ears;
"Thou, sick with slumbers and fears,
Wilt thou sleep now indeed or arise?
"With dreams and with words and with light
Memories and empty desires
Thou hast wrapped thyself round all night;
Thou hast shut up thine heart from the right,
And warmed thee at burnt-out fires.
"Yet once if I smote at thy gate,
Thy sons would sleep not, but heard;
O thou that wast found so great,
Art thou smitten with folly or fate
That thy sons have forgotten my word?
O Cromwell's mother, O breast
That suckled Milton! thy name
That was beautiful then, that was blest,
Is it wholly discrowned and deprest,
Trodden under by sloth into shame?
"Why wilt thou hate me and die?
For none can hate me and live.
What ill have I done to thee? why
Wilt thou turn from me fighting, and fly,
Who would follow thy feet and forgive?
"Thou hast seen me stricken, and said,
What is it to me? I am strong:
Thou hast seen me bowed down on my dead
And laughed and lifted thine head,
And washed thine hands of my wrong.
"Thou hast put out the soul of thy sight;
Thou hast sought to my foemen as friend,
To my traitors that kiss me and smite,
To the kingdoms and empires of night
That begin with the darkness, and end.
"Turn thee, awaken, arise,
With the light that is risen on the lands,
With the change of the fresh-coloured skies;
Set thine eyes on mine eyes,
Lay thy hands in my hands."
She moved and mourned as she heard,
Sighed and shifted her place,
As the wells of her slumber were stirred
By the music and wind of the word,
Then turned and covered her face.
"Ah," she said in her sleep,
"Is my work not done with and done?
Is there corn for my sickle to reap?
And strange is the pathway, and steep,
And sharp overhead is the sun.
"I have done thee service enough,
Loved thee enough in my day;
Now nor hatred nor love
Nor hardly remembrance thereof
Lives in me to lighten my way.
"And is it not well with us here?
Is change as good as is rest?
What hope should move me, or fear,
That eye should open or ear,
Who have long since won what is best?
"Where among us are such things
As turn men's hearts into hell?
Have we not queens without stings,
Scotched princes, and fangless kings?
Yea," she said, "we are well.
"We have filed the teeth of the snake
Monarchy, how should it bite?
Should the slippery slow thing wake,
It will not sting for my sake;
Yea," she said, "I do right."
So spake she, drunken with dreams,
Mad; but again in her ears
A voice as of storm-swelled streams
Spake; "No brave shame then redeems
Thy lusts of sloth and thy fears?
"Thy poor lie slain of thine hands,
Their starved limbs rot in thy sight;
As a shadow the ghost of thee stands
Among men living and lands,
And stirs not leftward or right.
"Freeman he is not, but slave,
Who stands not out on my side;
His own hand hollows his grave,
Nor strength is in me to save
Where strength is none to abide.
"Time shall tread on his name
That was written for honour of old,
Who hath taken in change for fame
Dust, and silver, and shame,
Ashes, and iron, and gold."
SEE MORE: