Algernon Charles Swinburne Poems
Born in London in 1837, Algernon Swinburne became one of the most well-known poets of the Victorian age, producing verse that often shocked and shook the morals of the conservative elite of the city. The oldest of 6 children in a wealthy family, he was sent to Eton to begin his studies where he discovered his love of poetry and began to write.
Algernon Charles Swinburne Bio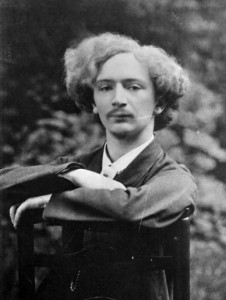 At Oxford he was temporarily expelled and, although he returned to complete his studies, he never actually received his university degree. In his heart, Algernon Swinburne believed he belonged to his family home of Northumberland and would write long lyric poems in praise of the countryside. He was prone to over indulging in drink, and spent some time in France recovering from his alcoholic excesses in 1861.
When he was well enough, he traveled to Italy where he made the acquaintance of writers such as Dante Gabriel Rossetti. His first work was published in 1860 but received little or no reaction from the general public or critics. His success came in 1865 when he wrote Atalanta in Claydon, created to mirror the form of a Greek epic tragedy.
More notable was the publication of Poems and Ballads in the year following, a collection that earned him a fair deal of infamy with its themes that were perceived to be indecent at the time. His poem Anactoria contained mentions of sadomasochism and cannibalism and was typical of some of the areas he explored.
STATELY, kindly, lordly friend,
Condescend
Here to sit by me, and turn
Glorious eyes that smile and burn,
Golden eyes, love's lustrous meed,
On the golden page I read.All your wondrous wealth of hair,
Dark and fair,
Silken-shaggy, soft and bright
As the clouds and beams of night,
Pays my reverent hand's caress
Back with friendlier gentleness.Dogs may fawn on all and some
As they come;
You, a friend of loftier mind,
Answer friends alone in kind.
Just your foot upon my hand
Softly bids it understand.
Morning round this silent sweet
Garden-seat
Sheds its wealth of gathering light,
Thrills the gradual clouds with might,
Changes woodland, orchard, heath,
Lawn, and garden there beneath.
Fair and dim they gleamed below:
Now they glow
Deep as even your sunbright eyes,
Fair as even the wakening skies.
Can it not or can it be
Now that you give thanks to see ?
May not you rejoice as I,
Seeing the sky
Change to heaven revealed, and bid
Earth reveal the heaven it hid
All night long from stars and moon,
Now the sun sets all in tune?
What within you wakes with day
Who can say?
All too little may we tell,
Friends who like each other well,
What might haply, if we might,
Bid us read our lives aright.
Wild on woodland ways your sires
Flashed like fires;
Fair as flame and fierce and fleet
As with wings on wingless feet
Shone and sprang your mother, free,
Bright and brave as wind or sea.
Free and proud and glad as they,
Here to-day
Rests or roams their radiant child,
Vanquished not, but reconciled,
Free from curb of aught above
Save the lovely curb of love.
Love through dreams of souls divine
Fain would shine
Round a dawn whose light and song
Then should right our mutual wrong—
Speak, and seal the love-lit law
Sweet Assisi's seer foresaw.
Dreams were theirs; yet haply may
Dawn a day
When such friends and fellows born,
Seeing our earth as fair at morn,
May for wiser love's sake see
More of heaven's deep heart than we.
To Walt Whitman In America
Send but a song oversea for us,
Heart of their hearts who are free,
Heart of their singer, to be for us
More than our singing can be;
Ours, in the tempest at error,
With no light but the twilight of terror;
Send us a song oversea!Sweet-smelling of pine-leaves and grasses,
And blown as a tree through and through
With the winds of the keen mountain-passes,
And tender as sun-smitten dew;
Sharp-tongued as the winter that shakes
The wastes of your limitless lakes,
Wide-eyed as the sea-line's blue.O strong-winged soul with prophetic
Lips hot with the bloodheats of song,
With tremor of heartstrings magnetic,
With thoughts as thunders in throng,
With consonant ardours of chords
That pierce men's souls as with swords
And hale them hearing along,
Make us too music, to be with us
As a word from a world's heart warm,
To sail the dark as a sea with us,
Full-sailed, outsinging the storm,
A song to put fire in our ears
Whose burning shall burn up tears,
Whose sign bid battle reform;
A note in the ranks of a clarion,
A word in the wind of cheer,
To consume as with lightning the carrion
That makes time foul for us here;
In the air that our dead things infest
A blast of the breath of the west,
Till east way as west way is clear.
Out of the sun beyond sunset,
From the evening whence morning shall be,
With the rollers in measureless onset,
With the van of the storming sea,
With the world-wide wind, with the breath
That breaks ships driven upon death,
With the passion of all things free,
With the sea-steeds footless and frantic,
White myriads for death to bestride
In the charge of the ruining Atlantic
Where deaths by regiments ride,
With clouds and clamours of waters,
With a long note shriller than slaughter's
On the furrowless fields world-wide,
With terror, with ardour and wonder,
With the soul of the season that wakes
When the weight of a whole year's thunder
In the tidestream of autumn breaks,
Let the flight of the wide-winged word
Come over, come in and be heard,
Take form and fire for our sakes.
For a continent bloodless with travail
Here toils and brawls as it can,
And the web of it who shall unravel
Of all that peer on the plan;
Would fain grow men, but they grow not,
And fain be free, but they know not
One name for freedom and man?
One name, not twain for division;
One thing, not twain, from the birth;
Spirit and substance and vision,
Worth more than worship is worth;
Unbeheld, unadored, undivined,
The cause, the centre, the mind,
The secret and sense of the earth.
Here as a weakling in irons,
Here as a weanling in bands,
As a prey that the stake-net environs,
Our life that we looked for stands;
And the man-child naked and dear,
Democracy, turns on us here
Eyes trembling with tremulous hands
It sees not what season shall bring to it
Sweet fruit of its bitter desire;
Few voices it hears yet sing to it,
Few pulses of hearts reaspire;
Foresees not time, nor forehears
The noises of imminent years,
Earthquake, and thunder, and fire:
When crowned and weaponed and curbless
It shall walk without helm or shield
The bare burnt furrows and herbless
Of war's last flame-stricken field,
Till godlike, equal with time,
It stand in the sun sublime,
In the godhead of man revealed.
Round your people and over them
Light like raiment is drawn,
Close as a garment to cover them
Wrought not of mail nor of lawn;
Here, with hope hardly to wear,
Naked nations and bare
Swim, sink, strike out for the dawn.
Chains are here, and a prison,
Kings, and subjects, and shame;
If the God upon you be arisen,
How should our songs be the same?
How, in confusion of change,
How shall we sing, in a strange
Land, songs praising his name?
God is buried and dead to us,
Even the spirit of earth,
Freedom; so have they said to us,
Some with mocking and mirth,
Some with heartbreak and tears;
And a God without eyes, without ears,
Who shall sing of him, dead in the birth?
The earth-god Freedom, the lonely
Face lightening, the footprint unshod,
Not as one man crucified only
Nor scourged with but one life's rod;
The soul that is substance of nations,
Reincarnate with fresh generations;
The great god Man, which is God.
But in weariest of years and obscurest
Doth it live not at heart of all things,
The one God and one spirit, a purest
Life, fed from unstanchable springs?
Within love, within hatred it is,
And its seed in the stripe as the kiss,
And in slaves is the germ, and in kings.
Freedom we call it, for holier
Name of the soul's there is none;
Surelier it labours if slowlier,
Than the metres of star or of sun;
Slowlier than life into breath,
Surelier than time into death,
It moves till its labour be done.
Till the motion be done and the measure
Circling through season and clime,
Slumber and sorrow and pleasure,
Vision of virtue and crime;
Till consummate with conquering eyes,
A soul disembodied, it rise
From the body transfigured of time.
Till it rise and remain and take station
With the stars of the worlds that rejoice;
Till the voice of its heart's exultation
Be as theirs an invariable voice;
By no discord of evil estranged,
By no pause, by no breach in it changed,
By no clash in the chord of its choice.
It is one with the world's generations,
With the spirit, the star, and the sod;
With the kingless and king-stricken nations,
With the cross, and the chain, and the rod;
The most high, the most secret, most lonely,
The earth-soul Freedom, that only
Lives, and that only is God.
The burden of fair women. Vain delight,
And love self-slain in some sweet shameful way,
And sorrowful old age that comes by night
As a thief comes that has no heart by day,
And change that finds fair cheeks and leaves them grey,
And weariness that keeps awake for hire,
And grief that says what pleasure used to say;
This is the end of every man's desire.
The burden of bought kisses. This is sore,
A burden without fruit in childbearing;
Between the nightfall and the dawn threescore,
Threescore between the dawn and evening.
The shuddering in thy lips, the shuddering
In thy sad eyelids tremulous like fire,
Makes love seem shameful and a wretched thing.
This is the end of every man's desire.The burden of sweet speeches. Nay, kneel down,
Cover thy head, and weep; for verily
These market-men that buy thy white and brown
In the last days shall take no thought for thee.
In the last days like earth thy face shall be,
Yea, like sea-marsh made thick with brine and mire,
Sad with sick leavings of the sterile sea.
This is the end of every man's desire.The burden of long living. Thou shalt fear
Waking, and sleeping mourn upon thy bed;
And say at night "Would God the day were here,"
And say at dawn "Would God the day were dead."
With weary days thou shalt be clothed and fed,
And wear remorse of heart for thine attire,
Pain for thy girdle and sorrow upon thine head;
This is the end of every man's desire.
The burden of bright colours. Thou shalt see
Gold tarnished, and the grey above the green;
And as the thing thou seest thy face shall be,
And no more as the thing beforetime seen.
And thou shalt say of mercy "It hath been,"
And living, watch the old lips and loves expire,
And talking, tears shall take thy breath between;
This is the end of every man's desire.
The burden of sad sayings. In that day
Thou shalt tell all thy days and hours, and tell
Thy times and ways and words of love, and say
How one was dear and one desirable,
And sweet was life to hear and sweet to smell,
But now with lights reverse the old hours retire
And the last hour is shod with fire from hell;
This is the end of every man's desire.
The burden of four seasons. Rain in spring,
White rain and wind among the tender trees;
A summer of green sorrows gathering,
Rank autumn in a mist of miseries,
With sad face set towards the year, that sees
The charred ash drop out of the dropping pyre,
And winter wan with many maladies;
This is the end of every man's desire.
The burden of dead faces. Out of sight
And out of love, beyond the reach of hands,
Changed in the changing of the dark and light,
They walk and weep about the barren lands
Where no seed is nor any garner stands,
Where in short breaths the doubtful days respire,
And time's turned glass lets through the sighing sands;
This is the end of every man's desire.
The burden of much gladness. Life and lust
Forsake thee, and the face of thy delight;
And underfoot the heavy hour strews dust,
And overhead strange weathers burn and bite;
And where the red was, lo the bloodless white,
And where the truth was, the likeness of a liar,
And where the day was, the likeness of the night;
This is the end of every man's desire.L'ENVOY
Princes, and ye whom pleasure quickeneth,
Heed well this rhyme before your pleasure tire;
For life is sweet, but after life is death.
This is the end of every man's desire.
Forth from Calais, at dawn of night, when sunset summer on autumn shone,
Fared the steamer alert and loud through seas whence only the sun was gone:
Soft and sweet as the sky they smiled, and bade man welcome: a dim sweet hour
Gleamed and whispered in wind and sea, and heaven was fair as a field in flower,
Stars fulfilled the desire of the darkling world as with music: the star-bright air
Made the face of the sea, if aught may make the face of the sea, more fair.
Whence came change? Was the sweet night weary of rest? What anguish awoke in the dark?
Sudden, sublime, the strong storm spake: we heard the thunders as hounds that bark.
Lovelier if aught may be lovelier than stars, we saw the lightnings exalt the sky,
Living and lustrous and rapturous as love that is born but to quicken and lighten and die.
Heaven's own heart at its highest of delight found utterance in music and semblance in fire:
Thunder on thunder exulted, rejoicing to live and to satiate the night's desire.
And the night was alive and an-hungered of life as a tiger from toils cast free:
And a rapture of rage made joyous the spirit and strength of the soul of the sea.
All the weight of the wind bore down on it, freighted with death for fraught:
And the keen waves kindled and quickened as things transfigured or things distraught.
And madness fell on them laughing and leaping; and madness came on the wind:
And the might and the light and the darkness of storm were as storm in the heart of Ind.
Such glory, such terror, such passion, as lighten and harrow the far fierce East,
Rang, shone, spake, shuddered around us: the night was an altar with death for priest.
The channel that sunders England from shores where never was man born free
Was clothed with the likeness and thrilled with the strength and the wrath of a tropic sea.
As a wild steed ramps in rebellion, and rears till it swerves from a backward fall,
The strong ship struggled and reared, and her deck was upright as a sheer cliff's wall.
Stern and prow plunged under, alternate: a glimpse, a recoil, a breath,
And she sprang as the life in a god made man would spring at the throat of death.
Three glad hours, and it seemed not an hour of supreme and supernal joy,
Filled full with delight that revives in remembrance a sea-bird's heart in a boy.
For the central crest of the night was cloud that thundered and flamed, sublime
As the splendour and song of the soul everlasting that quickens the pulse of time.
The glory beholden of man in a vision, the music of light overheard,
The rapture and radiance of battle, the life that abides in the fire of a word,
In the midmost heaven enkindled, was manifest far on the face of the sea,
And the rage in the roar of the voice of the waters was heard but when heaven breathed free.
Far eastward, clear of the covering of cloud, the sky laughed out into light
From the rims of the storm to the sea's dark edge with flames that were flowerlike and white.
The leaping and luminous blossoms of live sheet lightning that laugh as they fade
From the cloud's black base to the black wave's brim rejoiced in the light they made.
Far westward, throned in a silent sky, where life was in lustrous tune,
Shone, sweeter and surer than morning or evening, the steadfast smile of the moon.
The limitless heaven that enshrined them was lovelier than dreams may behold, and deep
As life or as death, revealed and transfigured, may shine on the soul through sleep.
All glories of toil and of triumph and passion and pride that it yearns to know
Bore witness there to the soul of its likeness and kinship, above and below.
The joys of the lightnings, the songs of the thunders, the strong sea's labour and rage,
Were tokens and signs of the war that is life and is joy for the soul to wage.
No thought strikes deeper or higher than the heights and the depths that the night made bare,
Illimitable, infinite, awful and joyful, alive in the summit of air–
Air stilled and thrilled by the tempest that thundered between its reign and the sea's,
Rebellious, rapturous, and transient as faith or as terror that bows men's knees.
No love sees loftier and fairer the form of its godlike vision in dreams
Than the world shone then, when the sky and the sea were as love for a breath's length seems–
One utterly, mingled and mastering and mastered and laughing with love that subsides
As the glad mad night sank panting and satiate with storm, and released the tides.
In the dense mid channel the steam-souled ship hung hovering, assailed and withheld
As a soul born royal, if life or if death be against it, is thwarted and quelled.
As the glories of myriads of glow-worms in lustrous grass on a boundless lawn
Were the glories of flames phosphoric that made of the water a light like dawn.
A thousand Phosphors, a thousand Hespers, awoke in the churning sea,
And the swift soft hiss of them living and dying was clear as a tune could be;
As a tune that is played by the fingers of death on the keys of life or of sleep,
Audible alway alive in the storm, too fleet for a dream to keep:
Too fleet, too sweet for a dream to recover and thought to remember awake:
Light subtler and swifter than lightning, that whispers and laughs in the live storm's wake,
In the wild bright wake of the storm, in the dense loud heart of the labouring hour,
A harvest of stars by the storm's hand reaped, each fair as a star-shaped flower.
And sudden and soft as the passing of sleep is the passing of tempest seemed
When the light and the sound of it sank, and the glory was gone as a dream half dreamed.
The glory, the terror, the passion that made of the midnight a miracle, died,
Not slain at a stroke, nor in gradual reluctance abated of power and of pride;
With strong swift subsidence, awful as power that is wearied of power upon earth,
As a God that were wearied of power upon heaven, and were fain of a new God's birth,
The might of the night subsided: the tyranny kindled in darkness fell:
And the sea and the sky put off them the rapture and radiance of heaven and of hell.
The waters, heaving and hungering at heart, made way, and were wellnigh fain,
For the ship that had fought them, and wrestled, and revelled in labour, to cease from her pain.
And an end was made of it: only remembrance endures of the glad loud strife;
And the sense that a rapture so royal may come not again in the passage of life.
I.
Gone, O gentle heart and true,
Friend of hopes foregone,
Hopes and hopeful days with you
Gone?
Days of old that shone
Saw what none shall see anew,
When we gazed thereon.
Soul as clear as sunlit dew,
Why so soon pass on,
Forth from all we loved and knew
Gone?
II.
Friend of many a season fled,
What may sorrow send
Toward thee now from lips that said
'Friend'?
Sighs and songs to blend
Praise with pain uncomforted
Though the praise ascend?
Darkness hides no dearer head:
Why should darkness end
Day so soon, O dear and dead
Friend?
III.
Dear in death, thou hast thy part
Yet in life, to cheer
Hearts that held thy gentle heart
Dear.
Time and chance may sear
Hope with grief, and death may part
Hand from hand's clasp here:
Memory, blind with tears that start,
Sees through every tear
All that made thee, as thou art,
Dear.
IV.
True and tender, single-souled,
What should memory do
Weeping o'er the trust we hold
True?
Known and loved of few,
But of these, though small their fold,
Loved how well were you!
Change, that makes of new things old,
Leaves one old thing new;
Love which promised truth, and told
True.
V.
Kind as heaven, while earth's control
Still had leave to bind
Thee, thy heart was toward man's whole
Kind.
Thee no shadows blind
Now: the change of hours that roll
Leaves thy sleep behind.
Love, that hears thy death-bell toll
Yet, may call to mind
Scarce a soul as thy sweet soul
Kind.
VI.
How should life, O friend, forget
Death, whose guest art thou?
Faith responds to love's regret,
How?
Still, for us that bow
Sorrowing, still, though life be set,
Shines thy bright mild brow.
Yea, though death and thou be met,
Love may find thee now
Still, albeit we know not yet
How.
VII.
Past as music fades, that shone
While its life might last;
As a song-bird's shadow flown
Past!
Death's reverberate blast
Now for music's lord has blown
Whom thy love held fast.
Dead thy king, and void his throne:
Yet for grief at last
Love makes music of his own
Past.
IN a coign of the cliff between lowland and highland,
At the sea-down's edge between windward and lee,
Walled round with rocks as an inland island,
The ghost of a garden fronts the sea.
A girdle of brushwood and thorn encloses
The steep square slope of the blossomless bed
Where the weeds that grew green from the graves of its roses
Now lie dead.The fields fall southward, abrupt and broken,
To the low last edge of the long lone land.
If a step should sound or a word be spoken,
Would a ghost not rise at the strange guest's hand?
So long have the grey bare walks lain guestless,
Through branches and briars if a man make way,
He shall find no life but the sea-wind's, restless
Night and day.The dense hard passage is blind and stifled
That crawls by a track none turn to climb
To the strait waste place that the years have rifled
Of all but the thorns that are touched not of time.
The thorns he spares when the rose is taken;
The rocks are left when he wastes the plain.
The wind that wanders, the weeds wind-shaken,
These remain.
Not a flower to be pressed of the foot that falls not;
As the heart of a dead man the seed-plots are dry;
From the thicket of thorns whence the nightingale calls not,
Could she call, there were never a rose to reply.
Over the meadows that blossom and wither
Rings but the note of a sea-bird's song;
Only the sun and the rain come hither
All year long.
The sun burns sere and the rain dishevels
One gaunt bleak blossom of scentless breath.
Only the wind here hovers and revels
In a round where life seems barren as death.
Here there was laughing of old, there was weeping,
Haply, of lovers none ever will know,
Whose eyes went seaward a hundred sleeping
Years ago.
Heart handfast in heart as they stood, "Look thither,"
Did he whisper? "look forth from the flowers to the sea;
For the foam-flowers endure when the rose-blossoms wither,
And men that love lightly may die—but we?"
And the same wind sang and the same waves whitened,
And or ever the garden's last petals were shed,
In the lips that had whispered, the eyes that had lightened,
Love was dead.
Or they loved their life through, and then went whither?
And were one to the endÑbut what end who knows?
Love deep as the sea as a rose must wither,
As the rose-red seaweed that mocks the rose.
Shall the dead take thought for the dead to love them ?
What love was ever as deep as a grave ?
They are loveless now as the grass above them
Or the wave.
All are at one now, roses and lovers,
Not known of the cliffs and the fields and the sea.
Not a breath of the time that has been hovers
In the air now soft with a summer to be.
Not a breath shall there sweeten the seasons hereafter
Of the flowers or the lovers that laugh now or weep,
When as they that are free now of weeping and laughter
We shall sleep.
Here death may deal not again for ever;
Here change may come not till all change end.
From the graves they have made they shall rise up never,
Who have left nought living to ravage and rend.
Earth, stones, and thorns of the wild ground growing,
While the sun and the rain live, these shall be;
Till a last wind's breath upon all these blowing
Roll the sea.
Till the slow sea rise and the sheer cliff crumble,
Till terrace and meadow the deep gulfs drink,
Till the strength of the waves of the high tides humble
The fields that lessen, the rocks that shrink,
Here now in his triumph where all things falter,
Stretched out on the spoils that his own hand spread,
As a god self-slain on his own strange altar,
Death lies dead.
We mix from many lands,
We march for very far;
In hearts and lips and hands
Our staffs and weapons are;
The light we walk in darkens sun and moon and star.It doth not flame and wane
With years and spheres that roll,
Storm cannot shake nor stain
The strength that makes it whole,
The fire that moulds and moves it of the sovereign soul.We are they that have to cope
With time till time retire;
We live on hopeless hope,
We feed on tears and fire;
Time, foot by foot, gives back before our sheer desire.
From the edge of harsh derision,
From discord and defeat,
From doubt and lame division,
We pluck the fruit and eat;
And the mouth finds it bitter, and the spirit sweet.
We strive with time at wrestling
Till time be on our side
And hope, our plumeless nestling,
A full-fledged eaglet ride
Down the loud length of storm its windward wings divide.
We are girt with our belief,
Clothed with our will and crowned;
Hope, fear, delight, and grief,
Before our will give ground;
Their calls are in our ears as shadows of dead sound.
All but the heart forsakes us,
All fails us but the will;
Keen treason tracks and takes us
In pits for blood to fill;
Friend falls from friend, and faith for faith lays wait to kill.
Out under moon and stars
And shafts of the urgent sun
Whose face on prison-bars
And mountain-heads is one,
Our march is everlasting till time's march be done.
Whither we know, and whence,
And dare not care wherethrough.
Desires that urge the sense,
Fears changing old with new,
Perils and pains beset the ways we press into;
Earth gives us thorns to tread,
And all her thorns are trod;
Through lands burnt black and red
We pass with feet unshod;
Whence we would be man shall not keep us, nor man's God.
Through the great desert beasts
Howl at our backs by night,
And thunder-forging priests
Blow their dead bale-fires bright,
And on their broken anvils beat out bolts for fight.
Inside their sacred smithies
Though hot the hammer rings,
Their steel links snap like withies,
Their chains like twisted strings,
Their surest fetters are as plighted words of kings.
O nations undivided,
O single people and free,
We dreamers, we derided,
We mad blind men that see,
We bear you witness ere ye come that ye shall be.
Ye sitting among tombs,
Ye standing round the gate,
Whom fire-mouthed war consumes,
Or cold-lipped peace bids wait,
All tombs and bars shall open, every grave and grate.
The locks shall burst in sunder,
The hinges shrieking spin,
When time, whose hand is thunder,
Lays hand upon the pin,
And shoots the bolts reluctant, bidding all men in.
These eyeless times and earless,
Shall these not see and hear,
And all their hearts burn fearless
That were afrost for fear?
Is day not hard upon us, yea, not our day near?
France! from its grey dejection
Make manifest the red
Tempestuous resurrection
Of thy most sacred head!
Break thou the covering cerecloths; rise up from the dead.
And thou, whom sea-walls sever
From lands unwalled with seas,
Wilt thou endure for ever,
O Milton's England, these?
Thou that wast his Republic, wilt thou clasp their knees?
These royalties rust-eaten,
These worm-corroded lies,
That keep thine head storm-beaten
And sunlike strength of eyes
From the open heaven and air of intercepted skies;
These princelings with gauze winglets
That buzz in the air unfurled,
These summer-swarming kinglets,
These thin worms crowned and curled,
That bask and blink and warm themselves about the world;
These fanged meridian vermin,
Shrill gnats that crowd the dusk,
Night-moths whose nestling ermine
Smells foul of mould and musk,
Blind flesh-flies hatched by dark and hampered in their husk;
These honours without honour,
These ghost-like gods of gold,
This earth that wears upon her
To keep her heart from cold
No memory more of men that brought it fire of old;
These limbs, supine, unbuckled,
In rottenness of rest,
These sleepy lips blood-suckled
And satiate of thy breast,
These dull wide mouths that drain thee dry and call thee blest;
These masters of thee mindless
That wear thee out of mind,
These children of thee kindless
That use thee out of kind,
Whose hands strew gold before thee and contempt behind;
Who have turned thy name to laughter,
Thy sea-like sounded name
That now none hearkens after
For faith in its free fame,
Who have robbed thee of thy trust and given thee of their shame;
These hours that mock each other,
These years that kill and die,
Are these thy gains, our mother,
For all thy gains thrown by?
Is this that end whose promise made thine heart so high?
With empire and with treason
The first right hand made fast,
But in man's nobler season
To put forth help the last,
Love turns from thee, and memory disavows thy past.
Lest thine own sea disclaim thee,
Lest thine own sons despise,
Lest lips shoot out that name thee
And seeing thee men shut eyes,
Take thought with all thy people, turn thine head and rise.
Turn thee, lift up thy face;
What ails thee to be dead?
Ask of thyself for grace,
Seek of thyself for bread,
And who shall starve or shame thee, blind or bruise thine head?
The same sun in thy sight,
The same sea in thine ears,
That saw thine hour at height,
That sang thy song of years,
Behold and hearken for thee, knowing thy hopes and fears.
O people, O perfect nation,
O England that shall be,
How long till thou take station?
How long till thralls live free?
How long till all thy soul be one with all thy sea?
Ye that from south to north,
Ye that from east to west,
Stretch hands of longing forth
And keep your eyes from rest,
Lo, when ye will, we bring you gifts of what is best.
From the awful northland pines
That skirt their wan dim seas
To the ardent Apennines
And sun-struck Pyrenees,
One frost on all their frondage bites the blossoming trees.
The leaves look up for light,
For heat of helpful air;
The trees of oldest height
And thin storm-shaken hair
Seek with gaunt hands up heavenward if the sun be there.
The woods where souls walk lonely,
The forests girt with night,
Desire the day-star only
And firstlings of the light
Not seen of slaves nor shining in their masters' sight.
We have the morning star,
O foolish people, O kings!
With us the day-springs are,
Even all the fresh day-springs;
For us, and with us, all the multitudes of things.
O sorrowing hearts of slaves,
We heard you beat from far!
We bring the light that saves,
We bring the morning star;
Freedom's good things we bring you, whence all good things are.
With us the winds and fountains
And lightnings live in tune;
The morning-coloured mountains
That burn into the noon,
The mist's mild veil on valleys muffled from the moon:
The thunder-darkened highlands
And lowlands hot with fruit,
Sea-bays and shoals and islands,
And cliffs that foil man's foot,
And all the flower of large-limbed life and all the root:
The clangour of sea-eagles
That teach the morning mirth
With baying of heaven's beagles
That seek their prey on earth,
By sounding strait and channel, gulf and reach and firth.
With us the fields and rivers,
The grass that summer thrills,
The haze where morning quivers,
The peace at heart of hills,
The sense that kindles nature, and the soul that fills.
With us all natural sights,
All notes of natural scale;
With us the starry lights;
With us the nightingale;
With us the heart and secret of the worldly tale.
The strife of things and beauty,
The fire and light adored,
Truth, and life-lightening duty,
Love without crown or sword,
That by his might and godhead makes man god and lord.
These have we, these are ours,
That no priests give nor kings;
The honey of all these flowers,
The heart of all these springs;
Ours, for where freedom lives not, there live no good things.
Rise, ere the dawn be risen;
Come, and be all souls fed;
From field and street and prison
Come, for the feast is spread;
Live, for the truth is living; wake, for night is dead.
Wind and sea and cloud and cloud-forsaking
Mirth of moonlight where the storm leaves free
Heaven awhile, for all the wrath of waking
Wind and sea.Bright with glad mad rapture, fierce with glee,
Laughs the moon, borne on past cloud's o'ertaking
Fast, it seems, as wind or sail can flee.One blown sail beneath her, hardly making
Forth, wild-winged for harbourage yet to be,
Strives and leaps and pants beneath the breaking
Wind and sea.
Far-fetched and dear-bought, as the proverb rehearses,
Is good, or was held so, for ladies: but nought
In a song can be good if the turn of the verse is
Far-fetched and dear-bought.As the turn of a wave should it sound, and the thought
Ring smooth, and as light as the spray that disperses
Be the gleam of the words for the garb thereof wrought.Let the soul in it shine through the sound as it pierces
Men's hearts with possession of music unsought;
For the bounties of song are no jealous god's mercies,
Far-fetched and dear-bought.
Watchman, what of the night? –
Storm and thunder and rain,
Lights that waver and wane,
Leaving the watchfires unlit.
Only the balefires are bright,
And the flash of the lamps now and then
From a palace where spoilers sit,
Trampling the children of men.Prophet, what of the night? –
I stand by the verge of the sea,
Banished, uncomforted, free,
Hearing the noise of the waves
And sudden flashes that smite
Some man's tyrannous head,
Thundering, heard among graves
That hide the hosts of his dead.Mourners, what of the night? –
All night through without sleep
We weep, and we weep, and we weep.
Who shall give us our sons ?
Beaks of raven and kite,
Mouths of wolf and of hound,
Give us them back whom the guns
Shot for you dead on the ground.
Dead men, what of the night? –
Cannon and scaffold and sword,
Horror of gibbet and cord,
Mowed us as sheaves for the grave,
Mowed us down for the right.
We do not grudge or repent.
Freely to freedom we gave
Pledges, till life should be spent.
Statesman, what of the night? –
The night will last me my time.
The gold on a crown or a crime
Looks well enough yet by the lamps.
Have we not fingers to write,
Lips to swear at a need?
Then, when danger decamps,
Bury the word with the deed.
Warrior, what of the night? –
Whether it be not or be
Night, is as one thing to me.
I for one, at the least,
Ask not of dews if they blight,
Ask not of flames if they slay,
Ask not of prince or of priest
How long ere we put them away.
Master, what of the night? –
Child, night is not at all
Anywhere, fallen or to fall,
Save in our star-stricken eyes.
Forth of our eyes it takes flight,
Look we but once nor before
Nor behind us, but straight on the skies;
Night is not then any more.
Exile, what of the night? –
The tides and the hours run out,
The seasons of death and of doubt,
The night-watches bitter and sore.
In the quicksands leftward and right
My feet sink down under me;
But I know the scents of the shore
And the broad blown breaths of the sea.
Captives, what of the night? –
It rains outside overhead
Always, a rain that is red,
And our faces are soiled with the rain.
Here in the seasons' despite
Day-time and night-time are one,
Till the curse of the kings and the chain
Break, and their toils be undone.
Christian, what of the night? –
I cannot tell; I am blind.
I halt and hearken behind
If haply the hours will go back
And return to the dear dead light,
To the watchfires and stars that of old
Shone where the sky now is black,
Glowed where the earth now is cold.
High priest, what of the night? –
The night is horrible here
With haggard faces and fear,
Blood, and the burning of fire.
Mine eyes are emptied of sight,
Mine hands are full of the dust,
If the God of my faith be a liar,
Who is it that I shall trust?
Princes, what of the night? –
Night with pestilent breath
Feeds us, children of death,
Clothes us close with her gloom.
Rapine and famine and fright
Crouch at our feet and are fed.
Earth where we pass is a tomb,
Life where we triumph is dead.
Martyrs, what of the night? –
Nay, is it night with you yet?
We, for our part, we forget
What night was, if it were.
The loud red mouths of the fight
Are silent and shut where we are.
In our eyes the tempestuous air
Shines as the face of a star.
England, what of the night? –
Night is for slumber and sleep,
Warm, no season to weep.
Let me alone till the day.
Sleep would I still if I might,
Who have slept for two hundred years.
Once I had honour, they say;
But slumber is sweeter than tears.
France, what of the night? –
Night is the prostitute's noon,
Kissed and drugged till she swoon,
Spat upon, trod upon, whored.
With bloodred rose-garlands dight,
Round me reels in the dance
Death, my saviour, my lord,
Crowned; there is no more France.
Italy, what of the night? –
Ah, child, child, it is long!
Moonbeam and starbeam and song
Leave it dumb now and dark.
Yet I perceive on the height
Eastward, not now very far,
A song too loud for the lark,
A light too strong for a star.
Germany, what of the night ? –
Long has it lulled me with dreams;
Now at midwatch, as it seems,
Light is brought back to mine eyes,
And the mastery of old and the might
Lives in the joints of mine hands,
Steadies my limbs as they rise,
Strengthens my foot as it stands.
Europe, what of the night ? –
Ask of heaven, and the sea,
And my babes on the bosom of me,
Nations of mine, but ungrown.
There is one who shall surely requite
All that endure or that err:
She can answer alone:
Ask not of me, but of her.
Liberty, what of the night ? –
I feel not the red rains fall,
Hear not the tempest at all,
Nor thunder in heaven any more.
All the distance is white
With the soundless feet of the sun.
Night, with the woes that it wore,
Night is over and done.
Art thou indeed among these,
Thou of the tyrannous crew,
The kingdoms fed upon blood,
O queen from of old of the seas,
England, art thou of them too
That drink of the poisonous flood,
That hide under poisonous trees?Nay, thy name from of old,
Mother, was pure, or we dreamed
Purer we held thee than this,
Purer fain would we hold;
So goodly a glory it seemed,
A fame so bounteous of bliss,
So more precious than gold.A praise so sweet in our ears,
That thou in the tempest of things
As a rock for a refuge shouldst stand,
In the bloodred river of tears
Poured forth for the triumph of kings;
A safeguard, a sheltering land,
In the thunder and torrent of years.
Strangers came gladly to thee,
Exiles, chosen of men,
Safe for thy sake in thy shade,
Sat down at thy feet and were free.
So men spake of thee then;
Now shall their speaking be stayed?
Ah, so let it not be!
Not for revenge or affright,
Pride, or a tyrannous lust,
Cast from thee the crown of thy praise.
Mercy was thine in thy might;
Strong when thou wert, thou wert just;
Now, in the wrong-doing days,
Cleave thou, thou at least, to the right.
How should one charge thee, how sway,
Save by the memories that were?
Not thy gold nor the strength of thy ships,
Nor the might of thine armies at bay,
Made thee, mother, most fair;
But a word from republican lips
Said in thy name in thy day.
Hast thou said it, and hast thou forgot?
Is thy praise in thine ears as a scoff?
Blood of men guiltless was shed,
Children, and souls without spot,
Shed, but in places far off;
Let slaughter no more be, said
Milton; and slaughter was not.
Was it not said of thee too,
Now, but now, by thy foes,
By the slaves that had slain their France,
And thee would slay as they slew –
"Down with her walls that enclose
Freemen that eye us askance,
Fugitives, men that are true!"
This was thy praise or thy blame
From bondsman or freeman–to be
Pure from pollution of slaves,
Clean of their sins, and thy name
Bloodless, innocent, free;
Now if thou be not, thy waves
Wash not from off thee thy shame.
Freeman he is not, but slave,
Whoso in fear for the State
Cries for surety of blood,
Help of gibbet and grave;
Neither is any land great
Whom, in her fear-stricken mood,
These things only can save.
Lo, how fair from afar,
Taintless of tyranny, stands
Thy mighty daughter, for years
Who trod the winepress of war;
Shines with immaculate hands;
Slays not a foe, neither fears;
Stains not peace with a scar.
Be not as tyrant or slave,
England; be not as these,
Thou that wert other than they.
Stretch out thine hand, but to save;
Put forth thy strength, and release;
Lest there arise, if thou slay,
Thy shame as a ghost from the grave.
At Sea
'Farewell and adieu' was the burden prevailing
Long since in the chant of a home-faring crew;
And the heart in us echoes, with laughing or wailing,
Farewell and adieu.
Each year that we live shall we sing it anew,
With a water untravelled before us for sailing
And a water behind us that wrecks may bestrew.
The stars of the past and the beacons are paling,
The heavens and the waters are hoarier of hue:
But the heart in us chants not an all unavailing
Farewell and adieu.
Étude Réaliste (excerpts)
A baby's hands, like rosebuds furled
Whence yet no leaf expands,
Ope if you touch, though close upcurled,
A baby's hands.
Then, fast as warriors grip their brands
When battle's bolt is hurled,
They close, clenched hard like tightening bands.
No rosebuds yet by dawn impearled
Match, even in loveliest lands,
The sweetest flowers in all the world–
A baby's hands.IIIA baby's eyes, ere speech begin,
Ere lips learn words or sighs,
Bless all things bright enough to win
A baby's eyes.
Love, while the sweet thing laughs and lies,
And sleep flows out and in,
Sees perfect in them Paradise.
Their glance might cast out pain and sin,
Their speech make dumb the wise,
By mute glad godhead felt within
A baby's eyes.
Here, down between the dusty trees,
At this lank edge of haggard wood,
Women with labour-loosened knees,
With gaunt backs bowed by servitude,
Stop, shift their loads, and pray, and fare
Forth with souls easier for the prayer.The suns have branded black, the rains
Striped grey this piteous God of theirs;
The face is full of prayers and pains,
To which they bring their pains and prayers;
Lean limbs that shew the labouring bones,
And ghastly mouth that gapes and groans.God of this grievous people, wrought
After the likeness of their race,
By faces like thine own besought,
Thine own blind helpless eyeless face,
I too, that have nor tongue nor knee
For prayer, I have a word to thee.
It was for this then, that thy speech
Was blown about the world in flame
And men's souls shot up out of reach
Of fear or lust or thwarting shame –
That thy faith over souls should pass
As sea-winds burning the grey grass?
It was for this, that prayers like these
Should spend themselves about thy feet,
And with hard overlaboured knees
Kneeling, these slaves of men should beat
Bosoms too lean to suckle sons
And fruitless as their orisons?
It was for this, that men should make
Thy name a fetter on men's necks,
Poor men's made poorer for thy sake,
And women's withered out of sex?
It was for this, that slaves should be,
Thy word was passed to set men free?
The nineteenth wave of the ages rolls
Now deathward since thy death and birth.
Hast thou fed full men's starved-out souls?
Hast thou brought freedom upon earth?
Or are there less oppressions done
In this wild world under the sun?
Nay, if indeed thou be not dead,
Before thy terrene shrine be shaken,
Look down, turn usward, bow thine head;
O thou that wast of God forsaken,
Look on thine household here, and see
These that have not forsaken thee.
Thy faith is fire upon their lips,
Thy kingdom golden in their hands;
They scourge us with thy words for whips,
They brand us with thy words for brands;
The thirst that made thy dry throat shrink
To their moist mouths commends the drink.
The toothed thorns that bit thy brows
Lighten the weight of gold on theirs;
Thy nakedness enrobes thy spouse
With the soft sanguine stuff she wears
Whose old limbs use for ointment yet
Thine agony and bloody sweat.
The blinding buffets on thine head
On their crowned heads confirm the crown;
Thy scourging dyes their raiment red,
And with thy bands they fasten down
For burial in the blood-bought field
The nations by thy stripes unhealed.
With iron for thy linen bands
And unclean cloths for winding-sheet
They bind the people's nail-pierced hands,
They hide the people's nail-pierced feet;
And what man or what angel known
Shall roll back the sepulchral stone?
But these have not the rich man's grave
To sleep in when their pain is done.
These were not fit for God to save.
As naked hell-fire is the sun
In their eyes living, and when dead
These have not where to lay their head.
They have no tomb to dig, and hide;
Earth is not theirs, that they should sleep.
On all these tombless crucified
No lovers' eyes have time to weep.
So still, for all man's tears and creeds,
The sacred body hangs and bleeds.
Through the left hand a nail is driven,
Faith, and another through the right,
Forged in the fires of hell and heaven,
Fear that puts out the eye of light:
And the feet soiled and scarred and pale
Are pierced with falsehood for a nail.
And priests against the mouth divine
Push their sponge full of poison yet
And bitter blood for myrrh and wine,
And on the same reed is it set
Wherewith before they buffeted
The people's disanointed head.
O sacred head, O desecrate,
O labour-wounded feet and hands,
O blood poured forth in pledge to fate
Of nameless lives in divers lands,
O slain and spent and sacrificed
People, the grey-grown speechless Christ!
Is there a gospel in the red
Old witness of thy wide-mouthed wounds?
From thy blind stricken tongueless head
What desolate evangel sounds
A hopeless note of hope deferred?
What word, if there be any word?
O son of man, beneath man's feet
Cast down, O common face of man
Whereon all blows and buffets meet,
O royal, O republican
Face of the people bruised and dumb
And longing till thy kingdom come!
The soldiers and the high priests part
Thy vesture: all thy days are priced,
And all the nights that eat thine heart.
And that one seamless coat of Christ,
The freedom of the natural soul,
They cast their lots for to keep whole.
No fragment of it save the name
They leave thee for a crown of scorns
Wherewith to mock thy naked shame
And forehead bitten through with thorns
And, marked with sanguine sweat and tears,
The stripes of eighteen hundred years
And we seek yet if God or man
Can loosen thee as Lazarus,
Bid thee rise up republican
And save thyself and all of us;
But no disciple's tongue can say
When thou shalt take our sins away.
And mouldering now and hoar with moss
Between us and the sunlight swings
The phantom of a Christless cross
Shadowing the sheltered heads of kings
And making with its moving shade
The souls of harmless men afraid.
It creaks and rocks to left and right
Consumed of rottenness and rust,
Worm-eaten of the worms of night,
Dead as their spirits who put trust,
Round its base muttering as they sit,
In the time-cankered name of it.
Thou, in the day that breaks thy prison,
People, though these men take thy name,
And hail and hymn thee rearisen,
Who made songs erewhile of thy shame,
Give thou not ear; for these are they
Whose good day was thine evil day.
Set not thine hand unto their cross.
Give not thy soul up sacrificed.
Change not the gold of faith for dross
Of Christian creeds that spit on Christ.
Let not thy tree of freedom be
Regrafted from that rotting tree.
This dead God here against my face
Hath help for no man; who hath seen
The good works of it, or such grace
As thy grace in it, Nazarene,
As that from thy live lips which ran
For man's sake, O thou son of man?
The tree of faith ingraffed by priests
Puts its foul foliage out above thee,
And round it feed man-eating beasts
Because of whom we dare not love thee;
Though hearts reach back and memories ache,
We cannot praise thee for their sake.
O hidden face of man, whereover
The years have woven a viewless veil,
If thou wast verily man's lover,
What did thy love or blood avail?
Thy blood the priests make poison of,
And in gold shekels coin thy love.
So when our souls look back to thee
They sicken, seeing against thy side,
Too foul to speak of or to see,
The leprous likeness of a bride,
Whose kissing lips through his lips grown
Leave their God rotten to the bone.
When we would see thee man, and know
What heart thou hadst toward men indeed,
Lo, thy blood-blackened altars; lo,
The lips of priests that pray and feed
While their own hell's worm curls and licks
The poison of the crucifix.
Thou bad'st let children come to thee;
What children now but curses come?
What manhood in that God can be
Who sees their worship, and is dumb?
No soul that lived, loved, wrought, and died,
Is this their carrion crucified.
Nay, if their God and thou be one,
If thou and this thing be the same,
Thou shouldst not look upon the sun;
The sun grows haggard at thy name.
Come down, be done with, cease, give o'er;
Hide thyself, strive not, be no more.
Blest in death and life beyond man's guessing
Little children live and die, possest
Still of grace that keeps them past expressing
Blest.
Each least chirp that rings from every nest,
Each least touch of flower-soft fingers pressing
Aught that yearns and trembles to be prest,
Each least glance, gives gifts of grace, redressing
Grief's worst wrongs: each mother's nurturing breast
Feeds a flower of bliss, beyond all blessing
Blest.
But now life's face beholden
Seemed bright as heaven's bare brow
With hope of gifts withholden
But now.
From time's full-flowering bough
Each bud spake bloom to embolden
Love's heart, and seal his vow.
Joy's eyes grew deep with olden
Dreams, born he wist not how;
Thought's meanest garb was golden;
But now!
WHEN the hounds of spring are on winter's traces,
The mother of months in meadow or plain
Fills the shadows and windy places
With lisp of leaves and ripple of rain;
And the brown bright nightingale amorous
Is half assuaged for Itylus,
For the Thracian ships and the foreign faces.
The tongueless vigil, and all the pain.Come with bows bent and with emptying of quivers,
Maiden most perfect, lady of light,
With a noise of winds and many rivers,
With a clamour of waters, and with might;
Bind on thy sandals, O thou most fleet,
Over the splendour and speed of thy feet;
For the faint east quickens, the wan west shivers,
Round the feet of the day and the feet of the night.Where shall we find her, how shall we sing to her,
Fold our hands round her knees, and cling?
O that man's heart were as fire and could spring to her,
Fire, or the strength of the streams that spring!
For the stars and the winds are unto her
As raiment, as songs of the harp-player;
For the risen stars and the fallen cling to her,
And the southwest-wind and the west-wind sing.
For winter's rains and ruins are over,
And all the season of snows and sins;
The days dividing lover and lover,
The light that loses, the night that wins;
And time remember'd is grief forgotten,
And frosts are slain and flowers begotten,
And in green underwood and cover
Blossom by blossom the spring begins.
The full streams feed on flower of rushes,
Ripe grasses trammel a travelling foot,
The faint fresh flame of the young year flushes
From leaf to flower and flower to fruit;
And fruit and leaf are as gold and fire,
And the oat is heard above the lyre,
And the hoofed heel of a satyr crushes
The chestnut-husk at the chestnut-root.
And Pan by noon and Bacchus by night,
Fleeter of foot than the fleet-foot kid,
Follows with dancing and fills with delight
The Maenad and the Bassarid;
And soft as lips that laugh and hide
The laughing leaves of the trees divide,
And screen from seeing and leave in sight
The god pursuing, the maiden hid.
The ivy falls with the Bacchanal's hair
Over her eyebrows hiding her eyes;
The wild vine slipping down leaves bare
Her bright breast shortening into sighs;
The wild vine slips with the weight of its leaves,
But the berried ivy catches and cleaves
To the limbs that glitter, the feet that scare
The wolf that follows, the fawn that flies.
SEE MORE: