Algernon Charles Swinburne Poems
Born in London in 1837, Algernon Swinburne became one of the most well-known poets of the Victorian age, producing verse that often shocked and shook the morals of the conservative elite of the city. The oldest of 6 children in a wealthy family, he was sent to Eton to begin his studies where he discovered his love of poetry and began to write.
Algernon Charles Swinburne Bio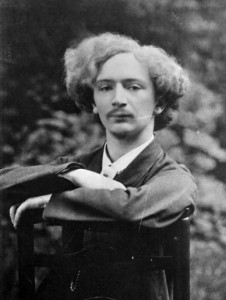 At Oxford he was temporarily expelled and, although he returned to complete his studies, he never actually received his university degree. In his heart, Algernon Swinburne believed he belonged to his family home of Northumberland and would write long lyric poems in praise of the countryside. He was prone to over indulging in drink, and spent some time in France recovering from his alcoholic excesses in 1861.
When he was well enough, he traveled to Italy where he made the acquaintance of writers such as Dante Gabriel Rossetti. His first work was published in 1860 but received little or no reaction from the general public or critics. His success came in 1865 when he wrote Atalanta in Claydon, created to mirror the form of a Greek epic tragedy.
More notable was the publication of Poems and Ballads in the year following, a collection that earned him a fair deal of infamy with its themes that were perceived to be indecent at the time. His poem Anactoria contained mentions of sadomasochism and cannibalism and was typical of some of the areas he explored.
In the grey beginning of years, in the twilight of things that began,
The word of the earth in the ears of the world, was it God? was it man?
The word of the earth to the spheres her sisters, the note of her song,
The sound of her speech in the ears of the starry and sisterly throng,
Was it praise or passion or prayer, was it love or devotion or dread,
When the veils of the shining air first wrapt her jubilant head?
When her eyes new-born of the night saw yet no star out of reach;
When her maiden mouth was alight with the flame of musical speech;
When her virgin feet were set on the terrible heavenly way,
And her virginal lids were wet with the dew of the birth of the day:
Eyes that had looked not on time, and ears that had heard not of death;
Lips that had learnt not the rhyme of change and passionate breath,
The rhythmic anguish of growth, and the motion of mutable things,
Of love that longs and is loth, and plume-plucked hope without wings,
Passions and pains without number, and life that runs and is lame,
From slumber again to slumber, the same race set for the same,
Where the runners outwear each other, but running with lampless hands
No man takes light from his brother till blind at the goal he stands:
Ah, did they know, did they dream of it, counting the cost and the worth?
The ways of her days, did they seem then good to the new-souled earth?
Did her heart rejoice, and the might of her spirit exult in her then,
Child yet no child of the night, and motherless mother of men?
Was it Love brake forth flower-fashion, a bird with gold on his wings,
Lovely, her firstborn passion, and impulse of firstborn things?
Was Love that nestling indeed that under the plumes of the night
Was hatched and hidden as seed in the furrow, and brought forth bright?
Was it Love lay shut in the shell world-shaped, having over him there
Black world-wide wings that impel the might of the night through air?
And bursting his shell as a bird, night shook through her sail-stretched vans,
And her heart as a water was stirred, and its heat was the firstborn man's.
For the waste of the dead void air took form of a world at birth,
And the waters and firmaments were, and light, and the life-giving earth.
The beautiful bird unbegotten that night brought forth without pain
In the fathomless years forgotten whereover the dead gods reign,
Was it love, life, godhead, or fate? we say the spirit is one
That moved on the dark to create out of darkness the stars and the sun.
Before the growth was the grower, and the seed ere the plant was sown;
But what was seed of the sower? and the grain of him, whence was it grown?
Foot after foot ye go back and travail and make yourselves mad;
Blind feet that feel for the track where highway is none to be had.
Therefore the God that ye make you is grievous, and gives not aid,
Because it is but for your sake that the God of your making is made.
Thou and I and he are not gods made men for a span,
But God, if a God there be, is the substance of men which is man.
Our lives are as pulses or pores of his manifold body and breath;
As waves of his sea on the shores where birth is the beacon of death.
We men, the multiform features of man, whatsoever we be,
Recreate him of whom we are creatures, and all we only are he.
Not each man of all men is God, but God is the fruit of the whole;
Indivisible spirit and blood, indiscernible body from soul.
Not men's but man's is the glory of godhead, the kingdom of time,
The mountainous ages made hoary with snows for the spirit to climb.
A God with the world inwound whose clay to his footsole clings;
A manifold God fast-bound as with iron of adverse things.
A soul that labours and lives, an emotion, a strenuous breath,
From the flame that its own mouth gives reillumed, and refreshed with death.
In the sea whereof centuries are waves the live God plunges and swims;
His bed is in all men's graves, but the worm hath not hold on his limbs.
Night puts out not his eyes, nor time sheds change on his head;
With such fire as the stars of the skies are the roots of his heart are fed.
Men are the thoughts passing through it, the veins that fulfil it with blood,
With spirit of sense to renew it as springs fulfilling a flood.
Men are the heartbeats of man, the plumes that feather his wings,
Storm-worn, since being began, with the wind and thunder of things.
Things are cruel and blind; their strength detains and deforms:
And the wearying wings of the mind still beat up the stream of their storms.
Still, as one swimming up stream, they strike out blind in the blast,
In thunders of vision and dream, and lightnings of future and past.
We are baffled and caught in the current and bruised upon edges of shoals;
As weeds or as reeds in the torrent of things are the wind-shaken souls.
Spirit by spirit goes under, a foam-bell's bubble of breath,
That blows and opens in sunder and blurs not the mirror of death.
For a worm or a thorn in his path is a man's soul quenched as a flame;
For his lust of an hour or his wrath shall the worm and the man be the same.
O God sore stricken of things! they have wrought him a raiment of pain;
Can a God shut eyelids and wings at a touch on the nerves of the brain?
O shamed and sorrowful God, whose force goes out at a blow!
What world shall shake at his nod? at his coming what wilderness glow?
What help in the work of his hands? what light in the track of his feet?
His days are snowflakes or sands, with cold to consume him and heat.
He is servant with Change for lord, and for wages he hath to his hire
Folly and force, and a sword that devours, and a ravening fire.
From the bed of his birth to his grave he is driven as a wind at their will;
Lest Change bow down as his slave, and the storm and the sword be still;
Lest earth spread open her wings to the sunward, and sing with the spheres;
Lest man be master of things, to prevail on their forces and fears.
By the spirit are things overcome; they are stark, and the spirit hath breath;
It hath speech, and their forces are dumb; it is living, and things are of death.
But they know not the spirit for master, they feel not force from above,
While man makes love to disaster, and woos desolation with love.
Yea, himself too hath made himself chains, and his own hands plucked out his eyes;
For his own soul only constrains him, his own mouth only denies.
The herds of kings and their hosts and the flocks of the high priests bow
To a master whose face is a ghost's; O thou that wast God, is it thou?
Thou madest man in the garden; thou temptedst man, and he fell;
Thou gavest him poison and pardon for blood and burnt-offering to sell.
Thou hast sealed thine elect to salvation, fast locked with faith for the key;
Make now for thyself expiation, and be thine atonement for thee.
Ah, thou that darkenest heaven–ah, thou that bringest a sword –
By the crimes of thine hands unforgiven they beseech thee to hear them, O Lord.
By the balefires of ages that burn for thine incense, by creed and by rood,
By the famine and passion that yearn and that hunger to find of thee food,
By the children that asked at thy throne of the priests that were fat with thine hire
For bread, and thou gavest a stone; for light, and thou madest them fire;
By the kiss of thy peace like a snake's kiss, that leaves the soul rotten at root;
By the savours of gibbets and stakes thou hast planted to bear to thee fruit;
By torture and terror and treason, that make to thee weapons and wings;
By thy power upon men for a season, made out of the malice of things;
O thou that hast built thee a shrine of the madness of man and his shame,
And hast hung in the midst for a sign of his worship the lamp of thy name;
That hast shown him for heaven in a vision a void world's shadow and shell,
And hast fed thy delight and derision with fire of belief as of hell;
That hast fleshed on the souls that believe thee the fang of the death-worm fear,
With anguish of dreams to deceive them whose faith cries out in thine ear;
By the face of the spirit confounded before thee and humbled in dust,
By the dread wherewith life was astounded and shamed out of sense of its trust,
By the scourges of doubt and repentance that fell on the soul at thy nod,
Thou art judged, O judge, and the sentence is gone forth against thee, O God.
Thy slave that slept is awake; thy slave but slept for a span;
Yea, man thy slave shall unmake thee, who made thee lord over man.
For his face is set to the east, his feet on the past and its dead;
The sun rearisen is his priest, and the heat thereof hallows his head.
His eyes take part in the morning; his spirit out-sounding the sea
Asks no more witness or warning from temple or tripod or tree.
He hath set the centuries at union; the night is afraid at his name;
Equal with life, in communion with death, he hath found them the same.
Past the wall unsurmounted that bars out our vision with iron and fire
He hath sent forth his soul for the stars to comply with and suns to conspire.
His thought takes flight for the centre wherethrough it hath part in the whole;
The abysses forbid it not enter: the stars make room for the soul.
Space is the soul's to inherit; the night is hers as the day;
Lo, saith man, this is my spirit; how shall not the worlds make way?
Space is thought's, and the wonders thereof, and the secret of space;
Is thought not more than the thunders and lightnings? shall thought give place?
Is the body not more than the vesture, the life not more than the meat?
The will than the word or the gesture, the heart than the hands or the feet?
Is the tongue not more than the speech is? the head not more than the crown?
And if higher than is heaven be the reach of the soul, shall not heaven bow down?
Time, father of life, and more great than the life it begat and began,
Earth's keeper and heaven's and their fate, lives, thinks, and hath substance in man.
Time's motion that throbs in his blood is the thought that gives heart to the skies,
And the springs of the fire that is food to the sunbeams are light to his eyes.
The minutes that beat with his heart are the words to which worlds keep chime,
And the thought in his pulses is part of the blood and the spirit of time.
He saith to the ages, Give; and his soul foregoes not her share;
Who are ye that forbid him to live, and would feed him with heavenlier air?
Will ye feed him with poisonous dust, and restore him with hemlock for drink,
Till he yield you his soul up in trust, and have heart not to know or to think?
He hath stirred him, and found out the flaw in his fetters, and cast them behind;
His soul to his soul is a law, and his mind is a light to his mind.
The seal of his knowledge is sure, the truth and his spirit are wed;
Men perish, but man shall endure; lives die, but the life is not dead.
He hath sight of the secrets of season, the roots of the years and the fruits;
His soul is at one with the reason of things that is sap to the roots.
He can hear in their changes a sound as the conscience of consonant spheres;
He can see through the years flowing round him the law lying under the years.
Who are ye that would bind him with curses and blind him with vapour of prayer?
Your might is as night that disperses when light is alive in the air.
The bow of your godhead is broken, the arm of your conquest is stayed;
Though ye call down God to bear token, for fear of you none is afraid.
Will ye turn back times, and the courses of stars, and the season of souls?
Shall God's breath dry up the sources that feed time full as it rolls?
Nay, cry on him then till he show you a sign, till he lift up a rod;
Hath he made not the nations to know him of old if indeed he be God?
Is no heat of him left in the ashes of thousands burnt up for his sake?
Can prayer not rekindle the flashes that shone in his face from the stake?
Cry aloud; for your God is a God and a Saviour; cry, make yourselves lean;
Is he drunk or asleep, that the rod of his wrath is unfelt and unseen?
Is the fire of his old loving-kindness gone out, that his pyres are acold?
Hath he gazed on himself unto blindness, who made men blind to behold?
Cry out, for his kingdom is shaken; cry out, for the people blaspheme;
Cry aloud till his godhead awaken; what doth he to sleep and to dream?
Cry, cut yourselves, gash you with knives and with scourges, heap on to you dust;
Is his life but as other gods' lives? is not this the Lord God of your trust?
Is not this the great God of your sires, that with souls and with bodies was fed,
And the world was on flame with his fires? O fools, he was God, and is dead.
He will hear not again the strong crying of earth in his ears as before,
And the fume of his multitudes dying shall flatter his nostrils no more.
By the spirit he ruled as his slave is he slain who was mighty to slay,
And the stone that is sealed on his grave he shall rise not and roll not away.
Yea, weep to him, lift up your hands; be your eyes as a fountain of tears;
Where he stood there is nothing that stands; if he call, there is no man that hears.
He hath doffed his king's raiment of lies now the wane of his kingdom is come;
Ears hath he, and hears not; and eyes, and he sees not; and mouth, and is dumb.
His red king's raiment is ripped from him naked, his staff broken down;
And the signs of his empire are stripped from him shuddering; and where is his crown?
And in vain by the wellsprings refrozen ye cry for the warmth of his sun –
O God, the Lord God of thy chosen, thy will in thy kingdom be done.
Kingdom and will hath he none in him left him, nor warmth in his breath;
Till his corpse be cast out of the sun will ye know not the truth of his death?
Surely, ye say, he is strong, though the times be against him and men;
Yet a little, ye say, and how long, till he come to show judgment again?
Shall God then die as the beasts die? who is it hath broken his rod?
O God, Lord God of thy priests, rise up now and show thyself God.
They cry out, thine elect, thine aspirants to heavenward, whose faith is as flame;
O thou the Lord God of our tyrants, they call thee, their God, by thy name.
By thy name that in hell-fire was written, and burned at the point of thy sword,
Thou art smitten, thou God, thou art smitten; thy death is upon thee, O Lord.
And the love-song of earth as thou diest resounds through the wind of her wings –
Glory to Man in the highest! for Man is the master of things.
It does not hurt. She looked along the knife
Smiling, and watched the thick drops mix and run
Down the sheer blade; not that which had been done
Could hurt the sweet sense of the Roman wife,
But that which was to do yet ere the strife
Could end for each for ever, and the sun:
Nor was the palm yet nor was peace yet won
While pain had power upon her husband's life.It does not hurt, Italia. Thou art more
Than bride to bridegroom; how shalt thou not take
The gift love's blood has reddened for thy sake?
Was not thy lifeblood given for us before?
And if love's heartblood can avail thy need,
And thou not die, how should it hurt indeed?
Death, from thy rigour a voice appealed,
And men still hear what the sweet cry saith,
Crying aloud in thine ears fast sealed,
Death.As a voice in a vision that vanisheth,
Through the grave's gate barred and the portal steeled
The sound of the wail of it travelleth.Wailing aloud from a heart unhealed,
It woke response of melodious breath
From lips now too by thy kiss congealed,
Death
II.
Ages ago, from the lips of a sad glad poet
Whose soul was a wild dove lost in the whirling snow,
The soft keen plaint of his pain took voice to show it
Ages ago.
So clear, so deep, the divine drear accents flow,
No soul that listens may choose but thrill to know it,
Pierced and wrung by the passionate music's throe.
For us there murmurs a nearer voice below it,
Known once of ears that never again shall know,
Now mute as the mouth which felt death's wave o'erflow it
Ages ago.
I.
Dead and gone, the days we had together,
Shadow-stricken all the lights that shone
Round them, flown as flies the blown foam's feather,
Dead and gone.
Where we went, we twain, in time foregone,
Forth by land and sea, and cared not whether,
If I go again, I go alone.
Bound am I with time as with a tether;
Thee perchance death leads enfranchised on,
Far from deathlike life and changeful weather,
Dead and gone.
II.
Above the sea and sea-washed town we dwelt,
We twain together, two brief summers, free
From heed of hours as light as clouds that melt
Above the sea.
Free from all heed of aught at all were we,
Save chance of change that clouds or sunbeams dealt
And gleam of heaven to windward or to lee.
The Norman downs with bright grey waves for belt
Were more for us than inland ways might be;
A clearer sense of nearer heaven was felt
Above the sea.
III.
Cliffs and downs and headlands which the forward-hasting
Flight of dawn and eve empurples and embrowns,
Wings of wild sea-winds and stormy seasons wasting
Cliffs and downs,
These, or ever man was, were: the same sky frowns,
Laughs, and lightens, as before his soul, forecasting
Times to be, conceived such hopes as time discrowns.
These we loved of old: but now for me the blasting
Breath of death makes dull the bright small seaward towns,
Clothes with human change these all but everlasting
Cliffs and downs.
Far beyond the sunrise and the sunset rises
Heaven, with worlds on worlds that lighten and respond:
Thought can see not thence the goal of hope's surmises
Far beyond.Night and day have made an everlasting bond
Each with each to hide in yet more deep disguises
Truth, till souls of men that thirst for truth despond.All that man in pride of spirit slights or prizes,
All the dreams that make him fearful, fain, or fond,
Fade at forethought's touch of life's unknown surprises
Far beyond.
Prelude – Tristan And Isolde
Fate, out of the deep sea's gloom,
When a man's heart's pride grows great,
And nought seems now to foredoom
Fate,Fate, laden with fears in wait,
Draws close through the clouds that loom,
Till the soul see, all too late,More dark than a dead world's tomb,
More high than the sheer dawn's gate,
More deep than the wide sea's womb,
Fate.
Inside this northern summer's fold
The fields are full of naked gold,
Broadcast from heaven on lands it loves;
The green veiled air is full of doves;
Soft leaves that sift the sunbeams let
Light on the small warm grasses wet
Fall in short broken kisses sweet,
And break again like waves that beat
Round the sun's feet.But I, for all this English mirth
Of golden-shod and dancing days,
And the old green-girt sweet-hearted earth,
Desire what here no spells can raise.
Far hence, with holier heavens above,
The lovely city of my love
Bathes deep in the sun-satiate air
That flows round no fair thing more fair
Her beauty bare.There the utter sky is holier, there
More pure the intense white height of air,
More clear men's eyes that mine would meet,
And the sweet springs of things more sweet.
There for this one warm note of doves
A clamour of a thousand loves
Storms the night's ear, the day's assails,
From the tempestuous nightingales,
And fills, and fails.
O gracious city well-beloved,
Italian, and a maiden crowned,
Siena, my feet are no more moved
Toward thy strange-shapen mountain-bound:
But my heart in me turns and moves,
O lady loveliest of my loves,
Toward thee, to lie before thy feet
And gaze from thy fair fountain-seat
Up the sheer street;
And the house midway hanging see
That saw Saint Catherine bodily,
Felt on its floors her sweet feet move,
And the live light of fiery love
Burn from her beautiful strange face,
As in the sanguine sacred place
Where in pure hands she took the head
Severed, and with pure lips still red
Kissed the lips dead.
For years through, sweetest of the saints,
In quiet without cease she wrought,
Till cries of men and fierce complaints
From outward moved her maiden thought;
And prayers she heard and sighs toward France,
"God, send us back deliverance,
Send back thy servant, lest we die!"
With an exceeding bitter cry
They smote the sky.
Then in her sacred saving hands
She took the sorrows of the lands,
With maiden palms she lifted up
The sick time's blood-embittered cup,
And in her virgin garment furled
The faint limbs of a wounded world.
Clothed with calm love and clear desire,
She went forth in her soul's attire,
A missive fire.
Across the might of men that strove
It shone, and over heads of kings;
And molten in red flames of love
Were swords and many monstrous things;
And shields were lowered, and snapt were spears,
And sweeter-tuned the clamorous years;
And faith came back, and peace, that were
Fled; for she bade, saying, "Thou, God's heir,
Hast thou no care?
"Lo, men lay waste thine heritage
Still, and much heathen people rage
Against thee, and devise vain things.
What comfort in the face of kings,
What counsel is there? Turn thine eyes
And thine heart from them in like wise;
Turn thee unto thine holy place
To help us that of God for grace
Require thy face.
"For who shall hear us if not thou
In a strange land? what doest thou there?
Thy sheep are spoiled, and the ploughers plough
Upon us; why hast thou no care
For all this, and beyond strange hills
Liest unregardful what snow chills
Thy foldless flock, or what rains beat?
Lo, in thine ears, before thy feet,
Thy lost sheep bleat.
"And strange men feed on faultless lives,
And there is blood, and men put knives,
Shepherd, unto the young lamb's throat;
And one hath eaten, and one smote,
And one had hunger and is fed
Full of the flesh of these, and red
With blood of these as who drinks wine
And God knoweth, who hath sent thee a sign,
If these were thine."
But the Pope's heart within him burned,
So that he rose up, seeing the sign,
And came among them; but she turned
Back to her daily way divine,
And fed her faith with silent things,
And lived her life with curbed white wings,
And mixed herself with heaven and died:
And now on the sheer city-side
Smiles like a bride.
You see her in the fresh clear gloom,
Where walls shut out the flame and bloom
Of full-breathed summer, and the roof
Keeps the keen ardent air aloof
And sweet weight of the violent sky:
There bodily beheld on high,
She seems as one hearing in tune
Heaven within heaven, at heaven's full noon,
In sacred swoon:
A solemn swoon of sense that aches
With imminent blind heat of heaven,
While all the wide-eyed spirit wakes,
Vigilant of the supreme Seven,
Whose choral flames in God's sight move,
Made unendurable with love,
That without wind or blast of breath
Compels all things through life and death
Whither God saith.
There on the dim side-chapel wall
Thy mighty touch memorial,
Razzi, raised up, for ages dead,
And fixed for us her heavenly head:
And, rent with plaited thorn and rod,
Bared the live likeness of her God
To men's eyes turning from strange lands,
Where, pale from thine immortal hands,
Christ wounded stands;
And the blood blots his holy hair
And white brows over hungering eyes
That plead against us, and the fair
Mute lips forlorn of words or sighs
In the great torment that bends down
His bruised head with the bloomless crown,
White as the unfruitful thorn-flower,
A God beheld in dreams that were
Beheld of her.
In vain on all these sins and years
Falls the sad blood, fall the slow tears;
In vain poured forth as watersprings,
Priests, on your altars, and ye, kings,
About your seats of sanguine gold;
Still your God, spat upon and sold,
Bleeds at your hands; but now is gone
All his flock from him saving one;
Judas alone.
Surely your race it was that he,
O men signed backward with his name,
Beholding in Gethsemane
Bled the red bitter sweat of shame,
Knowing how the word of Christian should
Mean to men evil and not good,
Seem to men shameful for your sake,
Whose lips, for all the prayers they make,
Man's blood must slake.
But blood nor tears ye love not, you
That my love leads my longing to,
Fair as the world's old faith of flowers,
O golden goddesses of ours!
From what Idalian rose-pleasance
Hath Aphrodite bidden glance
The lovelier lightnings of your feet?
From what sweet Paphian sward or seat
Led you more sweet?
O white three sisters, three as one,
With flowerlike arms for flowery bands
Your linked limbs glitter like the sun,
And time lies beaten at your hands.
Time and wild years and wars and men
Pass, and ye care not whence or when;
With calm lips over sweet for scorn,
Ye watch night pass, O children born
Of the old-world morn.
Ah, in this strange and shrineless place,
What doth a goddess, what a Grace,
Where no Greek worships her shrined limbs
With wreaths and Cytherean hymns?
Where no lute makes luxurious
The adoring airs in Amathus,
Till the maid, knowing her mother near,
Sobs with love, aching with sweet fear?
What do ye here?
For the outer land is sad, and wears
A raiment of a flaming fire;
And the fierce fruitless mountain stairs
Climb, yet seem wroth and loth to aspire,
Climb, and break, and are broken down,
And through their clefts and crests the town
Looks west and sees the dead sun lie,
In sanguine death that stains the sky
With angry dye.
And from the war-worn wastes without
In twilight, in the time of doubt,
One sound comes of one whisper, where
Moved with low motions of slow air
The great trees nigh the castle swing
In the sad coloured evening;
"Ricorditi di me, che son
La Pia"–that small sweet word alone
Is not yet gone.
"Ricorditi di me"–the sound
Sole out of deep dumb days remote
Across the fiery and fatal ground
Comes tender as a hurt bird's note
To where, a ghost with empty hands,
A woe-worn ghost, her palace stands
In the mid city, where the strong
Bells turn the sunset air to song,
And the towers throng.
With other face, with speech the same,
A mightier maiden's likeness came
Late among mourning men that slept,
A sacred ghost that went and wept,
White as the passion-wounded Lamb,
Saying, "Ah, remember me, that am
Italia." (From deep sea to sea
Earth heard, earth knew her, that this was she.)
"Ricorditi.
"Love made me of all things fairest thing,
And Hate unmade me; this knows he
Who with God's sacerdotal ring
Enringed mine hand, espousing me."
Yea, in thy myriad-mooded woe,
Yea, Mother, hast thou not said so?
Have not our hearts within us stirred,
O thou most holiest, at thy word?
Have we not heard?
As this dead tragic land that she
Found deadly, such was time to thee;
Years passed thee withering in the red
Maremma, years that deemed thee dead,
Ages that sorrowed or that scorned;
And all this while though all they mourned
Thou sawest the end of things unclean,
And the unborn that should see thee a queen.
Have we not seen?
The weary poet, thy sad son,
Upon thy soil, under thy skies,
Saw all Italian things save one –
Italia; this thing missed his eyes;
The old mother-might, the breast, the face,
That reared, that lit the Roman race;
This not Leopardi saw; but we,
What is it, Mother, that we see,
What if not thee?
Look thou from Siena southward home,
Where the priest's pall hangs rent on Rome,
And through the red rent swaddling-bands
Towards thine she strains her labouring hands.
Look thou and listen, and let be
All the dead quick, all the bond free;
In the blind eyes let there be sight;
In the eighteen centuries of the night
Let there be light.
Bow down the beauty of thine head,
Sweet, and with lips of living breath
Kiss thy sons sleeping and thy dead,
That there be no more sleep or death.
Give us thy light, thy might, thy love,
Whom thy face seen afar above
Drew to thy feet; and when, being free,
Thou hast blest thy children born to thee,
Bless also me.
Me that when others played or slept
Sat still under thy cross and wept;
Me who so early and unaware
Felt fall on bent bared brows and hair
(Thin drops of the overflowing flood!)
The bitter blessing of thy blood;
The sacred shadow of thy pain,
Thine, the true maiden-mother, slain
And raised again.
Me consecrated, if I might,
To praise thee, or to love at least,
O mother of all men's dear delight,
Thou madest a choral-souled boy-priest,
Before my lips had leave to sing,
Or my hands hardly strength to cling
About the intolerable tree
Whereto they had nailed my heart and thee
And said, "Let be."
For to thee too the high Fates gave
Grace to be sacrificed and save,
That being arisen, in the equal sun,
God and the People should be one;
By those red roads thy footprints trod,
Man more divine, more human God,
Saviour; that where no light was known
But darkness, and a daytime flown,
Light should be shown.
Let there be light, O Italy!
For our feet falter in the night.
O lamp of living years to be,
O light of God, let there be light!
Fill with a love keener than flame
Men sealed in spirit with thy name,
The cities and the Roman skies,
Where men with other than man's eyes
Saw thy sun rise.
For theirs thou wast and thine were they
Whose names outshine thy very day;
For they are thine and theirs thou art
Whose blood beats living in man's heart,
Remembering ages fled and dead
Wherein for thy sake these men bled;
They that saw Trebia, they that see
Mentana, they in years to be
That shall see thee.
For thine are all of us, and ours
Thou; till the seasons bring to birth
A perfect people, and all the powers
Be with them that bear fruit on earth;
Till the inner heart of man be one
With freedom, and the sovereign sun;
And Time, in likeness of a guide,
Lead the Republic as a bride
Up to God's side.
By the waters of Babylon we sat down and wept,
Remembering thee,
That for ages of agony hast endured, and slept,
And wouldst not see.By the waters of Babylon we stood up and sang,
Considering thee,
That a blast of deliverance in the darkness rang,
To set thee free.
And with trumpets and thunderings and with morning song
Came up the light;
And thy spirit uplifted thee to forget thy wrong
As day doth night.
And thy sons were dejected not any more, as then
When thou wast shamed;
When thy lovers went heavily without heart, as men
Whose life was maimed.
In the desolate distances, with a great desire,
For thy love's sake,
With our hearts going back to thee, they were filled with fire,
Were nigh to break.
It was said to us: "Verily ye are great of heart,
But ye shall bend;
Ye are bondmen and bondwomen, to be scourged and smart,
To toil and tend."
And with harrows men harrowed us, and subdued with spears,
And crushed with shame;
And the summer and winter was, and the length of years,
And no change came.
By the rivers of Italy, by the sacred streams,
By town, by tower,
There was feasting with revelling, there was sleep with dreams,
Until thine hour.
And they slept and they rioted on their rose-hung beds,
With mouths on flame,
And with love-locks vine-chapleted, and with rose-crowned heads
And robes of shame.
And they knew not their forefathers, nor the hills and streams
And words of power,
Nor the gods that were good to them, but with songs and dreams
Filled up their hour.
By the rivers of Italy, by the dry streams' beds,
When thy time came,
There was casting of crowns from them, from their young men's heads,
The crowns of shame.
By the horn of Eridanus, by the Tiber mouth,
As thy day rose,
They arose up and girded them to the north and south,
By seas, by snows.
As a water in January the frost confines,
Thy kings bound thee;
As a water in April is, in the new-blown vines,
Thy sons made free.
And thy lovers that looked for thee, and that mourned from far,
For thy sake dead,
We rejoiced in the light of thee, in the signal star
Above thine head.
In thy grief had we followed thee, in thy passion loved,
Loved in thy loss;
In thy shame we stood fast to thee, with thy pangs were moved,
Clung to thy cross.
By the hillside of Calvary we beheld thy blood,
Thy bloodred tears,
As a mother's in bitterness, an unebbing flood,
Years upon years.
And the north was Gethsemane, without leaf or bloom,
A garden sealed;
And the south was Aceldama, for a sanguine fume
Hid all the field.
By the stone of the sepulchre we returned to weep,
From far, from prison;
And the guards by it keeping it we beheld asleep,
But thou wast risen.
And an angel's similitude by the unsealed grave,
And by the stone:
And the voice was angelical, to whose words God gave
Strength like his own.
"Lo, the graveclothes of Italy that are folded up
In the grave's gloom!
And the guards as men wrought upon with a charmed cup,
By the open tomb.
"And her body most beautiful, and her shining head,
These are not here;
For your mother, for Italy, is not surely dead:
Have ye no fear.
"As of old time she spake to you, and you hardly heard,
Hardly took heed,
So now also she saith to you, yet another word,
Who is risen indeed.
"By my saying she saith to you, in your ears she saith,
Who hear these things,
Put no trust in men's royalties, nor in great men's breath,
Nor words of kings.
"For the life of them vanishes and is no more seen,
Nor no more known;
Nor shall any remember him if a crown hath been,
Or where a throne.
"Unto each man his handiwork, unto each his crown,
The just Fate gives;
Whoso takes the world's life on him and his own lays down,
He, dying so, lives.
"Whoso bears the whole heaviness of the wronged world's weight
And puts it by,
It is well with him suffering, though he face man's fate;
How should he die?
"Seeing death has no part in him any more, no power
Upon his head;
He has bought his eternity with a little hour,
And is not dead.
"For an hour, if ye look for him, he is no more found,
For one hour's space;
Then ye lift up your eyes to him and behold him crowned,
A deathless face.
"On the mountains of memory, by the world's wellsprings,
In all men's eyes,
Where the light of the life of him is on all past things,
Death only dies.
"Not the light that was quenched for us, nor the deeds that were,
Nor the ancient days,
Nor the sorrows not sorrowful, nor the face most fair
Of perfect praise."
So the angel of Italy's resurrection said,
So yet he saith;
So the son of her suffering, that from breasts nigh dead
Drew life, not death.
That the pavement of Golgotha should be white as snow,
Not red, but white;
That the waters of Babylon should no longer flow,
And men see light.
The Death Of Richard Wagner
Mourning on earth, as when dark hours descend,
Wide-winged with plagues, from heaven; when hope and mirth
Wane, and no lips rebuke or reprehend
Mourning on earth.The soul wherein her songs of death and birth,
Darkness and light, were wont to sound and blend,
Now silent, leaves the whole world less in worth.
Winds that make moan and triumph, skies that bend,
Thunders, and sound of tides in gulf and firth,
Spake through his spirit of speech, whose death should send
Mourning on earth.
The world's great heart, whence all things strange and rare
Take form and sound, that each inseparate part
May bear its burden in all tuned thoughts that share
The world's great heart –
The fountain forces, whence like steeds that start
Leap forth the powers of earth and fire and air,
Seas that revolve and rivers that depart –
Spake, and were turned to song: yea, all they were,
With all their works, found in his mastering art
Speech as of powers whose uttered word laid bare
The world's great heart.
From the depths of the sea, from the wellsprings of earth, from the wastes of the midmost night,
From the fountains of darkness and tempest and thunder, from heights where the soul would be,
The spell of the mage of music evoked their sense, as an unknown light
From the depths of the sea.
As a vision of heaven from the hollows of ocean, that none but a god might see,
Rose out of the silence of things unknown of a presence, a form, a might,
And we heard as a prophet that hears God's message against him, and may not flee.
Eye might not endure it, but ear and heart with a rapture of dark delight,
With a terror and wonder whose core was joy, and a passion of thought set free,
Felt inly the rising of doom divine as a sundawn risen to sight
From the depths of the sea.
Here, where the world is quiet,
Here, where all trouble seems
Dead winds' and spent waves' riot
In doubtful dreams of dreams;
I watch the green field growing
For reaping folk and sowing,
For harvest-time and mowing,
A sleepy world of streams.I am tired of tears and laughter,
And men that laugh and weep;
Of what may come hereafter
For men that sow to reap:
I am weary of days and hours,
Blown buds of barren flowers,
Desires and dreams and powers
And everything but sleep.
Here life has death for neighbour,
And far from eye or ear
Wan waves and wet winds labour,
Weak ships and spirits steer;
They drive adrift, and whither
They wot not who make thither;
But no such winds blow hither,
And no such things grow here.
No growth of moor or coppice,
No heather-flower or vine,
But bloomless buds of poppies,
Green grapes of Proserpine,
Pale beds of blowing rushes,
Where no leaf blooms or blushes
Save this whereout she crushes
For dead men deadly wine.
Pale, without name or number,
In fruitless fields of corn,
They bow themselves and slumber
All night till light is born;
And like a soul belated,
In hell and heaven unmated,
By cloud and mist abated
Comes out of darkness morn.
Though one were strong as seven,
He too with death shall dwell,
Nor wake with wings in heaven,
Nor weep for pains in hell;
Though one were fair as roses,
His beauty clouds and closes;
And well though love reposes,
In the end it is not well.
Pale, beyond porch and portal,
Crowned with calm leaves, she stands
Who gathers all things mortal
With cold immortal hands;
Her languid lips are sweeter
Than love's who fears to greet her
To men that mix and meet her
From many times and lands.
She waits for each and other,
She waits for all men born;
Forgets the earth her mother,
The life of fruits and corn;
And spring and seed and swallow
Take wing for her and follow
Where summer song rings hollow
And flowers are put to scorn.
There go the loves that wither,
The old loves with wearier wings;
And all dead years draw thither,
And all disastrous things;
Dead dreams of days forsaken,
Blind buds that snows have shaken,
Wild leaves that winds have taken,
Red strays of ruined springs.
We are not sure of sorrow,
And joy was never sure;
Today will die tomorrow;
Time stoops to no man's lure;
And love, grown faint and fretful,
With lips but half regretful
Sighs, and with eyes forgetful
Weeps that no loves endure.
From too much love of living,
From hope and fear set free,
We thank with brief thanksgiving
Whatever gods may be That no life lives for ever;
That dead men rise up never;
That even the weariest river
Winds somewhere safe to sea.
Then star nor sun shall waken,
Nor any change of light:
Nor sound of waters shaken,
Nor any sound or sight:
Nor wintry leaves nor vernal,
Nor days nor things diurnal;
Only the sleep eternal
In an eternal night.
eipate toi basilei, xamai pese daidalos aula.
ouketi PHoibos exei kaluban, ou mantida daphnen,
ou pagan laleousan . apesbeto kai lalon udor.Years have risen and fallen in darkness or in twilight,
Ages waxed and waned that knew not thee nor thine,
While the world sought light by night and sought not thy light,
Since the sad last pilgrim left thy dark mid shrine.
Dark the shrine and dumb the fount of song thence welling,
Save for words more sad than tears of blood, that said:
Tell the king, on earth has fallen the glorious dwelling,
And the watersprings that spake are quenched and dead.
Not a cell is left the God, no roof, no cover
In his hand the prophet laurel flowers no more.
And the great king's high sad heart, thy true last lover,
Felt thine answer pierce and cleave it to the core.
And he bowed down his hopeless head
In the drift of the wild world's tide,
And dying, Thou hast conquered, he said,
Galilean; he said it, and died.
And the world that was thine and was ours
When the Graces took hands with the Hours
Grew cold as a winter wave
In the wind from a wide-mouthed grave,
As a gulf wide open to swallow
The light that the world held dear.
O father of all of us, Paian, Apollo,
Destroyer and healer, hear!
Age on age thy mouth was mute, thy face was hidden,
And the lips and eyes that loved thee blind and dumb;
Song forsook their tongues that held thy name forbidden,
Light their eyes that saw the strange God's kingdom come.
Fire for light and hell for heaven and psalms for pæans
Filled the clearest eyes and lips most sweet of song,
When for chant of Greeks the wail of Galileans
Made the whole world moan with hymns of wrath and wrong.
Yea, not yet we see thee, father, as they saw thee,
They that worshipped when the world was theirs and thine,
They whose words had power by thine own power to draw thee
Down from heaven till earth seemed more than heaven divine.
For the shades are about us that hover
When darkness is half withdrawn
And the skirts of the dead night cover
The face of the live new dawn.
For the past is not utterly past
Though the word on its lips be the last,
And the time be gone by with its creed
When men were as beasts that bleed,
As sheep or as swine that wallow,
In the shambles of faith and of fear.
O father of all of us, Paian, Apollo,
Destroyer and healer, hear!
Yet it may be, lord and father, could we know it,
We that love thee for our darkness shall have light
More than ever prophet hailed of old or poet
Standing crowned and robed and sovereign in thy sight.
To the likeness of one God their dreams enthralled thee,
Who wast greater than all Gods that waned and grew;
Son of God the shining son of Time they called thee,
Who wast older, O our father, than they knew.
For no thought of man made Gods to love or honour
Ere the song within the silent soul began,
Nor might earth in dream or deed take heaven upon her
Till the word was clothed with speech by lips of man.
And the word and the life wast thou,
The spirit of man and the breath;
And before thee the Gods that bow
Take life at thine hands and death.
For these are as ghosts that wane,
That are gone in an age or twain;
Harsh, merciful, passionate, pure,
They perish, but thou shalt endure;
Be their flight with the swan or the swallow,
They pass as the flight of a year.
O father of all of us, Paian, Apollo,
Destroyer and healer, hear!
Thou the word, the light, the life, the breath, the glory,
Strong to help and heal, to lighten and to slay,
Thine is all the song of man, the world's whole story;
Not of morning and of evening is thy day.
Old and younger Gods are buried or begotten
From uprising to downsetting of thy sun,
Risen from eastward, fallen to westward and forgotten,
And their springs are many, but their end is one.
Divers births of godheads find one death appointed,
As the soul whence each was born makes room for each;
God by God goes out, discrowned and disanointed,
But the soul stands fast that gave them shape and speech.
Is the sun yet cast out of heaven?
Is the song yet cast out of man?
Life that had song for its leaven
To quicken the blood that ran
Through the veins of the songless years
More bitter and cold than tears,
Heaven that had thee for its one
Light, life, word, witness, O sun,
Are they soundless and sightless and hollow,
Without eye, without speech, without ear?
O father of all of us, Paian, Apollo,
Destroyer and healer, hear!
Time arose and smote thee silent at his warning,
Change and darkness fell on men that fell from thee;
Dark thou satest, veiled with light, behind the morning,
Till the soul of man should lift up eyes and see.
Till the blind mute soul get speech again and eyesight,
Man may worship not the light of life within;
In his sight the stars whose fires grow dark in thy sight
Shine as sunbeams on the night of death and sin.
Time again is risen with mightier word of warning,
Change hath blown again a blast of louder breath;
Clothed with clouds and stars and dreams that melt in morning,
Lo, the Gods that ruled by grace of sin and death!
They are conquered, they break, they are stricken,
Whose might made the whole world pale;
They are dust that shall rise not or quicken
Though the world for their death's sake wail.
As a hound on a wild beast's trace,
So time has their godhead in chase;
As wolves when the hunt makes head,
They are scattered, they fly, they are fled;
They are fled beyond hail, beyond hollo,
And the cry of the chase, and the cheer.
O father of all of us, Paian, Apollo,
Destroyer and healer, hear!
Day by day thy shadow shines in heaven beholden,
Even the sun, the shining shadow of thy face:
King, the ways of heaven before thy feet grow golden;
God, the soul of earth is kindled with thy grace.
In thy lips the speech of man whence Gods were fashioned,
In thy soul the thought that makes them and unmakes;
By thy light and heat incarnate and impassioned,
Soul to soul of man gives light for light and takes.
As they knew thy name of old time could we know it,
Healer called of sickness, slayer invoked of wrong,
Light of eyes that saw thy light, God, king, priest, poet,
Song should bring thee back to heal us with thy song.
For thy kingdom is past not away,
Nor thy power from the place thereof hurled;
Out of heaven they shall cast not the day,
They shall cast not out song from the world.
By the song and the light they give
We know thy works that they live;
With the gift thou hast given us of speech
We praise, we adore, we beseech,
We arise at thy bidding and follow,
We cry to thee, answer, appear,
O father of all of us, Paian, Apollo,
Destroyer and healer, hear!
Ask nothing more of me, sweet;
All I can give you I give.
Heart of my heart, were it more,
More would be laid at your feet:
Love that should help you to live,
Song that should spur you to soar.All things were nothing to give
Once to have sense of you more,
Touch you and taste of you sweet,
Think you and breathe you and live,
Swept of your wings as they soar,
Trodden by chance of your feet.
I that have love and no more
Give you but love of you, sweet:
He that hath more, let him give;
He that hath wings, let him soar;
Mine is the heart at your feet
Here, that must love you to live.
Maiden most beautiful, mother most bountiful, lady of lands,
Queen and republican, crowned of the centuries whose years are thy sands,
See for thy sake what we bring to thee, Italy, here in our hands.This is the banner thy gonfalon, fair in the front of thy fight,
Red from the hearts that were pierced for thee, white as thy mountains are white,
Green as the spring of thy soul everlasting, whose life-blood is light.
Take to thy bosom thy banner, a fair bird fit for the nest,
Feathered for flight into sunrise or sunset, for eastward or west,
Fledged for the flight everlasting, but held yet warm to thy breast.
Gather it close to thee, song-bird or storm-bearer, eagle or dove,
Lift it to sunward, a beacon beneath to the beacon above,
Green as our hope in it, white as our faith in it, red as our love.
Thunder and splendour of lightning are hid in the folds of it furled;
Who shall unroll it but thou, as thy bolt to be handled and hurled,
Out of whose lips is the honey, whose bosom the milk of the world?
Out of thine hands hast thou fed us with pasture of colour and song;
Glory and beauty by birthright to thee as thy garments belong;
Out of thine hands thou shalt give us as surely deliverance from wrong.
Out of thine eyes thou hast shed on us love as a lamp in our night,
Wisdom a lodestar to ships, and remembrance a flame-coloured light;
Out of thine eyes thou shalt shew us as surely the sun-dawn of right.
Turn to us, speak to us, Italy, mother, but once and a word,
None shall not follow thee, none shall not serve thee, not one that has heard;
Twice hast thou spoken a message, and time is athirst for the third.
Kingdom and empire of peoples thou hadst, and thy lordship made one
North sea and south sea and east men and west men that look on the sun;
Spirit was in thee and counsel, when soul in the nations was none.
Banner and beacon thou wast to the centuries of storm-wind and foam,
Ages that clashed in the dark with each other, and years without home;
Empress and prophetess wast thou, and what wilt thou now be, O Rome?
Ah, by the faith and the hope and the love that have need of thee now,
Shines not thy face with the forethought of freedom, and burns not thy brow?
Who is against her but all men? and who is beside her but thou?
Art thou not better than all men? and where shall she turn but to thee?
Lo, not a breath, not a beam, not a beacon from midland to sea;
Freedom cries out for a sign among nations, and none will be free.
England in doubt of her, France in despair of her, all without heart –
Stand on her side in the vanward of ages, and strike on her part!
Strike but one stroke for the love of her love of thee, sweet that thou art!
Take in thy right hand thy banner, a strong staff fit for thine hand;
Forth at the light of it lifted shall foul things flock from the land;
Faster than stars from the sun shall they fly, being lighter than sand.
Green thing to green in the summer makes answer, and rose-tree to rose;
Lily by lily the year becomes perfect; and none of us knows
What thing is fairest of all things on earth as it brightens and blows.
This thing is fairest in all time of all things, in all time is best –
Freedom, that made thee, our mother, and suckled her sons at thy breast;
Take to thy bosom the nations, and there shall the world come to rest.
I.–VENTIMIGLIA
The sky and sea glared hard and bright and blank:
Down the one steep street, with slow steps firm and free,
A tall girl paced, with eyes too proud to thank
The sky and sea.
One dead flat sapphire, void of wrath or glee,
Through bay on bay shone blind from bank to bank
The weary Mediterranean, drear to see.
More deep, more living, shone her eyes that drank
The breathless light and shed again on me,
Till pale before their splendour waned and shrank
The sky and sea.
II.–GENOA
Again the same strange might of eyes, that saw
In heaven and earth nought fairer, overcame
My sight with rapture of reiterate awe,
Again the same.
The self-same pulse of wonder shook like flame
The spirit of sense within me: what strange law
Had bid this be, for blessing or for blame?
To what veiled end that fate or chance foresaw
Came forth this second sister face, that came
Absolute, perfect, fair without a flaw,
Again the same?
III.–VENICE
Out of the dark pure twilight, where the stream
Flows glimmering, streaked by many a birdlike bark
That skims the gloom whence towers and bridges gleam
Out of the dark,
Once more a face no glance might choose but mark
Shone pale and bright, with eyes whose deep slow beam
Made quick the twilight, lifeless else and stark.
The same it seemed, or mystery made it seem,
As those before beholden; but St. Mark
Ruled here the ways that showed it like a dream
Out of the dark.
SEE MORE: