Algernon Charles Swinburne Poems
Born in London in 1837, Algernon Swinburne became one of the most well-known poets of the Victorian age, producing verse that often shocked and shook the morals of the conservative elite of the city. The oldest of 6 children in a wealthy family, he was sent to Eton to begin his studies where he discovered his love of poetry and began to write.
Algernon Charles Swinburne Bio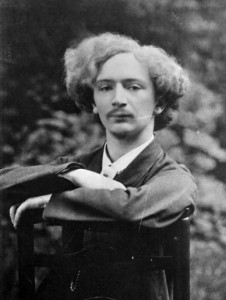 At Oxford he was temporarily expelled and, although he returned to complete his studies, he never actually received his university degree. In his heart, Algernon Swinburne believed he belonged to his family home of Northumberland and would write long lyric poems in praise of the countryside. He was prone to over indulging in drink, and spent some time in France recovering from his alcoholic excesses in 1861.
When he was well enough, he traveled to Italy where he made the acquaintance of writers such as Dante Gabriel Rossetti. His first work was published in 1860 but received little or no reaction from the general public or critics. His success came in 1865 when he wrote Atalanta in Claydon, created to mirror the form of a Greek epic tragedy.
More notable was the publication of Poems and Ballads in the year following, a collection that earned him a fair deal of infamy with its themes that were perceived to be indecent at the time. His poem Anactoria contained mentions of sadomasochism and cannibalism and was typical of some of the areas he explored.
A Baby's Death
A little soul scarce fledged for earth
Takes wing with heaven again for goal
Even while we hailed as fresh from birth
A little soul.
Our thoughts ring sad as bells that toll,
Not knowing beyond this blind world's girth
What things are writ in heaven's full scroll.
Our fruitfulness is there but dearth,
And all things held in time's control
Seem there, perchance, ill dreams, not worth
A little soul.
The little feet that never trod
Earth, never strayed in field or street,
What hand leads upward back to God
The little feet?
A rose in June's most honied heat,
When life makes keen the kindling sod,
Was not so soft and warm and sweet.
Their pilgrimage's period
A few swift moons have seen complete
Since mother's hands first clasped and shod
The little feet.
The little hands that never sought
Earth's prizes, worthless all as sands,
What gift has death, God's servant, brought
The little hands?
We ask: but love's self silent stands,
Love, that lends eyes and wings to thought
To search where death's dim heaven expands.
Ere this, perchance, though love know nought,
Flowers fill them, grown in lovelier lands,
Where hands of guiding angels caught
The little hands.
The little eyes that never knew
Light other than of dawning skies,
What new life now lights up anew
The little eyes?
Who knows but on their sleep may rise
Such light as never heaven let through
To lighten earth from Paradise?
No storm, we know, may change the blue
Soft heaven that haply death descries
No tears, like these in ours, bedew
The little eyes.
Was life so strange, so sad the sky,
So strait the wide world's range,
He would not stay to wonder why
Was life so strange?
Was earth's fair house a joyless grange
Beside that house on high
Whence Time that bore him failed to estrange?
That here at once his soul put by
All gifts of time and change,
And left us heavier hearts to sigh
'Was life so strange?'
Angel by name love called him, seeing so fair
The sweet small frame;
Meet to be called, if ever man's child were,
Angel by name.
Rose-bright and warm from heaven's own heart he came,
And might not bear
The cloud that covers earth's wan face with shame.
His little light of life was all too rare
And soft a flame:
Heaven yearned for him till angels hailed him there
Angel by name.
The song that smiled upon his birthday here
Weeps on the grave that holds him undefiled
Whose loss makes bitterer than a soundless tear
The song that smiled.
His name crowned once the mightiest ever styled
Sovereign of arts, and angel: fate and fear
Knew then their master, and were reconciled.
But we saw born beneath some tenderer sphere
Michael, an angel and a little child,
Whose loss bows down to weep upon his bier
The song that smiled.
I hid my heart in a nest of roses,
Out of the sun's way, hidden apart;
In a softer bed then the soft white snow's is,
Under the roses I hid my heart.
Why would it sleep not? why should it start,
When never a leaf of the rose-tree stirred?
What made sleep flutter his wings and part?
Only the song of a secret bird.Lie still, I said, for the wind's wing closes,
And mild leaves muffle the keen sun's dart;
Lie still, for the wind on the warm seas dozes,
And the wind is unquieter yet than thou art.
Does a thought in thee still as a thorn's wound smart?
Does the fang still fret thee of hope deferred?
What bids the lips of thy sleep dispart?
Only the song of a secret bird.The green land's name that a charm encloses,
It never was writ in the traveller's chart,
And sweet on its trees as the fruit that grows is,
It never was sold in the merchant's mart.
The swallows of dreams through its dim fields dart,
And sleep's are the tunes in its tree-tops heard;
No hound's note wakens the wildwood hart,
Only the song of a secret bird.ENVOI
In the world of dreams I have chosen my part,
To sleep for a season and hear no word
Of true love's truth or of light love's art,
Only the song of a secret bird.
SOFT, small, and sweet as sunniest flowers
That bask in heavenly heat
When bud by bud breaks, breathes, and cowers,
Soft, small, and sweet.A babe's hands open as to greet
The tender touch of ours
And mock with motion faint and fleetThe minutes of the new strange hours
That earth, not heaven, must mete;
Buds fragrant still from heaven's own bowers,
Soft, small, and sweet.A velvet vice with springs of steel
That fasten in a trice
And clench the fingers fast that feel
A velvet viceÑ
What man would risk the danger twice,
Nor quake from head to heel?
Whom would not one such test suffice?
Well may we tremble as we kneel
In sight of Paradise,
If both a babe's closed fists conceal
A velvet vice.
Two flower-soft fists of conquering clutch,
Two creased and dimpled wrists,
That match, if mottled overmuch,
Two flower-soft fists—
What heart of man dare hold the lists
Against such odds and such
Sweet vantage as no strength resists?
Our strength is all a broken crutch,
Our eyes are dim with mists,
Our hearts are prisoners as we touch
Two flower-soft fists.
Heart's ease or pansy, pleasure or thought,
Which would the picture give us of these?
Surely the heart that conceived it sought
Heart's ease.Surely by glad and divine degrees
The heart impelling the hand that wrought
Wrought comfort here for a soul's disease.Deep flowers, with lustre and darkness fraught,
From glass that gleams as the chill still seas
Lean and lend for a heart distraught
Heart's ease.
A Leave-taking
Let us go hence, my songs; she will not hear.
Let us go hence together without fear;
Keep silence now, for singing-time is over,
And over all old things and all things dear.
She loves not you nor me as all we love her.
Yea, though we sang as angels in her ear,
She would not hear.
Let us rise up and part; she will not know.
Let us go seaward as the great winds go,
Full of blown sand and foam; what help is here?
There is no help, for all these things are so,
And all the world is bitter as a tear.
And how these things are, though ye strove to show,
She would not know.
Let us go home and hence; she will not weep.
We gave love many dreams and days to keep,
Flowers without scent, and fruits that would not grow,
Saying 'If thou wilt, thrust in thy sickle and reap.'
All is reaped now; no grass is left to mow;
And we that sowed, though all we fell on sleep,
She would not weep.
Let us go hence and rest; she will not love.
She shall not hear us if we sing hereof,
Nor see love's ways, how sore they are and steep.
Come hence, let be, lie still; it is enough.
Love is a barren sea, bitter and deep;
And though she saw all heaven in flower above,
She would not love.
Let us give up, go down; she will not care.
Though all the stars made gold of all the air,
And the sea moving saw before it move
One moon-flower making all the foam-flowers fair;
Though all those waves went over us, and drove
Deep down the stifling lips and drowning hair,
She would not care.
Let us go hence, go hence; she will not see.
Sing all once more together; surely she,
She too, remembering days and words that were,
Will turn a little toward us, sighing; but we,
We are hence, we are gone, as though we had not been there.
Nay, and though all men seeing had pity on me,
She would not see.
A New Year's Message To Joseph Mazzini
Send the stars light, but send not love to me.
Shelley.IOut of the dawning heavens that hear
Young wings and feet of the new year
Move through their twilight, and shed round
Soft showers of sound,
Soothing the season with sweet rain,
If greeting come to make me fain,
What is it I can send again?
2
I know not if the year shall send
Tidings to usward as a friend,
And salutation, and such things
Bear on his wings
As the soul turns and thirsts unto
With hungering eyes and lips that sue
For that sweet food which makes all new.
3
I know not if his light shall be
Darkness, or else light verily:
I know but that it will not part
Heart's faith from heart,
Truth from the trust in truth, nor hope
From sight of days unscaled that ope
Beyond one poor year's horoscope.
4
That faith in love which love's self gives,
O master of my spirit, lives,
Having in presence unremoved
Thine head beloved,
The shadow of thee, the semitone
Of thy voice heard at heart and known,
The light of thee not set nor flown.
5
Seas, lands, and hours, can these divide
Love from love's service, side from side,
Though no sound pass nor breath be heard
Of one good word?
To send back words of trust to thee
Were to send wings to love, when he
With his own strong wings covers me.
6
Who shall teach singing to the spheres,
Or motion to the flight of years?
Let soul with soul keep hand in hand
And understand,
As in one same abiding-place
We keep one watch for one same face
To rise in some short sacred space.
7
And all space midway is but nought
To keep true heart from faithful thought,
As under twilight stars we wait
By Time's shut gate
Till the slow soundless hinges turn,
And through the depth of years that yearn
The face of the Republic burn.
A Sequence of Sonnets on the Death of Robert Browning
I1.
The clearest eyes in all the world they read
.
With sense more keen and spirit of sight more true
.
Than burns and thrills in sunrise, when the dew
.
Flames, and absorbs the glory round it shed,
.
As they the light of ages quick and dead,
.
Closed now, forsake us: yet the shaft that slew
.
Can slay not one of all the works we knew,
.
Nor death discrown that many-laurelled head.
.
The works of words whose life seems lightning wrought,
.
And moulded of unconquerable thought,
.
And quickened with imperishable flame,
.
Stand fast and shine and smile, assured that nought
.
May fade of all their myriad-moulded fame,
.
Nor England's memory clasp not Browning's name.[Composition Date:] December 13, 1889.II2.
Death, what hast thou to do with one for whom
.
Time is not lord, but servant? What least part
.
Of all the fire that fed his living heart,
.
Of all the light more keen that sundawn's bloom
.
That lit and led his spirit, strong as doom
.
And bright as hope, can aught thy breath may dart
.
Quench? Nay, thou knowest he knew thee what thou art,
.
A shadow born of terror's barren womb,
.
That brings not forth save shadows. What art thou,
.
To dream, albeit thou breathe upon his brow,
.
That power on him is given thee,–that thy breath
.
Can make him less than love acclaims him now,
.
And hears all time sound back the word it saith?
.
What part hast thou then in his glory, Death?III3.
A graceless doom it seems that bids us grieve:
.
Venice and winter, hand in deadly hand,
.
Have slain the lover of her sunbright strand
.
And singer of a stormbright Christmas Eve.
.
A graceless guerdon we that loved receive
.
For all our love, from that the dearest land
.
Love worshipped ever. Blithe and soft and bland,
.
Too fair for storm to scathe or fire to cleave,
.
Shone on our dreams and memories evermore
.
The domes, the towers, the mountains and the shore
.
That gird or guard thee, Venice: cold and black
.
Seems now the face we loved as he of yore.
.
We have given thee love–no stint, no stay, no lack:
.
What gift, what gift is this thou hast given us back?IV4.
But he–to him, who knows what gift is thine,
.
Death? Hardly may we think or hope, when we
.
Pass likewise thither where to-night is he,
.
Beyond the irremeable outer seas that shine
.
And darken round such dreams as half divine
.
Some sunlit harbour in that starless sea
.
Where gleams no ship to windward or to lee,
.
To read with him the secret of thy shrine.4.
There too, as here, may song, delight, and love,
.
The nightingale, the sea-bird, and the dove,
.
Fulfil with joy the splendour of the sky
.
Till all beneath wax bright as all above:
.
But none of all that search the heavens, and try
.
The sun, may match the sovereign eagle's eye.[Composition Date:] December 14[, 1889]
V5.
Among the wondrous ways of men and time
.
He went as one that ever found and sought
.
And bore in hand the lamp-like spirit of thought
.
To illume with instance of its fire sublime
.
The dusk of many a cloud-like age and clime.
.
No spirit in shape of light and darkness wrought,
.
No faith, no fear, no dream, no rapture, nought
.
That blooms in wisdom, naught that burns in crime,
.
No virtue girt and armed and helmed with light,
.
No love more lovely than the snows are white,
.
No serpent sleeping in some dead soul's tomb,
.
No song-bird singing from some live soul's height,
.
But he might hear, interpret, or illume
.
With sense invasive as the dawn of doom.VI6.
What secret thing of splendour or of shade
.
Surmised in all those wandering ways wherein
.
Man, led of love and life and death and sin,
.
Strays, climbs, or cowers, allured, absorbed, afraid,
.
Might not the strong and sun-like sense invade
.
Of that full soul that had for aim to win
.
Light, silent over time's dark toil and din,
.
Life, at whose touch death fades as dead things fade?
.
O spirit of man, what mystery moves in thee
.
That he might know not of in spirit, and see
.
The heart within the heart that seems to strive,
.
The life within the life that seems to be,
.
And hear, through all thy storms that whirl and drive,
.
The living sound of all men's souls alive?VII7.
He held no dream worth waking: so he said,
.
He who stands now on death's triumphal steep,
.
Awakened out of life wherein we sleep
.
And dream of what he knows and sees, being dead.
.
But never death for him was dark or dread:
.
"Look forth" he bade the soul, and fear not. Weep,
.
All ye that trust not in his truth, and keep
.
Vain memory's vision of a vanished head
.
As all that lives of all that once was he
.
Save that which lightens from his word: but we,
.
Who, seeing the sunset-coloured waters roll,
.
Yet know the sun subdued not of the sea,
.
Nor weep nor doubt that still the spirit is whole,
.
And life and death but shadows of the soul.
Fire and wild light of hope and doubt and fear,
Wind of swift change, and clouds and hours that veer
As the storm shifts of the tempestuous year;
Cry wellaway, but well befall the right.Hope sits yet hiding her war-wearied eyes,
Doubt sets her forehead earthward and denies,
But fear brought hand to hand with danger dies,
Dies and is burnt up in the fire of fight.Hearts bruised with loss and eaten through with shame
Turn at the time's touch to devouring flame;
Grief stands as one that knows not her own name,
Nor if the star she sees bring day or night.
No song breaks with it on the violent air,
But shrieks of shame, defeat, and brute despair;
Yet something at the star's heart far up there
Burns as a beacon in our shipwrecked sight.
O strange fierce light of presage, unknown star,
Whose tongue shall tell us what thy secrets are,
What message trembles in thee from so far?
Cry wellaway. but well befall the right.
From shores laid waste across an iron sea
Where the waifs drift of hopes that were to be,
Across the red rolled foam we look for thee,
Across the fire we look up for the light.
From days laid waste across disastrous years,
From hopes cut down across a world of fears,
We gaze with eyes too passionate for tears,
Where faith abides though hope be put to flight.
Old hope is dead, the grey-haired hope grown blind
That talked with us of old things out of mind,
Dreams, deeds and men the world has left behind;
Yet, though hope die, faith lives in hope's despite.
Ay, with hearts fixed on death and hopeless hands
We stand about our banner while it stands
Above but one field of the ruined lands;
Cry wellaway, but well befall the right.
Though France were given for prey to bird and beast,
Though Rome were rent in twain of king and priest,
The soul of man, the soul is safe at least
That gives death life and dead men hands to smite.
Are ye so strong, O kings, O strong men? Nay,
Waste all ye will and gather all ye may,
Yet one thing is there that ye shall not slay,
Even thought, that fire nor iron can affright.
The woundless and invisible thought that goes
Free throughout time as north or south wind blows,
Far throughout space as east or west sea flows,
And all dark things before it are made bright.
Thy thought, thy word, O soul republican,
O spirit of life, O God whose name is man:
What sea of sorrows but thy sight shall span?
Cry wellaway, but well befall the right.
With all its coils crushed, all its rings uncurled,
The one most poisonous worm that soiled the world
Is wrenched from off the throat of man, and hurled
Into deep hell from empire's helpless height.
Time takes no more infection of it now;
Like a dead snake divided of the plough,
The rotten thing lies cut in twain; but thou,
Thy fires shall heal us of the serpent's bite.
Ay, with red cautery and a burning brand
Purge thou the leprous leaven of the land;
Take to thee fire, and iron in thine hand,
Till blood and tears have washed the soiled limbs white.
We have sinned against thee in dreams and wicked sleep;
Smite, we will shrink not; strike, we will not weep;
Let the heart feel thee; let thy wound go deep;
Cry wellaway, but well befall the right.
Wound us with love, pierce us with longing, make
Our souls thy sacrifices; turn and take
Our hearts for our sin-offerings lest they break,
And mould them with thine hands and give them might.
Then, when the cup of ills is drained indeed,
Will we come to thee with our wounds that bleed,
With famished mouths and hearts that thou shalt feed,
And see thee worshipped as the world's delight.
There shall be no more wars nor kingdoms won,
But in thy sight whose eyes are as the sun
All names shall be one name, all nations one,
All souls of men in man's one soul unite.
O sea whereon men labour, O great sea
That heaven seems one with, shall these things not be?
O earth, our earth, shall time not make us free?
Cry wellaway, but well befall the right.
Strong as death, and cruel as the grave,
Clothed with cloud and tempest's blackening breath,
Known of death's dread self, whom none outbrave,
Strong as death,Love, brow-bound with anguish for a wreath,
Fierce with pain, a tyrant-hearted slave,
Burns above a world that groans beneath.Hath not pity power on thee to save,
Love? hath power no pity? Nought he saith,
Answering: blind he walks as wind or wave,
Strong as death.
Three months bade wane and wax the wintering moon
Between two dates of death, while men were fain
Yet of the living light that all too soon
Three months bade wane.Cold autumn, wan with wrath of wind and rain,
Saw pass a soul sweet as the sovereign tune
That death smote silent when he smote again.First went my friend, in life's mid light of noon,
Who loved the lord of music: then the strain
Whence earth was kindled like as heaven in June
Three months bade wane.
A herald soul before its master's flying
Touched by some few moons first the darkling goal
Where shades rose up to greet the shade, espying
A herald soul;
Shades of dead lords of music, who control
Men living by the might of men undying,
With strength of strains that make delight of dole.
The deep dense dust on death's dim threshold lying
Trembled with sense of kindling sound that stole
Through darkness, and the night gave ear, descrying
A herald soul.
One went before, one after, but so fast
They seem gone hence together, from the shore
Whence we now gaze: yet ere the mightier passed
One went before;
One whose whole heart of love, being set of yore
On that high joy which music lends us, cast
Light round him forth of music's radiant store.
Then went, while earth on winter glared aghast,
The mortal god he worshipped, through the door
Wherethrough so late, his lover to the last,
One went before.
A star had set an hour before the sun
Sank from the skies wherethrough his heart's pulse yet
Thrills audibly: but few took heed, or none,
A star had set.
All heaven rings back, sonorous with regret,
The deep dirge of the sunset: how should one
Soft star be missed in all the concourse met?
But, O sweet single heart whose work is done,
Whose songs are silent, how should I forget
That ere the sunset's fiery goal was won
A star had set?
A baby shines as bright
If winter or if May be
On eyes that keep in sight
A baby.
Though dark the skies or grey be,
It fills our eyes with light,
If midnight or midday be.
Love hails it, day and night,
The sweetest thing that may be
Yet cannot praise aright
A baby.
II.
All heaven, in every baby born,
All absolute of earthly leaven,
Reveals itself, though man may scorn
All heaven.
Yet man might feel all sin forgiven,
All grief appeased, all pain outworn,
By this one revelation given.
Soul, now forget thy burdens borne:
Heart, be thy joys now seven times seven:
Love shows in light more bright than morn
All heaven.
III.
What likeness may define, and stray not
From truth's exactest way,
A baby's beauty? Love can say not
What likeness may.
The Mayflower loveliest held in May
Of all that shine and stay not
Laughs not in rosier disarray.
Sleek satin, swansdown, buds that play not
As yet with winds that play,
Would fain be matched with this, and may not:
What likeness may?
IV.
Rose, round whose bed
Dawn's cloudlets close,
Earth's brightest-bred
Rose!
No song, love knows,
May praise the head
Your curtain shows.
Ere sleep has fled,
The whole child glows
One sweet live red
Rose.
Love's twilight wanes in heaven above,
On earth ere twilight reigns:
Ere fear may feel the chill thereof,
Love's twilight wanes.Ere yet the insatiate heart complains
'Too much, and scarce enough,'
The lip so late athirst refrains.Soft on the neck of either dove
Love's hands let slip the reins:
And while we look for light of love
Love's twilight wanes.
Blessed Among Women –To The Signora Cairoli
Blessed was she that bare,
Hidden in flesh most fair,
For all men's sake the likeness of all love;
Holy that virgin's womb,
The old record saith, on whom
The glory of God alighted as a dove;
Blessed, who brought to gracious birth
The sweet-souled Saviour of a man-tormented earth.But four times art thou blest,
At whose most holy breast
Four times a godlike soldier-saviour hung;
And thence a fourfold Christ
Given to be sacrificed
To the same cross as the same bosom clung;
Poured the same blood, to leave the same
Light on the many-folded mountain-skirts of fame.Shall they and thou not live,
The children thou didst give
Forth of thine hands, a godlike gift, to death,
Through fire of death to pass
For her high sake that was
Thine and their mother, that gave all you breath?
Shall ye not live till time drop dead,
O mother, and each her children's consecrated head?
Many brought gifts to take
For her love's supreme sake,
Life and life's love, pleasure and praise and rest,
And went forth bare; but thou,
So much once richer, and now
Poorer than all these, more than these be blest;
Poorer so much, by so much given,
Than who gives earth for heaven's sake, not for earth's sake heaven.
Somewhat could each soul save,
What thing soever it gave,
But thine, mother, what has thy soul kept back?
None of thine all, not one,
To serve thee and be thy son,
Feed with love all thy days, lest one day lack;
All thy whole life's love, thine heart's whole,
Thou hast given as who gives gladly, O thou the supreme soul.
The heart's pure flesh and blood,
The heaven thy motherhood,
The live lips, the live eyes, that lived on thee;
The hands that clove with sweet
Blind clutch to thine, the feet
That felt on earth their first way to thy knee;
The little laughter of mouths milk-fed,
Now open again to feed on dust among the dead;
The fair, strong, young men's strength,
Light of life-days and length,
And glory of earth seen under and stars above,
And years that bring to tame
Now the wild falcon fame,
Now, to stroke smooth, the dove-white breast of love;
The life unlived, the unsown seeds,
Suns unbeholden, songs unsung, and undone deeds.
Therefore shall man's love be
As an own son to thee,
And the world's worship of thee for a child;
All thine own land as one
New-born, a nursing son,
All thine own people a new birth undefiled;
And all the unborn Italian time,
And all its glory, and all its works, thy seed sublime.
That henceforth no man's breath,
Saying "Italy," but saith
In that most sovereign word thine equal name;
Nor can one speak of thee
But he saith "Italy,"
Seeing in two suns one co-eternal flame;
One heat, one heaven, one heart, one fire,
One light, one love, one benediction, one desire.
Blest above praise and prayer
And incense of men's air,
Thy place is higher than where such voices rise
As in men's temples make
Music for some vain sake,
This God's or that God's, in one weary wise;
Thee the soul silent, the shut heart,
The locked lips of the spirit praise thee that thou art.
Yea, for man's whole life's length,
And with man's whole soul's strength,
We praise thee, O holy, and bless thee, O mother of lights;
And send forth as on wings
The world's heart's thanksgivings,
Song-birds to sing thy days through and thy nights;
And wrap thee around and arch thee above
With the air of benediction and the heaven of love.
And toward thee our unbreathed words
Fly speechless, winged as birds,
As the Indian flock, children of Paradise,
The winged things without feet,
Fed with God's dew for meat,
That live in the air and light of the utter skies;
So fleet, so flying a footless flight,
With wings for feet love seeks thee, to partake thy sight.
Love like a clear sky spread
Bends over thy loved head,
As a new heaven bends over a new-born earth,
When the old night's womb is great
With young stars passionate
And fair new planets fiery-fresh from birth;
And moon-white here, there hot like Mars,
Souls that are worlds shine on thee, spirits that are stars.
Till the whole sky burns through
With heaven's own heart-deep hue,
With passion-coloured glories of lit souls;
And thine above all names
Writ highest with lettering flames
Lightens, and all the old starriest aureoles
And all the old holiest memories wane,
And the old names of love's chosen, found in thy sight vain.
And crowned heads are discrowned,
And stars sink without sound,
And love's self for thy love's sake waxes pale
Seeing from his storied skies
In what new reverent wise
Thee Rome's most highest, her sovereign daughters, hail;
Thee Portia, thee Veturia grey,
Thee Arria, thee Cornelia, Roman more than they.
Even all these as all we
Subdue themselves to thee,
Bow their heads haloed, quench their fiery fame;
Seen through dim years divine,
Their faint lights feminine
Sink, then spring up rekindled from thy flame;
Fade, then reflower and reillume
From thy fresh spring their wintering age with new-blown bloom.
To thy much holier head
Even theirs, the holy and dead,
Bow themselves each one from her heavenward height;
Each in her shining turn,
All tremble toward thee and yearn
To melt in thine their consummated light;
Till from day's Capitolian dome
One glory of many glories lighten upon Rome.
Hush thyself, song, and cease,
Close, lips, and hold your peace;
What help hast thou, what part have ye herein?
But you, with sweet shut eyes,
Heart-hidden memories,
Dreams and dumb thoughts that keep what things have been
Silent, and pure of all words said,
Praise without song the living, without dirge the dead.
Thou, strengthless in these things,
Song, fold thy feebler wings,
And as a pilgrim go forth girt and shod,
And where the new graves are,
And where the sunset star,
To the pure spirit of man that men call God,
To the high soul of things, that is
Made of men's heavenlier hopes and mightier memories;
To the elements that make
For the soul's living sake
This raiment of dead things, of shadow and trance,
That give us chance and time
Wherein to aspire and climb
And set our life's work higher than time or chance
The old sacred elements, that give
The breath of life to days that die, to deeds that live;
To them, veiled gods and great,
There bow thee and dedicate
The speechless spirit in these thy weak words hidden;
And mix thy reverent breath
With holier air of death,
At the high feast of sorrow a guest unbidden,
Till with divine triumphal tears
Thou fill men's eyes who listen with a heart that hears.
I — In Church
Thou whose birth on earth
Angels sang to men,
While thy stars made mirth,
Saviour, at thy birth,
This day born again;
As this night was bright
With thy cradle-ray,
Very light of light,
Turn the wild world's night
To thy perfect day.
God whose feet made sweet
Those wild ways they trod,
From thy fragrant feet
Staining field and street
With the blood of God;
God whose breast is rest
In the time of strife,
In thy secret breast
Sheltering souls opprest
From the heat of life;
God whose eyes are skies
Love-lit as with spheres
By the lights that rise
To thy watching eyes,
Orbed lights of tears;
God whose heart hath part
In all grief that is,
Was not man's the dart
That went through thine heart,
And the wound not his?
Where the pale souls wail,
Held in bonds of death,
Where all spirits quail,
Came thy Godhead pale
Still from human breath –
Pale from life and strife,
Wan with manhood, came
Forth of mortal life,
Pierced as with a knife,
Scarred as with a flame.
Thou the Word and Lord
In all time and space
Heard, beheld, adored,
With all ages poured
Forth before thy face,
Lord, what worth in earth
Drew thee down to die?
What therein was worth,
Lord, thy death and birth?
What beneath thy sky?
Light above all love
By thy love was lit,
And brought down the Dove
Feathered from above
With the wings of it.
From the height of night,
Was not thine the star
That led forth with might
By no worldly light
Wise men from afar?
Yet the wise men's eyes
Saw thee not more clear
Than they saw thee rise
Who in shepherd's guise
Drew as poor men near.
Yet thy poor endure,
And are with us yet;
Be thy name a sure
Refuge for thy poor
Whom men's eyes forget.
Thou whose ways we praised,
Clear alike and dark,
Keep our works and ways
This and all thy days
Safe inside thine ark.
Who shall keep thy sheep,
Lord, and lose not one?
Who save one shall keep,
Lest the shepherds sleep?
Who beside the Son?
From the grave-deep wave,
From the sword and flame,
Thou, even thou, shalt save
Souls of king and slave
Only by thy Name.
Light not born with morn
Or her fires above,
Jesus virgin-born,
Held of men in scorn,
Turn their scorn to love.
Thou whose face gives grace
As the sun's doth heat,
Let thy sunbright face
Lighten time and space
Here beneath thy feet.
Bid our peace increase,
Thou that madest morn;
Bid oppressions cease;
Bid the night be peace;
Bid the day be born.
II–OUTSIDE CHURCH
We whose days and ways
All the night makes dark,
What day shall we praise
Of these weary days
That our life-drops mark?
We whose mind is blind,
Fed with hope of nought;
Wastes of worn mankind,
Without heart or mind,
Without meat or thought;
We with strife of life
Worn till all life cease,
Want, a whetted knife,
Sharpening strife on strife,
How should we love peace?
Ye whose meat is sweet
And your wine-cup red,
Us beneath your feet
Hunger grinds as wheat,
Grinds to make you bread.
Ye whose night is bright
With soft rest and heat,
Clothed like day with light,
Us the naked night
Slays from street to street.
Hath your God no rod,
That ye tread so light?
Man on us as God,
God as man hath trod,
Trod us down with might.
We that one by one
Bleed from either's rod.
What for us hath done
Man beneath the sun,
What for us hath God?
We whose blood is food
Given your wealth to feed,
From the Christless rood
Red with no God's blood,
But with man's indeed;
How shall we that see
Nightlong overhead
Life, the flowerless tree,
Nailed whereon as we
Were our fathers dead –
We whose ear can hear,
Not whose tongue can name,
Famine, ignorance, fear,
Bleeding tear by tear
Year by year of shame,
Till the dry life die
Out of bloodless breast,
Out of beamless eye,
Out of mouths that cry
Till death feed with rest –
How shall we as ye,
Though ye bid us, pray?
Though ye call, can we
Hear you call, or see,
Though ye show us day?
We whose name is shame,
We whose souls walk bare,
Shall we call the same
God as ye by name,
Teach our lips your prayer?
God, forgive and give,
For His sake who died?
Nay, for ours who live,
How shall we forgive
Thee, then, on our side?
We whose right to light
Heaven's high noon denies,
Whom the blind beams smite
That for you shine bright,
And but burn our eyes,
With what dreams of beams
Shall we build up day,
At what sourceless streams
Seek to drink in dreams
Ere they pass away?
In what street shall meet,
At what market-place,
Your feet and our feet,
With one goal to greet,
Having run one race?
What one hope shall ope
For us all as one
One same horoscope,
Where the soul sees hope
That outburns the sun?
At what shrine what wine,
At what board what bread,
Salt as blood or brine,
Shall we share in sign
How we poor were fed?
In what hour what power
Shall we pray for morn,
If your perfect hour,
When all day bears flower,
Not for us is born?
III–BEYOND CHURCH
Ye that weep in sleep,
Souls and bodies bound,
Ye that all night keep
Watch for change, and weep
That no change is found;
Ye that cry and die,
And the world goes on
Without ear or eye,
And the days go by
Till all days are gone;
Man shall do for you,
Men the sons of man,
What no God would do
That they sought unto
While the blind years ran.
Brotherhood of good,
Equal laws and rights,
Freedom, whose sweet food
Feeds the multitude
All their days and nights
With the bread full-fed
Of her body blest
And the soul's wine shed
From her table spread
Where the world is guest,
Mingling me and thee,
When like light of eyes
Flashed through thee and me
Truth shall make us free,
Liberty make wise;
These are they whom day
Follows and gives light
Whence they see to slay
Night, and burn away
All the seed of night.
What of thine and mine,
What of want and wealth,
When one faith is wine
For my heart and thine
And one draught is health?
For no sect elect
Is the soul's wine poured
And her table decked;
Whom should man reject
From man's common board?
Gods refuse and choose,
Grudge and sell and spare;
None shall man refuse,
None of all men lose,
None leave out of care.
No man's might of sight
Knows that hour before;
No man's hand hath might
To put back that light
For one hour the more.
Not though all men call,
Kneeling with void hands,
Shall they see light fall
Till it come for all
Tribes of men and lands.
No desire brings fire
Down from heaven by prayer,
Though man's vain desire
Hang faith's wind-struck lyre
Out in tuneless air.
One hath breath and saith
What the tune shall be –
Time, who puts his breath
Into life and death,
Into earth and sea.
To and fro years flow,
Fill their tides and ebb,
As his fingers go
Weaving to and fro
One unfinished web.
All the range of change
Hath its bounds therein,
All the lives that range
All the byways strange
Named of death or sin.
Star from far to star
Speaks, and white moons wake,
Watchful from afar
What the night's ways are
For the morning's sake.
Many names and flames
Pass and flash and fall,
Night-begotten names,
And the night reclaims,
As she bare them, all.
But the sun is one,
And the sun's name Right;
And when light is none
Saving of the sun,
All men shall have light.
All shall see and be
Parcel of the morn;
Ay, though blind were we,
None shall choose but see
When that day is born.
CHILD, when they say that others
Have been or are like you,
Babes fit to be your brothers,
Sweet human drops of dew,
Bright fruit of mortal mothers,
What should one say or do?We know the thought is treason,
We feel the dream absurd;
A claim rebuked of reason,
That withers at a word:
For never shone the season
That bore so blithe a bird.Some smiles may seem as merry,
Some glances gleam as wise,
From lips as like a cherry
And scarce less gracious eyes;
Eyes browner than a berry,
Lips red as morning's rise.
But never yet rang laughter
So sweet in gladdened ears
Through wall and floor and rafter
As all this household hears
And rings response thereafter
Till cloudiest weather clears.
When those your chosen of all men,
Whose honey never cloys,
Two lights whose smiles enthrall men,
Were called at your age boys,
Those mighty men, while small men,
Could make no merrier noise.
Our Shakespeare, surely, daffed not
More lightly pain aside
From radiant lips that quaffed not
Of forethought's tragic tide:
Our Dickens, doubtless, laughed not
More loud with life's first pride.
The dawn were not more cheerless
With neither light nor dew
Than we without the fearless
Clear laugh that thrills us through:
If ever child stood peerless,
Love knows that child is you.
Dead love, by treason slain, lies stark,
White as a dead stark-stricken dove:
None that pass by him pause to mark
Dead love.His heart, that strained and yearned and strove
As toward the sundawn strives the lark,
Is cold as all the old joy thereof.Dead men, re-risen from dust, may hark
When rings the trumpet blown above:
It will not raise from out the dark
Dead love.
Dedication To Joseph Mazzini
Take, since you bade it should bear,
These, of the seed of your sowing,
Blossom or berry or weed.
Sweet though they be not, or fair,
That the dew of your word kept growing,
Sweet at least was the seed.Men bring you love-offerings of tears,
And sorrow the kiss that assuages,
And slaves the hate-offering of wrongs,
And time the thanksgiving of years,
And years the thanksgiving of ages;
I bring you my handful of songs.If a perfume be left, if a bloom,
Let it live till Italia be risen,
To be strewn in the dust of her car
When her voice shall awake from the tomb
England, and France from her prison,
Sisters, a star by a star.
I bring you the sword of a song,
The sword of my spirit's desire,
Feeble; but laid at your feet,
That which was weak shall be strong,
That which was cold shall take fire,
That which was bitter be sweet.
It was wrought not with hands to smite,
Nor hewn after swordsmiths' fashion,
Nor tempered on anvil of steel;
But with visions and dreams of the night,
But with hope, and the patience of passion,
And the signet of love for a seal.
Be it witness, till one more strong,
Till a loftier lyre, till a rarer
Lute praise her better than I,
Be it witness before you, my song,
That I knew her, the world's banner-bearer,
Who shall cry the republican cry.
Yea, even she as at first,
Yea, she alone and none other,
Shall cast down, shall build up, shall bring home;
Slake earth's hunger and thirst,
Lighten, and lead as a mother;
First name of the world's names, Rome.
Eurydice – To Victor Hugo
Orpheus, the night is full of tears and cries,
And hardly for the storm and ruin shed
Can even thine eyes be certain of her head
Who never passed out of thy spirit's eyes,
But stood and shone before them in such wise
As when with love her lips and hands were fed,
And with mute mouth out of the dusty dead
Strove to make answer when thou bad'st her rise.Yet viper-stricken must her lifeblood feel
The fang that stung her sleeping, the foul germ
Even when she wakes of hell's most poisonous worm,
Though now it writhe beneath her wounded heel.
Turn yet, she will not fade nor fly from thee;
Wait, and see hell yield up Eurydice.
In the outer world that was before this earth,
That was before all shape or space was born,
Before the blind first hour of time had birth,
Before night knew the moonlight or the morn;Yea, before any world had any light,
Or anything called God or man drew breath,
Slowly the strong sides of the heaving night
Moved, and brought forth the strength of life and death.And the sad shapeless horror increate
That was all things and one thing, without fruit,
Limit, or law; where love was none, nor hate,
Where no leaf came to blossom from no root;
The very darkness that time knew not of,
Nor God laid hand on, nor was man found there,
Ceased, and was cloven in several shapes; above
Light, and night under, and fire, earth, water, and air.
Sunbeams and starbeams, and all coloured things,
All forms and all similitudes began;
And death, the shadow cast by life's wide wings,
And God, the shade cast by the soul of man.
Then between shadow and substance, night and light,
Then between birth and death, and deeds and days,
The illimitable embrace and the amorous fight
That of itself begets, bears, rears, and slays,
The immortal war of mortal things that is
Labour and life and growth and good and ill,
The mild antiphonies that melt and kiss,
The violent symphonies that meet and kill,
All nature of all things began to be.
But chiefliest in the spirit (beast or man,
Planet of heaven or blossom of earth or sea)
The divine contraries of life began.
For the great labour of growth, being many, is one;
One thing the white death and the ruddy birth;
The invisible air and the all-beholden sun,
And barren water and many-childed earth.
And these things are made manifest in men
From the beginning forth unto this day:
Time writes and life records them, and again
Death seals them lest the record pass away.
For if death were not, then should growth not be,
Change, nor the life of good nor evil things;
Nor were there night at all nor light to see,
Nor water of sweet nor water of bitter springs.
For in each man and each year that is born
Are sown the twin seeds of the strong twin powers;
The white seed of the fruitful helpful morn,
The black seed of the barren hurtful hours.
And he that of the black seed eateth fruit,
To him the savour as honey shall be sweet;
And he in whom the white seed hath struck root,
He shall have sorrow and trouble and tears for meat.
And him whose lips the sweet fruit hath made red
In the end men loathe and make his name a rod;
And him whose mouth on the unsweet fruit hath fed
In the end men follow and know for very God.
And of these twain, the black seed and the white,
All things come forth, endured of men and done;
And still the day is great with child of night,
And still the black night labours with the sun.
And each man and each year that lives on earth
Turns hither or thither, and hence or thence is fed;
And as a man before was from his birth,
So shall a man be after among the dead.
I.
Goodnight and goodbye to the life whose signs denote us
As mourners clothed with regret for the life gone by;
To the waters of gloom whence winds of the dayspring float us
Goodnight and goodbye.
A time is for mourning, a season for grief to sigh;
But were we not fools and blind, by day to devote us
As thralls to the darkness, unseen of the sundawn's eye?
We have drunken of Lethe at length, we have eaten of lotus;
What hurts it us here that sorrows are born and die?
We have said to the dream that caressed and the dread that smote us
Goodnight and goodbye.
II.
Outside of the port ye are moored in, lying
Close from the wind and at ease from the tide,
What sounds come swelling, what notes fall dying
Outside?
They will not cease, they will not abide:
Voices of presage in darkness crying
Pass and return and relapse aside.
Ye see not, but hear ye not wild wings flying
To the future that wakes from the past that died?
Is grief still sleeping, is joy not sighing
Outside?
Is thine hour come to wake, O slumbering Night?
Hath not the Dawn a message in thine ear?
Though thou be stone and sleep, yet shalt thou hear
When the word falls from heaven–Let there be light.
Thou knowest we would not do thee the despite
To wake thee while the old sorrow and shame were near;
We spake not loud for thy sake, and for fear
Lest thou shouldst lose the rest that was thy right,
The blessing given thee that was thine alone,
The happiness to sleep and to be stone:
Nay, we kept silence of thee for thy sake
Albeit we knew thee alive, and left with thee
The great good gift to feel not nor to see;
But will not yet thine Angel bid thee wake?
Sark, fairer than aught in the world that the lit skies cover,
Laughs inly behind her cliffs, and the seafarers mark
As a shrine where the sunlight serves, though the blown clouds hover,
Sark.We mourn, for love of a song that outsang the lark,
That nought so lovely beholden of Sirmio's lover
Made glad in Propontis the flight of his Pontic bark.Here earth lies lordly, triumphal as heaven is above her,
And splendid and strange as the sea that upbears as an ark,
As a sign for the rapture of storm-spent eyes to discover,
Sark.
Lying asleep between the strokes of night
I saw my love lean over my sad bed,
Pale as the duskiest lilly's leaf or head,
Smooth-skinned and dark, with bare throat made to bite,
Too wan for blushing and too warm for white,
But perfect-coloured without white or red.
And her lips opened amorously, and said –
I wist not what, saving one word – Delight.
And all her face was honey to my mouth,
And all her body pasture to mine eyes.
The long lithe arms and hotter hands than fire,
The quivering flanks, hair smelling of the south,
The bright light feet, the splendid supple thighs
And glittering eyelids of my soul's desire.
Mad March, with the wind in his wings wide-spread,
Leaps from heaven, and the deep dawn's arch
Hails re-risen again from the dead
Mad March.Soft small flames on rowan and larch
Break forth as laughter on lips that said
Nought till the pulse in them beat love's march.But the heartbeat now in the lips rose-red
Speaks life to the world, and the winds that parch
Bring April forth as a bride to wed
Mad March.
Mentana : First Anniversary
At the time when the stars are grey,
And the gold of the molten moon
Fades, and the twilight is thinned,
And the sun leaps up, and the wind,
A light rose, not of the day,
A stronger light than of noon.As the light of a face much loved
Was the face of the light that clomb;
As a mother's whitened with woes
Her adorable head that arose;
As the sound of a God that is moved,
Her voice went forth upon Rome.At her lips it fluttered and failed
Twice, and sobbed into song,
And sank as a flame sinks under;
Then spake, and the speech was thunder,
And the cheek as he heard it paled
Of the wrongdoer grown grey with the wrong.
"Is it time, is it time appointed,
Angel of time, is it near?
For the spent night aches into day
When the kings shall slay not or pray,
And the high-priest, accursed and anointed,
Sickens to deathward with fear.
"For the bones of my slain are stirred,
And the seed of my earth in her womb
Moves as the heart of a bud
Beating with odorous blood
To the tune of the loud first bird
Burns and yearns into bloom.
"I lay my hand on her bosom,
My hand on the heart of my earth,
And I feel as with shiver and sob
The triumphant heart in her throb,
The dead petals dilate into blossom,
The divine blood beat into birth.
"O my earth, are the springs in thee dry?
O sweet, is thy body a tomb?
Nay, springs out of springs derive,
And summers from summers alive,
And the living from them that die;
No tomb is here, but a womb.
"O manifold womb and divine,
Give me fruit of my children, give!
I have given thee my dew for thy root,
Give thou me for my mouth of thy fruit;
Thine are the dead that are mine,
And mine are thy sons that live.
"O goodly children, O strong
Italian spirits, that wear
My glories as garments about you,
Could time or the world misdoubt you,
Behold, in disproof of the wrong,
The field of the grave-pits there.
"And ye that fell upon sleep,
We have you too with us yet.
Fairer than life or than youth
Is this, to die for the truth:
No death can sink you so deep
As their graves whom their brethren forget.
"Were not your pains as my pains?
As my name are your names not divine?
Was not the light in your eyes
Mine, the light of my skies,
And the sweet shed blood of your veins,
O my beautiful martyrs, mine?
"Of mine earth were your dear limbs made,
Of mine air was your sweet life's breath;
At the breasts of my love ye were fed,
O my children, my chosen, my dead,
At my breasts where again ye are laid,
At the old mother's bosom, in death.
"But ye that live, O their brothers,
Be ye to me as they were;
Give me, my children that live,
What these dead grudged not to give,
Who alive were sons of your mother's,
Whose lips drew breath of your air.
"Till darkness by dawn be cloven,
Let youth's self mourn and abstain;
And love's self find not an hour,
And spring's self wear not a flower,
And Lycoris, with hair unenwoven,
Hail back to the banquet in vain.
"So sooner and surer the glory
That is not with us shall be,
And stronger the hands that smite
The heads of the sons of night,
And the sound throughout earth of our story
Give all men heart to be free."
Mourning
Alas my brother! the cry of the mourners of old
That cried on each other,
All crying aloud on the dead as the death-note rolled,
Alas my brother!
As flashes of dawn that mists from an east wind smother
With fold upon fold,
The past years gleam that linked us one with another.
Time sunders hearts as of brethren whose eyes behold
No more their mother:
But a cry sounds yet from the shrine whose fires wax cold,
Alas my brother!
SEE MORE: