Alfred Lord Tennyson Poems Part,A Cambridge Scholar with no degree but exceptional skill in the artistry of the written language, Alfred, Lord Tennyson (1809 – 1892) stands among the best known as well as the most criticized poets of all time. The poet quite literally spent his entire life dedicated to pen and parchment.
Records indicate that Alfred, Lord Tennyson began writing as early as five years of age and never stopped doing so. Where his drive and passion for literature was formed is quite obviously from his family roots. His two brothers were poets (though less popular). This combined with his scholarly influences refined his skills as a blacksmith does a treasured metal.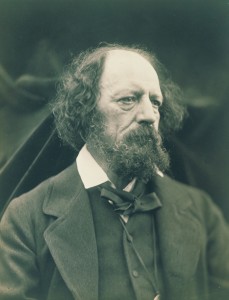 Alfred Lord Tennyson Bio
Hailing Hallman
One of the Chief influences in Alfred Lord Tennyson's life was Arthur Hallman. One must not succumb to believing rumors that Tennyson and Hallman had sexual relations as some critics have suggested. Where it is evident that Tennyson had a deep love for the man, there remains no definitive proof beyond speculation and rumor of a physical relationship.
Hallman was merely a close companion. Being as how Tennyson's beginning works got minimal acclaim, one can say that Arthur Hallman made it possible for the reader to have Alfred Lord Tennyson's poems today. Through his encouragement and through his death Tennyson received the drive which he needed to press forward. One can hear Tennyson's mourning ring out in his poems Morte d' Arthur as well as in Ulysses.
Alfred Lord Tennyson Poems Part 23
The Princess (part 6)
My dream had never died or lived again.
As in some mystic middle state I lay;
Seeing I saw not, hearing not I heard:
Though, if I saw not, yet they told me all
So often that I speak as having seen.
For so it seemed, or so they said to me,
That all things grew more tragic and more strange;
That when our side was vanquished and my cause
For ever lost, there went up a great cry,
The Prince is slain. My father heard and ran
In on the lists, and there unlaced my casque
And grovelled on my body, and after him
Came Psyche, sorrowing for Aglaïa.
But high upon the palace Ida stood
With Psyche's babe in arm: there on the roofs
Like that great dame of Lapidoth she sang.
'Our enemies have fallen, have fallen: the seed,
The little seed they laughed at in the dark,
Has risen and cleft the soil, and grown a bulk
Of spanless girth, that lays on every side
A thousand arms and rushes to the Sun.
'Our enemies have fallen, have fallen: they came;
The leaves were wet with women's tears: they heard
A noise of songs they would not understand:
They marked it with the red cross to the fall,
And would have strown it, and are fallen themselves.
'Our enemies have fallen, have fallen: they came,
The woodmen with their axes: lo the tree!
But we will make it faggots for the hearth,
And shape it plank and beam for roof and floor,
And boats and bridges for the use of men.
'Our enemies have fallen, have fallen: they struck;
With their own blows they hurt themselves, nor knew
There dwelt an iron nature in the grain:
The glittering axe was broken in their arms,
Their arms were shattered to the shoulder blade.
'Our enemies have fallen, but this shall grow
A night of Summer from the heat, a breadth
Of Autumn, dropping fruits of power: and rolled
With music in the growing breeze of Time,
The tops shall strike from star to star, the fangs
Shall move the stony bases of the world.
'And now, O maids, behold our sanctuary
Is violate, our laws broken: fear we not
To break them more in their behoof, whose arms
Championed our cause and won it with a day
Blanched in our annals, and perpetual feast,
When dames and heroines of the golden year
Shall strip a hundred hollows bare of Spring,
To rain an April of ovation round
Their statues, borne aloft, the three: but come,
We will be liberal, since our rights are won.
Let them not lie in the tents with coarse mankind,
Ill nurses; but descend, and proffer these
The brethren of our blood and cause, that there
Lie bruised and maimed, the tender ministries
Of female hands and hospitality.'
She spoke, and with the babe yet in her arms,
Descending, burst the great bronze valves, and led
A hundred maids in train across the Park.
Some cowled, and some bare-headed, on they came,
Their feet in flowers, her loveliest: by them went
The enamoured air sighing, and on their curls
From the high tree the blossom wavering fell,
And over them the tremulous isles of light
Slided, they moving under shade: but Blanche
At distance followed: so they came: anon
Through open field into the lists they wound
Timorously; and as the leader of the herd
That holds a stately fretwork to the Sun,
And followed up by a hundred airy does,
Steps with a tender foot, light as on air,
The lovely, lordly creature floated on
To where her wounded brethren lay; there stayed;
Knelt on one knee,–the child on one,–and prest
Their hands, and called them dear deliverers,
And happy warriors, and immortal names,
And said 'You shall not lie in the tents but here,
And nursed by those for whom you fought, and served
With female hands and hospitality.'
Then, whether moved by this, or was it chance,
She past my way. Up started from my side
The old lion, glaring with his whelpless eye,
Silent; but when she saw me lying stark,
Dishelmed and mute, and motionlessly pale,
Cold even to her, she sighed; and when she saw
The haggard father's face and reverend beard
Of grisly twine, all dabbled with the blood
Of his own son, shuddered, a twitch of pain
Tortured her mouth, and o'er her forehead past
A shadow, and her hue changed, and she said:
'He saved my life: my brother slew him for it.'
No more: at which the king in bitter scorn
Drew from my neck the painting and the tress,
And held them up: she saw them, and a day
Rose from the distance on her memory,
When the good Queen, her mother, shore the tress
With kisses, ere the days of Lady Blanche:
And then once more she looked at my pale face:
Till understanding all the foolish work
Of Fancy, and the bitter close of all,
Her iron will was broken in her mind;
Her noble heart was molten in her breast;
She bowed, she set the child on the earth; she laid
A feeling finger on my brows, and presently
'O Sire,' she said, 'he lives: he is not dead:
O let me have him with my brethren here
In our own palace: we will tend on him
Like one of these; if so, by any means,
To lighten this great clog of thanks, that make
Our progress falter to the woman's goal.'
She said: but at the happy word 'he lives'
My father stooped, re-fathered o'er my wounds.
So those two foes above my fallen life,
With brow to brow like night and evening mixt
Their dark and gray, while Psyche ever stole
A little nearer, till the babe that by us,
Half-lapt in glowing gauze and golden brede,
Lay like a new-fallen meteor on the grass,
Uncared for, spied its mother and began
A blind and babbling laughter, and to dance
Its body, and reach its fatling innocent arms
And lazy lingering fingers. She the appeal
Brooked not, but clamouring out 'Mine–mine–not yours,
It is not yours, but mine: give me the child'
Ceased all on tremble: piteous was the cry:
So stood the unhappy mother open-mouthed,
And turned each face her way: wan was her cheek
With hollow watch, her blooming mantle torn,
Red grief and mother's hunger in her eye,
And down dead-heavy sank her curls, and half
The sacred mother's bosom, panting, burst
The laces toward her babe; but she nor cared
Nor knew it, clamouring on, till Ida heard,
Looked up, and rising slowly from me, stood
Erect and silent, striking with her glance
The mother, me, the child; but he that lay
Beside us, Cyril, battered as he was,
Trailed himself up on one knee: then he drew
Her robe to meet his lips, and down she looked
At the armed man sideways, pitying as it seemed,
Or self-involved; but when she learnt his face,
Remembering his ill-omened song, arose
Once more through all her height, and o'er him grew
Tall as a figure lengthened on the sand
When the tide ebbs in sunshine, and he said:
'O fair and strong and terrible! Lioness
That with your long locks play the Lion's mane!
But Love and Nature, these are two more terrible
And stronger. See, your foot is on our necks,
We vanquished, you the Victor of your will.
What would you more? Give her the child! remain
Orbed in your isolation: he is dead,
Or all as dead: henceforth we let you be:
Win you the hearts of women; and beware
Lest, where you seek the common love of these,
The common hate with the revolving wheel
Should drag you down, and some great Nemesis
Break from a darkened future, crowned with fire,
And tread you out for ever: but howso'er
Fixed in yourself, never in your own arms
To hold your own, deny not hers to her,
Give her the child! O if, I say, you keep
One pulse that beats true woman, if you loved
The breast that fed or arm that dandled you,
Or own one port of sense not flint to prayer,
Give her the child! or if you scorn to lay it,
Yourself, in hands so lately claspt with yours,
Or speak to her, your dearest, her one fault,
The tenderness, not yours, that could not kill,
Give ~me~ it: ~I~ will give it her.
He said:
At first her eye with slow dilation rolled
Dry flame, she listening; after sank and sank
And, into mournful twilight mellowing, dwelt
Full on the child; she took it: 'Pretty bud!
Lily of the vale! half opened bell of the woods!
Sole comfort of my dark hour, when a world
Of traitorous friend and broken system made
No purple in the distance, mystery,
Pledge of a love not to be mine, farewell;
These men are hard upon us as of old,
We two must part: and yet how fain was I
To dream thy cause embraced in mine, to think
I might be something to thee, when I felt
Thy helpless warmth about my barren breast
In the dead prime: but may thy mother prove
As true to thee as false, false, false to me!
And, if thou needs must needs bear the yoke, I wish it
Gentle as freedom'–here she kissed it: then–
'All good go with thee! take it Sir,' and so
Laid the soft babe in his hard-mailèd hands,
Who turned half-round to Psyche as she sprang
To meet it, with an eye that swum in thanks;
Then felt it sound and whole from head to foot,
And hugged and never hugged it close enough,
And in her hunger mouthed and mumbled it,
And hid her bosom with it; after that
Put on more calm and added suppliantly:
'We two were friends: I go to mine own land
For ever: find some other: as for me
I scarce am fit for your great plans: yet speak to me,
Say one soft word and let me part forgiven.'
But Ida spoke not, rapt upon the child.
Then Arac. 'Ida–'sdeath! you blame the man;
You wrong yourselves–the woman is so hard
Upon the woman. Come, a grace to me!
I am your warrior: I and mine have fought
Your battle: kiss her; take her hand, she weeps:
'Sdeath! I would sooner fight thrice o'er than see it.'
But Ida spoke not, gazing on the ground,
And reddening in the furrows of his chin,
And moved beyond his custom, Gama said:
'I've heard that there is iron in the blood,
And I believe it. Not one word? not one?
Whence drew you this steel temper? not from me,
Not from your mother, now a saint with saints.
She said you had a heart–I heard her say it–
"Our Ida has a heart"–just ere she died–
"But see that some on with authority
Be near her still" and I–I sought for one–
All people said she had authority–
The Lady Blanche: much profit! Not one word;
No! though your father sues: see how you stand
Stiff as Lot's wife, and all the good knights maimed,
I trust that there is no one hurt to death,
For our wild whim: and was it then for this,
Was it for this we gave our palace up,
Where we withdrew from summer heats and state,
And had our wine and chess beneath the planes,
And many a pleasant hour with her that's gone,
Ere you were born to vex us? Is it kind?
Speak to her I say: is this not she of whom,
When first she came, all flushed you said to me
Now had you got a friend of your own age,
Now could you share your thought; now should men see
Two women faster welded in one love
Than pairs of wedlock; she you walked with, she
You talked with, whole nights long, up in the tower,
Of sine and arc, spheroïd and azimuth,
And right ascension, Heaven knows what; and now
A word, but one, one little kindly word,
Not one to spare her: out upon you, flint!
You love nor her, nor me, nor any; nay,
You shame your mother's judgment too. Not one?
You will not? well–no heart have you, or such
As fancies like the vermin in a nut
Have fretted all to dust and bitterness.'
So said the small king moved beyond his wont.
But Ida stood nor spoke, drained of her force
By many a varying influence and so long.
Down through her limbs a drooping languor wept:
Her head a little bent; and on her mouth
A doubtful smile dwelt like a clouded moon
In a still water: then brake out my sire,
Lifted his grim head from my wounds. 'O you,
Woman, whom we thought woman even now,
And were half fooled to let you tend our son,
Because he might have wished it–but we see,
The accomplice of your madness unforgiven,
And think that you might mix his draught with death,
When your skies change again: the rougher hand
Is safer: on to the tents: take up the Prince.'
He rose, and while each ear was pricked to attend
A tempest, through the cloud that dimmed her broke
A genial warmth and light once more, and shone
Through glittering drops on her sad friend.
'Come hither.
O Psyche,' she cried out, 'embrace me, come,
Quick while I melt; make reconcilement sure
With one that cannot keep her mind an hour:
Come to the hollow hear they slander so!
Kiss and be friends, like children being chid!
~I~ seem no more: ~I~ want forgiveness too:
I should have had to do with none but maids,
That have no links with men. Ah false but dear,
Dear traitor, too much loved, why?–why?–Yet see,
Before these kings we embrace you yet once more
With all forgiveness, all oblivion,
And trust, not love, you less.
And now, O sire,
Grant me your son, to nurse, to wait upon him,
Like mine own brother. For my debt to him,
This nightmare weight of gratitude, I know it;
Taunt me no more: yourself and yours shall have
Free adit; we will scatter all our maids
Till happier times each to her proper hearth:
What use to keep them here–now? grant my prayer.
Help, father, brother, help; speak to the king:
Thaw this male nature to some touch of that
Which kills me with myself, and drags me down
From my fixt height to mob me up with all
The soft and milky rabble of womankind,
Poor weakling even as they are.'
Passionate tears
Followed: the king replied not: Cyril said:
'Your brother, Lady,–Florian,–ask for him
Of your great head–for he is wounded too–
That you may tend upon him with the prince.'
'Ay so,' said Ida with a bitter smile,
'Our laws are broken: let him enter too.'
Then Violet, she that sang the mournful song,
And had a cousin tumbled on the plain,
Petitioned too for him. 'Ay so,' she said,
'I stagger in the stream: I cannot keep
My heart an eddy from the brawling hour:
We break our laws with ease, but let it be.'
'Ay so?' said Blanche: 'Amazed am I to her
Your Highness: but your Highness breaks with ease
The law your Highness did not make: 'twas I.
I had been wedded wife, I knew mankind,
And blocked them out; but these men came to woo
Your Highness–verily I think to win.'
So she, and turned askance a wintry eye:
But Ida with a voice, that like a bell
Tolled by an earthquake in a trembling tower,
Rang ruin, answered full of grief and scorn.
'Fling our doors wide! all, all, not one, but all,
Not only he, but by my mother's soul,
Whatever man lies wounded, friend or foe,
Shall enter, if he will. Let our girls flit,
Till the storm die! but had you stood by us,
The roar that breaks the Pharos from his base
Had left us rock. She fain would sting us too,
But shall not. Pass, and mingle with your likes.
We brook no further insult but are gone.'
She turned; the very nape of her white neck
Was rosed with indignation: but the Prince
Her brother came; the king her father charmed
Her wounded soul with words: nor did mine own
Refuse her proffer, lastly gave his hand.
Then us they lifted up, dead weights, and bare
Straight to the doors: to them the doors gave way
Groaning, and in the Vestal entry shrieked
The virgin marble under iron heels:
And on they moved and gained the hall, and there
Rested: but great the crush was, and each base,
To left and right, of those tall columns drowned
In silken fluctuation and the swarm
Of female whisperers: at the further end
Was Ida by the throne, the two great cats
Close by her, like supporters on a shield,
Bow-backed with fear: but in the centre stood
The common men with rolling eyes; amazed
They glared upon the women, and aghast
The women stared at these, all silent, save
When armour clashed or jingled, while the day,
Descending, struck athwart the hall, and shot
A flying splendour out of brass and steel,
That o'er the statues leapt from head to head,
Now fired an angry Pallas on the helm,
Now set a wrathful Dian's moon on flame,
And now and then an echo started up,
And shuddering fled from room to room, and died
Of fright in far apartments.
Then the voice
Of Ida sounded, issuing ordinance:
And me they bore up the broad stairs, and through
The long-laid galleries past a hundred doors
To one deep chamber shut from sound, and due
To languid limbs and sickness; left me in it;
And others otherwhere they laid; and all
That afternoon a sound arose of hoof
And chariot, many a maiden passing home
Till happier times; but some were left of those
Held sagest, and the great lords out and in,
From those two hosts that lay beside the walls,
Walked at their will, and everything was changed.
Ask me no more: the moon may draw the sea;
The cloud may stoop from heaven and take the shape
With fold to fold, of mountain or of cape;
But O too fond, when have I answered thee?
Ask me no more.
Ask me no more: what answer should I give?
I love not hollow cheek or faded eye:
Yet, O my friend, I will not have thee die!
Ask me no more, lest I should bid thee live;
Ask me no more.
Ask me no more: thy fate and mine are sealed:
I strove against the stream and all in vain:
Let the great river take me to the main:
No more, dear love, for at a touch I yield;
Ask me no more.
Once more the gate behind me falls;
Once more before my face
I see the moulder'd Abbey-walls,
That stand within the chace.Beyond the lodge the city lies,
Beneath its drift of smoke;
And ah! with what delighted eyes
I turn to yonder oak.
For when my passion first began,
Ere that, which in me burn'd,
The love, that makes me thrice a man,
Could hope itself return'd;
To yonder oak within the field
I spoke without restraint,
And with a larger faith appeal'd
Than Papist unto Saint.
For oft I talk'd with him apart
And told him of my choice,
Until he plagiarized a heart,
And answer'd with a voice.
Tho' what he whisper'd under Heaven
None else could understand;
I found him garrulously given,
A babbler in the land.
But since I heard him make reply
Is many a weary hour;
'Twere well to question him, and try
If yet he keeps the power.
Hail, hidden to the knees in fern,
Broad Oak of Sumner-chace,
Whose topmost branches can discern
The roofs of Sumner-place!
Say thou, whereon I carved her name,
If ever maid or spouse,
As fair as my Olivia, came
To rest beneath thy boughs.—
"O Walter, I have shelter'd here
Whatever maiden grace
The good old Summers, year by year
Made ripe in Sumner-chace:
"Old Summers, when the monk was fat,
And, issuing shorn and sleek,
Would twist his girdle tight, and pat
The girls upon the cheek,
"Ere yet, in scorn of Peter's-pence,
And number'd bead, and shrift,
Bluff Harry broke into the spence
And turn'd the cowls adrift:
"And I have seen some score of those
Fresh faces that would thrive
When his man-minded offset rose
To chase the deer at five;
"And all that from the town would stroll,
Till that wild wind made work
In which the gloomy brewer's soul
Went by me, like a stork:
"The slight she-slips of royal blood,
And others, passing praise,
Straight-laced, but all-too-full in bud
For puritanic stays:
"And I have shadow'd many a group
Of beauties, that were born
In teacup-times of hood and hoop,
Or while the patch was worn;
"And, leg and arm with love-knots gay
About me leap'd and laugh'd
The modish Cupid of the day,
And shrill'd his tinsel shaft.
"I swear (and else may insects prick
Each leaf into a gall)
This girl, for whom your heart is sick,
Is three times worth them all.
"For those and theirs, by Nature's law,
Have faded long ago;
But in these latter springs I saw
Your own Olivia blow,
"From when she gamboll'd on the greens
A baby-germ, to when
The maiden blossoms of her teens
Could number five from ten.
"I swear, by leaf, and wind, and rain,
(And hear me with thine ears,)
That, tho' I circle in the grain
Five hundred rings of years—
"Yet, since I first could cast a shade,
Did never creature pass
So slightly, musically made,
So light upon the grass:
"For as to fairies, that will flit
To make the greensward fresh,
I hold them exquisitely knit,
But far too spare of flesh."
Oh, hide thy knotted knees in fern,
And overlook the chace;
And from thy topmost branch discern
The roofs of Sumner-place.
But thou, whereon I carved her name,
That oft hast heard my vows,
Declare when last Olivia came
To sport beneath thy boughs.
"O yesterday, you know, the fair
Was holden at the town;
Her father left his good arm-chair,
And rode his hunter down.
"And with him Albert came on his.
I look'd at him with joy:
As cowslip unto oxlip is,
So seems she to the boy.
"An hour had past—and, sitting straight
Within the low-wheel'd chaise,
Her mother trundled to the gate
Behind the dappled grays.
"But as for her, she stay'd at home,
And on the roof she went,
And down the way you use to come,
She look'd with discontent.
"She left the novel half-uncut
Upon the rosewood shelf;
She left the new piano shut:
She could not please herseif
"Then ran she, gamesome as the colt,
And livelier than a lark
She sent her voice thro' all the holt
Before her, and the park.
"A light wind chased her on the wing,
And in the chase grew wild,
As close as might be would he cling
About the darling child:
"But light as any wind that blows
So fleetly did she stir,
The flower, she touch'd on, dipt and rose,
And turn'd to look at her.
"And here she came, and round me play'd,
And sang to me the whole
Of those three stanzas that you made
About my Ôgiant bole;'
"And in a fit of frolic mirth
She strove to span my waist:
Alas, I was so broad of girth,
I could not be embraced.
"I wish'd myself the fair young beech
That here beside me stands,
That round me, clasping each in each,
She might have lock'd her hands.
"Yet seem'd the pressure thrice as sweet
As woodbine's fragile hold,
Or when I feel about my feet
The berried briony fold."
O muffle round thy knees with fern,
And shadow Sumner-chace!
Long may thy topmost branch discern
The roofs of Sumner-place!
But tell me, did she read the name
I carved with many vows
When last with throbbing heart I came
To rest beneath thy boughs?
"O yes, she wander'd round and round
These knotted knees of mine,
And found, and kiss'd the name she found,
And sweetly murmur'd thine.
"A teardrop trembled from its source,
And down my surface crept.
My sense of touch is something coarse,
But I believe she wept.
"Then flush'd her cheek with rosy light,
She glanced across the plain;
But not a creature was in sight:
She kiss'd me once again.
"Her kisses were so close and kind,
That, trust me on my word,
Hard wood I am, and wrinkled rind,
But yet my sap was stirr'd:
"And even into my inmost ring
A pleasure I discern'd,
Like those blind motions of the Spring,
That show the year is turn'd.
"Thrice-happy he that may caress
The ringlet's waving balm—
The cushions of whose touch may press
The maiden's tender palm.
"I, rooted here among the groves
But languidly adjust
My vapid vegetable loves
With anthers and with dust:
"For ah! my friend, the days were brief
Whereof the poets talk,
When that, which breathes within the leaf,
Could slip its bark and walk.
"But could I, as in times foregone,
From spray, and branch, and stem,
Have suck'd and gather'd into one
The life that spreads in them,
"She had not found me so remiss;
But lightly issuing thro',
I would have paid her kiss for kiss,
With usury thereto."
O flourish high, with leafy towers,
And overlook the lea,
Pursue thy loves among the bowers
But leave thou mine to me.
O flourish, hidden deep in fern,
Old oak, I love thee well;
A thousand thanks for what I learn
And what remains to tell.
" ÔTis little more: the day was warm;
At last, tired out with play,
She sank her head upon her arm
And at my feet she lay.
"Her eyelids dropp'd their silken eaves
I breathed upon her eyes
Thro' all the summer of my leaves
A welcome mix'd with sighs.
"I took the swarming sound of life—
The music from the town—
The murmurs of the drum and fife
And lull'd them in my own.
"Sometimes I let a sunbeam slip,
To light her shaded eye;
A second flutter'd round her lip
Like a golden butterfly;
"A third would glimmer on her neck
To make the necklace shine;
Another slid, a sunny fleck,
From head to ankle fine,
"Then close and dark my arms I spread,
And shadow'd all her rest—
Dropt dews upon her golden head,
An acorn in her breast.
"But in a pet she started up,
And pluck'd it out, and drew
My little oakling from the cup,
And flung him in the dew.
"And yet it was a graceful gift—
I felt a pang within
As when I see the woodman lift
His axe to slay my kin.
"I shook him down because he was
The finest on the tree.
He lies beside thee on the grass.
O kiss him once for me.
"O kiss him twice and thrice for me,
That have no lips to kiss,
For never yet was oak on lea
Shall grow so fair as this.'
Step deeper yet in herb and fern,
Look further thro' the chace,
Spread upward till thy boughs discern
The front of Sumner-place.
This fruit of thine by Love is blest,
That but a moment lay
Where fairer fruit of Love may rest
Some happy future day.
I kiss it twice, I kiss it thrice,
The warmth it thence shall win
To riper life may magnetise
The baby-oak within.
But thou, while kingdoms overset,
Or lapse from hand to hand,
Thy leaf shall never fail, nor yet
Thine acorn in the land.
May never saw dismember thee,
Nor wielded axe disjoint,
That art the fairest-spoken tree
From here to Lizard-point.
O rock upon thy towery-top
All throats that gurgle sweet!
All starry culmination drop
Balm-dews to bathe thy feet!
All grass of silky feather grow—
And while he sinks or swells
The full south-breeze around thee blow
The sound of minster bells.
The fat earth feed thy branchy root,
That under deeply strikes!
The northern morning o'er thee shoot,
High up, in silver spikes!
Nor ever lightning char thy grain,
But, rolling as in sleep,
Low thunders bring the mellow rain,
That makes thee broad and deep!
And hear me swear a solemn oath,
That only by thy side
Will I to Olive plight my troth,
And gain her for my bride.
And when my marriage morn may fall,
She, Dryad-like, shall wear
Alternate leaf and acorn-ball
In wreath about her hair.
And I will work in prose and rhyme,
And praise thee more in both
Than bard has honour'd beech or lime,
Or that Thessalian growth,
In which the swarthy ringdove sat,
And mystic sentence spoke;
And more than England honours that,
Thy famous brother-oak,
Wherein the younger Charles abode
Till all the paths were dim,
And far below the Roundhead rode,
And humm'd a surly hymn.
SEE MORE: