Alfred Lord Tennyson Poems Part,A Cambridge Scholar with no degree but exceptional skill in the artistry of the written language, Alfred, Lord Tennyson (1809 – 1892) stands among the best known as well as the most criticized poets of all time. The poet quite literally spent his entire life dedicated to pen and parchment.
Records indicate that Alfred, Lord Tennyson began writing as early as five years of age and never stopped doing so. Where his drive and passion for literature was formed is quite obviously from his family roots. His two brothers were poets (though less popular). This combined with his scholarly influences refined his skills as a blacksmith does a treasured metal.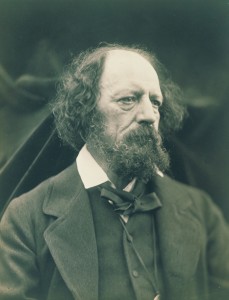 Alfred Lord Tennyson Bio
Hailing Hallman
One of the Chief influences in Alfred Lord Tennyson's life was Arthur Hallman. One must not succumb to believing rumors that Tennyson and Hallman had sexual relations as some critics have suggested. Where it is evident that Tennyson had a deep love for the man, there remains no definitive proof beyond speculation and rumor of a physical relationship.
Hallman was merely a close companion. Being as how Tennyson's beginning works got minimal acclaim, one can say that Arthur Hallman made it possible for the reader to have Alfred Lord Tennyson's poems today. Through his encouragement and through his death Tennyson received the drive which he needed to press forward. One can hear Tennyson's mourning ring out in his poems Morte d' Arthur as well as in Ulysses.
Alfred Lord Tennyson Poems Part 21
Sir Launcelot and Queen Guinevere
LIKE souls that balance joy and pain,
With tears and smiles from heaven again
The maiden Spring upon the plain
Came in a sun-lit fall of rain.
In crystal vapour everywhere
Blue isles of heaven laugh'd between,
And far, in forest-deeps unseen,
The topmost elm-tree gather'd green
From draughts of balmy air.
Sometimes the linnet piped his song:
Sometimes the throstle whistled strong:
Sometimes the sparhawk, wheel'd along,
Hush'd all the groves from fear of wrong:
By grassy capes with fuller sound
In curves the yellowing river ran,
And drooping chestnut-buds began
To spread into the perfect fan,
Above the teeming ground.
Then, in the boyhood of the year,
Sir Launcelot and Queen Guinevere
Rode thro' the coverts of the deer,
With blissful treble ringing clear.
She seem'd a part of joyous Spring:
A gown of grass-green silk she wore,
Buckled with golden clasps before;
A light-green tuft of plumes she bore
Closed in a golden ring.
Now on some twisted ivy-net,
Now by some tinkling rivulet,
In mosses mixt with violet
Her cream-white mule his pastern set:
And fleeter now she skimm'd the plains
Than she whose elfin prancer springs
By night to eery warblings,
When all the glimmering moorland rings
With jingling bridle-reins.
As she fled fast thro' sun and shade,
The happy winds upon her play'd,
Blowing the ringlet from the braid:
She look'd so lovely, as she sway'd
The rein with dainty finger-tips,
A man had given all other bliss,
And all his worldly worth for this,
To waste his whole heart in one kiss
Upon her perfect lips.
Sweet And Low
Sweet and low, sweet and low,
Wind of the western sea,
Low, low, breathe and blow,
Wind of the western sea!
Over the rolling waters go,
Come from the dying moon, and blow,
Blow him again to me;
While my little one, while my pretty one, sleeps.
Sleep and rest, sleep and rest,
Father will come to thee soon;
Rest, rest, on mother's breast,
Father will come to thee soon;
Father will come to his babe in the best,
Silver sails all out of the west,
Under the silver moon:
Sleep, my little one, sleep, my pretty one, sleep.
The Charge of the Heavy Brigade at Balaclava
I
The charge of the gallant three hundred, the Heavy
Brigade
Down the hill, down the hill, thousands of Russians,
Thousands of horsemen, drew to the valley — and
stayed;
For Scarlett and Scarlett's three hundred were riding by
When the points of the Russian lances arose in the sky;
And he called 'Left wheel into line!' and they wheeled
and obeyed.
Then he looked at the host that had halted he knew
not why,
And he turned half round and he bad his trumpeter
sound
To the charge, and he rode on ahead, as he waved
his blade
To the gallant three hundred those glory will never
fade—
'Follow,' and up the hill, up the hill, up the hill,
Followed the Heavy Brigade.
II
The trumpet, the gallop, the charge, and the might
of the fight!
Thousands of horsemen had gathered there on the
height,
With a wing pushed out to the left, and a wing to the
right,
And who shall escape if they close? but he dashed up
alone
Through the great gray slope of men,
Swayed his sabre, and held his own
Like an Englishman there and then;
All in a moment followed with force
Three that were next in their fiery course,
Fought for their lives in the narrow gap they had made—
Four amid thousands! and up the hill, up the hill,
Galloped the gallant three hundred, the Heavy Brigade.
III
Fell like a cannonshot,
Burst like a thunderbolt,
Crashed like a hurricane .
Broke through the mass from below,
Drove through the midst of the foe,
Plunged up and down, to and foe
Rode flashing blow upon blow,
Brave Inniskillens and Greys
Whirling their sabres in circles of light!
And some of us, all in amaze,
Who were held for a while from the fight,
And were only standing at gaze,
When the dark-muffled Russian crowd
Folded its wings from the left and the right,
And rolled them around like a cloud,—
O mad for the charge and the battle were we,
When our own good redcoats sank from sight,
Like drops of blood in a dark-gray sea,
And we turned to each other, whispering, whispering,
all dismayed,
'Lost are the gallant three hundred of Scarlett's
Brigade!'
IV
'Lost one and all' were the words
Muttered in our dismay;
But they rode like Victors and Lords
Through the forest of lances and swords
In the heart of the Russian hordes,
They rode or they stood at bay—
Struck with the sword-hand and slew,
Down with the bridle-hand drew
The foe from the saddle and threw
Underfoot there in the fray—
Ranged like a storm or stood like a rock
In the wave of a stormy day;
Till suddenly shock upon shock
Staggered the mass from without,
Drove it in wild disarray,
For our men gallopt up with a cheer and a shout,
And the foeman surged, and wavered, and reeled
Up the hill, up the hill, up the hill, out of the field,
And over the brow and away.
V
Glory to each and to all, and the charge that they made!
Glory to all the three hundred, and to all the Brigade!
The Death of the Old Year
Full knee-deep lies the winter snow,
And the winter winds are wearily sighing:
Toll ye the church bell sad and slow,
And tread softly and speak low,
For the old year lies a-dying.
Old year you must not die;
You came to us so readily,
You lived with us so steadily,
Old year you shall not die.
He lieth still: he doth not move:
He will not see the dawn of day.
He hath no other life above.
He gave me a friend and a true truelove
And the New-year will take 'em away.
Old year you must not go;
So long you have been with us,
Such joy as you have seen with us,
Old year, you shall not go.
He froth'd his bumpers to the brim;
A jollier year we shall not see.
But tho' his eyes are waxing dim,
And tho' his foes speak ill of him,
He was a friend to me.
Old year, you shall not die;
We did so laugh and cry with you,
I've half a mind to die with you,
Old year, if you must die.
He was full of joke and jest,
But all his merry quips are o'er.
To see him die across the waste
His son and heir doth ride post-haste,
But he'll be dead before.
Every one for his own.
The night is starry and cold, my friend,
And the New-year blithe and bold, my friend,
Comes up to take his own.
How hard he breathes! over the snow
I heard just now the crowing cock.
The shadows flicker to and fro:
The cricket chirps: the light burns low:
'Tis nearly twelve o'clock.
Shake hands, before you die.
Old year, we'll dearly rue for you:
What is it we can do for you?
Speak out before you die.
His face is growing sharp and thin.
Alack! our friend is gone,
Close up his eyes: tie up his chin:
Step from the corpse, and let him in
That standeth there alone,
And waiteth at the door.
There's a new foot on the floor, my friend,
And a new face at the door, my friend,
A new face at the door.
Once in a golden hour
I cast to earth a seed.
Up there came a flower,
The people said, a weed.To and fro they went
Thro' my garden bower,
And muttering discontent
Cursed me and my flower.Then it grew so tall
It wore a crown of light,
But thieves from o'er the wall
Stole the seed by night.Sow'd it far and wide
By every town and tower,
Till all the people cried,
"Splendid is the flower!"
Read my little fable:
He that runs may read.
Most can raise the flowers now,
For all have got the seed.
And some are pretty enough,
And some are poor indeed;
And now again the people
Call it but a weed.
"Courage!" he said, and pointed toward the land,
"This mounting wave will roll us shoreward soon."
In the afternoon they came unto a land
In which it seemed always afternoon.
All round the coast the languid air did swoon,
Breathing like one that hath a weary dream.
Full-faced above the valley stood the moon;
And like a downward smoke, the slender stream
Along the cliff to fall and pause and fall did seem.A land of streams! some, like a downward smoke,
Slow-dropping veils of thinnest lawn, did go;
And some thro' wavering lights and shadows broke,
Rolling a slumbrous sheet of foam below.
They saw the gleaming river seaward flow
From the inner land: far off, three mountain-tops,
Three silent pinnacles of aged snow,
Stood sunset-flush'd: and, dew'd with showery drops,
Up-clomb the shadowy pine above the woven copse.The charmed sunset linger'd low adown
In the red West: thro' mountain clefts the dale
Was seen far inland, and the yellow down
Border'd with palm, and many a winding vale
And meadow, set with slender galingale;
A land where all things always seem'd the same!
And round about the keel with faces pale,
Dark faces pale against that rosy flame,
The mild-eyed melancholy Lotos-eaters came.Branches they bore of that enchanted stem,
Laden with flower and fruit, whereof they gave
To each, but whoso did receive of them,
And taste, to him the gushing of the wave
Far far away did seem to mourn and rave
On alien shores; and if his fellow spake,
His voice was thin, as voices from the grave;
And deep-asleep he seem'd, yet all awake,
And music in his ears his beating heart did make.
They sat them down upon the yellow sand,
Between the sun and moon upon the shore;
And sweet it was to dream of Fatherland,
Of child, and wife, and slave; but evermore
Most weary seem'd the sea, weary the oar,
Weary the wandering fields of barren foam.
Then some one said, "We will return no more";
And all at once they sang, "Our island home
Is far beyond the wave; we will no longer roam."
CHORIC SONG I
There is sweet music here that softer falls
Than petals from blown roses on the grass,
Or night-dews on still waters between walls
Of shadowy granite, in a gleaming pass;
Music that gentlier on the spirit lies,
Than tir'd eyelids upon tir'd eyes;
Music that brings sweet sleep down from the blissful skies.
Here are cool mosses deep,
And thro' the moss the ivies creep,
And in the stream the long-leaved flowers weep,
And from the craggy ledge the poppy hangs in sleep."
II
Why are we weigh'd upon with heaviness,
And utterly consumed with sharp distress,
While all things else have rest from weariness?
All things have rest: why should we toil alone,
We only toil, who are the first of things,
And make perpetual moan,
Still from one sorrow to another thrown:
Nor ever fold our wings,
And cease from wanderings,
Nor steep our brows in slumber's holy balm;
Nor harken what the inner spirit sings,
"There is no joy but calm!"
Why should we only toil, the roof and crown of things?
III
Lo! in the middle of the wood,
The folded leaf is woo'd from out the bud
With winds upon the branch, and there
Grows green and broad, and takes no care,
Sun-steep'd at noon, and in the moon
Nightly dew-fed; and turning yellow
Falls, and floats adown the air.
Lo! sweeten'd with the summer light,
The full-juiced apple, waxing over-mellow,
Drops in a silent autumn night.
All its allotted length of days
The flower ripens in its place,
Ripens and fades, and falls, and hath no toil,
Fast-rooted in the fruitful soil.
IV
Hateful is the dark-blue sky,
Vaulted o'er the dark-blue sea.
Death is the end of life; ah, why
Should life all labour be?
Let us alone. Time driveth onward fast,
And in a little while our lips are dumb.
Let us alone. What is it that will last?
All things are taken from us, and become
Portions and parcels of the dreadful past.
Let us alone. What pleasure can we have
To war with evil? Is there any peace
In ever climbing up the climbing wave?
All things have rest, and ripen toward the grave
In silence; ripen, fall and cease:
Give us long rest or death, dark death, or dreamful ease.
V
How sweet it were, hearing the downward stream,
With half-shut eyes ever to seem
Falling asleep in a half-dream!
To dream and dream, like yonder amber light,
Which will not leave the myrrh-bush on the height;
To hear each other's whisper'd speech;
Eating the Lotos day by day,
To watch the crisping ripples on the beach,
And tender curving lines of creamy spray;
To lend our hearts and spirits wholly
To the influence of mild-minded melancholy;
To muse and brood and live again in memory,
With those old faces of our infancy
Heap'd over with a mound of grass,
Two handfuls of white dust, shut in an urn of brass!
VI
Dear is the memory of our wedded lives,
And dear the last embraces of our wives
And their warm tears: but all hath suffer'd change:
For surely now our household hearths are cold,
Our sons inherit us: our looks are strange:
And we should come like ghosts to trouble joy.
Or else the island princes over-bold
Have eat our substance, and the minstrel sings
Before them of the ten years' war in Troy,
And our great deeds, as half-forgotten things.
Is there confusion in the little isle?
Let what is broken so remain.
The Gods are hard to reconcile:
'Tis hard to settle order once again.
There is confusion worse than death,
Trouble on trouble, pain on pain,
Long labour unto aged breath,
Sore task to hearts worn out by many wars
And eyes grown dim with gazing on the pilot-stars.
VII
But, propt on beds of amaranth and moly,
How sweet (while warm airs lull us, blowing lowly)
With half-dropt eyelid still,
Beneath a heaven dark and holy,
To watch the long bright river drawing slowly
His waters from the purple hill–
To hear the dewy echoes calling
From cave to cave thro' the thick-twined vine–
To watch the emerald-colour'd water falling
Thro' many a wov'n acanthus-wreath divine!
Only to hear and see the far-off sparkling brine,
Only to hear were sweet, stretch'd out beneath the pine.
VIII
The Lotos blooms below the barren peak:
The Lotos blows by every winding creek:
All day the wind breathes low with mellower tone:
Thro' every hollow cave and alley lone
Round and round the spicy downs the yellow Lotos-dust is blown.
We have had enough of action, and of motion we,
Roll'd to starboard, roll'd to larboard, when the surge was seething free,
Where the wallowing monster spouted his foam-fountains in the sea.
Let us swear an oath, and keep it with an equal mind,
In the hollow Lotos-land to live and lie reclined
On the hills like Gods together, careless of mankind.
For they lie beside their nectar, and the bolts are hurl'd
Far below them in the valleys, and the clouds are lightly curl'd
Round their golden houses, girdled with the gleaming world:
Where they smile in secret, looking over wasted lands,
Blight and famine, plague and earthquake, roaring deeps and fiery sands,
Clanging fights, and flaming towns, and sinking ships, and praying hands.
But they smile, they find a music centred in a doleful song
Steaming up, a lamentation and an ancient tale of wrong,
Like a tale of little meaning tho' the words are strong;
Chanted from an ill-used race of men that cleave the soil,
Sow the seed, and reap the harvest with enduring toil,
Storing yearly little dues of wheat, and wine and oil;
Till they perish and they suffer–some, 'tis whisper'd–down in hell
Suffer endless anguish, others in Elysian valleys dwell,
Resting weary limbs at last on beds of asphodel.
Surely, surely, slumber is more sweet than toil, the shore
Than labour in the deep mid-ocean, wind and wave and oar;
O, rest ye, brother mariners, we will not wander more.
The Miller's Daughter
It is the miller's daughter,
And she is grown so dear, so dear,
That I would be the jewel
That trembles in her ear:
For hid in ringlets day and night,
I'd touch her neck so warm and white.
And I would be the girdle
About her dainty dainty waist,
And her heart would beat against me,
In sorrow and in rest:
And I should know if it beat right,
I'd clasp it round so close and tight.
And I would be the necklace,
And all day long to fall and rise
Upon her balmy bosom,
With her laughter or her sighs:
And I would lie so light, so light,
I scarce should be unclasp'd at night.
I built my soul a lordly pleasure-house,
Wherein at ease for aye to dwell.
I said, "O Soul, make merry and carouse,
Dear soul, for all is well."
A huge crag-platform, smooth as burnish'd brass
I chose. The ranged ramparts bright
From level meadow-bases of deep grass
Suddenly scaled the light.
Thereon I built it firm. Of ledge or shelf
The rock rose clear, or winding stair.
My soul would live alone unto herself
In her high palace there.And "while the world runs round and round," I said,
"Reign thou apart, a quiet king,
Still as, while Saturn whirls, his steadfast shade
Sleeps on his luminous ring."
To which my soul made answer readily:
"Trust me, in bliss I shall abide
In this great mansion, that is built for me,
So royal-rich and wide."
Four courts I made, East, West and South and North,
In each a squared lawn, wherefrom
The golden gorge of dragons spouted forth
A flood of fountain-foam.
And round the cool green courts there ran a row
Of cloisters, branch'd like mighty woods,
Echoing all night to that sonorous flow
Of spouted fountain-floods.
And round the roofs a gilded gallery
That lent broad verge to distant lands,
Far as the wild swan wings, to where the sky
Dipt down to sea and sands.
From those four jets four currents in one swell
Across the mountain stream'd below
In misty folds, that floating as they fell
Lit up a torrent-bow.
And high on every peak a statue seem'd
To hang on tiptoe, tossing up
A cloud of incense of all odour steam'd
From out a golden cup.
So that she thought, "And who shall gaze upon
My palace with unblinded eyes,
While this great bow will waver in the sun,
And that sweet incense rise?"
For that sweet incense rose and never fail'd,
And, while day sank or mounted higher,
The light aërial gallery, golden-rail'd,
Burnt like a fringe of fire.
Likewise the deep-set windows, stain'd and traced,
Would seem slow-flaming crimson fires
From shadow'd grots of arches interlaced,
And tipt with frost-like spires.
Full of long-sounding corridors it was,
That over-vaulted grateful gloom,
Thro' which the livelong day my soul did pass,
Well-pleased, from room to room.
Full of great rooms and small the palace stood,
All various, each a perfect whole
From living Nature, fit for every mood
And change of my still soul.
For some were hung with arras green and blue,
Showing a gaudy summer-morn,
Where with puff'd cheek the belted hunter blew
His wreathed bugle-horn.
One seem'd all dark and red–a tract of sand,
And some one pacing there alone,
Who paced for ever in a glimmering land,
Lit with a low large moon.
One show'd an iron coast and angry waves.
You seem'd to hear them climb and fall
And roar rock-thwarted under bellowing caves,
Beneath the windy wall.
And one, a full-fed river winding slow
By herds upon an endless plain,
The ragged rims of thunder brooding low,
With shadow-streaks of rain.
And one, the reapers at their sultry toil.
In front they bound the sheaves. Behind
Were realms of upland, prodigal in oil,
And hoary to the wind.
And one a foreground black with stones and slags,
Beyond, a line of heights, and higher
All barr'd with long white cloud the scornful crags,
And highest, snow and fire.
And one, an English home–gray twilight pour'd
On dewy pastures, dewy trees,
Softer than sleep–all things in order stored,
A haunt of ancient Peace.
Nor these alone, but every landscape fair,
As fit for every mood of mind,
Or gay, or grave, or sweet, or stern, was there,
Not less than truth design'd.
Or the maid-mother by a crucifix,
In tracts of pasture sunny-warm,
Beneath branch-work of costly sardonyx
Sat smiling, babe in arm.
Or in a clear-wall'd city on the sea,
Near gilded organ-pipes, her hair
Wound with white roses, slept St. Cecily;
An angel look'd at her.
Or thronging all one porch of Paradise
A group of Houris bow'd to see
The dying Islamite, with hands and eyes
That said, We wait for thee.
Or mythic Uther's deeply-wounded son
In some fair space of sloping greens
Lay, dozing in the vale of Avalon,
And watch'd by weeping queens.
Or hollowing one hand against his ear,
To list a foot-fall, ere he saw
The wood-nymph, stay'd the Ausonian king to hear
Of wisdom and of law.
Or over hills with peaky tops engrail'd,
And many a tract of palm and rice,
The throne of Indian Cama slowly sail'd
A summer fann'd with spice.
Or sweet Europa's mantle blew unclasp'd,
From off her shoulder backward borne:
From one hand droop'd a crocus: one hand grasp'd
The mild bull's golden horn.
Or else flush'd Ganymede, his rosy thigh
Half-buried in the Eagle's down,
Sole as a flying star shot thro' the sky
Above the pillar'd town.
Nor these alone; but every legend fair
Which the supreme Caucasian mind
Carved out of Nature for itself, was there,
Not less than life, design'd.
Then in the towers I placed great bells that swung,
Moved of themselves, with silver sound;
And with choice paintings of wise men I hung
The royal dais round.
For there was Milton like a seraph strong,
Beside him Shakespeare bland and mild;
And there the world-worn Dante grasp'd his song,
And somewhat grimly smiled.
And there the Ionian father of the rest;
A million wrinkles carved his skin;
A hundred winters snow'd upon his breast,
From cheek and throat and chin.
Above, the fair hall-ceiling stately-set
Many an arch high up did lift,
And angels rising and descending met
With interchange of gift.
Below was all mosaic choicely plann'd
With cycles of the human tale
Of this wide world, the times of every land
So wrought, they will not fail.
The people here, a beast of burden slow,
Toil'd onward, prick'd with goads and stings;
Here play'd, a tiger, rolling to and fro
The heads and crowns of kings;
Here rose, an athlete, strong to break or bind
All force in bonds that might endure,
And here once more like some sick man declined,
And trusted any cure.
But over these she trod: and those great bells
Began to chime. She took her throne:
She sat betwixt the shining Oriels,
To sing her songs alone.
And thro' the topmost Oriels' coloured flame
Two godlike faces gazed below;
Plato the wise, and large brow'd Verulam,
The first of those who know.
And all those names, that in their motion were
Full-welling fountain-heads of change,
Betwixt the slender shafts were blazon'd fair
In diverse raiment strange:
Thro' which the lights, rose, amber, emerald, blue,
Flush'd in her temples and her eyes,
And from her lips, as morn from Memnon, drew
Rivers of melodies.
No nightingale delighteth to prolong
Her low preamble all alone,
More than my soul to hear her echo'd song
Throb thro' the ribbed stone;
Singing and murmuring in her feastful mirth,
Joying to feel herself alive,
Lord over Nature, Lord of the visible earth,
Lord of the senses five;
Communing with herself: "All these are mine,
And let the world have peace or wars,
'T is one to me." She–when young night divine
Crown'd dying day with stars,
Making sweet close of his delicious toils–
Lit light in wreaths and anadems,
And pure quintessences of precious oils
In hollow'd moons of gems,
To mimic heaven; and clapt her hands and cried,
"I marvel if my still delight
In this great house so royal-rich, and wide,
Be flatter'd to the height.
"O all things fair to sate my various eyes!
O shapes and hues that please me well!
O silent faces of the Great and Wise,
My Gods, with whom I dwell!
"O God-like isolation which art mine,
I can but count thee perfect gain,
What time I watch the darkening droves of swine
That range on yonder plain.
"In filthy sloughs they roll a prurient skin,
They graze and wallow, breed and sleep;
And oft some brainless devil enters in,
And drives them to the deep."
Then of the moral instinct would she prate
And of the rising from the dead,
As hers by right of full accomplish'd Fate;
And at the last she said:
"I take possession of man's mind and deed.
I care not what the sects may brawl.
I sit as God holding no form of creed,
But contemplating all." *
Full oft the riddle of the painful earth
Flash'd thro' her as she sat alone,
Yet not the less held she her solemn mirth,
And intellectual throne.
And so she throve and prosper'd; so three years
She prosper'd: on the fourth she fell,
Like Herod, when the shout was in his ears,
Struck thro' with pangs of hell.
Lest she should fail and perish utterly,
God, before whom ever lie bare
The abysmal deeps of Personality,
Plagued her with sore despair.
When she would think, where'er she turn'd her sight
The airy hand confusion wrought,
Wrote, "Mene, mene," and divided quite
The kingdom of her thought.
Deep dread and loathing of her solitude
Fell on her, from which mood was born
Scorn of herself; again, from out that mood
Laughter at her self-scorn.
"What! is not this my place of strength," she said,
"My spacious mansion built for me,
Whereof the strong foundation-stones were laid
Since my first memory?"
But in dark corners of her palace stood
Uncertain shapes; and unawares
On white-eyed phantasms weeping tears of blood,
And horrible nightmares,
And hollow shades enclosing hearts of flame,
And, with dim fretted foreheads all,
On corpses three-months-old at noon she came,
That stood against the wall.
A spot of dull stagnation, without light
Or power of movement, seem'd my soul,
'Mid onward-sloping motions infinite
Making for one sure goal.
A still salt pool, lock'd in with bars of sand,
Left on the shore, that hears all night
The plunging seas draw backward from the land
Their moon-led waters white.
A star that with the choral starry dance
Join'd not, but stood, and standing saw
The hollow orb of moving Circumstance
Roll'd round by one fix'd law.
Back on herself her serpent pride had curl'd.
"No voice," she shriek'd in that lone hall,
"No voice breaks thro' the stillness of this world:
One deep, deep silence all!"
She, mouldering with the dull earth's mouldering sod,
Inwrapt tenfold in slothful shame,
Lay there exiled from eternal God,
Lost to her place and name;
And death and life she hated equally,
And nothing saw, for her despair,
But dreadful time, dreadful eternity,
No comfort anywhere;
Remaining utterly confused with fears,
And ever worse with growing time,
And ever unrelieved by dismal tears,
And all alone in crime:
Shut up as in a crumbling tomb, girt round
With blackness as a solid wall,
Far off she seem'd to hear the dully sound
Of human footsteps fall.
As in strange lands a traveller walking slow,
In doubt and great perplexity,
A little before moon-rise hears the low
Moan of an unknown sea;
And knows not if it be thunder, or a sound
Of rocks thrown down, or one deep cry
Of great wild beasts; then thinketh, "I have found
A new land, but I die."
She howl'd aloud, "I am on fire within.
There comes no murmur of reply.
What is it that will take away my sin,
And save me lest I die?"
So when four years were wholly finished,
She threw her royal robes away.
"Make me a cottage in the vale," she said,
"Where I may mourn and pray.
"Yet pull not down my palace towers, that are
So lightly, beautifully built:
Perchance I may return with others there
When I have purged my guilt."