Albery Allson Whitman was a 19th century African American poet who, despite being born into slavery, carved out a career for himself as a poet and orator. He served as a pastor throughout the south and mid-western regions of the United States. His poetry was universally well received and he became known as the "Poet Laureate of the Negro Race". He is included in the anthology African-American Poetry of the Nineteenth Century where his efforts are described as "attempts at full-blown Romantic poetry". Some even compared his verse to that written by well-known American and British authors who wrote in the Romantic tradition. One of Whitman's poems is called Ye Bards of England which extols the virtues of the great literary figures from English history and begins:

Albery Allson Whitman Bio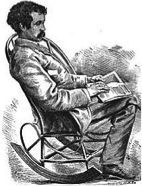 Albery was born sometime in 1851 on a Kentucky farm near Munfordville, Hart County. His parents were slaves and the boy grew up working at a variety of manual labour tasks such as railroad construction and in a plowshop. Before winning their freedom his parents had both died and Albery found himself orphaned at the age of 12. Somehow he survived and he did a little teaching for a while before gaining a place at Wilberforce University at the age of 19. He was almost immediately taken under the wing of Bishop Daniel Payne who became his mentor and good friend.
Payne recognised his protégé's talent as a writer and encouraged him to publish his first collection of poetry. After being at Wilberforce for only six months Whitman was a fundraiser and financial agent for the university. With Payne's encouragement he took up the role of pastor, initially in Springfield, Ohio at the African Methodist Episcopal church. Between 1879 and 1883 he travelled throughout the states of Texas, Georgia, Kansas and Ohio, establishing churches wherever the spiritual need existed.
Albery Allson Whitman Poems
A Dream of Glory
True glory on the earth is seldom seen,
Tho' sought by many with a jealous eye;
For where the heavenly birth has ever been,
The heedless footsteps of the world pass by.
The fairest blooms are born of humble weeds,
That faint and perish in the pathless wood;
And out of bitter life grow noble deeds,
To pass unnoticed in the multitude.
But reared by care, within the garden neat,
Luxuriant chances beautify the whole;
While poison lurks beneath each painted sweet,
And shoots a sorrow thro' the admiring soul.
Poor homeless hearts, unpitied by mankind,
And fortunes shattered in the adverse blast,
Are signals that have marked the march of mind,
Through boasted civ'lization's glorious past.
The dauntless will that scorns threat'ning defeat,
And breaks thro' penury's strong prison bars;
Can plant on triumphs proud his tow'ring feet,
And walk a shining highway to the stars.
Custar's Last Ride
Forth on the fatal morn,
Proud as the waves of Horn
Rode the cavalier;
Followed by gallant men,
Far in a rocky glen
To disappear.
"Halt!" bands of Sioux are seen
O'er all the dark ravine,
Crouched in numbers vast;
"Halt!" and a hush, "Prepare!"
"Charge!" and the very air
Starts at the blast.
Long waves of horsemen break,
And hoofy thunders wake
On the steep glen sides.
Back roll the columns brave,
Back in a smoky grave,
Each hero rides.
"Ready!" their chieftain cries,
Steady his eagle eyes
Sweep the dark ground o'er.
Slowly the lines re-form,
Slowly returns the storm,
Yet dreadful more.
"Charge!" is the proud command,
Onward the daring band
Like a torrent dash;
On heaving gorges long,
On groaning rocks among,
With tempest crash.
Up from their ferny beds
Dart fields of pluming heads,
As if hideous earth,
Out of her rocky womb,
Out of an army's tomb,
Doth give them birth.
"Rally!" but once is heard,
"Rally!" and not a word,
The brave boys rallying, speak.
Lightnings of valiant steel
Flash fast; the columns reel,
Bend — reel and break!
"Stand!" cries their Custar proud,
"Stand!" in the battle cloud
Echoes high around.
Answers the sabre's stroke,
Tho' in black waves of smoke
His fair form's drown'd.
Firece hordes of painted braves
Melt down, for well behave
Horse and cavalier:
As round their chief they fall,
Cheered by his clarion call,
From front to rear.
No more their leader calls,
Pierced 'mid his men he falls,
But sinks breathing, "Stand!"
And where the hero lies,
Each soldier till he dies,
Fights hand to hand.
Fort Dearborn
Fort Dearborn is a strong and goodly place,
And o'er the frontier looks with valiant face
To greet the hostile tread of savage harm,
With tongue of thunder and an iron arm.
Far up he stands, on a commanding ground,
With grizly turrets rising high around:
Block houses rude protect the outer posts,
Where pass the sentries quick before the camping hosts.
Here, erst, as eagle drives the trembling dove
O'er meadows broad, to shelt'ring cliffs above;
Proud Black Hawk rose, stern monarch of the wood,
The red Napoleon of Solitude,
And drove young civilization from the West,
To fly and hover in loud Dearborn's breast;
Till peace returning, with a gentle hand,
Beckoned her forth again to plant the flow'ry land.
Long since the Nation's battle-arm had cleared
Her skirts of border outrages; and reared
By daring hands, the settler's cabin stood,
By every steeam and in the mighty wood;
Since labor found in ease's arms repose —
This strong avenger of his race arose;
And vindicating, or for woe or weal
The red-man's homes, unsheathed the battle steel,
And made the border throat, alas! his bloody logic feel.
He saw neath mammon's desecrating tread,
The turf-green dwellings of the sacred dead.
The forest sachem, and the honored sire,
No more, within their lofty homes, awoke the fire
Of burning council in the patriot breast;
His sun sunk now forever on the wigwam-smoking West.
His leaping streams with cascade sadness mourned,
His fleet canoe was from its moorings turned,
His squaws and children bade their fields adieu,
To starving on their tearful way pursue;
And bloody-armed aggression followed where they flew.
Oh! who can then approach the chieftain's shade,
With ought but honor, e'en tho' he was made
To tear his heart from ev'ry tend'rer tie,
And to his loved ones with an arm of hostile succor fly?
Great hero, peace! Thou and thy thousand braves,
Too weak to stand, too proud to e'er be slaves,
On valor's lips, shall to the list'ning years
Be told: and urned in woman's love and tears,
Thy name to Time's remote end carried down,
Shall treasured be and claimed, by high Renown.
As some fierce comet rises in the West,
With locks of flame — and in deep crimson drest —
Swims ominously up a troubled sky,
Wlth fury stationed in his fiery eye;
While panting superstition drops a tear,
Prophetic looks, and thinks Time's end is near;
So, in Migration's pathway thou didst rise,
The flaming terror of the border skies,
And so aggression looked on thee with fearful eyes.
Young morn descending from her Eastern tour,
Now on the mountains chased a panting show'r;
The vap'rous slumbers of the valleys broke,
And to the waking fields a sweet breath'd greeting spoke.
On wings of song, enliv'ning cheer went round,
O'er sad-voiced woods by Autumn suns embrowned,
And o'er farm-studded vales, with here and there
An orchard neat, that crowned some rustic's care,
And friendly cot, beside the hillside stream,
The rude ideal of his glory dream.
Then, in a gate that looked from Dearborn West,
Sir Maxey stood, and thus his soul exprest:
"My Dora! Oh, my Dora! Where is she?
Torn from my care, oh, saints, how can it be!
To pine away in desert wastes and die,
Or feed the savage lusts that on her breast may lie.
My only Dora! Would I ne'er had been;
Or that I never had my angel seen!
Oh, my life's flower, doomed to droop and faint,
Where ling'ring exile mocks thy lone complaint!
Bereavement's hand poured out my grief to full,
And gave me sorrow from a ghastly skull;
When from my side, that one who shared my cares,
The burden-bearer of my weighty years —
Was borne away, my home to light no more!
E'en then Hope whispered of a sainted shore.
But tongueless sits Despair, dark-plumed with dole,
And strikes her painful beak into my soul!
When something to my sad heart seems to say,
"'Thy Dora pines in desert wilds away.'"
Two captains who upon their steeds had sate,
And heard him thus lamenting in the gate;
Now putting spurs, together eager cry:
"Withhold thy woeful 'plaint, where chivalry
Will test his strength. Say to us, aye, oh Sire,
And we will rescue Dora ere the day expires."
"Aye," cries Sir Maxey, "hear a father's vows;
Who rescues Dora, hath her for a spouse,
And purse of gold besides. Now, Westward fly,
And haste thy search, for we have this surety,
Of him, the only one who 'scaped the foe,
Her captors on a Westward way did go."
Swift as the shadows of a flying cloud,
From Dearborn forth now rode the soldiers proud;
But ere their morn of glory had begun,
High in their brightest sky, appeared a brighter sun.
Rodney came leading Dora from a wood,
And in their presence like a vision stood.
Their steeds they reined, they made a martial bow;
On Rodney gazed, awed by his valiant brow;
Glanced then at Dora, and together sighed:
"Whose she shall be, the future must decide!"
But ere their admiration found a tongue,
She passed them by the village trees among.
"My life no more embraces pure delight,"
Sighs one, "With that fair maiden out of sight!"
The other echoes: "My life's shine is o'er,
If I must see that beauty rare no more!"
"But," then the other mourns, "her father vows,
That who rescues her hath her for a spouse!
Then, if the valiant task hath now been done
By yon stern slave, our prospects darken neath an eclipsed sun."
"A slave contend," his friend indignant spoke,
"In love's fair lists, and wear a master's yoke!
A servant dog, a stalwart negro clown,
Unhorse a knight, the queen of love to crown?
Nay, thanks to Jove, the negro's proper sphere,
Is by him wilfully abandoned ne'er,
His longings suited to his station are;
For faithfulness he craves a master's care,
And craves no more; he stoops a bashful face
From azure looks, and love's white-arm'd embrace.
Born to be ruled, kind nature seals his breast
'Gainst Cupid's darts and Hymen's visions blest.
In him ambition 's merest insolence,
And chivalry is brazen impudence."
"Between us then," the other aptly cries,
"The open list, of flow'ry conquest lies,
And let the god's to excellence award the prize."
Now, Dora turning from the perilous wild,
Ran to a waiting father's long embrace,
And kissed the streams of joy from his face.
Brave Dearborn shouted o'er the rescued child,
Tlll loud rejoicings from his iron throat,
Rolled o'er the wastes and shook the hills remote.
Round after round the cheering cannon rung,
Old Solitude for once had found a tongue,
And spoke responsive, her deep lone retreats among.
All day the eyes of pleasure sparkled bright,
Around the evening hearth the circling news gave light;
The hand of valor, beauty's fair hand shook,
And joy beamed forth in age's sober look.
The tragic fate of Saville hindered not,
So much was sorrow in their mirth forgot.
Lo! where yon gloomy walls ascend on high;
Whose dismal windows meet the passing eye,
Where Memphis rises in her steepled pride,
And gazes on fair Mississippi's tide,
Where Memphis, robed in glitt'ring wealth doth rise,
The boast of Tennessee, the pride of Southern skies.
Turn there thy foot, thou who hast wandered long
Thro' life's sad ways, and by the haunts of wrong;
Thou who hast heard of mammon hardened souls,
Who drank iniquity from brimming bowls,
Or who hast dreampt of Slavery's grinding car,
Mounted by Crime, and dragged by dogs of war;
Followed by Famine, whose skeleton hand
Compels submission from a trembling land;
While empty Ignorance's idiot smile,
The hard-gleaned tribute is, to custom vile:
Turn there thy foot, thou who hast heard or read
Of virtue, chained to lust's infamous bed;
Pause at the door! The keeper comes! I hear
His footsteps on the stony floor anear!
The slow key grates, bolts move, oppressed I feel,
The sullen prison opes its jaws of steel;
And in the Hell of Slavery aghast I reel.
Among the sable inmates now I wend
My way, and they in fervent aspect bend
Their faces in the dust, cry, "Massa!" "Lord!"
But their bright tearful eyes speak more than cry or word.
They kiss their haughty keeper's iron hand,
Pursue his way, or round him suppliant stand.
Ah! Christian, canst thou bear it? Turn thine eyes
To where yon sorrow burdened mother lies!
She upward looks, and wrings her anguish, see!
Say to her, "Woman, oh, what aileth thee?"
And thou shalt hear the tearful answer sad,
"Two children, once to cheer my life I had;
The one was three years old, a little girl,
Her brow was clustered o'er with many a curl,
Her eyes were bright, and blue as Summer's skies!
But oh, my sweet faced darling!" loud she cries,
"My babe! Dear Willie! Oh, my two-month's old!
Was from my bosom snatched away, by cold
And cruel hands — methinks I hear his cry —
To pine without a mother's care and die!
Behold that mother, Christian, she is hushed
By yon stern keeper's glance, e'en though her soul is crushed.
And yonder see hoar age from friendship torn,
And from the goodly scenes where he was born!
Burdened with grief, he leans toward the grave,
And drags his chains, a poor unpitied slave.
This is the slave pen, reader, this the place
Where boasting Slav'ry drives the sable race,
To wait, as trembling sheep the slaughter wait,
Their buyer's entrance at yon iron gate.
Here tender hands of tearful remonstrance,
Entreating age's humble upward glance,
The sudden out-bursts of the grief torn heart,
The infant's 'plaint, from parent arms apart,
The maniac's wail and gaunt-eyed hunger's sigh,
That e'en doth bring a tear in Heaven's eye,
Cannot in man's cold heart, awake dead sympathy.
Ah, Tennessee, hast thou a Hermitage,
Where dwel'st a laurelled hero and a sage?
Great sage! Proud leader of the daring band,
Who loosed red havoc from the battle hand
On Blount's poor fort, till hardy sea-worn tars,
With crime acquainted, and athirst for wars,
Withdrew, their heads hung, from the scenes of blood,
Or o'er the mangled inmates weeping stood!
Let Silence rest her hand upon thy mouth,
And cease thy boasts, Oh, vain Chivalric South!
Say to thy mem'ry, "Ah, lead me not back
In yon deep ghostly past, with visions black!"
Thou may'st forget that from their brake-bound seat,
As free, true hearts, as e'er to freedom beat,
Were dragged in chains, fastened by Slavery's laws,
Or chased by blood hounds, from whose gaping jaws,
Dropped human gore, to stain the sacred soil
That bloomed and grew beneath the hand of toil.
Thou may'st forget, in a repentant soul,
The wigwams of the wasted Seminole;
And in the world's great temple, at the shrine
Of patriotism, kneel neath hands divine.
Lo! where yon whirling to and fro
Of men in business tide, doth so
Intoxicate with eagerness;
And in the eddy of voices hear,
The shrill cry of the auctioneer!
"Agoing! going!" rises clear.
While crowds of anxious list'ners press,
And doubt and gaze, and sigh and guess;
Shrewd speculation, in the face
Of business looks: his quick eyes trace
The way of vantage, till he make
A fortune, or a fortune break.
Suspense's trembling speech is heard,
For now the crier, word by word,
Sinks lower, lower, "going, gone,"
The bargain's clasped, the work is done;
And now he calls another one.
There, rising as the wave-dashed rock,
Firm in his tow'ring scorn;
There, standing on the buyer's block,
See that sad form, but not forlorn.
In other climes was he not born?
Yes, where yon Western bowers spread
Their green luxuriance o'er the head
Of bare-armed labor, and the sound
Of rural sports, the long year round,
Is heard on care's enlivened way;
He once hath known a brighter day.
There where young industry's strong arms
Hath in the forests hewn down farms,
And in the vale his pastures spread,
And by the waters clean flocks fed;
Full harvests reaped upon the hills,
And in the valleys built his mills;
There, once he mingled, true and brave,
A home-guard loved, and faithful slave.
'Tis Savllle's Rodney, Dora's friend,
A faithful servant to the end.
And do you ask why he is sold?
I answer, then you shall behold.
There is a famous spring by Dearborn's walls,
Whose rush bound wand'ring to the heart recalls,
Of frontier daring, olden memories,
That oft bring brightness, oft tears to the eyes.
Here erst the Sachem, in his plumy pride,
Beheld his clans reposing at his side,
When on the tongue of forest councils burned
The words of war, or, when, in peace returned
From weary hunting grounds, they cheerful lay,
To watch the painted face of dying day.
Here civilization met his savage foe,
And with an arm of lightning laid him low,
And on the open hights of triumph stood,
Clasping this lucent treasure of the wood.
Here now the peaceful villagers repair,
To soothe the burdened ear of cumb'rous care.
Lo! yonder lab'rer, from his field comes by,
And nears with quick'ning steps and brightened eye.
Here trysting whispers linger in the shade,
Where rustic courtship clasps his bashful maid,
And sober converse, to the scene endeared,
Tarries till vespers soft are in the village heard.
Hail thou best blessing of the varied train,
That cheers life's journey thro' earth's weary plain!
Nectar for gods, and bright wines for the king,
But draughts for lab'rers from the running spring.
Now Dora stood at this ancestral spot,
And list'ning to the waters sing, forgot
That she was waiting for her running over pot.
Loud jovial labor in the field was done,
And sounds of mellow night-fall had begun.
The swallow told her stories in the eaves,
The groaning wain creaked home beneath its sheaves,
The swain garrulous in his empty weal,
Debated with the hills, till sudden wheel
Of rooky clamor from the elms, made
His hair stand up, till he had crossed the shade.
The shrill cock blew, the hillside barn behind;
And crow belated, asks the sent'nel wind,
Which way was nearest to his roosting mates.
The reaper homeward sang thro' slamming gates,
And o'er the sheep-cote woods a moon hung pale,
Like some lone shepherdess that hears a lover's tale.
Now Dora wond'ring what the waters said,
Leaned o'er the rocks and lingered in the shade,
Till Rodney, standing at her elbow, spake:
"You to obey, this only chance I take,
Now to my aching heart the secret ope;
May I to hear some pleasant tidings hope?"
Then Dora answered, "Oh! my faithful slave,
In my distresses well didst thou behave.
The life of me, and of my father too,
Are to thy manly, brave exertions due;
But thou hast kindled, by thy interest,
The fires of jealousy in many a breast.
Hence, thou art sold. The two commanders here
Have followed thee with bitterness severe,
Till for thy safety, father has thee sold,
Away to Memphis, Tennessee, I'm told.
But Rodney, bear it! In God's strength be bold!"
Morton
Freedom, thy son is dead!
Once more the solemn tread
Of the long, slow cortege echoes to throbs
Of a nation's heart, and a great people's sobs
Around their leader's bier,
Burst on the sorrowing ear.
The lips of mirth are still,
And the eyes of beauty fill
With big tears;
The voice of love is low,
The hands of trade move slow,
And toil wears
A deep grief on his brow.
The tongues of sad bells cleaving
To the roofs of their mouths speak not;
And music's bosom heaving
Beneath its burden is silent.
Fair Indiana weeps,
The central mourner of a group of States,
That come with tears to shed
Around the mighty dead.
Alas! poor Indiana!
Too late in him who sleeps,
Thou see'st a noble son,
So soon "worn out" and done!
His voice is hushed forever in thy gates.
Alas! poor Indiana!
Now is a time for memory and tears,
And lessons that fall from the lips of years.
Sit down in the shadow that like a dark pall
From this sad event doth over thee fall,
With a hand on thy heart, and a hand on thy head,
And mourn thy great loss in the glorious dead.
Thou hast sisters who may with the mourn,
But none for thee, for none thy loss have borne.
Now is a time for reflection.
A star has gone down.
But the light that shone,
Yet lingers on our sight;
And we turn in the direction
In which we last saw it going,
And pensively pause, scarce knowing
That all around is night.
Weep for Indiana!
Ye her sisters who gave
Our flag an arm of help in peril's hour:
And raised the injured slave
From iron heeled oppression's galling power.
Weep, States, for Indiana!
Her Morton saved her, when she strove the awful leap
Into Rebellion's vortex dread to take.
The rocky jaws of ruin gaping deep
Beneath, began her head to dizzy make;
And wild hallucinations that did rise
From slavery's hell of wrongs had sealed her eyes
To danger; on the brink a moment, lost
To Freedom's sweet entreating voice, she tossed
Her tresses back, and in fair frenzy gazed
Upon our glorious flag; a mad cry raised,
And sprang for death; but seized by her great son,
Who to the awful rescue swift had run,
And forced in herculean arms away,
She mourns him, clothed in her right mind to-day.
Toll the bells for a nation's sorrow,
Toll slow, toll slow!
Chant songs of a people's sorrow,
Chant low, chant low.
Behold the great man borne
Towards the waiting tomb!
Open earth! Give him room!
Environed in the gloom
That lowers, mourn, people! mourn!
And with the solemn boom
Of cannon, and the knells
Of sad sorrowing bells,
Proclaim, proclaim his doom!
His glory was to serve his State —
She gave him none; — he was born great.
In his country's woe he found his own,
His weal in his country's weal,
Self in his great works never was known —
A patriot true as steel.
Born to rule, he knew the reins,
And knew the rod, and spared no pains
In using either, when they need be.
As restless as the uncontented sea,
He knew no stand still.
Stronger forever growing he
Was in man will.
He was the lion who could awe the weak
By lying still in massive dread reserve,
Or fly upon the strong opposer's neck
With scornful glare, and blows of iron nerve.
And sun ne'er looked upon a day,
Since our Republic tore away
Her arms from Britain's clutch,
That would not have seen him in front,
As in our times his life was wont;
The elements were such
In him, and so combined
Were all the powers of his vast mind.
His was no warrior's wreath —
He not on cannon's breath
O'er red fields rode to death
And immortality;
But strong for liberty
He rose in dreadful might —
Dreadful because of right —
And with the weapons bright
That genius gave her favorite son,
He dealt dismay and death to foes
Far mightier than those
Who dare the flash of steel and reeking gun.
When human slav'ry struggled to extend
Its snaky coil round California's coasts,
And thro' our trembling land from end to end,
Flaunting Secession made his open boasts,
He met the hissing wrong,
And cool, and brave, and strong,
Drove back its forked tongue.
When loyal heads hung down,
'Neath mad opinion's frown,
And tongues more fearful froze;
His was to oppose
With clearest words of stone,
Hewn from the loyal block,
Whose meaning always known,
With true energy thrown,
Smote like the rock.
When freedom's columns waved,
And friends of the enslaved
Aghast fell back,
His courage knew no lack —
He hurried to the van,
The thickest dangers braved,
And e'er the battle saved;
So nobly he behaved —
The cause lived in the man.
He could endure, rebuke, compel, entreat,
Forbear, defy, but could not know defeat.
First always in the right,
Doing with all his might,
And last to yield the fight,
His friends learned to depend upon him,
And his foes feared to rush upon him,
And both joined to wonder at him,
And slander ceased to thunder at him,
And envy ceased to sneak behind him,
And everywhere applause would find him,
Till rumor held her speech before him;
And now he's gone, we all adore him.
Two there were who fought
Our struggles dire;
One in the battle's hell,
Met by destruction's yell,
And the death rain of shot and shell,
For his country strove;
One the great work of love
With his mind's arms wrought.
While war in the far-off South
Mowed fields of death at the cannon's mouth;
His breath of fire and hail
Was not more dreadful that the wail
Of want in the North, whose shiv'ring blast,
To mothers' hearts, and children's homes laid waste.
When the disconsolate East was blowing,
And not a spray nor leaf of cheer was flowing
With life's heavy stream;
And when the harsh skies hissing, snowing,
And low and dark and sullen growing,
Extinguished sun's last gleam.
When little bare foot want was going
From door to door;
Her withered empty hands a showing,
Her eyes running o'er —
Telling of a father dead,
Who for his country had bled;
And of a sick mother's bed,
Begging a crumb of bread;
When wretchedness her bare arms throwing
Around her children, looked thro' tears
And murmured in her country's ears
To help her in her sore distress
Feed those the war left fatherless;
When this hour came, the darkest hour
That e'er upon our flag did lower,
God called His man, as best He knows,
God called His man, and Morton rose.
Like some vast cliff whose tow'ring form
Awe, strikes but shelters from the storm,
He rose, to us a strong defense,
A tow'r of help, and good immense.
With Indiana on his back,
Her Legislature off the track,
And half the members pulling back,
He rose, the awful advocate,
And on the right road dragged his State.
Tho' wealth hugged his Secession gold,
And with a nod the weak controlled,
Things had to move when he took hold,
And shook to life the feeble souled.
Statesman, patriot, sire, bear him away;
Inter him with a nation's honors to-day!
He has seized slavery with fearless hands,
And thrown her gloomy castle from the sands,
His blows of massive wisdom strong,
Have hurled to earth the tow'ring wrong,
But 'neath its falling columns crushed,
His matchless voice in death is hushed.
Beauty, cover him with flowers of his native shore.
Valor, with unfading laurels cover him o'er.
Freedmen, bring your tears,
And till life's last years
Reach the echoless shore,
Tell his great deeds o'er.
And soldiers, wherever our standard flies;
Or where thou goest neath foreign skies,
Behold thy friend in death low lies!
Friend when you fronted the battle,
Friend when the cannon's rattle
Mowed a harvest of death,
Friend when "worn out" you reeled
Home from the bloody field
To rest beneath
An humble shed,
Scanty of comfort, scanty of bread —
Weep for him soldiers! Weep for your friend!
And forget not till your lives shall end,
To honor the noble dead.
Old Abe, The War Eagle of Wisconsin
Heard ye of "Old Abe," the war eagle who went
From his home by the Lakes to the far sunny coasts,
To share the brave fortunes of that regiment
Which numbered the Eighth in Wisconsin's proud hosts?
When army clouds mingled in that civil storm
Which hung o'er the Nation in deep low'ring gloom,
Above a horizon of breastworks his form,
The emblem of Liberty, proudly did plume.
Away in the dimness of uncertain strife
He spread his bold flight towards Victory's sky —
Tho' treason smote hard at the National life —
And soared to her parapets looking on high.
From whence mangled Slavery, low at the feet
Of proud stamping battle, he stooped then to spurn,
And homeward flew back with the brave boys to meet
The loved ones who wainted to hail their return.
As the raindrop on a flower
When the bow's behind a shower,
As the breeze that fans the forehead
Of the sunset, when his cheeks red
Nestle on his mountain pillow,
Or a sea without a billow;
So is Peace's sweet libations,
To the bosom of the Nations.While the Shepherd's lone were tending
Flocks by night on Judah's plain;
Angels bright above them bending,
Trumpeted their sweet refrain:"Glory be to God in Heaven,
Peace on earth, good will to men,
To the world a Savior's given,
Lo! he comes in Bethlehem.
Then a door in Heaven opened,
And a milk-white spirit flew
From the golden portals earthward —
And the Nation's journeying thro',
She touched the Conqu'ror's sword, that thrust
Thro' thousand hearts red honors wore;
The glitt'ring terror fell before
His eyes and crumbled into dust.
She breathed upon the warrior's wreath,
And while applauses filled his ears,
And earth her tribute paid of tears,
His glory withered in her breath.
She stood behind the tyrant's throne;
His sceptre vanished from his hand;
And lo! he saw on sea and land,
His gloomy power was gone.
She fanned the lab'rer's care-worn brow,
And sunshine falling from her wing
Into his heart, forced him to sing
While leaning on his plow.
Then by his cot she turned her flight,
And blithe health to the doorway ran,
Contentment's sweetest songs began,
And all within was light.
Rape of Florida: Canto I: Invocation
The poet hath a realm within, and throne,
And in his own soul singeth his lament.
A comer often in the world unknown —
A flaming minister to mortals sent;
In an apocalypse of sentiment
He shows in colors true the right or wrong,
And lights the soul of virtue with content;
Oh! could the world without him please us long?
What truth is there that lives and does not live in song?
"The stuff's in him of robust manliness,
He is a poet, singing more by ear
Than note." His great heart filled with tenderness,
Thus spoke the patriarch bard of Cedarmere
Of me, who dwelt in a most obscure sphere;
For I was in the tents of bondage when
The muse inspired, and ere my song grew clear,
The graceful Bryant called his fellow-men
To mark what in my lay seemed pleasing to him then.
O! shade of our departed Sire of song!
If what to us is dim be clear to thee,
Hear while my yet rude numbers flow along!
If spirit may a mortal's teacher be,
Stand thou near by and guidance offer me!
That, like thy verses, clear as summer blue, —
Bright mirrors of the peaceful and the free,
Reflecting e'er the good, the great and true, —
So mine may be, and I my pleasing task pursue.
Say, then, of that too soon forgotten race
That flourished once, but long has been obscure
In Florida, and where the seas embrace
The Spanish isles; say if e'er lives more pure
Warmed veins, or patriots could more endure
Around the altars of their native bourne!
Say, when their flow'ry landscapes could allure,
What peaceful seasons did to them return,
And how requited labor filled his golden urn!
How sweet their little fields of golden corn!
How pleasure smiled o'er all the varying scene!
How, 'mid her dewy murmurs dreamt the morn,
As Summer lingered in the deep serene!
How nibbling flocks spread on the hillsides green,
And cattle herded in the vales below;
And how wild meadows stretched in bloom-sweet sheen,
Beneath unconquered shades, where lovers go
When comes the evening star above the dark to glow!
In this delightful valley of the isle,
Where dwelt the proud Maroon, were not deeds done
Which roused the Seminole and fierce exile
To more than savage daring? Here begun
The valiant struggles of a forest son;
And tho' by wrong's leagued numbers overborne,
His deeds of love and valor for him won
The envied wreath by heroes only worn,
And which from manhood's brow oppression ne'er hath torn!
The negro slave by Swanee river sang;
Well-pleased he listened to his echoes ringing;
For in his heart a secret comfort sprang,
When Nature seemed to join his mournful singing.
To mem'ry's cherished objects fondly clinging;
His bosom felt the sunset's patient glow,
And spirit whispers into weird life springing,
Allured to worlds he trusted yet to know,
And lightened for awhile life's burdens here below.
The drowsy dawn from many a low-built shed,
Beheld his kindred driven to their task;
Late evening saw them turn with weary tread
And painful faces back; and dost thou ask
How sang these bondmen? how their suff'rings mask?
Song is the soul of sympathy divine,
And hath an inner ray where hope may bask;
Song turns the poorest waters into wine,
Illumines exile hearts and makes their faces shine.
The negro slave by Swanee river sang,
There, soon, the human hunter rode along;
And eagerly behind him came a gang
Of hounds and men, — the bondman hushed his song —
Around him came a silent, list'ning throng;
"Some runaway!" he muttered; said no more,
But sank from view the growing corn among;
And though deep pangs his wounded spirit bore,
He hushed his soul, and went on singing as before.
So fared the land where slaves were groaning yet —
Where beauty's eyes must feed the lusts of men!
'Tis as when horrid dreams we half forget,
Would then relate, and still relate again —
Ah! cold abhorrence hesitates my pen!
The heavens were sad, and hearts of men were faint;
Philanthropy implored and wept, but then
The wrong, unblushing, trampled on Restraint,
While feeble Law sat by and uttered no complaint.
"Fly and be free!" A whisper comes from heaven,
"Thy cries are heard!" the bondman's up and gone!
To grasp the dearest boon to mortals given,
He frantic flies, unaided and alone.
To him the red man's dwellings are unknown;
But he can crave the freedom of his race,
Can find his harvests in the desert sown,
And in the cypress forest's dark embrace
A pathway to his habitations safely trace.
The sable slave, from Georgia's utmost bounds,
Escapes for life into the Great Wahoo.
Here he has left afar the savage hounds
And human hunters that did late pursue;
There in the hommock darkly hid from view,
His wretched limbs are stretched awhile to rest,
Till some kind Seminole shall guide him thro'
To where by hound nor hunter more distrest,
He, in a flow'ry home, shall be the red man's guest.
If tilled profusion does not crown the view,
Nor wide-ranged farms begirt with fences spread;
The cultivated plot is well to do;
And where no slave his groaning life has led,
The songs of plenty fill the lowliest shed.
Who could wish more, when Nature, always green,
Brings forth fruit-bearing woods and fields of bread?
Wish more, where cheerful valleys bloom between,
And herds browse on the hills, where winter's ne'er has been?
Shall high-domed mosque or steepled cathedral,
Alone, to man his native land endear?
Shall pride's palatial pomp and ease withal,
The only shrines of patriotism rear?
Oh! who can limit adoration's sphere,
Or check the inspiring currents of the soul? —
Who hush the whispers of the vernal year,
Or press the sons of freedom from their goal?
Or who from Nature wrest the mystery of control!
Plebian, Savage, Sage, or lord or fiend,
Man hath of justice and of right a cause.
Prior to all that e'er has contravened,
Or e'en to man's existence, justice was.
Right would be right amid the wreck of laws:
'Tis so, and all ordaining Nature gives
Somewhere to live, to every child she has;
She gives, and to her bosom each receives,
Inducing it to love the spot whereon it lives.
Fair Florida! whose scenes could so enhance —
Could in the sweetness of the earth excel!
Wast thou the Seminole's inheritance?
Yea, it was thee he loved, and loved so well!
'Twas 'neath thy palms and pines he strove to dwell.
Not savage, but resentful to the knife,
For thee he sternly struggled — sternly fell!
Thoughtful and brave, in long uneven strife,
He held the verge of manhood mid dark hights of life.
A wild-born pride endeared him to thy soil!
Where roamed his herds without a keeper's care —
Where man knew not the pangs of slavish toil!
And where thou didst not blooming pleasures spare,
But well allotted each an ample share,
He loved to dwell: Oh! isn't the goal of life
Where man has plenty and to man is fair?
When free from avarice's pinch and strife,
Is earth not like the Eden-home of man and wife?
If earth were freed from those who buy and sell,
It soon were free from most, or all its ills;
For that which makes it, most of all, a hell,
Is what the stingy of purse of Fortune fills:
The man who blesses and the man who kills,
Oft have a kindred purpose after all, —
A purpose that will ring in Mammon's tills;
And that has ne'er unheeded made a call,
Since Eve and Adam trod the thistles of their Fall.
What meant the actions of the great and good —
The Christ and His Apostles — holy men!
Why wandered they about in solitude,
Despising what the world called greatness then?
Why shun the num'rous city's places, when
Eternal themes their warning tongues inspired —
Why, but to reach Edenic source again
In nature? Why, if not that they aspired
To tarry, till seraphic touch and flame had fired
Their hearts to work man's restoration? This,
This is the voice of Time unfolding truth!
Oh! does not Nature teach us primal bliss?
Who has not felt her lessons in his youth?
And having felt, who can forget forsooth!
The voice of birds, the toil and hum of bees,
And air all filled with sounds, sweet or uncouth,
Dark hights, majestic woods and rolling seas
Have been my teachers, and my teachers still be these!
Have I not seen the hills of Candahar
Clothed in the fury of a thunder storm,
When Majesty rolled in His cloud-dark car —
Wreathed His dread brow with lightning's livid form,
And with a deluge robed His threat'ning arm!
Not seen, when night fled His terrific feet,
The great deep rose to utter forth alarm,
The hills in dreadful hurry rushed to meet,
And rocking mountains started from their darkened seat!
In happy childhood I have even loved
To sport the wild, and in the front and face
Of dreadest Nature, watch the storm unmoved,
That tore the oak tree from its ancient place
And took the hilltops in its dark embrace;
And then I've loved the pleasing after-view —
The quiet valleys spanned with light and grace —
The watery field, replete with life anew,
And sunset robing earth in love's sublimest hue.
Thus, when afar the wide Bahamas shone, —
In lucent stillness gleamed the sunset sea —
When day's last rim sank like a molten zone,
Emblaz'ning in Omnific heraldry
The far-off crag and latest mountain tree;
Thus, on a stand dividing worlds I've stood,
Till, touched by the dark wand of mystery,
I felt the brow of night, and earth imbued
With dread emotions of a great eternal Good
Upon the shells by Carribea's wave
I've heard the anthems of the mighty sea;
Heard there the dark pines that their voices gave,
And heard a stream denote its minstrelsy —
How sweet, all lonely, was it there to be!
The stars were bright, the moon was up and clear;
But, when I thought of those who once were free,
And came at wonted times to worship there;
The sea's deep voice grew sad and claimed of me a tear!
Oh! sing it in the light of freedom's morn,
Tho' tyrant wars have made the earth a grave;
The good, the great, and true, are, if so, born,
And so with slaves, chains do not make the slave!
If high-souled birth be what the mother gave, —
If manly birth, and manly to the core, —
Whate'er the test, the man will he behave!
Crush him to earth and crush him o'er and o'er,
A man he'll rise at last and meet you as before.
So with our young Atlassa, hero-born, —
Free as the air within his palmy shade,
The nobler traits that do the man adorn,
In him were native: Not the music made
In Tampa's forests or the everglade
Was fitter, than in this young Seminole
Was the proud spirit which did life pervade,
And glow and tremble in his ardent soul —
Which, lit his inmost-self, and spurned all mean control.
Than him none followed chase with nimbler feet,
None readier in the forest council rose;
To speak for war, e'er sober and discreet,
In battle stern, but kind to fallen foes.
He led the charge, but halted, — slow to close
The vexed retreat: In front of battle he,
Handsome and wild his proud form would expose;
But in the cheering van of victory,
Gentle and brave he was the real chief to see.
Lo! mid a thousand warriors where he stands,
Pride of all hearts and idol of his race!
Look how the chieftains of his war-tried bands
Kindle their courage in his valiant face!
And as his lips in council open, trace
How deep suspense her earnest furrows makes
On ev'ry brow! How rings the forest-place
With sounding cheers! when native valor wakes
His dark intrepid eyes, and he their standard takes!
Proud spirit of the hommock-bounded home
Well wast thy valor like a buckler worn!
And when the light of other times shall come, —
When history's muse shall venture to adorn
The brow of all her children hero-born, —
When the bold truth to man alike assigns
The place he merits, of no honor shorn;
The wreath shall be, that thy brave front entwines,
As green as Mickasukie's everlasting pines!
Well bled thy warriors at their leader's side!
Well stood they the oppressor's wasting fire;
For years sweep on, and in their noiseless tide,
Bear down the mem'ries of the past! The dire
And gloomful works of tyrants shall expire,
Till naught survives, save truth's great victories;
Then shall the voyager on his way aspire
To ponder what vast wrecks of time he sees,
And on Fame's temple columns read their memories!
Not so with Osceola, thy dark mate;
The hidden terror of the hommock, he
Sat gloomily and nursed a bitter hate, —
The white man was his common enemy —
He rubbed the burning wounds of injury,
And plotted in his dreadful silent gloom;
As dangerous as a rock beneath the sea.
And when in fray he showed his fearless plume,
Revenge made sweet the blows that dealt the white man's doom.
The pent-up wrath that rankled in his breast,
O'er smould'ring embers shot a lurid glare,
And wrongs that time itself had not redrest,
In ghost-like silence stalked and glimmered there.
And from the wizzard caverns of despair,
Came voice and groan, reminding o'er and o'er
The outrage on his wife so young and fair;
And so, by heaven and earth and hell he swore
To treat in council with the white man never more.
Such were the chiefs who led their daring braves
In many a battle nobly lost or won,
And consecrated Mickasukie's graves
To that sweet province of the summer sun!
And still shall history forgetful run?
Shall legend too be mute? then Poesy,
Divinest chronicler of deeds well done,
From thy blest shrine and annals of the free,
Sing forth thy praise and man shall hear attentively
The poorest negro coming to their shore,
To them was brother — their own flesh and blood, —
They sought his wretched manhood to restore, —
They found his hidings in the swampy wood,
And brought him forth — in arms before him stood, —
The citizens of God and sovran earth, —
They shot straight forward looks with flame imbued,
Till in him manhood sprang, a noble birth,
And warrior-armed he rose to all that manhood's worth.
On the dark front of battle often seen,
Or holding dang'rous posts through dreadful hours, —
In ranks obedient, in command serene,
His comrades learn to note the tested powers
Which prove that valor is not always ours,
Be whomsoever we: A common race
Soon from this union flows — soon rarest flowers
Bloom out and smile in beauty's blending grace,
And rivals they become for love's sublimest place.
The native warrior leads his ebon maid,
The dark young brave his bloom-hued lover wins;
And where soft spruce and willows mingle shade,
Young life mid sunniest hours its course begins:
All Nature pours its never-ending dins
In groves of rare-hued leaf without'n end, —
'Tis as if Time, forgetting Eden's sins,
Relents, and spirit visitors descend
In love's remembered tokens, earth once more to blend.
The sleepy mosses wave within the sun,
And on the dark elms climbs the mistletoe;
Great tangled vines through pendant branches run,
And hang their purple clusters far below;
The old pines wave their summits to and fro,
And dancing to the earth, impatient light
Touches the languid scene, to quickly go,
Like some gay spirit in its sunny plight,
That, visiting the earth, did glance and take its flight.
Here lapped in Sylvia's all-composing shade,
Reposed a lake beneath the thick-wood hill
Whose shady base, by night and day was made
The scene of trystings: Pining there until
The shadow crept upon the midnight sill,
The love-sick youth spoke vows unto the moon;
And pond'ring by the waters lone and still,
The old man conned his lifetime's Afternoon,
And turned the pleasing view, "I shall be going soon."
"Come now, my love, the moon is on the lake;
Upon the waters is my light canoe;
Come with me, love, and gladsome oars shall make
A music on the parting wave for you, —
Come o'er the waters deep and dark and blue;
Come where the lilies in the marge have sprung,
Come with me, love, for Oh, my love is true!"
This is the song that on the lake was sung,
The boatman sang it over when his heart was young.
The boatman's song is hushed; the night is still,
Still as the vault of heaven, — a plashy oar
Starts from the shadows by the darkling hill,
And softly dips towards the farther shore;
Now stops, now dips again — is heard no more.
But follow the nook by yonder tree, —
Where spouts a tiny stream with fretish roar,
His light canoe is riding noiselessly —
A Chieftain's light canoe, in which his maid you see.
Ah! how her wild dark wealth of tresses spread
Below the arm that round her partly lies!
And as she leans her half reluctant head,
See how intense the glances that she tries!
Her very soul is mounting to her eyes
Lit with the fires of her proud ancestry;
And as her chieftain hears her faint replies,
How his high spirit doth adore to see
His princess-child, the bright star of his destiny!
"A maid from islands in a far, far sea,
Came to our shores, upon a day, a day;
A beauty fair, a beauty fair was she,
And took our young Chief's heart away, away;
Tho' all the world could not we heard him say.
And oh! we love our chieftain and his maid,
And so will we, and so will we for aye!"
This was the night-song on the lake delayed, —
The boatman sang it over in the willows' shade.
The scout at eve to Mickasukie came;
The stories of Twasinta were his boast, —
A stately chief, Palmecho was his name,
Had numerous herds and fields, and had a host
Of servants in the vale from Tampa's coast.
A proud descendant of a House of Spain,
Distinguished as a patron, gen'rous most,
Whoever sought his roof, sought not in vain,
And he who tarried once, must shelter there again.
What if his child, of Maroon mother born,
Were not so white as fancy's marble art?
What if Care's tedious skill did not adorn? —
A native air did nobler charms impart;
For beauty blossomed wildly in her heart:
The rosebud's youngest tinge was in her cheek,
And her dark restless eyes could dance and start
As if the sparkling sense were wont to speak,
And hurl the insult back that woman's heart is weak.
Lo! where yon age-browned mansion meets the eyes!
The brook below it winds how placidly!
A house of proud ancestral families,
How venerable is its history!
Whilom here met the sons of liberty;
The counsel and the courage of a time
When civilization, crossing o'er the sea,
Courted the perils of an unknown clime,
And reared the Cross of Spain to mark conquests sublime.
But of thy conquests, what remains for thee,
Except our sighs, thou proud but feeble Spain!
Thy flow'r and pride, Lisboa's chivalry,
Could not on these wild shores prolong thy reign.
For man waxed mighty and his God was Gain.
What if thy ancient mounts are castle-crowned?
What if thy vales do open to the main,
With cloisters in the distance time-embrowned?
These are but glimmerings of what was once renowned.
Was not thy standard on these shores unfurled? —
Dominions named for thy "most Christian Queen"
The smile-provoking jest of a New World,
Whose sons in battle had victorious been,
O'er English vet'rans, who had service seen?
Yea, when the luchre-loving Saxon grew
And fattened on the blood of slaves, I ween
Not much remained for errant hands to do,
Except to seize and hold the weak in bondage too!
But Saragossa's flash o'er war's red field,
That nerved thy sons in havoc's revelry,
Held in young Ewald's softer glance concealed,
The dark springs of Astrusian chivalry, —
The lash-hid fires of valor's destiny —
Such eyes, the raging battle could not tame:
Yet they could shed the sweet light of a plea;
Enkindling in love's soft consenting flame,
A pride that nobly linked with beauty's charming name.
But we return; By Carribea's shore
And Tampa far, the Maroon's race is run!
Gone are his children; him they call no more!
No more they gather in the setting sun
To join their pastimes, after toil is done!
Pathetic silence covers with a pall
The scene which all the living seem to shun,
And something seems to whisper, after all:
"And, ah! did such and such Twasinta's homes befall!"
Here many an exile found his long sought rest,
And built his cot in woods afar, or lane.
Warm were his greetings for the weary guest,
Who wandered thither from the distant main.
And those who came were pressed to come again.
And for what news he gathered by the way,
Of frontier happens, or of maid and swain
On foreign shores, — prolonged from day to day,
The total stranger might at will extend his stay.
Here erst came exiles from their little farms,
To greet Palmecho and some honored guest;
Then ranged in rows, they sat with folded arms,
And heaven with rude, but fervent songs addrest:
A nameless longing kindled in each breast,
Gave soul to song, and as their voices rose,
And rolled, and echoed, dying in the West,
It seemed as if the dark hills did enclose
Unearthly choirs that chanted Nature to repose.
But where are they? Their voices are no more,
Where is the proud Palmecho? Where his child?
Ah! shall we seek them on a foreign shore,
Or follow where they wander in the wild?
Oh God! and hath our garments been defiled
With their shed blood; or what the frost and blight
That withered life where erst so sweet it smiled?
Let time's unerring finger point aright,
If Babylon be doomed, the truth should see the light.
Pass by their dwellings! they are desolate!
The dog has wandered there and howled and gone!
Rank weeds are growing over the broken gate,
And silence holds her dismal reign alone.
Ah! see what devastation there has done!
How o'er the scene a mournful spirit falls!
Here where a cheerful hearth whilom hast shone,
The dim mole burrows — sunken lean the walls,
And wizard voices whisper in the naked halls!
Thus have we, Mickasukie, seen thy brave,
And, too, Twasinta, seen thy homes decline!
Thus have we found how yearns the poorest slave
For freedom — how at patriotism's shrine,
The ardor of the exile is divine;
And now, that in the tide of years o'erflown,
There's scarcely left a trace of thee and thine,
We pause and sigh, mid wrecks that time hath strewn;
Of all the world has been how little now is known!
The plowman's furrow marks the crumbling field,
Where all unnoticed, war's rude weapons spread;
While neath his heedless step may lie concealed,
The strange and thrilling annals of the dead!
On some eventful day there may have bled,
Freemen as brave as Balaklava knew;
While there may rest some glorious leader's head,
Whose matchless valor to his standard drew
Brave hosts, who round their homes a wall of battle threw.
Oh! would the muse of history rend the veil,
And bring her hidden instances to light;
How many standards of the proud would trail,
As thousands all unknown would rush in sight!
From steepled vale and celebrated hight!
Wherever civilization spreads her name,
Nations that perished in the scourge and blight
Of wars would rise, and in the book of fame,
Record their struggles and their heroes' deeds proclaim.
Not Albion's will nor Scotia's price alone,
Could drum and slogan till the air should shriek
With martial praise, — nor with their lips of stone,
Could Tyber's Mistress and Illyrium speak
The godlike deeds of Roman and of Greek;
Nay, where the orange blows in yellow gold, —
Where eve is thoughtful and the morn is meek, —
Where stood the quick-eyed warrior dark and bold,
Applausing earth would hear the deeds of glory told.
Then from the lips of unforgetting time,
To hear what did Twasinta's homes befall
When war-storms overspread that peaceful clime —
To know what anguish did all hearts appall,
When separations brought death after all —
To hear how love can mortal dread unmask, —
To hear, and write at candor's earnest call,
That I may answer if mankind shall ask,
In truth — this be my aim, this be my further task.
SEE MORE: