Albery Allson Whitman was a 19th century African American poet who, despite being born into slavery, carved out a career for himself as a poet and orator. He served as a pastor throughout the south and mid-western regions of the United States. His poetry was universally well received and he became known as the "Poet Laureate of the Negro Race". He is included in the anthology African-American Poetry of the Nineteenth Century where his efforts are described as "attempts at full-blown Romantic poetry". Some even compared his verse to that written by well-known American and British authors who wrote in the Romantic tradition. One of Whitman's poems is called Ye Bards of England which extols the virtues of the great literary figures from English history and begins:

Albery Allson Whitman Bio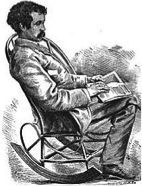 Albery was born sometime in 1851 on a Kentucky farm near Munfordville, Hart County. His parents were slaves and the boy grew up working at a variety of manual labour tasks such as railroad construction and in a plowshop. Before winning their freedom his parents had both died and Albery found himself orphaned at the age of 12. Somehow he survived and he did a little teaching for a while before gaining a place at Wilberforce University at the age of 19. He was almost immediately taken under the wing of Bishop Daniel Payne who became his mentor and good friend.
Payne recognised his protégé's talent as a writer and encouraged him to publish his first collection of poetry. After being at Wilberforce for only six months Whitman was a fundraiser and financial agent for the university. With Payne's encouragement he took up the role of pastor, initially in Springfield, Ohio at the African Methodist Episcopal church. Between 1879 and 1883 he travelled throughout the states of Texas, Georgia, Kansas and Ohio, establishing churches wherever the spiritual need existed.
Albery Allson Whitman Poems
Pashepaho's Speech to the Young Men
Pashepaho heard the young men
Till their lofty words had ended,
And in accents stern, thus answered:
"For your presents, I am thankful.
By your speeches I'm encouraged.
Peace now lighteth all the Nations
As a noon sun lights the prairies.
Time once was when peace was broken
Up in all our Western borders.
Horsed on fire, bloody battle
Rode throughout our ancient forests.
From his home within the sunrise,
From his land of bells and steeples,
From the regions of the East wind,
The hoar dwelling place of Wabun,
Then Spake the Great Father to us,
To his red tribes spake in loud tones
As of thunder in the forests.
"Now be peaceable, my children,
Dwell in friendship's tents together,
You, my red sons and my white sons."
Then he took his great war hatchet,
That could strike with blows of thunder,
And into the mountains wandered,
Went forth in the deepest valleys,
And at one blow hewed a pine down,
Fell a great pine of the valleys,
That looked upward into Heaven,
With the East winds in his left hand,
And the West winds in his right hand,
And the noon-beams in his forelocks;
Took this old pine of the valleys,
And to make a war-post, reared it.
Then he spake again, in this wise:
"Lo! the war-post now ascendeth!
See the war-post of the nations,
Now the Great Spirit beholds it;
See it pointing into Heaven
Like the finger of a giant!
Bury now your hatchets neath it,
And be peaceable my children,
Dwell in friendship's tents together."
Then the sky above the war-post,
Grew as clear as any crystal,
And the dreamy air was softened,
And the dazing blue seemed higher,
And the far off hills seemed farther,
And all sounds were low and solemn.
Then the red sons and the white sons,
Neath the war-post sat together.
When the red sons spake in this wise:
"Raise your eyes and look now, brothers,
See it now is Indian Summer.
Lo! the sky is all serene now,
And the hills are all a sleeping,
How the brown woods now are yawning?
Now the slow streams sing in whispers.
And the South wind passeth softly
In her moccasins of damp moss.
Lo! this now is Indian Summer,
And the time to go a hunting.
We wlll leave you now, and hasten
To the mountains for a bear hunt.
Our light canoes are waiting
By the waters. Brothers, farewell.
Then spake the Great Father to us,
As we stood beside the waters,
By the moorings of our canoes,
And shook hands with all our brothers.
"Thus your hunting grounds, my red sons,
Shall extend; my white sons know them.
From Kaskaskia to Cahokia,
From St. Vincennes to St. Louis,
Up the Wabash, Illinois,
The Wisconsin, and Great Water,
To the regions of the North wind,
Where the bold St. Lawrence spreadeth
Out the fingers of his right hand;
Where the dun moose snuffs the lake fog,
Snuffs the cold breath of the North Lakes,
And the slow bear baffles Winter,
In his sullen reign of deep snows;
Where the son of Giant waters
Rocks the earth as in a cradle,
And sings lullabys of thunder
In the ear of old Forever,
Till the darkness sighs and shudders,
And the white hills quake and whisper,
"Lo, Niagara is waking!"
From this birth-place of the hoar blasts,
To the wigwam of the South wind,
In the myriad-voiced prairies,
Where the wild goose sounds her pibroch,
And the wild duck talks her nonsense,
And the heron shoots her slant flights,
From her dreamings in the long grass;
These shall be — then loud he uttered —
Hunting grounds for you forever."
Then said Pashepaho, turning
From his audience, and smoking,
"Peace now lighteth up our forests,
And our wigwams all are cheerful."
When first the young year inhales the sweetened air,
And painted landscapes kiss her tender feet,
The constant throat of music everywhere
Is burdened with her meed of praises sweet.The clear brook panting from the ivied steep,
A crystal tribute sings within the dell;
And in the branchy wood secluded deep
Soft echo marks the sounds that please her well.Till blooming Summer drops her latest charms,
Contentment tunes her reed in labor's ear;
Till russet plenty crowns the joyous farms,
The tongue of greetings hails the jovial year.But when the sullen North begins to wail,
Old friends forsake her, leaving one by one;
Till all untended in her leafless vale,
The naked year is left to die alone.
Then saddened blasts convey her snowy bier,
And only blustry storm above her weeps,
While mournful woods attempt a feeble cheer,
And cold drear suns but glance at where she sleeps.
Rape of Florida: Canto IV
Gazing upon the toiling seas,
In gloomy rows the silent captives sate;
And as the ship rode off before the breeze,
They murmured not, though all disconsolate;
But mournful seemed, and joined to meditate, —
Each other to regard with patient sighs,
And gather courage up to hope and wait;
Still looking back, with sad, reluctant eyes,
To bid a last adieu to Florida's blue skies!Those who had counselled Tampa's sons of old,
Now lift their drooping faces from their hands;
And those who had done battle stern and bold, —
Fierce sons of Seminole and exile bands, —
Look up as in their midst Atlassa stands.
Shorewards his arms in heavy irons stretch,
And while his mien a silence deep commands,
His fiery glance inspires the veriest wretch,
For all well know that he's for mortal foe a match!Full well they know the perfidy and guile,
By which at Tampa, they in chains were held.
The insult to a flag of truce, so vile,
Astounded all, and in each bosom swelled,
A bitter, mute despondency. Compelled
To charge themselves with lack of wariness,
They felt that they from homes were self-expelled;
So, sighs alone, their feelings could express,
As their attentive ear drank down their chief's address."My native Florida! adieu! adieu!
I'm looking at the last pine on thy shore!
Soon other climes must come upon my view,
And thy sweet landscapes meet my eyes no more!
Oh! Florida! hear now thy son implore!
In thy fair bosom still remember me;
And while the billows shall between us roar,
Or thy smooth sands shall hear a lisping sea,
Let these my latest vows revive and dwell in thee!
"I go in chains, but not a pining slave;
Injured but conquered not, I still go free!
And yet, ye seats by Mickasukie's wave,
How sad it is that I must thus leave thee!
'Twas in thy shades I hoped my grave might be.
When Peace had come to spread her happy reign.
Where sleep the prophet-sires of liberty,
I proudly deemed that comrades should have lain
My weary dust in rest unbroken to remain!
"Ye pines whose whisper's lulled thy child to rest,
And whose hoarse anthems nerved him in the fray,
How slept thy shades on Mickasukie's breast,
How crept they from the threshold of the day! —
From such sweet scenes I'll soon be far away!
And Apalachi, parted now from me,
No words can utter what my heart would say! —
But while thy pining shores no more I see,
In his far home, Atlassa still will think of thee!"
The chieftain speaks no more, but still doth gaze
Till Florida is gone and all is sea.
With every canvas breathing, sailors raise
Their outward shouts, and sing right merrily
To the dark wave's responsive melody:
But hark! what groans now fill the heedless wind!
The captive can his home no longer see;
So sinks in unsupported grief the mind,
When exiles dragged away, must leave their hearts behind!
Atlassa sees those who, whilom could look
Upon him with a hope of sure redress;
And feelings that e'en his heart cannot brook,
Damp his averted eyes, and thoughts that press
Like flame, he feels and cannot half express.
There are his comrades in long bloody wars;
Their lips are still — their looks speak none the less, —
Their maimed limbs, and their faces deep with scars,
Are the dumb eloquence which tells the wrong that mars.
There is a time when speech is all too frail,
There is a place where silence speaks the most:
What is the word to paint a human wail,
Or how heroic, speak where all is lost!
He who wears shackles mid his shackled host,
Shows valor's steel to sturdily behave,
For life is Freedom's last and real cost,
And so, the last resistance of the brave,
Is that stern silence which to chains prefers grave.
Full well the patient exile knows his chief,
Full well the Seminole regards his mien;
For to look on him is a strange relief
To those who with him, other times have seen,
Ah! they remember well what he hath been, —
How readily he sprang to meet the foe!
Bearing misfortunes manfully serene,
They see him now, and trust that he may know
The way of their deliv'rance, and direct the blow.
Still sing the sailors 'mid their masts and spars,
All heedless of a captive's sighs aboard!
In truth 'tis a good time for jolly tars —
The heaving canvas hastens them toward
Their haven, and sea-omens good afford
Continuous presages of a fair sail;
While sportive fancy kens ahead to hoard
The dance, and sparkling draught that shall regale,
When they the Crescent City's busy port shall hail.
How near may men be, yet how far apart,
If what lies all unuttered were but told!
How changed is all the province of the heart,
When different men the selfsame sights behold!
To one the skies may glow in dusts of gold,
Sprinkled by hands of promise, while the same
To others like the book of Doom unrolled,
May doleful seem, — toned with the lurid flame
That lights the ruins and gloom of mishaps dread to name.
Atlassa leans, stern looking on his chains,
All else unheeding till a touch he feels, —
Before him stands the soldier-porting Gaines,
His lifted hat the veteran-brow reveals.
With wars acquainted, nought his mien conceals;
Meeting the chief as brave men meet the brave,
A glance of mutual admiration seals
The friendliness with which they each behave:
"Unbind him," thunders he, "Atlassa is no slave!"
"I've thrown away my rifle," cries the chief,
"I hold a brave hand, we shall now be friends!"
The soldier answers and his words were brief; —
"Only in battle foes, in peace strife ends.
In arms, your conduct to mankind commends
You as a warrior, honorable — true.
And now the General in command extends
The hand of high fraternity to you, —
Believe me, sir, and this with heartfelt pride I do."
Straightening to all his hight, the vet'ran Gaines,
With martial pride investing his high brow,
The signal gives, — a band, discoursing strains
Enliv'ning, starts — and expectancy now
Stands tiptoe. Seaman at the stern and prow,
And high amid the rigging, hush and wait! —
Palmecho is unchained and from below,
Totters up in a poor unsteady gait —
The pathos of an old man borne from sorrow's weight!
There was a hush upon the swelling wave,
The spirit of the waters seemed to be
A silent noticer. The full sails gave
A flutter short and listened breathlessly;
The mews came nearer from the open sea,
And over all there was a deep'ning spell,
Till trumpets flourished loud and suddenly,
And then sweet strains again commenced to swell,
When Ewald sprang and on her chieftain's bosom fell.
Ewald the princess of the sunny isle,
Ewald the idol of Twasinta's vale, —
The fascinating beauty, who, erwhile
A captive pined, in long suspense grown pale, —
Not now less beautiful, but much more frail,
Her dark unconquered eyes still claim their reign,
Lovely in triumph! no weak sob or wail
Escape her lips, or word unmeet and vain;
She simply looks a queen, restored to realms again!
The dark wave smiled, the sails flapped swifter on,
The mews were off about their foam intent;
And e'en the vet'ran Gaines was up and gone,
When o'er Ewald the silent chieftain leant;
Too well he knew what such reunions meant!
Ah! who could rudely linger on the scene,
When arms reluctant pressed by love consent,
And lips like rose-buds with their dews between,
Their dainty sweets yield to the touch? It would have been
A sacrilege polluting e'en the sea!
Not Jonah's disobedience could have stirred
The Ocean gods to wrath more suddenly.
This scene in Neptune's realms, was, in a word,
A part, in Bliss Regained, by him preferred
Before the patrons of the wave, to show
That e'en love's whispers in the deep are heard —
That her entrancings charm the tides that flow,
And please the pow'rs that reign invincibly below.
Ye who are scornful of an injured race, —
Who boast thy fellow mortal to despise,
Look now on war-worn Gaines' valiant face,
Look in the glorious old commander's eyes,
Gaze, as on Ewald's neck his proud hand lies,
See how her sweet hand nestles there in his;
Now with coy glances, see, she deftly tries
And wins the admiring smile which ever gi'es
Woman a pleasure true and man's best treasure is.
Now ask the vet'ran — but his fiery eye
Is on you! Look! Draw near! Stand in its blaze
And let it scorch! — Approach him — there! ask "Why,
Our leader, why, Sir, bring us the disgrace
Which must attach to fawning Ewald's race?"
Imagine that he answers! — hold! now go,
Make haste, forsooth! hide thy repugnant face
Till thou art cured! and after this be slow
To stretch thy curious neck life's nobler springs to know.
But we must hasten to a foreign shore, —
To ancient Santa Rosa lift thine eyes;
There the worn exiles, free at last, explore
The plain that by no slave polluted lies
Beneath the peaceful blue of Mexic's skies;
There may they taste their freedom so well won,
Surrounded by their happy families;
There may rejoice to find their struggles done,
And Plenty's benedictions close what wars begun.
Where the wild cactus lifts its thorny stem,
And sleepily endures the day-long heat,
A free and fruitful clime inviteth them
To rest their whilom weary, wand'ring feet.
Oh! how inspiriting the prospect sweet
That now expands upon the open gaze!
Above them yet their tropic branches meet,
The fruit boughs hang in luscious golden maze,
And winds are burdened with their native wood-land lays.
Here the clear stream holds in its peaceful brim
Such quiet shadows as to them recall
The scenes of Mickasukie's forests dim;
And, mindful still of what did them befall,
Though not cast down, they rise up after all,
And here commence the dream of life again.
Soon cheerful hearths unite their fam'lies small,
The husbandman leads up his joyous train,
And pleasant farms extend wide o'er the vocal plain.
There stands Atlassa 'mid his hopeful few,
The future contemplates and looks before.
The battle storm that erst around him drew
Them to defend their wasted land is o'er.
And now lamenting not his native shore,
He rises still as one born to command,
And challenge comrade's courage tried once more.
He waves the signal of his gifted hand,
And valiantly they go to subjugate the land.
He led them forth of old, they knew not where,
He followed with them o'er the mournful wave;
They halted in the wilderness, and there
The human hunter waited to enslave, —
He stepped to front again their leader brave,
And when the foe came on with haughty stride,
A death blow to his insolence he gave:
Then came the weary march, thro' forests wide,
Till they were safe beyond the Rio Grande's tide.
There, mourning not, they toil and hope again, —
They look not back, their sodden cheeks are dry;
And yet, I ween, there is an inward pain
To those whose kindred all unnoticed lie
Beneath the sad sun of a foreign sky.
The South wind whispers to them o'er the wave,
And dampness is, perhaps, come in some's eye
Who thinks of a dear, well-remembered grave;
But all to mourn are too long suffering and too brave.
Since he who looks upon a glorious day
Expiring on the threshold of the West,
Must breathe a thoughtful wish to be away;
And feel within him dying unexprest
The seer-voiced longings of the heart's unrest;
May we not trust that, in the evermore,
A friendlier clime awaits the pensive breast;
May we not hope to reach a farther shore,
And catch the billows listing where they cease to roar?
Oh! must it ever come that earth shall be
A sable field of barrenness? A waste
Of hollow sounds? Must fruitless nature see
Her seasons end? And sunless days — the last —
Roll sightless on mid desolations vast?
Must Time in silence view her broken urn,
Or sit to brood upon an empty Past?
Bereft of years, must she a widow mourn,
And to her childless breast will joy no more return?
And since there is, as hope is prone to sing,
A "Happy Land," why say "far, far away?"
May not the restful soul be lingering
Still near its mansion of deserted clay?
The unembodied spirit, why not say,
By matter all unhindered, is at home;
Whether delighted round the earth to stray,
Or in a farther universe to roam, —
A guest of future worlds, — then back at times to come!
If conscious life about the earth might stroll,
A child of Reason still, it then were sweet
To think on a Republic of the soul —
Community of Spirits — where lives meet
To walk the earth they've known, with joyous feet,
Unharrowed by abysmal thoughts of Death;
Reason would then hold her delightful seat,
And tho' what's mortal, but a mist, a breath,
Were passed away, life still would be her "shibboleth."
'Twere sweet to live, if cherishing the trust
That life itself doth from the flesh-life spring, —
That what survives affection's tender dust
Is this existence, only brightening
With azure grace and an immortal wing!
Then might we hope to feel as we have felt,
And know the subtle shadow wavering
Between the where we may dwell and have dwelt;
Then might we realize that not in vain we've knelt.
If then, this be, how sweet the pleasing dream, —
When life had filled its shadow and its shine, —
That led the savage by his dark-wood stream,
To seek a heaven beneath his leafy shrine!
In pathos sweet and tenderness divine,
This solace for the poorest heart pleads:
When this life o'er her empty urn shall pine,
She sit to mourn not in eternal weeds;
But, part the shade into the shine that there succeeds.
Those who have labored up dogmatic Blancs
To freeze on horrid crags, or dash below
Into some mangling chasm did leave the banks
And shades of safety in the plain, to know,
Only too late, that such hights can but show
Distances too sublime by far to reach, —
Only too late, that tend'rest comforts grow
Where love's sweet whispers cluster round, to teach
The dear humanity that they disdained to preach.
Who can ascend against Thy awful brow,
Omnipotence! About Thee Thou dost gird
The elements! Thine avalanches flow
Down the incomputable years! and heard
Eternally comes forth Thy Sovran Word,
To warn man back! Thy presence who can bear?
E'en of old in mountains thou appeared,
And from thine upper worlds man Thee did hear,
And quake to stand in clouds of an unmortal fear!
Thou warnest me the mortal task to shun,
Of tempting thy dread paths above to find.
Stern, silent, incomprehensible One!
Thou risest boundlessly above the mind!
But here below thou hast for love entwined
An altar with the leaf of life, and bloom,
Round which, pathetic human tendrils bind
The off'rings of our hands. May its perfume
Exhale in all the earth, as freedom's fires consume!
But we have wandered: If the Seminole
May ever reach again his native shore,
How sweet to think of his unhindered soul
Revisiting the scenes he loved before!
But if the hope offend we say no more:
We leave him in his Mexic home at rest,
And still may dream that he shall yes pass o'er
The dimpling waves of Mickasukie's breast,
Yet press the flow'ry brinks, that he before has prest!
The exiles came unto an ancient well, —
Atlassa sat and Ewald by him stood,
While golden glories of the sunset, fell
Like dreams of heav'n on Santa Rosa's wood.
A shim'ring silence filled the solitude.
There was no time for speech. Palmecho moaned
For joy, and wept, and their responses rude,
With feelings deep and weirdly undertoned,
The warriors gave, still gazing on the earth peace-zoned.
Oh! God! in all Thy glorious works, Thy praise
Is mightiest mid the hosts of Liberty!
She leads mankind in devious unknown ways,
And sounds her timbrels o'er a conquered sea,
While vocal mountains catch the rising glee!
And, where afar her patient children roam,
The desert wakes to join their jubilee!
They pass or rest, despising what may come;
Only to dwell with thee, the wide world is their home.
Hail! home of exiles and of Seminoles!
Hail! Mexico, thou weak but goodly land!
The Day of Freedom onward grandly rolls,
And thou shalt yet receive the greeting hand
Of her, who once did like a vulture stand,
To gorge upon thy sons by slave power slain!
The world's respect, ere long thou shalt command;
And when the hosts of Freedom come amain;
Thy sons shall join their shouts ascending from the plain!
Those who once came upon thee with the sword,
Are coming now with pruning hooks and plows;
And plains, once trampled by the spoiler's horde,
Are green with fields, and sweet with fruitful boughs.
Awake thou ebon maid! awake! arouse!!
Throw wide thy gates! unlock thy treasures now!
The proud cause of humanity espouse;
And from thy miser-clutching hills shall flow
The wealth that yet must glitter in thy sunny brow!
Rise from thy ancient mounds! cells of the dead,
Of whom e'en Legend recollects no tale;
Presumption only, sees the life they led
In squalid hut, and still, unplanted dale:
And even she is sad to lift the veil!
Oh! what must they have been! Oh! how expire
And on the ears of Time leave not a wail?
In all the past, there smokes no altar fire —
To what renown could such a stupid race aspire!
And yet may lowly joys have there been born,
Rude tho' the scenes 'mid which her patrons met.
The sheep boy's carol and the mountain horn,
And merry note of pipe or flageolet,
May well be deemed the things we can't forget;
And these may there have soothed the rustic's ear,
Still, still it comes, unceasing with regret,
That there remains no lingering mark of cheer —
That not a solitary annal doth appear.
We leave thee with thy guests, thou sunny maid!
The daughter of Twasinta dwells with thee;
The chief of Tampa and the everglade
Is with her, and will strive to keep thee free.
Rise thou into a nation's dignity,
And freedom's acclamations spread around!
As Rio Grande rolls down to the sea,
Let the omnific waters catch the sound,
"A queen of beauty in the West is Mexic crowned!"
Farewell, thy guests! The light is almost gone
That kindled for them in the everglades!
In all our shores the day of slavery's done.
Midst the wild freedom of our mighty shades,
Now, every man whose soul the hope pervades
Of life, and liberty, and happiness,
May join with Sovran Labor's plows and spades,
And jocund axes in the wilderness,
To dig and hew away primeval want's fortress.
Who finds this country now, exulting finds
That nature sounds the anthems of the free, —
The boundless prairie swept by restless winds,
Great forests shouting on tumultuously,
Rivers that send their greetings to the sea,
Peace-loving vales, where weed-brimmed waters run,
Broad lakes, whose shade-fringed margins lisp their glee,
Mountains, that prop their green heights in the sun,
And herded slopes that winter never looks upon!
Priestcraft and Tyranny must not unchain
The mind and limb of man and send him here;
Or they will never see their dupe again,
So soon 'mong freemen will he disappear.
The sights to make him free are everywhere:
He can not see the farmer tilling corn,
And whistling at his plow, as blithe and clear
As lark or linnet in the dew-sprent morn,
And not feel freedom's wishes in him being born.
He can not wander in our roads, or stay
Beneath our shades unmoved by what he sees, —
The full ripe orchard by his dusty way,
Busy with children and alive with bees;
The cool spring underneath the green oak trees;
The cider mill a going merrily,
And farmer looking on in his brown ease, —
He can not, seeing these, but long to be
A sovereign, gathering gold crowns from the appletree.
This is a land of free limb and free thought —
Freedom for all, home-keeping or abroad, —
Here man is all unhindered, as he ought,
Dreading no priest's rebuke, no despot's nod,
In high respect of Right, the friend of God!
Sole sovereign of himself, by nature throned,
Planting his titles in the royal sod,
He spreads his reign were labor's might is owned,
And harvests revenues for which no subject groaned.
The veriest serf, whose shiv'ring manhood hears
Niagara's astounding waters fall,
Must find that awe of man there disappears
In mists of infinite spray: He can not call
His monarch's name and feel its spell and thrall;
For human might is swept off in the gaze
And awe of One Sublime Stupendous All!
And nought survives except the soul to raise
To one great God a whisper of deep, sincere praise!
Thus ends my lay: Reluctantly I leave
Atlassa and his sweet-eyed Southern maid;
Palmecho, too, with whom I much did grieve,
I turn from sadly! Could they but have stayed
Beneath their "vines and fig trees," not afraid!
Yet by their Santa Rosa let them dwell,
Rejoicing in their freedom, long delayed!
And while my heart's untrained emotions swell,
Once more I turn to gaze and sigh: farewell! farewell!
Solon Stiles
To town one day rode Solon Stiles,
O'er weary roads and rocky miles,
And thro' long lanes, whose dusty breath,
Did nearly smother him to death;
By ragged fences, old and brown,
And thro' great tall woods up and down.
Wide orchards robed in red and white,
Were singing on his left and right;
The forests carroled by his way,
The grass was chirping, green and gay,
And wild flow'rs, sweetest of their race,
Like country maids of bashful face,
Peeped thro' the briery fences nigh,
With bright hues in each timid eye.
The farm cows whisked in their cool nook,
And splashed within their peaceful brook;
And on his fence, beneath the shade,
The plow boy's pipe shrill music made.
Stiles saw all this, but what cared he,
When he was going the town to see?
The country he had always seen,
But into town had never been.
So on he rode, with head on high,
And great thoughts roaming thro' the sky,
Not caring what he trotted by.
A little mule he sat astride,
With ropes for stirrups o'er him tied,
In which huge boots, as red as clay —
Red as a fox, some folks would say —
Swung loosely down, and dangled round,
As if in hopeless search of ground.
At first, when from the woods he rode,
And high in sight his small mule trode,
Rough seas of smoke rolled on his eye,
Great dizzy houses reared on high,
With steeples banging in the sky,
Then Solon stopped and said, "Umph, my!"
And next, a river deep and wide,
With houses floating up its tide
He met, and paused again to look,
And then to move on undertook.
And spurred and spurred, but looked around,
And lo! in deep amazement found
His small mule stuck, and as he spurred
The more, the thing's ears only stirred.
"Hullo!" a swarm of blubbies cried,
"Whip on the critter's hairy side!"
At this the mule insulted grew,
Took up its ears, and fairly flew,
Till near a great white bride it drew.
Across the bridge rode Solon Stiles,
By dusty shops and lumber piles,
And where tall houses o'er him stood,
Like cliffs within his native wood.
And furnaces with firey tongues,
And smoky throats and iron lungs,
Like demons coughed, and howled, and roared,
And fire from out their bowels poured.
Now on and on, up Sailor street,
The donkey whirled his rattling feet,
While either sidewalk loud upon
A swarm of oaths were chorused on.
One tall boy, in this surging sea
Of rags and young profanity,
High o'er the rest, on awkward shanks,
Like stilts, led on the swelling ranks.
His deep throat like a fog horn blew,
Till lesser blasts their aid withdrew.
Then Stiles communed thus with his mule:
"My! listen what a cussin' school
This town lets out to fill the ears
Of God with! My! them babies swears!"
Meanwhile there came a light brigade,
To at the donkey's heels parade,
Till up before and then behind,
His honor flew and then combined,
An old Dutch waltz and new quick-step,
That half a square of urchins swept,
As fast as leaves were ever seen,
Brushed by a whirlwind from the green.
The tall commander now in front,
Led oathing, as his pride was wont,
The new assault, when stock still stood
The mule away not half a rood;
For lo! with tomahawk in hand,
Before a neighb'ring cigar stand,
He saw a savage; to describe
A chieftain of some bloody tribe.
At Solon straight he raised a blow
And strained with all his might to throw,
But stayed his rage, for he beheld,
That with hot rage the donkey swelled.
Ah! Solon felt his blood run cold,
For oft his gran'dad him had told
Of Indians in an early day,
Beside the bockwoods cotter's way,
Skulking to on some settler fly,
And scalp him ere he'd time to die.
"Throw if you dare!" aloud he cried,
And slid down at his donkey's side.
At this he saw the savage stare,
And forthwith threw his coat off there.
With club in hand, the first he found,
Then on the foe at one great bound
He flew, and hard began to pound;
When thus a broad-brimmed vender fat,
Began to interview the spat:
"Vat vas yer dun, yer grazy ding;
Schoost schtop, yer petter don't py jing!
Schoost vat yer broke my zine mit, aye,
Eh! petter yer don't, yer go avay!"
"Well!" Solon thought, "If this is town,
I'll give you leave to knock me down
If I ain't lost; no, this ain't me,
No, town ain't what it seems to be,
Yes, here I am, and this is me,
But town 's not what it seems to be!"
Sweet vale of the Sussex! the pride of the Queen,
Whose life has a reign of beneficence been;
The flow'r of Britana's possessions afar
In the cold land, that lies beneath the North star.
No slaveholder's foot e'er polluted thy soil,
No slave in thy fields ever bended to toil.
As Bunyan's poor Christian who, fleeing for life,
Left the land of Destruction, and children and wife,
And saw as the shadow of Calv'ry he crost,
His burden rolled down and forever was lost;
So, when the poor fugitive, foot-sore and wan,
From the land of oppressors for liberty ran;
He found that his shackles would crumble and fall,
As he stood in the shadow of proud Montreal.Asylum, fair Sussex, art thou of the free,
And of all the oppressed, that to thy arms flee
From "the land of the free, and home of the brave —
Ah! land of the bound and the hell of the slave.O, Sussex! dear Sussex! the scenes I remember,
As down thee I wander'd in yellow September!
The gay tinted woods in the sunset's gold gleaming,
The creek down thy midst like a sheet of light streaming,
The busy mill near it, and brown barns above,
And blithe childhood shouting in the deep still grove;
The lowing of herds, and the milkmaid calling,
And the tinkling of folds thro' the twilight falling.And lo! a neat cottage with windows of green,
Scarce thro' the thick boughs of yon elms is seen!
There now the free lovers, that once were the slave,
The maid of the rice swamp and Rodney the brave,
Are dwelling in wedlock's dear holiest ties,
The objects of comment and pride for all eyes.
The stranger who passes thro' Sussex must hear
On the lips of the cottager, far and near,
The love of these new comers pointedly told,
And telling it over, it never grows old.
The idle winds at dawn that strayed
Thro' wavy depths of joyous shade,
The early chirp of breeze-swung boughs,
The carol of the mountain brows,
The far off brawl of farms that broke
The drowsy silence of the morn,
And eager baying which awoke
Responsive to the flying horn,
In covert near, or echoing dell,
On Rodney's ear like omens fell;
For troubled Dearborn he had found
In need of all his garrison;
And now for Saville sadly bound
His pensive footsteps wander'd on.Wild, strangely broken landscapes lay
Along his solitary way.
Soft gazing thro' the morning gray,
To right and left against the sky,
The border hills were stacked on high;
And as upon his eye they rose,
And shook their forests from repose,
Their brighter aspect on they drew,
A sober wear of filmy blue,
Like time's remotest visionary hue.But Courage can no longer lie
With folded arms, when on his eye
There springs an opportunity.
Tho' beaten oft upon his walls,
And often tho' his banner falls,
Whene'er the day a breach supplies,
True Courage from defeat will rise,
And to renew the conflict flies.
Now in the lonely glen, or far
Amid the rocks whose shoulders bar
The toiling footsteps of young light,
Wild Rodney turns a nimbler flight.
No mountain stag, when clam'rous horns,
Him of the rousing danger warns,
Hath ever quicker brushed the dew,
Or fleeter leapt the deep shades thro',
Than Rodney fled with his sad tale
To 'larm the cotters in the vale.
His face with apprehension pale,
To many a woodman's open door,
The signal of disaster bore.With gestures wild, to arms he called,
With words of war their hearts appalled,
And as the stout bands gathered;
He, warning others, flew ahead.
The settler on the doorsill rude
Of his poor forest-home, firm stood,
And as the news more wild would run,
He felt the triggers of his gun.
And glancing thro' the forests wide
To some near neighbor's 'gan to stride.
Thus Rodney from the forests drew
To meet the battle — not a few.
And as the corn-fields raised a shout,
And hills and valleys emptied out,
Bold hearts, that would the rescue try,
The hurried glance of many an eye;
The ceaseless pacing to and fro
Of those who waited; and the slow
And guarded accent of each tongue
That marked the speakers, them among,
Disclosed how thick that Peril hung
Her storm-swelled billows in the sky,
And troubled Peace's canopy.
The vale fermenting, Rodney left,
As lion wild of young bereft;
And tho' the wasty forests wheeled
A speed that would have shamed the steeled
And wildest travel of the horse,
That snuffs up strength and leads the course.
By distant lodge and lone abode,
Where not a rudest fence, nor road,
A mark of civilization made
Within the vast primeval shade,
Untiring as the wind he strode.
Miles off a weary hill upon,
His early footsteps met the sun.
His eyes as earnest as the streaks
Of light that dashed along the peaks
In living crimson; far away
The nook sequestered did survey,
'Mid which his fated Saville lay.
A faint smoke rose, and slowly curled
In pensive wreaths against the sky,
And drifting farther off on high,
Like visions of the glory-world;
Hung sadly on the distant shore
Of indistinctness; then passed o'er,
Now dimly seen, now seen no more.
What apprehensions thrilled him now!
What dread conjectures clenched his brow
Had Saville just from calm repose
Awakened? Or had pluming foes
Her cheerful homes in ashes lain,
And heaped her sacred hearths with slain?
The dilatory smoke seem'd born
Of blazing plenty's stirring morn,
Or rolling from a famished fire,
That had in its devouring ire
Licked up all life that near it lay,
And turned to eat itself away.
Down from the hights his way along,
From rock to rock, till lost among
The lofty woods that bowed and sighed,
He turned with yet untiring stride;
And from the intervening vale,
Emerged and stood aghast and pale.
Lo! all his hopes had crumbled to the dust;
Saville had fallen in the direful fight;
And from devouring Ruin's fire-jaws thrust
Her poor remains, disgorged by sickened night
In morning's lap, yet steamed an ember-smould'ring sight.
Coal heaps where homes once stood, and bodies charred,
Of innocence and beauty in the heaps;
Scalped heads from love's keen knowledge even barred,
By savage battle's hands; and little steeps,
Where wound the village paths to field or wood,
Made red and slippery with kindred blood,
Were sights that filled the hero's saddened eyes;
The tributes gathered by hostilities.
Ah! how destruction's devastating hand
There fell upon delights! How his eyes scanned
With gorgon glee, the ghastly path he made
Thro' Peace's bow'rs within the western shade!
And like a jackal at the lion's side,
There Folly laughed to see her fallen pride.
Lo! now the Champion bends his daring brow,
And thro' the ruins plods pond'ringly slow;
A sob suppresses, sighing, "Me! ah, me!
O, Dora! fairest Dora! where is she?"
A low'ring cloud encamps around his soul,
And sorrow's big rain down his troubled cheek doth roll.
A tiny heel-print leaving, lo! he spies,
In which there here and there a torn spray lies;
A flash of joy light'nings in his eyes.
The way it moves, with breathing hushed he views,
And eager as a rolling flood, pursues.
Thro' dense shades leaning, now he threads along,
He gains commanding hills, high woods among.
With fearless steps, divides the lowly vale,
And like a mountain hart, the rocks beyond doth scale.
Of how he sped for eager miles away;
How strange scenes filled the melancholy day,
Of how the rustle of some waste-fed herd,
How plantive woods that piped and chirped and stirred;
Or how the distant cat'ract's pensive moan
Alarmed or moved him, cannot here be shown;
But on in wild pursuit he ponders still,
And stands at sundown, on an oak-brow'd hill,
When solemn night comes on with noiseless tread,
And o'er the landscape doth her rayless mantle spread.
Not many paces had the night come on
Blund'ring with sable steps, when still, upon
A log sat Rodney in despondent mood;
When, lo! a light approached him in the wood.
"What!" arising, cries he, in an undertone,
"Is this which haunts me in these wilds alone?'
And quick aside he noiselessly steals,
To where a denser shade his halt conceals;
When two old women of the skulky bands,
Mope by with pots of water in their hands.
Torches they bear, upon their way to shine,
In oil steeped, and riven from the pine.
He marks their movements with an eager eye,
Their way pursues, and waits discovery.
So when some mastiff thro' the sleeping folds,
A stranger passing, loiteringly, beholds,
He waiting lies, or follows crouching low,
The errand of the visitor to know;
When, if in thieving he his hands invest,
A roaring chastisement will him arrest.
Now where beyond the vale a cliff ascends,
Around whose base an unknown river bends,
A smoking camp the peering watcher spies,
And warlike satisfaction lights his eyes.
Beneath the stooping boughs he can behold
The busy squaws swarm'd round by warriors bold.
Then in the rocks, a score of yards away,
He like a crouching lion eyes his prey.
"Oh, Heav'n!" he gasps, and turns his painful eyes
From where in hideous hands his Dora lies,
To raving lusts a fair and tender prize.
Fair as a moon that o'er the night's face steals,
And gaping rocks and grizly wastes reveals,
The sweet and patient face of Dora shone
Upon these scourges of the wilds unknown.
The rabble now in high confusion runs,
Their knives the warriors grapple, now their guns.
Claim the fair triumph ere the game decides,
While shouting might the opposing voice derides.
Soon other methods they to conquest choose,
This one or that the tiny captive woos
With wild expressions of languishing love,
Like demons longing for the light above.
With heated eyes they stare into her face,
Drag her soft bosom in a rough embrace;
Their beads display, their painted head-gear show;
Like satyrs gibber, and like monsters blow.
Sweet as the vespers of some plaintive stream,
Or as the sounds in a mid-summer's dream,
Dora lisps something, with her fair hands clasped,
When, "Ah, my God, she prays!" wild Rodney gasped.
The camp-fires glare upon her lifted hands,
And on her wrists disclose the bloody bands.
When, in the night, the hero thrusts his form,
Fierce as the lightning-arm that strikes the storm.
A stalwart warrior hands the pleading maid,
And drags her roughly thro' the darkling shade,
While to her tender remonstrance replies
A monster's scowl, and laughter mocks her cries.
The fiery watcher scans the dark field o'er,
And finds a smooth way straight his feet before.
Now all his strength he in his poised arm flings,
The impatient moment checks its onward wings;
Till like an eagle dropping from the skies,
Right on the howling band the swift avenger flies.
A flash of steely lightning from his hand,
Strikes down the groaning leader of the band;
Divides his startled comrades, and again
Descending, leaves poor Dora's captor slain.
Her, seizing then within a strong embrace,
Out in the dark he wheels his flying face;
His victims leaves to struggle with surprise,
And like a phantom thro' the forest flies.
She, brave as steel, against his bosom lies;
Gasps, "Rodney, is it you, or but a dream!
Oh, have you come! Oh, are things what they seem?"
He speaks not, but, with stalwart tenderness
Her swelling bosom firm on his doth press.
Leaps like a stag that flees the coming hound,
And like a whirlwind rustles o'er the ground.
Her locks swim in dishevelled wildness o'er
His shoulders, streaming to his waist or more;
While on and on, strong as a rolling flood,
His sweeping footsteps part the silent wood.
Now low beneath the list'ning boughs he leant,
Now thro' the tow'ring upland swifter bent,
And on a hill, where in her gentler sway,
The open sky lent vision one dim ray,
He pausing stood, to cast a look around,
And catch, if possible, some warning sound.
But all was still; the wide world was asleep,
Save that a waking night-wind there did creep.
Then Dora, like a heroine fair and true,
Cried, "Rodney! Rodney! Ah, I know 'tis you."
"Yes, Dora," lisps the Champion, and applies
His bloody knife to loose her painful ties;
When, like a bird that mounts on airy wing,
To dash into the light of joyous spring,
She rose, she fluttered to his strong embrace,
With streams of joy pouring down her upturned face.
Heaven might envy such a scene as this,
Since angels ken no more of perfect bliss
Than, when disaster and a direful day
Conspire to lead a fair young life away
In captive chains, to red-eyed lusts a prey,
Is felt by him whose fearless hand rescues,
Tho' howling danger on his devious path pursues.
Miles further on the twain in converse stand,
Where depth on depth of rayless wastes expand;
Together lean, and on their lone way peer,
Listen, to catch night's voices, but hear
Their hearts leap only, and the footfalls weird,
That round the anxious lonely heart are always beating heard.
From gaping wounds much Rodney's strength has flown;
Against a tree he sets his rifle down,
Submits to Nature's soft compelling sway,
And there concludes to bide returning day.
His blanket winds his manly form around,
And spreads his weary length along the ground.
"Here, Dora," then he speaks, "rest on my arm,
My life shall stretch between you and all harm;
Your frail and much worn strength some rest must have,
Or you'll escape the foe to find a grave."
No word speaks Dora, but her timid eyes
Survey the spot where her defender lies;
Then as a lamb when prowling wolves appear,
The horned defender of the folds will near,
She 'proaches Rodney; stands in trustful mood
And looks around her in the dismal wood.
Reluctant now, and innocently shy,
She kneels upon her turfy couch close by,
Her hands extend, so delicately white,
In earnest prayer unto the God of Night,
In grace Divine upon her to descend,
And o'er her guardian to in gentle mercy bend.
Then in his bosom nestles with deep sighs
That bring great drops of sadness to his eyes.
"Oh sleep, descend, and seal thy lovely sight!"
Said Rodney in his heart; "no harm this night
Can thee befall. And when the op'ning day
Shall spread her gentler guidance on our way,
My life shall guard the way before thy feet;
Tho' dangers thronging thick, await us there to meet."
The bending heavens drop a tear and sigh,
Old forest sent'nels spread their shelter nigh,
And night winds burthened with their heavy dews,
Strip off their chillness, and their soft sounds use,
While in deep musings sits the pensive hour
And fills composure's urn in slumber's quiet bower.
Robing the hills in light and beauty, now
A late moon hangs upon yon mountain's brow,
Looks stilly on the world's round sleeping face,
Then veiled in silver clouds withdraws with queenly grace.
Now Dora wakes from strange and fitful dreams,
The brightest rival of the bright moon's beams.
Soft light between the parting branches steals,
And Rodney's stern, still, manly brow reveals.
In him who slumbers, one can better read
The master passions and the thoughts which lead;
For, then the face, obedient to no call
Of shrewd deceit, shows nothing false at all;
But on the features silent truth doth write
Her plainest letters, in their plainest light.
Thus, sighing, looked the fair young frontier maid
Into the sleeper's open face, and said:
"What deep marks there hath hardship's plow-share laid?
Reserve how manly there! What self-control!
What resolution! Ah a man of soul!"
Then, as some bird that hails the bloom-crowned spring,
O'er sunny meadows spreads her wayward wing,
And joyous flits where all the woodlands sing;
Dora, as wayward, lifts her lovely mouth,
Sweet as the dewy blossoms of the South;
On Rodney's forehead parts the tangled hair,
And gently leaves affection's impress there.
He wakes; and straightway Dora whispers: "Look
How yonder moon lights up this lonely nook
With silver glory! Could I but forget
Dear Saville, and the scenes that haunt me yet,
Rapt fancy here would build a wild retreat,
And gladly linger in her forest seat."
Then Rodney, rising: "Day is almost here,
For now the Seven Stars do disappear;
So, think not, Dora, o'er the past to brood,
For loneliness abhors a theme of blood;
The day may o'er your sorrows brightness fling;
The saddest Winter hath a joyous Spring.
Hope on, for this sweet dream I had to-night:
I stood high on a farm-surrounded hight,
Where fruitful hills rose round the even view,
Not indistinct, but robed in charming blue.
There, sober herds in peaceful order strayed,
And tinkling folds enliven'd the evening shade.
Love's pensive reed wound the fair vales along,
Or sauntered leisurely his flocks among.
Now I reclining on my elbow leant,
To sweet winds list'ning as they came and went,
And tuned their many stringed pleasurement;
When, o'er me bending, ere I saw from where,
An angel stood in golden waves of hair
Half drowned. Regarding me with care, she drew
Nearer, kissed my forehead, and upward flew."
Then spake the angel of the hero's dream:
"Surely some happy token that doth seem,
And, could we but unveil the mystery,
And now discover the vast yet to be,
Some future bliss we both in it might see."
And with evasive sweetness now she turns
To where the mournful waste, her Saville's ashes urns.
Much she relates, and Rodney sorrowing hears,
Sometimes with groans responsive, sometimes tears.
The waiting town in deep suspense she shows,
While brake and fen are howling with her foes.
With heavy countenance and long drawn sighs,
Danger asserts her reign in valor's eyes;
The women weep, and pray, and tear their hair,
And raise a storm of turbulent despair.
Children and women now are barred in doors,
Without, the heavy footed tumult roars,
And loud is heard the bloody-handed fray.
The townsmen struggle, but are swept away.
Out in the storm the screaming children fly,
And frantic mothers follow where they fly,
But this on Rodney's soul doth saddest stay:
Dora is dragged a captive in the wilds away.
Fair Dora ended here, and Rodney rose,
Walked from the boughs that did their rest enclose,
And said: "Let's journey, yonder comes the morn;
See! how the mountains laugh the vanquished night to scorn!
And hand in hand they meet the bright-eyed day,
As on to Dearborn Rodney leads his lovely prize away.
Canadian farmers came oft to the little green cottage,
To see their new neighbors and hear them tell over their troubles.
The tales of their pilgrimage e'er to their hearers had new charms;
And instances, once told, cloyed not in repeating them over.Thus it was that farmers, as rough as the oaks in their forests,
But open, and clever, and frank as the brooks in their meadows,
Came oft in the twilight and sat in the door of the cottage,
And said: "We would hear of the land of the poor sable bondman."
And forward they leant, and sat mute as they heard the dark stories
That sully the borw of America's proudest endeavors.
And regarding Leeona with pity, they sighed: "Lord have mercy;"
As her words, soft and tender, fell on their great hearts with sweet pathos.
With wonder they look'd as they heard of the bayou and cane-brake;
Their breasts smote and murmured to hear of poor fugitive mothers
Chased down by fell bloodhounds, and dragged from the cypress swamps bleeding.
And their faces flamed red, and they plucked their long beard for resentment,
To hear of slave-holders who bought pure beauty and defiled it;
Blighting the hopes of the sweetest, the fairest, and youngest;
Adorning their harems with flowers all ruined but lovely!
And wringing from hoar age's heart submission to these vile abuses.
But they raised their broad hats, and shouted and stamped with boist'rous gladness,
To hear of Leeona escaping with Rodney her lover.Thus it was that many an evening Rodney's friends came around him,
And far went the fame of the heroine of the savannas.
The same brave Rodney whose blows were too hard for the savage;
Whose feet were too swift, and whose arms were too strong for the bloodhound,
In his secret heart felt his whole life's fairest triumph
When he saw his Leeona the pride of all the great farmers.
Certain was he in his poverty and humble endeavors;
His little green cottage, tho' lowly, had its attractions —
Leeona, the womanly model of gentleness lived there.
Not young was she now, and radiant as she was aforetime,
Not thoughtlessly shy and blushing with reluctance so fawn-like,
Her arms were not smooth and round as they once were; her cheeks not so ruddy;
Her eyes were not so brilliant, and playful, and winning;
But softened by love, they beamed steadier and overcame more.
They were not the first stars that peep shyly thro' the whisp'ring twilight,
But the last sober-beaming ones that patiently linger
Above the familiar wood that watches the homes of our childhood.
She was not the bright light that once dazzled and charmed with its brilliance;
But settled and modest, the amiable light of the hearth-stone,
That draws all close about it, and sets all near hearts a chirping.The wife of a good man, content to be his and to love him,
Ambitious to rival herself in his strong affections,
And ready always to lay hold with her hands and be happy.
A good wife was she, and loved all who loved her good husband;
And ever was ready to set him in the eyes of her friends
By kindness. Thus was she the idol of Rodney and his friends.
Not least among those who frequented the little green cottage
Was Father Eppinck, the good priest of the parish of Sussex.
A great and good man was he, and a true shepherd to all of his fold.
Were any by poverty shorn of the comforts of this life,
His mantle of care he threw around them, with love warmed.
Were the young gone astray in the dangerous wastes of transgression,
He followed their way, and returned with them prest to his bosom,
Were the old with woes pregnant, and burdened with great tribulations,
He led them, and gently pointed them to a more blessed future.
Thus it was that he came to the home of Leeona and Rodney,
With treasures of kind words. He called them his two loving children,
And always on leaving, he left them his best benediction.
He too loved Leeona, and came to hear of her pilgrimage.
'Twas a balmy afternoon in the joyous vale of the Sussex,
And the voices of Autumn were heard in all of the north land.
The fields were shorn of their harvests, and the golden sheaves were gathered in,
And stacked in the barn-yards. The mill complained in the valley,
The distant glen echoed and sang with the music of axes,
And the wain came down from the deep woods groaning beneath its logs.
The forests wore gay colors, but sighed and were melancholy.
Then Father Eppinck, as he sate in the door of the cottage,
Lifted up his eyes and beheld the fair vale of the Sussex.
He saw the sweet tokens of peace that appeared in the heavens;
And he heard the voice of contentment that went up from the earth beneath;
The sweet words of plenty he heard, and the loud shouts of strong health;
And then he raised his voice and said: "O my God, I bless Thee!
For the rolling seasons and the full year, I magnify thee!
I thank thee for the hills and the high rock, and the great forests.
I thank thee for the pleasant valleys and their full fields of grain,
For their flowing streams, and the burdened orchards on their green banks.
I thank thee for plenty, for health, and for homes; but, oh my God!
I extol thee for freedom, the hope of the church of the Savior.
Here peace spreads her white wings, and sun never looks on a bondman.
Here earth yields her increase, and no slave's sweat ever falls upon it.
Oh God I bless thee for Canada and the Crown of England!"
When Father Eppinck had finished this saying, with kind words
He turned to Leeona and Rodney and said: "Now I leave you.
I go up to Montreal by the first coach to-morrow.
If the morning be fair, I hope to be off before cock crow.
A month shall I be gone, and now that the Autumn is far spent,
My coming to Sussex again will be in the Winter.
What time I am in Montreal, I will be in the house of a merchant,
A good man, whose wealth has kept pace with his increasing goodness;
A Christian, whose devotion to Christ and his holy Apostles
In alms deeds is shown. Samaritan-like he goes forward
Into the highways of this life, and gathers up the wounded
Spirit, and bears him in the arms of his wealth to the inn of comfort;
And when nakedness cries in the street, he hears her, and lends her help,
And asks not; "But why are you naked? Why did you not save in harvest?"
And his lovely wife, the center of Montreal circles,
A brave hearted, noble, merciful and fair life consort,
Throws around him the arms of encouragement in all his good deeds.
She is happiest always among those that her hands have made happy.
Her heart is a fountain of kind words, and like Aquila of old,
She delights in the church of God, in Christ and his holy Apostles.
Her accomplishments drag after her a train of admirers;
Her beauty a train of worshippers, her charity a host
Of grateful lovers; while her affectionate fidelity
Lights up her home so that her husband says: 'A star is Dora.'"
Now Rodney hung his head when this last word, Dora, fell on his ears;
And as he bade Father Eppinck adieu, he looked up and sighed;
And the light of recollections flashed across his manly face
Like a burst of sun that thro' white clouds lights waving harvests.
Had I an envied name and purse of gold,
My friends were more than all my wants twice told;
Reduced to rags and born of title small,
Vast tho' my wants I have no friends at all.
Anxiety consumes away my years
And failure melts my manhood down in tears.
My down-cast eyes some guilt seem to disclose
And I'm shut in a lazar house of woes.
I am not what I was, my drooping form
Partakes of what is loathsome in the worm.
Pittied hut not respected I may be,
I shun myself, and e'en the dogs shun me.
The rich to chide the poor may adulate
The few torn pleasures of a scanty state;
But cold experience tells her story plain,
Want breeds with bitterness and brings forth pain.
England, cannot thy shores boast bards as great,
And hearts as good as ever blest a State?
When arts were rude and literature was young,
And language faltered with an uncouth tongue;
When science trembled on her llttle hight,
And poor religion blundered on in night;
When song on Rome's vast tomb, or carved in Greek,
Like epitaphs with marble lips did speak,
Thy Chaucer singing with the Nightingales,
Poured forth his heart in Canterbury tales,
With rude shell scooped from English pure, and led
The age that raised the muses from the dead.And gentle Thompson, to thy mem'ry dear,
Awake his lyre and sang the rolling year.
The dropping shower the wild flower scented mead,
The sober herds that in the noon shade feed,
The fragrant field, the green and shady wood,
The winding glen, and rocky solitude,
The smiles of Spring and frowns of Winter gray,
Alike employed his pure and gentle lay.
The wrath of gods, and armies' dread suspense,
Celestial shouts and shock of arms immense,
In all his song ne'er move us to alarm,
But earth's pure sounds and sights allure and charm.
To Missolonghi's chief of singers too,
Unhappy Byron is a tribute due.
A wounded spirit, mournful and yet mad,
A genius proud, defiant, gentle, sad.
'Twas he whose Harold won his Nation's heart,
And whose Reviewers made her fair cheeks smart;
Whose uncurbed Juan hung her head for shame,
And whose Mazzeppa won unrivaled fame.
Earth had no bound for him. Where'er he strode
His restless genius found no fit abode.
The wing'd storm and the lightning tongued Jungfrau,
Unfathomable Ocean, and the awe
Of Alpine shades, the avalanche's groan,
The war-rocked empire and the falling throne,
Were toys his genius played with. Britain, then
Urn Byron's dust — a prodigy of men.
But Shakspeare, the inimitable boast
Of everybody and of every coast;
The man, whose universal fitness meets
Response in every heart of flesh that beats,
No tongue can tell him. One must feel his hand
And see him in his plays, to understand.
All thought to him intuitively 's known,
The prate of clowns, and wisdoms of the throne,
The sophist's puzzles and the doctor's rules,
The skill of warriors and the cant of fools.
When Shakespeare wrote, the tragic muse saw heights,
Before nor since ne'er tempted in her flights.