Albery Allson Whitman was a 19th century African American poet who, despite being born into slavery, carved out a career for himself as a poet and orator. He served as a pastor throughout the south and mid-western regions of the United States. His poetry was universally well received and he became known as the "Poet Laureate of the Negro Race". He is included in the anthology African-American Poetry of the Nineteenth Century where his efforts are described as "attempts at full-blown Romantic poetry". Some even compared his verse to that written by well-known American and British authors who wrote in the Romantic tradition. One of Whitman's poems is called Ye Bards of England which extols the virtues of the great literary figures from English history and begins:

Albery Allson Whitman Bio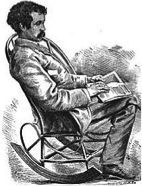 Albery was born sometime in 1851 on a Kentucky farm near Munfordville, Hart County. His parents were slaves and the boy grew up working at a variety of manual labour tasks such as railroad construction and in a plowshop. Before winning their freedom his parents had both died and Albery found himself orphaned at the age of 12. Somehow he survived and he did a little teaching for a while before gaining a place at Wilberforce University at the age of 19. He was almost immediately taken under the wing of Bishop Daniel Payne who became his mentor and good friend.
Payne recognised his protégé's talent as a writer and encouraged him to publish his first collection of poetry. After being at Wilberforce for only six months Whitman was a fundraiser and financial agent for the university. With Payne's encouragement he took up the role of pastor, initially in Springfield, Ohio at the African Methodist Episcopal church. Between 1879 and 1883 he travelled throughout the states of Texas, Georgia, Kansas and Ohio, establishing churches wherever the spiritual need existed.
Albery Allson Whitman Poems
Saville In Trouble
Sing muse! of Saville and the direful day
When beauty fell, to ruthless hands a prey;
And life a sacrifice to savage hate,
Smoked on the alter of a peaceful State.
The pensive forest in his saddest wear,
Leaned on the threshold of the Autumn sere,
And mourned his ills in parting Summer's ear.
And waters leaving for the distant main
Sang their departure in a muffled strain.
The dove complaing at the barn was heard,
In wanton gales the naked orchards stirred.
And scarce within the dreamy vision's reach
The sheep cote elms flapped their rocky speech.
In Saville, then, the border village rude,
Full plenty's songs the ear of labor wooed,
And lulled him on the lap of solitude.
The sun had swum high on his blazoned way,
Exulting in the power of his sway.
And rural comfort's well-contented hum,
Rejoiced in each household cherrysome.
The milkmaid gossipped at her busy churn,
The groaning windlass coughed at each slow turn,
The distaff whirred and chattered in the door,
The swift brooch danced along the sounding floor;
The matron scolded, and her hands applied,
The loom reechoed and the wheel replied.
Sir Maxey then, with horns, and hunters proud,
For chase assembled in a roaring crowd.
The champing horses pawed the anxious ground,
And windy signals roused the kenneled hound.
And as the mingling bands their saddles strode,
The wayside trembled and deep groaned the road.
Three miles from Saville, in the branchy West,
The horsemen on their boist'rous way had pressed,
When on the wild marge of a pathless wood,
They reined their speed, and, list'ning, eager stood.
The hounds had touched a trail upon the brink,
Where late an antlered stag had come to drink,
And cool, within the windings of a brook,
That mused away thro' many a forest nook.
Soon lively baying o'er the distance broke,
The hills re-echoed and the forest spoke.
The flying pack their goodly prey had sprung,
St. Vincennes' pulseless woodlands deep among.
Like eagles flashing from the vaulted blue,
The firey steeds in level flight pursue.
In winding glens their hoofy thunders break,
And cliffs responsive all their voices wake.
Sir Maxey, putting spurs, directs the course,
And sweeps away upon his coal black horse.
His comrades follow close in lengthy file,
Wind their glad horns and prime their guns the while.
The woods before them part upon the eye,
And pass in dizzy currents as they fly;
And crouching thickets scamper as they near,
And flee together as they disappear.
Beyond the vision's bounds they thus have gone,
Up hill and down, o'er streams and on and on.
Meanwhile, alone on foot young Rodney hastes
Along a passage that divides the wastes.
Forbid to rank he cannot take his place
With mounted hunters in the merry chase.
The day wore on, and yet no tidings gave,
Of horse or hunter to the anxious slave,
Till he, despairing, turned to watch a trail,
That saunteringly wound along the vale.
The chase now hushed; the stag beyond his range,
Had lost his loud pursuers in a forest strange;
Till worn and hungry, these leisurely drew
To where small fenceless fields adorned their view.
Beyond, bark lodges here and there were seen,
Where lofty woods climbed o'er a long ravine.
And slowly nearing, on their wond'ring eyes,
Soft circling smoke-wreathes from a village rise,
And float in dreamy banks against the peaceful skies.
They pause, look onward, know not what to say,
When thus, Sir Maxey, spurring, leads the way:
"Come on, we'll venture down and ask for food
And friendship in this city of the wood."
The hunters follow at a timid pace,
And apprehension kindles in each face.
They reach the village, slowly thro' it ride,
And every part explore from side to side.
They find it is deserted by all save
Small groups of children and the aged brave.
These sit in converse at their wigwam doors,
While memory the valiant past explores.
They on the neighb'ring slopes in peaceful plays,
Their numbers gather and their voices raise.
The squaws are lab'ring in their scanty fields,
Content with what their wild industry yields;
To bide their warriors' much desired return
From distant hunting grounds and long sojourn.
The Autumn hills appear in brown repose,
And, clothed in lofty forests, seem to dose.
And solitude asserts her reign, remote
From civilization's rest-disturbing throat.
But, hoofy 'larm the woody silence breaks,
The lone boughs flutter and the scene awakes.
Around the hunters, childhood flocks to gaze,
And age arising, looks in mute amaze
Upon the daring strangers, who proceed
To rifle tents, and load each ready steed
With what few skins their wintry hunt can hoard,
And swallow what poor food their empty stores afford.
The helpless fathers of the forest race
Glance fearful each into the other's face,
Pursue the pillagers with heated eyes,
And empty out their souls in frequent sighs;
While in their gath'ring frowns and gestures rude,
Wild valor overleaps decrepitude,
And such a flourish of contempt displays,
As shows that stern resentment is ablaze.
Ah! could they but recall the fleeting years,
Or backwards journey to where disappears
The dim seen past, and reach that stalwart time
When nimble life exulted in its prime;
Three-fold the numbers that their tents defile,
Would meet destruction in their conduct vile.
The hunters mount menacing as they go,
And thro' the village disappearing slow,
Betake them to the woods and brisker ride
Along the neighb'ring forest's eastern side.
There where a peaceful streamlet ambles by
Thro' dabbling ferns and gossips cheerfully
With shaggy roots that reach into the flood,
They spy a maid just bord'ring womanhood.
Now ranging feathers in her head-gear fair,
And with her fingers combing out her hair,
She on the prone bank stands, where smoothly flows
The liquid mirror, and her beauty shows.
Now grand old sylvans raise their solemn heads,
And make obesience as she lightly treads
Beneath their outstretched arms, and looks around
To gather nuts upon the leaf-spread ground.
The hunters see her, wayward, wild and sweet;
She sees them not, nor hears their horses' feet.
"Hold!" cries Sir Maxey, "What a lovely maid!
Ah! what a princess of this ancient shade!
Let me behold her! Quiet! Don't move!
Did admiration e'er see such a dove?
Young love no sweeter image ever drew
Upon imagination's tender view.
Her perfect form in idle movements seems
The fleeting creature of our youthful dreams."
A rougher comrade at his elbow growls,
"A purty good 'un o' the dusky fowls,
She's hard o' hearin', le'me try my gun;
Give her a skere, and see the red wench run."
His deadly eye directs, his rifle speaks,
The maiden throws her arms and runs and shrieks;
Towards the hunters pitiously flies,
The mournful wastes lamenting with her cries,
Till at their feet she sinks, and all is o'er,
Poor bleeding Nanawawa is no more.
Kind Heaven reports the shameful news around,
Far as her sorrowing winds can waft the sound;
Soft echo in her grot hears with a sigh,
And saddened hills refuse to make reply.
"I struck her," grunts the ruffian, looking down,
"Let's leave," Sir Maxey mutters with a frown;
And on they ride, and covenant to keep
The crime a secret in their bosoms hidden deep.
But hark! what mean those distant shouts that rise
And seem to flap and clamor in the skies?
Flying this way, the pulseless air they wing,
And nearer, clearer, shriller, faster ring.
The forest rages, groan the loud hills sore,
The hoarse earth murmurs and the heavens roar.
Returning warriors flash the trees between;
The fatal gun has called them to the scene.
Blazing resentment fires their warlike blood,
They've passed their dwellings and enraged pursued.
And mark the hunter whom their wrath o'ertakes,
For on his head a storm of ruin breaks.
Sir Maxey's band their loud pursuers hear,
And spurring onward leave them on the rear;
For Saville wheeling quick each headlong steed,
And dash between the forests with defiant speed.
The raging warriors reach the bloody scene,
See Nanawawa lifeless on the green,
A moment pause and scan the mournful place,
Still, crafty vengeance darkening in each face,
The way the band went, narrowly then view,
And all another route at once pursue.
But one tall form his further flight restrains;
Lo! over Nanawawa's sad remains
The White Loon bends, and kisses her pale cheek,
And trembling lips that can no longer speak;
While from his eyes the streams of loud grief start,
And downwards pour the anguish of a manly heart.
As some wild wand'ring brook that surges hoarse,
And chafes and struggles in its winding course
Through tangled roots, and under mossy stones,
And over foamy cat'racts makes its moans,
Till headlong down the mountain's steepy sides,
The smoother current unobstructed glides;
Flows ev'ner as it meets the level main,
And murmurs leisurely along the plain;
So now the pluming bands their numbers drew,
In fretful streams the pathless forests thro'.
This way and that, low crouched, they galloped on,
Stood list'ning, here and there, a hight upon;
Moved down in level flight beyond the glade,
And glided into silent ambuscade;
And in the branchy covert pond'ring lay
Beside the coming hunter's thoughtless way.
As hungry cougars in the deep morass,
To seize on unsuspecting herds that pass,
Lie close and closer as their prey draws nigh,
Glance at each other with impatient eye,
And press the eager moments as they fly;
So watch these cougars of the wilderness,
And so the moment of assault they press.
With envious haste their barb'rous knives they clasp,
And poise their hatchets in a deadly grasp,
And leaning forward on their ponies wait,
Like eagles on their pinions. Coming straight
Along the gorge the hunter's chatting trot
All unsuspecting; till the fatal spot
They reach, when forth from stilly ambush nigh,
The yelling furies on their pathway fly.
Once from the tangling branches fairly freed,
Wild retribution fledges savage speed,
Straight on the hunter's right and left they wheel,
And thro' their vitals plunge the reeky steel
Swift as their iron strength the blows can deal.
All, save Sir Maxey, perish; he again
Rides through the storm like lightning to the plain,
Drives up his speed and shaves the lev'ler main.
So when fierce eagle shoots along the skies,
Breaks thro' the ambient clouds and downward flies,
Above the landscape swings his open sail,
And hangs in stately triumph o'er the vale.
Forward he leans at each successive bound,
As on and on he reaches o'er the ground.
Hard bears his courser on th' unyielding reins,
Close-scented danger swells his fiery veins,
Dilates his nostrils, to his knees inclined,
And pours their steamy volumes on the wind.
O'er log, stone, ditch, mound, shrub and brushy heaps,
Away, away he unobstructed sweeps.
In vain the heaving earth beneath him groans,
In vain the rising distance makes her moans,
In vain the wand'ring eye his flight pursues,
In vain the ear his feet receding woos;
Across their utmost limits both he shaves,
Drown'd in the rolling depths of dusty waves.
The passing gale behind him list'ning swings,
To view the rival of her speedy wings,
With breath suppressed, as when some maiden sees
A deer go fleeting by her 'mong the trees.
Meanwhile, away behind, disheartened not,
The streaming warriors hard pursuing trot.
What tho' the courser leave them like the wind?
His trail they see and stopping they will find.
Five miles or more, from where began the flight,
Along the summit of a woody hight,
Sir Maxey reins his courser to the ground,
And far and near for Rodney looks around.
As some dark cloud that spurns the rising gale,
Athwart it rolls and deepens in the vale,
Pours loud alarm upon the plains below;
Where, in midfield, stands the deserted plow,
And tall dread-breathing forests timid grow;
So seemed the surging courser as he trode,
With bois'trous hoof, to plunge along the road.
Now plodding near along the deep wood-side,
The expert of the wilds, Sir Maxey spied.
A brace of fowls and bleeding doe are strung
His rifle on and o'er his shoulder swung.
Homewards he strides anticipating toast,
Stewed fowl abundant, and savory roast.
"Here! Rodney! Here!" Sir Maxey urgent cries,
The expert pausing, lifts his downward eyes;
Alarm is flashing in his master's face,
With looks inquiring now he mends his pace,
When thus Sir Maxey loud begins to cry:
"Fly for your life! for God's sake, Rodney, fly!
A tribe of Sacs are swarming on my rear
Dreadful to see, but dreadful more to hear!
They'll scalp us all and burn the town I fear."
Towards the town the Champion lifts his eyes,
And on his master fixing, thus replies:
"No! let us meet them; hold your further flight,
Retreat's in order ne'er before a fight.
To fly will but reduce our wonted strength,
And make resistance feebler, and at length
Expose our village to the storming foe;
Who, if repulsed, will reinforcements show.
Lead not an enemy our helpless homes to know."
As some loud boar who hears his baying foes,
Upon his sedgy realms begin to close,
With groaning rage flies from his hidings dense,
And throws his lordly strength on the defense;
So Rodney, from his cov'ring in the wood,
Flew to the breach, and waiting, firmly stood.
Straight he beheld the warriors close at hand,
Him they behold, his movements understand,
Wheel from his rifle, and their flight renew,
All, save two mightiest, to their man pursue.
These now dismounted, turn their ponies loose
And in the woods their vantage places choose,
Peer thro' the thick boughs with a stealthy eye,
Till at his mark one lets an arrow fly.
Thro' flinching branches rings the feathered harm,
And strikes its painful barb into his arm.
E'en as some bear whom crouching hunters wound,
Tears at the pain, and rages o'er the ground,
Till in the copse the hidden foe he spies,
And on his covert fierce as fury flies;
So Rodney, when the flinty stroke he feels,
The shaft plucks out, and from his cover wheels;
Rages defiant thro' the sounding wood,
Till near the wary foe his steps intrude.
Qnick as some stag, when horns and hounds assail
His secret lair within the leafy vale;
The pluming champion springs upon his feet;
His and bold Rodney's eyes defiant meet.
Loud as two bulls that roar upon the plain,
Plunge on each others frothy sides amain,
Till wasted strength their foaming rage prevent,
The dread combatants groan with dire intent.
Each dreads the onset for the glare of death
Warms his foe's eyes, and fury wings his breath.
The chief's arm ne'er by wilds nor dangers swerved,
And Rodney's by successive hardships nerved,
With nervous haste their leathern girdles feel,
And on the gaze unsheath their deadly steel.
Each lifted hand its ghastly freight displays,
Each hurried glance the narrow field surveys;
With each, defiance can no farther go,
Unless it walk beyond a prostrate foe.
As two tall beeches shaken by the wind
Approach each other; now with heads inclined,
Now rush away with quick impetuous roar,
And now approach, inclining as before;
So bending to and fro the champions stand,
Till loud they rush together, hand-to-hand,
Rough as the surge when sounding billows meet
Between the schooners of an anchored fleet.
Each in his left hand holds the other's right,
And struggles o'er the ground in horrid plight,
Now on their knees, now bounding in the air,
And now half-stooped to earth, and groaning there.
Their lips all death-like on their teeth they clench
And grate defiance harsh at each long wrench,
That vainly strives the grasp to disengage,
And in the foe's heart plunge the steely edge.
The savage champion feels his waning strength
Give away, and yielding to his fears, at length
Pours forth three dreadful whoops of wild distress,
That start the lone ear of the wilderness.
An answer in the distance soon was heard,
And parting a dense thicket now appeared
A warrior fell, with cautious step and slow,
As when some cougar scents a covered foe.
New life to Rodney! Gracious Heaven save!
A doubled danger doubly nerves the brave!
He frees his knife with desp'rateness of strength,
And in the savage sheaths its deadly length;
And as he lifeless sinks with a loud groan,
Bold Rodney at the other heaves a stone.
Firm on his head the shrieking fragment flies,
The dying warrior rolls his painful eyes,
Sinks on the turf, that whitens with his brains,
And hugs the clod that drinks his flowing veins.
The dauntless hero of the woody waste,
To leave the scene of blood directs his haste;
With gun in hand, surveys his passage well,
And strides along the stream-divided dell;
Arrives in Saville ere the sun goes down;
Explains his wounds, and makes his combat known.
With tongues of praise the village meets her slave,
The women soothing, cheering him, the brave.
No strength has courage, to the fears disguise
In downcast glances of his serious eyes.
The horrid brake conceals the skulky foe,
And o'er him darkness falleth like a mantle low.
"Ah! Sad mistake!" the fathers of the town
In painful concert mutter up and down
The mournful streets; "Ah me! a fatal freak!
When wisdom yields to folly, valor's weak.
Ah, indiscretion! parent of all woe,
That causeth peace to rouse a crouching foe!
The sober blacksmith threw his hammer down,
And wiped the great drops from a sooty frown,
His anvil mounted, and with words of steel
Went on to utter what his heart did feel.
And as the sun sank in the hills' embrace,
His sad rays streaming in old Joseph's face,
That vacant looked, a picture made of dread,
That many strong hearts trembled as they read.
And Gabriel Grimes, the 'Squire, 'mong his books
Sat drown'd, assaying in his serious looks,
To trace a legal thicket on his gaze,
That showed no exit and no ent'ring ways.
"What? Ho!" Sir Maxey shouts with martial air,
"Before a struggle yield not to despair.
For these discretions valor makes amends,
We hold the means, but Providence the ends.
Fly to your arms, and set a heavy guard,
And coolness keep for strategy prepared.
Have wives and children shut in doors till morn,
And then will danger of his locks be shorn."
The honest cotters hear him with a sigh,
And glance around them with a doubtful eye;
Proceed toward the village church and stand
In dread suspense, a hopeless little band.
Now darkness lowers like a gloomy pall,
The muffled drum proclaims a solemn call,
And lights blown out reposeless courage waits
The signal of the sentry at the gates.
In converse low, the fathers watch in arms,
For night's familiar sounds now seem alarms.
The deep low baying of unusual curs,
Discloses restlessness not wholly theirs,
For honest dogs that stealthiness abhor,
Which doth conceal the steps of savage war.
Hark! List! a war-whoop starts the dismal fen!
A moment lingers, and is heard again.
Hope stops her flight, conjectures disappear,
Attack is certain, and is crouching near.
With noiseless tread the sylvan warrior steals,
(Him darkness in her mantle's folds conceals,)
Beneath the very cabin's walls, unseeen,
And yet may pass the peering watch between.
When Heav'n responsive to his sally cries,
Will hideous grow, and shut her sickened eyes,
And from the pitchy womb of darkness born,
Red massacre behold the mournful morn.
Ah! now must courage meet the unsheathed test
That makes stern manhood tremble in his breast.
Escape hath shut her paths upon his eye
And leaves him doomed to conquer or to die.
In age's low'ring look and muffled speech,
The young see trouble, and with sobs beseech
An explanation at the lips which hold
The dreadful secret that cannot be told.
Childhood avoids the wand of magic sleep;
Forgetfulness assays in vain to steep
His wakeful senses in her drowsy dews;
Close on composure's heels alarm pursues.
In solemn council lean the village sires,
Where hope's last smold'ring ember-glow expires;
Sir Maxey's indiscretions yet deplore,
And thus in concert sad their minds explore:
"Our ammunition most in hunting spent,
Our numbers scattered and resistance bent,
To send to Dearborn yet for aid remains
The only prospect that our reason gains,
That rises hopeful from disaster's plains.
The troops perhaps, by timely warning may,
In mounted march, rescue the sinking day.
But, who will go? Who'll dare these twenty miles,
Of forest peril, night and savage wiles?
Who'll bear the news, when he on foot must go,
For not a horse can 'scape the wary foe!"
The young and valiant called upon to choose
The way to glory or her hights refuse,
In vacant looks this truth leave manifest,
The glory-fires warm another's breast.
Then, as a hunter calls his faithful dog,
To dare the treach'rous sands and cross some bog,
Sir Maxey to his bleeding servant cries:
"Say, Rodney, can't you fly to Dearborn? Rise,
Your rifle take, be quick! look sharp! be gone!
Let what you do be well and quickly done."
As some firm rock that brawling floods oppose,
In all their wanton rage, Rodney arose,
Disgust red kindling in his manly face,
Looked on the lords of his unhappy race,
And spoke: "My masters, such your titles are,
Let all irreverence from my thoughts be far;
But I've till now a silent list'ner been,
And have your timid operations seen.
And now I ask, with but a servant's claim
To audience, and in a servant's name,
I ask, with what do brave men guard their wives,
And homes, and children, but with their own lives?
With all your bosoms cherish as their own,
With all they know, and all they've ever known,
Exposed to danger, sueing you for aid,
I ask, why have you this evasion made?
If I, an alien to your house and hearth,
The ignoble sharer of a slavish birth,
Am called to take your parts, be well apprised,
Your conduct is but cowardice disguised.
Had I a single treasure to me dear,
A single home joy bright, or, even were
I owner of my life, my arm I'd bare,
And thrust my fingers into peril's hair.
But none of these, and not a cheer within
My darkened breast; what may I hope to win?
Naught but the praise of mere obedience,
The fame of dogs! Nay! ere I journey hence,
Bring down command to tent with kind request,
Own me a man, and trust a manly breast.
For be assured, although your slave am I,
He will not cower, who will dare to die;
He sees no terror in menace's eye.
The gaping wounds I for my master wear,
Already warn me that I unrewarded bear."
Now, Rodney ended, and a mute despair
Fell on his hearers, for he breathed an air,
So foreign to their knowledge of a slave,
With liberty so audaciously brave;
That with the tameness of stupidity,
They on their bosoms leaned their chins, to see
Weak folly tamper with a lion; when
Sir Maxey turned away, and never spoke again.
In hope's wide fields there was no further day,
And now their only star had passed away.
As when beseiging cloud ssurround the hills,
Whose troubled bosom night with terror fills,
Rude shepherds tremble in their darkened tent,
To hear the mountains wail and woods lament;
Till lo! upon the brim of vision far
Appears the joyous-beaming morning star;
So quaked these townsmen of St. Vincennes' wood,
Till in their midst fair Dora Maxey stood,
A ray of hope to all their bosoms dear,
A day-break in their cloud-gloom'd land of fear.
So young and gentle, so serenely wild,
At once a heroine and a lovely child!
The band dispersing with her conqu'ring eyes,
In daring tones to Rodney she replies:
"Brave servant, thou hast nobly said and true,
Let valor wear his scars and glory too,
But know that woman by her jealous lords
Unhindered, in her great heart e'er awards
To stalwart manhood, love, esteem and praise,
And glories most in his most daring ways.
By caste's frail grants let those win hearts who can,
What woman loves is manliness in man.
Now she is here, for her thy life expose,
And nobler years will her rewards disclose.
The time now wings this way, when Gratitude
Shall clasp thee to her bosom, and the good
And great, and brave of all the valiant earth
Will own, nay more, delight to own thy worth.
To Dearborn then and spread the dreadful news,
While danger's hights more timid souls refuse."
Now Rodney bow'd his face towards the ground,
Until his bosom this expression found:
"The humble subject of thy will I stand,
For thy request to me is a command,
The which to disobey 's the coward's task,
Mine is to do, fair one, and yours to ask.
Now Dora's lilly-touch with sweetest haste,
Her father's weapons on his servant placed,
And thus the fortunes of the hour decides;
For he, with gun in hand and nimble strides,
The speechless groups of villagers divides,
With cougar caution slowly out proceeds,
But faster goes as further he recedes,
Till sent'nels past, deep in the howling night
His footsteps sink, and he is out of sight.
While still suspense with throbbing int'rest waits,
And slow-speeched dolour instances relates
Of grisly dangers conquered by the fates;
Of savage bands, when border strength was small,
Beat back from many a forest-cabin's wall,
Of women moulding as their husbands fired,
And children watching where the foe retired;
Fair Dora leaning on her elbow, sate
Within her window, o'er the village gate
That eastward looked towards Dearborn, and prayed
That Rodney's flight in no mishap be stayed.
Defiant in the cannon's mouth,
I see a hero of the South,
Serene and tall;
So like a stonewall in the fray
He stands, that wond'ring legions say:
"He is a wall."He heeded not the fierce onsets
From bristling fields of bayonets;
He heeded not
The thunder-tread of warring steeds,
But holds his men of daring deeds
Right on the spot.And is it insanity?
Nay, this is but the gravity
Of that vast mind,
That, on his Southland's altar wrought
And forged the bolts of warrior thought
Of thunder-kind.
An eagle eye, a vulture's fight,
A stroke leonine in might;
The man was formed
For that resolving, deep inert
Which sprang stupendously alert,
And, sometimes, stormed.
And so, his mount to the charge,
Or led the columns small or large,
The victor rode;
Till over danger's castle moat,
And in the cannon's silenced throat,
His charger trode.
And so, with fierce far speed, or near
To right and left and on the rear,
His fury fell
Upon the foe too much to meet.
For Jackson's soul abhorred retreat,
Except from hell.
But comes the saddest at the last,
As sad as life's ideal past–
And, oh! how sad!
That, in his pride, the Stonewall fell
By hands of those he loved so well–
The best he had.
How sad that dark and cruel night
Should fold her mantle on the sight
Of those tried, true
And valiant men, who followed where
Their leader went, despising fear
And darkness, too!
But sometimes triumph is subline
The most when on the brink of time,
And his was so;
A shady shore beyond he sees,
And asks for rest beneath its trees,
And it was so.
And do you ask, can he whose sweat
Hath clods of weary slave toil wet,
The praises sing
Of one who fought to forget the chain
That manacles the human brain?
Do such a thing?
I answer, yes, if he who fought,
Fought bravely and believed he ought.
If that can be;
If manhood in the mighty test
Of mankind does its manliest
Believingly.
Then poet songs for him shall ring
And he shall live while poets sing;
And while he lives,
And God forgives,
The great peculiar martial star,
In old Virginia's crown of war,
Will be her Stonewall, proud and sad,
The bravest that she ever had.
The End of The Whole Matter
A tall brave man of gray three score,
The sable columns rode before,
The knightliest of the knightly throng,
The bravest of the brave and strong
Who on the field of Nashville stood
Against the hosts of gallant Hood;
When noble Thomas, mild and brave,
Against the armed master, threw the former slave.Rodney had left his home in foreign lands,
And laid his life into our country's hands,
His struggling kindred's conquests proud to share,
For he beheld acknowledged manhood there.
And this the grandest day that ever rose
Upon his life, at its eventful close
Was bringing with it recollections sweet,
That made his old heroic heart with youth's emotions be atHis country's banner, soiled and battle-torn,
In sable hands before the columns borne,
Streamed in the setting sun's deep golden light,
And rivaled Heaven in her blazon bright.
The drums of victory clamored on his ear;
The bugle's wail of rest was ringing clear,
Thunder of wheels was in the distance roaring,
And into camp the weary victors pouring.
He saw that Slav'ry's days were numbered now,
Far death's cold damp hung on her pallid brow.
And looking now upon his left and right,
Two proud sons who had ridden thro' the fight
With him, rode there with martial mien and brave,
The off'rings which Leeona's bosom gave
The country that had chased her as a slave.
He saw his sons, and prouder felt than he
Who took Rebellion's sword from famous Lee.
This was the day when Southern chivalry
Beheld black manhood clothed in liberty,
Step from the shadow of his centuries
Of bondage, shake dejection from his eyes,
And to the awful verge of valor rise.
The day that heard the negro, scarred and maimed,
On sovereign battle's lips a man proclaimed.
The hosts of Sherman marching to the sea,
Beneath Rebellion's trembling canopy
Swept like a thunder storm, whose lightnings catch
The shaking hills with hands of flame, and snatch
Their mighty forests down. The Nation then
Lifted her hands to Heaven and praised the men
Who cleaved their way by hard incessant blows,
From where the hills of Cumberland arose,
And at the Northern door of Slavedom held
Their watch, to where the Mexic Ocean swelled;
Wrenching fair victory from brave hands and true
As e'er on foe the steel of battle drew,
The Alpine strength of strongholds sweeping down,
And treading under foot each hostile town.
Then fair applause warmed her white hands with claps,
And bright-faced greetings at all doors gave raps,
Gray bearded gratitude bowed on his knees,
And cheering cities flamed with jubilees.
But soon a change came o'er the Nation's face,
The light of mirth to clouds of fear gave place.
The chiming bells that jubilantic rung,
Now hushed their throats or spoke with doleful tongue.
The mazy dance held her light-booted feet,
And music soft suppressed her murmurs sweet.
Sad-faced religion sought the church once more,
And faith went back to do her first works o'er.
The gallant Hood, intrepid Sherman knew
Would cleave the Slaveholder's domains in two,
So, as that military comet went
To Southward, he his swift flight Northward bent.
The Union struck at proud Rebellion's heart;
Rebellion aimed at her same vital part,
And doubtless had a wound most painful made,
Had not the Union's negro arm displayed
Such valiant strength in warding off the blow,
And striking down the strong and gallant foe.
As Rodney rode to camp this glorious day,
He heard a dying soldier by his way,
Half hidden 'mong his mangled comrades pray.
His tortured soul of ruin conscious cried,
Raved thro' its mansion dark from side to side,
Rose to the eyes and stood with dreadful glare,
Ran to the heart, and fluttered, groaning there,
And shuddering in the awful shades of woe,
Sank down in mortal dread and pleaded not to go.
As hope forever bade her host farewell,
Now mem'ry came into the soul's dark cell,
And with the wrongs of unrepented yore,
Manacled her, and chained her to the floor.
Remorse then followed with the criminal's scourge,
Her pris'ner seized, and dragged towards the verge
Of mis'ry bottomless, and 'mid the smoke
Of black torment, that rolled and spread and broke,
Laid on her lash of scorpions with heavy stroke.
"Oh, Lord!" the sufferer cries, "have mercy now!
I would pray right, Lord Jesus, teach me how!
Ah! I've insulted thee, I know, I own,
But Savior, make thy boundless mercies known;
Oh, life misspent, could I but now recall!
Leeona, Rodney, ah! forgive me all.
Help! water! water! water, or I die!"
"Who's here?" cries Rodney, quickly turning by,
The dying man stares on the speaker brave,
In ghastly silence, as the whisper "save!"
Falls from his lips; then like a madman yells,
And rolls his painful balls within their fevered cells.
Rodney forgets the wrongs of other years,
As wretchedness' bitter cry he hears;
The red wounds that with parched lips appeal
To heav'n he sees, and can't his tears conceal.
He kneels upon the ground where Aylor lies,
His canteen to his quiv'ring lips applies,
The sinking body in his arms doth rest,
And leans his throbing head against his breast.
Now stooping o'er, the hero hears the cry:
"Rodney, I know, forgive me ere I die!
Leeona tell" — he fixes here his eyes,
And still in death, on Rodney's bosom lies.
And now my country let us bury all
Our blunders sad beneath grim battle's pall.
Gathered beneath the storm's heroic folds,
While our dear land an aching bosom holds,
Let us forget the wrongs of blue and grey,
In gazing on the grandeur of the fray.
Now let the vanquished his repentant face
Lean in the victor's merciful embrace,
And let the victor, with his strong arm heal
The bleeding wounds that gape beneath his steel.
And may no partial hand attempt a lay
Of praise, as due alone to blue or grey.
The warrior's wreath may well by both be worn,
For braver man than either ne'er was born.
They both have marched to death and victory,
They both have shown heroic misery,
And won the soldier's immortality.
But scars of honor that they both yet wear,
The proudest testimonials of their valor are.
And where our sons their battle lances drew,
Fought not their sable comrades bravely too?
Let Wagner answer 'mid the reeking storm,
That mingles with black dead proud Shaw's fair form.
Ask it of Fisher, and a thousand more
Brave fields that answer with their lips of gore.
And while America's escutcheon bright,
Is bathed in war-won Freedom's glorious light,
Forget it not, the colored man will fight.
More patriotism Sparta never knew,
A lance more knightly Norman never threw,
More courage never armed the Roman coasts,
With blinder zeal ne'er rode the Moslem hosts,
And ne'er more stubborn stood the Muscovite,
Than stood the hated negro in the fight.
The war was God-sent, for the battle blade,
Around the seething gangrene, Slavery, laid,
By Heaven's arm, this side and that was prest,
Until the galling shame dropt from the Nation's breast.
War was inevitable, for the crimes
That stained our hands (and in the olden times
Engendered) now were Constitutional,
And spreading thro' the Nation's body all.
Deep rooted where the vital currents meet
Around the heart of government, their seat
Evaded Legislation's keenest skill,
Or bent the stoutest edge of human will.
'Twas then that God the raving Nation threw
Upon her own war lance and from her drew,
By accidental providence, a flood
Of old diseases that lurked in her blood.
Whom Moses witnessed 'mid old Sinai's smoke,
Whose arm from Judah's neck had torn the yoke,
And with it broken Egypt's bones of pride,
And with his chariots strown the Red Sea tide;
Who stripped the golden crimes from Babel's throne,
And made his pow'r to Baal's adorers known;
He stood among us and His right arm bared
To show His ways by seers of old declared.
While millions trembled at Oppression's nod,
Oppression sank beneath the finger touch of God.
Line upon line the centuries had wrought,
And precept upon precept vainly taught,
The prophets had of old been heard to cry,
While signs and wonders figured in the sky,
And then the Incarnation of all good,
By Jordan's wave and in the Mount had stood,
And with His hand of gentltness and love
Transcendent, that a heart of stone could move,
Had touched the ties of every human woe,
And loosing fettered mind, said: "Let him go."
And His great heart to patience ever moved,
And always gentle e'en if He reproved,
Bore this sweet sentence from his sinless Home:
"To preach deliv'rance to the bound I'm come."
But even then, our country shook her head,
Her eagle wings of independence spread,
One tipped with fires of the Tropic's glow,
The other lashing in the realms of snow,
And in her pride declared that God's own Son
Had licensed Slavery's dark crimes, every one.
And tho' we shackled Afric's sable hands,
And scourged her where the smoking altar stands,
And tho' we loaded down her captive feet
With iron chains, right by the mercy seat,
And tho' we laid her virgin bosom bare,
And forced her where the fires of off'ring glare;
We smote our conscience with a palm of ease,
And thanked God that his pure eye ever sees!
Who then can wonder that the Lord would smite
The haughty neck that did Him thus despite?
Now let us in the light of future years,
Forget our loss and sacrificial tears,
And thank kind heav'n that tho' we erred and strayed,
We to the good path our return have made.
Hail dawning Peace! Speed on thy glorious rise!
And with thy beams unseal the nation's eyes.
Let Islam in the blaze of scimitar
Proclaim his rites, and gorge the fangs of war,
But peace be unto thee, land of our sires,
Whose sacred altar flames with holier fires!
Let lawlessness no longer stagger forth
With his destructive torch, nor South nor North;
And let the humblest tenant of the fields,
Secured of what his honest labor yields,
Pursue his calling, ply his daily care,
His home adorn and helpless children rear,
Assured that while our flag above him flies,
No lawless hand can dare molest his joys.
Lo! from yon hights, land of the rising star,
The hands of Freedom beckon from afar,
And mid the glad acclaims of roused mankind
Fling her immortal standard to the wind;
Speed there thy flight, and lead the glorious train
That swell the lofty tributes of her reign.
Thy hands are wrested from the tyrant's hold,
Thy name on Time's illustrious page enrolled,
And thy escutcheon bright, embossed with gold.
From Erie's rock-watched shores to Mexic's sands,
No more the bondman wrings his fettered hands;
No more entreaty's sable face thro' tears,
Looks on for succor thro' the weary years;
For Freedom's holy dawn is now begun,
And earth rejoices 'neath her rising sun.
Requited toil content pursues his care,
Walks with bold strides as free as heaven's air;
The gen'rous fields put on their aspect sweet,
And forests blithe their hymns of God repeat.
Dear western woods! thou harbors of the free,
With youthful hearts we wander back to thee,
And ere these numbers hush, once more would lie
Beneath thee stretched and gaze upon the sky.
Thou art more proud than Windsor's lofty shade,
By poet sung, or by the sage portrayed.
No lordly despot o'er thy ample grounds,
Sways ancient titles and proclaims his bounds;
But each poor tenant owns his humble plot,
Tills his neat farm and rears his friendly cot.
The weary trav'ler 'long thy roads may lie,
As peaceful as the brook that rambles by,
From boughs that drop with plenty gather food,
And o'er his dear ones rear a shelter rude.
Thou noble seats! fit theme of bard or sage,
Beneath thy bow'rs leans venerable age,
While from the summit of his stalwart years,
His life's calm twilight slowly disappears,
And hope's sweet sunrise in the future nears.
And where smooth paths thy solemn shades divide,
Walks buoyant toil with young love at his side,
And charmed by songs that ev'ry zephyr shakes
From boughs around, his hopeful journey takes.
And flaxen childhood there the live-long day,
In blithe sports whirls and wanders far away.
Oh comrade freemen strike your hands to stand
Like walls of rock and guard our father-land!
Oh guard our homes and institutions free,
The price of blood and valor's legacy.
Awake to watch, ye sovereign sons of toil!
If despot feet e're touch our country's soil,
Fly to the standard that by freemen born,
The glory of a hundred years has worn,
Blood-stained, yet bright, streaming, but battle-torn,
And rally till the last drop from the veins
Of free America flows on our plains.
Eternal vigilance must light the tower,
Whose granite strength can bide the evil hour,
Whose wave-dashed base defies the tempest's shock,
Builded upon the everlasting rock.
At last, proud land, let potent wisdom write
Her name above thy brow in glorious light,
And suffer ne'er thy hands to idle rest
Till learning lights thy humblest subject's breast.
In cities tall, and in the hamlet rude,
Suffer no partial hand to e'er exclude
A single poor from fair instruction's halls,
But write Equality on all her walls.
An equal chance in life, and even start,
Give every one and let him play his part.
But who could, with complacence on his face,
First bind one's feet, then challenge for a race?
I would not own I was a thing so small,
I'd rather own I was no man at all,
Than show that I must some advantage take,
The race of life respectably to make.
Say my facilities must all be best,
Then write excelsior upon my crest?
Nay, rather let me weed the hardest row,
And rise above by toiling from below.
Free schools, free press, free speech and equal laws,
A common country and a common cause,
Are only worthy of a freeman's boasts —
Are Freedom's real and intrinsic costs.
Without these, Freedom is an empty name,
And war-worn glory is a glaring shame.
Soon where yon happy future now appears,
Where learning now her glorious temple rears,
Our country's hosts shall round one interest meet,
And her free heart with one proud impulse beat,
One common blood thro' her life's channels flow,
While one great speech her loyal tongue shall know.
And soon, whoever to our bourne shall come,
Jew, Greek or Goth, he here shall be at home.
Then Ign'rance shall forsake her crooked ways,
And poor old Caste there end her feeble days.
"Strike! Strike! Stop! Stop!" What mean these shouts that rise —
This great commotion throughout all the land,
That chills the circling life of enterprise,
While lawlessness stalks forth with torch in hand?The hands of Industry have to the head
(Aweary grown of swinging to and fro)
Without discretion's sober forethought said:
"We ought to be above, and you below."Whenever Communism's snaky head
Is raised against the heel of Capital,
I want it crushed 'neath Law's majestic tread,
And yet would heed poor honest labor's call.
The cold long Winter fast is coming on,
His near approach makes sad the leafless year,
And deep snows soon the naked fields upon,
Will hush the voice of Autumn's latest cheer.
The burdened year will soon her treasures yield,
And pile our spacious barns from eaves to floor,
Then vagrant want in lanes and open field,
Can gather scanty sustenance no more.
The howling winds will drive before them then,
This drifting dust of Fortune's feet in clouds;
And hither thither into ditch and den
Mis'ry and crime will rush in babbling crowds.
But while the desp'rate curse, while lewdness cries,
And shiftlessness ought justly to go bare,
Forget it not, full many a Lazarus lies
Before thy gate and needs a crumb of care.
While Wealth across his lordly arm will cast
The warmth of scores of God Almighty's poor,
Still houseless want must shiver in the blast,
And childhood's feet go bare from door to door.
While pride upon her easy finger wears
The bread of thousands in a brilliant stone,
The eyes of Wretchedness must stream with tears,
And groaning labor be content to groan.
Let heaven's light upon our nature shine,
Till ev'ry opaque spot with glory beams,
And want no longer at our feet can pine,
But happiness will flow in living streams.
'Twas in the long ago,
'Twas in the age of woods
Of Young America,
That moving, rattling, slow
Towards the Western plain,
A single settler's train,
Drawn on by oxen teams,
Was seen, as when in dreams,
Strange sights and solitudes,
Upon our vision play.The tall forests swim in a crimson sea,
Out of whose bright depths rising silently,
Great golden spires shoot into the skies,
Among the isles of cloud-land high, that rise,
Float, scatter, burst, drift off, and slowly fade,
Deep in the twilight, shade succeeding shade.
And by yon leaning rocks beneath the hill
Whose sloping base, a peaceful streamlet laves,
With fitful joyance bubbling in its waves,
The train guard pausing, winds his signal shrill.
Long roll the echoes, and the patient train,
In order halt along the silent plain.
From under wagon covers eight or nine,
Two anxious rows of female faces shine,
And whispers buzz from lips to lips around:
"That's Rodney's horn!" "Is this the camping ground?"
Loud low the oxen, leaning in their gear,
Replying heifers low along the rear;
And ere the seated driver drops his threads,
Come leaping on and toss their hornless heads.
Mark how enjoyment this wild scene pervades,
How ruddy maidens vie with ruddy maids;
These gathering fagots from yon lofty wood;
They ranging vessels and preparing food;
While seated round, their lordly umpires rest
On upturned stones, and view them doubly blest,Such were the scenes the early travelers met,
When they towards the West their faces set.
Then, movers all their earthly ware would load,
And drive a whole great farm of stock upon the road.
Moving was moving then. The house cat e'en,
High in her sleepy reign was onward seen,
Riding, among utensils old and rare,
And roost and all, the ancient cock was there;
And thro' the silent forest blew his horn,
By day occasional, but always night and morn.
The Thunder Storm
Lo! how the Heavens ponder now,
They look so still and moody!
And every leaf, and every bough,
Are in a dark deep study.
The very air has hushed its breath,
And pauses in its hushing,
To hear the clouds that still as death,
Are out of darkness rushing.
The lightnings in their vivid wrath,
The waving hills a starting,
Deep thro' the cloud-sea cleave a path,
From shore to shore a darting.
Loud thunders roll within the flood,
And night peers on with wonder,
And seems to sigh, in pensive mood,
And whisper, "hear it thunder!"
Again the thunders shriek aloud,
Far o'er the distance roaring,
And now from every breaking cloud,
The sluicy floods are pouring.
Upon the roof, the dancing drops
Come down with splash and clatter,
The lightnings glare, their music stops —
Now louder 'gins to patter;
As if to catch its breath, the rain
Were, when it thundered, pausing,
Then rushing on to make again
The time it had been losing.
To The Student
Who flees the regions of the lower mind,
Where these distempers breathe on every wind:
Infectious dogmatisms, noxious hate,
Old snarly spleen, and troublesome debate,
Dull bigotry, and stupid ignorance,
Proud egotism, empty arrogance,
And famous hollowness, and brilliant woe —
And would to knowledge's high places go,
Must first in humble prayer approach the Throne
Of the Almighty Mind, and there make known
The purposes that swell an honest heart;
Then on the path before him, meekly start:
Asking of others who have been that way,
What of the country, and what of the day?
Being certain ever to give earnest heed
To where the steps of hoar experience lead.
Mark him who ventures these means to despise,
And tho' his works in gloomy grandeur rise,
Awe strike all earth, and threaten e'en the skies;
Yea, "tho' he flourish like a green bay tree,"
His life will a stupeduous failure be.
'Tis vain to soar aloft on borrowed wing,
Or drink success from favor's flowing spring.
Let him who journeys upward, learn the way,
By toiling step by step, and day by day.
Each hardship mounted, easier makes the next,
And leaves his pathway by one less perplext.
Lo! where yon dreamer looks on glory's hill,
Hopes to ascend without the manly will,
Bends round and round some open pass to try
With easy access, and ascend on high;
Waits for some helper till the day is past,
And night o'ertakes a sycophant at last.
But honest courage, see with manful strides,
Walks on and enters at the steepest sides,
Climbs long and slowly up his rugged path,
Awaits no aid, relies on what he hath,
Grows independent as his way proceeds,
As progress roughens, less the distance heeds,
Till lo! the utmost hights his footsteps meet,
With fames and fortunes lying at his feet.
Then Kings delight to honor Glory's son,
And loud applauses in his footsteps run.
Then mankind crave the favor of his eyes,
And heap his lasting tributes to the skies.
The Old Sac Village
Ye who read in musty volumes
Pages worn of Backwoods Times,
Of the red man and the white man,
In the thrilling days of danger,
In the gall of border troubles,
In the wastes of deadly revenge,
And the ruffian hands of torture;
And of long and fierce death grapples,
With the bloody hands of combat,
On the yawning edge of famine;
Of adventure's rustling footsteps,
When the knees of stoutest valor
Smote together as they paused, where
Lynx-eyed strategy lay crouching,
On the bosom of still ambush,
Ready from his hands to let loose
A loud leash of swift cruelties;
Ye who read these musty volumes,
Till a strange sensation thrills you,
As of Indians skulking near you,
Lay aside your volume lightly,
Hear me sing of Nanawawa.
Ye who pore for weary hours,
In the deep wild nooks of legend,
In the forest-nooks of legend,
Gath'ring up these strange old relics,
For your idle thoughts to play with;
Such as wigwams rude, and war posts,
Belts of wampum, bows and arrows,
Scalping-knives, and rough stone hatchets,
Peace pipes and great council fires,
Forest senates, and wise treaties,
Forest seers and superstitions,
And inconstancy and cunning,
In the savage world of promise;
Ye who pore for weary hours
In these pathless nooks of legend,
Wake, and hear of Nanawawa.
Ye who wander long delighted,
In the distant realms of romance,
On the mountain hights of romance,
And in woody depths of romance,
Getting lost in shady windings,
Looking not to find your way out,
But a wood to wander off in,
And a nook to lose yourselves in;
With majestic trees around you,
Clasping in their arms of grandeur,
Densest depths of sleeping silence,
Clear, deep, still lakes, on whose margins
Peaceful herds feed, dreams the heron,
On whose bosoms swift and light glide
Birch canoes, arrowy darting,
Like soft shadows, smooth and soundless;
Floating thro' unbroken stillness,
Save the distant fret of oar-locks,
And the pebbly speech of bright waves;
Ye who seek these depths of romance,
Where the noon-beam parts the fore locks
Of the forest looking shyly,
Where a thousand wind-swung branches,
Wild songs pour in Solitude's ear,
And the heart of meditation
Slowly beats and warms in beating;
Pause, and hear of Nanawawa.
Ye who shut up in warm houses,
Late on sombre Winter evenings,
Lulled by pleasant roaring grate fires,
And the cozy flap of curtains,
And the chirp of vacant childhood,
And the cheery streams of gaslight
Meekly stealing, that pause, bashful,
On the plushy lap of softness;
Ye who thus shut up in houses,
Dream of early life and hardships,
Shut in humble frontier cabins,
Far out on the unknown borders;
Dream of weariness o'ercoming
The lost traveler on his journey
Overtaken by the snow-storm;
Lone at night and his path dimming,
Sinking down to sleep his death sleep;
Chilly leagues from any dwelling,
And while loneliness bewails him,
Through the drear woods shrieks the gray blast,
Shrieks the eager flying North blast,
As a hungry eagle shrieketh;
Ye who shut up thus in houses,
Dream of these fell border hardships;
Hear me sing of Nanawawa.
Ah! ye shall behold a beauty!
On the lap of an old forest,
In the wigwam of her fathers,
By the cascades of her childhood
Ye shall see a sylvan maiden,
Meek as April's first fresh rose is,
Sweet as blushing light e'er looked on,
Brilliant as a melting dewdrop,
But in love pensively youthful.
In the days that long ere these times,
Went their way with loud importance,
On the thrilling lips of warfare,
And the tongue of backwoods valor,
Told to many generations;
There was a rude Indian village,
Far within a glen sequestered,
In the basin of a clear brook,
Near the waters of the Wabash,
In the Mississippi valley.
In this ancient birch bark village,
With his daughter, Nanawawa,
Dwelt the chief of all the Sac tribes,
Old and austere Pashepaho,
Powerful and warlike Stabber.
On a hill, the Stabber's tent stood
High above the other lodges,
And the goodliest among them.
Once upon the moon of bright nights,
On a day in budding April,
At his tent door sat the Stabber,
With his chin leaned on his hands, sat
Knitting thoughts above his sage brow,
And pursuing speculations,
Through the sober depths of study.
"What a brilliant sun-set," said he,
As the world of quiet West woods
Slowly reddened into amber,
And the sunset-spangled clouds threw
Up their long arms tipped with fire,
And sank down in sleepy glory,
In a deep still sea of glory.
"Sing a camp song, Nanawawa,"
"I will help you sing it over."
Said he, turning to his daughter.
"On the morrow is the full moon,
And the great feast of the Sac tribes,
When the Chiefs of all the nations
Will come in to see the Stabber
And report upon the country.
They will tell me of their huntings,
And of fishings in their clear streams,
Of their pleasant sugar makings,
And of fields of green maize growing;
They will tell of wild adventures
With the bear and with the bison,
And will tell the great traditions
Of their tribes and of their totems.
Goodly presents they will bring me,
Venison to make the feast with,
Bear skins to adorn my tent with,
Paints to make my old age youthful,
Beads to brighten favor's dull eyes,
Wampum to revive old friendships,
And great words to move the heart with.
"Sing a camp song, Nanawawa,
Sing until the time of sleep comes,
I will join and help you sing it."
Nanawawa sang a camp song,
And the Stabber joined the singing,
Till asleep they sat and sang yet,
Till they went to sleep a singing.
Morning came, and as the hours
Went their way, they brought crowds with them,
Of the distant tribes and totems.
Noon approached, and saw the great feast,
In its highest wild demeanor,
In the savage hights of ardor.
Eating, drinking, gaming, dancing,
Mingled in a ceaseless whirling
To the sound of forest music.
Evening came, and as the feast sank
To repose, as sinks the warrior
On his shield, of fields aweary
And the long parade of armies,
To the tent door of the Stabber,
Chieftains came and stood in silence.
Pashepaho in his tent floor,
On his bear skins sat a smoking.
Not a word said he to any,
But a seat he motioned them to,
And went dryly on a smoking
As they settled close around him.
Young men, chiefs of the Ojibways,
The Miamis, and Dacotahs,
And the mighty Sacs and Foxes,
Laid their presents rare and costly,
At the Stabber's feet; and seated
On their armor, in great phrases
Of their forest tongues, made speeches.
On her tent floor, Nanawawa
Looking not upon the young men,
Heard their sounding words of valor.
Tho' the eyes of great chiefs sought her,
She would starve their eager glances,
Turning from them on the tent floor.