Albery Allson Whitman was a 19th century African American poet who, despite being born into slavery, carved out a career for himself as a poet and orator. He served as a pastor throughout the south and mid-western regions of the United States. His poetry was universally well received and he became known as the "Poet Laureate of the Negro Race". He is included in the anthology African-American Poetry of the Nineteenth Century where his efforts are described as "attempts at full-blown Romantic poetry". Some even compared his verse to that written by well-known American and British authors who wrote in the Romantic tradition. One of Whitman's poems is called Ye Bards of England which extols the virtues of the great literary figures from English history and begins:

Albery Allson Whitman Bio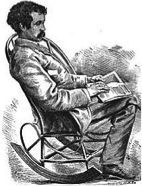 Albery was born sometime in 1851 on a Kentucky farm near Munfordville, Hart County. His parents were slaves and the boy grew up working at a variety of manual labour tasks such as railroad construction and in a plowshop. Before winning their freedom his parents had both died and Albery found himself orphaned at the age of 12. Somehow he survived and he did a little teaching for a while before gaining a place at Wilberforce University at the age of 19. He was almost immediately taken under the wing of Bishop Daniel Payne who became his mentor and good friend.
Payne recognised his protégé's talent as a writer and encouraged him to publish his first collection of poetry. After being at Wilberforce for only six months Whitman was a fundraiser and financial agent for the university. With Payne's encouragement he took up the role of pastor, initially in Springfield, Ohio at the African Methodist Episcopal church. Between 1879 and 1883 he travelled throughout the states of Texas, Georgia, Kansas and Ohio, establishing churches wherever the spiritual need existed.
Albery Allson Whitman Poems
Saville
Fair Saville! earliest village of the wood,
To break the reign of ancient soltitude,
Where erst the dusky tennants of the shade,
Along the Mississippi's waters strayed;
Thou once did flourish on the lap of fame,
When to thy rude abodes adventure's wand'ring footsteps came.
I turn with reverential step and slow,
To trace the scenes my recollections know.
Where now thy cliffs bleak winter's wiles oppose,
When through the screeching air his blasts he throws,
There warring totems once prolonged their stay,
And then e'en with reluctance went their way.
And where yon blossomed fields, and orchards green,
Fresh meadows, and contented flocks are seen,
There erst the Indian reared his wigwam rude,
Deep in the wide forest's pathless solitude.
Dear to me yet, and every day more dear,
Familiar sounds revive upon my ear;
Familiar scenes come to me o'er the past,
And I, recolling from the Future vast,
Revisit in my dreams and solitude,
The pleasant places of thy borders rude.
Thus, when from tempest-brooding heav'ns I fly;
When life's meridian's in a pensive sky,
Back to the charms of other days I come,
And seem a traveler returning home.
Then cumbrous backwoods life wide o'er the vale,
Heard a responsive tongue in every gale.
Loud baying hounds pressed hard the fleety deer,
Replying horns pursued along the rear,
Wild song attuned the breezy throat of morn;
The plowman whistled to his growing corn,
And lads with hoes, garrulous as they went,
Close on his heels their nimble footsteps bent.
And there was heard from morn till evening late
The various accents of a happy state,
The waste echoing to the axe remote,
The anvil groaning as the blacksmith smote,
The plashy labors of the slumb'rous mill,
The brook reposing as the wheel stood still;
Loud shouts arising childhood's sports among,
And matrons scolding as their flax wheels sung.
And often gathered when the joyous Spring,
Had livened Winter's latest lingering,
When all the voiceless wastes of recent gloom
Awoke to song and warbled into bloom;
Beneath the spreading shades that arch yon green
In happy groups the village train were seen.
Near where yon footpath climbs behind the town,
And straggles off into a hazel down,
Their wonted sports through shining hours would stray,
Till time unnoticed brought the close of day;
And silent wheeling, scarce above the fence,
The crooked bat did aimless flights commence;
Slow-toned the cow-bell, and sad whippoorwill
Mourned in her darkling copse behind the hill.
Then when the tasks of ev'ning all were done,
Around the blazing hearth new sports begun;
When corn was pestled for the next day's meals,
The bands were slackened on their cumb'rous wheels,
The woodsman from his labor had come home
And plowmen from their furrows wearysome;
Loud glee pursued the "blind man" round and round,
Till roaring laughter tripped him to the ground.
The "old gray witch," slow-motioned, then would stare,
While the gay rompers felt a secret scare, —
Went crouching from her, dodged from wall to wall,
Or in the corners scrambling, tumbled all.
Thus poured the murmuring tide of childish mirth,
While sober converse leaned around the hearth,
And weighty matters in each earnest breast,
Beguiling time, prolonged the way to rest.
Oh happy times of man's innocency!
When earth was as like Heaven as could be,
When simple relish made each sport more dear,
Delayed the seasons and prolonged the year.
Within yon rude-built pile with gables gray,
With which the wanton blasts of Winter play,
When all disconsolate they moan and fret,
The simple council of the village met.
Where mutual interests called them to consult
Life's surest course, and probable result.
Hark! yon small rusty bell shakes from its throat
A few slow sounds, the assembling hour to note.
No paid men patriotic speeches make,
No brazen instruments their music wake,
Nor pages pass their sparkling draughts around,
And yet the weight of policies profound,
Burdens each breast, and doctrines pure and sound,
Consult a future people's liberties,
Without the pomp of courtly vanities.
Their theme the building of a colony,
Their views as various as their interests be,
The past is traversed with a sober gaze,
Truths gathered from experience's ways,
And probabilities dexterously thrown
In Reason's scales, to balance up or down.
Suggestions follow; till each one in turn,
His neighbor's leading views succeeds to learn.
Discussion then proceeds, orderly, clear,
Each member striving simplest to appear,
And each assuming rather to be taught,
Than teach the other, e'en if teach he ought.
If different grounds their judgments mild divide,
Each yields his own to take the other's side;
Or, if one holds a point at one's expense,
He argues only in his point's defense,
And not against the others, shows how plain
His views are to discover his friend's gain.
Thus order o'er the council all prevails,
And harshness ne'er reflection's ear assails.
So when some peaceful stream pursues its course
Down moaning falls and rapids gurgling hoarse,
Each separate object finds a tongue distinct,
But all together blend, and each in one's extinct.
These names were chief in council: 'Squire Grimes,
A stern Lycurgus of the backwoods times,
And pious parson Deems, of honored name,
And mild Sir Maxey of lineal fame.
A man of little more than medium size
Was he, with soft brown hair and hazel eyes,
A light gray even beard, an open face,
An easy carriage, and a happy trace
Of deep reflection in his general mien,
That e'en by dull observers might be seen.
Unlike the Cæsar of a forest shed,
To daring deeds, and frontier perils bred,
So sensitive his elevated mind,
For combat and disaster too refined,
At bloody sights a horror seized his breath,
And fears swum thro' his veins at thought of death.
And such is man, to different fortunes born;
When different schools his early life adorn,
A hero dwindles to a merest lout
When nothing calls the latent hero out.
The name of Gabriel Grimes, whene'er one spoke,
The thought of law immediately awoke.
His mien meant law, his voice and his attire, —
In truth the very man seemed born a 'Squire.
Not tall was he but round, and fat and tan,
And twice as thick as any other man.
Reserved, yet free, incautious, yet alert,
He suffered ne'er his character a hurt
By weightless talk. When others laughed he'd frown,
When others frowned he'd laugh, and so renown,
E'en as the jackal hunts the lion down,
Ran after him all frothy mouthed; and praise
Sounded her horn at his peculiar ways.
'Twas granted all the depths of law he knew,
For what he did know, others ne'er saw thro'.
His strength lay not in doing mighty things,
But giving mighty inferences wings,
And thus it is with many great of earth,
Not what they are, but what we think them worth.
But David Deems, his opposite in all,
Was pleasant, candid, unassuming, tall.
A cloud of fleecy locks hung peacefully
About his neck, according happily
With his broad look of open charity,
And ever in his careful placid face
The sweet light shone of vital inward grace,
Like dawnings of a better world — no glare
Of hot ambitions e'er ascending there,
Nor earth's polluting fires. His was no mien
Of sanctity affected, while between
His precepts and his practice, regions lay
Untraversed in his life; but as the day,
The cloudless lustre of his zealous soul
Beamed solid forth, and held in mute control,
Or stirred with song-cheer all within his reach.
He practiced how to live as well as preach,
And when he prayed, "Our debtors be forgiven,"
His soul and mind and strength conversed with Heaven,
Denouncing sin, the rebel, trembling heard,
And breathless hung upon his lightest word;
Describing bliss, wretchedness raised her eyes,
And with his lifted hand assayed to rise,
To spurn cold earth and dwell beyond the skies.
But when with pity streaming down his cheek,
The pierced bleeding Lamb of God, so meek
He pointed to, loud sobs responsive told
What sway o'er hearts a godly man may hold.
Ah, God! for more such in these turbid days,
Who preach to save souls, not to win mere praise,
Who walk with men to lead them out of vice,
And cause them to secure the "pearl of price."
'Twas then fair Saville that thy just renown
Was trumpeted in all the pride of town.
For all the hunting stations far and near,
Thou wast a depot to all hunters dear.
The tide of immigration drifting e'er,
Far on thy desert shores, some pioneer;
Soon far around, in distant wilds unknown,
Rude lodges from adventurer's hands were strewn,
And Husbandry went forth with sturdy hand,
To clear the waste and dress a prosperous land.
The voice of cleavers in yon valleys wide,
Were heard from breaking morn till eventide;
Loud rang their sudden axes blow on blow,
Deep thro' the waste re-echoed from below,
Great trees came crashing with a thundering sound,
Heaved from their stumps, and groaned along the ground.
Lo! in the mountains where yon wild cascade
Leaps thro' the sun and trembles in the shade,
Or sings in the sad ear of loneliness;
Where noteless birds come in the drowsiness
Of pulseless Summer's unremitting heat,
Where o'er the stream the forest branches meet,
Where rocks oppose the climber's sterile way —
And gorges yawn beneath in rugged gray,
High in the seat of Ancient Solitude,
The border woodsman rears his cabin rude.
Equipped with rifle, axe, and fathful dogs,
Here dwells the sovereign of a hut of logs;
By one attended of the fearless fair,
A consort in the wilds well worth his care.
By day the husband ventures forth for food,
Far from his lodge, within some friendly wood;
At eve returning to that constant one,
Who dared to bide his coming all alone.
Then when the twilight spreads her mantle pale
O'er wood and hill, and darkens in the vale,
His axe, and ready loaded gun near by,
His watchful mastiffs snugly napping nigh,
The window latched, and stoutly barred the door,
The day's adventures are recounted o'er.
The bear is now pursued over fallen logs,
Opposed by these, and pressed by eager dogs,
The herd's seen pouring thro' the startled dell,
The fleet stag's shot and hung up where he fell.
Thus on, the current of narration flows,
Deeper and deeper wearing as it goes,
Till heavy slumber settles on their eyes;
Converse moves sluggish, thoughts slower arise,
And faint and fainter flick'ring, sink the rays,
That wander from the fagot's dying blaze,
Till embers pale surviving — nothing more,
Light them to rest to dream their chattings o'er.
Look where yon hunters two or three or more,
The solitary wilds to westward now explore.
Thro' mountain paths, by lakes and streams they roam,
The woods their dwelling-place, the world their home!
In beast skins clad, dark jungles wind they thro',
With eager strides their desert way pursue,
And with wild pleasure gaze on every prospect new.
At times hopelessly lost these wandered long,
The hostile tribes of savages among.
By day their only show of safety
Their excellence in sylvan strategy.
The wild bird's song seemed as a mournful tale,
And e'en a twig's fall turned their faces pale;
And every little throat did omens bear,
That shocked their senses with a seige of fear,
Till restless hunger whetted valor keen,
And dared the perils of the dismal scene.
When thro' the darkling bosom of the dell
The footsteps of the cautious ranger fell
In measured silence on the Indian trail,
And fierce alarm was tongued by every gale;
When streamed the burning wigwam's lurid light
Against the forest walls of troubled night,
And quick-eyed dragoons threaded every pass,
O'er mountain rocks, and in the deep morass,
Then cougar-footed strategy slunk in
Before the lion tread of Discipline.
For these, fair Saville, these frontiersmen bold,
Whose praise in song or story ne'er was told,
For these, thou wast a haven where all turned,
And where for all a genial hearth e'er burned.
When fugitives to this free home of ours,
Sought liberty beneath thy Western bowers;
From shores whence bigotry, with flaming hand,
Expelled poor conscience naked from the land,
Pale wanderers flocked to thee in many a trembling band.
From torpid Norway's habitations drear,
Where Summer smiles to soothe the frigid year
In vain, and boisterous, railing torrents moan
The bitter discord of their cheerless zone,
And wintry blasts o'er naked landscapes shriek,
While sparse fed herds migrate from peak to peak
In dismal groups, to browse the thawing slope,
Or huddle in the drowsy mountain cope;
From fair Italia's hills of evergreen,
O'er-canopied in stillest blue serene,
From fields where Summer plants her fragrant train
Beside the lucent streamlets of the plain;
From old determined Britian; morose Wales —
Where life's as stately as a ship with sails —
From Scotia's genial bourne of soul and song,
Where poverty, though simple, spurns the wrong,
Where love and labor meet fraternally;
Fair land of Burns and wand'ring minstrelsy;
From Germany's wide realms of smoke and beer,
Where dreamy metaphysics sits austere;
From over-flowing, ever-bowing France,
The home of fashions, fopperies and dance;
From sacred Judah, and beyond the Nile,
And from priest-ridden Erin's suppliant isle,
Escaping bands from Famine, Tyranny
And Ignorance, fled here for liberty.
A home for empty indigence was here;
The broken spendthrift found a friendly sphere,
The hopeless suiter came in all his throes,
To sport away the burdens of his woes;
Here wealth and romance found a fit abode,
And hand-in-hand with fame and fancy strode;
Ambition, in his sanguinest career,
Found a theatre for his conquests here;
And grave philanthropy, advising stood,
Disposed to do the unborn future good;
And here apostles of the hidden life
Implored kind Heaven to hold the winds of strife,
Pronounced swift judgment on transgression's ways,
Encouraged virtue, recommended praise,
Enlivened hope, taught faith to patient be,
Cheered manly toil and lauded charity.
With strongest cords of mutual interest bound,
All hands together were employed found.
Engaged to arm against a common foe,
The strength of unity they learned to know;
And what convenience Art had them denied,
United, willing hands full well supplied.
They reared their cabins, built their forest forts
Together, hunted, fished and held their sports.
The sick they joined to nurse with sleepless care,
To soothe the suffering, knew no pains to spare,
And when from earth the patient spirit fled,
They joined their mournful tributes to the dead.
Thus plenty flourished on the lap of ease,
And even danger's self was made to please.
Bold industry at hardships learned to smile,
Uproot vast wants and hew down woods of toil.
So when the forest matron crowned her board
With health and sustenance from her good hoard,
The unknown wanderer had a welcome there,
And indolence was e'en allowed a chair.
Lo! where yon woodsman skirts the neighboring weald,
And nears his smoking cot behind the field.
His step aweary quickens at eace pace,
And satisfaction lightens his tired face
As home he views; Home! isle in time's rough sea,
Where rests the voyager serene and free
From hollow, howling sorrows, that surround
His rock, and shake life's groaning depths profound —
Where winds repose, in long unruffled peace, —
Dear isle! where love's bright shine doth never cease —
And where no sooner doth the bloomy train,
Their sweetness drop, than blooms revive again.
Lo, now the evening star in grandeur still
Ascends yon upland wood and sheep cote hill,
Like some pale maiden at the trysting late,
Hard thro' the twilight peering o'er the gate;
The loud cur at the hollow nightfall bays,
And whispers flutter round the bright hearth's blaze,
Then nearer draws the rustic to his seat,
His warming heart outstrips his hasting feet;
All day his manly arms to labor bared,
Have wrought the task, returning want prepared.
Blest be the man, who void of all pretense,
Repays in ample sweat kind Providence,
For all His goods, and great beneficence!
And blest the consort of his lusty cares,
Who seeks his pleasures and his labor shares.
Behold the pilgrim leaning at their door,
Water he begs and shelter — nothing more;
The frowning wealth of some far distant land,
Has driven him to leave with empty hand.
See how the wond'ring little ones apprise
Their busy mother with their sparkling eyes.
She to the stranger bows, extends a chair,
And chides her bright-eyed cherubs if they stare.
Hark! now the cotter's well-known steps draw near,
And patter faster as the stile they clear.
Soon in the door appears his open face,
A flock of kisses fly to his embrace;
The smaller, raised upon his manly breast,
Chirp out, and crow, and carrol at the rest.
And the kind housewife, hasty to obey
A tender conscience, happy seems as they.
Her eyes upon the hoary stranger bent,
Speak her desire, and ask her lord's consent.
All signs and looks unpleasant are repressed,
And ample supper set before their guest;
Who, having vanquished potent hunger quite,
Is kindly pressed upon to stay all night!
Blest be the man! his hands arrest his wants,
His charity is great, but never vaunts.
He now to quiet night's embrace repairs,
And sleeps away his weariness and cares.
Sweet be the visions of his manly breast,
Nor by remorseful dreams of wealth, nor banished joys opprest.
These were the mighty days of little things,
Ere soaring vanity had yet her wings.
Her patron wealth was then but poorly known,
For gain was satisfied with but his own.
Then aspirations of the noblest kind,
Dear humble comfort to her hights confined.
These were the good old times of simple worth,
When love aud reverence met at every hearth;
When strong toil stretched beneath green plenty's tree,
And worshipped home's best god dear Industry.
Then gaunt-armed indiscretion, pale and sore,
Groaning beneath disease's dreaded sting
Through sleepless hours, was never known. The king
Most terrible of all the hordes of bale,
Intemp'rance, did not then the peace assail
Of hopeful hearts, breathing out crime and hate,
And houseless want and hearths all desolate.
Then blushing beauty's cheek of tender hues,
Showed not excessive drink and what ensues.
Ah! fatal days of wantonness and wine,
In which now youthful wealth assays to shine,
Deriding with the jeers of native glee,
The homespun customs of their ancestry!
Regarding lights which made our land sublime,
As smouldering embers on the hearth of time.
In wilds remote from fame's resounding horn,
Where courts were never dreamed of, kings were born,
Or minds that might have worn star-gemmed renown,
And added lustre to a James' crown
With all the sovereign claims of Royalty,
Wisdom, valor, and sterling honesty.
The way from office then was hedged by fines,
The way to office now by party lines.
Oh, God! for a return to simple ways,
Such as crowned Saville in her valiant days,
Ere yet the pluming warrior's barb'rous knife
Cut down the flower on the lap of life!
But, Saville, pause! for God's sake pause! I beg!
For thy fair bosom warms a viper's egg.
The hatching ruin will thy young life sting,
And pour a deadly poison thro' thy nature's spring.
Thou hold'st one slave! Of barbarisms old
An evil seed now in thy life takes hold.
Prosperity's big rain to cheer thee falls,
And plenty overhangs thy garden walls;
Soft blooming gladness in thy hedges peep,
And green delight doth at thy waysides creep,
Contentment murmurs in thy valleys low,
And health's rejoicing streams from fruitful hillsides flow;
But Justice n'er can say, "peace be in thee,"
While one beneath thy grinding heel pants to be free.
Ah! can'st thou hold the life of one in chains,
With eighty-five per cent. of Saxon in his veins?
Oh, Saville, look at what a crime thy nature stains!
Thy Rodney, see, how noble he appears,
Just on the summit of his tender years!
His Summers number scarce a single score,
And yet his manly face seems marked by more.
When pity calls, his brawny arm assumes
A woman's softness, and as light becomes.
But when the right enlists him to oppose,
On whate'er grounds, whatever of her foes,
His face as gentle as a sleeping child's,
Would dare the fury of the roaring wilds;
His nerves put on their fearless strength, and steeled
By valor stern, the knife or rifle wield.
Erect in air he stands full six-feet, three,
Broad shouldered, strong, a goodly man is he.
A lover of fair women, and as blind
To her weaknesses as Egyptian night,
A fondler with soft childhood, and as kind
To its mistakes, as if mistakes were right;
Skilled in the feats that backwoods life adorn,
Although a stranger to the backwoods born,
The shelly clamor of the Autumn trees,
Or howl of beasts, or savages alike can please.
And he a slave? Ah, Saville, can it be
That such a noble heart can not beat free!
Undaunted watcher of the mountain track,
Tho' surging cohorts like a sea below,
Against thy cliff-walled homes their thunders throw;
Proud, whilst thy rocky fastness answers back
The fierce, long menace of the Turk's attack,
Thy eagle ken above the tumult flies,
The hostile plain spurns, and its prowess black,
And lights on strongholds terraced in the skies;
There thou wilt quicker than the roe-buck bound,
If bolder dangers mount to force thy pass;
But not till thou a signal brave hast wound,
That hears responses from each peak around,
And calls thy comrade clans-in-arms, to mass
In high defence, when battle stern begins —
Then who can conquer the Montenegrins?
The Deserted Road
Away thro' the blue distant hills,
Thou windest, deserted old Road;
By farm houses brown and gray mills
And log huts, the woodman's abode.
Since enterprise with iron speed,
Steams on over mountain and plain,
Industry of thee hath no need,
Aod leaves thee washed red by the rain.
But such was not always the case,
For yonder where wanes the ago,
Loud Travel with bright, hopeful face,
Rolled over thee proudly but slow.
Then rudeness with plenty was blest,
And health was the consort of toil;
Then "far as the East from the West,"
Was business from panic's turmoil.
But fast times have lured with great shows,
The simple from certainty's shore,
To where wealth into wealth only flows,
And scorns the bare hands of the poor.
Alas! since we all can't be rich,
Allow the poor poverty's ways;
Contentment will bring all that which
Wealth finds in her wasteful displays.
The orbit too great for the sphere,
Speeds motion too fast or too slow;
Let poverty learn to dwell where
Fair Plentitude's hilltops are low.
Ambition deceives with a smile,
Those who in the gust of the times,
Instead of the sure calm of toil,
Would rush into wealth-blooming climes.
To speed on thro' life's a mistake,
To reach our desires too soon;
The charm of expecting will break,
And bring on our night before noon.
Our pleasures reaped singly are best,
More lasting by far gathered slow;
The fields in sweet flowers are drest,
That come in their seasons — then grow.
The many old pleasures that die,
Make but the sparse new that remain,
Which none but proud fortune can buy,
While nothing the poor can retain.
We want on the wasting old Road,
To wake dusty travel once more,
To people each wayside abode,
And drive business up to each door.
The Freedman's Triumphant Song
Columbia!
O, happy State!
And truly great
Exemplar of the free!
Thou first-born light of Western Skies
And cynosure of wond'ring eyes,
We hail to thee!
Thou paragon of world emprise,
Thrice hail!! Old orient monarchies,
With trains and retinues complete,
Their treasures bring to thy proud feet.
The mighty Sclav from polar snows;
From islands where the South wind blows, —
The simple native of the sun
Whose hours forever idly run;
The peer from Albion's lordly isle —
From where Italia's roses smile,
From sunny France's hills of vine.
And from the Tueton's love-sung Rhine —
And every tribe and tongue,
Wherever noble deeds are sung;
Thy valiant guests in royal mail,
Crowd on thy shores and chorus; "hail!"
And, while all worlds doth call the blest,
Thou hope of worlds, the first and best;
Thy children of the ebon hue,
With other thousands mingling, too
Would with their songs of praise and love
Invoke eternal blessings from above.
Here 'neath the old red, white and blue,
The grandest flag that ever flew
Defiance in the face of foe,
Or waved o'er traitor lying low;
The Negro tried and ever true —
He of the dark and manly face,
In loyalty and love to thee.
Shall yield to none his place.
And Oh, thou of the Saxon vein!
Thou great of heart and great of brain;
The wealth piled by the centuries.
And glory spreading like the skies,
In this best land to mortals known;
Are not all thine, and thine alone,
Nay, thy dark brothers rise with thee,
And shout it down the ages: "We!"
We point to these our noble guests,
In cords of gold and pluming crests;
We bid them welcome to our shores,
Our splendid homes, our bounteous stores;
We point them to our glorious plains
Widespread between the distant mains;
Our league-long herds that roam at will
O'er empire wastes of dale and hill;
Our harvests spread like seas of gold
Upon the happy view unrolled;
Our emprise touching all the earth, —
Railways of hemispheric girth,
Swept o'er by meteor-gliding trains;
Our ports where stately commerce reigns;
Our mills; our looms with endless song
Of thousand-spindled mirth along
Our great highways where day by day,
In gathering tides man streams away,
Eddying in towns and streaming on for aye.
We, too, shall sing undying lays
And warm our patriot hearts with praise.
Plymouth. Yorktown and Bunker Hill,
And Valley Forge, are names that thrill
And make our hearts within us burn,
And must till suns no more return.
And these for us dear shrines shall be
As long as man loves liberty.
For here, our blood, yea, even so —
Our blood at Bunker Hill did flow,
And redden Valley Forge's snow.
And when from all our storm-vexed coasts,
The battle-hurled and scattered hosts
Of royal George were driven to sea,
The Negro shared the victory!
He wore the scars, then what is due —
The honor — let him wear it too.
In simple justice, greet him then,
A man and peer among all men.
Time was, when at his weary task,
He yearned for rest and feared to ask.
Where rolls the stately James along
He told his mournful heart in song,
And bowed alone in silent prayer,
He brushed away a falling tear.
And heaven grew still that God might hear.
Up to the sapphire gates of day
The bondman's faith then found its way,
And plodding on he looked before,
And took the heart to hope once more.
He heard the music of the pines,
And in a tree-walled cathedral
Saw glory where the sunlight shines;
Heard freedom in the waterfall
And felt within that this life is not all.
Yea; 'mid the awe of boughs and vines,
Where fight and shade weave mystic shrines,
On bended knee still trusting God,
He blest the hand that held the smiting rod.
But freedom came, thank God, at last
And broke the gates of iron caste!
Then at his task the bondman heard
The call that equal rights conferred,
And rush to where the cannon's boom
In broken ranks had made him room.
And there, in his uncovered might,
On liberty's eternal height,
With glory's sunshine on his head,
He trod where none but heroes tread;
And flying the old flag full and fair,
He held it high and waved it there.
Hurrah for him! though hell deride
The splendid star of martial pride!
In battle, march and camp, a man;
The corps of Grant and Sheridan
Owned him as brave as ever stood
To face a foe on field of blood!
He met the matchless chieftain Lee —
The Charles Martel of chivalry:
He faced him on the angry field,
And dared to die, ere he would yield!
Hurrah for him! Let caste's old mouth
Keep still about a "North and South"
The Negro's dark intrepid brow
Shall wear the hero's laurels now.
Hurrah for him! The soldier: man
Who followed Grant and Sheridan,
But slavery's sins wiped out in blood,
The ways of God are understood.
Forgetting all the ashen past —
The hounds, the whips, the wounds of caste,
The Negro lifts his manly brow
To God, and joins the glorious now!
He in the strongholds of the heights;
The beacon blaze of freedom lights;
And on our borders builds the fires
Whose girdling watch-light ne'er expires;
And with the tiller of the soil,
And every honest son of toil,
With eager stride, and hand in hand,
He joins to bless his native land.
In all the walks of enterprise
He hastens on 'neath happy skies,
His willing hands to now engage
And help round out this wonder age:
Help, till the force of harnessed steam,
The rushing strength of every stream,
She captured winds that round us stray;
And lightnings in their fiery play;
Are all compelled to serve the hour
And build the nation's wealth and power;
Help, till the surge and swirl of trade
Have deep, world-reaching currents made,
Till irrigation crown with green
The thirsty desert's arid scene;
And drainage lay our last swamp bare
Before the hopeful plowman's share —
Help, till the whole task nobly done
Our glorious nation stand alone;
Stronghold of liberty
And home-world of the free, —
Sea-watched and mountain-watched.
Which no war-storm can shock;
Builded upon the everlasting rock.
Lo! How he toils and waits,
Where light within his gates
Shines from the future down
Upon the eager millions of his race,
Who struggle in for place
And reach for manhood's crown;
And when the centuries shall have shown
The nation's splendor fully grown,
The Negro still invincible,
Bearing the tests of honor well,
Will leave with those who lead the van,
A proud, inevitable man
In every land beneath the sun,
Where human rights are staked and won
Brave hearts have loved their place of birth,
That dearest spot of all the earth.
And shall the Negro turn away
And leave his native land for aye?
"No every!" every home industry cries,
"No," every passing zephyr sighs, —
The waters pause and murmur, "no!"
And mountains thunder, "even so!"
Our forests laugh the thought to scorn,
And lusty fields of growing corn;
With tall herds waving in the sun,
As light in riplets o'er them run,
Whisper: "Ha, ha! Hold to your home
In spite of all the worlds to come!"
And hold we will, 'gainst all who boast
Our flag, just hailed from foreign coast:
To such — who never tilled a field
To such, we cannot, will not yield.
Our rights are not conferred but, won
Through sweat and blood — in storm and sun,
And here contending to the end
We'll fight it out with foe or friend.
Fear not, Columbia! Never fear
The Negro's well-known presence here.
Thy granite strength will leave its base,
Not at the hands of this good race;
But on accout of inbred sin,
Warped through thy life and woven in.
Fear not polution from his touch.
But foreign contact, fear it much.
The rum-power's dens on every street
Yawning beneath thy children's feet —
The open gates that lead to shame
The rings, the races and the games;
The howling mobs that spurn control;
These rather fear that blight thy soul!
But hopes for thee; thou country of our love
And faith and prayer, for blessings from above,
One land: the best by mortals ever trod;
One flag, one people, and one father — God.
Our motto: "Liberty; or death for all!"
The nations tower of strength will never fall.
The opening century swings for us a gate,
And all the forces of creation wait
To send Columbia forth to lead the van,
And set the pace for liberated man.
Then trusting Him who hears the raven's cry,
And guides the planets with unerring eye;
Who turns to see the little sparrow's wing,
Tho' round His throne the dread Archangels sing;
And hnto him ascribing all the praise
For power and glory; peace and happy days,
Oh! may Columbia forever reign,
The pride of worlds, with empires in her train!
The Lute of Afric's Tribe
To the memory of Dr. J. McSimpson, a colored Author of Anti-Slavery Ballads. Written for the Zanesville, O., Courier.
When Israel sate by Babel's stream and wept,
The heathen said, "Sing one of Zion's songs;"
But tuneless lay the lyre of those who slept
Where Sharon bloomed and Oreb vigil kept;
For holy song to holy ears belongs.
So, when her iron clutch the Slave power reached,
And sable generations captive held;
When Wrong the gospel of endurance preached;
The lute of Afric's tribe, tho' oft beseeched,
In all its wild, sweet warblings never swelled.
And yet when Freedom's lispings o'er it stole,
Soft as the breath of undefiled morn,
A wand'ring accent from its strings would stroll —
Thus was our Simpson, man of song and soul,
And stalwart energies, to bless us born.
When all our nation's sky was overcast
With rayless clouds of deepening misery,
His soaring vision mounted thro' the blast,
And from behind its gloom approaching fast.
Beheld the glorious Sun of Liberty.
He sang exultant: "Let her banner wave!"
And cheering senates, fired by his zeal,
Helped snatch their country from rebellion's grave
Looked through brave tears upon the injured slave,
And raised the battle-arm to break his gyves of steel.
But hushed the bard, his harp no longer sings
The woes and longings of a shackled mind;
For death's cold fingers swept its trembling strings,
And shut the bosom of its murmurings
Forever on the hearing of mankind.
The bird that dips his flight in noonday sun,
May fall, and spread his plumage on the plain;
But when immortal mind its work hath done
On earth, in heaven a nobler work 's begun,
And it can never downward turn again.
Of him, whose harp then, lies by death unstrung —
A harp that long his lowly brethren cheered,
May'nt we now say, that, sainted choirs among,
An everlasting theme inspires his tongue,
Where slaves ne'er groan, and death is never feared?
Yes, he is harping on the "Sea of glass,"
Where saints begin, and angels join the strain;
While Spheres in one profound, eternal bass,
Sing thro' their orbs, illumined as they pass,
And constellations catch the long refrain.
The Runaway
Awake, my muse, ye goodly sights among,
The land of Boone and Kenton claims my song.
Thro' other scenes our lovers take their flight,
See where their wand'ring footsteps pass in sight.
Lo! where yon pleasant valleys meet the eyes,
And goodly hills their forests lifting rise!
Here, as we pass, along our cheerful way,
Small farms adjoining, stretch in green array.
And small farm houses, looking great trees thro,'
And neat dressed orchards, dot th' enlivened view;
And their quaint roofs by Autumn suns embrowned,
With wind-mills rude, and bird-box turrets crowned,
Look thro' the branchy elms and locusts high,
And send a rustic welcome to the eye.
See where yon flocks their even pastures browse,
And lowing homeward, hear the sober cows,
And hear yon plowman whistling as he plows.
Here circling plenty meets returning suns,
And lucid cheer in ev'ry valley runs,
Loud satisfaction fills the evening air,
And jovial comfort soothes the ear of care.
Thrice hail! proud land, whose genius boasts a Clay!
The Cicero of slavery's palmy day,
The gifted champion of Compromise,
Whose mien majestic filled a nation's eyes;
And on the eloquence of whose wise tongue
A learned Senate in rapt silence hung;
A Senate, too, whose fame no one impugns,
Of Websters, Randolphs, Marshals and Calhouns.
And could a land that boasts a mind like this —
That bord'ring on the clime of freedom is —
Suffer a harlot with her whorings vile
To peacefully pollute her gen'rous soil?
Yes, green Kentucky with her native pride,
Proclaiming trust in the great Crucified,
Flaunting her prestige in the world's wide face,
Boasting descent and precedence of race,
And by the greatest of all statesmen led,
Shared the pollutions of a slavish bed.
All o'er her fields, the blood-hound's savage bay
Pressed the poor sable trembling runaway,
And sometimes by the home of Henry Clay!
In all her woods, the wail of wild distress
Was heard, as tattered starving wretchedness
Fled in the shrieking wrath of wintry storm;
Wrapping her babe in rags to keep it warm!
Can I forget the tears a parent shed
When her dear hand she placed upon my head,
And me embracing, tremulously said:
"My heart is sick whene'er the sad winds blow,
And all the ground is buried deep in snow,
For I remember, when I was a child,
The night was dark, the raving winds were wild,
The earth was still, the snow lay deep and white,
When at our door there came a footstep light.
We opened, and a strange black woman's face
Looked in; she held a child in her embrace
And said: "Ize nearly froz to deaf', oh wont
You let me in? Oh! don't say no! Oh don't!"
She came in, but before we said a word,
Her master's voice was in the quarters heard!
She knew the sound, her babe close to her drew,
And back into the wintry tempest flew.
The morning came, and chilly miles away,
In snow half hid the lifeless mother lay!
But in her arms the babe alive did sleep,
And when discovered, woke, but did not weep!
And lo! uncovered to the mournful light,
The mother's face was black — the babe's was white!"
I love Kentucky; tho' she merit scorn
I can't despise the land where I was born.
Her name I cherish, and expect to see
The day when all her sons will cherish me.
Her many sins have all in common been
With other sisters' who their sins have seen.
Yes, I will pray for that good time to come
When I can say: Kentucky is my home.
And this I now ask at my country's hand,
If I must die in some far distant land,
Then let my countrymen, when I am dead,
Where I was born, make my eternal bed.
But here our lovers are again;
Awake, my muse, thy wonted strain!
The hounds at day-break struck a trail
In deep Green River's lonely vale,
And thro' the dusk of dewy morn,
Echoed the hunter's rousing horn.
"What is it?" flew from tongue to tongue,
As to his horse each rider sprung.
A moment in their saddles still,
They heard the baying on the hill
Not far away, and full well knew
A runaway before them flew.
The chase began, the horses dashed
Away, and thro' the bushes crashed,
Like birds that flutter on the wing
All thro' the wild copse scattering.
Each horseman pressing for the lead
Bore on and on, with champing speed.
On, on and on, and on, o'er hills,
And winding valleys, leaping rills
And fallen trunks like startled hinds,
Wild as a flood, as swift as winds.
The hounds' loud clamor rolled and broke
Morn's drowsy stillness, and awoke
The sleepy hills, that answered back
The lusty tonguing of the pack.
Within his quiet farmhouse wood,
The early rustic list'ning stood,
The plowman whistling in his lane,
Paused, listened, paused and paused again,
Surmised, went on, went on, surmised,
And at their loud speed stood surprised;
As o'er his fences passing near,
He heard them in their mad career.
Their loud tongues on the morning breeze
Now Rodney heard, as if the trees
Were yearning in their sympathy,
And stretched, and sighed and whispered "fly."
And fly he did, and as away he sped,
Soon of the pack a length'ning space ahead;
His nimble limbs grown strong by punishment,
Bore manly up as on and on he went.
O'er fences high, and gullies wide he leapt,
Skimmed level fields and thro' the briars crept,
Now pricked by these, now by the wanton thorn,
And now by knotty bamboos hung and torn.
His footsteps now had gained a wooded hight,
Now fields and houses all were out of sight;
He paused to listen, heard his heart's quick beat,
And thought it was the sound of coming feet.
Another instant and the flying slave,
Was trying if his legs could well behave.
Thro' pond'rous woods and darkling shades he ran,
Three miles or more from where his flight began,
Sometimes along the wild boar's narrow way,
Sometimes where hunted wolves in cover lay.
He soon could hear the fierce hound on his rear,
Baying out inbred hate, and drawing near.
Loud in the distance angry signals wound,
And furious yells urged on the flying hound.
Dread oaths were muttering on the morn's still air,
Enough to hush the jungle's roaring lair.
Now Rodney, bursting from the wood,
An instant on the high bluffs stood
And gazed upon Green River's flood,
That tossed and growled and rolled beneath,
Like torments in the vaults of death.
The rocks look'd down with angry awe,
And feeble shrubs leant back and saw.
Few moments more the worst must bring,
For now the worst had poised its wing!
The hounds are on him! "Save! oh save!"
Right downward leaping cries the slave,
But not into a watery grave!
With arms of steel he mounts the wave,
He grapples with the dizzy tide,
Turns downward, where the cliffs doth hide,
And then with strokes manful to see,
He pulls for life and liberty.
Meanwhile the hounds have ceased to bay,
The hunters look and turn away,
And "Ah! he's drowned!" all seem to say.
Three nights or more curtain the skies,
And now we turn our weary eyes
To where the Creole mother flies.
Thro' dangers led by friends at night,
By day concealed from mortal sight,
Thus far, secure has been her flight.
A storm was low'ring, and the sun was low,
The Creole's weary steps were short and slow,
The air grew sightless, and the fields were still,
The woods were restless on the solemn hill,
The earth seems shrinking from the threat'ning skies,
As night on rayless wings athwart the sun's path flies.
All nature trembles! Lo! the cloud-folds break,
The mountains with their thunder-tongues awake,
While livid lightnings glare on every peak,
And with their arms of flame, their warring lances take.
The startled clouds flee out into the deep
Of troubled night; and headlong down each steep
Rush dizzy torrents from the flood-drenched hills,
And foam along the overflowing rills.
But hark! in all this storm a woman's wail!
A mother's anguish doth the ear assail!
Beneath yon beetling rocks, oh raise thine eyes,
To where Leeona lifts her tender cries!
See now she sinks into the cliff's embrace,
And turns to heaven her entreating face
In tearful beauty! Hark! for help she cries!
And thunders answer from the wrathful skies!
Between the surges of tumultous winds,
Her cry a passage thro' the tempest finds.
"Oh God! my child! my child!" she wails distrest,
And clasps the tender sorrow to her breast.
But like the vaulty whispers of the tomb,
Her words come back from hollow-throated night's deep gloom.
Oh! Heaven, can'st thou thus be pitiless,
And hear, unmoved, the cry of loveliness?
Cause thy rebellious winds to war no more,
The loud disturbers of a nightly shore!
Ah! how the torrents now are pouring down,
They seem as if the whole earth they would drown;
But this last flood descending, hope creates,
For when it slackens, then the storm abates.
The rain has ceased; but the belabored wood
Yet waves and trembles in a troubled mood.
The frantic Creole lifts a piercing cry,
Hoping to rouse some woodsman dwelling nigh;
But in the bluffs above her wolves reply.
"Oh! Heaven," shrinking in the rock she gasps,
And in her arms her infant tighter clasps,
"The wolves are howling, Ah! What shall I do?
Beset by beasts and human monsters too!"
Then like some doe when dogs and horns surround,
That starts, stops, listens, starts with sudden bound,
Flies from her covert, leaps rock, fence and hedge,
And leaves the baying dangers of the sedge.
Right so Leeona stops, and starts, and leaps,
And bounding onward leaves the howling steeps.
The flashing heavens make her footing good
In darksome paths, through the abodeless wood,
As on she flies, a spirit of the night,
But knows not where her heaven assisted flight.
Day came — an ugly, wet and sluggish day —
When in the woods, far on Leeona's way,
A band of sun-browned cleavers she beheld,
That near their lonely homes their forests felled.
Their great rough arms, as rough as oak limbs are,
Dropt on their knees, and to their elbows bare;
Held up their chins, as from their logs they gazed
Upon the fleeing woman, sore amazed.
And when she came to them with tales of woe,
They pressed around her eagerly to know
From whence she was, and whither she would go.
And then they grouped and muttered to themselves,
Smote on their breasts, and seized their pond'rous helves,
And breathing out a gale of oaths and threats,
They led her to their humble forest seats.
Of how the Creole, by these woodsmens' aid,
Her further flight toward Ohio made;
Of how she wandered two long months, beset
By shrewd suspicions, and by mistrust met,
By day concealed, by night hurried along,
Cannot be uttered on the tongue of song,
But raise your eyes to where the verging land
Of Bondage touches Freedom's holier strand.
Low in the cheerless West, deceitful rays
Kindle their fires to a feeble blaze.
The leafless woods send up a ceaseless howl,
As looking down upon them with a scowl,
From voiceless hills, the wintry blasts doth stand,
And shake their shrieking tops from hand to hand.
The hoarse Ohio chafes his bleak shores gray,
And sullen, rolls to warmer climes away.
But list! is that the moaning of a gale
Disconsolate, within yon leafless vale?
Draw nearer, listen, now it rises high,
Now lower sinks, recedes, and now comes nigh.
Is it the blast of all its mildness shorn?
Ah! no, 'tis poor Leeona that dost mourn!
See where on yonder rising rock she stands,
And holds her tattered garments in her hands;
Scarce able to rescue them from the wind,
That flings them, with her streaming locks behind;
Unwraps her perfect limbs, that white and bare,
Empurple in the bitter Northern air.
From her bare feet blood trickles down the stone!
Ah, God! Why is she here? Why thus alone?
Oh, what hath driven her from home away,
And Comfort's hearth, upon this ruthless day?
Ah! see her driven from warm Care's embrace
A lone sweet exile of the Creole race!
By heaven forsaken, and denied by earth,
As if too crime-stained to deserve a birth.
By native streams no more in peace to rove,
And hear the sylvan music of the grove.
No more to pluck the fruits of gen'rous growth,
And gather flowers of the fragrant South,
How can she meet the fierce wrath of the North,
Houseless and clotheless, thus to wander forth?
Ah! Ask you? Turn to where yon hounds pursue,
And circle swift the clam'ring forests thro.'
Hark! how loud horns resound upon her rear,
Oh! heaven save her! Is no helper near?
Must she beneath the angry tide be borne,
Or by the savage hounds be seized and torn?
Beyond the river is a fisher's hut,
Close in a cove beneath tall forests shut;
Beyond the hut a narrow path climbs o'er
The crescent bluffs, and winds along the shore.
Within this hut Ben Guildern sate all day,
Mending his nets and lines, and smoked away.
He dreamed of this wide world and all its cares,
Its hopes and doubts, its pleasures, pains and snares,
Of man's pilgrimage to a better bourne,
Where toil shall rest, and man shall cease to mourn;
And of the days and other faces gone,
Ere he was left to pass thro' life alone;
Of pleasant tasks his manly arms had wrought,
Of slumbers sweet that toil remitting brought;
And of the many times he climbed that hill,
And found a wife and children waiting still;
And supper smoking, and a ready plate,
When all day's luckless toil had made him late.
"All gone!" within his wave-tossed soul he sighs,
And o'er the waters lifts his tear-dimmed eyes,
"A cold and blustry night the boat went down,
And my poor wife and babes were left to drown!"
He sees a signal from the other shore —
A woman beckons him to set her o'er;
He hears the hounds, and not a word is said,
A fugitive he sees imploring aid;
His boat is launched, and from her moorings thrown,
The tide awaits her, rolling up and down,
A moment near the shore she slow doth move,
And waits another and another shove;
This way and that the eddy smooth she tries,
Ventures and darts, and with the current flies.
So when the speedy roe is brought to bay,
Where rising cliffs oppose her woody way,
Within some nook embraced by rocks and logs,
She turns her head upon the bristling dogs,
Bends here and there until her way is clear,
Flies through her foes and leaves them on the rear.
Seized by the heaving tide, the feath'ry boat,
Midway the river down begins to float,
But Guildern with his strong arms grasps the oars,
Plies all his strength, and up the current soars.
The angry billows clamor at his keel,
And on his prow in sudden fury wheel,
Till, at an angle of a good degree
Above the hound-pressed Creole pausing, he
Wheels short his flight, athwart the current shaves,
And shoreward glides before the rolling waves.
So when the untiring mistress of the winds
Discovers in the covert feeding hinds,
Midway she meets the current of the skies,
And by its adverse strength succeeds to rise,
Till high above the destined point she swings,
Drops from the clouds and shaves on level wings.
The shore is touched, the Creole boards the boat
With child in arms, and all are now afloat.
Old Guildern speaks not, but plies all his skill,
And looks the firm monition, "now be still,"
Leeona's heart with hope and awe is swelled,
She meets an eye that danger never quelled,
A face as rough as wintry hills, but bland,
An arm of massive strength, but gentle hand,
And mien of dreadful soberness, that braves
The sullen fury of the wind and waves.
The boat is now far out into the stream,
And as her quick oars in the low sun gleam,
Rides up and down the wave, and oe'r and oe'r,
And level swims towards the other shore.
Ah! nobly bearing up her precious freight,
How steadily she rocks beneath the weight!
Her keel has touched, it cleaves the yellow sand,
Thank God! thank God! they land, they land! they land!
Within a fisher's hut all night,
And leaving by the early light
Of bleak December's lurid morn,
Leeona passes into sight,
Cast down and faint, and travel-worn.
From naked hills loud shrieking flew the blast,
And out of hearing moaned along the waste,
Like some torn beggar all disconsolate,
That mutters from harsh Opulence's gate;
As 'Ona trudged along her lonly way,
Beneath a nightly vault of starless gray.
Her murmuring infant shivered in the blast,
As houses by her way she hurried past,
Where rustic comfort sat with smiling pride,
At honest labor's genial fireside.
Thus thro' the hoary landscape's wintry scorn,
She forced her mind's consent to journey on till morn.
The clouds dispersed as night wore slowly on,
And stars from their high glist'ring fields looked down,
Till late the moon-top'd hills in white arose,
And peerless night unveiled her shivering realms of snows.
Ah! bent and trembling, see that gentle form,
Where shelt'ring rocks oppose the wrathful storm,
Chased like some beast, that hovers with her young
In yawning caves, and desert rocks among.
Her tender infant in her arms is prest,
Hushed are its cries — it gently seems to rest.
Where vagrant swine their wintry beds have made
Of leaves and branches from the forest shade,
Now 'Ona stoops to rest her darling's head,
When lo! she starts, she shrieks — her child is dead!
Her wounded bosom feels a nameless dart,
A ghastly sorrow clutches at her heart —
Nor fear assails, tho' now to leave she tries,
But trying stays, her babe embraces, cries,
The cold cliffs groan, and hollow night replies.
The dismal gorges murmur at the sound,
And empty fields spread echoless around.
Beside her babe the weeping mother kneels,
With anguish dumb its pulseless hands she feels;
Its placid cheek against her face is prest,
Her ear is leant upon its silent breast;
Her hopes are gone! and Heaven's pure ear hears
Deep grief entreating thro' a flood of tears.
Above the cliffs where winds a country way,
A voice is heard in cautious tones to say:
"Leeona! Oh Leeona! Oh my dear!
Is it my 'Ona's mournful voice I hear?"
The Creole hushed, afraid to trust her soul,
The felt a mighty burden sudden roll;
Quick claspt her bosom in aching suspense,
But now distincter heard the voice commence:
"Leeona! Oh, my 'Ona! are you near?"
The Creole answers, "Rodney, I am here!"
Rodney had heard along Leeona's way,
Of her wild flight, and her pursued all day.
Now down the cliffs in breathless haste he flies,
And clasps his life, as thus to him she cries:
"Oh! see, my Rodney; see where baby lies!"
The bosom that had life-long sorrow borne,
The heart which had so long been taught to mourn,
With real manly sympathetic heaves,
Bent o'er the little corpse and raised it from the leaves.
"Poor harmless comer!" then he gently said,
"Better for thee that thy pure soul has fled
With angel watches to the waiting skies,
Where peace e'er flows, and happier climes arise.
Conceived in trouble and in sorrow born,
Thy life rose clouded in its very morn,
And wore along with unpropitious suns;
But to a happy close at last it runs!
Sweet be thy rest upon this lonely shore,
Rocked in the cradle of the winds no more,
And ne'er awakened by the tempest's roar."
This said, to roll the stone away he stoops,
And in its bed a hasty resting scoops,
Commits his tender burden to the ground,
In poor Leeona's last torn apron wound.
She from a mother's anguish pours out cries,
Bends o'er her infant where entombed it lies,
Its calm cheek moistens from her tender eyes,
Its pale lips kisses o'er and o'er and o'er,
And deeper sobs with each long last once more,
Till Rodney's kindly touch she feels implore;
Then murmurs, "good-bye, good-bye, mamma's May!"
And with a loud wail tears her wounded heart away.
Here sadness ends,
A new sun lends
His beams to light our way,
And pleasant sights,
And fair delights
Unite to rise our lay.
Where Freedom is what Freedom means,
Our lovers pass to other scenes.
To Baby's Canary, Accidentally Killed
Thou tiny cheer,
So welcome wast thou here,
Coming to our home with baby bright,
To make our hearts glad, and our burdens light;
We hoped that thou and he
Would merry playmates be.
Thy voice, sweet bird,
And baby's chirp we heard,
But only knew that both must happy be,
But how much happier were both, thought we,
If thou wast older grown,
And baby thee had known!
Now baby sweet,
Looks at thy little feet,
And holds thy fallen plume in his wee hands;
Thy mournful fate, it seems he understands.
Oh! we are sad to see
Him gaze at us — then thee!
SEE MORE: