Albert Laighton was a 19th century American poet who lived all of his life in the New Hampshire town of Portsmouth. He was a banker by profession and began writing articles and poetry for various periodicals from the age of 15 onwards. Many of his poems are of a light hearted nature, exploring the changing of the seasons and our attitudes to that inexorable passage of time, or vivid descriptions of the natural world. He liked to describe the glories to be found in woodlands and the joy of seeing the birds that herald the birth of a new Spring. Others though were of a more sombre nature, as discussed below.
Albert Laighton Bio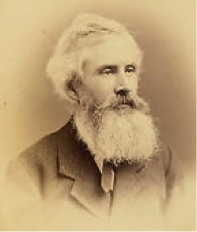 Laighton was born on the 8th January 1829 in Portsmouth. Very little is recorded about his life but it seems he grew up in a fairly affluent environment. He was educated at private schools in his home town and then moved into the banking profession (presumably) soon afterwards. His output of poetry ran to two volumes of collected poems, the first being published in 1859 and the second in 1878. In conjunction with another local poet he had a compilation published in 1865 called Poets of Portsmouth.
While many of Laighton's poems are fairly short, and usually in a standard rhyming format, he wrote one very long poem called Beauty. During the year 1858 he was invited by the literary society at Bowdoin College, along with other organisations, to read the poem in full. Here is a short extract from it:

Albert Laighton Poems
Under The Leaves
Oft have I walked these woodland paths,
Without the blessed foreknowing
That underneath the withered leaves
The fairest buds were growing.
To-day the south-wind sweeps away
The types of autumn's splendor,
And shows the sweet arbutus flowers, –
Spring's children, pure and tender.
O prophet-flowers! – with lips of bloom,
Outvying in your beauty
The pearly tints of ocean shells, –
Ye teach me faith and duty!
Walk life's dark ways, ye seem to say,
With love's divine foreknowing
That where man sees but withered leaves,
God sees sweet flowers growing.
SEE MORE: