Adelaide O'Keeffe Bio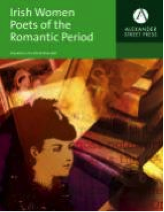 Adelaide O'Keeffe was an Irish poet and novelist who was best known for her highly successful collections of verse written especially for children. She was also responsible for historical novels such as Zenobia, Queen of Palmyra, written in 1814. This was a novel with strong religious themes throughout, focusing on conversions from paganism to Judaism and also from Judaism to Christianity. She also made other significant contributions to pedagogical literature, offering readers the chance to benefit from her religious training methods.
There is very little written about Adelaide's early years but it is known that she was born on the 5th November 1776 in Eustace Street, Dublin. She was the only daughter of another famous writer, John O'Keeffe who wrote many dramatic works. In fact his daughter, in later life, was responsible for editing his plays.
In her own right though she was a successful poet and novelist who also specialised in biblical paraphrase. In addition she published a number of reference works on historical and geographical subjects. Perhaps her most significant work though was that for the benefit of children. For example, she was a major contributor to Taylor's Original Poems for Infant Minds by Several Young Persons, published in London in 1804 in two separate volumes. Adelaide contributed some thirty four poems to this collection.
adelaide okeeffe poems
Careless Matilda
"AGAIN, Matilda, is your work undone!
Your scissors, where are they? your thimble, gone?
Your needles, pins, and thread and tapes all lost;
Your housewife here, and there your workbag toss'd.
"Fie, fie, my child! indeed this will not do,
Your hair uncomb'd, your frock in tatters, too;
I'm now resolved no more delays to grant,
To learn of her, I'll send you to your aunt."
In vain Matilda wept, entreated, pray'd,
In vain a promise of amendment made.
Arrived at Austere Hall, Matilda sigh'd,
By Lady Rigid when severely eyed:
"You read and write, and work well, as I'm told,
Are gentle, kind, good-natured, and not bold;
But very careless, negligent, and wild–
You'll leave me, as I hope, a different child."
The little girl next morn a favour asks;
"I wish to take a walk."–"Go, learn your tasks,"
Replies her aunt, "nor fruitlessly repine:
Your room you'll leave not till you're call'd to dine."
As there Matilda sat, o'erwhelm'd with shame,
A dame appear'd, Disorder was her name:
Her hair and dress neglected–soil'd her face,
Her mien unseemly, and devoid of grace.
"Here, child," said she, "my mistress sends you this,
A bag of silks–a flower, not work'd amiss–
A polyanthus bright, and wondrous gay,
You'll copy it by noon, she bade me say."
Disorder grinn'd, and shuffling walk'd away.
Entangled were the silks of every hue,
Confused and mix'd were shades of pink, green, blue;
She took a thread, compared it with the flower:
"To finish this is not within my power.
Well-sorted silks had Lady Rigid sent,
I might have work'd, if such was her intent."
She sigh'd, and melted into sobs and tears:
She hears a step, and at the door appears
A pretty maiden, clean, well-dress'd, and neat,
Her voice was soft, her looks sedate, yet sweet.
"My name is Order: do not cry, my love;
Attend to me, and thus you may improve."
She took the silks, and drew out shade by shade,
In separate skeins, and each with care she laid;
Then smiling kindly, left the little maid.
Matilda now resumes her sweet employ,
And sees the flower complete–how great her joy!
She leaves the room–"I've done my task," she cries;
The lady look'd, and scarce believed her eyes;
Yet soon her harshness changed to glad surprise:
"Why, this is well, a very pretty flower,
Work'd so exact, and done within the hour!
And now amuse yourself, and walk, or play."
Thus pass'd Matilda this much dreaded day.
At all her tasks, Disorder would attend;
At all her tasks, still Order stood her friend.
With tears and sighs her studies oft began,
These into smiles were changed by Order's plan.
No longer Lady Rigid seem'd severe:
The negligent alone her eye need fear.
And now the day, the wish'd-for day, is come,
When young Matilda may revisit home.
"You quit me, child, but oft to mind recall
The time you spent with me at Austere Hall.
And now, my dear, I'll give you one of these
To be your maid–take with you which you please.
What! from Disorder do you frighten'd start?"
Matilda clasp'd sweet Order to her heart,
And said, "From thee, best friend, I'll never part."
James and the Shoulder of Mutton
YOUNG Jem at noon return'd from school,
As hungry as could be,
He cried to Sue, the servant-maid,
"My dinner give to me."
Said Sue, "It is not yet come home;
Besides, it is not late."
"No matter that, " cries little Jem,
"I do not like to wait."
Quick to the baker's Jemmy went
And ask'd, "Is dinner done?"
"It is," replied the baker's man.
"Then home with it I'll run."
"Nay, Sir, " replied he prudently,
"I tell you 'tis too hot,
And much too heavy 'tis for you."
"I tell you it is not."
"Papa, mamma, are both gone out,
And I for dinner long;
So give it me, it is all mine,
And baker, hold your tongue.
"A shoulder 'tis of mutton nice!
And batter-pudding too;
I'm glad of that, it is so good;
How clever is our Sue!"
Now near the door young Jem was come,
He round the corner turn'd,
But oh, sad fate! unlucky chance!
The dish his fingers burn'd.
Now in the kennel down fell dish,
And down fell all the meat:
Swift went the pudding in the stream,
And sail'd along the street.
The people laugh'd, and rude boys grinn'd
At mutton's hapless fall;
But though ashamed, young Jemmy cried,
"Better lose part than all."
The shoulder by the knuckle seized,
His hands both grasp'd it fast,
And deaf to all their gibes and cries,
He gain'd his home at last.
"Impatience is a fault," cries Jem,
"The baker told me true;
In future I will patient be,
And mind what says our Sue."
The Butterfly
THE Butterfly, an idle thing,
Nor honey makes, nor yet can sing,
As do the bee and bird;
Nor does it, like the prudent ant,
Lay up the grain for times of want,
A wise and cautious hoard.
My youth is but a summer's day:
Then like the bee and ant I'll lay
A store of learning by;
And though from flower to flower I rove,
My stock of wisdom I'll improve
Nor be a butterfly.
Frances Keeps Her Promise
"MY Fanny, I have news to tell,
Your diligence quite pleases me;
You've work'd so neatly, read so well,
With cousin Jane you may take tea.
"But pray remember this, my love,
Although to stay you should incline,
And none but you should think to move,
I wish you to return at nine. "
With many thanks the attentive child
Assured mamma she would obey:
Whom tenderly she kiss'd, and smiled,
And with the maid then went away.
Arrived, the little girl was shown
To where she met the merry band;
And when her coming was made known,
All greet her with a welcome bland.
They dance, they play, and sweetly sing,
In every sport each one partakes;
And now the servants sweetmeats bring,
With wine and jellies, fruit and cakes.
Then comes papa, who says, "My dears,
The magic lantern if you'd see,
And that which on the wall appears,
Leave off your play, and follow me."
While Frances too enjoy'd the sight,
Where moving figures all combine
To raise her wonder and delight,
She hears, alas! the clock strike nine.
"Miss Fanny's maid for her is come." –
"Oh dear, how soon!" the children cry;
They press, but Fanny will go home,
And bids her little friends good bye.
"See, dear mamma, I have not stay'd;"
"Good girl, indeed," mamma replies,
"I knew you'd do as you had said,
And now you'll find you've won a prize.
"So come, my love, and see the man
Whom I desired at nine to call."
Down stairs young Frances quickly ran,
And found him waiting in the hall.
"Here, Miss, are pretty birds to buy,
A parrot or macaw so gay;
A speckled dove with scarlet eye:
A linnet or a chattering jay.
"Would you a Java sparrow love?"
"No, no, I thank you," said the child;
"I'll have a beauteous cooing dove,
So harmless, innocent, and mild. "
"Your choice, my Fanny, I commend,
Few birds can with the dove compare:
But lest it pine without a friend,
I give you leave to choose a pair.
Sophia's Fools-Cap
SOPHIA was a little child,
Obliging, good, and very mild,
Yet lest of dress she should be vain,
Mamma still dress'd her well, but plain.
Her parents, sensible and kind,
Wish'd only to adorn her mind;
No other dress, when good, had she,
But useful, neat simplicity.
Though seldom, yet when she was rude,
Or ever in a naughty mood,
Her punishment was this disgrace,
A large fine cap, adorn'd with lace,
With feathers and with ribbons too;
The work was neat, the fashion new,
Yet, as a fool's-cap was its name,
She dreaded much to wear the same.
A lady, fashionably gay,
Did to mamma a visit pay:
Sophia stared, then whisp'ring said,
"Why, dear mamma, look at her head!
To be so tall and wicked too,
The strangest thing I ever knew:
What naughty tricks, pray, has she done,
That they have put that fool's-cap on? "
The Child's Monitor
THE wind blows down the largest tree,
And yet the wind I cannot see!
Playmates far off, who have been kind,
My thought can bring before my mind;
The past by it is present brought,
And yet I cannot see my thought;
The charming rose scents all the air,
Yet I can see no perfume there.
Blithe Robin's notes how sweet, how clear!
From his small bill they reach my ear,
And whilst upon the air they float,
I hear, yet cannot see a note.
When I would do what is forbid,
By something in my heart I'm chid;
When good, I think, then quick and pat,
That something says, "My child, do that:"
When I too near the stream would go,
So pleased to see the waters flow,
That something says, without a sound,
"Take care, dear child, you may be drown'd: "
And for the poor whene'er I grieve,
That something says, "A penny give."
Thus something very near must be,
Although invisible to me;
Whate'er I do, it sees me still:
O then, good Spirit, guide my will.
George And The Chimney-Sweep
HIS petticoats now George cast off,
For he ws four years old;
His trousers were of nankeen stuff,
With buttons bright as gold.
"May I," said George, "just go abroad,
My pretty clothes to show?
May I, mamma? but speak the word;"
The answer was, "No, no."
"Go, run below, George, in the court,
But go not in the street,
Lest boys with you should make some sport,
Or gipsies you should meet."
Yet, though forbidden, he went out,
That other boys might spy,
And proudly there he walk'd about,
And thought–"How fine am I!"But whilst he strutted through the street,
With looks both vain and pert,
A sweep-boy pass'd, whom not to meet,
He slipp'd–into the dirt.
The sooty lad, whose heart was kind,
To help him quickly ran,
And grasp'd his arm, with–"Never mind,
You're up, my little man."
Sweep wiped his clothes with labour vain,
And begg'd him not to cry;
And when he'd blacken'd every stain,
Said, "Little sir, good-bye."
Poor George, almost as dark as sweep,
And smear'd in dress and face,
Bemoans with sobs, both loud and deep,
His well-deserved disgrace.
The Boys And The Apple Tree
As William and Thomas were walking one day,
They came by a fine orchard's side:
They would rather eat apples than spell, read, or play,
And Thomas to William then cried:
"O brother, look yonder! what clusters hang there!
I'll try and climb over the wall:
I must have an apple; I will have a pear;
Although it should cost me a fall!"
Said William to Thomas, "To steal is a sin,
Mamma has oft told this to thee:
I never have stolen, nor will I begin,
So the apples may hang on the tree. "
"You are a good boy, as you ever have been,"
Said Thomas, "let's walk on, my lad:
We'll call on our schoolfellow, Benjamin Green,
Who to see us I know will be glad.
They came to the house, and ask'd at the gate,
"Is Benjamin Green now at home?"
But Benjamin did not allow them to wait,
And brought them both into the room.
And he smiled, and he laugh'd, and caper'd with joy,
His little companions to greet:
"And we too are happy, " said each little boy,
"Our playfellow dear thus to meet. "
"Come, walk in our garden, this morning so fine,
We may, for my father gives leave;
And more, he invites you to stay here and dine:
And a most happy day we shall have!"
But when in the garden, they found 'twas the same
They saw as they walk'd in the road;
And near the high wall when those little boys came,
They started as if from a toad:
"That large ring of iron, you see on the ground,
With terrible teeth like a saw,"
Said their friend, "the guard of our garden is found,
And it keeps all intruders in awe.
"If any the warning without set at naught,
Their legs then this man-trap must tear:"
Said William to Thomas, "So you'd have been caught,
If you had leapt over just there. "
Cried Thomas in terror of what now he saw,
"With my faults I will heartily grapple;
For I learn what may happen by breaking a law,
Although but in stealing an apple."
The Wooden Doll and the Wax Doll
THERE were two friends, a very charming pair,
Brunette the brown, and Blanchidine the fair;
And she to love Brunette did constantly incline,
Nor less did Brunette love sweet Blanchidine.
Brunette in dress was neat, yet always plain;
But Blanchidine of finery was vain.
Now Blanchidine a new acquaintance made–
A little girl most sumptuously array'd,
In plumes and ribbons, gaudy to behold,
And India frock, with spots of shining gold.
Said Blanchidine, "A girl so richly dress'd,
Should surely be by every one caress'd.
To play with me, if she will condescend,
Henceforth 'tis she alone shall be my friend. "
And so for this new friend in silks adorn'd,
Her poor Brunette was slighted, left, and scorn'd.
Of Blanchidine's vast stock of pretty toys,
A wooden doll her every thought employs,
Its neck so white, so smooth, its cheeks so red–
She kiss'd, she fondled, and she took to bed.
Mamma now brought her home a doll of wax,
Its hair in ringlets white, and soft as flax;
Its eyes could open and its eyes could shut;
And on it, too, with taste its clothes were put.
"My dear wax doll!" sweet Blanchidine would cry–
Her doll of wood was thrown neglected by.
One summer's day, 'twas in the month of June,
The sun blazed out all in the heat of noon:
"My waxen doll," she cried, "my dear, my charmer!
What, are you cold? but you shall soon be warmer."
She laid it in the sun–misfortune dire!
The wax ran down as if before the fire!
Each beauteous feature quickly disappear'd,
And melting, left a blank all soil'd and smear'd.
Her doll disfigured, she beheld amazed,
And thus express'd her sorrow as she gazed:
"Is it for you my heart I have estranged
From that I fondly loved, which has not changed?
Just so may change my new acquaintance fine,
For whom I left Brunette, that friend of mine.
No more by outside show will I be lured;
Of such capricious whims I think I'm cured:
To plain old friends my heart shall still be true,
Nor change for every face because 'tis new. "
Her slighted wooden doll resumed its charms,
And wronged Brunette she clasp'd within her arms.
SEE MORE: