Adam Lindsay Gordon poems (Part 05)
Born in 1833 in the Azores, Adam Lindsay Gordon was one of the premier Australian poets of the 19th Century although he was little recognized in his own lifetime. His father was traveled through India and Australasia before settling back down in Cheltenham, England, where Gordon went to school. Whilst he was an accomplished sportsman he was not the most dedicated student, even when he moved to a military academy in Woolwich.
Adam Lindsay Gordon Bio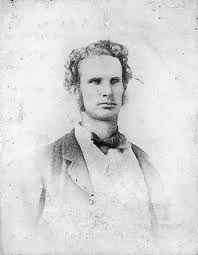 His academic career ended in expulsion and the adoption of a rather hedonistic lifestyle that saw him incurring debts and living the life of a wastrel. This lack of direction prompted his father to send Gordon to Australia to join the mounted police. Gordon was aware that he needed to rectify his life and it is reflected in some of his poetry from the time such as To My Sister.
So it was that, at the age of 20, Gordon found himself docking in Adelaide where his new life would begin. He worked for two years in the mounted police before resigning his commission and, settling into a life of horse breaking. He gained the reputation of being a competent horseman winning some races as a jockey, something that he would continue to do for the rest of his life.
Whilst he was living near Cape Northumberland, a ship ran aground and all souls were lost, prompting one of Gordon's most well-known poems The Ride from the Wreck. He married in 1862 and settled in Port MacDonnell, writing The Feud, and began to make a name for himself in politics. He was invited to seek election, won his constituency, and spent the next couple of years delivering colorful speeches in parliament. It was a short lived foray into political life and he resigned a few years later, moving to Victoria.
Delilah
Delilah
[From a Picture]
The sun has gone down, spreading wide on
The sky-line one ray of red fire;
Prepare the soft cushions of Sidon,
Make ready the rich loom of Tyre.
The day, with its toil and its sorrow,
Its shade, and its sunshine, at length
Has ended; dost fear for the morrow,
Strong man, in the pride of thy strength?
Like fire-flies, heavenward clinging,
They multiply, star upon star;
And the breeze a low murmur is bringing
From the tents of my people afar.
Nay, frown not, I am but a Pagan,
Yet little for these things I care;
'Tis the hymn to our deity Dagon
That comes with the pleasant night air.
It shall not disturb thee, nor can it;
See, closed are the curtains, the lights
Gleam down on the cloven pomegranate,
Whose thirst-slaking nectar invites;
The red wine of Hebron glows brightly
In yon goblet — the draught of a king;
And through the silk awning steals lightly
The sweet song my handmaidens sing.
Dost think that thy God, in His anger,
Will trifle with nature's great laws,
And slacken those sinews in languor
That battled so well in His cause?
Will He take back that strength He has given,
Because to the pleasures of youth
Thou yieldest? Nay, Godlike, in heaven,
He laughs at such follies, forsooth.
Oh! were I, for good or for evil,
As great and as gifted as thou,
Neither God should restrain me, nor devil,
To none like a slave would I bow.
If fate must indeed overtake thee,
And feebleness come to thy clay,
Pause not till thy strength shall forsake thee,
Enjoy it the more in thy day.
Oh, fork'd-tongue of adder, by her pent
In smooth lips! — oh, Sybarite blind!
Oh, woman allied to the serpent!
Oh, beauty with venom combined!
Oh, might overcoming the mighty!
Oh, glory departing! oh, shame!
Oh, altar of false Aphrodite,
What strength is consumed in thy flame!
Strong chest, where her drapery rustles,
Strong limbs by her black tresses hid!
Not alone by the might of your muscles
Yon lion was rent like a kid!
The valour from virtue that sunders,
Is 'reft of its nobler part;
And Lancelot's arm may work wonders,
But braver is Galahad's heart.
Sleep sound on that breast fair and ample;
Dull brain, and dim eyes, and deaf ears,
Feel not the cold touch on your temple,
Heed not the faint clash of the shears.
It comes! — with the gleam of the lamps on
The curtains — that voice — does it jar
On thy soul in the night-watch? Ho! Samson,
Upon thee the Philistines are.
Fauconshawe
[A Ballad]
To fetch clear water out of the spring
The little maid Margaret ran;
From the stream to the castle's western wing
It was but a bowshot span;
On the sedgy brink where the osiers cling
Lay a dead man, pallid and wan.
The lady Mabel rose from her bed,
And walked in the castle hall,
Where the porch through the western turret led
She met with her handmaid small.
"What aileth thee, Margaret?" the lady said,
"Hast let thy pitcher fall?
"Say, what hast thou seen by the streamlet side —
A nymph or a water sprite —
That thou comest with eyes so wild and wide,
And with cheeks so ghostly white?"
"Nor nymph nor sprite," the maiden cried,
"But the corpse of a slaughtered knight."
The lady Mabel summon'd straight
To her presence Sir Hugh de Vere,
Of the guests who tarried within the gate
Of Fauconshawe most dear
Was he to that lady; betrothed in state
They had been since many a year.
"Little Margaret sayeth a dead man lies
By the western spring, Sir Hugh;
I can scarce believe that the maiden lies —
Yet scarce can believe her true."
And the knight replies, "Till we test her eyes
Let her words gain credence due."
Down the rocky path knight and lady led,
While guests and retainers bold
Followed in haste, for like wildfire spread
The news by the maiden told.
They found 'twas even as she had said —
The corpse had some while been cold.
How the spirit had pass'd in the moments last
There was little trace to reveal:
On the still calm face lay no imprint ghast,
Save the angel's solemn seal,
Yet the hands were clench'd in a death-grip fast,
And the sods stamp'd down by the heel.
Sir Hugh by the side of the dead man knelt,
Said, "Full well these features I know,
We have faced each other where blows were dealt,
And he was a stalwart foe;
I had rather have met him hilt to hilt
Than have found him lying low."
He turn'd the body up on its face,
And never a word was spoken,
While he ripp'd the doublet, and tore the lace,
And tugg'd — by the self-same token, —
And strain'd, till he wrench'd it out of its place,
The dagger-blade that was broken.
Then he turned the body over again,
And said, while he rose upright,
"May the brand of Cain, with its withering stain,
On the murderer's forehead light,
For he never was slain on the open plain,
Nor yet in the open fight."
Solemn and stern were the words he spoke,
And he look'd at his lady's men,
But his speech no answering echoes woke,
All were silent there and then,
Till a clear, cold voice the silence broke: —
Lady Mabel cried, "Amen."
His glance met hers, the twain stood hush'd,
With the dead between them there;
But the blood to her snowy temples rush'd
Till it tinged the roots of her hair,
Then paled, but a thin red streak still flush'd
In the midst of her forehead fair.
Four yeomen raised the corpse from the ground,
At a sign from Sir Hugh de Vere;
It was borne to the western turret round,
And laid on a knightly bier,
With never a sob nor a mourning sound, —
No friend to the dead was near.
Yet that night was neither revel nor dance
In the halls of Fauconshawe;
Men looked askance with a doubtful glance
At Sir Hugh, for they stood in awe
Of his prowess, but he, like one in a trance,
Regarded naught that he saw.
Night black and chill, wind gathering still,
With its wail in the turret tall,
And its headlong blast like a catapult cast
On the crest of the outer wall,
And its hail and rain on the crashing pane,
Till the glassy splinters fall.
A moody knight by the fitful light
Of the great hall fire below;
A corpse upstairs, and a woman at prayers,
Will they profit her, aye or no?
By'r lady fain, an' she comfort gain,
There is comfort for us also.
The guests were gone, save Sir Hugh alone,
And he watched the gleams that broke
On the pale hearth-stone, and flickered and shone
On the panels of polish'd oak;
He was 'ware of no presence except his own
Till the voice of young Margaret spoke:
"I've risen, Sir Hugh, at the mirk midnight,
I cannot sleep in my bed,
Now, unless my tale can be told aright,
I wot it were best unsaid;
It lies, the blood of yon northern knight,
On my lady's hand and head."
"Oh! the wild wind raves and rushes along,
But thy ravings seem more wild —
She never could do so foul a wrong —
Yet I blame thee not, my child,
For the fever'd dreams on thy rest that throng!"
He frown'd though his speech was mild.
"Let storm winds eddy, and scream, and hurl
Their wrath, they disturb me naught;
The daughter she of a high-born earl,
No secret of hers I've sought;
I am but the child of a peasant churl,
Yet look to the proofs I've brought;
"This dagger snapp'd so close to the hilt —
Dost remember thy token well?
Will it match with the broken blade that spilt
His life in the western dell?
Nay! read her handwriting an' thou wilt,
From her paramour's breast it fell."
The knight in silence the letter read,
Oh! the characters well he knew!
And his face might have match'd the face of the dead,
So ashen white was its hue!
Then he tore the parchment shred by shred,
And the strips in the flames he threw.
And he muttered, "Densely those shadows fall
In the copse where the alders thicken;
There she bade him come to her, once for all —
Now, I well may shudder and sicken; —
Gramercy! that hand so white and small,
How strongly it must have stricken."
At midnight hour, in the western tower,
Alone with the dead man there,
Lady Mabel kneels, nor heeds nor feels
The shock of the rushing air,
Though the gusts that pass through the riven glass
Have scattered her raven hair.
Across the floor, through the opening door,
Where standeth a stately knight,
The lamplight streams, and flickers, and gleams,
On his features stern and white —
'Tis Sir Hugh de Vere, and he cometh more near,
And the lady standeth upright.
"'Tis little," he said, "that I know or care
Of the guilt (if guilt there be)
That lies 'twixt thee and yon dead man there,
Nor matters it now to me;
I thought thee pure, thou art only fair,
And to-morrow I cross the sea.
"He perish'd! I ask not why or how?
I come to recall my troth;
Take back, my lady, thy broken vow,
Give back my allegiance oath;
Let the past be buried between us now
For ever — 'tis best for both.
"Yet, Mabel, I could ask, dost thou dare
Lay hand on that corpse's heart,
And call on thy Maker, and boldly swear,
That thou hadst in his death no part?
I ask not, while threescore proofs I share
With one doubt — uncondemn'd thou art."
Oh! cold and bleak upon Mabel's cheek
Came the blast of the storm-wind keen,
And her tresses black, as the glossy back
Of the raven, glanced between
Her fingers slight, like the ivory white,
As she parted their sable sheen.
Yet with steady lip, and with fearless eye,
And with cheek like the flush of dawn,
Unflinchingly she spoke in reply —
"Go hence with the break of morn,
I will neither confess, nor yet deny,
I will return thee scorn for scorn."
The knight bow'd low as he turn'd to go;
He travell'd by land and sea,
But naught of his future fate I know,
And naught of his fair ladye;
My story is told as, long ago,
My story was told to me.
From the Wreck
"Turn out, boys!" — "What's up with our super. to-night?
The man's mad — Two hours to daybreak I'd swear —
Stark mad — why, there isn't a glimmer of light."
"Take Bolingbroke, Alec, give Jack the young mare;
Look sharp. A large vessel lies jamm'd on the reef,
And many on board still, and some wash'd on shore.
Ride straight with the news — they may send some relief
From the township; and we — we can do little more.
You, Alec, you know the near cuts; you can cross
`The Sugarloaf' ford with a scramble, I think;
Don't spare the blood filly, nor yet the black horse;
Should the wind rise, God help them! the ship will soon sink.
Old Peter's away down the paddock, to drive
The nags to the stockyard as fast as he can —
A life and death matter; so, lads, look alive."
Half-dress'd, in the dark, to the stockyard we ran.
There was bridling with hurry, and saddling with haste,
Confusion and cursing for lack of a moon;
"Be quick with these buckles, we've no time to waste;"
"Mind the mare, she can use her hind legs to some tune."
"Make sure of the crossing-place; strike the old track,
They've fenced off the new one; look out for the holes
On the wombat hills." "Down with the slip rails; stand back."
"And ride, boys, the pair of you, ride for your souls."
In the low branches heavily laden with dew,
In the long grasses spoiling with deadwood that day,
Where the blackwood, the box, and the bastard oak grew,
Between the tall gum-trees we gallop'd away —
We crash'd through a brush fence, we splash'd through a swamp —
We steered for the north near "The Eaglehawk's Nest" —
We bore to the left, just beyond "The Red Camp",
And round the black tea-tree belt wheel'd to the west —
We cross'd a low range sickly scented with musk
From wattle-tree blossom — we skirted a marsh —
Then the dawn faintly dappled with orange the dusk,
And peal'd overhead the jay's laughter note harsh,
And shot the first sunstreak behind us, and soon
The dim dewy uplands were dreamy with light;
And full on our left flash'd "The Reedy Lagoon",
And sharply "The Sugarloaf" rear'd on our right.
A smothered curse broke through the bushman's brown beard,
He turn'd in his saddle, his brick-colour'd cheek
Flush'd feebly with sundawn, said, "Just what I fear'd;
Last fortnight's late rainfall has flooded the creek."
Black Bolingbroke snorted, and stood on the brink
One instant, then deep in the dark sluggish swirl
Plunged headlong. I saw the horse suddenly sink,
Till round the man's armpits the waves seemed to curl.
We follow'd, — one cold shock, and deeper we sank
Than they did, and twice tried the landing in vain;
The third struggle won it; straight up the steep bank
We stagger'd, then out on the skirts of the plain.
The stockrider, Alec, at starting had got
The lead, and had kept it throughout; 'twas his boast
That through thickest of scrub he could steer like a shot,
And the black horse was counted the best on the coast.
The mare had been awkward enough in the dark,
She was eager and headstrong, and barely half broke;
She had had me too close to a big stringy-bark,
And had made a near thing of a crooked sheoak;
But now on the open, lit up by the morn,
She flung the white foam-flakes from nostril to neck,
And chased him — I hatless, with shirt sleeves all torn
(For he may ride ragged who rides from a wreck) —
And faster and faster across the wide heath
We rode till we raced. Then I gave her her head,
And she — stretching out with the bit in her teeth —
She caught him, outpaced him, and passed him, and led.
We neared the new fence, we were wide of the track;
I look'd right and left — she had never been tried
At a stiff leap; 'twas little he cared on the black.
"You're more than a mile from the gateway," he cried.
I hung to her head, touched her flank with the spurs
(In the red streak of rail not the ghost of a gap);
She shortened her long stroke, she pricked her sharp ears,
She flung it behind her with hardly a rap —
I saw the post quiver where Bolingbroke struck,
And guessed that the pace we had come the last mile
Had blown him a bit (he could jump like a buck).
We galloped more steadily then for a while.
The heath was soon pass'd, in the dim distance lay
The mountain. The sun was just clearing the tips
Of the ranges to eastward. The mare — could she stay?
She was bred very nearly as clean as Eclipse;
She led, and as oft as he came to her side,
She took the bit free and untiring as yet;
Her neck was arched double, her nostrils were wide,
And the tips of her tapering ears nearly met —
"You're lighter than I am," said Alec at last;
"The horse is dead beat and the mare isn't blown.
She must be a good one — ride on and ride fast,
You know your way now." So I rode on alone.
Still galloping forward we pass'd the two flocks
At M'Intyre's hut and M'Allister's hill —
She was galloping strong at the Warrigal Rocks —
On the Wallaby Range she was galloping still —
And over the wasteland and under the wood,
By down and by dale, and by fell and by flat,
She gallop'd, and here in the stirrups I stood
To ease her, and there in the saddle I sat
To steer her. We suddenly struck the red loam
Of the track near the troughs — then she reeled on the rise —
From her crest to her croup covered over with foam,
And blood-red her nostrils, and bloodshot her eyes,
A dip in the dell where the wattle fire bloomed —
A bend round a bank that had shut out the view —
Large framed in the mild light the mountain had loomed,
With a tall, purple peak bursting out from the blue.
I pull'd her together, I press'd her, and she
Shot down the decline to the Company's yard,
And on by the paddocks, yet under my knee
I could feel her heart thumping the saddle-flaps hard.
Yet a mile and another, and now we were near
The goal, and the fields and the farms flitted past;
And 'twixt the two fences I turned with a cheer,
For a green grass-fed mare 'twas a far thing and fast;
And labourers, roused by her galloping hoofs,
Saw bare-headed rider and foam-sheeted steed;
And shone the white walls and the slate-coloured roofs
Of the township. I steadied her then — I had need —
Where stood the old chapel (where stands the new church —
Since chapels to churches have changed in that town).
A short, sidelong stagger, a long, forward lurch,
A slight, choking sob, and the mare had gone down.
I slipp'd off the bridle, I slacken'd the girth,
I ran on and left her and told them my news;
I saw her soon afterwards. What was she worth?
How much for her hide? She had never worn shoes.
How we Beat the Favourite
How we Beat the Favourite
A Lay of the Loamshire Hunt Cup
"Aye, squire," said Stevens, "they back him at evens;
The race is all over, bar shouting, they say;
The Clown ought to beat her; Dick Neville is sweeter
Than ever — he swears he can win all the way.
"A gentleman rider — well, I'm an outsider,
But if he's a gent who the mischief's a jock?
You swells mostly blunder, Dick rides for the plunder,
He rides, too, like thunder — he sits like a rock.
"He calls `hunted fairly' a horse that has barely
Been stripp'd for a trot within sight of the hounds,
A horse that at Warwick beat Birdlime and Yorick,
And gave Abdelkader at Aintree nine pounds.
"They say we have no test to warrant a protest;
Dick rides for a lord and stands in with a steward;
The light of their faces they show him — his case is
Prejudged and his verdict already secured.
"But none can outlast her, and few travel faster,
She strides in her work clean away from The Drag;
You hold her and sit her, she couldn't be fitter,
Whenever you hit her she'll spring like a stag.
"And p'rhaps the green jacket, at odds though they back it,
May fall, or there's no knowing what may turn up;
The mare is quite ready, sit still and ride steady,
Keep cool; and I think you may just win the Cup."
Dark-brown with tan muzzle, just stripped for the tussle,
Stood Iseult, arching her neck to the curb,
A lean head and fiery, strong quarters and wiry,
A loin rather light, but a shoulder superb.
Some parting injunction, bestowed with great unction,
I tried to recall, but forgot like a dunce,
When Reginald Murray, full tilt on White Surrey,
Came down in a hurry to start us at once.
"Keep back in the yellow! Come up on Othello!
Hold hard on the chestnut! Turn round on The Drag!
Keep back there on Spartan! Back you, sir, in tartan!
So, steady there, easy!" and down went the flag.
We started, and Kerr made strong running on Mermaid,
Through furrows that led to the first stake-and-bound,
The crack, half extended, look'd bloodlike and splendid,
Held wide on the right where the headland was sound.
I pulled hard to baffle her rush with the snaffle,
Before her two-thirds of the field got away,
All through the wet pasture where floods of the last year
Still loitered, they clotted my crimson with clay.
The fourth fence, a wattle, floor'd Monk and Bluebottle;
The Drag came to grief at the blackthorn and ditch,
The rails toppled over Redoubt and Red Rover,
The lane stopped Lycurgus and Leicestershire Witch.
She passed like an arrow Kildare and Cock Sparrow,
And Mantrap and Mermaid refused the stone wall;
And Giles on The Greyling came down at the paling,
And I was left sailing in front of them all.
I took them a burster, nor eased her nor nursed her
Until the Black Bullfinch led into the plough,
And through the strong bramble we bored with a scramble —
My cap was knock'd off by the hazel-tree bough.
Where furrows looked lighter I drew the rein tighter —
Her dark chest all dappled with flakes of white foam,
Her flanks mud-bespattered, a weak rail she shattered —
We landed on turf with our heads turn'd for home.
Then crash'd a low binder, and then close behind her
The sward to the strokes of the favourite shook;
His rush roused her mettle, yet ever so little
She shortened her stride as we raced at the brook.
She rose when I hit her. I saw the stream glitter,
A wide scarlet nostril flashed close to my knee,
Between sky and water The Clown came and caught her,
The space that he cleared was a caution to see.
And forcing the running, discarding all cunning,
A length to the front went the rider in green;
A long strip of stubble, and then the big double,
Two stiff flights of rails with a quickset between.
She raced at the rasper, I felt my knees grasp her,
I found my hands give to her strain on the bit;
She rose when The Clown did — our silks as we bounded
Brush'd lightly, our stirrups clash'd loud as we lit.
A rise steeply sloping, a fence with stone coping —
The last — we diverged round the base of the hill;
His path was the nearer, his leap was the clearer,
I flogg'd up the straight, and he led sitting still.
She came to his quarter, and on still I brought her,
And up to his girth, to his breastplate she drew;
A short prayer from Neville just reach'd me, "The devil!"
He mutter'd — lock'd level the hurdles we flew.
A hum of hoarse cheering, a dense crowd careering,
All sights seen obscurely, all shouts vaguely heard;
"The green wins!" "The crimson!" The multitude swims on,
And figures are blended and features are blurr'd.
"The horse is her master!" "The green forges past her!"
"The Clown will outlast her!" "The Clown wins!" "The Clown!"
The white railing races with all the white faces,
The chestnut outpaces, outstretches the brown.
On still past the gateway she strains in the straightway,
Still struggles, "The Clown by a short neck at most,"
He swerves, the green scourges, the stand rocks and surges,
And flashes, and verges, and flits the white post.
Aye! so ends the tussle, — I knew the tan muzzle
Was first, though the ring-men were yelling "Dead heat!"
A nose I could swear by, but Clarke said, "The mare by
A short head." And that's how the favourite was beat.
Pastor Cum
When he, that shepherd false, 'neath Phrygian sails,
Carried his hostess Helen o'er the seas,
In fitful slumber Nereus hush'd the gales,
That he might sing their future destinies.
A curse to your ancestral home you take
With her, whom Greece, with many a soldier bold
Shall seek again, in concert sworn to break
Your nuptial ties and Priam's kingdom old.
Alas! what sweat from man and horse must flow,
What devastation to the Trojan realm
You carry, even now doth Pallas show
Her wrath, preparing buckler, car, and helm.
In vain, secure in Aphrodite's care,
You comb your locks, and on the girlish lyre
Select the strains most pleasant to the fair;
In vain, on couch reclining, you desire
To shun the darts that threaten, and the thrust
Of Cretan lance, the battle's wild turmoil,
And Ajax swift to follow — in the dust
Condemned, though late, your wanton curls to soil.
Ah! see you not where (fatal to your race)
Laertes' son comes with the Pylean sage;
Fearless alike, with Teucer joins the chase
Stenelaus, skill'd the fistic strife to wage,
Nor less expert the fiery steeds to quell;
And Meriones, you must know. Behold
A warrior, than his sire more fierce and fell,
To find you rages, — Diomed the bold,
Whom like the stag that, far across the vale,
The wolf being seen, no herbage can allure,
So fly you, panting sorely, dastard pale! —
Not thus you boasted to your paramour.
Achilles' anger for a space defers
The day of wrath to Troy and Trojan dame;
Inevitable glide the allotted years,
And Dardan roofs must waste in Argive flame.
Rippling Water
The maiden sat by the river side
(The rippling water murmurs by),
And sadly into the clear blue tide
The salt tear fell from her clear blue eye.
"'Tis fixed for better, for worse," she cried,
"And to-morrow the bridegroom claims the bride.
Oh! wealth and power and rank and pride
Can surely peace and happiness buy.
I was merry, nathless, in my girlhood's hours,
'Mid the waving grass when the bright sun shone,
Shall I be as merry in Marmaduke's towers?"
(The rippling water murmurs on).
Stephen works for his daily bread
(The rippling water murmurs low).
Through the crazy thatch that covers his head
The rain-drops fall and the wind-gusts blow.
"I'll mend the old roof-tree," so he said,
"And repair the cottage when we are wed."
And my pulses throbb'd, and my cheek grew red,
When he kiss'd me — that was long ago.
Stephen and I, should we meet again,
Not as we've met in days that are gone,
Will my pulses throb with pleasure or pain?
(The rippling water murmurs on).
Old Giles, the gardener, strok'd my curls
(The rippling water murmurs past),
Quoth he, "In laces and silks and pearls
My child will see her reflection cast;
Now I trust in my heart that your lord will be
Kinder to you than he was to me,
When I lay in the gaol, and my children three,
With their sickly mother, kept bitter fast."
With Marmaduke now my will is law,
Marmaduke's will may be law anon;
Does the sheath of velvet cover the claw?
(The rippling water murmurs on).
Dame Martha patted me on the cheek
(The rippling water murmurs low),
Saying, "There are words that I fain would speak —
Perhaps they were best unspoken though;
I can't persuade you to change your mind,
And useless warnings are scarcely kind,
And I may be foolish as well as blind,
But take my blessing whether or no."
Dame Martha's wise, though her hair is white,
Her sense is good, though her sight is gone —
Can she really be gifted with second sight?
(The rippling water murmurs on).
Brian of Hawksmede came to our cot
(The rippling water murmurs by),
Scatter'd the sods of our garden plot,
Riding his roan horse recklessly;
Trinket and token and tress of hair,
He flung them down at the door-step there,
Said, "Elsie! ask your lord, if you dare,
Who gave him the blow as well as the lie."
That evening I mentioned Brian's name,
And Marmaduke's face grew white and wan,
Am I pledged to one of a spirit so tame?
(The rippling water murmurs on).
Brian is headstrong, rash, and vain
(The rippling water murmurs still),
Stephen is somewhat duller of brain,
Slower of speech, and milder of will;
Stephen must toil a living to gain,
Plough and harrow and gather the grain;
Brian has little enough to maintain
The station in life which he needs must fill;
Both are fearless and kind and frank,
But we can't win all gifts under the sun —
What have I won save riches and rank?
(The rippling water murmurs on).
Riches and rank, and what beside?
(The rippling water murmurs yet),
The mansion is stately, the manor is wide,
Their lord for a while may pamper and pet;
Liveried lackeys may jeer aside,
Though the peasant girl is their master's bride,
At her shyness, mingled with awkward pride, —
'Twere folly for trifles like these to fret;
But the love of one that I cannot love,
Will it last when the gloss of his toy is gone?
Is there naught beyond, below, or above?
(The rippling water murmurs on)
The Old Leaven
A Dialogue
Mark:
So, Maurice, you sail to-morrow, you say?
And you may or may not return?
Be sociable, man! for once in a way,
Unless you're too old to learn.
The shadows are cool by the water side
Where the willows grow by the pond,
And the yellow laburnum's drooping pride
Sheds a golden gleam beyond.
For the blended tints of the summer flowers,
For the scents of the summer air,
For all nature's charms in this world of ours,
'Tis little or naught you care.
Yet I know for certain you haven't stirred
Since noon from your chosen spot;
And you've hardly spoken a single word —
Are you tired, or cross, or what?
You're fretting about those shares you bought,
They were to have gone up fast;
But I heard how they fell to nothing — in short,
They were given away at last.
Maurice:
No, Mark, I'm not so easily cross'd;
'Tis true that I've had a run
Of bad luck lately; indeed, I've lost;
Well! somebody else has won.
Mark:
The glass has fallen, perhaps you fear
A return of your ancient stitch —
That souvenir of the Lady's Mere,
Park palings and double ditch.
Maurice:
You're wrong. I'm not in the least afraid
Of that. If the truth be told,
When the stiffness visits my shoulder-blade,
I think on the days of old;
It recalls the rush of the freshening wind,
The strain of the chestnut springing,
And the rolling thunder of hoofs behind,
Like the Rataplan chorus ringing.
Mark:
Are you bound to borrow, or loth to lend?
Have you purchased another screw?
Or backed a bill for another friend?
Or had a bad night at loo?
Maurice:
Not one of those, you're all in the dark,
If you choose you can guess again;
But you'd better give over guessing, Mark,
It's only labour in vain.
Mark:
I'll try once more; does it plague you still,
That trifle of lead you carry?
A guest that lingers against your will,
Unwelcome, yet bound to tarry.
Maurice:
Not so! That burden I'm used to bear,
'Tis seldom it gives me trouble;
And to earn it as I did then and there,
I'd carry a dead weight double.
A shock like that for a splintered rib
Can a thousand-fold repay —
As the swallow skims through the spider's web,
We rode through their ranks that day!
Mark:
Come, Maurice, you sha'n't escape me so!
I'll hazard another guess:
That girl that jilted you long ago,
You're thinking of her, confess!
Maurice:
Tho' the blue lake flush'd with a rosy light,
Reflected from yonder sky,
Might conjure a vision of Aphrodite
To a poet's or painter's eye;
Tho' the golden drop, with its drooping curl,
Between the water and wood,
Hangs down like the tress of a wayward girl
In her dreamy maidenhood:
Such boyish fancies seem out of date
To one half inclined to censure
Their folly, and yet — your shaft flew straight,
Though you drew your bow at a venture.
I saw my lady the other night
In the crowded opera hall,
When the boxes sparkled with faces bright,
I knew her amongst them all.
Tho' little for these things now I reck,
I singled her from the throng
By the queenly curves of her head and neck,
By the droop of her eyelash long.
Oh! passionless, placid, and calm, and cold,
Does the fire still lurk within
That lit her magnificent eyes of old,
And coloured her marble skin?
For a weary look on the proud face hung,
While the music clash'd and swell'd,
And the restless child to the silk skirt clung
Unnoticed tho' unrepelled.
They've paled, those rosebud lips that I kist,
That slim waist has thickened rather,
And the cub has the sprawling mutton fist,
And the great splay foot of the father.
May the blight —-
Mark:
Hold hard there, Maurice, my son,
Let her rest, since her spell is broken;
We can neither recall deeds rashly done,
Nor retract words hastily spoken.
Maurice:
Time was when to pleasure her girlish whim,
In my blind infatuation,
I've freely endangered life and limb;
Aye, perilled my soul's salvation.
Mark:
With the best intentions we all must work
But little good and much harm;
Be a Christian for once, not a Pagan Turk,
Nursing wrath and keeping it warm.
Maurice:
If our best intentions pave the way
To a place that is somewhat hot,
Can our worst intentions lead us, say,
To a still more sultry spot?
Mark:
'Tis said that charity makes amends
For a multitude of transgressions.
Maurice:
But our perjured loves and our faithless friends
Are entitled to no concessions.
Mark:
Old man, these many years side by side
Our parallel paths have lain;
Now, in life's long journey, diverging wide,
They can scarcely unite again;
And tho', from all that I've seen and heard,
You're prone to chafe and to fret
At the least restraint, not one angry word
Have we two exchanged as yet.
We've shared our peril, we've shared our sport,
Our sunshine and gloomy weather,
Feasted and flirted, and fenced and fought,
Struggled and toiled together;
In happier moments lighter of heart,
Stouter of heart in sorrow;
We've met and we've parted, and now we part
For ever, perchance, to-morrow.
She's a matron now; when you knew her first
She was but a child, and your hate,
Fostered and cherished, nourished and nursed,
Will it never evaporate?
Your grievance is known to yourself alone,
But, Maurice, I say, for shame,
If in ten long years you haven't outgrown
Ill-will to an ancient flame.
Maurice:
Well, Mark, you're right; if I spoke in spite,
Let the shame and the blame be mine;
At the risk of a headache we'll drain this night
Her health in a flask of wine;
For a castle in Spain, tho' it never was built;
For a dream, tho' it never came true;
For a cup, just tasted, tho' rudely spilt,
At least she can hold me due.
Those hours of pleasure she dealt of yore,
As well as those hours of pain,
I ween they would flit as they flitted before,
If I had them over again.
Against her no word from my lips shall pass,
Betraying the grudge I've cherished,
Till the sand runs down in my hour-glass,
And the gift of my speech has perished.
Say! why is the spirit of peace so weak,
And the spirit of wrath so strong,
That the right we must steadily search and seek,
Tho' we readily find the wrong?
Mark:
Our parents of old entailed the curse
Which must to our children cling;
Let us hope, at least, that we're not much worse
Than the founder from whom we spring.
Fit sire was he of a selfish race,
Who first to temptation yielded,
Then to mend his case tried to heap disgrace
On the woman he should have shielded.
Say! comrade mine, the forbidden fruit
We'd have plucked, that I well believe,
But I trust we'd rather have suffered mute
Than have laid the blame upon Eve.
Maurice (yawning):
Who knows? not I; I can hardly vouch
For the truth of what little I see;
And now, if you've any weed in your pouch,
Just hand it over to me.
The Romance of Britomarte ~~~
I'll tell you a story; but pass the "jack",
And let us make merry to-night, my men.
Aye, those were the days when my beard was black —
I like to remember them now and then —
Then Miles was living, and Cuthbert there,
On his lip was never a sign of down;
But I carry about some braided hair,
That has not yet changed from the glossy brown
That it showed the day when I broke the heart
Of that bravest of destriers, "Britomarte".
Sir Hugh was slain (may his soul find grace!)
In the fray that was neither lost nor won
At Edgehill — then to St. Hubert's Chase
Lord Goring despatched a garrison —
But men and horses were ill to spare,
And ere long the soldiers were shifted fast.
As for me, I never was quartered there
Till Marston Moor had been lost; at last,
As luck would have it, alone, and late
In the night, I rode to the northern gate.
I thought, as I passed through the moonlit park,
On the boyish days I used to spend
In the halls of the knight lying stiff and stark —
Thought on his lady, my father's friend
(Mine, too, in spite of my sinister bar,
But with that my story has naught to do) —
She died the winter before the war —
Died giving birth to the baby Hugh.
He pass'd ere the green leaves clothed the bough,
And the orphan girl was the heiress now.
When I was a rude and a reckless boy,
And she a brave and a beautiful child,
I was her page, her playmate, her toy —
I have crown'd her hair with the field-flowers wild,
Cowslip and crow-foot and colt's-foot bright —
I have carried her miles when the woods were wet,
I have read her romances of dame and knight;
She was my princess, my pride, my pet,
There was then this proverb us twain between,
For the glory of God and of Gwendoline.
She had grown to a maiden wonderful fair,
But for years I had scarcely seen her face.
Now, with troopers Holdsworth, Huntly, and Clare,
Old Miles kept guard at St. Hubert's Chase,
And the chatelaine was a Mistress Ruth,
Sir Hugh's half-sister, an ancient dame,
But a mettlesome soul had she forsooth,
As she show'd when the time of her trial came.
I bore despatches to Miles and to her,
To warn them against the bands of Kerr.
And mine would have been a perilous ride
With the rebel horsemen — we knew not where
They were scattered over that country side, —
If it had not been for my brave brown mare.
She was iron-sinew'd and satin-skinn'd,
Ribb'd like a drum and limb'd like a deer,
Fierce as the fire and fleet as the wind —
There was nothing she couldn't climb or clear —
Rich lords had vex'd me, in vain, to part,
For their gold and silver, with Britomarte.
Next morn we muster'd scarce half a score,
With the serving men, who were poorly arm'd —
Five soldiers, counting myself, no more,
And a culverin, which might well have harm'd
Us, had we used it, but not our foes,
When, with horses and foot, to our doors they came,
And a psalm-singer summon'd us (through his nose),
And deliver'd — "This, in the people's name,
Unto whoso holdeth this fortress here,
Surrender! or bide the siege — John Kerr."
'Twas a mansion built in a style too new,
A castle by courtesy, he lied
Who called it a fortress — yet, 'tis true,
It had been indifferently fortified —
We were well provided with bolt and bar —
And while I hurried to place our men,
Old Miles was call'd to a council of war
With Mistress Ruth and with HER, and when
They had argued loudly and long, those three,
They sent, as a last resource, for me.
In the chair of state sat erect Dame Ruth;
She had cast aside her embroidery;
She had been a beauty, they say, in her youth,
There was much fierce fire in her bold black eye.
"Am I deceived in you both?" quoth she.
"If one spark of her father's spirit lives
In this girl here — so, this Leigh, Ralph Leigh,
Let us hear what counsel the springald gives."
Then I stammer'd, somewhat taken aback —
(Simon, you ale-swiller, pass the "jack").
The dame wax'd hotter — "Speak out, lad, say,
Must we fall in that canting caitiff's power?
Shall we yield to a knave and a turncoat? Nay,
I had liever leap from our topmost tower.
For a while we can surely await relief;
Our walls are high and our doors are strong."
This Kerr was indeed a canting thief —
I know not rightly, some private wrong
He had done Sir Hugh, but I know this much,
Traitor or turncoat, he suffer'd as such.
Quoth Miles — "Enough! your will shall be done;
Relief may arrive by the merest chance,
But your house ere dusk will be lost and won;
They have got three pieces of ordnance."
Then I cried, "Lord Guy, with four troops of horse,
Even now is biding at Westbrooke town;
If a rider could break through the rebel force,
He would bring relief ere the sun goes down;
Through the postern door could I make one dart,
I could baffle them all upon Britomarte."
Miles mutter'd "Madness!" Dame Ruth look'd grave,
Said, "True, though we cannot keep one hour
The courtyard, no, nor the stables save,
They will have to batter piecemeal the tower,
And thus —-" But suddenly she halted there.
With a shining hand on my shoulder laid
Stood Gwendoline. She had left her chair,
And, "Nay, if it needs must be done," she said,
"Ralph Leigh will gladly do it, I ween,
For the glory of God and of Gwendoline."
I had undertaken a heavier task
For a lighter word. I saddled with care,
Nor cumber'd myself with corselet nor casque
(Being loth to burden the brave brown mare).
Young Clare kept watch on the wall — he cried,
"Now, haste, Ralph! this is the time to seize;
The rebels are round us on every side,
But here they straggle by twos and threes."
Then out I led her, and up I sprung,
And the postern door on its hinges swung.
I had drawn this sword — you may draw it and feel,
For this is the blade that I bore that day —
There's a notch even now on the long grey steel,
A nick that has never been rasp'd away.
I bow'd my head and I buried my spurs,
One bound brought the gliding green beneath;
I could tell by her back-flung, flatten'd ears,
She had fairly taken the bit in her teeth —
(What, Jack, have you drain'd your namesake dry,
Left nothing to quench the thirst of a fly?)
These things are done, and are done with, lad,
In far less time than your talker tells;
The sward with their hoof-strokes shook like mad,
And rang with their carbines and petronels;
And they shouted, "Cross him and cut him off,"
"Surround him," "Seize him," "Capture the clown,
Or kill him," "Shall he escape to scoff
In your faces?" "Shoot him or cut him down."
And their bullets whistled on every side;
Many were near us and more were wide.
Not a bullet told upon Britomarte;
Suddenly snorting, she launched along;
So the osprey dives where the seagulls dart,
So the falcon swoops where the kestrels throng.
And full in my front one pistol flash'd,
And right in my path their sergeant got.
How are jack-boots jarr'd, how are stirrups clash'd,
While the mare like a meteor past him shot;
But I clove his skull with a backstroke clean,
For the glory of God and of Gwendoline.
And as one whom the fierce wind storms in the face,
With spikes of hail and with splinters of rain,
I, while we fled through St. Hubert's Chase,
Bent till my cheek was amongst her mane.
To the north, full a league of the deer-park lay,
Smooth, springy turf, and she fairly flew,
And the sound of their hoof-strokes died away,
And their far shots faint in the distance grew.
Loudly I laughed, having won the start,
At the folly of following Britomarte.
They had posted a guard at the northern gate —
Some dozen of pikemen and musketeers.
To the tall park palings I turn'd her straight;
She veer'd in her flight as the swallow veers.
And some blew matches and some drew swords,
And one of them wildly hurl'd his pike,
But she clear'd by inches the oaken boards,
And she carried me yards beyond the dyke;
Then gaily over the long green down
We gallop'd, heading for Westbrooke town.
The green down slopes to the great grey moor,
The grey moor sinks to the gleaming Skelt —
Sudden and sullen, and swift and sure,
The whirling water was round my belt.
She breasted the bank with a savage snort,
And a backward glance of her bloodshot eye,
And "Our Lady of Andover's" flash'd like thought,
And flitted St. Agatha's nunnery,
And the firs at "The Ferngrove" fled on the right,
And "Falconer's Tower" on the left took flight.
And over "The Ravenswold" we raced —
We rounded the hill by "The Hermit's Well" —
We burst on the Westbrooke Bridge — "What haste?
What errand?" shouted the sentinel.
"To Beelzebub with the Brewer's knave!"
"Carolus Rex and he of the Rhine!"
Galloping past him, I got and gave
In the gallop password and countersign,
All soak'd with water and soil'd with mud,
With the sleeve of my jerkin half drench'd in blood.
Now, Heaven be praised that I found him there —
Lord Guy. He said, having heard my tale,
"Leigh, let my own man look to your mare,
Rest and recruit with our wine and ale;
But first must our surgeon attend to you;
You are somewhat shrewdly stricken, no doubt."
Then he snatched a horn from the wall and blew,
Making "Boot and Saddle" ring sharply out.
"Have I done good service this day?" quoth I.
"Then I will ride back in your troop, Lord Guy."
In the street I heard how the trumpets peal'd,
And I caught the gleam of a morion
From the window — then to the door I reel'd;
I had lost more blood than I reckon'd upon;
He eyed me calmly with keen grey eyes —
Stern grey eyes of a steel-blue grey —
Said, "The wilful man can never be wise,
Nathless, the wilful must have his way,"
And he pour'd from a flagon some fiery wine;
I drain'd it, and straightway strength was mine.
*
I was with them all the way on the brown —
"Guy to the rescue!" "God and the king!"
We were just in time, for the doors were down;
And didn't our sword-blades rasp and ring,
And didn't we hew and didn't we hack?
The sport scarce lasted minutes ten —
(Aye, those were the days when my beard was black;
I like to remember them now and then).
Though they fought like fiends, we were four to one,
And we captured those that refused to run.
We have not forgotten it, Cuthbert, boy!
That supper scene when the lamps were lit;
How the women (some of them) sobb'd for joy,
How the soldiers drank the deeper for it;
How the dame did honours, and Gwendoline,
How grandly she glided into the hall,
How she stoop'd with the grace of a girlish queen,
And kiss'd me gravely before them all;
And the stern Lord Guy, how gaily he laugh'd,
Till more of his cup was spilt than quaff'd.
Brown Britomarte lay dead in her straw
Next morn — we buried her — brave old girl!
John Kerr, we tried him by martial law,
And we twisted some hemp for the trait'rous churl;
And she — I met her alone — said she,
"You have risk'd your life, you have lost your mare,
And what can I give in return, Ralph Leigh?"
I replied, "One braid of that bright brown hair."
And with that she bow'd her beautiful head,
"You can take as much as you choose," she said.
And I took it — it may be, more than enough —
And I shore it rudely, close to the roots.
The wine or wounds may have made me rough,
And men at the bottom are merely brutes.
Three weeks I slept at St. Hubert's Chase;
When I woke from the fever of wounds and wine,
I could scarce believe that the ghastly face
That the glass reflected was really mine.
I sought the hall — where a wedding HAD BEEN —
The wedding of Guy and of Gwendoline.
The romance of a grizzled old trooper's life
May make you laugh in your sleeves: laugh out,
Lads; we have most of us seen some strife;
We have all of us had some sport, no doubt.
I have won some honour and gain'd some gold,
Now that our king returns to his own;
If the pulses beat slow, if the blood runs cold,
And if friends have faded and loves have flown,
Then the greater reason is ours to drink,
And the more we swallow the less we shall think.
At the battle of Naseby, Miles was slain,
And Huntly sank from his wounds that week;
We left young Clare upon Worcester plain —
How the "Ironside" gash'd his girlish cheek.
Aye, strut, and swagger, and ruffle anew,
Gay gallants, now that the war is done!
They fought like fiends (give the fiend his due) —
We fought like fops, it was thus they won.
Holdsworth is living for aught I know,
At least he was living two years ago,
And Guy — Lord Guy — so stately and stern,
He is changed, I met him at Winchester;
He has grown quite gloomy and taciturn.
Gwendoline! — why do you ask for her?
Died as her mother had died before —
Died giving birth to the baby Guy!
Did my voice shake? Then am I fool the more.
Sooner or later we all must die;
But, at least, let us live while we live to-night.
The DAYS may be dark, but the LAMPS are bright.
For to me the sunlight seems worn and wan:
The sun, he is losing his splendour now —
He can never shine as of old he shone
On her glorious hair and glittering brow.
Ah! those DAYS THAT WERE, when my beard was black,
NOW I have only the NIGHTS THAT ARE.
What, landlord, ho! bring in haste burnt sack,
And a flask of your fiercest usquebaugh.
You, Cuthbert! surely you know by heart
The story of HER and of Britomarte.
The Swimmer
With short, sharp violent lights made vivid,
To the southward far as the sight can roam,
Only the swirl of the surges livid,
The seas that climb and the surfs that comb,
Only the crag and the cliff to nor'ward,
And rocks receding, and reefs flung forward,
And waifs wreck'd seaward and wasted shoreward
On shallows sheeted with flaming foam.
A grim grey coast and a seaboard ghastly,
And shores trod seldom by feet of men —
Where the batter'd hull and the broken mast lie
They have lain embedded these long years ten.
Love! when we wander'd here together,
Hand in hand through the sparkling weather,
From the heights and hollows of fern and heather,
God surely loved us a little then.
Then skies were fairer and shores were firmer —
The blue sea over the bright sand roll'd;
Babble and prattle, and ripple and murmur,
Sheen of silver and glamour of gold —
And the sunset bath'd in the gulf to lend her
A garland of pinks and of purples tender,
A tinge of the sun-god's rosy splendour,
A tithe of his glories manifold.
Man's works are craven, cunning, and skillful
On earth where his tabernacles are;
But the sea is wanton, the sea is wilful,
And who shall mend her and who shall mar?
Shall we carve success or record disaster
On her bosom of heaving alabaster?
Will her purple pulse beat fainter or faster
For fallen sparrow or fallen star?
I would that with sleepy soft embraces
The sea would fold me — would find me rest
In luminous shades of her secret places,
In depths where her marvels are manifest,
So the earth beneath her should not discover
My hidden couch — nor the heaven above her —
As a strong love shielding a weary lover,
I would have her shield me with shining breast.
When light in the realms of space lay hidden,
When life was yet in the womb of time,
Ere flesh was fettered to fruits forbidden,
And souls were wedded to care and crime,
Was the course foreshaped for the future spirit —
A burden of folly, a void of merit —
That would fain the wisdom of stars inherit,
And cannot fathom the seas sublime?
Under the sea or the soil (what matter?
The sea and the soil are under the sun),
As in the former days in the latter
The sleeping or waking is known of none,
Surely the sleeper shall not awaken
To griefs forgotten or joys forsaken,
For the price of all things given and taken,
The sum of all things done and undone.
Shall we count offences or coin excuses,
Or weigh with scales the soul of a man,
Whom a strong hand binds and a sure hand looses,
Whose light is a spark and his life a span?
The seed he sowed or the soil he cumber'd,
The time he served or the space he slumber'd,
Will it profit a man when his days are number'd,
Or his deeds since the days of his life began?
One, glad because of the light, saith, "Shall not
The righteous judges of all the earth do right,
For behold the sparrows on the house-tops fall not
Save as seemeth to Him good in His sight?"
And this man's joy shall have no abiding
Through lights departing and lives dividing,
He is soon as one in the darkness hiding,
One loving darkness rather than light.
A little season of love and laughter,
Of light and life, and pleasure and pain,
And a horror of outer darkness after,
And dust returneth to dust again;
Then the lesser life shall be as the greater,
And the lover of light shall join the hater,
And the one thing cometh sooner or later,
And no one knoweth the loss or gain.
Love of my life! we had lights in season —
Hard to part with, harder to keep —
We had strength to labour and souls to reason,
And seed to scatter and fruits to reap.
Though time estranges and fate disperses,
We have had our loves and loving mercies.
Though the gifts of the light in the end are curses,
Yet bides the gift of darkness — sleep!
See! girt with tempest and wing'd with thunder,
And clad with lightning and shod with sleet,
The strong winds treading the swift waves sunder
The flying rollers with frothy feet.
One gleam like a bloodshot swordblade swims on
The skyline, staining the green gulf crimson
A death stroke fiercely dealt by a dim sun
That strikes through his stormy winding sheet.
Oh, brave white horses! you gather and gallop,
The storm sprite loosens the gusty reins;
Now the stoutest ship were the frailest shallop
In your hollow backs, or your high arch'd manes.
I would ride as never a man has ridden
In your sleepy swirling surges hidden,
To gulfs foreshadow'd, through straits forbidden,
Where no light wearies and no love wanes.
Thora's Song ('Ashtaroth')
We severed in Autumn early,
Ere the earth was torn by the plough;
The wheat and the oats and the barley
Are ripe for the harvest now.
We sunder'd one misty morning
Ere the hills were dimm'd by the rain;
Through the flowers those hills adorning —
Thou comest not back again.
My heart is heavy and weary
With the weight of a weary soul;
The mid-day glare grows dreary,
And dreary the midnight scroll.
The corn-stalks sigh for the sickle,
'Neath the load of their golden grain;
I sigh for a mate more fickle —
Thou comest not back again.
The warm sun riseth and setteth,
The night bringeth moistening dew,
But the soul that longeth forgetteth
The warmth and the moisture too.
In the hot sun rising and setting
There is naught save feverish pain;
There are tears in the night-dews wetting —
Thou comest not back again.
Thy voice in my ear still mingles
With the voices of whisp'ring trees,
Thy kiss on my cheek still tingles
At each kiss of the summer breeze.
While dreams of the past are thronging
For substance of shades in vain,
I am waiting, watching and longing —
Thou comest not back again.
Waiting and watching ever,
Longing and lingering yet;
Leaves rustle and corn-stalks quiver,
Winds murmur and waters fret.
No answer they bring, no greeting,
No speech, save that sad refrain,
Nor voice, save an echo repeating —
He cometh not back again.
Oh! the sun rose on the lea, and the bird sang merrilie,
And the steed stood ready harness'd in the hall,
And he left his lady's bower, and he sought the eastern tower,
And he lifted cloak and weapon from the wall.
"We were wed but yester-noon, must we separate so soon?
Must you travel unassoiled and, aye, unshriven,
With the blood stain on your hand, and the red streak on your brand,
And your guilt all unconfessed and unforgiven?"
"Tho' it were but yester-even we were wedded, still unshriven,
Across the moor this morning I must ride;
I must gallop fast and straight, for my errand will not wait;
Fear naught, I shall return at eventide."
"If I fear, it is for thee, thy weal is dear to me,
Yon moor with retribution seemeth rife;
As we've sown so must we reap, and I've started in my sleep
At the voice of the avenger, `Life for life'."
"My arm is strong, I ween, and my trusty blade is keen,
And the courser that I ride is swift and sure,
And I cannot break my oath, though to leave thee I am loth,
There is one that I must meet upon the moor."
Oh! the sun shone on the lea, and the bird sang merrilie,
Down the avenue and through the iron gate,
Spurr'd and belted, so he rode, steel to draw and steel to goad,
And across the moor he galloped fast and straight.
*
Oh! the sun shone on the lea, and the bird sang full of glee,
Ere the mists of evening gather'd chill and grey;
But the wild bird's merry note on the deaf ear never smote,
And the sunshine never warmed the lifeless clay.
Ere the sun began to droop, or the mist began to stoop,
The youthful bride lay swooning in the hall;
Empty saddle on his back, broken bridle hanging slack,
The steed returned full gallop to the stall.
Oh! the sun sank in the sea, and the wind wailed drearilie;
Let the bells in yonder monastery toll,
For the night rack nestles dark round the body stiff and stark,
And unshriven to its Maker flies the soul.
Wormwood and Nightshade
The troubles of life are many,
The pleasures of life are few;
When we sat in the sunlight, Annie,
I dreamt that the skies were blue —
When we sat in the sunlight, Annie,
I dreamt that the earth was green;
There is little colour, if any,
'Neath the sunlight now to be seen.
Then the rays of the sunset glinted
Through the blackwoods' emerald bough
On an emerald sward, rose-tinted,
And spangled, and gemm'd; — and now
The rays of the sunset redden
With a sullen and lurid frown,
From the skies that are dark and leaden,
To earth that is dusk and brown.
To right and to left extended
The uplands are blank and drear,
And their neutral tints are blended
With the dead leaves sombre and sere;
The cold grey mist from the still side
Of the lake creeps sluggish and sure,
Bare and bleak is the hill-side,
Barren and bleak the moor.
Bright hues and shapes intertwisted,
Fair forms and rich colours; — now
They have flown — if e'er they existed —
It matters not why or how.
It matters not where or when, dear,
They have flown, the blue and the green,
I thought on what might be then, dear,
Now I think on what might have been.
What might have been! — words of folly;
What might be! — speech for a fool;
With mistletoe round me, and holly,
Scarlet and green, at Yule.
With the elm in the place of the wattle,
And in lieu of the gum, the oak,
Years back I believed a little,
And as I believed I spoke.
Have I done with those childish fancies?
They suited the days gone by,
When I pulled the poppies and pansies,
When I hunted the butterfly,
With one who has long been sleeping,
A stranger to doubts and cares,
And to sowing that ends in reaping
Thistles, and thorns, and tares.
What might be! — the dreams were scatter'd,
As chaff is toss'd by the wind,
The faith has been rudely shattered
That listen'd with credence blind;
Things were to have been, and therefore
They were, and they are to be,
And will be; — we must prepare for
The doom we are bound to dree.
Ah, me! we believe in evil,
Where once we believed in good,
The world, the flesh, and the devil
Are easily understood;
The world, the flesh, and the devil
Their traces on earth are plain;
Must they always riot and revel
While footprints of man remain?
Talk about better and wiser,
Wiser and worse are one,
The sophist is the despiser
Of all things under the sun;
Is nothing real but confusion?
Is nothing certain but death?
Is nothing fair save illusion?
Is nothing good that has breath?
Some sprite, malignant and elfish,
Seems present whispering close,
"All motives of life are selfish,
All instincts of life are gross;
And the song that the poet fashions,
And the love-bird's musical strain,
Are jumbles of animal passions,
Refined by animal pain."
The restless throbbings and burnings
That hope unsatisfied brings,
The weary longings and yearnings
For the mystical better things,
Are the sands on which is reflected
The pitiless moving lake,
Where the wanderer falls dejected,
By a thirst he never can slake.
A child blows bubbles that glitter,
He snatches them, they disperse;
Yet childhood's folly is better,
And manhood's folly is worse;
Gilt baubles we grasp at blindly
Would turn in our hands to dross;
'Tis a fate less cruel than kindly
Denies the gain and the loss.
And as one who pursues a shadow,
As one who hunts in a dream,
As the child who crosses the meadow,
Enticed by the rainbow's gleam,
I — knowing the course was foolish,
And guessing the goal was pain,
Stupid, and stubborn, and mulish —
Followed and follow again.
The sun over Gideon halted,
Holding aloof the night,
When Joshua's arm was exalted,
Yet never retraced his flight;
Nor will he turn back, nor can he,
He chases the future fast;
The future is blank — oh, Annie!
I fain would recall the past.
There are others toiling and straining
'Neath burdens graver than mine —
They are weary, yet uncomplaining —
I know it, yet I repine;
I know it, how time will ravage,
How time will level, and yet
I long with a longing savage,
I regret with a fierce regret.
You are no false ideal,
Something is left of you,
Present, perceptible, real,
Palpable, tangible, true;
One shred of your broken necklace,
One tress of your pale, gold hair,
And a heart so utterly reckless,
That the worst it would gladly dare.
There is little pleasure, if any,
In waking the past anew;
My days and nights have been many;
Lost chances many I rue —
My days and nights have been many;
Now I pray that they be few,
When I think on the hill-side, Annie,
Where I dreamt that the skies were blue.
SEE MORE: