Adam Lindsay Gordon poems (Part 03)
Born in 1833 in the Azores, Adam Lindsay Gordon was one of the premier Australian poets of the 19th Century although he was little recognized in his own lifetime. His father was traveled through India and Australasia before settling back down in Cheltenham, England, where Gordon went to school. Whilst he was an accomplished sportsman he was not the most dedicated student, even when he moved to a military academy in Woolwich.
Adam Lindsay Gordon Bio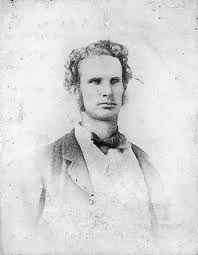 His academic career ended in expulsion and the adoption of a rather hedonistic lifestyle that saw him incurring debts and living the life of a wastrel. This lack of direction prompted his father to send Gordon to Australia to join the mounted police. Gordon was aware that he needed to rectify his life and it is reflected in some of his poetry from the time such as To My Sister.
So it was that, at the age of 20, Gordon found himself docking in Adelaide where his new life would begin. He worked for two years in the mounted police before resigning his commission and, settling into a life of horse breaking. He gained the reputation of being a competent horseman winning some races as a jockey, something that he would continue to do for the rest of his life.
Whilst he was living near Cape Northumberland, a ship ran aground and all souls were lost, prompting one of Gordon's most well-known poems The Ride from the Wreck. He married in 1862 and settled in Port MacDonnell, writing The Feud, and began to make a name for himself in politics. He was invited to seek election, won his constituency, and spent the next couple of years delivering colorful speeches in parliament. It was a short lived foray into political life and he resigned a few years later, moving to Victoria.
Borrow'd Plumes
Borrow'd Plumes
[A Preface and a Piracy]
Prologue
Of borrow'd plumes I take the sin,
My extracts will apply
To some few silly songs which in
These pages scatter'd lie.
The words are Edgar Allan Poe's,
As any man may see,
But what a POE-t wrote in prose,
Shall make blank verse for me.
These trifles are collected and republished chiefly with a view
to their redemption from the many improvements to which
they have been subjected while going at random the rounds of the Press.
I am naturally anxious that what I have written should circulate
as I wrote it, if it circulate at all. In defence
of my own taste, nevertheless, it is incumbent upon me to say that I think
nothing in this volume of much value to the public, or very creditable
to myself. E. A. P.
(See Preface to Poe's Poetical Works.)
Epilogue
And now that my theft stands detected,
The first of my extracts may call
To some of the rhymes here collected
Your notice, the second to all.
Ah! friend, you may shake your head sadly,
Yet this much you'll say for my verse,
I've written of old something badly,
But written anew something worse.
A burning glass of burnished brass,
The calm sea caught the noontide rays,
And sunny slopes of golden grass
And wastes of weed-flower seem to blaze.
Beyond the shining silver-greys,
Beyond the shades of denser bloom,
The sky-line girt with glowing haze
The farthest, faintest forest gloom,
And the everlasting hills that loom.
We heard the hound beneath the mound,
We scared the swamp hawk hovering nigh —
We had not sought for that we found —
He lay as dead men only lie,
With wan cheek whitening in the sky,
Through the wild heath flowers, white and red,
The dumb brute that had seen him die,
Close crouching, howl'd beside the head,
Brute burial service o'er the dead.
The brow was rife with seams of strife —
A lawless death made doubly plain
The ravage of a reckless life;
The havoc of a hurricane
Of passions through that breadth of brain,
Like headlong horses that had run
Riot, regardless of the rein —
"Madman, he might have lived and done
Better than most men," whispered one.
The beams and blots that Heaven allots
To every life with life begin.
Fool! would you change the leopard's spots,
Or blanch the Ethiopian's skin?
What more could he have hoped to win,
What better things have thought to gain,
So shapen — so conceived in sin?
No life is wholly void and vain,
Just and unjust share sun and rain.
Were new life sent, and life misspent,
Wiped out (if such to God seemed good),
Would he (being as he was) repent,
Or could he, even if he would,
Who heeded not things understood
(Though dimly) even in savage lands
By some who worship stone or wood,
Or bird or beast, or who stretch hands
Sunward on shining Eastern sands?
And crime has cause. Nay, never pause
Idly to feel a pulseless wrist;
Brace up the massive, square-shaped jaws,
Unclench the stubborn, stiff'ning fist,
And close those eyes through film and mist
That kept the old defiant glare;
And answer, wise Psychologist,
Whose science claims some little share
Of truth, what better things lay there?
Aye! thought and mind were there, — some kind
Of faculty that men mistake
For talent when their wits are blind, —
An aptitude to mar and break
What others diligently make.
This was the worst and best of him —
Wise with the cunning of the snake,
Brave with the she wolf's courage grim,
Dying hard and dumb, torn limb from limb.
And you, Brown, you're a doctor; cure
You can't, but you can kill, and he —
"WITNESS HIS MARK" — he signed last year,
And now he signs John Smith, J.P.
We'll hold our inquest NOW, we three;
I'll be your coroner for once;
I think old Oswald ought to be
Our foreman — Jones is such a dunce, —
There's more brain in the bloodhound's sconce.
No man may shirk the allotted work,
The deed to do, the death to die;
At least I think so, — neither Turk,
Nor Jew, nor infidel am I, —
And yet I wonder when I try
To solve one question, may or must,
And shall I solve it by-and-by,
Beyond the dark, beneath the dust?
I trust so, and I only trust.
Aye, what they will, such trifles kill.
Comrade, for one good deed of yours,
Your history shall not help to fill
The mouths of many brainless boors.
It may be death absolves or cures
The sin of life. 'Twere hazardous
To assert so. If the sin endures,
Say only, "God, who has judged him thus,
Be merciful to him and us."
Adieu to kindred hearts and home,
To pleasure, joy, and mirth,
A fitter foot than mine to roam
Could scarcely tread the earth;
For they are now so few indeed
(Not more than three in all),
Who e'er will think of me or heed
What fate may me befall.For I through pleasure's paths have run
My headlong goal to win,
Nor pleasure's snares have cared to shun
When pleasure sweetened sin.
Let those who will their failings mask,
To mine I frankly own;
But for them pardon will I ask
Of none — save Heaven alone.
From carping friends I turn aside;
At foes defiance frown;
Yet time may tame my stubborn pride,
And break my spirit down.
Still, if to error I incline,
Truth whispers comfort strong,
That never reckless act of mine
E'er worked a comrade wrong.
My mother is a stately dame,
Who oft would chide with me;
She saith my riot bringeth shame,
And stains my pedigree.
I'd reck not what my friends might know,
Or what the world might say,
Did I but think some tears would flow
When I am far away.
Perchance my mother will recall
My mem'ry with a sigh;
My gentle sister's tears may fall,
And dim her laughing eye;
Perhaps a loving thought may gleam,
And fringe its saddened ray,
When, like a nightmare's troubled dream,
I, outcast, pass away.
Then once again farewell to those
Whoe'er for me have sighed;
For pleasures melt away like snows,
And hopes like shadows glide.
Adieu, my mother! if no more
Thy son's face thou may'st see,
At least those many cares are o'er
So ofttimes caused by me.
My lot is fixed! The die is cast!
For me home hath no joy!
Oh, pardon then all follies past,
And bless your wayward boy!
And thou, from whom for aye to part
Grieves more than tongue can tell,
May Heaven preserve thy guileless heart,
Sweet sister, fare thee well!
Thou, too, whose loving-kindness makes
My resolution less,
While from the bitter past it takes
One half its bitterness,
If e'er you held my mem'ry dear,
Grant this request, I pray —
Give to that mem'ry one bright tear,
And let it pass away.
From Lightning and Tempest
The spring-wind pass'd through the forest, and whispered low in the leaves,
And the cedar toss'd her head, and the oak stood firm in his pride;
The spring-wind pass'd through the town,
through the housetops, casements, and eaves,
And whisper'd low in the hearts of the men, and the men replied,
Singing — "Let us rejoice in the light
Of our glory, and beauty, and might;
Let us follow our own devices, and foster our own desires.
As firm as our oaks in our pride, as our cedars fair in our sight,
We stand like the trees of the forest
that brave the frosts and the fires."The storm went forth to the forest, the plague went forth to the town,
And the men fell down to the plague, as the trees fell down to the gale;
And their bloom was a ghastly pallor, and their smile was a ghastly frown,
And the song of their hearts was changed to a wild, disconsolate wail,
Crying — "God! we have sinn'd, we have sinn'd,
We are bruis'd, we are shorn, we are thinn'd,
Our strength is turn'd to derision, our pride laid low in the dust,
Our cedars are cleft by Thy lightnings, our oaks are strew'd by Thy wind,
And we fall on our faces seeking Thine aid, though Thy wrath is just."
Gone
IN Collins Street standeth a statute tall,
A statue tall, on a pillar of stone,
Telling its story, to great and small,
Of the dust reclaimed from the sand waste lone;
Weary and wasted, and worn and wan,
Feeble and faint, and languid and low,
He lay on the desert a dying man;
Who has gone, my friends, where we all must go.
There are perils by land, and perils by water,
Short, I ween, are the obsequies
Of the landsman lost, but they may be shorter
With the mariner lost in the trackless seas;
And well for him, when the timbers start,
And the stout ship reels and settles below,
Who goes to his doom with as bold a heart,
As that dead man gone where we all must go.
Man is stubborn his rights to yield,
And redder than dews at eventide
Are the dews of battle, shed on the field,
By a nation's wrath or a despot's pride;
But few who have heard their death-knell roll,
From the cannon's lips where they faced the foe,
Have fallen as stout and steady of soul,
As that dead man gone where we all must go.
Traverse yon spacious burial ground,
Many are sleeping soundly there,
Who pass'd with mourners standing around,
Kindred, and friends, and children fair;
Did he envy such ending? 'twere hard to say;
Had he cause to envy such ending? no;
Can the spirit feel for the senseless clay,
When it once has gone where we all must go?
What matters the sand or the whitening chalk,
The blighted herbage, the black'ning log,
The crooked beak of the eagle-hawk,
Or the hot red tongue of the native dog?
That couch was rugged, those sextons rude,
Yet, in spite of a leaden shroud, we know
That the bravest and fairest are earth-worms' food,
When once they've gone where we all must go.
With the pistol clenched in his failing hand,
With the death mist spread o'er his fading eyes,
He saw the sun go down on the sand,
And he slept, and never saw it rise;
'Twas well; he toil'd till his task was done,
Constant and calm in his latest throe,
The storm was weathered, the battle was won,
When he went, my friends, where we all must go.
God grant that whenever, soon or late,
Our course is run and our goal is reach'd,
We may meet our fate as steady and straight
As he whose bones in yon desert bleach'd;
No tears are needed—our cheeks are dry,
We have none to waste upon living woe;
Shall we sigh for one who has ceased to sigh,
Having gone, my friends, where we all must go?
We tarry yet, we are toiling still,
He is gone and he fares the best,
He fought against odds, he struggled up hill,
He has fairly earned his season of rest;
No tears are needed—fill our the wine,
Let the goblets clash, and the grape juice flow,
Ho! pledge me a death-drink, comrade mine,
To a brave man gone where we all must go.
Laudamus
The Lord shall slay or the Lord shall save!
He is righteous whether He save or slay —
Brother, give thanks for the gifts He gave,
Though the gifts He gave He hath taken away.
Shall we strive for that which is nothing? Nay.
Shall we hate each other for that which fled?
She is but a marvel of modelled clay,
And the smooth, clear white, and the soft, pure red,
That we coveted, shall endure no day.
Was it wise or well that I hated you
For the fruit that hung too high on the tree?
For the blossom out of our reach that grew,
Was it well or wise that you hated me? —
My hate has flown, and your hate shall flee.
Let us veil our faces like children chid —
Can that violet orb we swore by see
Through that violet-vein'd, transparent lid? —
Now the Lord forbid that this strife should be.
Would you knit the forehead or clench the fist,
For the curls that never were well caress'd —
For the red that never was fairly kiss'd —
For the white that never was fondly press'd?
Shall we nourish wrath while she lies at rest
Between us? Surely our wrath shall cease.
We would fain know better — the Lord knows best —
Is there peace between us? Yea, there is peace,
In the soul's release she at least is blest.
Let us thank the Lord for His bounties all,
For the brave old days of pleasure and pain,
When the world for both of us seem'd too small —
Though the love was void and the hate was vain —
Though the word was bitter between us twain,
And the bitter word was kin to the blow,
For her gloss and ripple of rich gold rain,
For her velvet crimson and satin snow —
Though we never shall know the old days again.
The Lord! — His mercy is great, men say;
His wrath, men say, is a burning brand —
Let us praise Him whether He save or slay,
And above her body let hand join hand.
We shall meet, my friend, in the spirit land —
Will our strife renew? Nay, I dare not trust,
For the grim, great gulf that cannot be spann'd
Will divide us from her. The Lord is just,
She shall not be thrust where our spirits stand.
Podas Okus
Am I waking? Was I sleeping?
Dearest, are you watching yet?
Traces on your cheeks of weeping
Glitter, 'tis in vain you fret;
Drifting ever! drifting onward!
In the glass the bright sand runs
Steadily and slowly downward;
Hushed are all the Myrmidons.
Has Automedon been banish'd
From his post beside my bed?
Where has Agamemnon vanished?
Where is warlike Diomed?
Where is Nestor? where Ulysses?
Menelaus, where is he?
Call them not, more dear your kisses
Than their prosings are to me.
Daylight fades and night must follow,
Low, where sea and sky combine,
Droops the orb of great Apollo,
Hostile god to me and mine.
Through the tent's wide entrance streaming,
In a flood of glory rare,
Glides the golden sunset, gleaming
On your golden, gleaming hair.
Chide him not, the leech who tarries,
Surest aid were all too late;
Surer far the shaft of Paris,
Winged by Phoebus and by fate;
When he crouch'd behind the gable,
Had I once his features scann'd,
Phoebus' self had scarce been able
To have nerved his trembling hand.
Blue-eyed maiden! dear Athena!
Goddess chaste, and wise and brave,
From the snares of Polyxena
Thou would'st fain thy favourite save.
Tell me, is it not far better
That it should be as it is?
Jove's behest we cannot fetter,
Fate's decrees are always his.
Many seek for peace and riches,
Length of days and life of ease;
I have sought for one thing, which is
Fairer unto me than these.
Often, too, I've heard the story,
In my boyhood, of the doom
Which the fates assigned me — Glory,
Coupled with an early tomb.
Swift assault and sudden sally
Underneath the Trojan wall;
Charge, and countercharge, and rally,
War-cry loud, and trumpet call;
Doubtful strain of desp'rate battle,
Cut and thrust and grapple fierce,
Swords that ring on shields that rattle,
Blades that gash and darts that pierce; —
I have done with these for ever;
By the loud resounding sea,
Where the reedy jav'lins quiver,
There is now no place for me.
Day by day our ranks diminish,
We are falling day by day;
But our sons the strife will finish,
Where man tarries man must slay.
Life, 'tis said, to all men sweet is,
Death to all must bitter be;
Wherefore thus, oh, mother Thetis!
None can baffle Jove's decree?
I am ready, I am willing,
To resign my stormy life;
Weary of this long blood-spilling,
Sated with this ceaseless strife.
Shorter doom I've pictured dimly,
On a bed of crimson sand;
Fighting hard and dying grimly,
Silent lips, and striking hand.
But the toughest lives are brittle,
And the bravest and the best
Lightly fall — it matters little;
Now I only long for rest.
I have seen enough of slaughter,
Seen Scamander's torrent red,
Seen hot blood poured out like water,
Seen the champaign heaped with dead.
Men will call me unrelenting,
Pitiless, vindictive, stern;
Few will raise a voice dissenting,
Few will better things discern.
Speak! the fires of life are reeling,
Like the wildfires on the marsh,
Was I to a friend unfeeling?
Was I to a mistress harsh?
Was there nought save bloodshed throbbing
In this heart and on this brow?
Whisper! girl, in silence sobbing!
Dead Patroclus! answer thou!
Dry those violet orbs that glisten,
Darling, I have had my day;
Place your hand in mine and listen,
Ere the strong soul cleaves its way
Through the death mist hovering o'er me,
As the stout ship cleaves the wave,
To my fathers gone before me,
To the gods who love the brave!
Courage, we must part for certain;
Shades that sink and shades that rise,
Blending in a shroud-like curtain,
Gather o'er these weary eyes.
O'er the fields we used to roam, in
Brighter days and lighter cheer,
Gathers thus the quiet gloaming —
Now, I ween, the end is near.
For the hand that clasps your fingers,
Closing in the death-grip tight,
Scarcely feels the warmth that lingers,
Scarcely heeds the pressure light;
While the failing pulse that alters,
Changing 'neath a death chill damp,
Flickers, flutters, flags, and falters,
Feebly like a waning lamp.
Think'st thou, love, 'twill chafe my ghost in
Hades' realm, where heroes shine,
Should I hear the shepherd boasting
To his Argive concubine?
Let him boast, the girlish victor,
Let him brag; not thus, I trow,
Were the laurels torn from Hector,
Not so very long ago.
Does my voice sound thick and husky?
Is my hand no longer warm?
Round that neck where pearls look dusky
Let me once more wind my arm;
Rest my head upon that shoulder,
Where it rested oft of yore;
Warm and white, yet seeming colder
Now than e'er it seem'd before.
'Twas the fraud of Priam's daughter,
Not the force of Priam's son,
Slew me — ask not why I sought her,
'Twas my doom — her work is done!
Fairer far than she, and dearer,
By a thousandfold thou art;
Come, my own one, nestle nearer,
Cheating death of half his smart.
Slowly, while your amber tresses
Shower down their golden rain,
Let me drink those last caresses,
Never to be felt again;
Yet th' Elysian halls are spacious,
Somewhere near me I may keep
Room — who knows? — The gods are gracious;
Lay me lower — let me sleep!
Lower yet, my senses wander,
And my spirit seems to roll
With the tide of swift Scamander
Rushing to a viewless goal.
In my ears, like distant washing
Of the surf upon the shore,
Drones a murmur, faintly splashing,
'Tis the splash of Charon's oar.
Lower yet, my own Briseis,
Denser shadows veil the light;
Hush, what is to be, to be is,
Close my eyes, and say good-night.
Lightly lay your red lips, kissing,
On this cold mouth, while your thumbs
Lie on these cold eyelids pressing —
Pallas! thus thy soldier comes!
Sunlight on the Sea
Sunlight on the Sea
[The Philosophy of a Feast]
Make merry, comrades, eat and drink
(The sunlight flickers on the sea),
The garlands gleam, the glasses clink,
The grape juice mantles fair and free,
The lamps are trimm'd, although the light
Of day still lingers on the sky;
We sit between the day and night,
And push the wine flask merrily.
I see you feasting round me still,
All gay of heart and strong of limb;
Make merry, friends, your glasses fill,
The lights are growing dim.
I miss the voice of one I've heard
(The sunlight sinks upon the sea),
He sang as blythe as any bird,
And shook the rafters with his glee;
But times have changed with him, I wot,
By fickle fortune cross'd and flung;
Far stouter heart than mine he's got
If now he sings as then he sung.
Yet some must swim when others sink,
And some must sink when others swim;
Make merry, comrades, eat and drink,
The lights are growing dim.
I miss the face of one I've loved
(The sunlight settles on the sea) —
Long since to distant climes he roved,
He had his faults, and so have we;
His name was mentioned here this day,
And it was coupled with a sneer;
I heard, nor had I aught to say,
Though once I held his memory dear.
Who cares, 'mid wines and fruits and flowers,
Though death or danger compass him;
He had his faults, and we have ours,
The lights are growing dim.
I miss the form of one I know
(The sunlight wanes upon the sea) —
'Tis not so very long ago,
We drank his health with three-times-three,
And we were gay when he was here;
And he is gone, and we are gay.
Where has he gone? or far or near?
Good sooth, 'twere somewhat hard to say.
You glance aside, you doubtless think
My homily a foolish whim,
'Twill soon be ended, eat and drink,
The lights are growing dim.
The fruit is ripe, the wine is red
(The sunlight fades upon the sea);
To us the absent are the dead,
The dead to us must absent be.
We, too, the absent ranks must join;
And friends will censure and forget:
There's metal base in every coin;
Men vanish, leaving traces yet
Of evil and of good behind,
Since false notes taint the skylark's hymn,
And dross still lurks in gold refined —
The lights are growing dim.
We eat and drink or e'er we die
(The sunlight flushes on the sea).
Three hundred soldiers feasted high
An hour before Thermopylae;
Leonidas pour'd out the wine,
And shouted ere he drain'd the cup,
"Ho! comrades, let us gaily dine —
This night with Pluto we shall sup";
And if they leant upon a reed,
And if their reed was slight and slim,
There's something good in Spartan creed —
The lights are growing dim.
Make merry, comrades, eat and drink
(The sunlight flashes on the sea);
My spirit is rejoiced to think
That even as they were so are we;
For they, like us, were mortals vain,
The slaves to earthly passions wild,
Who slept with heaps of Persians slain
For winding-sheets around them piled.
The dead man's deeds are living still —
My Festive speech is somewhat grim —
Their good obliterates their ill —
The lights are growing dim.
We eat and drink, we come and go
(The sunlight dies upon the open sea).
I speak in riddles. Is it so?
My riddles need not mar your glee;
For I will neither bid you share
My thoughts, nor will I bid you shun,
Though I should see in yonder chair
Th' Egyptian's muffled skeleton.
One toast with me your glasses fill,
Aye, fill them level with the brim,
De mortuis, nisi bonum, nil!
The lights are growing dim.
The Rhyme of Joyous Garde
Through the lattice rushes the south wind, dense
With fumes of the flowery frankincense
From hawthorn blossoming thickly;
And gold is shower'd on grass unshorn,
And poppy-fire on shuddering corn,
With May-dew flooded and flush'd with morn,
And scented with sweetness sickly.
The bloom and brilliance of summer days,
The buds that brighten, the fields that blaze,
The fruits that ripen and redden,
And all the gifts of a God-sent light
Are sadder things in my shameful sight
Than the blackest gloom of the bitterest night,
When the senses darken and deaden.
For the days recall what the nights efface,
Scenes of glory and seasons of grace,
For which there is no returning —
Else the days were even as the nights to me,
Now the axe is laid to the root of the tree,
And to-morrow the barren trunk may be
Cut down — cast forth for the burning.
Would God I had died the death that day
When the bishop blessed us before the fray
At the shrine of the Saviour's Mother;
We buckled the spur, we braced the belt,
Arthur and I — together we knelt,
And the grasp of his kingly hand I felt
As the grasp of an only brother.
The body and the blood of Christ we shared,
Knees bended and heads bow'd down and bared,
We listened throughout the praying.
Eftsoon the shock of the foe we bore,
Shoulder to shoulder on Severn's shore,
Till our hilts were glued to our hands with gore,
And our sinews slacken'd with slaying.
Was I far from Thy Kingdom, gracious Lord,
With a shattered casque and a shiver'd sword,
On the threshold of Mary's chapel?
Pardie! I had well-nigh won that crown
Which endureth more than a knight's renown,
When the pagan giant had got me down,
Sore spent in the deadly grapple.
May his craven spirit find little grace,
He was seal'd to Satan in any case,
Yet the loser had been the winner;
Had I waxed fainter or he less faint,
Then my soul was free from this loathsome taint,
I had died as a Christian knight — no saint
Perchance, yet a pardon'd sinner.
But I strove full grimly beneath his weight,
I clung to his poignard desperate,
I baffled the thrust that followed,
And writhing uppermost rose, to deal,
With bare three inches of broken steel,
One stroke — Ha! the headpiece crash'd piecemeal,
And the knave in his black blood wallow'd.
So I lived for worse — in fulness of time,
When peace for a season sway'd the clime,
And spears for a space were idle,
Trusted and chosen of all the court,
A favoured herald of fair report,
I travell'd eastward, and duly brought
A bride to a queenly bridal.
Pardie! 'twas a morning even as this
(The skies were warmer if aught, I wis,
Albeit the fields were duller;
Or it may be that the envious spring,
Abash'd at the sight of a fairer thing,
Wax'd somewhat sadder of colouring
Because of her faultless colour).
With her through the Lyonesse I rode,
Till the woods with the noontide fervour glow'd,
And there for a space we halted,
Where the intertwining branches made
Cool carpets of olive-tinted shade,
And the floors with fretwork of flame inlaid
From leafy lattices vaulted.
And scarf and mantle for her I spread,
And strewed them over the grassiest bed,
And under the greenest awning,
And loosen'd latch and buckle, and freed
From selle and housing the red roan steed,
And the jennet of swift Iberian breed,
That had carried us since the dawning.
The brown thrush sang through the briar and bower,
All flush'd or frosted with forest flower
In the warm sun's wanton glances;
And I grew deaf to the song bird — blind
To blossom that sweeten'd the sweet spring wind —
I saw her only — a girl reclined
In her girlhood's indolent trances.
And the song and the scent and sense wax'd weak,
The wild rose withered beside the cheek
She poised on her fingers slender;
The soft spun gold of her glittering hair
Ran rippling into a wondrous snare,
That flooded the round arm bright and bare,
And the shoulder's silvery splendour.
The deep dusk fires in those dreamy eyes,
Like seas clear-coloured in summer skies,
Were guiltless of future treason;
And I stood watching her, still and mute,
Yet the evil seed in my soul found root,
And the sad plant throve, and the sinful fruit
Grew ripe in the shameful season.
Let the sin be mine as the shame was hers,
In desolate days of departed years
She had leisure for shame and sorrow —
There was light repentance and brief remorse,
When I rode against Saxon foes or Norse,
With clang of harness and clatter of horse,
And little heed for the morrow.
And now she is dead, men tell me, and I,
In this living death must I linger and lie
Till my cup to the dregs is drunken?
I looked through the lattice worn and grim,
With eyelids darken'd and eyesight dim,
And weary body and wasted limb,
And sinew slacken'd and shrunken.
She is dead! Gone down to the burial-place,
Where the grave-dews cleave to her faultless face;
Where the grave-sods crumble around her;
And that bright burden of burnish'd gold,
That once on those waxen shoulders roll'd,
Will it spoil with the damps of the deadly mould?
Was it shorn when the church vows bound her?
Now I know full well that the fair spear shaft
Shall never gladden my hand, nor the haft
Of the good sword grow to my fingers;
Now the maddest fray, the merriest din,
Would fail to quicken this life-stream thin,
Yet the sleepy poison of that sweet sin
In the sluggish current still lingers.
Would God I had slept with the slain men, long
Or ever the heart conceived a wrong
That the innermost soul abhorred —
Or ever these lying lips were strained
To her lids, pearl-tinted and purple-vein'd,
Or ever those traitorous kisses stained
The snows of her spotless forehead.
Let me gather a little strength to think,
As one who reels on the outermost brink,
To the innermost gulf descending.
In that truce the longest and last of all,
In the summer nights of that festival —
Soft vesture of samite and silken pall —
The beginning came of the ending.
And one trod softly with sandal'd feet —
Ah! why are the stolen waters sweet? —
And one crept stealthily after;
I would I had taken him there and wrung
His knavish neck when the dark door swung,
Or torn by the roots his treacherous tongue,
And stifled his hateful laughter.
So the smouldering scandal blazed — but he,
My king, to the last put trust in me —
Aye, well was his trust requited!
Now priests may patter, and bells may toll,
He will need no masses to aid his soul;
When the angels open the judgment scroll,
His wrong will be tenfold righted.
Then dawn'd the day when the mail was donn'd,
And the steed for the strife caparison'd,
But not 'gainst the Norse invader.
Then was bloodshed — not by untoward chance,
As the blood that is drawn by the jouster's lance,
The fray in the castle of Melegrance,
The fight in the lists with Mador.
Then the guilt made manifest, then the siege,
When the true men rallying round the liege
Beleaguer'd his base betrayer;
Then the fruitless parleys, the pleadings vain,
And the hard-fought battles with brave Gawaine,
Twice worsted, and once so nearly slain,
I may well be counted his slayer.
Then the crime of Modred — a little sin
At the side of mine, though the knave was kin
To the king by the knave's hand stricken.
And the once-loved knight, was he there to save
That knightly king who that knighthood gave?
Ah, Christ! will he greet me as knight or knave
In the day when the dust shall quicken.
Had he lightly loved, had he trusted less,
I had sinn'd perchance with the sinfulness
That through prayer and penance is pardoned.
Oh, love most loyal! Oh, faith most sure!
In the purity of a soul so pure
I found my safeguard — I sinn'd secure,
Till my heart to the sin grew harden'd.
We were glad together in gladsome meads,
When they shook to the strokes of our snorting steeds;
We were joyful in joyous lustre
When it flush'd the coppice or fill'd the glade,
Where the horn of the Dane or the Saxon bray'd,
And we saw the heathen banner display'd,
And the heathen lances cluster.
Then a steel-shod rush and a steel-clad ring,
And a crash of the spear staves splintering,
And the billowy battle blended.
Riot of chargers, revel of blows,
And fierce, flush'd faces of fighting foes,
From croup to bridle, that reel'd and rose,
In a sparkle of sword-play splendid.
And the long, lithe sword in the hand became
As a leaping light, as a falling flame,
As a fire through the flax that hasted;
Slender, and shining, and beautiful,
How it shore through shivering casque and skull,
And never a stroke was void and null,
And never a thrust was wasted.
I have done for ever with all these things —
Deeds that were joyous to knights and kings,
In days that with songs were cherish'd.
The songs are ended, the deeds are done,
There shall none of them gladden me now, not one;
There is nothing good for me under the sun,
But to perish as these things perish'd.
Shall it profit me aught that the bishop seeks
My presence daily, and duly speaks
Soft words of comfort and kindness?
Shall it aught avail me? "Certes," he said,
"Though thy soul is darken'd, be not afraid —
God hateth nothing that He hath made —
His light shall disperse thy blindness."
I am not afraid for myself, although
I know I have had that light, and I know
The greater my condemnation.
When I well-nigh swoon'd in the deep-drawn bliss
Of that first long, sweet, slow, stolen kiss,
I would gladly have given, for less than this,
Myself, with my soul's salvation.
I would languish thus in some loathsome den,
As a thing of naught in the eyes of men,
In the mouths of men as a by-word,
Through years of pain, and when God saw fit,
Singing his praises my soul should flit
To the darkest depth of the nethermost pit,
If HERS could be wafted skyward.
Lord Christ! have patience a little while,
I have sinn'd because I am utterly vile,
Having light, loving darkness rather.
And I pray Thee deal with me as Thou wilt,
Yet the blood of Thy foes I have freely spilt,
And, moreover, mine is the greater guilt
In the sight of Thee and Thy Father.
That saint, Thy servant, was counted dear
Whose sword in the garden grazed the ear
Of Thine enemy, Lord Redeemer!
Not thus on the shattering visor jarr'd
In this hand the iron of the hilt cross-barr'd,
When the blade was swallow'd up to the guard
Through the teeth of the strong blasphemer.
If ever I smote as a man should smite,
If I struck one stroke that seem'd good in Thy sight,
By Thy loving mercy prevailing,
Lord! let her stand in the light of Thy face,
Cloth'd with Thy love and crown'd with Thy grace,
When I gnash my teeth in the terrible place
That is fill'd with weeping and wailing.
Shall I comfort my soul on account of this?
In the world to come, whatsoever it is,
There is no more earthly ill-doing —
For the dusty darkness shall slay desire,
And the chaff may burn with unquenchable fire,
But for green wild growth of thistle and briar
At least there is no renewing.
And this grievous burden of life shall change
In the dim hereafter, dreamy and strange,
And sorrows and joys diurnal.
And partial blessings and perishing ills
Shall fade in the praise, or the pang that fills
The glory of God's eternal hills,
Or the gloom of His gulf eternal.
Yet if all things change to the glory of One
Who for all ill-doers gave His Own sweet Son,
To His goodness so shall He change ill,
When the world as a wither'd leaf shall be,
And the sky like a shrivell'd scroll shall flee,
And souls shall be summon'd from land and sea,
At the blast of His bright archangel.
Hold hard, Ned! Lift me down once more, and lay me in the shade.
Old man, you've had your work cut out to guide
Both horses, and to hold me in the saddle when I swayed,
All through the hot, slow, sleepy, silent ride.
The dawn at "Moorabinda" was a mist rack dull and dense,
The sun-rise was a sullen, sluggish lamp;
I was dozing in the gateway at Arbuthnot's bound'ry fence,
I was dreaming on the Limestone cattle camp.
We crossed the creek at Carricksford, and sharply through the haze,
And suddenly the sun shot flaming forth;
To southward lay "Katawa", with the sand peaks all ablaze,
And the flushed fields of Glen Lomond lay to north.
Now westward winds the bridle-path that leads to Lindisfarm,
And yonder looms the double-headed Bluff;
From the far side of the first hill, when the skies are clear and calm,
You can see Sylvester's woolshed fair enough.
Five miles we used to call it from our homestead to the place
Where the big tree spans the roadway like an arch;
'Twas here we ran the dingo down that gave us such a chase
Eight years ago — or was it nine? — last March.
'Twas merry in the glowing morn among the gleaming grass,
To wander as we've wandered many a mile,
And blow the cool tobacco cloud, and watch the white wreaths pass,
Sitting loosely in the saddle all the while.
'Twas merry 'mid the blackwoods, when we spied the station roofs,
To wheel the wild scrub cattle at the yard,
With a running fire of stock whips and a fiery run of hoofs;
Oh! the hardest day was never then too hard!
Aye! we had a glorious gallop after "Starlight" and his gang,
When they bolted from Sylvester's on the flat;
How the sun-dried reed-beds crackled, how the flint-strewn ranges rang,
To the strokes of "Mountaineer" and "Acrobat".
Hard behind them in the timber, harder still across the heath,
Close beside them through the tea-tree scrub we dash'd;
And the golden-tinted fern leaves, how they rustled underneath;
And the honeysuckle osiers, how they crash'd!
We led the hunt throughout, Ned, on the chestnut and the grey,
And the troopers were three hundred yards behind,
While we emptied our six-shooters on the bushrangers at bay,
In the creek with stunted box-trees for a blind!
There you grappled with the leader, man to man, and horse to horse,
And you roll'd together when the chestnut rear'd;
He blazed away and missed you in that shallow water-course —
A narrow shave — his powder singed your beard!
In these hours when life is ebbing, how those days when life was young
Come back to us; how clearly I recall
Even the yarns Jack Hall invented, and the songs Jem Roper sung;
And where are now Jem Roper and Jack Hall?
Ay! nearly all our comrades of the old colonial school,
Our ancient boon companions, Ned, are gone;
Hard livers for the most part, somewhat reckless as a rule,
It seems that you and I are left alone.
There was Hughes, who got in trouble through that business with the cards,
It matters little what became of him;
But a steer ripp'd up Macpherson in the Cooraminta yards,
And Sullivan was drown'd at Sink-or-swim;
And Mostyn — poor Frank Mostyn — died at last, a fearful wreck,
In the "horrors" at the Upper Wandinong,
And Carisbrooke, the rider, at the Horsefall broke his neck;
Faith! the wonder was he saved his neck so long!
Ah! those days and nights we squandered at the Logans' in the glen —
The Logans, man and wife, have long been dead.
Elsie's tallest girl seems taller than your little Elsie then;
And Ethel is a woman grown and wed.
I've had my share of pastime, and I've done my share of toil,
And life is short — the longest life a span;
I care not now to tarry for the corn or for the oil,
Or for wine that maketh glad the heart of man.
For good undone, and gifts misspent, and resolutions vain,
'Tis somewhat late to trouble. This I know —
I should live the same life over, if I had to live again;
And the chances are I go where most men go.
The deep blue skies wax dusky, and the tall green trees grow dim,
The sward beneath me seems to heave and fall;
And sickly, smoky shadows through the sleepy sunlight swim,
And on the very sun's face weave their pall.
Let me slumber in the hollow where the wattle blossoms wave,
With never stone or rail to fence my bed;
Should the sturdy station children pull the bush-flowers on my grave,
I may chance to hear them romping overhead.
I don't suppose I shall though, for I feel like sleeping sound,
That sleep, they say, is doubtful. True; but yet
At least it makes no difference to the dead man underground
What the living men remember or forget.
Enigmas that perplex us in the world's unequal strife,
The future may ignore or may reveal;
Yet some, as weak as water, Ned, to make the best of life,
Have been to face the worst as true as steel.
White steeds of ocean, that leap with a hollow and wearisome roar
On the bar of ironstone steep, not a fathom's length from the shore,
Is there never a seer nor sophist can interpret your wild refrain,
When speech the harshest and roughest is seldom studied in vain?
My ears are constantly smitten by that dreary monotone,
In a hieroglyphic 'tis written — 'tis spoken in a tongue unknown;
Gathering, growing, and swelling, and surging, and shivering, say!
What is the tale you are telling? What is the drift of your lay?
You come, and your crests are hoary with the foam of your countless years;
You break, with a rainbow of glory,
through the spray of your glittering tears.
Is your song a song of gladness? a paean of joyous might?
Or a wail of discordant sadness for the wrongs you never can right?
For the empty seat by the ingle? for children 'reft of their sire?
For the bride sitting sad, and single, and pale, by the flickering fire?
For your ravenous pools of suction? for your shattering billow swell?
For your ceaseless work of destruction? for your hunger insatiable?
Not far from this very place, on the sand and the shingle dry,
He lay, with his batter'd face upturned to the frowning sky.
When your waters wash'd and swill'd high over his drowning head,
When his nostrils and lungs were filled,
when his feet and hands were as lead,
When against the rock he was hurl'd, and suck'd again to the sea,
On the shores of another world, on the brink of eternity,
On the verge of annihilation, did it come to that swimmer strong,
The sudden interpretation of your mystical, weird-like song?
"Mortal! that which thou askest, ask not thou of the waves;
Fool! thou foolishly taskest us — we are only slaves;
Might, more mighty, impels us — we must our lot fulfil,
He who gathers and swells us curbs us, too, at His will.
Think'st thou the wave that shatters questioneth His decree?
Little to us it matters, and naught it matters to thee.
Not thus, murmuring idly, we from our duty would swerve,
Over the world spread widely ever we labour and serve."
Thick-headed Thoughts
No. I
I've something of the bull-dog in my breed,
The spaniel is developed somewhat less;
While life is in me I can fight and bleed,
But never the chastising hand caress.
You say the stroke was well intended. "True."
You mention "It was meant to do me good."
"That may be." "You deserve it." "Granted, too."
"Then take it kindly." "No — I never could."
How many a resolution to amend
Is made, and broken, as the years run round!
And how can others on your word depend,
When faithless to ourselves we're often found?
I've often swore — "Henceforward I'll reform,
And bid my vices, follies, all take wing."
To keep my promise, 'mid temptation's storm,
I've always found was quite another thing.
I saw a donkey going down the road
The other day; a boy was on his back,
Who on the long-eared quadruped bestowed,
With a stout cudgel, many a hearty thwack;
But lazier and lazier grew the beast,
Until he dwindled to a step so slow
That I felt sure 'twould take him, at the least,
Full half-an-hour one blessed mile to go.
Soliloquising on this state of things,
"That moke's like me," I muttered, with a sigh;
"He might go faster if he'd got some wings,
But Nature's made him better off than I;
For though I've all his obstinacy — aye! all —
His sullen spirit, and his dogged ways,
I've not one particle, however small,
Of that praiseworthy patience he displays."
No. II
A man is independent of the world,
And little recks of strife or angry brawl,
If 'gainst a host his banner be unfurled,
Be his heart stout, it matters not at all.
With woman 'tis not so; for she seems hurled
From hand to hand, as is a tennis ball.
How queer that such a difference should be
Between a human he and human she.
No. III
'Tis a wicked world we live in;
Wrong in reason, wrong in rhyme;
But no matter: we'll not give in
While we still can come to time.
Strength's a shadow; Hope is madness,
Love, delusion; Friendship, sham;
Pleasure fades away to sadness,
None of these are worth a d—-n.
There is naught on earth to please us;
All things at the crisis fail.
Friends desert us, bailiffs tease us —
(To such foes we give leg-bail).
But a stout heart still maintaining,
Quells the ills we all must meet,
And a spirit fear disdaining
Lays our troubles at our feet.
So we'll ne'er surrender tamely
To the ills that throng us fast.
If we must die, let's die gamely;
Luck may take a turn at last.
Across the trackless seas I go,
No matter when or where,
And few my future lot will know,
And fewer still will care.
My hopes are gone, my time is spent,
I little heed their loss,
And if I cannot feel content,
I cannot feel remorse.My parents bid me cross the flood,
My kindred frowned at me;
They say I have belied my blood,
And stained my pedigree.
But I must turn from those who chide,
And laugh at those who frown;
I cannot quench my stubborn pride,
Nor keep my spirits down.
I once had talents fit to win
Success in life's career,
And if I chose a part of sin,
My choice has cost me dear.
But those who brand me with disgrace
Will scarcely dare to say
They spoke the taunt before my face,
And went unscathed away.
My friends will miss a comrade's face,
And pledge me on the seas,
Who shared the wine-cup or the chase,
Or follies worse than these.
A careless smile, a parting glass,
A hand that waves adieu,
And from my sight they soon will pass,
And from my memory too.
I loved a girl not long ago,
And, till my suit was told,
I thought her breast as fair as snow,
'Twas very near as cold;
And yet I spoke, with feelings more
Of recklessness than pain,
Those words I never spoke before,
Nor never shall again.
Her cheek grew pale, in her dark eye
I saw the tear-drop shine;
Her red lips faltered in reply,
And then were pressed to mine.
A quick pulsation of the heart!
A flutter of the breath!
A smothered sob — and thus we part,
To meet no more till death.
And yet I may at times recall
Her memory with a sigh;
At times for me the tears may fall
And dim her sparkling eye.
But absent friends are soon forgot,
And in a year or less
'Twill doubtless be another's lot
Those very lips to press!
With adverse fate we best can cope
When all we prize has fled;
And where there's little left to hope,
There's little left to dread!
Oh, time glides ever quickly by!
Destroying all that's dear;
On earth there's little worth a sigh,
And nothing worth a tear!
What fears have I? What hopes in life?
What joys can I command?
A few short years of toil and strife
In a strange and distant land!
When green grass sprouts above this clay
(And that might be ere long),
Some friends may read these lines and say,
The world has judged him wrong.
There is a spot not far away
Where my young sister sleeps,
Who seems alive but yesterday,
So fresh her memory keeps;
For we have played in childhood there
Beneath the hawthorn's bough,
And bent our knee in childish prayer
I cannot utter now!
Of late so reckless and so wild,
That spot recalls to me
That I was once a laughing child,
As innocent as she;
And there, while August's wild flow'rs wave,
I wandered all alone,
Strewed blossoms on her little grave,
And knelt beside the stone.
I seem to have a load to bear,
A heavy, choking grief;
Could I have forced a single tear
I might have felt relief.
I think my hot and restless heart
Has scorched the channels dry,
From which those sighs of sorrow start
To moisten cheek and eye.
Sister, farewell! farewell once more
To every youthful tie!
Friends! parents! kinsmen! native shore!
To each and all good-bye!
And thoughts which for the moment seem
To bind me with a spell,
Ambitious hope! love's boyish dream!
To you a last farewell!
You'll take my tale with a little salt;
But it needs none, nevertheless!
I was foiled completely – fair at fault –
Disheartened, too, I confess!
At the splitters' tent I had seen the track
Of horse-hoofs fresh on the sward;
And though Darby Lynch and Donovan Jack
(Who could swear through a ten-inch board)
Solemnly swore he had not been there,
I was just as sure they lied;
For to Darby all that is foul was fair,
And Jack for his life was tried.
We had run him for seven miles or more
As hard as our nags could split;
At the start they were all too weary and sore,
And his was quite fresh and fit.
Young Marsden's pony had had enough
On the plain where the chase was hot;
We breasted the swell of the Bitterns' bluff,
And Mark couldn't raise a trot.
When the sea like a splendid silver shield
To the south-west suddenly lay,
On the brow of the Beetle the chestnut reeled –
And I bid good-bye to McCrea.
And I was alone when the mare fell lame
With a pointed flint in her shoe,
On the Stony Flats: I had lost the game! –
And what was a man to do?
I turned away with a fixed intent
And headed for Hawthorndell:
I could neither eat in the splitters' tent
Nor drink at the splitters' well.
I know that they gloried in my mishap,
And I cursed them between my teeth: –
A blood-red sunset through Brayton's Gap
Flung a lurid fire on the hearth.
Could I reach the Dell? I had little reck,
And with scarce a choice of my own
I threw the reins on Miladi's neck –
I had freed her foot from the stone.
That season most of the swamps were dry,
And after so hard a burst
In the sultry noon of so hot a sky
She was keen to appease her thirst –
Or by instinct urged, or impelled by Fate
(I care not to solve these things)
Certain it is that she took me straight
To the Warrigal water springs!
I can shut my eyes and recall the ground
As though it were yesterday:
With shelf on the low, grey rocks girt round,
The springs in their basin lay.
Woods to the east and wolds to the north
In the sundown suddenly bloomed:
Dead black on a curtain of crimson cloth
Large peaks to the westward loomed.
I led Miladi through weed and sedge,
She leisurely drank her fill:
There was something close to the water's edge –
And my heart, with one leap, stood still!
For a horse's shoe and a rider's boot
Had left clean prints on the clay:
Someone had watered his beast on foot –
"Twas he! – he had gone! – which way?
Then the mouth of the cavern faced me fair
As I turned and fronted the rocks:
So at last I had pressed the wolf to his lair!
I had run to his earth the fox!
I thought so! Perhaps he was resting?
Perhaps He was waiting,
watching for me?
I examined all my revolver caps;
I hitched my mare to a tree.
I had sworn to have him, alive or dead!
And to give him a chance was loth:
He knew his life had been forfeited!
He had even heard of my oath!
In my stockinged soles to the shelf I crept –
I crawled safe into the cave:
All silent! – if he was there he slept –
Not there – all dark as a grave!….
Through the crack I could hear the leaden hiss!
See the livid face through the flame!
How strange it seemed that a man should miss
When his life depends on his aim!
There couldn't have been a better light
For him, nor a worse for me:
We were cooped up – like caged beasts for a fight –
And dumb as dumb beasts were we!
Flash! flash! – Bang! Bang! – and we blazed away,
And the grey roof reddened and rang!
Flash! flash! – and I felt his bullet flay
The tip of my ear -Flash! bang!
Bang! flash! -and my pistol arm fell broke:
I struck with my left hand then:
-Struck at a corpse through a cloud of smoke!
I had shot him dead in his den.
A Fragment
They say that poison-sprinkled flowers
Are sweeter in perfume
Than when, untouched by deadly dew,
They glowed in early bloom.
They say that men condemned to die
Have quaffed the sweetened wine
With higher relish than the juice
Of the untampered vine.
They say that in the witch's song,
Though rude and harsh it be,
There blends a wild, mysterious strain
Of weirdest melody.
And I believe the devil's voice
Sinks deeper in our ear
Than any whisper sent from Heaven,
However sweet and clear.
A Song of Autumn
'WHERE shall we go for our garlands glad
At the falling of the year,
When the burnt-up banks are yellow and sad,
When the boughs are yellow and sere?
Where are the old ones that once we had,
And when are the new ones near?
What shall we do for our garlands glad
At the falling of the year?'
'Child! can I tell where the garlands go?
Can I say where the lost leaves veer
On the brown-burnt banks, when the wild winds blow,
When they drift through the dead-wood drear?
Girl! when the garlands of next year glow,
You may gather again, my dear—
But I go where the last year's lost leaves go
At the falling of the year.'
Confiteor
The shore-boat lies in the morning light,
By the good ship ready for sailing;
The skies are clear, and the dawn is bright,
Tho' the bar of the bay is fleck'd with white,
And the wind is fitfully wailing;
Near the tiller stands the priest, and the knight
Leans over the quarter-railing.
"There is time while the vessel tarries still,
There is time while her shrouds are slack,
There is time ere her sails to the west wind fill,
Ere her tall masts vanish from town and from hill,
Ere cleaves to her keel the track:
There is time for confession to those who will,
To those who may never come back."
"Sir priest, you can shrive these men of mine,
And, I pray you, shrive them fast,
And shrive those hardy sons of the brine,
Captain and mates of the EGLANTINE,
And sailors before the mast;
Then pledge me a cup of the Cyprus wine,
For I fain would bury the past."
"And hast thou naught to repent, my son?
Dost thou scorn confession and shrift?
Ere thy sands from the glass of time shall run
Is there naught undone that thou should'st have done,
Naught done that thou should'st have left?
The guiltiest soul may from guilt be won,
And the stoniest heart may be cleft."
"Have my ears been closed to the prayer of the poor,
Or deaf to the cry of distress?
Have I given little, and taken more?
Have I brought a curse to the widow's door?
Have I wrong'd the fatherless?
Have I steep'd my fingers in guiltless gore,
That I must perforce confess?"
"Have thy steps been guided by purity
Through the paths with wickedness rife?
Hast thou never smitten thine enemy?
Hast thou yielded naught to the lust of the eye,
And naught to the pride of life?
Hast thou pass'd all snares of pleasure by?
Hast thou shunn'd all wrath and strife?"
"Nay, certes! a sinful life I've led,
Yet I've suffered, and lived in hope;
I may suffer still, but my hope has fled, —
I've nothing now to hope or to dread,
And with fate I can fairly cope;
Were the waters closing over my head,
I should scarcely catch at a rope."
"Dost suffer? thy pain may be fraught with grace,
Since never by works alone
We are saved; — the penitent thief may trace
The wealth of love in the Saviour's face
To the Pharisee rarely shown;
And the Magdalene's arms may yet embrace
The foot of the jasper throne."
"Sir priest, a heavier doom I dree,
For I feel no quickening pain,
But a dull, dumb weight when I bow my knee,
And (not with the words of the Pharisee)
My hard eyes heavenward strain,
Where my dead darling prayeth for me!
Now, I wot, she prayeth in vain!
"Still I hear it over the battle's din,
And over the festive cheer, —
So she pray'd with clasp'd hands, white and thin, —
The prayer of a soul absolved from sin,
For a soul that is dark and drear,
For the light of repentance bursting in,
And the flood of the blinding tear.
"Say, priest! when the saint must vainly plead,
Oh! how shall the sinner fare?
I hold your comfort a broken reed;
Let the wither'd branch for itself take heed,
While the green shoots wait your care;
I've striven, though feebly, to grasp your creed,
And I've grappled my own despair."
"By the little within thee, good and brave,
Not wholly shattered, though shaken;
By the soul that crieth beyond the grave,
The love that He once in His mercy gave,
In His mercy since retaken,
I conjure thee, oh! sinner, pardon crave,
I implore thee, oh! sleeper, waken!"
"Go to! shall I lay my black soul bare
To a vain, self-righteous man?
In my sin, in my sorrow, you may not share,
And yet could I meet with one who must bear
The load of an equal ban,
With him I might strive to blend one prayer,
The wail of the Publican."
"My son, I, too, am a withered bough,
My place is to others given;
Thou hast sinn'd, thou sayest; I ask not how,
For I, too, have sinn'd, even as thou,
And I, too, have feebly striven,
And with thee I must bow, crying, `Shrive us now!
Our Father which art in heaven!'"
Adam Lindsay Gordon poems
SEE MORE: