Ada Cambridge was a prolific novelist and poet who was born in Norfolk in 1844 and many of her works were published in serial form in Australian and British newspapers under the title AC. Her father was what would be considered a gentleman farmer at the time and she was educated at home by a governess, something which she did not take kindly to.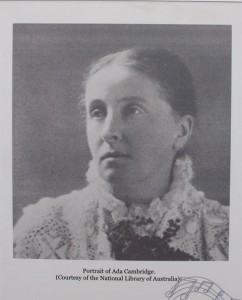 For most of her life she would say that she learned little that was of use during this time but she did start writing poetry in her late teens. It was then that she found her vocation and secured a little fame for herself in England when she wrote two books of hymns in her twenties and a collection of poetry under the title Echoes.
In 1870 she married curate George Cross and, when he was sent on colonial service to Australia, Cambridge joined him on the journey to Melbourne. George's work would take him to some remote parts of Australia and Cambridge assisted him as she was expected to. She continued to write though and began sending poems and various stories to newspapers and magazines to help supplement the rather low curate's income of her husband.
Cambridge gave birth to two children in those early days in Australia but both of them died, something which affected her deeply and she used her poetry as a way of coping with the grief. At the same time she also had a bad accident, falling from a carriage and severely damaging her back, leaving her with less mobility.
Craven-Heart
Those anguished voices in the air!
Oh, I could shriek and tear my hair
In rage, rebellion and despair.
But what is one, amid a throng
So vast and merciless and strong,
To make attempt to right the wrong?
What ear would hear me if I cried?
And who would rally to my side?
What could I do to stem the tide?
Though I should plunge in flood and flame,
And suffer every shame and blame,
The world would triumph all the same.
I am not called upon to pay.
So why join in the hopeless fray,
And waste my brief and precious day?
Desire
Bright eyes, sweet lips, with many fevers fill
The young blood, running wildly, as it must;
But lips and eyes beget a strange distrust.
Electric fingers send the sudden thrill
Through senses unsubservient to the will;
The flames die down, and leave a dim disgust;
Unfragrant kisses turn to drouth and dust;
I kiss; I feast; but I am hungry still.
O woman, woman, passionate but strong!
True to thy love as needle to the pole–
True to the truth, and not alone to me–
O mate and friend, elusive in the throng,
With thy clear brows, thy straight and upright soul,
Nameless–unknown–my hunger is for thee!
Empty
Can this be my poem?–this poor fragment
Of bald thought in meanest language dressed!
Can this string of rhymes be my sweep poem?
All its poetry wholly unexpressed!
Does it tell me of the dreams that wandered,
In the silent night-time, through my brain?
Of the woven web of wondrous fancies,
Half of keenest joy and half of pain?
Does it tell me of the awful beauty
That came down to hide this sordid earth?
Does it tell me of the inward crying?–
Of the glory whence it had its birth?
Only as the lamp, all dull and rusted,
Tells me of the flame that is put out,–
Of the shiny hair and happy faces
Lighted, when its radiance streamed about?
Only as this piece of glass, now lying
In the shade beside me, as I sit,
Tells me of the soft hues of the rainbow,
That the morning sunshine gave to it!
Only as this little flask, now smelling
Of the dust and mould with which 'tis lined,
Tells me of the lovely subtle fragrance
Of the perfume that it once enshrined!
Only as a picture, blurred and faded,
Tells me of the bloom of colour there,
When the painter's soul was with his canvas,
And his paint was bright, and fresh, and fair!
Only as the wires and keys–notes broken,
Odd and scattered–tell me of a strain
That once filled my very soul with rapture,
But can never be spelled out again!
Only as a bare brown flower-stalk tells me
Of the delicate blossom that it wore;
Of the humming bees in silken petals,
And the downy butterflies it bore!
Only as a crazy boat, sun-blistered,
Drawn up high and dry upon the sands,
Tells me of the blue and buoyant billows
Bearing breezy sails to foreign lands!
Only as a little dead lark, lying
With bedraggled wings and withered throat,
Tells me of the songs it heard in heaven–
Trying to teach me, here and there, a note!
Oh no! oh no! this is not my treasure–
This is but the shell where it has lain;
It is gone–the life, and light, and glory,–
And 'twill never come to me again!
Fashion
See those resplendent creatures, as they glide
O'er scarlet carpet, between footmen tall,
From sumptuous carriage to effulgent hall–
A dazzling vision in their pomp and pride!
See that choice supper–needless–cast aside–
Though worth a thousand fortunes, counting all,
To them for whom no crumb of it will fall–
The starved and homeless in the street outside.
Some day the little great god will decree
That overmuch connotes the underbred,
That pampered body means an empty head,
And wealth displayed the last vulgarity.
When selfish greed becomes a social sin
The world's regeneration may begin.
Grey
Is the morning dim and cloudy? Does the wind drift up the leaves?
Is there mist upon the mountains, where the sun shone yesterday?
Are the little song-birds silent? Is the sky all blurred and grey?
Does the rain fall, patter, patter, from the eaves?
Does your glass go down? And does your heart sink in the dreary lull?
Are the strings relax'd and limp, and do the soft notes whine and cry?
Has the damp got in and jarred the chords and spoil'd the melody?
Are you out of tune, belovèd? are you dull?
Has the chill wind found an entrance? Does it sigh and rustle there?
Is it drifting, not the dead leaves, but your dead hopes, all about?
Is it waking up your sorrow while your light is blotted out?
Does your heart seem sad and cold and full of care?
Are you listless and discouraged, dear? and does your life look grey?
Does there seem no use in trying? Does your work fall from your hand?
Would you give up the great riddle that's so hard to understand?
Oh, then, go you to your chamber straight, and pray.
Go and pray, and God will give you peace and comfort for your pain–
All the misty, dull confusion He will tenderly reform–
And the fire of His own Spirit, that shall make you dry and warm;
And your harp-strings shall be strung and tuned again.
Ay, the Lord will put the melody in your heart and soul anew;
So that, howsoe'er unskilled and rude the hands that touch the wires,
There shall come forth beautiful chords of faith and hope and high desires,
Only music that is deep and sweet and true.
Go and work,–the clouds will show the silver lining that's behind.
Go to squalid lanes and alleys, where grim want and sickness lurk;
Feed the hungry, soothe the suffering, tell the poor of Christ,–oh, work,
And you'll no more hear the rustling of the wind.
Then you'll no more hear the restless, hopeless sobbing over sin,
No more hear the earthly troubles crying, crying from the ground;
For the wings of guardian angels, they shall compass you around,
That the wind shall have no place to enter in.
Then, as wither'd leaves lie browning on the quiet grassy slopes,
As they sink in peaceful earth, and moulder with it as they die,
To help nurture precious seeds for coming summers–so shall lie,
Calm and still, your sorrowful memories and dead hopes.
O belovèd, work and wait! The sun will shine another day,
On a heart refresh'd, and strong, and green, and cool. The rain and gloom
Are to make the sap run quicker, give the flowers a deeper bloom–
We have need for both the golden and the grey.
Honour
Me let the world disparage and despise —
As one unfettered with its gilded chains,
As one untempted by its sordid gains,
Its pleasant vice, its profitable lies;
Let Justice, blind and halt and maimed, chastise
The rebel spirit surging in my veins,
Let the Law deal me penalties and pains
And make me hideous in my neighbours' eyes.
But let me fall not in mine own esteem,
By poor deceit or selfish greed debased.
Let me be clean from secret stain and shame,
Know myself true, though false as hell I seem —
Know myself worthy, howsoe'er disgraced —
Know myself right, though every tongue should blame.
Influence
As in the deeps of embryonic night,
Out of unfathomable obscurities
Of Nature's womb, the little life-germs rise,
Pushing and pulsing upward to the light;
As, when the first day dawns on waking sight,
They leap to liberty and recognize
The golden sunshine and the morning skies
Their home and goal and heritage and right–
So do our brooding thoughts and deep desires
Grow in our souls, we know not how or why;
Grope for we know not what, all blind and dumb.
So, when the time is ripe, and one aspires
To free his thought in speech, ours hear the cry,
And to full birth and instant knowledge come.
Lord Nevil's Advice
"Friend," quoth Lord Nevil, "thou art young
To face the world, and thou art blind
To subtle ways of womankind;
The meshes thou wilt fall among.
"Take an old married man's advice;
Use the experience I have earned;
Watch well where women are concerned,–
They're not all birds of paradise!
"Be circumspect, or thou mayst fall;
Abjure a blind faith–nay, trust none–
Till thou hast chosen, proven one;
Then trust her truly–trust in all.
"Keep a calm brain and quiet eye,
And watch. The doll of powder and paint,
The flirt, the artificial saint,
The loud man-woman pass them by.
"The innocent one, who craves thy cares
To shield her from life's fret and fray;
Lad, watch her–maybe she'll betray
Some doubtful knowledge, unawares.
"The pensive one, who droops and sighs–
Wait till her dreaming comes to test;
Be gentle, yet be wary, lest
'Tis but a graceful grey disguise.
"The world-wise husband-hunter–she
Who knows no love but love of gold,
And lands and titles–empty, cold,–
Pity her, lad, and let her be.
"And the rich heiress–let her pass.
Belike she's stupid, drugged with wealth,
And just enjoys her life and health
As some fat cow in clover grass.
"Or insolent with prosperity,
Unsharpened, shallow, unrefined;–
And thou art poor, and thou wilt mind
That proud blood cometh down to thee.
"The gushing gossip–she who rains
Incessant chatter in thine ears;–
She may be worth thy keenest fears,
She may be simply lacking brains,
"And lacking grace and modesty.
She will make mischief, at the best;
She may be wily, like the rest;
Keep thy tongue still when she is by.
"They that would master thee, if they could,
In brain and muscle–flaring lights–
The clamorous for false woman's rights;–
Snub them, my friend–it does them good–
"And do not think of them for wives.
Fit mates for such seem somewhat rare;
But when two odd ones make a pair,
They spoil at least four precious lives.
"But shouldst thou chance to meet a girl
With brave, bright eyes, that front thee straight,
A kindly tongue that does not prate,
And quiet lips that cannot curl;
"With fine sense, quick to understand,
With dignity that is not cold,
Sweet, sunny mirth that is not bold,
A ready ear, a willing hand;
"One skilled in household arts, and skilled
In little courteous, graceful ways,
That make no show and win no praise–
Wherewith discordant jars are stilled:
"One who will never touch a sore;
One who sheds sunshine round about,
And draws life's hidden comfort out;
One whom the boys and babes adore:
"One with an intellect to reach
The highest range that thou canst rise;
Who will aye help thee, woman-wise,
And yet not set herself to teach:
"One of whom women love to speak,
In honest kindness, and whose name
Men let alone; whose chiefest fame
Lies hidden where men may not seek;–
"Friend, woo her, as a good knight can,
And win her. Lay thou at her feet
Faith, love, and honour, true and sweet;
And count thyself a happy man."
On Australian Hills
Earth, outward tuning on her path in space
This pensive southern face,
Swathing its smile and shine
In that soft veil that day and darkness twine,
The silver-threaded twilight thin and fine,
With April dews impearled,
Looms like another and diviner world.
Here April brings her garnered harvest-sheaf,
Her withered autumn leaf,
Tintings of bronze and brass;
Her full-plumed reeds, her mushroom in the grass,
Her furrowed fields, where plough and sower pass,
Her laden apple bough.
All are transfigured and transmuted now.
The eastward ranges, so unearthly blue,
Bloom with their richest hue;
Slowly each rose-flushed crest
Deepens to violet where the shadows rest,
Darkens and darkens to the paling west;
The waning sun-fires die;
The first star swims in the pellucid sky.
Soundless to listening ear, on grass and flowers,
The footfall of the hours;
Formless and void to sight
The evolutions of invading night,
The creeping onslaught and the gradual flight,
Until the field is won,
And we look forth to see that day is done.
Then, from their grave of darkness, wood and lawn
Wake to a second dawn.
From unseen wells below
The pearly moon-tides rise and overflow,
Till vale and peak and wide air-spaces glow
In the transfiguring stream,
And earth and life are but a heavenly dream.
And now we hear the fairy-echoes fall
Where distant curlews call,
And how the silence thrills
With the night-voices of the glens and hills,
Rustling in reeds and tinkling in the rills,
Bubbling in creek and pool
Where frogs are wooing in the shallows cool.
And more than these, in this delicious time,
The melody sublime
That inward spirit hears–
The faint and far-off music of the spheres,
Immortal harmonies, too fine for ears
Dulled in the dusty ways,
Deaf with the din of the laborious days.
Whereto, responsive as the vibrant wire
Of some aeolian lyre
Fanned by celestial wings,
The summoned soul in mystic concord brings
The deep notes latent in its trembling strings,
Joining the choir divine
Of all the worlds that in the ether shine.
O sacred hour! O sweet night, calm and fair!
Thou dost rebuke despair;
Thou dost assuage the pain
Of passionate spirit and distempered brain,
And with thy balms, distilled like gentle rain,
Dost heal the fret and smart
And nerve the courage of this coward's heart.
And lift me up, a Moses on the Mount
To the pure source and fount
Of law transcending law,
Of life that hallows life. I know no more
Of life's great Giver than I knew before,
But these His creatures tell
That He is living, and that all is well.
Oh, to be there to-night!
To see that rose of sunset flame and fade
On ghostly mountain height,
The soft dusk gathering each leaf and blade
From the departing light,
Each tree-fern feather of the wildwood glade.
From arid streets to pass
Down those green aisles where golden wattles bloom,
Over the fragrant grass,
And smell the eucalyptus in a gloom
That is as clear as glass,
The dew-fresh scents of bracken and of broom . . .
These city clamours mute,
To hear the woodland necromancers play
Each his enchanted lute;
That dear bird-laugh, so exquisitely gay,
The magpie's silver flute
In vesper carol to the dying day.
To hear the live wind blow,
The delicate stir and whisper of the trees
As light breaths come and go,
The brooklet murmuring to the vagrant breeze,
The bull-frog twanging low
His deep-toned mandolin to chime with these.
And then the whispering rills,
The hushed lone wheel, or hoof, or axeman's tool;
The brooding dark that stills
The sweet Pan-piping of the grove and pool;
The dimly glimmering hills;
The sleeping night, so heavenly clean and cool.
Oh, for that mother-breast
That takes the broken spirit for repair,
The worn-out brain for rest–
That healing silence, that untainted air,
That Peace of God . . . . . . Blest, blest
The very memory that I once was there.
The thought that someday yet,
In flesh, not dreams, I may return again,
And at those altars, set
In the pure skies, above the smoky plain,
Remember and forget
The joy of living and its price of pain . . . . . .
That sullied earth reserves
Such spacious refuge virgin and apart,
That wasting life preserves
Such sweet retreat for the distracted heart,
Such fount of strength for nerves
Torn in the ruthless struggle of the mart . . . . . .
That Government divine
O'er all this reek of blunders and of woes
Keeps an unravaged shrine
Not here, not there, but in the souls of those
Who neither weep nor whine,
But trust the guidance of the One Who Knows.
Practising The Anthem
A summer wind blows through the open porch,
And, 'neath the rustling eaves,
A summer light of moonrise, calm and pale,
Shines through a vale of leaves.
The soft gusts bring a scent of summer flowers,
Fresh with the falling dew,
And round the doorway, glimmering white as snow,
The tender petals strew.
Clear through the silence, from a reedy pool
The curlew's whistle thrills;
A lonely mopoke sorrowfully cries
From the far-folding hills.
O lovely night, and yet so sad and strange!
My fingers touch the key;
And down the empty church my Christmas song
Goes ringing, glad and free.
Each sweet note knocks at dreaming memory's door,
And memory wakes in pain;
The spectral faces she had turn'd away
Come crowding in again.
The air seems full of music all around–
I know not what I hear,
The multitudinous echoes of the past,
Or these few voices near.
Ah me! the dim aisle vaguely widens out,
I see me stand therein;
A glory of grey sculpture takes the light
A winter morn brings in.
No more I smell the fragrant jessamine flowers
That flake a moonlit floor;
The rustling night-breeze and the open porch
I hear and see no more.
Great solemn windows, down a long, long nave
Their shadow'd rainbows fling;
Dark Purbeck shafts, with hoary capitals,
In carven archways spring.
And overhead the throbbing organ waves
Roll in one mighty sea,
Bearing the song the herald angels sang
Of Christ's nativity.
Dear hands touch mine beneath the open book,
Sweet eyes look in my face,–
They smile, they melt in darkness; I am snatch'd
From my familiar place.
The summer night-wind blows upon my tears;
Its flowery scent is pain.
O cold, white day! O noble minster–when
May I come back again!
To hear the angels' anthem shake the air,
Where never discord jars,–
The Christmas carols in the windy street,
Under the frosty stars;
The dream-like falling from the still, grey skies,
With falling flakes of snow,
Of mellow chimes from old cathedral bells,
Solemn and sweet and slow.
To hear loved footsteps beating time with mine
Along the churchyard path,–
To see that ring of faces once again
Drawn round the blazing hearth.
When may I come? O Lord, when may I go?
Nay, I must wait Thy will.
Give patience, Lord, and in Thine own best way
My hopes and prayers fulfil.
Sic Vos Non Vobis
Ye, that the untrod paths have braved,
With heart and brain unbound;
Who ask not that your souls be saved,
But that the Truth be found;
Whose fiery cross is borne unseen,
Whose meek brows, bleeding but serene
With only thorns are crowned;
Who, still and steadfast, stand for Right,
Though none acclaim and none requite:
Who learn how little is the sum
Of all that Truth can teach,
And where the serried boundaries come
That bar your utmost reach;
For whom no sage, no saint, can find
A clue to aught that lies behind;
For whom the preachers preach
Only to leave ye at the door
That opens to their knock no more:
Who, listening in the trackless night,
Hearing no bugle-call,
Still fight, undaunted, the good fight,
And never fail or fall;
Who, standing on an inch of ground,
Feel the Infinities around,
Yet dare to face it all,
And keep the life ye hold in trust
Safe from besetting moth and rust.
Life–tragic mystery of Man–
Strange tale of joy and grief!
Chaff for the errant winds to fan,
A bubble bright and brief,
That floats and shines and bursts unseen,
And leaves no trace where it has been;
Like thistle-down and leaf,
That in soft airs of autumn dance,
The helpless sport of Fate and Chance.
Ye, who can see the case so clear,
And scorn to cringe and moan,
Who follow humbly, without fear,
The soul's behest alone;
Content to suffer for the sake
Of faithful manhood, and to make
A loftier stepping-stone,
A straighter way, a smoother street,
For tread of unborn children's feet.
Ye, whom the children's sorrows rend,
And who despise the smart,
Who walk uprightly to the end
With an undoubting heart,
To take the guerdon of your pain–
Death, with no hope to live again–
Ye have the better part,
Salt of the world, that keeps it sound!
Kings that shall yet be throned and crowned.
The Coo Of The Cushat
Over the smooth lawns, broider'd with violets,
Over the hedges of snow-white thorn,
Over the billowy, pink apple-blossoms,
The musical coo of the cushat is borne.
In the still depths of the dim old plantations,
Where the sweet whispering night-wind stirs
The delicate scent from the dew-sprinkled flowers,
It sings by its nest in the tall green firs.
So peaceful, so pure, so divinely contented,
The world out of sight and its true love nigh
Their little grey wings softly folded together,–
What dreams I have set to that melody!
I listen at dawn, and I listen at even;
I hear the notes bubbling all day long
Through the woodpecker's laugh and the chirp of the titmouse,–
Little dove, yours is the sweetest song!
'Tis not a sad song, though it sets me a-crying–
But gladness too deep to be spoken aloud;
Nor forlorn, though 'tis sung in the loneliest places–
But only too sacred to sing to a crowd.
I envy you, though you're so small and so humble;
I wish I were like you, you shy little dove–
So far from the world and so free from its passion,
Yet sure of your white eggs and sure of your love.
I wish I were pure from low earthly ambitions,
As quiet and calm and contented as you;
I wish my heart held such a well-spring of music,
That I were as gentle and trustful and true.
Little dove, you were worthy to carry the olive
Over the waters to Noah's host,
To die for the mother of Christ in the Temple,
To be chosen for shrine of the Holy Ghost.
And now you have only to live and be happy,
To rear up your young ones and teach them to coo;
O sing on, and teach me the heavenly lessons,
To be faithful and worthy of God's work too.
Teach me so humbly to take what He gives me,
The manifold duties, the great and the small;
Teach me so simply to do what He bids me,
Loving and trustful, and thankful for all
The Dawn of God's Sabbath
The dawn of God's dear Sabbath
Breaks o'er the earth again,
As some sweet summer morning
After a night of pain;
It comes as cooling showers
To some exhausted land,
As shade of clustered palm trees
'Mid weary wastes of sand.
Lord, we would bring for offering
Though marred with earthly soil,
Our week of earnest labor,
Of useful daily toil;
Fair fruits of self denial,
Of strong, deep love to Thee,
Fostered by Thine own Spirit
In our humility.
And, we would bring our burden
Of sinful thought and deed,
In Thy pure presence kneeling,
From bondage to be freed;
Our heart's most bitter sorrow
For all Thy work undone;
So many talents wasted!
So few bright laurels won!
And with that sorrow mingling,
A steadfast faith, and sure,
And love so deep and fervent,
That tries to make it pure;
In His dear presence finding
The pardon that we need;
And then the peace so lasting,
Celestial peace indeed!
The Hand in the Dark
How calm the spangled city spread below!
How cool the night! How fair the starry skies!
How sweet the dewy breezes! But I know
What, under all their seeming beauty, lies.
That million-fibred heart, alive, is wrung
With every grief that human creatures fear.
Could its dumb anguish find a fitting tongue
The very dead within their graves would hear.
It calls me from my rest, that voiceless wail
Of Lazarus at the gate–my kith and kin
Whose cruise and cake, and staff and beacon, fail–
The famished crowd, that cannot enter in.
How can I take my ease amid this pain,
These pangs, these tears, these crimes, that never cease?
While homeless children cry for bread in vain
How can I eat? How can I sleep in peace?
Poor comrades of the fight, that have no place!
Brothers and sisters, born to want and wrong.
Born weak and maimed, to run a hopeless race,
Lost at the start, against the hale and strong!
Poor scapegoats of the wilderness, that fast
For those who feast! And, ah, poor feasters too!
They also thirst and hunger at the last.
And this is Life–and all the Race can do.
Vain, vain the listening ear, the questioning gaze.
Shoreless, unplumbed, the ether-ocean lies
Above these roofs, beyond the smoke and haze–
The Infinite–alive with watching eyes.
To see our orb of sorrow whirling there–
The tiny swarm of struggling things, that curse
Their subject province, and yet calmly dare
To claim the kingship of the Universe.
Dread cloud of witnesses to earth's disgrace!
Earth is my trust–I am afraid to look
Those still and stern accusers in the face,
And haste to hide in my familiar nook.
My little nook–where is it? Have I none?
I grow confused betwixt the sea and shore.
I had some lamps to guide me–one by one
They flashed and failed, and now I have no more.
Where am I? Oh, where am I? I can feel–
To feel my torment–but I cannot see,
I cannot hear. My brain begins to reel,
My heart to faint. Almighty, speak to me!
Help me! Or, in Thy pity, take me hence
While feeling heart and thinking brain are whole,
Or give me any rag of carnal sense,
So it suffice to wrap my naked soul!
No word. No sign. Yet something in the air
Soothes, like a cool hand on a fevered brow.
Replenished, from the ashes of despair
I rise renewed. Belovèd, where art thou?
She sleeps. She stirs. She hears the lightest fall
Of foot familiar with her chamber floor.
Her spirit answers to my spirit's call:
Come home! Come home! And I am saved once more.
Bringing no leaf of hope, alone and late,
Spent and wing-weary, famished for a crumb,
The wandering dove heads back to nest and mate.
My Love and Comforter, I come! I come!
Here is the welcome threshold of my ark,
My island-home amid the trackless flood.
Her hand shuts out the Silence and the Dark;
Her pulse thrills life into my fainting blood.
She draws me down upon that couch of bliss,
Her faithful arms, her tender mother-breast;
I clasp her close, those sweetest lips I kiss,
And, at long last, I have my hour of rest.
Thou, too, my love, hast wandered far and wide,
And hast come home, where all thy wanderings cease.
The door is shut. Thy mate is at thy side.
Here is thy long-sought pillow. Sleep in peace.
Heed not the patter of the weeping eaves,
The groan of branches bending to the rain,
The sad tap-tapping of dead autumn leaves,
Like ghostly fingers, on the window-pane.
The wind-borne echoings, from east and west,
Of weeping woe and wailing agony;
All night they cry round thy beleaguered nest,
But fear them not, for thou art safe with me.
Let the sad world spin on, a trail of shame
Amongst the myriad worlds. Whate'er befalls,
The great God knows that we are not to blame.
Our world is here, within our chamber walls.
In this asylum, secret and apart,
Whereof we keep the one and only key,
Rest thee, poor tired heart, upon my heart,
As all my weary being rests in thee.
Good-night! Good-night! Sleep deep and well, my bride.
The fight goes on, but we have won release.
Our wounds are healed, our tears are shed and dried.
Let the storms rage–they cannot break our peace.
Peace–is it peace? What is that form of fear
That looms ahead? What distillation sours
The joy of life when thou, alive, art near,
And nought seems wanting to the perfect hours?
What chills my passion when I love thee most,
And dims my eyes, and veils thy face, and slips,
An unseen shadow, like a creeping ghost,
Betwixt my hungering kisses and thy lips?
What, amid richest plenty, starves me thus?
What is it steals my soul's content, and thine–
That sits a guest at marriage-feast with us,
And mixes poison with the food and wine?
A vision comes. A graveyard, all alone,
A small green mound, a withered funeral wreath;
Love's last drear symbol of a graven stone,
And Life and I but worthless dust beneath.
There weep the dews, and winds of winter blow;
The soft breeze rustles in the bending grass;
The cold rain falls there, and the drifting snow.
But tears fall not, nor lover's footsteps pass.
Bees hum all day amid the young spring leaves;
The rooks call loudly from the elm-tree bough;
The sparrows twitter in the old church eaves;
But no voice cries for me, or calls me, now.
Bright beams of morning compass me about;
The stars shine o'er me, and the pale moonlight;
But I, that lit and warmed thee, am gone out
Like a burnt candle, in eternal night.
Earth to the earth upon this churchyard slope,
Ashes to ashes, nothing to the nought;
No tryst between us, and no star of hope
To light the path so passionately sought.
And still the sands between thy fingers run–
Desires, delights, ambitions, days and years,
Rich hours of life for thee, though mine are done–
Too full for vain regrets, too brief for tears.
I have lost all, but thou dost hold and save,
Adding new treasure to thy rifled store;
While weeds grow long on the deserted grave
Where sleeps thy mate who may be thine no more.
This is the fate I fear, the ghost I see,
The dream I dream at night, the thought I dread–
That thus 't'will be someday with thee and me,
Thou fain to live while I am doubly dead.
Thou still defiant of our common foe,
I vanquished quite–the once-resplendent crown
Of all thy joys become a dragging woe,
To be lopped off lest it should weigh thee down.
I, once thy sap of life, a wasteful drain
On thy green vigour, like a rotten branch;
I, once thy health, a paralysing pain,
A bleeding wound, that thou must haste to stanch.
Because the dead are dead–the past is gone;
Because dear life is sweet and time is brief,
And some must fall, and some must still press on,
Nor waste scant strength in unavailing grief.
I blame thee not. I know what must be must.
Nor shall I suffer when apart from thee.
I shall not care, when I am mouldering dust,
That once quick love is in the grave with me.
Cast me away–thou knowest I shall not fret;
Take thy due joys–I shall not bear the cost.
I, that am thus forgotten, shall forget,
Nor shed one tear for all that I have lost.
Not then the sting of death, the day of dole,
When corpse of love lies under funeral pall;
'Tis now I wear the sackcloth on my soul,
Bereaved and lonely, while possessed of all.
If thou wert dead, belovèd, should I turn
Deaf heart to memory when of thee she spake?
Should I, when this pure fire had ceased to burn,
Seek other hearths for sordid comfort's sake?
No, no! Yet I am mortal, I am weak,
And any fire is warm in wintry cold.
Alas! alas! The fateful years will wreak
Their own stern will on ours, when all is told.
Tell us, O Thou that cast behold us grope,
Whole-souled, incessant, through these realms unknown
For but one touch of a substantial hope,
How can we keep our dear selves for our own?
Whence did we come? And is it there we go?
We look behind–night hides our place of birth;
The blank ahead hides Heaven, for aught we know;
But what is Heaven to us, whose home is Earth?
Flesh may be gross–the husk that holds the seed;
Jewels of gold worth more than common bread;
But we are flesh, and common bread our need.
Angels in glory, we should still be dead.
What is the infinite Universe to him
Who has no home? Eternal Future seems,
Like the eternal Past, unreal and dim,
The airy region of a poet's dreams.
What spirit-essence, howsoe'er divine,
Can our lost selves restore from dusty grave?
Her mortal mind and body–hers and mine–
Make all the joys I know, and all I crave.
No fair romance of transcendental bliss,
No tale of palms and crowns, my dull heart stirs,
That only hungers for a woman's kiss,
And asks no life that is not one with hers.
No such Hereafter do I ask to see;
No such pale hope my sinking soul exalts;
I want no sexless angel–only thee,
My human love, with all thy human faults.
Just as thou art–not beautiful or wise,
But prone to simple sins and sad unrest–
With thy warm lips and arms, and thy sweet eyes,
Sweeter for tears they weep upon my breast.
Just as thou art, with thy soft household ways,
Thy noble failures and thy poor success,
Thy love that fits me for my strenuous days;
A mortal woman–neither more nor less.
And thou must pass, with these too rapid hours,
To that great deep wherefrom we both were brought;
Thy sentient flesh must turn to grass and flowers,
To birds and beasts, to dust–to air–to nought.
I know the parable. The great oaks grow
To their vast stature from an acorn grain,
And mightiest man was once an embryo.
But how can nothing bring thee forth again?
And is the new oak tree the old oak tree?
And is the son the father? And would'st thou,
If thou could'st rise from nothing, be to me
The precious self that satisfies me now?
Words! Words! A tale–a fairy legend, drawn
From lore of babes, that men must cast away;
Faith of the primal dreamer and the dawn,
Eluding vision in the light of day.
Here in our little island-home we bide
Our few brief years–the years that we possess.
Beyond, the Infinite on every side
Holds what no man may know, though all may guess.
We may remain–a lasting miracle.
Ay, well we may. Our island-home is rife
With marvels greater than the tongue can tell,
And all things teem and travail with new life.
We may awake, ineffably alive,
Divinely perfect, in some higher sphere:
But still not we shall wake–the we who strive,
Who love and learn, who joy and suffer, here.
What then our hope, if any hope there be?
A something vague and formless and unknown,
That some strange beings, yet unborn, shall see.
Alas! And all we cry for is our own.
Only to be ourselves–not cast abroad
In space and time, for either bliss or woe;
Only to keep the treasures we have stored.
And they must pass away. And we must go.
How can we bear it? How can we submit?
Like a wild beast imprisoned, in our pain
We rave and rage for some way out of it,
And bruise and bleed against the bars in vain.
All, all is dark. Beyond our birth and death–
At either end–the same unyielding door.
We live, we love, while we draw human breath;
And then we die. And then? We know no more.
Ah, but look up, above these roofs and spires,
To where the stars shine down like watching eyes.
Conceive the tumult of those spinning fires!
Behold the vastness of those midnight skies!
And count the value of this speck of earth
Amid the countless Whole; and measure Man–
That on this speck but yesterday had birth,
And claims all God–with the prodigious plan.
Man, but a phase of planetary change,
That once was not, and will give place anon
To other forms, more beautiful and strange–
To pass in turn–till Earth herself is gone.
Earth, that is next to nothing in the sum
Of things created–a brief mote in space,
With all her aeons past and yet to come.
How we miscalculate our size–our place!
Yet are we men–details of the design,
Set to our course, like circling sun and star;
Mortal, infinitesimal, yet divine
Of that divine which made us what we are.
And yet this world, this microscopic ball,
This cast-up grain of sand upon the shore,
This trivial shred and atom of the ALL,
Is still our Trust, that we must answer for.
A lighthouse in the Infinite, with lamps
That we must trim and feed until we die;
A lonely outpost of the unseen camps
That we must keep, although we know not why.
The workman and the soldier have the word;
Theirs to obey, and not to question. Thus
We stand to orders that we never heard,
Bound to our little part. Enough for us.
The warm sap runs; the tender leaves unfold;
Ant helps his brother ant; birds build and sing;
The patient earthworm aids the pregnant mould
To fruit in autumn and to bud in spring.
Not less am I in wisdom and in will
Than ants and worms. I am full-furnished too
My arduous errand hither to fulfil.
I know my work, and what a man can do.
Maker of all! Enough that Thou hast given
This tempered mind, this brain without a flaw.
Enough for me to strive, as I have striven,
To make them serve their purpose and Thy law.
But, oh, my soul's companion! Thee I seek
For daily courage to support my lot.
In thee hath Nature made me strong or weak.
My human comforter, forsake me not!
My nobler self, in whom I live my best,
Strengthen me! Raise me! Lead me to the last!
Lay thy dear head upon my throbbing breast,
Give me thy hands, that I may hold thee fast!
Come close–come closer! Let me feel thy heart,
Thy pulsing heart, thy breathing lips, on mine.
O love, let only death and graveyard part–
If they must part–my flesh and soul from thine!
Be thou my purer eyes, my keener ears,
My finer conscience, clean and unafraid,
Till these few, swift, inexorable years
Have borne us both beyond the reach of aid.
My rod and staff upon this lonely way,
My beacon-lamp till need of light is past;
Till the great Shadow, lengthening day by day,
Spreads over all and quenches us at last.
The Last Battle Of The Cid
Low he lay upon his dying couch, the knight without a stain,
The unconquered Cid Campeadór, the bright breastplate of Spain,
The incarnate honour of Castille, of Aragon and Navarre,
Very crown of Spanish chivalry, Rodrigo of Bivar!Sick he lay, and grieved in spirit, for that Paynim dogs should dare
Camp around his knightly citadel, Valencia the fair!
For that he no more should face them, in his beauteous armour dight,
To whom God and Santiago aye gave victory in the fight.Faintly rising o'er the ramparts came the murmur of the siege,
And he could but pray for Christendom, his country and his liege;
For his well-belovèd city, granite-girdled, pennon-starred,
And the royal wealth of treasure that its stately portals barred."Santiago, at whose altar I did watch mine armour bright,
And was girt with golden spur and brand, a consecrated knight!–
Santiago, by my vow redeemed at Compostela's shrine,
Let the Paynim life-blood only touch these blessed walls of mine!
"Santiago, warrior saintly, who with Don Fernando's host
Stormed and won the gates of Coimbra, guard my fortress on the coast!
Keep the holy leper's blessing, though the snow is on my hair;–
Strike the base-born unbelievers!–save Valencia the fair!"Lo, a sudden cloud of glory filled his chamber as he prayed!
Lo, San Pedro stood beside him, all in shining robes arrayed!
"For thy love, Rodrigo Diaz, to Cardeña's house," said he,
"I have offered intercessions, and the Lord hath answered me.
"Thou must die, O well-beloved!–thirty days, and thou must die!
Yet in death shall Santiago grant thee still a victory.
Thou shalt ride forth to the battle–Santiago shall be there–
For the Faith and Don Alfonso and Valencia the fair."
Silence reigned within the chamber; none stood near the hero's bed;
All that dazzling flood of glory slowly, softly vanishèd.
He could only hear the murmur from the ramparts rise and fall;
He could only see the cross-bars stretching dimly on the wall.
In San Pedro's chapel lay the Cid, his eyes with rapture dim,
And proclaimed the wondrous favour that the Lord had granted him.
Then he parted from his vassals, and went humbly to confess;
And the warrior-bishop clothed his soul in its baptismal dress.
'Twas the holy day of Pentecost that saw Ruy Diaz die–
Evermore the spotless mirror of Castillian chivalry!
They, in whom his will was shrinèd, Alvar Fanez and his knights,
Stood to watch the hero vanquished who had won a thousand fights.
Doña Ximena, the faithful, with her tears bedewed his feet,
And anointed all his body with pure incense, rich and sweet.
Then in silence and in sorrow the twelve days of waiting fled;
And the warders on the ramparts dared not whisper, "He is dead."
In the midnight, dark and quiet, fell the torches' lurid glare
On the palaces and portals of Valencia the fair;
And a solemn, slow procession, mounted all in royal state,
Like the spectre of an army, passed beneath the city gate.
In the van was borne the ensign, known and dreaded far and wide,
With four hundred noblest knights ranged proudly by its side.
Toward Castille and Cardeña were those haughty faces set,–
And that banner never more did crown Valencia's parapet.
Then came mules, with treasure laden, stepping softly on before,
Compassed round with knights in armour–to the full four hundred more.
Then a band of belted nobles, stern and silent; and amid
Their levelled lances, he of Bivar–the Campeadór– the Cid.
On his milk-white steed, Babieca, whom none else did e'er bestride,
Clad in all his princely trappings, did the lifeless warrior ride;
Girt with helm and spur and blazoned shield, and grasping in his hand
The bright crosslet of Tizona, his thrice-consecrated brand.
Geronymo and Gil Diaz held the slackened bridle-rein–
His true bishop and true vassal–as they moved on to the plain;
And Ximena and her maidens, 'mid the torchlight weird and dim,
With six hundred knights in harness, followed slowly after him.
In the solemn hush and darkness, with no joyful clarion-cry,
And no clash and clank of weapons, riding all so silently;–
Thus they passed out from the city e'er the summer morning broke,
And were found arrayed for battle when the infidels awoke.
Great and mighty was the Moorish host, by thirty monarchs led,
But a greater was the army with Rodrigo at the head;
For behold! came Santiago to the bloody battle-plain–
Santiago, with a hundred thousand warriors in his train.
Each in robe of shining whiteness, with a red cross on his breast,–
Each with fiery sword uplifted or with golden lance at rest;
Santiago, saintly leader, on a charger white as snow–
Sent to aid the Cid Campeadór in vanquishing the foe.
All the Paynims looked amazèd on the dreadful beauteous sight.
As the tender light of morning softly crept out from the night;
Then they harnessed them in silence, sternly grasping shield and spear,
And pressed on in serried column, full of wonder, full of fear.
There was one loud shock of battle, then they wildly turned to flee,
And the Cid and Santiago swept their hosts into the sea.
Twenty kings and twenty armies in that bloody fight were slain,
And were left, with upturned faces, stiff and stark upon the plain.
Fair and shining came the daylight, all in liquid summer sheen–
But no more was Santiago, or his white-robed warriors, seen;
Only one small train of nobles, riding on, with stately pace,
To San Pedro de Cardeña and the great Cid's resting-place.
By the altar in the chapel, where the monarch's throne doth stand,
Sat the dead Cid, robed in purple, with his good sword in his hand.
And again the Moorish ensign fluttered proudly in the air,
Lifted high above the ramparts of Valencia the fair.
The Midnight Mass
An Incident of the French Revolution.
THE light lay trembling in a silver bar
Along the western borders of the sky;
From out the shadowy dome a little star
Stole forth to keep its patient watch on high;
And night came down, with solemn, soft embrace,
On storied Brittany.
Another night lay over all the land–
The dark of hell, and lurid with its fire.
She heard the roar of fiends; she saw the brand
Flung red and hissing over roof and spire;
She saw her golden spurs and reaping-hooks
Tossed on the funeral pyre.
She stood in calm defiance, while the flood
Swept over her;–while everywhere was seen
Her dim, majestic cities drenched in blood;
Ashes and smoke where temple-walls had been;
And high on woodland knoll and market-place,
The ghastly guillotine.
'Twas hard to tear her peasant-souls apart
From priest and liege, and clinging faith of old;
'Twas hard to bend the strong and simple heart
By fear of torture or by love of gold:
For naught those gory hands could offer them
Might consciences be sold.
"No tower or belfry shall be left to stand,"
Saint André swore, and waved his cap of red;
"You shall have naught in all this cursèd land
For sign of your superstition,–it is dead!"
A peasant heard, and raised his eyes to heaven;–
"You'll leave the stars," he said.
True were the priests and people, each to each,
And all alike to their unlettered creed;
No violent force of sophistry could reach
Their rough-hewn faith in bitter time of need.
They died with deaf ears and dumb mouths; and theirs
Was martyrdom indeed!
Night–midnight–lay beneath her silver lamps;
Her deep sleep broken by the fitful glare
Of bivouac fires in noisy village camps,
And hoarse shouts mellowed through the listening air;
Save only where the sea-waves washed the coast–
'Twas still and quiet there:
The heave and swell, and sudden, plunging dash
Against the low rocks lying in their reach;
The hissing shingle, and the sweet, free plash
Of long-drawn breakers on the open beach;
And now and then, in momentary pause,
The curlew's mournful screech:
The soft, low gurgle in the hollowed track
Through reef and boulder; and the rippling fall
Of idle wandering waters, swirling back
From secret tryst in Naiads' rocky hall;–
Only these sounds–save that deep monotone
Which held and hushed them all.
Only these sounds? Was nothing to be heard
But voice of breaker as it rose and fell,
The kelpie's song, the wailing of a bird?
Ay, far and faint amid the restless swell,
One other voice stole whispering through the air–
The chime of a silver bell.
It came from dim mid-ocean, wild and free,
To listening ears, in silence of the night;
And watchful eyes saw, out upon the sea
And 'neath the stars, a little twinkling light–
Now lost behind a waving mountain-top,
Now shining clear and bright.
Softly the fishers' boats began to glide
From shadowy rock and sheltered cave and creek;
Bronzed men and gentle maidens, side by side,
Dipped muffled oars; no woman-hand was weak.
All eyes turned, wistful, to the beacon-lamp;
But no one dared to speak.
The scattered specks, with each its little crowd,
Drew near, converging on the distant bark;
The sweet bell rang out louder and more loud,
The light shone bright and brighter in the dark:
And soon a hundred lips burst forth in praise–
For all had reach'd the ark.
There was the priest, with whom they came to sup,
White-hair'd and holy, by his humble board;
There, amid light and darkness lifted up,
The blessed rood, by simple eyes adored.
Each head was bowed, each pious knee was bent
In presence of the Lord.
Ah! 'twas a grand cathedral where they knelt!
Grand was the organ-music–vast the crypt
Wherein its wild, mysterious echoes dwelt;
And fresh and pure the incense, as it slipp'd
Down shining floor and down wide altar-steps,
With frosted silver tipp'd.
Grand was the darken'd aisles and solemn nave–
The domèd roof, magnificently high–
The airy walls and mighty architrave–
The sweet star-tapers that could never die!
And grander still its purity of peace,
Its untouched sanctity.
The worn and weary ones came there, to search
For rest and hope in holy Eucharist;
There–in the splendour of that solemn church–
They, priest and people, communed with the Christ;
Thus–with all other temples overthrown–
They kept his sacred tryst.
With calm, grave eyes and even-pulsing breath,
They dipp'd their still oars in the darken'd space.
Strong now the hands fast rowing back to death!–
And strong the simple hearts, new clothed in grace–
The hush'd and quiet souls–ere long to meet
Their Saviour face to face.
Ay, many and many a year's gone by,
Since the dawn of that day in spring,
When we met in the pine-woods, Harry and I,
And he gave me this golden ring.
I had lovers in plenty, of high degree,
Who wooed in my father's hall;
But none were so noble and brave as he,
Though he was the scorn'd of all.
On the soft, green grass, where the shadows lay,
All fleck'd with the sun and dew,
With a ring and a kiss did we seal, that day,
Our vow to be leal and true.
'Twas a life-long vow;–but they did not know–
And they thought not of love or pain;–
We met just once in the sleet and snow–
We were never to meet again!
He was sent away o'er the blank, wide sea,
And I, with my hopes and fears,
Had never a message to comfort me
For over a score of years.
They laugh'd at my heart, they paraded my hand,
But I answer'd them, cold and grim–
"If Harry ne'er comes to his native land,
They shall only belong to him."At last came a tale from the battle-field;–
And they were not scornful now.
The sentence of exile might be repealed–
They would honour our plighted vow!
They told how my Harry, like olden knights,
Had fought for his land and Queen;
Fought hard and well on the Alma heights,
Where the deadliest strife was seen.
They told how he fell in the fire and smoke,
And they gave me his things to keep;
They wonder'd why I never cried or spoke,–
But it was too late to weep.
The Season
And must I wear a silken life,
Hemmed in by city walls?
And must I give my garden up
For theatres and balls?
Nay, though the cage be made of gold,
'Tis better to be free;
The green of the green meadows, love,
Is quite enough for me.
I'd rather ramble through the lanes
Than drive about in town;
I'd rather muse or dream than dance,
When the stars are shining down.
I do not care for diamonds, dear,
But I care a deal for flowers;
And thousands are just creeping out
For the sunshine and the showers.
I like to hear the Household band,
But I love the bird-songs best;
And hark! how they are twittering now
Round each half-hidden nest!
The wind is whispering in the leaves,
And the downy bees begin
To hum in the blossoming sycamores,
And the brook is chiming in.
There is such melody in the woods,
Such music in the air!
The streets are full of life and sound,
And yet 'tis silent there.
I like to see the pictures–ay,
But I am hard to please!
I never saw a picture yet
As great and grand as these;
Such tones of colour as transform
The tender green and brown,
When the pink dawn is flushing up,
Or the red sun sinking down;
Such painting as the chestnut bud
Shows in its opening heart;
Such lights as shine 'twixt earth and sky
When rain-clouds break apart;
Such soft, warm, subtle tints, as lie
In every mossy patch–
On the blue-brown trunks, now filled with life,
And the humble roof of thatch,–
In the purple hollows of the hills,
In the lichen on the wall,
In the orchard and the feathery woods,
And the sun-lit waterfall.
I like my humble country ways,
My simple, early meals;
I like to potter about the yard,
With my chickens at my heels.
I'd rather climb this brambly steep,
Where freshest sea-winds blow,
With my old straw hat hanging down my back.
Than canter along the Row.
To me (it's vulgar, dear, I know)
No fête is half so gay
As a cricket-match on the village green,
Or a picnic in the hay.
Ah, yes! I'm happier as I am,–
I'm ignorant, you see;
And the life of fashion that you love
Would never do for me.
Why should we court the storms that rave and rend,
Safe at our household hearth?
Why, starved and naked, without home or friend,
Unknowing whence we came or where we wend,
Follow from no beginning to no end
An uncrowned martyr's path?Is it worth while to waste our all in vain?
To seek, and not to know?
To strive for something we can never gain,
To labour blindly for a wage of pain,
And crack our heartstrings with the stress and strain,
And reap no field we sow?What does it matter whether love or hate,
Or praise or blame, be theirs
Who pass like shadows, with no time to wait
For understanding of the ways of fate,
Which makes the hopeless desert blossom late,
And kills good wheat with tares?Why do we choose to suffer, when we might
Lie down to sleep and dream?
Is praise for men who try to do the right?
Is blame for him who shirks the deadly fight?
And whose the friendship that is heart's delight?
And whose the love supreme?
Wide do we set our sanctuary door
That fairest guest to greet,
And find too late, when we have shown our store,
The sacred places rudely trampled o'er,
Bereaved, profaned, and soiled for evermore
With tread of vulgar feet.
And nothing left to solace us but this,
At such a frightful cost–
A taste, a glimpse, the memory of a kiss;
Only a sense of what diviner bliss,
That might have been, we have contrived to miss;
Only what love has lost.
And brother-bond–the loyal comradeship
That comes to every call–
What worth the smiling eye, the warm hand-grip,
The benediction of the kindly lip?
Sickness, old age or poverty can strip
The value from them all.
And faith, embalmed in immemorial creed–
Once our supreme support,
Our staff and beacon to uphold and lead–
A light extinguished and a broken reed!
And where, O where, in bitter time of need,
Shall substitute be sought?
Wherefore this anguish of desire to see
That which concerns us not–
The evolution of the life to be,
The distant course, the final destiny
Of worlds and men–the ages wherein we
Shall have no part or lot?
Why not shut eyes of spirit and of brain
That can torment us thus?
Why not take something to assuage the pain,
And shut the doors and go to sleep again?
The Search may be successful or in vain,
What matters it to us?
Is it worth while, when house and home are here,
And we can dwell at ease,
To go forth, lonely, and in mortal fear,
To travel roads that lead not anywhere,
As bare of lamp or signpost, far or near,
And full of thorns, as these?
To leave the Good whereof we are possest,
To seek, in senseless grief,
For some divine but ever unknown Best,
And see no goal and find no place of rest–
Is it worth while, on such a fruitless quest
To waste a life so brief?
We must not ask–we must not ask again.
We have to wait and see.
Press on, poor soul, along the path of pain
That is the one thing absolutely plain.
The last assessment of the loss and gain
Is not a task for thee.
The Winged Mariners
Through the wild night, the silence and the dark,
Through league on league of the uncharted sky,
Lonelier than dove of fable from its ark,
The fieldfares fly.Mate with his tiny mate, and younglings frail,
That only knew the crevice of their tree
Until, in faith stupendous, they set sail
Across the sea.The black North Sea, that takes such savage toll
Of ships and men–and yet could not appal
These little mariners, who seek their goal
Beyond it all.Turning those soft, indomitable breasts
To meet the unchained Titans of the deep–
Calm, as if cradled in Norwegian nests,
Their course they keep.
No more than thistledown or flake of snow
To those great gods at play, they win the game;
Never sped archer's arrow from his bow
With surer aim.
Still tossed and scattered, their unwinking eyes
Point to that pole unseen where wanderings cease;
Still on they press, and warble to the skies
With hearts at peace.
Scenting the English morning in the air,
Through the salt night, ere any morning wakes–
The perfumed fields, the dun woods, sere and bare,
The brambly brakes–
The well-loved orchard, with its hawthorn hedge,
Where luscious berries, red and brown, are found–
The misty miles of water-mead and sedge
Where gnats abound.
But what is this, 'twixt sea and surf-bound shore?
What form stands there, amid the shadows gray,
With flaming blade that smites them as they soar,
And bars their way?
Hushed are the twittering throats; each silken head
Turns to the voiceless siren–turns and stares–
By some strange lure of mystery and dread
Caught unawares.
It draws them on, as the magnetic sun
Draws vagrant meteors to its burning breast.
The day is near, the harbour all but won–
That English nest.
But here they meet inexorable Fate;
Here lies a dreadful reef of fire and glass;
Here stands a glittering sentry at the gate–
They cannot pass.
Confused, dismayed, they flutter in the gale,
Those little pinions that have lost their track;
The gallant hearts that sped them reel and fail
Like ships aback.
Sucked in a magic current, like a leaf
Torn from autumnal tree, they drift abroad,
But ever nearer to the siren reef,
The ruthless sword.
On, on, transfixed and swooning, without check,
To the lee shore of that bedazzling wall,
Until they strike, and break in utter wreck,
And founder all.
Brave little wings, that sailed the storm so well,
Trimmed to the set of every wayward blast!
Brave little hearts, that never storm could quell,
Beaten at last!
That great sea swallows them, and they are gone,
For ever gone, like bubbles of the foam;
And the bright star that lured them, shining on,
Still points to Home.
My skies were blue, and my sun was bright,
And, with fingers tender and strong and light,
He woke up the music that slept before–
Echoing, echoing evermore!By-and-by, my skies grew grey;–
No master-touch on the harp-strings lay,–
Dead silence cradled the notes divine:
His soul had wander'd away from mine.Idly, o'er strange harps swept his hand,
Seeking for music more wild and grand.
He wearied at last of his fruitless quest,
And he came again to my harp for rest.But the dust lay thick on the golden wires,
And they would not thrill to the old desires.
The chords, so broken and jarred with pain,
Could never be tender and sweet again.
To you, who look below,
Where little candles glow —
Who listen in a narrow street,
Confused with noise of passing feet –To you 'tis wild and dark;
No light, no guide, no ark,
For travellers lost on moor and lea,
And ship-wrecked mariners at sea.But they who stand apart,
With hushed but wakeful heart —
They hear the lulling of the gale,
And see the dawn-rise faint and pale.A dawn whereto they grope
In trembling faith and hope,
If haply, brightening, it may cast
A gleam on path and goal at last.
SEE MORE: