Ada Cambridge Poem Part 3 : Ada Cambridge was a prolific novelist and poet who was born in Norfolk in 1844 and many of her works were published in serial form in Australian and British newspapers under the title AC. Her father was what would be considered a gentleman farmer at the time and she was educated at home by a governess, something which she did not take kindly to.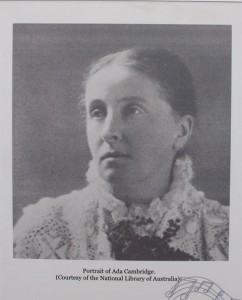 For most of her life she would say that she learned little that was of use during this time but she did start writing poetry in her late teens. It was then that she found her vocation and secured a little fame for herself in England when she wrote two books of hymns in her twenties and a collection of poetry under the title Echoes.
In 1870 she married curate George Cross and, when he was sent on colonial service to Australia, Cambridge joined him on the journey to Melbourne. George's work would take him to some remote parts of Australia and Cambridge assisted him as she was expected to. She continued to write though and began sending poems and various stories to newspapers and magazines to help supplement the rather low curate's income of her husband.
Cambridge gave birth to two children in those early days in Australia but both of them died, something which affected her deeply and she used her poetry as a way of coping with the grief. At the same time she also had a bad accident, falling from a carriage and severely damaging her back, leaving her with less mobility.
Ada Cambridge Poem Part 3
Awake
Calm as that moonbeam on the wall,
Sleep broods on baby's eyes;
Arms, hush'd and still, but pulsing quick,
Enfold him as he lies;
My brain is full of thronging thoughts,
Strange passions thrill my breast,
My heart aches with a load of love
That will not let me rest.
The dim years stand about my bed,
They neither smile nor weep;
Like softest kisses, on my face
The little fingers creep.
I hear slow footfalls, in the night
Of fates upon his track,–
O love, I cannot let you go!
I cannot keep you back!
Lord, let him shelter in my arms,
Or take us both to Thine;
Or, if a troublous life must come,
Make all the trouble mine:
Or let thy sharp swords pierce my heart
To blunt them for the child,–
What care I, Lord, for stain and shame,
So he keep undefiled!
Nay, Lord, I know not what I ask–
I know not how to pray:
Hear Thou the crying mother-soul,
And not the words I say.
Do Thou what seemeth good to Thee,
So he be spared from sin;
And, oh! if love can aught avail,
Let mine be counted in.
Contentment
Is it a virtue, as the sages say,
The "trivial round and common task" to ply,
And for no wider walk of life to sigh
Than we were born to; sweetly, day by day,
Our meed of lowly reverence to pay
Our high-placed "betters"; never to defy
The powers that be; never to kick or cry,
Or think, or question–simply to obey?
Then vice be with us, although blood be shed.
No pact with powers partizan and blind;
No peace with Custom that makes right of wrong.
We shall content us when the starved are fed
When men and brothers are agreed and kind,
And there is fair play between weak and strong.
Dead
"On board the Petrel, in St. Lucia's bay,
Of yellow fever–aged twenty-nine."
"Who did you say, my lady?" drawled the Earl.
"The duke–what duke?"
"I did not speak of dukes,"
Replied the Countess slowly, white and grim,
Pressing the rustling sheet between her palms,
The while her diamonds heaved upon her breast,
And sank and heaved, and glitter'd like her eyes–
Hungry, pathetic eyes,–"'Tis only Dick,
Only a sailor-lad I used to know."
"Humph! A West Indian friend?" he softly sneer'd,
And bow'd and gave his arm. "The carriage waits–
My lady loses time."
Then pass'd they out,
Through silky servants,–he, the great Earl, stark
In plume and crest and linked mediæval steel,
The Countess en bergère, in white and red,
With roses, diamond dew-dropped, in her hat
And in her queenly bosom;–pass'd they out,
And, through clear gaslight and the avenue
Of silent Champs-Elysées, to the fête.
Her restless eyes were blind to all the blaze
And motley splendour of the throng'd saloons;
The flowers, the cool cascades, the magic wand
Of Strauss, the vine-draped balustrades, the gaze
Of wistful admiration meeting hers
At every step. The Empress smiled and bow'd,
The Emperor praised the beauty and the taste
Of her mock-rustic costume, princes begged
Her fair hand for the dance, and her grim lord
Scowl'd, wrathful, on her when she pass'd him by.
She cared for none,–she look'd beyond them all.
She saw another night–a hot, bright night–
A night of years ago–danced out in joy
'Neath the low roof-tree of a planter's house
In fair Antigua's bosom;–saw the stars,
Large, liquid, golden, swimming in the blue,
Shining through open doors and jalousies,
And the green sparkles of the fire-flies, thick
About the forest, fringing all the dark;
The crimson creepers swaying in the air
From white verandah pillars–swaying soft;
The small nest of a humming-bird; the stems,
Brown-ring'd, of feathery palm-trees,–plaintains bow'd
With broad, thick leaves, and clustering fruit, and seeds
In scarlet vessels–orange-groves, white-flower'd
And sweet, with hanging balls of green and gold–
All vaguely outlined in the mellow night.
And nearer still a brave, brown English face,
Bent low, with clear grey eyes and faithful lips
That whisper'd, "Reine, I love you," meeting hers.
The drowsy sound of laughter and light feet
Behind them she could hear–but the quick throb
Of poor Dick's English heart upon her breast
She felt to suffocation. "Reine, my sweet,
I love you–Reine, I love you; kiss me, child."
And her soft hands stray'd softly round his neck,
And softer still she kiss'd him.
Then she saw
A morning, hot and stormy–saw the Earl,
Drunk with her wondrous beauty, standing there
Where Dick had stood. She saw his cultured ways,
His high-bred, stately courtesy and grace;
She heard his subtle flatteries, his tales
Of the great world, of court and city life,
With gaping ears and speculating brain.
The voice of the arch-tempter, low and soft,
Spoke in his polished accents, "Reine, 'tis sin,
'Tis sin and shame, that such a face as yours
Should waste its sweetness in these heathen isles.
There's not a fairer face in Europe, Reine;
'Tis worth a coronet. Come back with me
As a great earl's wife; in his diamonds dress'd,
You would have homage like a crownèd queen."
She shudder'd now,–his diamonds gall'd her worse
Than felon's chains.
Anon she saw a bay–
Blue, limpid water, fringed with dipping palms,
A green rock-gateway opening on the sea,
Green cane-fields stretching upward, woods and hills
Lying entangled in the summer clouds;
An English ship at anchor–burning noon–
A thin, brown, fever'd face, with hungry eyes
Roaming from side to side, in dumb appeal,
Which none could understand,–and dying lips
Muttering to vacant air and heedless ears,
"I love you, Reine, I love you!"
"O my love–
O Dick–my Dick–would I could sleep with thee
In thy last happy sleep among the palms,
With my dead hands clasp'd tight about thy neck!
O Dick, I did not mean it–did not think–
And now my heart is broken!
"Take me home.
The rooms are hot, my lord, and I am faint–
The music makes me giddy. Take me home!"
Drunk
The filthy beast! And is he here again,
With his foul slobbering mouth and shuffling feet,
To taint the atmosphere and shame the street,
And shock the pure and holy that abstain?
Disgusting brute! Disgraceful blot and stain
On social order, civilized and sweet!
Deal with him, Constable, as right and meet
When laws are flouted that we must maintain.
Put him in prison! Confiscate his bowl!
Away with him and the accursèd drink
That wrecks his body and degrades his soul,
And makes him loathsome to clean men! But think–
He had no choice. It was his only share
Of all its pleasures that the world could spare.
Faith
And is the great cause lost beyond recall?
Have all the hopes of ages come to naught?
Is life no more with noble meaning fraught?
Is life but death, and love its funeral pall?
Maybe. And still on bended knees I fall,
Filled with a faith no preacher ever taught.
O God — MY God — by no false prophet wrought —
I believe still, in despite of it all!
Let go the myths and creeds of groping men.
This clay knows naught — the Potter understands.
I own that Power divine beyond my ken,
And still can leave me in His shaping hands.
But, O my God, that madest me to feel,
Forgive the anguish of the turning wheel!
Granny
Here, in her elbow chair, she sits
A soul alert, alive,
A poor old body shrunk and bent–
The queen-bee of the hive.
But hives of bees and hives of men
Obey their several laws;
No fiercely-loving filial throng
This mother-head adores.
This bringer of world-wealth, whereof
None may compute the worth,
Is possibly of no account
To anyone on earth.
Her cap and spectacles, that mean
Dim eyes and scanty hairs,
The humble symbols of her state–
The only crown she wears.
Lacking a kingdom and a court,
A relic of the past,
Almost a cumberer of the ground–
That is our queen at last.
But still not wholly without place,
Nor quite bereft of power;
A useful stopgap–a resource
In many a troubled hour.
She darns the stockings, keeps the house,
The nurseless infant tends,
While the young matrons and the men
Pursue their various ends–
Too keen-set on their great affairs,
Or little plays and pranks,
The things and people of their world,
To give her thought or thanks–
The children on whom all her thought
And time and love were spent
Through half a century of years!
Yet is she well content.
The schooling of those fiery years,
It has not been for nought;
A large philosophy of life
Has self-less service taught.
The outlook from the heights attained
By climbings sore and slow
Discovers worlds of wisdom, hid
From clearest eyes below.
So calmly, in her elbow chair,
Forgotten and alone,
She knits and dreams, and sometimes sighs
But never makes a moan.
Still dwelling with her brood unseen–
Ghosts of a bygone day–
The precious daughter in her grave,
The dear son gone astray–
And others, to whom once she stood
As only light and law,
The near and living, and yet lost,
That need her love no more.
Watching their joyous setting forth
To mingle with their kind,
With scarce a pang, with ne'er a grudge,
At being left behind.
"Let them be young, as I was young,
And happy while they may" . . . .
A dog that waits the night in peace
Since it has had its day.
Home-Sick
O time, great Healer! canst thou still
The crying hearts that feel the knife?
O great Restorer, canst thou fill
The wide gaps broken out of life
By love and duty's bitter strife?
O Friend, and canst thou, as they say,
Soothe all our troubles on thy breast,
Till, calm in death, they pass away,
And, one by one, are laid to rest
In unknown graves, beyond our quest?
Nay, there's a wound thou canst not ease;
Nay, there's a sickness past thine art.
Ah me! while I'm beyond the seas,
There'll be a sore place in my heart
That, at a touch, will throb and smart.
Nay, nay, with all thy skill–with all
The care and cunning thou mayst spend,
Thou canst but weakly patch the wall
That wrench of parting came to rend,
That gap no mason's hand can mend.
And as for buried sorrows–one
Hears every sound above its head;
Joys and prosperities may run
With happy footsteps o'er the dead,–
This grief of absence feels the tread.
O Time, thy graveyard is a street–
Thy graves no sculptured records crown;
Yet this one, trod of many feet,
Still shows the heap'd earth, fresh and brown,–
No foot of joy can press it down.
There velvet mosses soon will creep,
And grey and golden lichens grow;
There sweet white snowdrops soon will peep,
And purple violets bud and blow,
From winter's bosom, cloak'd in snow;
There summer lights and shades will fall,
And soft rains patter through the trees;
There slender grasses, frail and tall,
Will weave and whisper in the breeze–
'Twill be a grave in spite of these.
Individuality
Phew! 'T'is a stuffy and stupid place,
This social edifice by Custom wrought–
This fenced enclosure wherein all are caught,
The great and small, the noble and the base,
And squeezed and flattened to one common face.
Air, air for springing fancy, errant thought!
Scope to make something of the seeming nought!
Room for the fleet foot and the open race!
Break out, O brother, braver than the rest,
Lover of Liberty, whose arm is strong!
Buttress our independence with thy breast,
And fight a passage through the stagnant throng.
Many will press behind thee, but they need
The stalwart captain, not afraid to lead.
Looking In The Fire
The snow falls soft and thick. My cedar bough
Sways up and down, and scratches on the glass.
The wind sighs in the chimney, as I sit,
With elbows on my knees, before the fire,
Resting a crumpled chin in hollow'd palms.
There is great trouble in the cold and dark;
And other girls shrink off and steal away,
To crouch in lonely rooms and look at fires,
And look at their dead joys and living griefs,–
But they are pitied. None would pity me.
Friends come to seek them, and lay tender hands
On their bow'd heads and sore and restless hearts.
They find the wound, and drop the healing oil;
They lift the burden off, or make it light.
But they would smile, unless they laugh'd, at mine.
O still, warm fire, you will not bubble up
In mocking flames,–your heart will soon be cold!
O wind–for you have seen the roses bloom,
And the shrunk petals fall and drift away–
You hear, and sob and sigh as you go past!
Is unrequited love so sad a thing?
Ay, ay,–but this is even sadder still;
To want to love, and not to have the power–
To meet your king at last with empty hands–
To be so young, and to have squander'd all!
Alas, alas! to know your wine is sour–
To have loved wrong, with love despoil'd of trust,
Dishonour'd love, that mix'd itself with hate,–
To see the pearl of price laid at your feet,
And know your wealth is gone for dross and lies!
Ay, 'tis the saddest thing to want to love,
To want to cling, when you have lost your strength–
To feel the ashes choking up the hearth,
And think how bright a fire there might have been,–
To know when you are loved, too late–too late!
Mirage
Is it a will-o'-the-wisp, or is dawn breaking,
That our horizon wears so strange a hue?
Is it but one more dream, or are we waking
To find that dreams, at last, are coming true?
Aye, surely, in that golden glimmer streaking
The cloudy sky-line of the life of man
We see the blessed day he has been seeking
In all directions since the world began.
Sign to each struggling and exhausted nation
Of hope fulfilled, redemption and release;
Sign of the end of needless tribulation,
And the beginning of the reign of Peace.
Country with country, brother with his brother,
Content to share, and not to grab and steal;
Ceasing the wild-beast battle, each with other,
To work in concert for the common weal.
No class-strife more, neighbour with differing neighbour;
No waste or want, to breed the plague or crime;
No soul-debasing pomp and sordid labour,
No wars, no famines, in the coming time!
But swords of slaughter–valour and brains and money–
Turned into ploughshares for the lands redeemed,
To fill men's homes, as full as hives of honey,
With wealth unknown and happiness undreamed.
Great Art no more the plaything of the idle,
But nurse and minister to every need;
Nature no longer cowed with bit and bridle;
Conscience enfranchised and Religion freed.
All round our darksome isle the tide encroaches,
Distant and dim as yet, but spreading fast.
The reign of Love and Liberty approaches!
The heirs are coming to their own at last!
Hark! What was that? The vanquished devil howling,
With guns and bombs, for brother devil's blood?
The primal savage out again–befouling
All this fair promise with his primal mud?
Alas! So soon to see our lovely morning
Back in the hopeless night whence it arose,
And have no time to wait another dawning!
O Lord, how long–how long . . . . . . . .
Peace
The red-rose flush fades slowly in the west.
The golden water, basking in the light,
Pales to clear amber and to silver white.
The velvet shadow of a flame-crowned crest
Lies dark and darker on its shining breast,
Till lonely mere and isle and mountain-height
Grow dim as dreams in tender mist of night,
And all is tranquil as a babe at rest.
So still! So calm! Will our life's eve come thus?
No sound of strife, of labour or of pain,
No ring of woodman's axe, no dip of oar.
Will work be done, and night's rest earned, for us?
And shall we wake to see sunrise again?
Or shall we sleep, to see and know no more?
Seed-Time And Harvest
"Thou waterest her furrows, thou sendest rain into the little valleys thereof; thou makest it soft with the drops of rain, and blessest the increase of it."
Fret not thyself so sorely, heart of mine,
For that the pain hath roughly broke thy rest,–
That thy wild flowers lie dead upon thy breast,
Whereon the cloud-veiled sun hath ceased to shine.
Fret not that thou art seam'd and scarr'd and torn;
That clods are piled where tinted vetches were;
That long worms crawl to light, and brown rifts, bare
Of green and tender grasses, widely yawn.
God's hand is on the plough–so be thou still.
Thou canst not see Him, for thine eyes are dim;
But wait in patience, put thy trust in Him;
Give thanks for love, and leave thee to His will.
Ah! in due time the lowering clouds shall rain
Soft drops on my parch'd furrows; I shall sow
In tears and prayers, and green corn-blades will grow;
I shall not wish the wild flowers back again.
I shall be glad that I did work and weep–
Be glad, O God! my slumbering soul did wake–
Be glad my stubborn heart did heave and break
Beneath the plough–when angels come to reap.
Be glad, O Father! that my land was till'd
And sown and water'd, in the harvest-day
When Thou wilt cast the weeds and tares away,
And when with ripen'd fruit Thy barns are fill'd.
Keep me my faith, I pray. I cannot see,
And fear to intermeddle with Thy work.
Oh, though I wince and fret, I would not shirk
The discipline that is so good for me!
I know that Thou wilt make my grief to cease,
Wilt send the cool, soft drops of healing rain,
And make my scarred heart green with springing grain,
That after patient waiting cometh peace;
That after beautiful labour I shall rest,
And after weeping have my fill of joy.
Thou breakest down to build up, not destroy;
Thou doest right, O Lord! Thou knowest best.
The Candle Of The Lord
"The Spirit of man is the candle of the Lord."
"The Spirit itself beareth witness with our spirit, that we are the children of God."
Our spirit–ay, our own!–the tree whose fruits
Have never fail'd–the sign upon the door
'Twixt us and God's intelligent dumb brutes,
That parts us evermore!
Our spirit–last, best gift–still unbereft
Of treasures stored in Eden's happy land;
One fragment of the human, as it left
The Divine Maker's hand.
That seal of our high birth He did allow
Toea unharm'd the sin and woe and strife;
That remnant of our godhead–wanting now
Only the "breath of life."
Only the breath of life, whereby the Lord
Made use to be His equals, fit to fill
His throne–our free wills brought into accord
With His own sovereign will.
Our spirit–not the feeble soul which came
With our dishonour'd state and its new needs;
And not the feebler heart of sin and shame,
That daily breaks and bleeds.
Our spirit–our unshatter'd lamp–still ours–
Fill'd with the heavenly essence, as of yore,–
To bear a light, to light the midnight hours,
And light the wreck to sh
ore.
Ay, 'tis the same–the same! It hath not shared
The mutilation and the curse and blight;
When the destruction fell, the lamp was spared–
Only deprived of Light.
O God! and hath it ever ceased to grope
For light, and yearn and cry for light to come?
In blackest gloom, ere revelation spoke,
While yet the Christ was dumb,
Thou knowest it search'd for every wandering ray,
And never wearied of the weary quest;
And fed and fenced and treasured, day by day,
A glimmer in its breast.
O holy Dove! O Grace! O Love! come down–
Our spirit with Thy perfect light inspire!
Circle each candle with its flaming crown,
Its cloven tongue of fire!
The Dawn
All the wild waves rock'd in shadow,
And the world was dim and grey,
Dark and silent, hush'd and breathless,
Waiting calmly for the day.
And the golden light came stealing
O'er the mountain-tops at last–
Flooding vale and wood and upland,–
It was morning–night was past.
There they lay–the silvery waters,
Fruitful forests, glade and lawn;–
All in beauty, new-created
By the angel of the dawn.
*
So my spirit slept in twilight;–
All was quiet, grey, and still,
Till the dawn of Love came stealing,
Over Hope's snow-crested hill.
Then the dim world woke in glory,
And the iris-dyes grew bright
On the waves and woods and valleys,
In a morning flood of light.
Ah! the vineyards and the gardens!–
Ah! the treasures, rich and rare,
Full of endless life and beauty,
Which that dawn created there!
The Future Verdict
How will our unborn children scoff at us
In the good years to come,
The happier years to come,
Because, like driven sheep, we yielded thus,
Before the shearers dumb.
What are the words their wiser lips will say?
"These men had gained the light;
"These women knew the right;
"They had their chance, and let it slip away.
"They did not, when they might.
"They were the first to hear the gospel preached,
"And to believe therein;
"Yet they remained in sin.
"They saw the promised land they might have reached,
"And dared not enter in.
"They might have won their freedom, had they tried;
"No savage laws forbade;
"For them the way was made.
"They might have had the joys for which they cried
"And yet they shrank, afraid.
"Afraid to face–the martyr's rack and flame?
"The traitor's dungeon? Nay–
"Of what their world would say–
"The smile, the joke, the thinnest ghost of blame!
"Lord! Lord! What fools were they!"
And we–no longer actors of the stage
We cumber now–maybe
With other eyes shall see
This wasted chance, and with celestial rage
Cry "O what fools were we!"
The Kind Word
Speak kindly, wife; the little ones will grow
Fairest and straightest in the warmest sun.
We talk so often of the seed we sow;
But, maybe, when we think our labour done,
And when we look to gather in the grain,
We'll find these stones, we fling about, again
Strewing the fruitless sod,
Having crush'd down and stunted the sweet life
That bore the likeness of the life of God.
All your hard words of bitterness and strife
Will lie upon their love, as stones would lie;
You think to pick them up, but, by-and-by,
You'll find where they have lain
By the poor, meagre, crooked ears of grain.
You will be sorry then.
Speak kindly, wife; you know not half the wealth
Kind words bring in. Ah! I remember when
I was a little lad, all youth and health,
How I went wrong for want of one, and how
One saved my live–ay, keeps it steady now.
My mother died, you know, when I had seen
Only a few days' light; they say her face
Was fair and young–and so it might have been;
I cannot tell. But she, who took her place,
Was coarse and hard, and had a shrewish tongue
That fretted all the household into strife.
Ah, how that sharp voice rung
Through ear and heart–through all the peace of life!
It drove my father from his home at length,
And drove him to the ale-house, where he learn'd
To drink away the good name he had earn'd,
And drink away his precious health and strength.
I can remember well how he would sigh,
Would sigh, and turn from his own chimney nook;
And how, though wintry winds blew fierce and high,
He fumbled at the door with hands that shook,
And pass'd out slowly, as though caring not
Whither he went. And she, who tempted him,
Was first to see the change–to mark the blot
That made his manhood's beauty blurred and dim–
But had no mercy and no help for him.
I think I see her now!
Standing, with that red flush upon her brow,
Hurling her stinging insults thick and fast,
As he was sadly creeping through the door;
Until he raised his grizzled head, and swore,
And suddenly struck her, growing mad at last.
Was that the way to better him? Ah, no;
She taunted him, and stung his spirit so,
That what was weakness became sin and crime.
Wife, did you ever hear
What happen'd in that dark and dreadful time?
One night, when I was wide awake for fear,
Straining my baby ears to catch the sound
Of the fierce voices that were storming near–
One night, I heard a cry–
So sharp! so shrill! a strange and fearful cry–
And then a heavy fall upon the ground;
And then–and then–in the grey morning light
I saw her lie,
With her hard face so strangely still and white,
With a broad purple stain upon her brow,
And dusky shadows on her lips and eyes.
Ah me! ah me! I think I see her now,
Wrapped in that awful death-sleep, as she lies!
I well remember how I cried and shook
In childish terror, and with what a look
I turn'd to all the living faces there,
Seeking in vain,
With the first dreary thrill of my despair,
The one face that I never saw again!
I was so young–a little lad, a child–
And it was hard, ay, very hard, to be
So helpless and so ignorant and wild,
With not a soul to love and care for me.
She, when she storm'd about,
Had roughly used me, and had turn'd me out
Into the streets, to gather what I could
And what I liked of all the evil there;
But he, my father, at odd times he would
Sit, with his arms flung round me, in his chair,
And tell me, as he stroked my curly head,
How he could see the mother that was dead
In my blue eyes and in my golden hair.
And now I was alone–quite, quite alone.
Ah, you can never know how I was toss'd
From place to place; how like a thing of stone,
Frozen for want of just a kindly tone,
My heart became–all its good instincts cross'd!
And how like some distorted tree I grew,
Barren of all things beautiful and true.
Sullen, and hard, and reckless, I was fit
And ready, when the devil laid his snare–
Quite ready–to rush headlong into it.
And who was there to care?
In a wild night– a well-remember'd night,
When I was prowling in a darken'd street,
Trying to hush the echo of my feet,
Trying to hide me out of sound and sight–
Just as I heard the bells begin to call
From a church-tower–as I caught a gleam
Of marble pillars, standing white and tall,
And saw the stream
Of tender, mellow light make, as it were,
A shining pathway in the misty air,
Whither soft footsteps trod
Out of the world into the courts of God–
Just then they found me out–
They who had watch'd and follow'd me so long–
They found me as I idly hung about
That stately doorway; and I felt the strong
Relentless grip upon my arm–I saw
The quiet, cruel, smiling eyes, and saw
That I was bound.
That night I lay awake upon the ground
Of a dark cell. The moonlight quiver'd in,
Tender, and pure, and sweet, and hover'd round–
Trying to cool the raging fire within
My eyes and heart; like tender mother's touch,
It wander'd over lips, and hands, and hair.
I think I feel it now–it came with such
An unexpected pity to me there!
It was so dark–and I was all alone.
No gentle tone
To comfort and to keep me from despair!
A blessing had been sent–ah, now I know,
Just by that little moonbeam; its white glow
Lay on my heart, till the tears fell like rain.
The long-endured, sullen sense of pain,
So dark and deep,
Was stirred and touch'd, and almost lighten'd, when
I plunged my face into my hands to weep.
Somehow the boyish spirit came again,
With just a little of its softness, then;
The burning fever cool'd, and I could sleep.
Ah, I remember, as I lay there, she
I never knew came gliding through my dream,
As through the shadows that encompass'd me
Glided the tender moonshine; I could see,
Dim and yet purely bright–just in the gleam
That cross'd the prison-floor–a girlish face,
Divinely beautiful–an angel's face;
And long robes, fair and white,
Shadow'd with wings that shone like living light.
I seem'd to feel, e'en in that gloomy place,
The soft, sweet kisses stray
Over my feverish forehead as I lay;
But when I woke, and look'd with glistening eyes
Up through the grating, I could only see
The pale rose-colour dawning in the skies
From whence that message had come down to me.
I was so lonely! Yet more lonely far
In the bright day-time, when my sight was bound
By cold, hard, scornful faces all around,
Instead of prison-wall and iron bar.
More lonely–ay, so much more lonely! They,
My judges and accusers, and the crowd
That witness'd all my misery that day,
They knew not that my spirit was as proud,
As sensitive to suffering, as theirs.
They knew the sweet hearth-love, that makes the cares
And storms of life so light!
And the great safeguard against sin and crime
Stood round about their homes by day and night.
But I had no one in that bitter time,
No one, I thought–no one to stand by me,
No one to teach me or to care for me!
I pass'd through fire as I stood waiting–stood
In that great, dreary, dreadful, crowded place;
A fire that scorch'd out even the faintest trace
My tearful dream had left, of good and true.
Wearily, wearily, I laid me down
Within my little prison-cell that night;
And then I long'd for death to come, and drown
The sinful, lonely sorrowful earthly life
That always seem'd at strife
With God and man. I know it was not right–
I know it, dear; but it is hard to be
Shut out from all the pleasant, genial life
That makes life worth!–and it was hard for me.
And so I lay, and fix'd a vacant stare
Upon my grated bars, now dimly drawn
Across a grey-blue thunder-cloud; for there
The moonlight came, and there the rosy dawn
Peep'd in–a kind and friendly face to see;
One thing, at least of peace and purity.
And dark thoughts brooded in my heart and brain,
Such wicked, reckless thoughts! I wonder'd why
I had been born to so much misery,
Born to so large a heritage of pain!
Sure it was wrong, I murmur'd bitterly,
Setting my teeth again.
And then there slowly drifted through my mind–
Vaguely and darkly, gaining shape at length–
A thought whose likeness it were hard to find
In any common words. I felt the strength
Of stern endurance and resolve die out,
And felt a fierce new strength creep round about
My smouldering heart. Eager I turn'd to gaze
At my new vision–and the warning doubt
Died in the passion that was set ablaze.
What was the vision? Wife, I scarcely dare
Paint it again.
It's very memory enfolds such pain!
A river, dark, and deep, and dreadful, where
The moaning eddies swirl'd about the piers
Of a high bridge; lights twinkling in the air;
Unnumber'd voices thrilling in my ears;
And one–one only–speaking to me there–
Calling from out the deep,
Dark water, in its slow, reluctant sweep. . . . .
An awful space of shadows; then the gleam
Of steely ripples, lying far below,
Like bright snakes coil'd together on the stream;–
Ah, wife, you know! you know!
I saw–but did not see–the grey-blue cloud
Change into black; the thunder roar'd aloud;
And shining arrows glanced across the floor,
Striking a blaze upon my staring eyes;–
Darling, these are such painful memories,
I cannot tell you more.
But in the day that follow'd–when the sun
Was high in heaven, and the crimson flame
Danced on the bleak white wall above me–one
Bearing a sweet and holy message, came.
He found me lying motionless, alone,
Passionately quiet, and as hard as stone;
And he stepped softly, and bent over me
Until I saw his face–
Fair as an angel's, with a shining crown
Of wavy golden hair–a boyish face,
But shadow'd with a wondrous dignity.
As he bent down,
His grave eyes looking deeply into mine,
The dignity seem'd born of the divine.
Ah me, he was so good! so true! so kind!
He melted that black shadow on my mind
With his sweet, earnest tones; I sat and wept
Just like a child; and a new life and light
Once more, as he sat by me, gently crept
Into my spirit, that was dark as night.
He did not talk as if he were above
The sins and follies of his fellow-men;
But all his words were sympathy and love–
Or I had never listen'd to them then.
He did not once reproach me, though he heard–
Because he would not ask it–every word
I had to tell him; but he counselled me,
Framing his lips in that humility
Which seems the stamp of a good man and true.
Saying not, "I know this," but "God has said;"
Saying not, with the solemn warning, "you,"
But mostly "we;" yet over all he shed
The high and special dignity he bore.
One felt he was a priest, as if he wore
His surplice–standing in the church, instead
Of on a prison-floor.
And those kind words–they brought a blessed morn
Unto my soul; I never wish'd again
That I might die; I never felt forlorn,
As if my life were given me in vain.
But I went out into the world, and fought
Against its legions, with an arm of strength!
Wife, though I often falter'd, what he taught
Nerved me to courage, and I won at length.
The Magic Wand
As an April garden
Breathes the scent of rain–
Rain that calls her treasures
Back to life again–
So my spirit quickens to the opening strain.
In its sheath of darkness
Fancy's folded wing
Thrills and stirs and quivers
To another spring,
When the bow is drawn across the trembling string.
In their grave of silence,
In their husk and core,
Dreams that winter buried
Feel the sap once more
Running warm and vital, as it ran before.
Into secret chambers
Where old passions sleep,
Through the long-closed shutters,
Lights of morning creep:
Through the opening doorway airs of morning sweep.
Hope resurgent, and Youth,
With their dancing train,
Mingled grief and glory,
Blended bliss and pain,
Ecstasies and agonies, come forth and live again.
Wizard hand that summoned
Each forgotten ghost,
Plays like wind or water
With the spell-bound host,
Sailing seas supernal, for no earthly coast.
Yet no magic music
That an ear can mark
Draws them winging upward
Through the mist and dark,
As the sky at sunrise draws the mounting lark.
Through the poet-spirit,
Touched with heavenly fire,
Heavenly voices whisper
In the wood and wire.
God is the musician, and my soul the lyre.
The Night
Watchman, what of the night?
See you a streak of light?
Whither, O Captain of the quest,
The course we steer for Port of Rest?
How shall he answer–he
Who never put to sea?
Within his tabernacle wall
He cannot even hear us call.
Behind the jealous door
That he must pass no more,
And whence he scarcely dares to look,
He keeps his eyes upon his book.
The little candles, lit
Where the disciples sit,
Light their small refuge round about,
But show no gleam to those without–
Spirits that cannot dwell
In such an airless cell,
Sniffing the sea-winds from afar,
Glimpsing the light of moon and star.
We must fare forth, unsped,
From homely board and bed;
We must set sail for port unknown,
On an uncharted course, alone.
Push off. We have to go,
Whether we choose or no.
The Call, though faint and far away,
Has reached us, and we must obey.
O but the night is dark
Beyond that only ark!
The salt sea-winds blow keen and cold
Outside the shelter of the fold!
Boom of the deep-sea swell,
Solemn as funeral bell–
Silence transcending sound, to make
High courage falter and heart quake . . . . .
What will the voyage cost?
We are already lost
Who turn from land and love, to face
This blank immensity of space.
Push out. We have to go,
Whether we fear or no.
And why stand shivering and appalled?
We go because the Voice has called.
Noah's inspired dove
Took wing to find her love.
The sea is His–safe as the land
Within the hollow of His hand.
Here are the breakers–pull
Before the boat is full!
'Ware the sharp reefs that line the shore!
Row for the open evermore!
O but the night is dark!
Never the faintest spark
Where surf and shore and cities were!
And not a whisper in the air.
The open–heart of grace,
It is a lonely place!
No light on any onward track!
Too far–too late–for turning back!
Where is that little ark–
Those candles in the dark–
The Rock of Ages cleft for me–
The Cross uprising in the sea–
Whereto the drowning grope
With yearning faith and hope,
And cling as to their mother's breast,
And find safe shelter and sweet rest?
Gone, gone–for ever gone!
And still we must press on.
Steady, true soul, too brave to fret!
Press on–we are not drowning yet.
The night is soft and still
That was so wild and chill;
The bosom of the mighty deep
Breathes like a tired child asleep.
So peaceful, so profound,
The silence spread around!
The very breakers of the shore
Moan to the listening ear no more.
Night–but the stars are out.
Darkness of dread and doubt,
The way so lonely and so rough,
Have cleared a little, but enough.
We know not where we are–
Light cannot reach so far,
But show us we have lost and gained
As the compelling Voice ordained.
Gone, gone beyond recall,
Candle and prisoning wall,
Last echo of the hue and cry,
Last glint of an accusing eye.
Too late for looking back
Over the darkening track.
How should the life-taught soul return
That cannot unlive or unlearn?
Changed, changed, for ever changed,
Since hitherward we ranged,
To vision in a space so vast,
All the perspectives of the past.
How infinitely small
The once so broad and tall–
The aims, the pursuit and the strife
Shut in the sheltered grooves of life!
Those terrifying laws,
The wrangles and the wars
Of church with church and state with state–
The things men love, the things men hate–
Money and gauds and fame,
And neighbours' scorn and blame–
The passion of desire and haste
To gather, to possess, to waste . . . . . .
How infinitely high,
Broad as the sea and sky,
The loyalty of man to man,
Once almost missing from the plan–
The elemental law
That codes and creeds ignore,
Of duty to the trust we hold
For heirs unborn and years untold . . . . . .
Night–and the drifting soul
Still without path or goal.
Yet was the voyage worth the cost.
We are not drowned. We are not lost.
'T'is I. Be not afraid.
Moonlight and stars may fade.
One walks the ocean and the night.
We have no further need of light.
What matters where we go?
We do not ask to know.
He called us, and we came. The quest
For us is ended, and we rest.
The Resting-Place
"Because I live, ye shall live also."
Calmly the Paschal moonlight now is sleeping
On mossy hillock and on headstone grey,
Where still our Mother holds in faithful keeping
Such as, while living, in her dear arms lay.
Ah! loving and beloved, we know ye rest,
E'en in the grave, upon her hallow'd breast.
Where is the cumbrous robe–the flesh–the matter
Which held the spirit in such painful thrall?
A little dust that scarce a breath would scatter,
Darkness, and void, and silence–this seems all.
Yet somewhere, safe, the waiting body lies,
While the freed spirit is in Paradise.
Ah! in that day, when earth is all refinèd
From death and sin, the darkness and the stain;
When Eden's perfect beauty is enshrinèd
In unmarred purity and light again;
Transfigured, and "exceeding white as snow"–
But still that body–it will rise, we know.
The self-same lips that hymn'd the Easter story
With heart of Easter gladness, here, may sing
The song of angels, in the angels' glory,
Around the throne of our Almighty King.
The same feet, which this ancient pavement trod,
May walk for aye the temple-courts of God.
O blessed day, which saw the Saviour risen!
Which told to trembling man that wondrous news–
"The grave is not thy body's endless prison,
Thy soul no more in vain for pardon sues.
From Adam's curse, by Christ's death, thou art free–
The Lord accepts this sacrifice for thee."
"Peace be with you"–by Him those words were spoken
After the glorious victory was won–
After the angel gave that blessed token
To her whose favour'd lips had called him "Son."
Ah! where were peace, if every trembling breath
Strengthen'd the fetters of an endless death?
Where were the peace, if that dark cloud of mourning
From Calvary's hill had never pass'd away?
If our deep night had never known the dawning
Of that mysterious Resurrection-day?
O Christ our Lord! Thou didst indeed release
Thy sinful children, and didst give them peace.
And now we know that Thou art throned for ever,
True God, and yet true man, in heaven above;
That now no power our life from Thine can sever,
That naught shall rob us of Thy gift of love;
That Thou, within the veil, dost intercede
For all who suffer and for all in need.
That Thou art with us here, too, in our sorrow–
With us to help in every time of strife,
Dost give to each dark day its joyous morrow,
Dost make us strong with Thine own love and life.
And we may love, and we may come to Thee
In heaven, and share Thy great felicity!
Ay, when the grass upon our grave is sighing
In the cool wind and Easter moonlight fair,
The mortal dust, beneath the violets lying,
Shall rest in hope and rest in safety there,
Till Thou shalt come with Thy celestial train,
And our bright spirit take its own again.
"After Thy likeness," in its sweet perfection,
Shall we awake in that eternal day;
All–save the sin–shall have its resurrection,
Clothed in Thy glorious immortality.
And we shall stand Thy radiant throne beside,
Blessed for evermore, and–satisfied!
The Soldier's Grave
'Twas long ago, in the summer-time,
On a day as sad as this,
That I laid my babe in its father's arms,
And he gave it his farewell kiss;
When the army sail'd from the English shores
In a mist of sun and rain,
To the vine-clad hills and citadels
And the olive groves of Spain.
I set my face to the balmy south,
And listen'd, intent and dumb,
As though a cry from the battle-grounds
On the fragrant wind might come.
I yearn'd for a gleam of the red camp fires
Which burn'd through the watchful nights,
For the shine of the bayonets that clash'd one day
On the dread Albuera heights.
Ah me! And my face cannot turn away,
Though the ashes are on my brow,–
Though the news of the battle came once for all,
And there's nothing to watch for now!
Though 'tis further away than that far south land
I must look for my dear man's face,–
Though I know he will never come home again
To the chair in the old house-place!
The Watchman.
Through jewelled windows in the walls
The tender daylight smiles;
Majestic music swells and falls
Adown the stately aisles;
Shadows of carven roof and rood,
Of stony saints and angels, brood
Above the altar-glow;
They cannot dim the shining face
Of one conspicuous in his place
Amid the forms below.
He that was once my little boy,
With merry voice and look,
My babe, that quarrelled with his toy
And tore his hated book;
But yesterday a laughing lad,
In his dear worldly garments clad,
Talking of college wins,
Wickets, and bumping boats, and goals,
And not of shepherd and lost souls–
His sermons and their sins.
The same, he kneels there, pale and awed,
In cloud of prayer and hymn,
And we are to behold our Lord
Made manifest in him;
To sit, his pupils, and be taught,
Who knows not what the years have brought
To mothers and to men;
To take him for our heaven-sent guide
On seas he never voyaged–wide
And wild beyond his ken.
With all the lore of schools, and none
Of stern and suffering life,
A child with wooden sword and gun,
Unarmed for vital strife;
His mind a bud of spring, unblown,
Its flowering a shape as yet unknown,
Its fruit awaiting birth–
A seedling of a thousand strains,
A parasite of dead men's brains,
Though sprung from living earth.
There, in his proud belief, he stands,
This simple boy of mine,
Transformed by necromantic hands
To something half divine–
All in a moment, in a breath,
An oracle of life and death,
A judge above us all!
What spell is this that has him fast,
When age of miracle is past,
And past beyond recall?
O knight of dreams, in fairy mail!
If for his sake I pray,
It is that fairy arms may fail
And tough steel win the day–
Aye, though his dear heart take the thrust,
And he be trampled in the dust.
But mother fears forbode
(May God have mercy and forefend!)
A tamer journey and an end
Upon an easier road.
A long fulfilling of the vow
Within the vow he spake–
To close the gates of knowledge now,
And no more dare to take
The broad highways of marching thought
By his unfettered brothers sought,
Who follow every clue
On every line, where'er it leads,
Heedless of heresies or creeds,
To find the Right and True.
The mother-love, so apt for woe,
Visions the joyless track
Where the belovèd feet may go
And nevermore come back;
The boy become a thinking man,
That has outgrown the changeless plan
Once fitted to his shape;
The traveller, confident, serene,
Caught in an ambush unforeseen,
Whence there is no escape.
Struggling a little–overborne–
Perplexed–persuaded–spent–
With dim self-pity and self-scorn
Supine in discontent.
No–no escape, by any arts,
Save through a score of bleeding hearts–
A stair too steep to climb;
Wherefore be wise and hide the chains,
Drug conscience, with its pangs and pains.
Give peace, Lord, in our time!
O waste of precious force and fire!
The sacred passion pales.
The soaring pinions droop and tire.
Our standard-bearer fails
To keep his battle-flag aloft;
The strong young arm is slack and soft;
The eager feet are slow;
The shining mail is dulled with rust
Of contact with mediæval dust,
And will not bear a blow.
And under harness so decayed,
What ravage unrevealed?
What moral textures soiled and frayed
And moral sores unhealed?
He must not know that dares not tell.
Hush! It is nothing. All is well.
Peace in our time, O Lord!
And leave the fighting for the heirs.
The blood of sacrifice be theirs
Who cannot shirk the sword.
O boy of mine, that played the game,
And never learned to cheat,
Nor knew such word or thought as shame
In victory or defeat!
Will he be found, when he grows old,
Passing off spurious coin for gold,
Selling dry husks for grain–
The pottage of the Esau's bowl
That bought the birthright of a soul
His all-sufficient gain?
The image and the robes of what
He seems to serve and seek
But veils–although he knows it not–
On Mammon's brazen cheek;
His bishop's smile, his patron's nod,
The homage of his flock, his god;
His sensuous worship drest
In forms and colours rich and rare–
The spirit's sanctuary bare–
Heart emptily at rest . . . . . .
Let organ music swell and peal,
And priests and people pray;
Let those who can at altar kneel–
I have no heart to stay.
I cannot bear to see it done–
The hands whose work has scarce begun
Locked in these gyves of lead–
The living spirit gagged and bound,
And tethered to one plot of ground–
A prisoner of the dead.
To-morrow
The lighthouse shines across the sea;
The homing fieldfares sing for glee:
"Behold the shore!"
Alas for shattered wing and breast!
The lighthouse breakers make their nest,
And hedges bloom for them no more–
No more.
In their old church the lovers stand.
His wedding ring is on her hand,
All partings o'er.
Alas for mother still and cold,
The babe her dead young arms enfold!
Her lover will know love no more–
No more.
What fate is this for birds and men?–
The blue empyrean theirs–and then–
This fast-closed door.
One answers from his bended knee:
"Another morrow comes," saith he,
"A day that brings the night no more–
No more."
Ah, happy one! Yet happier he
Who knows he knows not what will be;
Who has no lore
To read the runes of life and death,
But lives his best while he has breath,
And leaves with God the evermore–
The evermore.
Wasted
Each day another soldier in the van,
Each day a new young worker in the fields,
And every day more plenteous harvest-yields
From human toil, to bless and not to ban–
A better world, upon a better plan.
And, daily strengthening the arms he wields,
And more disdainful of old shifts and shields,
An ever nobler and diviner Man.
But, oh, how few the saved, how small the gain,
How poor the profit as against the cost,
The waste of life potential, vast and fair,
In soul unfructified and starveling brain,
Of Power that might have been, and might be–lost
For want of common food and common air!
A Sigh In The Night
O sweet darkness, still, and calm, and lonely!
Spread thy downy pinions round about.
Spare me from thy hidden riches only
One dream-face; blot all the others out.
Bring him now, for thou hast power to free him,
From that ugly garb he wears by day;
Bring him now–my darling!–let me see him
Ere the tender kindness pass away.
O sweet night-winds, wandering in the larches!
Sigh, and croon, and whisper as you creep;
Sing my songs through green cathedral arches,
While the weary workers are asleep.
Snarl and fret not of the grief and passion;
Sing in minor cadence, sweet and low;
Sing of peace and rest, in soft wind-fashion–
Of the love and faith I used to know!
All-Saints' Day (1867)
Blessed are they whose baby-souls are bright,
Whose brows are sealèd with the cross of light,
Whom God Himself has deign'd to robe in white–
Blessed are they!
Blessed are they who follow through the wild
His sacred footprints, as a little child;
Who strive to keep their garments undefiled–
Blessed are they!
Blessed are they who commune with the Christ,
Midst holy angels, at the Eucharist–
Who aye seek sunlight through the rain and mist–
Blessed are they!
Blessed are they–the strong in faith and grace–
Who humbly fill their own appointed place;
They who with steadfast patience run the race–
Blessed are they!
Blessed are they who suffer and endure–
They who through thorns and briars walk safe and sure;
Gold in the fire made beautiful and pure!–
Blessed are they!
Blessed are they on whom the angels wait,
To keep them facing the celestial gate,
To help them keep their vows inviolate–
Blessed are they!
Blessed are they to whom, at dead of night,–
In work, in prayer–though veiled from mortal sight,
The great King's messengers bring love and light–
Blessed are they!
Blessed are they whose labours only cease
When God decrees the quiet, sweet release;
Who lie down calmly in the sleep of peace–
Blessed are they!
Whose dust is angel-guarded, where the flowers
And soft moss cover it, in this earth of ours;
Whose souls are roaming in celestial bowers–
Blessed are they!
Blessed are they–our precious ones–who trod
A pathway for us o'er the rock-strewn sod.
How are they number'd with the saints of God!
Blessed are they!
Blessed are they, elected to sit down
With Christ, in that day of supreme renown,
When His own Bride shall wear her bridal crown–
Blessed are they!
An Old Doll
Low on her little stool she sits
To make a nursing lap,
And cares for nothing but the form
Her little arms enwrap.
With hairless skull that gapes apart,
A broken plaster ball,
One chipped glass eye that squints askew,
And ne'er a nose at all–
No raddle left on grimy cheek,
No mouth that one can see–
It scarce discloses, at a glance,
What it was meant to be.
But something in the simple scheme
As it extends below
(It is the "tidy" from my chair
That she is rumpling so)–
A certain folding of the stuff
That winds the thing about
(But still permits the sawdust gore
To trickle down and out)–
The way it curves around her waist,
On little knees outspread–
Implies a body frail and dear,
Whence one infers a head.
She rocks the scarecrow to and fro,
With croonings soft and deep,
A lullaby designed to hush
The bunch of rags to sleep.
I ask what rubbish has she there.
"My dolly," she replies,
But tone and smile and gesture say,
"My angel from the skies."
Ineffable the look of love
Cast on the hideous blur
That somehow means a precious face,
Most beautiful, to her.
The deftness and the tenderness
Of her caressing hands . . . . . .
How can she possibly divine
For what the creature stands?
Herself a nurseling, that has seen
The summers and the snows
Of scarce five years of baby life.
And yet she knows–she knows.
Just as a puppy of the pack
Knows unheard huntsman's call,
And knows it is a running hound
Before it learns to crawl.
Just as she knew, when hardly born,
The breast unseen before,
And knew–how well!–before they touched,
What milk and mouth were for.
So, by some mystic extra-sense
Denied to eyes and ears,
Her spirit communes with its own
Beyond the veil of years.
She hears unechoing footsteps run
On floors she never trod,
Sees lineaments invisible
As is the face of God–
Forms she can recognise and greet,
Though wholly hid from me.
Alas! a treasure that is not,
And that may never be.
The majesty of motherhood
Sits on her baby brow;
Before her little three-legged throne
My grizzled head must bow.
That dingy bundle in her arms
Symbols immortal things–
A heritage, by right divine,
Beyond the claims of kings.
By a Norfolk Broad
One hour ago the crimson sun, that seemed so long a-drowning, sank.
The summer day is all but done. Our boat is moored beneath the bank.
I bask in peace, content, replete–my faithful comrade at my feet.
The water-violet shuts its eye; the water-lily petals close;
So in the evening light we lie and dream in undisturbed repose.
How far all petty cares have flown! How calm the fretful world has grown!
We only hear the gentle breeze, in bender sighs and whispers, pass
Through osier beds and alder trees, and rustling flags and bending grass;
The song of blackbird in the hedge, the quack of wild-duck in the sedge.
The distant bark of farmhouse dogs, the piping of a clear-voiced thrush,
The murmurous babble of the frogs, of rippling stream in reed and rush;
The splash of pike and bream that rise to flitting moths and dragon-flies.
Far from the haunts of striving men, the toil and moil, the dust and din,
At home, at peace, in this lone fen, with these our dumb and gentler kin;
In Mother Nature's arms at rest, we drink the nectar of her breast.
The fragrance of these dewy hours, the perfume that the rich earth yields,
Sweetbriar and bean and clover-flowers, the incense of the quiet fields;
The new-cut hay, so sweet and fresh . . . . what balm to spirit and to flesh!
And those white fulls, inland for food; and that still heron, carved in jet;
That paddling water-hen and brood, those swifts and swallows, hunting yet;
All these soft creatures, wild and free, how lovely and how kind they be!
Kind to that monster of the gun, that ravager of earth and sky,
From whom the fledgelings hide and run–the immemorial enemy!
Ah, but this hand of their dread lord hath sheathed the devastating sword.
Tell them, my comrade, in thy tongue, that I come not to rob and strike.
Tell these shy hearts, so wronged and wrung, that all men's hearts are not alike.
In the Dark Ages of thy race, thou hast foretaste of light and grace.
Thou, love-enfranchised, that canst sleep unharmed, unharried, at my door,
Wolf-brother, taught to guard the sheep, teach them that man is something more
Than instrument of woe and death to half the creatures that have breath.
The western glories fade and pass. The twilight deepens more and more.
A thin mist, like a breath on glass, veils shining mere and distant shore.
The moor-hen's family is fed. The heron hies him home to bed.
No hum of gnat or bee is heard; no pipe of thrush on hawthorn bough;
No cry of any beast or bird to stir the solemn stillness now,
Though earth and air and stream are rife with latent energies of life.
Silent the otter where he prowls, the gliding polecat and her prey;
Silent the soft-winged mousing owls, the flickering bats, like imps at play.
War, death, the fighters and the fight–all ghostly shadows of the night.
What means that questioning paw of thine? those wistful eyes upon my face?
Ah, hunter! Dost thou sniff and whine? Art still a-quiver for the chase?
Peace–peace! Lie down again, old hound. This place to-night is holy ground.
The clocks strike ten. The last, last gleam of lingering day has disappeared.
On field and marsh and quiet stream a few stars shine. The mist has cleared.
The willows of the further shore stand outlined on the sky once more.
How clear the blackness, leaf and bark, the plumes upon those bulbous stumps!
A pallid fragment of the dark shows fine-etched flag and osier clumps.
Sharper and sharper in the glow the iris and the bulrush grow.
A faint dawn glimmers on the sedge, the grassy banks, the flowery meads;
A bright disc shows its radiant edge, the round moon rises from the reeds;
The sleeping lilies take the light; their steel-dark bed turns silver-white.
That path of glory, widening, streams across the mere to where we sit.
My sight swims in its dazzling beams; spirit and brain are steeped in it . . . .
Dost thou not answer to the touch? Listen, my dog, that knows so much:–
There may be lovelier worlds than this, a heavenly country, vast and fair,
Where saints and seraphs dwell in bliss–I do not know–I do not care.
While in my human flesh I live I ask no more than earth can give.
Ethereal essences may roam Elysian Fields beyond the grave,
But we, my dog, will saunter home, to all we love and all we crave.
God sees us thankful for our lot. The Unborn Day concerns us not.
SEE MORE: