Ada Cambridge Poem Part 1: Ada Cambridge was a prolific novelist and poet who was born in Norfolk in 1844 and many of her works were published in serial form in Australian and British newspapers under the title AC. Her father was what would be considered a gentleman farmer at the time and she was educated at home by a governess, something which she did not take kindly to.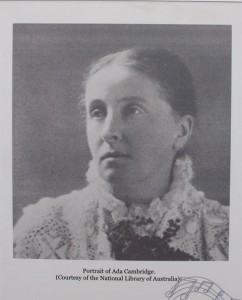 For most of her life she would say that she learned little that was of use during this time but she did start writing poetry in her late teens. It was then that she found her vocation and secured a little fame for herself in England when she wrote two books of hymns in her twenties and a collection of poetry under the title Echoes.
In 1870 she married curate George Cross and, when he was sent on colonial service to Australia, Cambridge joined him on the journey to Melbourne. George's work would take him to some remote parts of Australia and Cambridge assisted him as she was expected to. She continued to write though and began sending poems and various stories to newspapers and magazines to help supplement the rather low curate's income of her husband.
Cambridge gave birth to two children in those early days in Australia but both of them died, something which affected her deeply and she used her poetry as a way of coping with the grief. At the same time she also had a bad accident, falling from a carriage and severely damaging her back, leaving her with less mobility.
Ada Cambridge Poem Part 1
"After Our Likeness"
Before me now a little picture lies–
A little shadow of a childish face,
Childishly sweet, yet with the dawning grace
Of thought and wisdom on her lips and eyes.
Fair, oval, broad-brow'd face–small, delicate head–
Transparent skin, with blue veins shining through–
All the soft outlines, beautiful and true,
Bring me the echo of the words "God said."
Made "in our image"–sure 'tis that we see,
God's likeness, in the fair face of a child,
By the world's sin and passion undefiled–
Ay, as I look, it seems quite plain to me.
The light wherein the little features shine,
Strange, mystic light, so undefined and faint,
So far too pure for any words to paint–
'Tis a reflection of the Face divine.
Some day the earthly shadows will be cast
Across that sunshine–it may be to dim
Awhile the visible countenance of Him;
But 'twill be there–the likeness–to the last.
Some day the lucid waters, in which lie
Pictured those glorious lineaments, will be
Stirred up and troubled like a stormy sea;–
But they will yet re-settle–by-and-by.
They will re-settle when the soul is still'd,
Its passions, its wild longings, and its pain;
The pure reflection will shine out again
When earth's hopes are relinquish'd, unfulfill'd.
They will re-settle in those after-years
When life's hard lessons have been conned and learn'd;
When this child's beauty will have all return'd,
More lovely for the trouble and the tears.
They will re-settle in the calm of death,
When the sweet eyes are laid asleep, and when
The heart is hush'd. Truly God's likeness then–
The mirror clear, unsullied by a breath.
Ah! while I look, and trace each tender line,
I think most of the day when I shall see
The dear face in that perfect purity,
Its mortal features clothed with the divine.
This self-same face, but with the image bright,
Nevermore undefined, and faint, and dim;
This self-same face, yet like the face of Him,
In glory and in beauty infinite.
A Prayer
Spirit and Breath of Life, whate'er Thy name!
Bear with Thy creature, Man,
That makes his dwelling-place a blot of shame
Upon the Ordered Plan.
Not Thy hand, O Divine Designer, hurled
Athwart the starlit skies
One blood-stained, greed-diseased, hate-eaten world,
To shock celestial eyes.
Not Thy default, O Beautiful, this crust
Of fratricidal crime,
These maggot-breeds of hunger and of lust
That Thy fair work begrime.
But ours, who mock Thee from the highest place,
And in the light of day;
Who claim to lead an upward-struggling race,
And will not seek the way.
Guards of the human birthright, at Thy call–
A city sacked and burned;
Guards of the house that is the home of all,
But whence the weak are spurned.
Brothers, to whom the outcast brothers cry
As with a voice unknown;
Stewards of Nature's bounty, that deny
The lawful heirs their own.
Thou that hast made us men, and earth so fair,
To be so vilely used,
Give space for late repentance and repair
Of sacred trust abused.
Give time, Eternal, that we stanch these tears,
Give time to heal this sore,
That our brief speck amid the shining spheres
Disgrace its birth no more.
But sail ethereal seas, an orb of light,
To bear Thy purpose on
Until it fades into the cosmic night
Where the dead worlds have gone.
A Story At Dusk
An evening all aglow with summer light
And autumn colour–fairest of the year.
The wheat-fields, crowned with shocks of tawny gold,
All interspersed with rough sowthistle roots,
And interlaced with white convolvulus,
Lay, flecked with purple shadows, in the sun.
The shouts of little children, gleaning there
The scattered ears and wild blue-bottle flowers–
Mixed with the corn-crake's crying, and the song
Of lone wood birds whose mother-cares were o'er,
And with the whispering rustle of red leaves–
Scarce stirred the stillness. And the gossamer sheen
Was spread on upland meadows, silver bright
In low red sunshine and soft kissing wind–
Showing where angels in the night had trailed
Their garments on the turf. Tall arrow-heads,
With flag and rush and fringing grasses, dropped
Their seeds and blossoms in the sleepy pool.
The water-lily lay on her green leaf,
White, fair, and stately; while an amorous branch
Of silver willow, drooping in the stream,
Sent soft, low-babbling ripples towards her:
And oh, the woods!–erst haunted with the song
Of nightingales and tender coo of doves–
They stood all flushed and kindling 'neath the touch
Of death–kind death!–fair, fond, reluctant death!
A dappled mass of glory!
Harvest-time;
With russet wood-fruit thick upon the ground,
'Mid crumpled ferns and delicate blue harebells.
The orchard-apples rolled in seedy grass–
Apples of gold, and violet-velvet plums;
And all the tangled hedgerows bore a crop
Of scarlet hips, blue sloes, and blackberries,
And orange clusters of the mountain ash.
The crimson fungus and soft mosses clung
To old decaying trunks; the summer bine
Drooped, shivering, in the glossy ivy's grasp.
By day the blue air bore upon its wings
Wide-wandering seeds, pale drifts of thistle-down;
By night the fog crept low upon the earth,
All white and cool, and calmed its feverishness.
And veiled it over with a veil of tears.
The curlew and the plover were come back
To still, bleak shores; the little summer birds
Were gone–to Persian gardens, and the groves
Of Greece and Italy, and the palmy lands.
A Norman tower, with moss and lichen clothed,
Wherein old bells, on old worm-eaten frames
And rusty wheels, had swung for centuries,
Chiming the same soft chime–the lullaby
Of cradled rooks and blinking bats and owls;
Setting the same sweet tune, from year to year,
For generations of true hearts to sing.
A wide churchyard, with grassy slopes and nooks,
And shady corners and meandering paths;
With glimpses of dim windows and grey walls
Just caught at here and there amongst the green
Of flowering shrubs and sweet lime-avenues.
An old house standing near–a parsonage-house–
With broad thatched roof and overhanging eaves,
O'er run with banksia roses,–a low house,
With ivied windows and a latticed porch,
Shut in a tiny Paradise, all sweet
With hum of bees and scent of mignonette.
We lay our lazy length upon the grass
In that same Paradise, my friend and I.
And, as we lay, we talked of college days–
Wild, racing, hunting, steeple-chasing days;
Of river reaches, fishing-grounds, and weirs,
Bats, gloves, debates, and in-humanities:
And then of boon-companions of those days,
How lost and scattered, married, changed, and dead;
Until he flung his arm across his face,
And feigned to slumber.
He was changed, my friend;
Not like the man–the leader of his set–
The favourite of the college–that I knew.
And more than time had changed him. He had been
"A little wild," the Lady Alice said;
"A little gay, as all young men will be
At first, before they settle down to life–
While they have money, health, and no restraint,
Nor any work to do." Ah, yes! But this
Was mystery unexplained–that he was sad
And still and thoughtful, like an aged man;
And scarcely thirty. With a winsome flash,
The old bright heart would shine out here and there;
But aye to be o'er shadowed and hushed down,
As he had hushed it now.
His dog lay near,
With long, sharp muzzle resting on his paws,
And wistful eyes, half shut,–but watching him;
A deerhound of illustrious race, all grey
And grizzled, with soft, wrinkled, velvet ears;
A gaunt, gigantic, wolfish-looking brute,
And worth his weight in gold.
"There, there," said he,
And raised him on his elbow, "you have looked
Enough at me; now look at some one else."
"You could not see him, surely, with your arm
Across your face?"
"No, but I felt his eyes;
They are such sharp, wise eyes–persistent eyes–
Perpetually reproachful. Look at them;
Had ever dog such eyes?"
"Oh yes," I thought;
But, wondering, turned my talk upon his breed.
And was he of the famed Glengarry stock?
And in what season was he entered? Where,
Pray, did he pick him up?
He moved himself
At that last question, with a little writhe
Of sudden pain or restlessness; and sighed.
And then he slowly rose, pushed back the hair
From his broad brows; and, whistling softly, said,
"Come here, old dog, and we will tell him. Come."
"On such a day, and such a time, as this,
Old Tom and I were stalking on the hills,
Near seven years ago. Bad luck was ours;
For we had searched up corrie, glen, and burn,
From earliest daybreak–wading to the waist
Peat-rift and purple heather–all in vain!
We struck a track nigh every hour, to lose
A noble quarry by ignoble chance–
The crowing of a grouse-cock, or the flight
Of startled mallards from a reedy pool,
Or subtle, hair's breadth veering of the wind.
And now 'twas waning sunset–rosy soft
On far grey peaks, and the green valley spread
Beneath us. We had climbed a ridge, and lay
Debating in low whispers of our plans
For night and morning. Golden eagles sailed
Above our heads; the wild ducks swam about
Amid the reeds and rushes of the pools;
A lonely heron stood on one long leg
In shallow water, watching for a meal;
And there, to windward, couching in the grass
That fringed the blue edge of a sleeping loch–
Waiting for dusk to feed and drink–there lay
A herd of deer.
"And as we looked and planned,
A mountain storm of sweeping mist and rain
Came down upon us. It passed by, and left
The burnies swollen that we had to cross;
And left us barely light enough to see
The broad, black, branching antlers, clustering still
Amid the long grass in the valley.
"'Sir,'
Said Tom, 'there is a shealing down below,
To leeward. We might bivouac there to-night,
And come again at dawn.'
"And so we crept
Adown the glen, and stumbled in the dark
Against the doorway of the keeper's home,
And over two big deerhounds–ancestors
Of this our old companion. There was light
And warmth, a welcome and a heather bed,
At Colin's cottage; with a meal of eggs
And fresh trout, broiled by dainty little hands,
And sweetest milk and oatcake. There were songs
And Gaelic legends, and long talk of deer–
Mixt with a sweet, low laughter, and the whir
Of spinning-wheel.
"The dogs lay at her feet–
The feet of Colin's daughter–with their soft
Dark velvet ears pricked up for every sound
And movement that she made. Right royal brutes,
Whereon I gazed with envy.
"'What,' I asked,
'Would Colin take for these?'
"'Eh, sir,' said he,
And shook his head, 'I cannot sell the dogs.
They're priceless, they, and–Jeanie's favourites.
But there's a litter in the shed–five pups,
As like as peas to this one. You may choose
Amongst them, sir–take any that you like.
Get us the lantern, Jeanie. You shall show
The gentleman.'
"Ah, she was fair, that girl!
Not like the other lassies–cottage folk;
For there was subtle trace of gentle blood
Through all her beauty and in all her ways.
(The mother's race was 'poor and proud,' they said).
Ay, she was fair, my darling! with her shy,
Brown, innocent face and delicate-shapen limbs.
She had the tenderest mouth you ever saw,
And grey, dark eyes, and broad, straight-pencill'd brows;
Dark hair, sun-dappled with a sheeny gold;
Dark chestnut braids that knotted up the light,
As soft as satin. You could scarcely hear
Her step, or hear the rustling of her gown,
Or the soft hovering motion of her hands
At household work. She seemed to bring a spell
Of tender calm and silence where she came.
You felt her presence–and not by its stir,
But by its restfulness. She was a sight
To be remembered–standing in the straw;
A sleepy pup soft-cradled in her arms
Like any Christian baby; standing still,
The while I handled his ungainly limbs.
And Colin blustered of the sport–of hounds,
Roe ptarmigan, and trout, and ducal deer–
Ne'er lifting up that sweet, unconscious face,
To see why I was silent. Oh, I would
You could have seen her then. She was so fair,
And oh, so young!–scarce seventeen at most–
So ignorant and so young!
"Tell them, my friend–
Your flock–the restless-hearted–they who scorn
The ordered fashion fitted to our race,
And scoff at laws they may not understand–
Tell them that they are fools. They cannot mate
With other than their kind, but woe will come
In some shape–mostly shame, but always grief
And disappointment. Ah, my love! my love!
But she was different from the common sort;
A peasant, ignorant, simple, undefiled;
The child of rugged peasant-parents, taught
In all their thoughts and ways; yet with that touch
Of tender grace about her, softening all
The rougher evidence of her lowly state–
That undefined, unconscious dignity–
That delicate instinct for the reading right
The riddles of less simple minds than hers–
That sharper, finer, subtler sense of life–
That something which does not possess a name,
Which made her beauty beautiful to me–
The long-lost legacy of forgotten knights.
"I chose amongst the five fat creeping things
This rare old dog. And Jeanie promised kind
And gentle nurture for its infant days;
And promised she would keep it till I came
Another year. And so we went to rest.
And in the morning, ere the sun was up,
We left our rifles, and went out to run
The browsing red-deer with old Colin's hounds.
Through glen and bog, through brawling mountain streams,
Grey, lichened boulders, furze, and juniper,
And purple wilderness of moor, we toiled,
Ere yet the distant snow-peak was alight.
We chased a hart to water; saw him stand
At bay, with sweeping antlers, in the burn.
His large, wild, wistful eyes despairingly
Turned to the deeper eddies; and we saw
The choking struggle and the bitter end,
And cut his gallant throat upon the grass,
And left him. Then we followed a fresh track–
A dozen tracks–and hunted till the noon;
Shot cormorants and wild cats in the cliffs,
And snipe and blackcock on the ferny hills;
And set our floating night-lines at the loch;–
And then came back to Jeanie.
"Well, you know
What follows such commencement:–how I found
The woods and corries round about her home
Fruitful of roe and red-deer; how I found
The grouse lay thickest on adjacent moors;
Discovered ptarmigan on rocky peaks,
And rare small game on birch-besprinkled hills,
O'ershadowing that rude shealing; how the pools
Were full of wild-fowl, and the loch of trout;
How vermin harboured in the underwood,
And rocks, and reedy marshes; how I found
The sport aye best in this charmed neighbourhood.
And then I e'en must wander to the door,
To leave a bird for Colin, or to ask
A lodging for some stormy night, or see
How fared my infant deerhound.
"And I saw
The creeping dawn unfolding; saw the doubt,
And faith, and longing swaying her sweet heart;
And every flow just distancing the ebb.
I saw her try to bar the golden gates
Whence love demanded egress,–calm her eyes,
And still the tender, sensitive, tell-tale lips,
And steal away to corners; saw her face
Grow graver and more wistful, day by day;
And felt the gradual strengthening of my hold.
I did not stay to think of it–to ask
What I was doing!
"In the early time,
She used to slip away to household work
When I was there, and would not talk to me;
But when I came not, she would climb the glen
In secret, and look out, with shaded brow,
Across the valley. Ay, I caught her once–
Like some young helpless doe, amongst the fern–
I caught her, and I kissed her mouth and eyes;
And with those kisses signed and sealed our fate
For evermore. Then came our happy days–
The bright, brief, shining days without a cloud!
In ferny hollows and deep, rustling woods,
That shut us in and shut out all the world–
The far, forgotten world–we met, and kissed,
And parted, silent, in the balmy dusk.
We haunted still roe-coverts, hand in hand,
And murmured, under our breath, of love and faith,
And swore great oaths for one of us to keep.
We sat for hours, with sealèd lips, and heard
The sweet wind whispering as it passed us by–
And heard our own hearts' music in the hush.
Ah, blessed days! ah, happy, innocent days!–
I would I had them back.
"Then came the Duke,
And Lady Alice, with her worldly grace
And artificial beauty–with the gleam
Of jewels, and the dainty shine of silk,
And perfumed softness of white lace and lawn;
With all the glamour of her courtly ways,
Her talk of art and fashion, and the world
We both belonged to. Ah, she hardened me!
I lost the sweetness of the heathery moors
And hills and quiet woodlands, in that scent
Of London clubs and royal drawing-rooms;
I lost the tender chivalry of my love,
The keen sense of its sacredness, the clear
Perception of mine honour, by degrees,
Brought face to face with customs of my kind.
I was no more a "man;" nor she, my love,
A delicate lily of womanhood–ah, no!
I was the heir of an illustrious house,
And she a simple homespun cottage-girl.
"And now I stole at rarer intervals
To those dim trysting woods; and when I came
I brought my cunning worldly wisdom–talked
Of empty forms and marriages in heaven–
To stain that simple soul, God pardon me!
And she would shiver in the stillness, scared
And shocked, with her pathetic eyes–aye proof
Against the fatal, false philosophy.
But my will was the strongest, and my love
The weakest; and she knew it.
"Well, well, well,
I need not talk of that. There came the day
Of our last parting in the ferny glen–
A bitter parting, parting from my life,
Its light and peace for ever! And I turned
To balls and billiards, politics and wine;
Was wooed by Lady Alice, and half won;
And passed a feverous winter in the world.
Ah, do not frown! You do not understand.
You never knew that hopeless thirst for peace–
That gnawing hunger, gnawing at your life;
The passion, born too late! I tell you, friend,
The ruth, and love, and longing for my child,
It broke my heart at last.
"In the hot days
Of August, I went back; I went alone.
And on old garrulous Margery–relict she
Of some departed seneschal–I rained
My eager questions. 'Had the poaching been
As ruinous and as audacious as of old?
Were the dogs well? and had she felt the heat?
And–I supposed the keeper, Colin, still
Was somewhere on the place?'
"'Nay, sir,' said she,
'But he has left the neighbourhood. He ne'er
Has held his head up since he lost his child,
Poor soul, a month ago.'
"I heard–I heard!
His child–he had but one–my little one,
Whom I had meant to marry in a week!
"'Ah, sir, she turned out badly after all,
The girl we thought a pattern for all girls.
We know not how it happened, for she named
No names. And, sir, it preyed upon her mind,
And weakened it; and she forgot us all,
And seemed as one aye walking in her sleep
She noticed no one–no one but the dog,
A young deerhound that followed her about;
Though him she hugged and kissed in a strange way
When none was by. And Colin, he was hard
Upon the girl; and when she sat so still,
And pale and passive, while he raved and stormed,
Looking beyond him, as it were, he grew
The harder and more harsh. He did not know
That she was not herself. Men are so blind!
But when he saw her floating in the loch,
The moonlight on her face, and her long hair
All tangled in the rushes; saw the hound
Whining and crying, tugging at her plaid–
Ah, sir, it was a death-stroke!'
"This was all.
This was the end of her sweet life–the end
Of all worth having of mine own! At night
I crept across the moors to find her grave,
And kiss the wet earth covering it–and found
The deerhound lying there asleep. Ay me!
It was the bitterest darkness,–nevermore
To break out into dawn and day again!
"And Lady Alice shakes her dainty head,
Lifts her arch eyebrows, smiles, and whispers, 'Once
He was a little wild!'"
With that he laughed;
Then suddenly flung his face upon the grass,
Crying, "Leave me for a little–let me be!"
And in the dusky stillness hugged his woe,
And wept away his passion by himself.
All-Saints' Day (1868)
"But they are at peace."
Never to weary more, nor suffer sorrow,–
Their strife all over, and their work all done:
At peace–and only waiting for the morrow;
Heaven's rest and rapture even now begun.
So tired once! long fetter'd, sorely burden'd,
Ye struggled hard and well for your release;
Ye fought in faith and love–and ye are guerdon'd,
O happy souls! for now ye are at peace.
No more of pain, no more of bitter weeping!
For us a darkness and an empty place,
Somewhere a little dust–in angels' keeping–
A blessèd memory of a vanish'd face.
For us the lonely path, the daily toiling,
The din and strife of battle, never still'd;
For us the wounds, the hunger, and the soiling,–
The utter, speechless longing, unfulfill'd.
For us the army camp'd upon the mountains,
Unseen, yet fighting with our Syrian foes,–
The heaven-sent manna and the wayside fountains,
The hope and promise, sweetening our woes.
For them the joyous spirit, freely ranging
Green hills and fields where never mortal trod;
For them the light unfading and unchanging,
The perfect quietness–the peace of God.
For both, a dim, mysterious, distant greeting;
For both, at Jesus' cross, a drawing near;
At Eucharistic gate a blessed meeting,
When angels and archangels worship here.
For both, God grant, an everlasting union,
When sin shall pass away and tears shall cease;
For both the deep and full and true communion,
For both the happy life that is "at peace."
At Long Last
Late, late, the prize is drawn, the goal attained,
The Heart's Desire fulfilled, Love's guerdon gained.
Wealth's use is past, Fame's crown of laurel mocks
The downward-drooping head and grizzled locks.
The end is reached–the end of toil and strife–
The end of life.
Love flowers and fades like grass, and flowers again;
The spendthrift lovers waste themselves in vain;
Their fiery passions burn out one by one,
And then, alas! when their best days are done,
Spirit and body find their perfect mate–
So late! So late!
Long-sought, long seeking, through the lonely years,
The wanderers meet to weep their useless tears
For time and chance irrevocably flown,
Dear hopes outlived and happy faiths outgrown,
Children unborn, the myriad joys unseen
That might have been.
Not for the spring and morning-time of youth
The perfect flower of slow-unfolding truth,
The perfect love, that dreams of youth foretell,
But youth knows not and youth could never tell;
That light celestial, as of sunset fires
When day expires.
Late comes the gift that crowns the hungry quest,
Like ripe wheat-harvest in a land at rest,
And comes alone, a consecrated cup,
To those proved worthy to sit down and sup.
To them–aye, aye, despite their treasure lost,
'T'is worth the cost.
'T'is worth the cost to reach the heights at last,
Ere eyes are dim and daylight overpast.
To see one aim achieved, one dream fulfilled,
Ere striving brain and trusting heart are stilled.
To live one glorious hour–its price of pain
Is never paid in vain.
Autumn.
So still–so still! Only the endless sighing
Of sad Æolian harp-notes overhead;
Only the soft mass-music for the dying;
Only the requiem for the newly dead!
So strangely dim!–the grey mist on the heather,
The chill cloud-twilight in the wind-stripped bowers,
Where gold and scarlet sunlights lay together
On harvest fruit and summer wealth of flowers.
So empty now!–only the dead leaves sifting
The dead brown berries underneath the trees;
Only my fair dead treasures idly drifting
About my footsteps in the autumn breeze.
All over now! No flowers that must be tended
Are left to grow upon the open plain;
No fruits to ripen; for the harvest's ended–
There's no more need for either sun or rain.
The infinite hope, the boundless, strong endeavour,
The love and joy I never thought to sum,
The precious things that were to last for ever–
All gather'd now, and nothing more to come!
Only the shroud of snow, the white star-tapers,
The passionate storm-winds, wailing in the air;
Only the icy rain and tearful vapours,
Only the winter darkness of despair!
*
So still, so sweet! with tender breezes blowing
Amongst the hills and o'er the Lowland sod,
And golden drifts of dead leaves softly strowing
The seed-graves hollow'd by the hands of God.
So grey and calm! the crimson glory faded
From this low sky, pale blue and purple-barred–
This placid sea, with steel and silver shaded–
This fair earth, now with autumn furrows scarred.
In the decay such chasten'd beauty blending–
Beauty late-born of peace, and hope, and rest,
As in a saintly life when near the ending,
When all its strife and labour has been blest.
The harvest-time is past. But there remaineth
The well-stored treasure-house–the hidden seed
That dead leaves help to nourish, which containeth
The germ of a new life that's life indeed.
By The Camp Fire
Ah, 'twas but now I saw the sun flush pink on yonder placid tide;
The purple hill-tops, one by one, were strangely lit and glorified;
And yet how sweet the night has grown, with palest starlights dimly sown!
Those mountain ranges, far and near, enclasp me,– sharply pencilled there,
Like blackest sea-waves,–outlined here, like phantoms in the luminous air,
Between that cold and quiet sky, and the calm river running by.
The gum-trees whisper overhead, and, delicately dark and fine,
Their lovely shadow-patterns shed across the paths of white moonshine.
The golden wattles glimmer bright, scenting this cool, transparent night.
What spirits wake when earth is still? I hear wild wood-notes softly swell.
There's the strange clamour, hoarse and shrill, that drowns the bull-frogs' hollow bell;
And there's the plaintive rise and fall of the lone mopoke's cuckoo-call.
And nearer, an opossum flits above the firelight, pauses, peers–
I see a round ball where he sits, with pendant tail and pointed ears;
And two are gruffly snarling now in hollows of yon upper bough.
Hark! that's the curlew's thrilling scream. What mountain echoes it has stirred!
The sound goes crying down the stream, the wildest bird-note ever heard.
And there's a crane, with legs updrawn, gone sailing out to meet the dawn.
It croaks its farewell, like a crow, beating the air with soft, wide wings.
On the white water down below its vague grey shadow-shape it flings,
And, dream-like, passes out of sight, a lonely vision of the night.
Ah me! how weird the undertones that thrill my wakeful fancy through!
The river softly creeps and moans; the wind seems faintly crying too.
Such whisperings seem to come and pass across the orchis-flower'd grass.
The darkness gather'd all around is full of rustlings, strange and low,
The dead wood crackles on the ground, and shadowy shapes flit to and fro;
I think they are my own dim dreams, wandering amongst the woods and streams.
The tangled trees seem full of eyes,–still eyes that watch me as I sit;
A flame begins to fall and rise, their glances come and go with it.
And on the torn bark, rough and brown, I hear soft scratchings up and down.
Sometimes I hear a sound of feet,–a slow step through the darkness steals;
And then I think of yours, my sweet, in spirit following at my heels;
For leagues before, around, behind, part me from all my human-kind.
Coo-ey!–the long vibration throbs in countless echoes through the hills.
The lonely forest wakes and sobs, and then no sound the silence fills,–
Only the night-frogs' bubbling shriek in every water-hole and creek;
Only a rush of wind in flight, as startled wild-ducks flutter past,
Quivering and twinkling in the light, skimming the shining water fast;
And ripples from a black swan's breast, darting from out its rushy nest.
How is't in England?–Sunday morn, and organ-music, love, with you.
That breath of memory, idly born, like a great storm-wind shakes me through.
Ah, darling! bend your head and pray,–it cannot touch you far away.
Why do I care? My house of God, beyond all thought, is grand and great!
My prayerful knees, upon the sod, its flowers and grasses consecrate.
And I can see Him in the stars, undimmed by walls and window-bars.
Great Nature spreads her wondrous book, and shows me all her pages fair;
To me the language, when I look, seems but a letter here and there–
The very stones beneath me teach a lore beyond my utmost reach.
For all my pain, and toil, and strife, I see so dimly what is true!
O Art! O Science! O great Life! I grasp thee by so faint a clue!
No more of ocean tides I dream than minnows in their shallow stream.
Sea without bottom, without shore, where is the plumb to fathom thee?
O mystery! as I learn thee more, the more thy deeps are dark to me!
But who am I, that I should scan the Divine Maker's mighty plan?
And yet, oh yet, if I could hear that organ-music once again,
My soul, methinks, would lose its fear; and on this troubled heart and brain
Some light of knowledge would be shed, and some few riddles would be read.
Dawnlight On The Sea
When I kneel down the dawn is only breaking;
Sleep fetters still the brown wings of the lark;
The wind blows pure and cool, for day is waking,
But stars are scattered still about the dark.
With open lattice, looking out and praying,
Ere yet the toil and trouble must be faced,
I see a silvery glimmer straying, straying,
To where the faint grey sky-line can be traced:
I see it slowly deepen, broaden, brighten,
With soft snow-fringes sweeping to the land;
The sheeny distance clear, and gleam, and whiten;
The cool cliff-shadows sharpen on the sand.
Some other sea the sunlight is adorning,
But mine is fair 'neath waning stars and moon.
O friendly face!–O smile that comes at morning,
To shine through all the frowns that come at noon!
A beautiful wet opal–pale tints filling
A thousand shifting shallows–day at length.
The sweet, salt breeze, like richest wine, is thrilling
My drowsy heart and brain with life and strength.
I hear the voice of waters–strong waves dashing
Their white crests on the brown weed-sprinkled sod;
I hear the soft, continuous, measured plashing–
The pulse that vibrates from the heart of God,–
The long wash of the tide upon the shingle,
The rippling ebb of breakers on the shore,
Wherewith my prayers are fain to blend and mingle–
Whereto I set my dreams for evermore.
I hear the lap and swirl, I hear the thunder
In the dark grotto where the children play,–
Where walls to keep the sea and cave asunder,
And frail shell towers, were reared but yesterday.
The flood has filled my soul, and it is sweeping
My foolish stones and pebbles out to sea,
And floating in strange riches for my keeping,–
O friend! O God! I owe my best to Thee.
The best of every day, its peace and beauty,
From Thy mysterious treasure-house is drawn;
Thou teachest me the grace of life and duty,
When we two walk together in the dawn.
Despair
Alone! Alone! No beacon, far or near!
No chart, no compass, and no anchor stay!
Like melting fog the mirage melts away
In all-surrounding darkness, void and clear.
Drifting, I spread vain hands, and vainly peer
And vainly call for pilot, — weep and pray;
Beyond these limits not the faintest ray
Shows distant coast whereto the lost may steer.
O what is life, if we must hold it thus
As wind-blown sparks hold momentary fire?
What are these gifts without the larger boon?
O what is art, or wealth, or fame to us
Who scarce have time to know what we desire?
O what is love, if we must part so soon?
Evensong
The sun has set; grey shadows darken slowly
The rose-red cloud-hills that were bathed in light
O Lord, to Thee, with spirit meek and lowly,
I kneel in prayer to-night.
I thank Thee for my "daily bread"–the sorrow
And the gladness Thou hast given me this day–
The strange rich gifts which, through a long to-morrow,
Deep in my soul will stay.
I thank Thee for the grace that aye restrainèd
My passionate will when it was bent for wrong–
That fed the soul-lamp when the light had wanèd,
And made the weak hands strong.
I thank Thee that the gentle voice of pleading
Made itself heard amid the whirl and strife–
E'en when I walk'd my wilful way unheeding,
Telling of light and life.
That in the sad hour of my soul's affliction,
When I look'd backward as from parchèd lands,
The "gracious rain" of heavenly benediction
Fell still from outstretch'd hands.
Ay, ay, no earnest hope, no true endeavour,
Has been unanswer'd or unbless'd by Thee:
Thou, Lord, who carest for Thine own for ever,
Hast cared indeed for me.
I think of all the blessing and the sweetness
That made the burden of this day so light,
How my home-ties are still in their completeness
Wound round my heart to-night;
How Thou hast had my treasure in Thy keeping,
And yet hast spared them to be mine–still mine;
How o'er the beds where my loved ones are sleeping
Thy folded wings will shine.
And, O my God! I cannot thank Thee duly–
No word or deed which Jesus' love will take
Can span the measure of one blessing truly.
Forgive–for Jesus' sake!
Good-bye
Good-bye! — 'tis like a churchyard bell — good-bye!
Poor weeping eyes! Poor head, bowed down with woe!
Kiss me again, dear love, before you go.
Ah, me, how fast the precious moments fly!
Good-bye! Good-bye!
We are like mourners when they stand and cry
At open grave in wintry wind and rain.
Yes, it is death. But you shall rise again —
Your sun return to this benighted sky.
Good-bye! Good-bye!
The great physician, Time, shall pacify
This parting anguish with another friend.
Your heart is broken now, but it will mend.
Though it is death, yet still you will not die.
Good-bye! Good-bye!
Dear heart! dear eyes! dear tongue, that cannot lie!
Your love is true, your grief is deep and sore;
But love will pass — then you will grieve no more.
New love will come. Your tears will soon be dry.
Good-bye! Good-bye!
Holy Communion
Father, for Jesus' sake,
Low at the footstool of Thy throne, I pray
That Thou, into Thine arms of love, to-day
My trembling soul wilt take.
Thine eyes can see, I know,
How many a dark and fearful spot of sin
Stains the white garment Thou didst clothe it in,
Once undefiled as snow.
I dare not come alone
Into Thy presence for that sin to plead;
But there is One who waits to intercede–
Whose merits will atone.
Into the holy place
He takes the incense of our common prayer,
Which, mingling with His own, ascendeth there
Up to Thy throne of grace.
All too unclean it is,
Too cold and weak, above this earth to rise,
Save He, in love eternal, sanctifies
And hallows it with His.
Therefore accept from me,
Through His hands, now, my weak and wavering will;
And deign my heart's deep longing to fulfil,
As it seems best to Thee.
Pour down Thy healing light
Into the dark depths of my soul this day;
Dissolve the mists and shadows–oh, I pray,
Let it no more be night!
Spirit of love, reveal
All hidden sins against Thy blessed name,
That I may weep for them in utter shame
As in Thy church I kneel.
And now, oh cleanse them out!
Make fair again Thine olden dwelling-place;
And let the fruitful streams of love and grace
Compass it round about.
Lord, with repentance, give
Faith, deep and strong, that naught may undermine
Of all that's evil in this world of Thine–
Faith that shall breathe and live.
Pour from the hallow'd cup
Our dear Lord's stainless life into mine own;
Put it to my soul's lips–so thirsty grown–
And let them drink it up.
In Memoriam
"He asked life of thee, and thou gavest him a long life, even for ever and ever."
Life–length of days–the time to work and strive
In his Lord's vineyard; to bring heavenly light
Into the drear, dark places of the earth,
And make them fair and fruitful in His sight.
Life–it seem'd all so bright and beautiful once!
It lay spread out before his kindling eyes,
A land of sunny hills, in white mist veil'd,
Of sweet green valleys under summer skies.
Such tender light and tender shadows there!
No dazzling blaze, no savage blots of gloom,
No keen-cut outline of the barren cliff,
No glaring waste,–but all one gentle bloom
Of happy, innocent hope,–a morning tint
Of pearly grey and gold, with just a shade
Of bright cloud-colour, giving life to it,–
He saw not then the havoc death had made.
But soon the white mist melted in the heat
Of noonday, and the wasted fields lay bare–
Vineyard of Eden–like a bright face, scarred
With sin and shame and weariness and care.
And his vague aspiration took a shape.
"Grant me, dear Lord, if it seem good to Thee,
To labour here, with manhood's utter strength,–
O Lord, good Lord, intrust this work to me!
"Let me have time to toil–a long, long day–
To dig and delve and root out wasteful weeds,
To cut down briars and thorns, and help to plough
Furrows where angels may sow heavenly seeds.
"Give me to foster, with my faith and love,
Frail, early flowers, that fear to droop and fade!
Father, I will not shrink for bleeding hands,
For heat nor cold–I do not feel afraid!"
His voice was heard–his will accepted. God
Gave deep and true fulfilment to his prayer,–
Life–life eternal, which should nevermore
The taint of death, or sin, or sorrow bear!
Oh pray, ye blind ones, as the beggar pray'd
When He of Nazareth pass'd by! Oh pray
With simple faith and worship,–fear ye not
God's gracious ear will deafly turn away.
Ye know He bids us to tell out our wants,
Knowing them all; give up to Him your will,
And trust Him–trust Him. In his wondrous love
He deigns the lowliest longing to fulfil.
Ay, and with that fulfilment which we ne'er
Shall grasp or fathom–till we come to see
Our strange, mysterious human life unveil'd
In the clear daylight of eternity.
The beggar ask'd for sight–Christ answer'd him,
For his faith's sake, and gave him sight indeed.
Just so his silent hands and darken'd eyes
Were lifted once, for grace of "life" to plead.
And God fulfilled his prayer as utterly!
He gave him life–the life of saints above,
Beyond all earthly dreaming sweet and glad–
An endless life in His eternal love!
Learn
Learn, learn, learn,–
Our beautiful world is not a field for sheep;
Not just a place wherein to laugh and weep,
To eat and drink, to dance and sigh and sleep.
And then to moulder into senseless dust.
Learn, learn, learn,–
Look up and learn–you cannot look too high!
Not for the earthly wealth which brains can buy,
Not for the sake of gold and luxury–
Treasures corrupted by the moth and rust.
Learn, learn, learn,–
As one in whom the Lord has breathed His breath,
And aye redeemèd from the power of death–
Not as the dumb brute-beast that perisheth,
Not as a soulless, thoughtless, thankless clod.
Learn, learn, learn,–
With love and awe and patience–not in haste;
Drink deeply,–do not pass by with a taste;
O make your land a garden, not a waste!–
Your mind bright, to reflect the face of God.
Learn, learn, learn,–
The mystic beauty and the truth of life;
Search out the treasures whereof earth is rife.
Search on all sides, with pain and prayer and strife;
Search even into darkness. Do not fear.
Learn, learn, learn,–
With a true, steadfast heart, lay up your hoard;
God will sort out the treasures you have stored,
And set them in His bright light, afterward.
He will make all your difficulties clear.
Learn, learn, learn,–
Death is no breaking at a certain place;
We only pause there for a little space.
And then–you would not shame Him to His face?–
You, in His Image and own Likeness made!
Learn, learn, learn,–
Walk with wide-open eyes and reverent heart.
Worship as God the beautiful in art.
Though you see now but dimly, and in part,
All shall be clear in time. Be not afraid.
Mates
It boots not to retrace the path
To ages dim and hoar,
When Man, at the domestic hearth,
First learned the art of war,
And–since in battle one must fall–
Held his defeated spouse in thrall,
That she should fight no more;
And thereby doomed to sleep and sloth
Strength that in action strengthened both.
It boots not when the better day
First showed a glint of morn,
Nor whose the eye that, in its ray,
Saw Woman's chains outworn;
Nor which was first and which was last
When savage rivalry was past
And chivalry was born;
Enough for us that, free or pent,
Her primal treasure was misspent.
The waxing noontide sees them now
Joint sovereigns of the land,
No trace upon the gentler brow
Of the old helot brand.
Consenting that the right is right,
They walk as comrades–or they might–
For ever hand in hand.
Yet still a stronger leads and drags,
And still a weaker leans and lags.
Because we reap what we have sown,
And are as we were bred;
Because one passion, overgrown,
Since so long overfed,
Still works confusion to the scheme
Whereof both man and woman dream.
'T'is the unnumbered dead
That laid it on him for a curse,
And her, its immemorial nurse.
But, with these tyrants in the dust,
Why should their ghosts hold sway?
Cut the long entail of their lust,
Heirs of a cleaner day!
Lift the dead hand from living mind,
Break the old spells that bind and blind,
O Woman, far astray!
And march with Man the open road
Without a fetter or a load.
Our pioneer brothers can discern
The sunlit heights around;
We, that should likewise look and learn,
Keep eyes upon the ground
And drug our feebleness with sweets
When needing tonic of strong meats;
And all our ways surround
With tangling trifles, gaud and toy,
That mock us with the name of joy.
What brains these fragile webs enmesh!
What soaring thought they tie!
What energies of soul and flesh
They still or stultify!
What wasted riches of the mind,
What wealth of genius, dumb and blind,
In shop and workroom lie,
While the great realms of life are stored
With such vast mystery unexplored!
Where were the sciences and arts
When men went plumed and curled?
Where were the brains, the hands, the hearts,
That now subdue the world–
The March of Progress, straight and true–
When men wore coats of every hue?
In childish swaddlings furled,
Their strength lay latent and unknown,
As ineffectual as our own.
Freed from this complicated coil
By mere vainglory spun,
Uprooted from this fruitless soil,
Unfed by rain or sun,
Where sleep the germs of noble deeds
In still unfructifying seeds,
Or leafage scarce begun–
This ash-heap or the poor and small
That chokes the greatness in us all–
Uplifted to the light–the place
Where Man his manhood found
When tyranny of silk and lace
No longer held him bound;
With eyes, from Fashion's witchcraft clear,
For Beauty, simple and sincere,
And, unbeguiled by sound
Of siren wooings, quiet ears
For the high message that he hears:
The swelling call to loftier life
That, like a distant bell,
Chimes through the traffic and the strife
Of those who buy and sell;
Through camp and temple, field and street,
The market where we game and cheat,
The home wherein we dwell:–
Here should we stand, as strong, as free,
For splendid enterprise as he.
To him no flowering parasite
That only sucks and clings
To drain and enervate and blight,
But impulse to his wings;
His mate in passion, mate in power,
His soul's wife, that for marriage dower
Exhaustless treasure brings–
The daily bread, the daily spur,
The day's reward for him–and her.
Like woodland creatures, that have willed
To pair by Nature's plan,
A woman finished and fulfilled
And a completed man;
To run together and abreast,
And side by side to fight or rest,
As when the world began;
Each bound to other, yet both free . . . .
It is not, but it ought to be.
Outcast
Perchance for dear Life's sake–and life is sweet–
When work had failed and roads were deep in snow,
And this meant food and fire, she fell so low–
That painted creature of the midnight street.
Perchance that other, with the shoeless feet,
Was Nature's victim, too untaught to know
That all live buds are not allowed to blow–
Too starved and passion-blind to be discreet.
And their accuser? She within the fold
That walks in light, bejewelled and belaced,
Who in cold blood, and not for love or need,
Sold the white flower of womanhood for gold;
The wedded harlot, rich and undisgraced,
The viler prostitute in mind and deed.
Recollection
A wave-worn boulder, with green sea-moss wrapping
A silken mantle o'er its jagged sides;
And silvery, seething waters softly lapping
Through gulfs and channels hollow'd by the tides:
A lime-cliff overhead, o'erhanging grimly,
A dash of sunlight on its breast of snow;
The white line of the breakers, stretching dimly
Along the narrow sea-beach down below:
The grey waste of the waters, with one slender,
Glimmering, golden ripple far away;
The haze of summer twilight, sweet and tender,
Veiling the fair face of the dying day:
The measured plash of surf upon the shingle,
The ceaseless gurgle through the rocks and stones;
No sound of struggling human life, to mingle
With those mysterious and eternal tones!
No sound–no sound,–a hungry sea-mew only
Breaking the stillness with her little cry;
And the low whisper, when 'tis all so lonely,
Of soft south breezes as they wander by:–
I see it all; sweet dreams of it are thronging
In full floods back upon my weary brain;
To-night, in my dark chamber, the old longing
Almost fulfils its very self again.
The dying sunbeams, on the far waves glinting,
Come like warm kisses to my lips and brow,
Soothing my spirit–all its grey thoughts tinting
With tender shades of golden colour now.
Alone and still, I sit, and think, and listen,
Looking out westward o'er the darkening sea;
My seat the boulder, where the spray-drops glisten;
The tall, white cliffs my regal canopy.
And, as I sit, the fretting cares and sorrows,
Weighing so heavy when the work is done,
The gloomy yesterdays and dim to-morrows,
They slip away and vanish one by one,–
Slip backward to the world that lies behind me,
Every by sinful footsteps overtrod;
And in this unstain'd world leave nought to bind me,
This sweet world, fillèd with the peace of God!
The Baptistry
One winter eve, at twilight, when the sound
Of sorrowful winds scarce troubled Nature's rest,
As she lay sleeping, with her hair unbound,
Holding her grey robe to her shivering breast,
I enter'd through a low-arch'd oaken door,
Circled with curious sculpture; and I crept
With slow, hush'd footsteps, o'er the shadow'd floor,
Where organ notes in sudden silence slept;
Far down the aisle, where darkness seem'd to brood
With such wide-spreading wings, and where the sigh
Of murmur'd prayer scarce came,–until I stood
In the deep stillness of the Baptistry.
There, in the dim side-chapel, no bright glow
From jewelled windows on the wall was shed;
No sunbeams rested on the font below,
Or kiss'd those mighty arches overhead.
Soft lines and curves went upward, and were lost
In solemn shadow and in dreamy space;
Only the level floor was faintly crost
With glimmering brightness from the holy place.
And, as I listen'd, I heard music sweet
Trembling and swelling through the soundless air,
Threading dark aisles, as if an angel's feet
Were bidden bring God's message to me there.
Ah! and the echo of those anthem notes
Wanders and whispers in my heart for aye:
In all my life the mystic language floats,
Fitful and faint, as in my ears that day.
One whom we knew had enter'd into rest–
Calm on the pillow lay his hoary head;
And through that music spoke, in accents blest,
Our holy Mother's voice, hallowing the dead,
Telling of perfect peace, of labours done,
Of long years' sorrow turned to joy at last–
The quiet sleep, when battles all are won–
The hush of evening when the day is past.
I look'd upon the font, and mused of all
Its wondrous meaning, till my thoughts grew dim
And vast and shadowy as those columns tall;–
Morning of life for me–death's night for him!
How fancy tried to span that awful space
Between the two–between the here and there!
To bridge the nave–up to that blessed Place
Where light and song stream'd on the chancel-stair!
Dim recollections drifted through my brain–
Echoing footfalls of past childish years,
When the baptismal robe had less of stain,
E'en though unwash'd by penitential tears.
I saw the gloomy shadows o'er my head,
And sigh'd to think how I had suffer'd loss;
I saw the soft light, and was comforted,–
I knew it shone straight from the chancel-cross.
A few more steps, and then I stood below
The towering minster coronet again;
Down on my face that pure and gentle glow
Fell, like a pitying kiss in time of pain.
Down to my feet it stream'd; a passage dim,
With hosts of phantom-shapes on either side,
It drifted through;–as songs of seraphim
Drift through our mourning hearts at Easter-tide.
Looking up then, I seem'd to see my life,–
A long, dim vista, where the rays descend–
Where light and darkness wage continual strife;
But only light–the full light–at the end.
The Crown Of Thorns
"And unto Adam He said …. cursed is the ground for thy sake. Thorns …. shall bring it forth."
"And the soldiers platted a crown of thorns, and put it on His head."
In bitterest sorrow did the ground bring forth
Its fatal seed. Thine eye beheld the birth–
Beheld the travail of accursèd earth;
E'en then, O Lord! in greater love than wrath!
Thou sawest the sin that none could gather out–
The vineyard cover'd with the thorn and briar;
Thou sawest the fair land ready for the fire–
And still Thy pity compass'd it about.
Thou, O most merciful! didst spare the brand;
Thou didst redeem the Paradise of God;
The thorns were rooted from the stubborn sod.
In pain and toil, by Thine own blessèd hand.
How was our path to heaven o'er grown with sin–
Bramble, and thistle, and the poisonous weed!
Though hearts should break, and patient feet should bleed,
And strive and struggle, none could walk therein.
And Thou didst call us when we went astray–
Didst make our high road straight for evermore;
And, for our guidance, passèd on before,
Leaving Thy shining footprints in the way.
Still do the wild thorns hedge us round about;
Still grow the thistles from the ancient stock;
Still trails the bramble on the blasted rock–
But we can dig, and Thou wilt pull them out.
Ay, we can work–oh, help us in the strife!
Labour is sweet, for Thou dost share it now.
And we shall eat, in sweat of furrow'd brow,
Not earthly food, but Thine own Bread of Life.
And there are thorns of suffering left behind–
Sorrow and loss–that weigh our courage down;
But, ah! we know Thy sacramental crown
Was made of sin and sorrow, intertwined.
Give us of Thy sweet patience, Lord, we pray.
We would not spurn them with rebellious kicks,
Nor fret and strive, for Thou canst feel the pricks;
We too would wear them as a crown for aye.
We would put on Thy likeness–we, the least
And most unworthy. Ay, each piercing thorn,
In Thy name patiently and meekly worn,
Shall bear a blossom for the bridal feast.
Look down, O Brother with the yearning eyes!
Behold us kneeling at Thy bitter cross!
Grant us a share in all Thine earthly loss,
That we may share Thy gain in Paradise.
O weary Head! we see Thee drooping now
Beneath that diadem of mortal pain:
We see Thee sprinkled with the scarlet stain;–
Drop down the chrism on our polluted brow!
O sacred Head!–pale, beautiful, benign–
On our heads be Thy precious blood, we cry!
Lo, the destroying angel, passing by,
Shall spare to smite us–reverencing the sign.
The Easter Decorations
O take away your dried and painted garlands!
The snow-cloth's fallen from each quicken'd brow,
The stone's rolled off the sepulchre of winter,
And risen leaves and flowers are wanted now.
Send out the little ones, that they may gather
With their pure hands the firstlings of the birth,–
Green-golden tufts and delicate half-blown blossoms,
Sweet with the fragrance of the Easter earth;
Great primrose bunches, with soft, damp moss clinging
To their brown fibres, nursed in hazel roots;
And violets from the shady banks and copses,
And wood-anemones, and white hawthorn shoots;
And tender curling fronds of fern, and grasses
And crumpled leaves from brink of babbling rills,
With cottage-garden treasures–pale narcissi
And lilac plumes and yellow daffodils.
Open the doors, and let the Easter sunshine
Flow warmly in and out, in amber waves,
And let the perfume floating round our altar
Meet the new perfume from the outer graves.
And let the Easter "Alleluia!" mingle
With the sweet silver rain-notes of the lark;
Let us all sing together!–Lent is over,
Captivity and winter, death and dark.
The Hands That Hang Down
O Lord, I am so tired!
My heart is sick and sore.
I work, and work, and do no good–
And I can try no more!
I lay my treasures up,
And think they're worth such care;
And the next time I go to look,
There's only rubbish there!
I tug hard at the door
Of knowledge–strain and pant;
But, Lord, the more I seem to learn,
The more I'm ignorant!
Sometimes I am so vain
I set myself to teach;
But e'en the first beginnings lie
Utterly out of reach!
I am no use–no use!
I thought I might have been;
But now I know how small I am,
How poor, how false, how mean!
Sunk in the dust and mire
While aiming at the skies,
Only a thing to laugh at, Lord,
To pity and despise!
The Legend Of Lady Gertrude
I.
Fallen the lofty halls, where vassal crowds
Drank in the dawn of Gertrude's natal day.
The dungeon roof an Alpine snow-wreath shrouds,
The strong, wild eagle's eyrie in the clouds–
The robber-baron's nest–is swept away.
II.
Bare is the mountain brow of lordly towers;
Only the sunbeams stay, the moon and stars,
The faithful saxifrage and gentian flowers,
The silvery mist, and soft, white, crystal showers,
And torrents rushing through their rocky bars.
III.
More than three hundred years ago, the flag
Charged with that dread device, an Alpine bear–
By many storm-winds rent–a grim, grey rag–
Floated above the castle on the crag,
Above the last whose heads were shelter'd there.
IV.
He was the proudest of an ancient race,
The fiercest of the robber chieftain's band,
That haughty Freiherr, with the iron face:
And she–his lady-sister, by God's grace–
The sweetest, gentlest maiden in the land.
V.
'Twas a rude nest for such a tender bird,
That lonely fortress, with its warrior-lord.
Aye drunken revels the night-stillness stirred;
From morn till eve the battle-cries were heard,
The sound of jingling spur and clanking sword.
VI.
And Lady Gertrude was both young and fair,
A mark for lawless hearts and roving eyes,–
With sweet, grave face, and amber-tinted hair,
And a low voice soft-thrilling through the air,
Filling it full of subtlest melodies.
VII.
But the great baron, proudest of his line,
Fetter'd, with jealous care, his white dove's wing;
Guarded his treasure in an inner shrine,
Till such a day as knightly hands should twine
Her slender fingers with the marriage-ring.
VIII.
From all her household rights was she debarred–
Her chair and place within the castle-hall,
Her palfrey's saddle in the castle-yard,
Her nursing ministries when blows fell hard
In border struggles–she was kept from all.
IX.
A stone-paved chamber, and the parapet
Opening above its winding turret-stair;
The castle-chapel, where few men were met,–
Round these the brother's boundaries were set.
The sweet child-sister was so very fair!
X.
She had her faithful nurse, her doves, her lute,
Her broidery and her distaff, and the hound–
Best prized of all–the grand, half-human brute,
Who aye watched near her, beautiful and mute,
With ears love-quicken'd, listening from the ground.
XI.
But the wild bird, so honourably caged,
Grew sick and sad in its captivity;
Longed–like those hills which time nor storm had aged,
And those deep glens where Danube waters raged–
In God's own wind and sunshine to be free.
XII.
And on a day, when she had seen them ride,
Baron and troopers, on some border raid,
Wooed by the glory of the summer tide,
The hound's soft-slouching footstep at her side,
Adown the valley Lady Gertrude stray'd.
XIII.
Adown the crag, whose shadow, still and black,
Lay like the death-sleep on a mountain pool;
Through rocky glen, by silvery torrent's track,
Through forest glade, 'neath wild vines, fluttering back
From softest zephyr kisses, green and cool.
XIV.
E'en till the woods and hamlets down below,
And summer meadows, were all broad and clear;
The river, moving statelily and slow,
A crimson ribbon in the sunset glow–
The dim, white, distant city strangely near.
XV.
She sat her down, a-weary, on the ground,
With tremulous long-drawn breath and wistful eyes;
Caress'd the velvet muzzle of the hound,
And listen'd vainly for some little sound
To come up from her world of mysteries.
XVI.
She had forgotten of the time and place,
When clank of warrior's harness smote her dream.
A growl, a spring, a shadow on her face,
And one strode up, with slow and stately pace,
And stood before here in the soft sun-gleam.
XVII.
An armèd knight, in noblest knightly guise,
From golden spur to golden dragon-crest;
Through open vizor gazing with surprise
Into the fair, flush'd face and startled eyes,
While horse and hound stood watchfully at rest.
XVIII.
The sun went down, and, with long, stealthy stride,
The shadows came, blurring the summer light;
And there was none the lady's step to guide
Up the lost pathway on the mountain-side–
None to protect her but this stranger knight!
XIX.
He placed her gently on his dappled grey,
Clothed in his mantle–for the air was chill;
He led her all the long and devious way,
Through glens, where starless night held royal sway,
And vine-tressed woodlands, where the leaves were still:
XX.
Through pathless ravines, where swift waters roll'd;
Up dark crag-ramparts, perilously steep,
Where eagles and a she-bear watch'd the fold;–
Facing the mountain breezes, clear and cold–
In shy, sweet silence, eloquent and deep.
XXI.
Holding his charger by the bridle-rein,
He led her through the robber-chieftain's lands;
Led her, unchallenged by the baron's train,
E'en to the low-brow'd castle-gate again,
And there he humbly knelt to kiss her hands.
XXII.
Brave lips, o'er tender palms bent down so low,
Silent and reverent, as it were to bless–
'Twas e'en a knightly love they did bestow,
Love true as steel and undefiled as snow;
No common courtesy, no light caress.
XXIII.
He rode away; and she to turret-lair
Sped, swift and trembling, like a hunted doe.
But wherefore, on the loopholed winding stair
Knelt she till morning, weeping, watching there?–
Because he was her brother's deadliest foe.
XXIV.
Because the golden dragon's blood had mixt
In all those mountain streams, had dyed the grass
Now trodden for her sake; because betwixt
Those two proud barons such a gulf was fixt
As never bridge of peace might overpass.
XXV.
A bitter, passionate feud, that was begun
In ages long forgotten, and bequeath'd
With those rich baronies by sire to son–
A sacred charge, a great work never done,
A sharp and fiery weapon never sheath'd.
XXVI.
Yet, e'er a month slipped by, as summer slips
On noiseless wings, another kiss was laid,
Not on white palms or rosy finger-tips,
But softly on shut eyes and quivering lips;
And vows were sealèd in the forest glade.
Page 180
XXVII.
The robber baron, who had hedged about
That fairest blossom of the sacred plant,
Saw he the insolent mailèd hand stretch'd out
To break down all his barriers, strong and stout?
Knew he aught of that gracious covenant?
XXVIII.
His pride serenely slept. Nor did it wake
Till, in amaze, he saw his enemy stand
In his own castle, praying him to take
The pledge of peace for Lady Gertrude's sake–
Praying him humbly for the lady's hand.
XXIX.
Slowly the knitted brows grew fierce and black;
Slowly the eagle eyes began to shine.
"Sir knight," he said, "I pray you get you back.
But one hour–and the Bears are on your track.
There's naught but fire and sword 'twixt mine and thine."
XXX.
And then the doors were barred on every side
Upon the innocent traitor, who had done
Such doubly-shameful despite to his pride.
Mocking, "I'll satisfy your heart," he cried,
"An' you will have a husband, pretty one!"
XXXI.
Yet did she send a message stealthily,
Spurred by the torture of this ominous threat.
"Thou wilt not suffer it?" she said. And he,
"Fear not. To-morrow will I come for thee,–
At eve to-morrow, when the sun has set."
XXXII.
And on the morrow, when the autumn light
Of red and gold had faded into grey,
She heard his signal up the echoing height,
Like hoarse owl-whistle, quivering through the night;
And in the dark she softly slipped away.
XXXIII.
Her faithful nurse, with trembling hands, untwined
The new-forged fetters and drew back the bars.
The hound look'd up into her face, and whined,
And scratch'd the door; he would not stay behind.
And so she went–watch'd only by the stars.
XXXIV.
Adown the mountain passes, with wing'd feet
And bright, blank eyes–her hand fast clutch'd around
A ragged slip of myrtle, white and sweet;
The hound beside her, velvet-footed, fleet
And silent, with his muzzle to the ground.
XXXV.
The knight was waiting, with his dappled steed,
Hard by the black brink of the waveless pool.
In his strong, tender arms–now safe indeed–
She cross'd the valley, with the wild bird's speed,
Fanned by the whispering night-wind, clear and cool.
XXXVI.
Away–away–far from the trysting-place–
Over the blood-stain'd border-lands at last!
One wandering hind alone beheld the race;
A sudden rush–a shadow on his face–
A glint of golden scales–and she was past.
XXXVII.
She felt the shadow of a mighty wall,
And then the glow of torchlight, and again
The gloom of cloister'd stair and passage, fall
Upon her vacant eyes. She heard a call;
And, in the echoing mountains, its refrain.
XXXVIII.
Then all around her a great silence lay;
She knew not why, nor greatly seem'd to care,
Till, in low tones, she heard the baron say,
"Hast thou confess'd, my little one, to-day?"–
The while he weaved the myrtle in her hair.
XXXIX.
She glanced up suddenly, in blank amaze;
And then remember'd. 'Twas an altar, hung
With silk and rich embroidery, met her gaze;
'Twas perfumed, waxen altar-tapers' blaze
On her chill'd face and troubled spirit flung.
XL.
A holy father, with his open book,
Stood by the threshold of the chapel door.
Slowly, with bated breath and hands that shook,
Soft-clasped together–drawn with but a look–
She went, and knelt down humbly on the floor.
XLI.
The baron left her, lowly crouching there,
Her bright, starred tresses trailing on the stones;
And waited, kneeling on the altar-stair–
Holding his sword-hilt to his lips, in prayer–
The while she pleaded in her tremulous tones.
XLII.
A warning voice upon the still air dwelt,
A long, low cry of mingled hope and dread;–
A pause–a solemn silence–and she felt
The sweet absolving whisper as she knelt,
And hands of blessing covering her head.
XLIII.
The knight arose in silence, with a brow
Haughty and pale; and, softly drawing nigh,–
Love, life, and death in the new "I and thou"–
He gave and took each solemn marriage vow,
With all his arm'd retainers standing by.
XLIV.
The soft light fell upon their faces–still,
And calm, and full of rest. None now to part
The golden link between them!–naught to chill
The blest assurance that the father's will
Laid hand in hand, and gather'd heart to heart.
XLV.
And so 'twas done. Each finger now had worn
The rings that aye ring'd in the double life;
From each the pledge had been withdrawn in turn,
As one by one the hallow'd oaths were sworn;
And Lady Gertrude was the baron's wife.
XLVI.
He led her to her chamber, when the glow
Of dawn began to quicken earth and sky;
They watch'd the rosy wine-cup overflow
The pale, cool, silvery track upon the snow
Of Alpine crests, uplifted far and high.
XLVII.
They saw the mountain floodgates open'd wide,
The downward streaming of unfetter'd day;
In blessed stillness, standing side by side–
Stillness that told how they were satisfied,
Those hearts whereon the new-born glamour lay.
XLVIII.
And then, down cloister'd aisle and sculptured stair,
Through open courts, all bathed in shining mist,
They pass'd together, knight and lady fair;
She with the matron's coif upon her hair,
Her golden hair by lip and finger kiss'd.
XLIX.
He throned her proudly in his castle hall,
High on the daïs above the festive board,
'Neath shields and pennons drooping from the wall;
And they below the salt rose, one and all,
To greet the bride of their puissant lord.
L.
Loud were the shouts, and fair with smiling grace
The blue eyes of the lady baroness;
And bright and eager was the haughty face
Of her brave husband, towering in his place,
Yet aye low-stooping for a mute caress.
LI.
There came a sudden pause–a thunder-cloud,
Darkening the sunshine of the golden noon–
An ominous stillness in the armèd crowd,
While slowly stiffening lips, all stern and proud,
Shut in the kindly laughter–all too soon!
LII.
"To arms! to arms!" A passionate crimson flush
Rose, sank, and blanched the fair face of the bride.
"To arms!" The cry smote sharply on the hush,
And broke it;–all was one tumultuous rush–
"The Bears have cross'd the border-land!" they cried.
LIII.
But a few hours had Lady Gertrude dwelt
With her dear lord. Sad honours now were hers.
With white, hot hands she clasp'd his silver belt;
She held his dinted shield and sword; and knelt,
Like lowly squire, to don his golden spurs.
LIV.
"Thou wilt not fight with him?–thou wilt forbear
For my sake?" So she pleaded, while the sun
Shone on her falling tears–each tear a prayer.
He whisper'd gravely, as he kissed her hair,
"I know not if I can, my little one."
LV.
She held his hands, with infinite mute desire
To hold him back; then watch'd him to the field
With hungry, feverish eyes that could not tire,
Till sunny space absorb'd the fitful fire
Of the bright dragons on his crest and shield.
LVI.
When he was gone–quite gone–she crept away,
Back to the castle chapel, still and dim;
And knelt where he had knelt but yesterday,
Low on the altar step, to watch and pray–
To pour her heart out for the love of him.
LVII.
Her bower-maidens sat alone and spun
The while she pray'd, the terror-stricken wife.
The long hours slowly wanèd, one by one,
And evening came, and, with the setting sun,
The sudden darkness that eclipsed her life.
LVIII.
She listen'd, and she heard the sound at last,–
The ominous pause, the heavy, clanging tread;
She saw the strange, long shadow weirdly cast
Upon the floor, the red blood streaming fast,
The dear face grey and stiffen'd;–he was dead!
LIX.
"Ay, dead, my lady baroness; and slain
By him you call your brother. Curses light
Upon his caitiff soul! Ah, 'tis in vain
To murmur thus,–he will not hear again–
He cannot heed your whisperings to-night."
LX.
She lay down on her bridal couch–the stone
Whereon he lay in his eternal rest;
They, pitying, pass'd out, leaving her alone,
To kiss the rigid lips, and cry, and moan,
With her white face upon his bleeding breast.
LXI.
'Twas night–a wakeful, restless, troubled night,
Both wild and soft–mysteriously fair;
With clouds fast flying through the domèd height,
And shrieking winds, and silvery shining light,
And clear bells piercing the transparent air.
LXII.
Down vale and fell a lonely figure stray'd,–
Now a dark shadow on the moonlit ground,
Now flickering white and ghostly in the shade
Of haunted glen and scented forest-glade–
A woman, watched and followed by a hound.
LXIII.
'Twas Lady Gertrude, widow'd and forlorn,
Returning to the wild birds' mountain nest;
Sent out with smiling insult and with scorn,
And creeping to the home where she was born,
To hide her sorrow, to lie down and rest.
LXIV.
She reach'd the gate and cross'd the castle-yard,
And stood upon the threshold, chill'd with fear.
The baron rose and faced her, breathing hard:
"Troopers," he thunder'd, "Let the doors be barred
And double-barred!–we'll have no traitors here."
LXV.
Such was her welcome. As she turn'd away,
Groping with sightless eyes and hands outspread,
The hound, unnoticed, slowly made his way
Along the hall, as if in track of prey,
With glistening teeth and stealthy velvet tread.
LXVI.
There was no clarion cry, none heard the sound
Of knightly challenge, till the champion rose,
Avenging. Lo! they saw upon the ground
The baron struggling with the savage hound,
And grim death grimly waiting for the close!
LXVII.
'Twas done. He lay there unassoilzied, dead,
Ere scarcely fell'd by the relentless paws.
And the fierce hound, with painful, limping tread,
Was following still where Lady Gertrude led,
His own red life-blood dripping from his jaws.
LXVIII.
'Neath shadowy glades, with moonbeams interlaced,
Through valleys, at day-dawning, soft and dim,
Up mountain steeps at sunrise–uplands paced
By her dead lord in childhood–she retraced
The long miles stretching betwixt her and him.
LXIX.
She reach'd the castle, ere the torches' glare
Had wanèd in the brightness of the sky–
Another lord than hers was feasting there!
She shudder'd at the sounds that fill'd the air,
Of drunken laughter and loud revelry.
LXX.
And softly up the cloister'd stairs she crept,
Back to the lonely chapel, where all sound
Of human life in solemn silence slept.
With weary heart and noiseless feet she stept
Beneath the doorway into hallow'd ground.
LXXI.
Low at the altar, wrapped in slumber sweet
And still and deep, her murder'd lord lay here;
With waxen tapers at his head and feet–
Forcing reluctant darkness to retreat–
And cross-embroider'd pall upon his bier,
LXXII.
The blood-hound blindly stumbled, and fell prone
Across the threshold. Something came and prest
His huge head downward, stiffening him to stone.
And Lady Gertrude, passing up alone,
Spread her white arms above the baron's breast.
LXXIII.
The weapons which his lowly coffin bore–
His sword and spurs, his helm and shield and belt–
Like him, to rest from battle evermore,
Whose long-drawn shadows barred the chapel floor,–
She kiss'd them, for his dear sake, as she knelt.
LXXIV.
She laid her cheek upon the velvet pall,
With one long, quivering sigh; and tried to creep
Where the soft shadow of the rood would fall,
'Mid light of sunrise and of tapers tall,
Upon them both, and there she fell asleep.
LXXV.
She woke no more. But where her track had been,
On that last night, became a haunted ground.
And when the wild wind blows upon the sheen
Of summer moonlight, there may still be seen
The phantom of a lady and a hound.
SEE MORE: