A. Victor Ratcliffe Poems, Born in 1887 in Gravesend, Kent, Alfred Victor Ratcliffe was a one of the lesser known Great War poets who tragically lost his life towards the end of the conflict and is noted for a couple of poignant works that were later published in the anthology The Muse in Arms.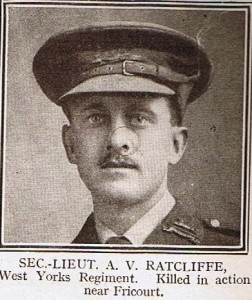 A. Victor Ratcliffe Bio
He came from a well-to-do family and he was the third born of three sons to Florence and Frederick Ratcliffe. His mother was the sister of a millionaire chemist and there were various links to literary and political figures of the time. He enjoyed a comfortable, almost idyllic, upbringing near the coast of Kent where there was no hint of the carnage to come in future years.
Ratcliffe attended Dulwich College as a youth and was a creditable student, moving on to Cambridge where he graduated at the outbreak of war in 1914. Whilst at university he became friends with another, more well-known, war poet Rupert Brookes.
A. Victor Ratcliffe Poems
At last there'll dawn the last of the long year,
Of the long year that seemed to dream no end,
Whose every dawn but turned the world more drear,
And slew some hope, or led away some friend.
Or be you dark, or buffeting, or blind,
We care not, day, but leave not death behind.The hours that feed on war go heavy-hearted,
Death is no fare wherewith to make hearts fain.
Oh, we are sick to find that they who started
With glamour in their eyes came not again.
O day, be long and heavy if you will,
But on our hopes set not a bitter heel.
For tiny hopes like tiny flowers of Spring
Will come, though death and ruin hold the land,
Though storms may roar they may not break the wing
Of the earthed lark whose song is ever bland.
Fell year unpitiful, slow days of scorn,
Your kind shall die, and sweeter days be born.
SEE MORE: